The Best Books for a Baby
There are so many benefits to reading to babies. It creates a bonding experience between you and your child, helps them learn vocabulary, and even prepares them to read on their own as they get older.
Fostering a love of reading is so important.
That's why you should start at a young age. And why you need to have the best books for a baby.
Have you tried to sit down and read to a baby? Oftentimes, the classics are suggested – Runaway Bunny, Goodnight Moon, or Love You Forever. These are all great books! But my babies have never sat for them. Instead, they wiggle, turn the pages, and leave before I even get through the first page. So I'll try to just point out the pictures. But this doesn't really capture their attention either.
After having three of my own children, and taking care of countless others, here is my list of the best books for a baby. These are books that they will actually sit for, listen to, and engage with.
This post may contain affiliate links. If you have any questions, please see my disclaimer page.
Top 10 Best Books for a Baby Under Age 1

Poke-A-Dot books are so much fun for a baby! They contain little dots that pop in and out when you push them.

The Peek A Who series is one of my personal favorites! They as so fun to read, and your baby will learn to anticipate what comes next.

Remember these books from when you were little? They have little tufts of "fur", scratchy sandpaper or soft velvety cloth for you and baby to touch.

The Llama Llama series is a great way to introduce your baby to rhymes. They use simple words and concepts that your child is likely to know, and this makes your baby eager to listen.

Dear Zoo is another great series! It has flaps for your baby to open up, revealing a surprise on every page!

Pop-Up Peekaboo books come in all sorts of topics – vehicles, animals, sea creatures, colors and more. Your baby will love opening the flaps and the bright bold colors they find.

The Usborne, That's Not My (fill-in-the-blank), series is another fun touch and feel set. Babies love these because the words are the same on every page, while the touch pad is different. Babies love repetition!

These Slide and Find books are similar to flap books, but your baby can't rip the flap off! They simply slide open the little door to find the surprise inside! Plus, they come in all sorts of topics.

Spot books are another fun flap series. They have short, simple phrases and questions, making them perfect for a baby under the age of 1.

Last, is the My First series. These books have lots of pictures all grouped by category. They are great for learning vocabulary, and babies have so much fun pointing out the different objects.
So there you have my top ten best books for babies under 1.
They have been a hit for countless children, and are always my go to when reading to my own child or when buying a special book for a new baby. And, while I specifically recommend them for babies under the age of 1, they definitely grow with your child too! My older children still enjoy each of these books!
Pin this post to remember it for later!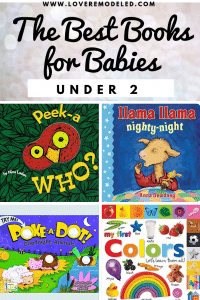 Wondering what toys will grow with your child? Check out the top imaginative play toys for a child under 7!