Mid-century modern style has made a comeback in a major way in recent years. The trend is defined by its minimalist design, mix of wood and metal materials and clean lines.
Touches of mid-century modern have begun to seep into many different styles of homes. You find mid-century modern couches in a farmhouse living room, metal chairs with clean lines in industrial style kitchens, and sleek end tables in traditional family rooms. As with most every aspect of design, an eclectic look can give your space your own unique feel.
In addition to the straight lines that are so iconic of furniture from this era, you'll also find a mix of colors. Warm neutrals are often paired with bright shades to give the space a true modern bohemian look.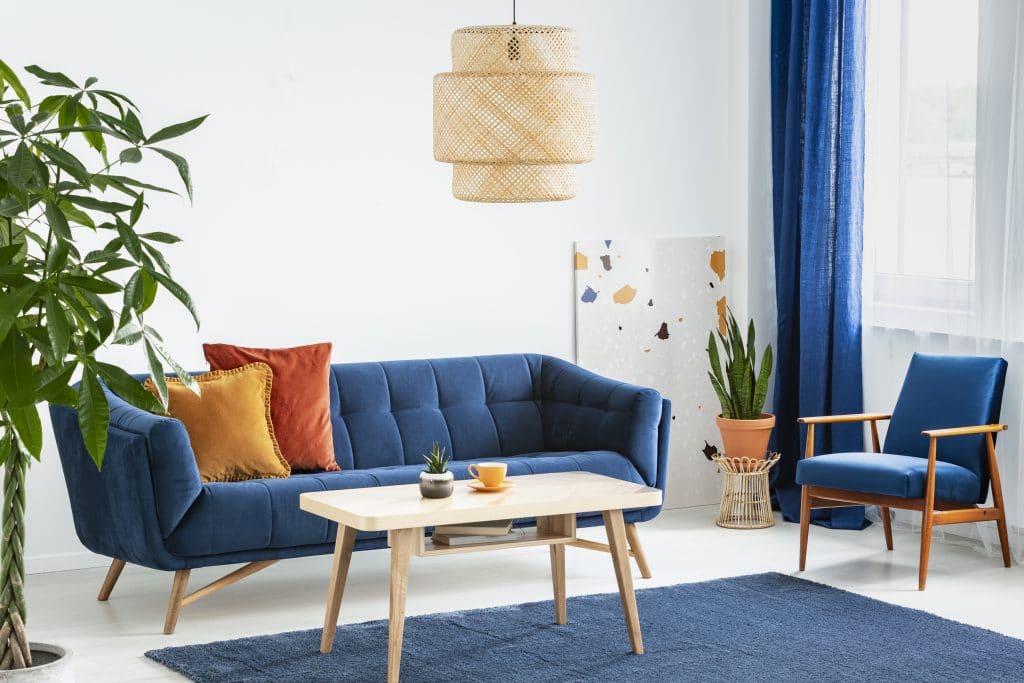 If you're ready to pick up some amazing mid-century modern pieces, take a look at these affordable picks!
Mid-Century Modern Couches
Mid-century modern couches typically have straight, boxy arms, solid colors, and can include tufted seats or backs. Both leather and fabric are popular choices for couches, and both come with their own set of pros.
Recently, Amazon also came out with a line of mid-century modern furniture. They have a number of different styles and fabrics, all of which are gorgeous and affordable.
Most of the couches also have other options available, such as matching chairs.
The couches have great reviews, so I decided to purchase one for my own home. The rooms in my home are all relatively small, and mid-century modern's minimalist design is helpful for someone trying to find furniture that doesn't make a tight space feel smaller.
This is the couch I bought:
I love so many things about it.
First of all, it's comfortable! It is soft enough that you feel like you can really relax in it, but firm enough that you feel supported it in. Second, it is a larger couch width wise, but doesn't feel big in the room because of its thin profile. Third, it is the perfect width – not too wide of a seat for my mid size frame, but not too narrow of a seat for my husband.
This couch, the Rivet Aiden Tufted Mid-Century Modern Sofa, comes in several different variations. You can purchase it in a 74 inch long sofa, an 86 inch long sofa, or a sofa with reversible chaise, and it also has a matching ottoman and sofa you can buy separately. Most of the pieces come in leather and fabric options.
Being price conscious, and knowing that my four kids may ruin it anyways, I bought a fabric version in Wathet Blue.
As you can see, the blue fabric is not nearly as dark as it is on the website.
The construction feels solid, the fabric seems durable and, best of all, the removable cushions zipper onto the back of the couch (meaning my children can't throw them on the floor as easily!).
Mid-Century Modern Chairs
Similar to the sofas, mid-century modern chairs are frequently a mix of metals and soft textiles.
Not all mid-century modern chairs have to be masculine looking though. Check out this amazing pink shell chair!
Brightly Colored Rugs
A second big hallmark of modern style is rugs with geometric shapes and/or bright colors. These style of rugs compliment the clean lines of the surrounding furniture, and serve as an accent to the neutral shades of accompanying textiles.
Here are some really gorgeous picks for modern style rugs!
Mid-Century Modern Accent Pieces
If you're looking to pick up some mid-century modern accent pieces, wood and white tables and shelves are the way to go. Again, stick to furniture with straight lines, metal accents and an overall minimalistic look.
Mid-Century Modern Decor Picks
And last, throw in some great decor finds in bold colors!
Be sure to include some greenery – mid-century modern style LOVES plants!
Final Thoughts on Mid-Century Modern Living Room Furniture
Mid-century modern furniture is becoming increasingly mainstream and popular. It can be mix and matched with all different sorts of furniture to give a room a unique look.
In addition, mid-century style furniture is great in an apartment, or in small rooms because the furniture's minimalistic tendencies leave more open space in the room (even if it is just underneath the couch – this open space makes the room feel larger, despite the fact that it isn't usable space).
If you're looking update the style in your living room, consider ordering some of these great mid-century modern pieces today!
Sharing is caring!