Want to sell your house without a realtor?
I'll let you in on a secret. It is really not that hard.
We have sold three homes without a realtor in the past three years. The process requires some work on your end, but it is definitely worth the cost savings! We have saved THOUSAND of dollars selling our home without a realtor.
Before I get started though, let me remind you that this is not intended to be professional real estate or legal advice. I cannot guarantee that you will sell your house quickly, or even at all. But I will tell you the steps to selling a house by owner, and all of the tips I have learned after selling three homes without a realtor!
A lot goes into selling your house without a realtor. Because there is so much information to include on this topic, I have broken up this post into two parts. This page focuses on the steps to selling a house by owner, and Part 2 details how to hold your own open house.
This post may contain affiliate links. If you have any questions, please see my disclaimer page.
Steps to Selling Your Home By Owner
Step 1: Get Your House Ready To Sell
We started by getting our house ready to sell. This is a really essential step in the process, because it ensures that your home is looking its best. It covers everything you need to do to declutter, depersonalize, clean, and maintain your home to give it a mini face-lift before you sell it.
I'm not talking about remodeling the kitchen, but if you want to sell your house fast without a realtor, you need to spend some time on the front end making sure a potential buyer can see your home for how lovely it is.
So, if you're really serious about selling your home fast, check out this page.
Before we listed our house without a realtor, we completed everything on that list and more.
Truthfully, even if you sell your house with a realtor, you're going to need to do all these things. They are not specific to selling your house without a realtor, and any realtor will likely tell you to do these things.
Step 2: Set Your Price By Finding Good Comps
While people will tell you to have a few realtors come through your home to give you ideas and run some comps for you of other homes in the area, I did not want to do this when I sold my home without a realtor. I felt bad taking up anyone's time if I was not going to be using their services.
So, when I sell my homes without a realtor, I do my own comps.
A great way to do your own comps is to use Redfin's How Much Is My House Worth. It will give you Redfin's estimate based on homes that have sold in your area with similar square footage, beds and baths. Plus, you can track nearby home sales and get updates to the estimate to make sure you're selling your house for the most competitive price.
Prior to Redfin having this tool, I would do my own comps using Zillow. There, I could look at other homes in my neighborhood, or within about 2 miles of my home to see what they had sold at.
When I sold my first home, I knew that the neighborhood just north of me was considered much nicer, and that the neighborhood to the east of me was considered not as nice, so I ruled those two out when I did my comps.
I also apply filters to my Zillow search so that I only view homes that have the same number of bedrooms and bathrooms, and a comparable square footage range (plus or minus about 200 square feet).
Then, I look through all of the homes that are left and try to find ones that have similar floor plans if possible, or at least similar styles. For example, I don't want to comp a new craftsman style home with a ranch style home, because they are apples and oranges.
After taking all of this into consideration, I narrow the comps down to to around five that are actually comparable to my home, and set my price right around where they are.
Because I always want to sell my homes as fast as possible, I actually set my price just slightly below the lowest comp. This serves to create a lot of interest in my home.
When I sold my first house, I had at least 50 people through it during my 2 hour open house!
If you'd like more information on running comps on your home to find how to price it right, check out this page. I list everything you need to do in detail, so that you can comp your home with ease!
If you want to learn more about finding comps for your house, check out this information here. It'll tell you everything you need to know to run your own comps.
A note about talking $$$.
When you list your house FSBO, people will talk to you directly about the price. Be prepared for this so you are not caught off guard.
I had a gentleman ask me how low I would go on the price. I replied, "Well, since we just listed it today, we are not willing to budge much on price yet. Given the market and the comps on similar houses, we expect to get very close to the asking price."
Step 3: Take Photos of Your Home
You will need to take high quality photos of your house for your marketing materials. If at all possible, use a good camera for this, not your cell phone camera. If you do not have a DSLR camera, see if a friend or family member has one. Grainy pictures will make your advertisements look very unprofessional.
I have a whole page on the 15 Top Tips for Taking Your Own Real Estate Photos. It details how to take amazing photos of your home so you can sell your home without a realtor. Here are some general tips though to get you started.
First, when you are taking the pictures of the inside of the house, turn on all of the lights in the room and open all of the blinds. You want as much light as possible in the room. In fact, my camera (the same as the one linked above) also has a setting called "High Key" that I use to make the pictures look as bright as possible.
Second, and very importantly, hold the camera at waist height to take the pictures. This makes sure the picture shows the room at just the right perspective.
Third, stand as far back as possible when taking the picture. Oftentimes, this means standing outside of the door to the room. This will allow you to get as much of the room in the picture as possible.
Another way many real estate agents make the room look larger is by using a wide angle lens. After thinking about it some, I decided not to use a wide angle lens when I took my real estate photos. I have never liked going to look at a house and feeling duped that the rooms were much smaller than the pictures advertised.
In addition, I never like looking at pictures on Zillow that I know had used a wide angle lens because it skews the perspective of the room. Since I am selling my house for sale by owner, I want my potential buyers to have the impression that I am being honest and straightforward in all of my interactions with them (because I am!).
Last, take pictures of the outside of your house. Experiment with different angles to make sure your house looks it's best. Curb appeal makes a big different when selling your house. If the first picture that is listed on Zillow is not amazing, most people will not click through to see the rest.
One more note about taking pictures. Make sure the room is clean when you do. Even clean the mirrors (you will see those smudges in your picture, as I learned the hard way).
It may sound silly that I am even saying this, but I cannot tell you how many FSBO pictures I have seen with unmade beds, personal pictures up, and clutter everywhere. I have even seen some with people's children in them. Do not have your children in your FSBO pictures! This looks extremely unprofessional.
If you do all of this, your pictures should come out looking pretty nice and of a professional quality.
If you're not interested in taking your own photos to sell your house without a realtor, contact a real estate photographer in the area. When I sold my last home without a realtor, I was out of the area when we listed it. Because of this, I wasn't able to take my own pictures. So, I contacted a realtor friend in the area who gave me the name of her photographer. He took great pictures and only charged $75 for them.
Step 4: Create your contact information.
When I sell my home, I prefer not to give out my personal cell phone number or personal email address.
There are a couple of reasons for this. First, I don't want my number and email out there to everyone in the world. Second, a lot of companies will call you to ask if they can sell your home for you. They will call you for months after the home sells. If you have the calls and emails going to a different account, you don't have to receive them all the time on your personal line. After I get a good contract on my home, and let the buyers know my personal number, I stop answering calls and checking emails about the home.
So instead, I create new ones for my house. I use Google Voice to get a phone number and have the calls forwarded to my cell phone. The Google Voice number works perfectly and also has a mailbox if people want to leave a message. Then, I create a new Google email address for my house. I typically make it the address of the home, like [email protected].
Step 5: Create your advertisements.
I use Pages to create a House For Sale page, but you can use Word or whatever word processing program works for you.
To do this, start by looking at several examples online to determine how to best word things.
Then, write out a blurb on the home. Make sure to include the square footage, number of beds and baths, any upgrades that you have completed, and the specific selling points of the home such as multiple closets in a room, neutral paint throughout, or a large backyard.
One note about writing your description: Try to be as truthful as possible! No one likes to feel like they have been duped. If you list things that aren't true, or embellish the condition of the home, people are coming into it with unrealistic expectations. Instead of coming to your home and feeling good about it, they will feel disappointed, and maybe even angry. Bad feelings towards a home typically don't beget an offer, so do yourself a favor and set yourself up for success with a truthful listing description.
After you create your description, list all your home facts and include your high quality images. The quick facts should include the lot size, the home square footage, the property taxes, the year the house was built, the types of flooring, parking information, and appliances included. Also, be sure to include your home's contact information in a prominent place so it was easy to find.
If you are willing to pay the buyer's realtor's commission (around 3 percent), list something like, "Realtors welcome" on the sheet. This lets realtors know that you are willing to pay them something, and they will be much more likely to direct their clients your way.
Every time I have sold a home without a realtor, I have had several realtors call me to make sure I would pay commission before they will even bring their clients through. Some of them even wanted my agreement in writing – with a specific percentage defined!
I always refuse a request for signing to paying a specific commission. When I do so, I am very clear that I am willing to pay a realtor's commission, but that I will look at offers as a total package. At that point, realtors typically understand that realtor's commission fees are a part of the negotiation process. A great offer with a higher commission fee is way better for the seller and for the realtor than a low offer with a high commission fee.
Print these advertisements on good quality paper and make sure your photos look perfect. I printed mine at my local Office Depot.
A note about realtors' commissions when selling your home for sale by owner…
If you are selling your house without a realtor, I strongly suggest that you be willing to work with a buyer's realtor.
Here is why.
First, buyers that have a realtor are more serious about buying a home. People who don't have a realtor are more likely to be "tire kickers," or people who are just sort of looking because they may want to get a home at some point. These people are almost never real buyers.
Second, selling your home to someone with a buyer's realtor actually works to your advantage. A realtor knows all the ins and outs of the home buying process. They know the best title agencies to use, they handle any crazy requests from the buyer and they keep things moving along on the appropriate timeline. They also have access to home buying contracts and will draw one up for the buyer. This means that all you have to do is sign, counter or reject. You don't have to actually find a contract, sift through it all, define the terms, etc.
Third, it increases your pool of potential buyers. If you are not willing to pay commission, a realtor is probably not going to take a client through your home. You will reduce your potential buyers by a HUGE percentage.
Last, using a buyer's realtor helps you get a higher price for your home. A realtor is more likely to tell their buyer to put a higher price on their offer, because they understand that a higher price on the offer may mean that you are willing to pay a higher commission percentage.
A friend of mine who was selling their house without a realtor accepted an offer on their home from a person who didn't use a realtor to buy it, and it was a disaster. After agreeing upon a price, the buyer requested that they remodel the whole house. I don't mean fix things that were broken, I mean actually remodel the house. They wasted weeks negotiating with this person only to have the deal ultimately fall through, and still had to pay the lawyer that they used to create the contract and facilitate the buying process. A realtor helps keep this kind of crazy at bay.
Step 6: List Your Home on the Internet
Now that you have created your contact information, taken pictures of your home, and come up with a marketing blurb, its time to list your home on the internt. It is pretty easy to do, and you basically just put the information that you gathered for your paper advertisement into the website. Oftentimes, there is previous information from an old listing on your house that you can just update.
There are several websites to sell your house yourself.
Zillow, Trulia, and FSBO.com are the ones that I will focus on.
Zillow
The most common website that people use to buy a home is Zillow. Its one of the best, and you definitely want your home listed on it. Plus, Zillow and Trulia are owned by the same people, so if you list yours on Zillow it'll also show up on Trulia.
To get your home on Zillow, type Zillow into your search engine and click on "Sell" on the top left of the page. Zillow will then prompt you through the steps to claiming your home and creating the listing.
You can and should also upload those professional looking photos you took to the Zillow ad. Be sure that the picture of the front of your house is the first picture people see because this is what they are expecting and want to see. I know that when I look for a new house, I entirely skip homes that do not have the front of the house as the first picture.
Once you put everything in, Zillow will say something like, "Your submission has been received.,we will call you to confirm your listing in the next few minutes."
They will call you right away with an automated call. You will need to enter the details of your home listing, such as the list price, number of beds, zip code, etc. If you answer any of the questions wrong, you have to wait for an actual person to call you to verify the listing. This can take days. Try not to get the answers wrong! And don't miss the call, because they don't call back right away!
When we listed our first house, I missed the call, because I didn't know they were going to call (they didn't use to tell you they were going to , but have updated their site to reflect this process). So I waited for almost a week for Zillow to update their site with my house's new information and for them to mark it For Sale. I was really starting to sweat, because we had planned an open house for the following Sunday and really wanted the Zillow ad up to drive traffic to the open house. After five days, I found a website where someone said that Zillow had called them to confirm that they were actually the ones listing the ad. I looked back through my Google voice account and saw that I had missed a call the day after I listed the ad on Zillow. Since they had not left a message, I assumed it was a telemarketer. Desperate, I called the number back and found that it was Zillow calling to confirm my listing. When I spoke to them, they let me know that I could not have contact information in the advertisement blurb. So I logged back on, deleted that info, and resubmitted my Zillow ad. It was actually not a smooth process at all, as it took several phone calls to Zillow to get them to list the ad. Finally, 18 hours before my open house was set to begin, Zillow updated my house to mark it For Sale.
Moral of the story, don't miss the call, make sure you know your homes facts!
Once you verify your listing with Zillow, it can take a long time to get the home actually updated on their site. It took over three days to get my last home listed, and it was only listed that quickly because I sent help requests to Zillow once we passed the 72 hour mark.
FSBO.Com
FSBO is specifically for homes that are being sold by owner. While it isn't bad to list it with them, I don't recommend it and here is why.
I also listed my first home that I was selling without a realtor on FSBO.com, but I am not sure how much that helped. When you list with them, they put big FSBO.com signs on your pictures, which I didn't like. Also, the only guy who came through from them was not very serious. Since its really hard to get the house clean and ready for a showing, I only really want serious buyers to come through!
A note about MLS listings.
As a For Sale by Owner seller, you cannot get your house listed on the MLS. The MLS is the service that all real estate agents use to find homes for sale. If it is important to you to get your home on the MSL, you can pay various flat fee real estate companies to list your home on the MLS if you want.
We chose not to do this for any of our homes, and here is why. We knew that most people who are house hunting are searching through Zillow daily. Because of this, we felt confident that potential buyers would be contacting their real estate agents about our property after finding it on Zillow. Our instincts were right, and we had not trouble getting people through the door for any of the homes we sold.
If you are in a sluggish market, you may want to consider listing it on the MLS with a flat fee company. If you do, be sure to make a note that realtors are welcome, indicating that you will pay the realtor's commission. If you don't, realtors won't bring potential buyers through your house anyways. So, to conclude, if you are not willing to pay the buyers' realtor's commission, you probably don't need to list it on the MLS.
Step 7: Put up a For Sale sign.
There are two main types of signs you can purchase when you want to sell your home without a realtor. The first is the traditional For Sale By Owner sign.
I don't love the traditional For Sale By Owner sign, because it looks a little unprofessional to me.
So, I opted for a sign that said FOR SALE BY OWNER, and had a TEXT FOR INFORMATION section. I went though a few simple steps to link my Zillow ad to the text number that the sign company supplied (which was free), and then posted my sign in the yard. I purchased the sign at Lowes in 2015, though I have not been able to find on in a store since. I think they stopped selling it.
I also chose to print my information out on paper and adhere it on the sign with packaging tape to make the sign look nicer than just writing the info on with a marker.
This sign is similar to the one that I used. The only place I've been able to find one is on Amazon.
Include an information box.
Another thing you want to do is include an information box. Again, this makes your listing look more professional. Put the flyer you made in it, printed on decent quality paper and with color ink, and put it on your sign post. You can pick an info box up here.
Get a lockbox for the door.
This isn't essential, but it does make things easier. Lockboxes aren't very expensive, and they save you having to leave the door unlocked, or be at the home when someone comes to look. Since you shouldn't be at the home when someone comes to look (its is just weird for people to see the person who currently lives there), pick up one of these boxes and give the realtors the number – once you've verified that they are actually realtors of course.
Step 8: Show Your Home
Now that your home is listed, people should start to contact you to see your home.

When someone schedules an appointment, be sure to leave your home if the have a realtor. This makes it much easier for a home buyer to envision themselves living in the home.
If they don't have a realtor, be sure to stay in the home, or have a trusted friend meet the buyer there. This is important to ensure your home and your belongings are safe.
Realtors typically schedule open houses for the first weekend that a home is on the market. If you'd like to do your own open house (which we always do), check out how to do that here.
Step 9: Close Without a Realtor
If you are selling your home without a realtor, there are a lot of questions that come about on how to actually close the deal.
This is where selling to a buyer that has a realtor works to your advantage. They keep the process moving, and some of them will even remind you of the things you need to do. Remember, they want this deal to go through as much as you do because it means their pay day!
If you are selling your home to a person and there are no realtors involved at all, contact a local attorney who specializes in real estate. Typically, they will handle all of the tasks that need to be done for a flat fee (which you will pay anyways even if you use a realtor in the form of closing costs), such as drawing up a contract, holding the escrow check, performing the title services and facilitating the actual closing. As I mentioned earlier, you may want to punt the initial contract work to the buyer to draw up, because otherwise you will be on the hook for the fee if the deal falls through. There is always a set standard (or laws even) for who pays what fees, and the attorney will be familiar with that.
Be sure to check and double check the contract. The contract is actually a guide that walks you through all of the steps that need to be done before closing. Talk to the lawyer to make sure everything is standard and customary. And pay close attention to the dates on the contract – how long you have to accept or counter on an offer, when the inspection has to occur by, how long you have to get the pest inspection, etc. A deal can fall through if any of the terms of the contract are not met completely and on time, so read it and follow it well.
Once everything is done, the closing company (or attorney) will set a close date and time. Bring your keys and and important documents that stay with the house, and get ready to sign those papers!
That is how to sell your house without a realtor.
Remember that the goal when you're selling your house without a realtor is for everything to look as professional as possible. This this will make your house get noticed and your potential buyers feel more comfortable when working with you.
If you have stuck with me this far, check out how to hold your own open house.
To recap, here are the steps to selling a house by owner.
Step 1: Get Your House Ready To Sell
Step 2: Set Your Price By Finding Good Comps
Step 3: Take Photos of Your Home
Step 4: Create Your Contact Information
Step 5: Create Your Advertisements
Step 6: List Your Home on the Internet
Step 7: Put Up A For Sale Sign
Step 8: Show Your Home
Step 9: Close Without a Realtor
Good luck selling your house without a realtor! Let me know what questions you have, and how it goes!
Remember to pin this post for later!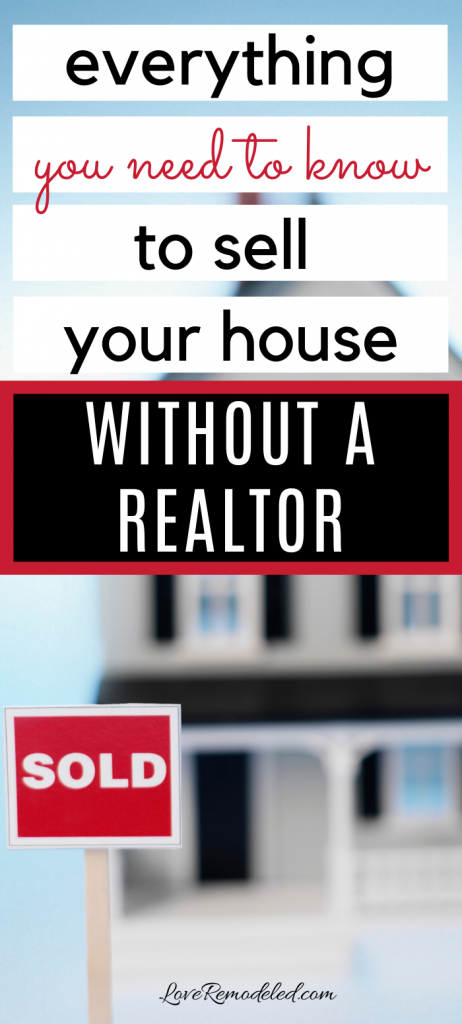 How to Sell Your House Without a Realtor