Barn doors have been popular for several years. Along with all things farmhouse, they rose to popularity with the show Fixer Upper.
Barn doors add style to a space, and also are great for covering spaces that are non-standard styles. For example, if you wanted to add a door to a cased opening that was larger or smaller than a typical door size, using a barn door means that you won't have to purchase an expensive, custom door to fit the opening.
And as with most things farmhouse, they are pretty easy to DIY.
This post may contain affiliate links. If you have any questions, please see my disclaimer page.
Frequently Asked Questions about Barn Doors
Before we discuss how to DIY your own barn door, let's look at some of the questions people have most frequently.
Are Barn Doors Still In Style?
Barn doors appeal to many people (and may repel just as many!). According to Zillow, homes with barn doors sell for up to 13% more than other homes. Additionally, they sell for almost 60 days faster than homes that don't have barn doors.
Barn doors impart a style to a room in a way that a regular door doesn't. Between the hardware and the way the door is fashioned, adding a barn door to a room can add a lot of interest.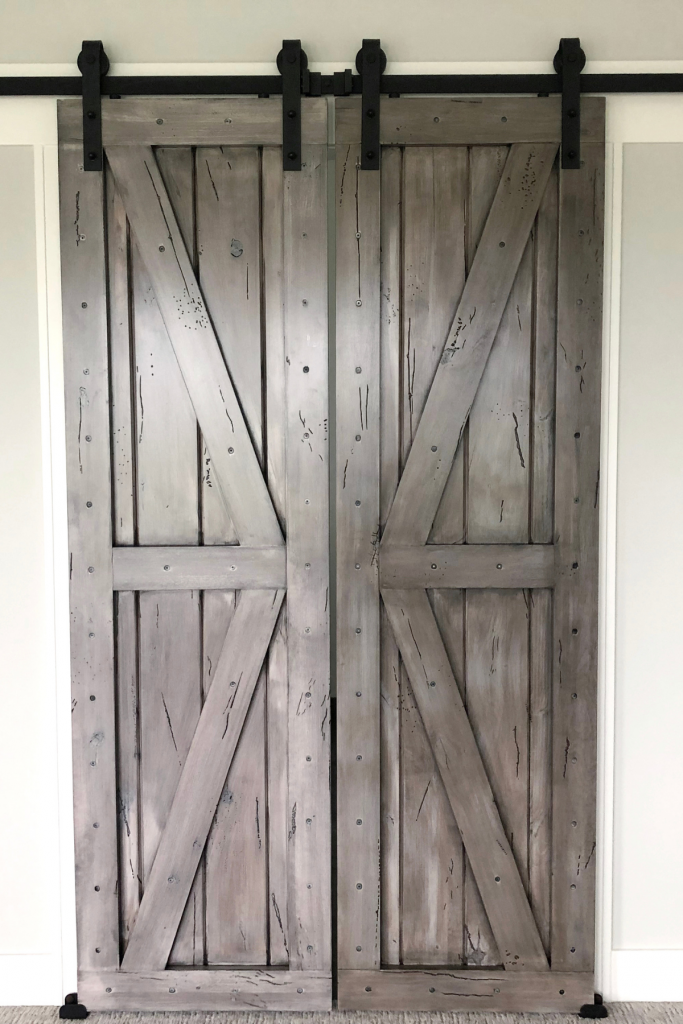 Why Should I Make A Barn Door?
Making a barn door is an easy home improvement project that even a novice DIYer can complete. The materials to make one don't cost very much, and purchasing a barn door with hardware can easily cost well over $300.
So, making your own barn door is not only fun to do, it also saves you a lot of money.
How Much Does It Cost To Build A Barn Door?
I purchased my hollow core door for $40 at Home Depot. The wood accent pieces I put on cost around $40, and the hardware cost $45.
I used paint that I already had, so the total cost to build my barn door was $125.
What Can I Use To Make A Barn Door?
You can use almost any type of wood to make a barn door, but some work better than others.
You can make barn doors out of soft woods, such as pine, pallet wood, cedar, or out of an existing door.
You can even use a hollow door and make it into a barn door.
Do I Need Trim Around My Barn Door Opening?
Whether you need to add trim to your barn door opening will depend on the type of opening you're covering.
But, it is important to remember that the hardware that holds the barn door to the wall naturally keeps it about a half-inch (or less) away from the wall. This ensures that the barn door swings easily and doesn't scratch the wall.
So without trim around the barn door opening, using a barn door will leave a gap between the wall and the barn door.
So, if you want a tight seal between the barn door and the wall behind it, you will need to trim out the opening with wood pieces that are the same width as the space between the door and the wall.
You don't actually need to add trim around your barn door opening, though.
How Much Bigger Should A Barn Door Be Than The Opening?
It doesn't really matter how much bigger a barn door is than the opening. You just need it big enough to cover the opening.
A good rule of thumb is to make it at least an inch or so wider and taller than the opening.
How Far Off The Floor Should A Barn Door Be?
When you purchase your barn door hardware, it should give you pretty detailed instructions on how high to hang the barn door. This will help to make sure that it is the right distance off of the floor.
But, keep in mind that you want the barn door to move freely and not touch the floor at any point. If your floors are unlevel, pay special attention to the highest point to ensure that the barn door doesn't drag on high spots as it moves along its track.
A good rule of thumb is to have the barn door about a quarter of an inch off of the floor.
Do Barn Doors Close Tight?
When you have two barn doors coming together to meet in the middle, they don't exactly close tight. There is nothing that locks them together, unless you add external hardware.
Instead, the barn doors just fit together, butting up against each other.
Where Do Barn Doors Work?
Barn doors are a great option for a lot of spaces.
First, they work in any room that you want to give a modern farmhouse look. They also work in spaces that have a more industrial vibe.
Second, barn doors work great on odd-sized openings. For example, I used one barn door to cover a small closet under the stairs in my basement.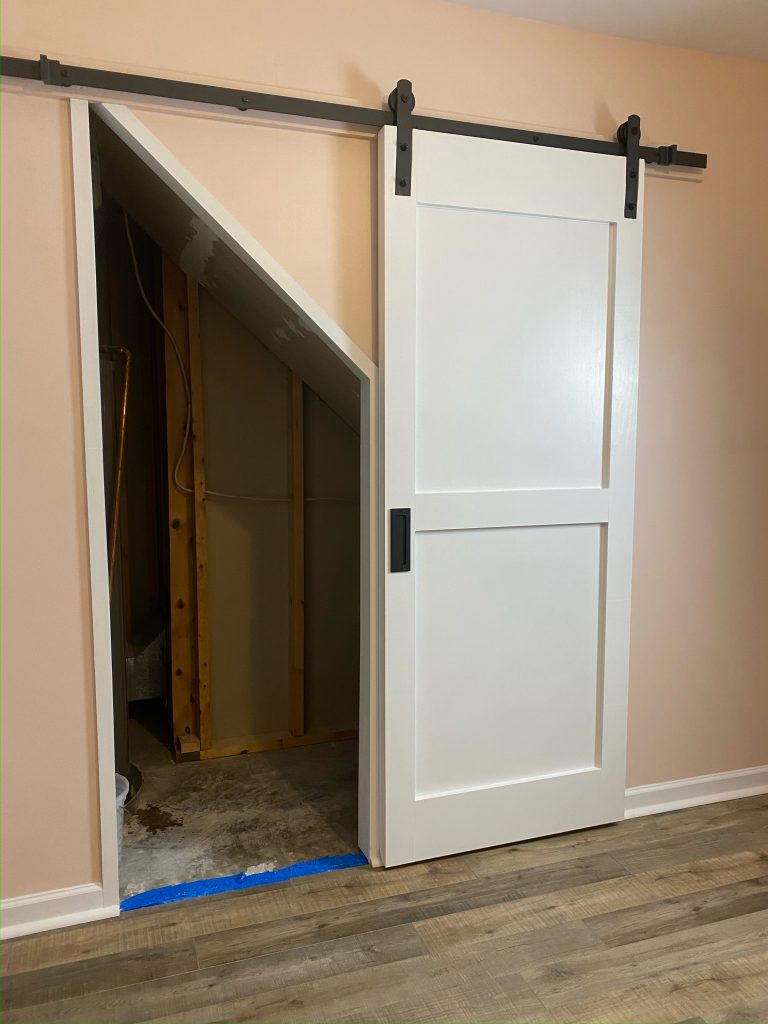 I used another double barn door to cover the very large opening in my laundry room as a way to access the hot water heater and furnace.
Barn doors are really practical solutions for installing a door in a non-standard sized space.
Is It Hard To Install A Barn Door?
Installing a barn door is a little bit tricky to do, and even harder to do by yourself.
It is awkward to hold the hardware and get it perfectly level while drilling it into place.
Installing a DIY barn door is best done with two, or even three people.
Can You Hang a Barn Door Without Studs?
While it is possible to hang a barn door without studs, it may not be advisable. A barn door is actually pretty heavy.
Between the substantial metal track and the door itself, this isn't something that you should mount on drywall. Instead, be sure you have good, solid wood to attach the track to behind your drywall.
You can use a stud finder to find where to attach the hardware.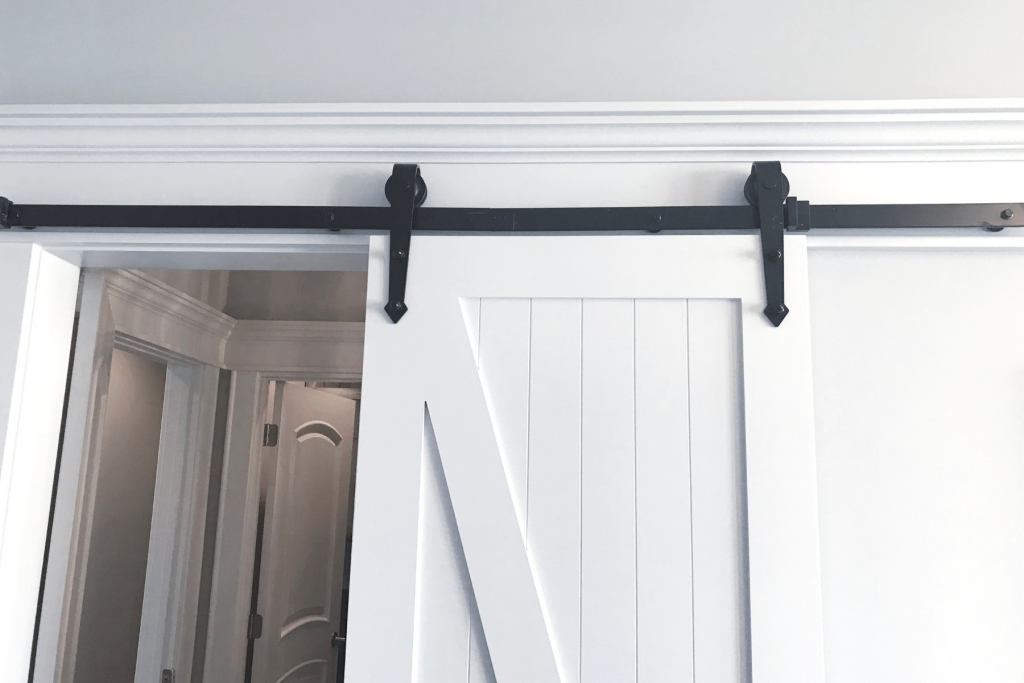 What Keeps Barn Doors From Swinging?
Barn door hardware comes with a guide that attaches to the floor to keep the door from swinging. This guide secures the bottom of the barn door.
Typically, the hardware instructions ask that you notch a track in the bottom of the door to keep the door on the guide. If you notch the bottom of the door, you don't see the guide underneath of it when you're finished with the door.
This can be a little tricky for a DIYer without the proper tools though. So, you can always just put the guide on the outside of the door, and it performs the same function.
Can You Hang a Hollow Core Door or Slab Door as a Barn Door?
Yes, you can hang a hollow core or slab door as a barn door. Using a hollow core door or a slab door are easy and affordable ways to make a DIY barn door.
DIY Barn Door Tutorial
Okay! That's enough discussion. Here is how to make your own barn door. It is a fast and easy way to add some industrial or modern farmhouse style to your home.
Steps to Making a Barn Door
DIY Barn Door Step 1 – Gather your materials.
To make a barn door, you will need a door base. This can be a piece of sanded plywood, cut to about two inches wider than your opening and one inch taller than your opening, or a hollow core or slab door.
You will also need wood strips that can be cut to length.
For my door, I used 1×4 and 1×6 pieces.
You also need a barn door hardware kit. I purchased my barn door hardware from Amazon because it was an amazing price.
Here is a picture of the hardware I used. The kit included the metal track, the metal attachments for the door, and a bottom guide to keep the door from swinging.
I also purchased a metal handle to give the door a bit more interest.
Last, you need caulk to fill the spaces where the wood trim pieces meet the base, and paint to make everything look good.
DIY Barn Door Step 2 – Assemble the Barn Door
Start by laying your base (the plywood or hollow core door) flat and measuring how long it is from top to bottom.
Cut your two pieces of your trim to that length. For this, I used my 1×4 pieces because I wanted the vertical trim of my barn door to be thinner than my horizontal pieces.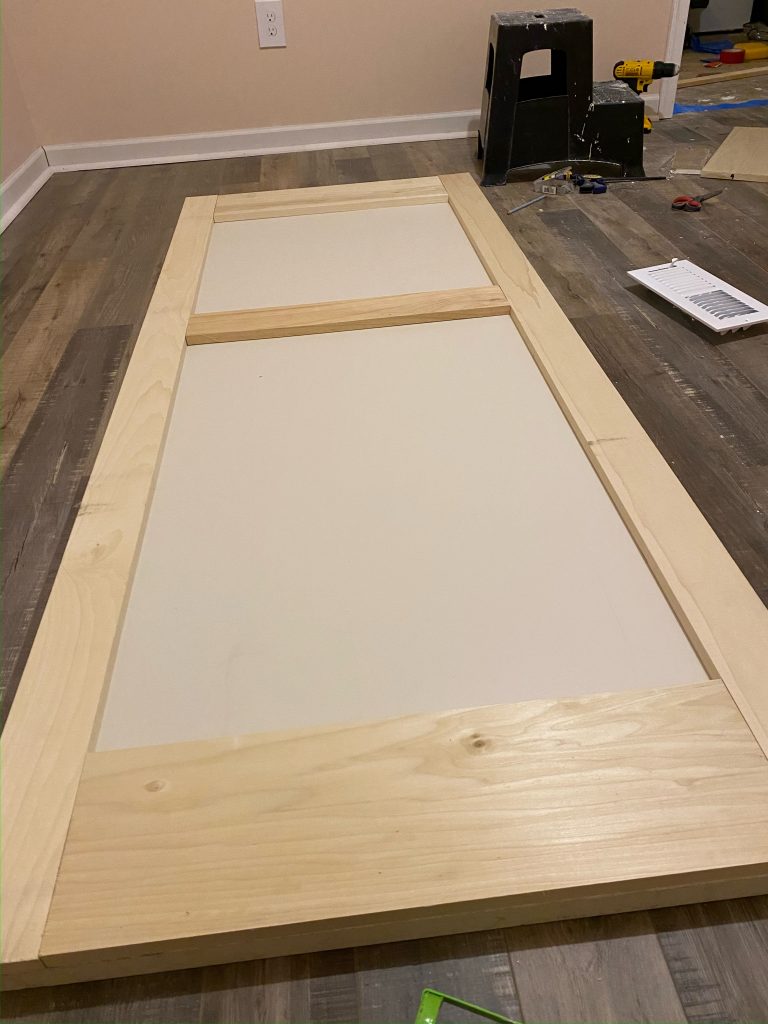 Once you have your vertical pieces cut to the length of the door, cut your horizontal pieces to the width of the space between the verticle pieces.
At this point, you shouldn't be gluing anything down yet, which can make it a little hard to get an exact measurement. If it is easier, you can just take the width of the door and subtract the width of the two vertical pieces to get the length of the horizontal pieces.
DIY Barn Door Step 3 – Glue the Trim Pieces On
Now that everything is cut, you can glue it onto the door base.
Waiting until it is all cut ensures that you get a tight fit when putting the boards on.
I used wood glue to attach my wood pieces to the base.
DIY Barn Door Step 4 – Caulk and Paint
Now that the barn door is assembled, use paintable caulk to fill the seams between the trim and the door base.
Once the caulk dries, paint the whole door the color you choose. Popular barn door paint colors are: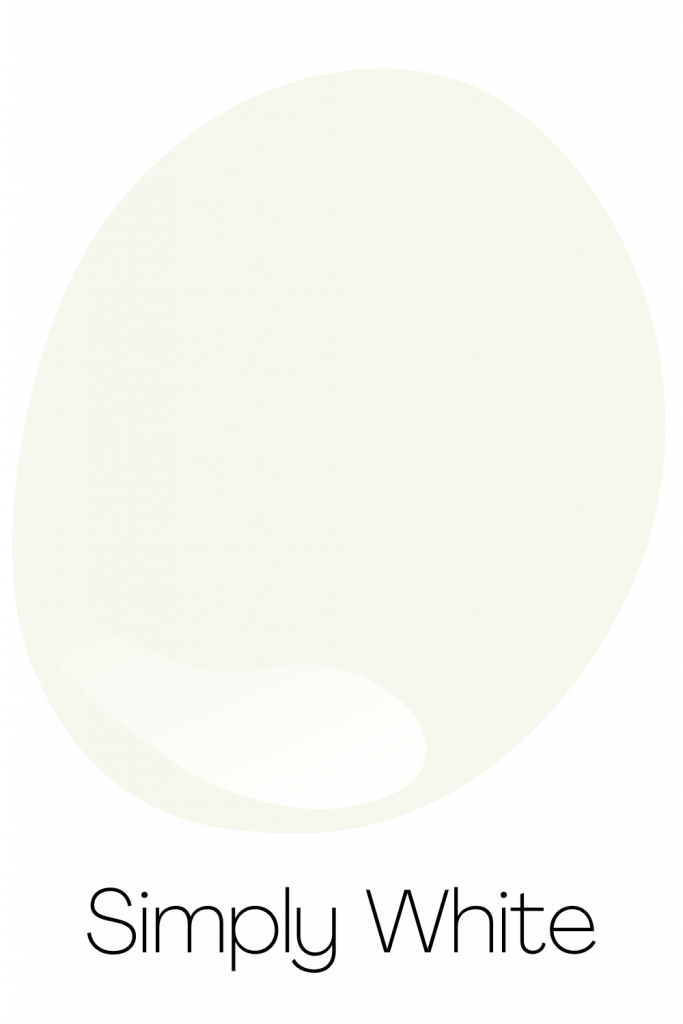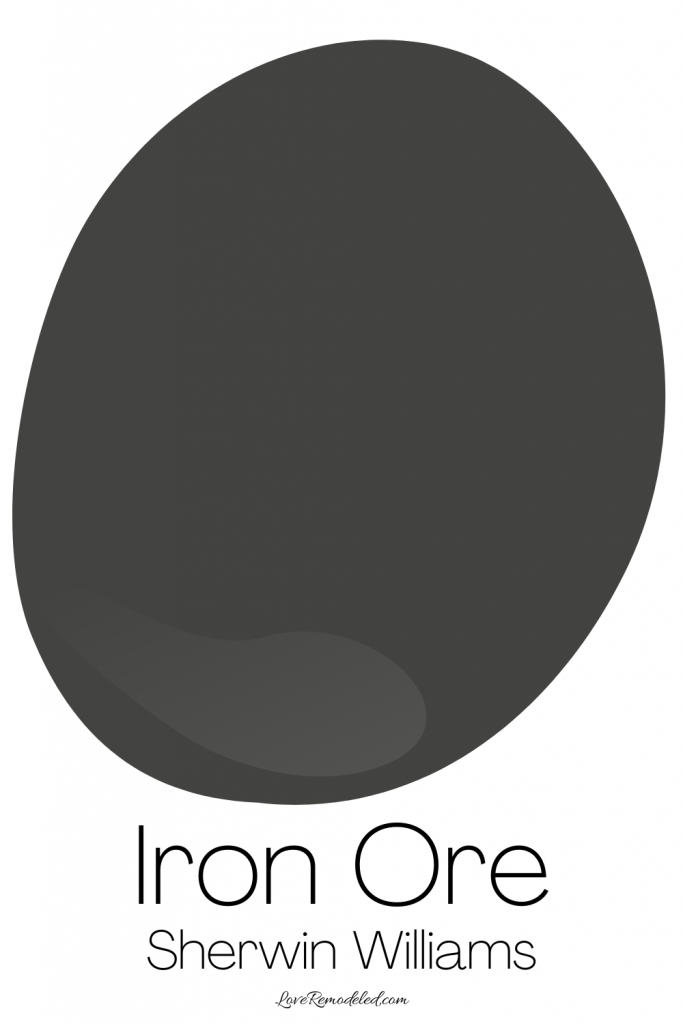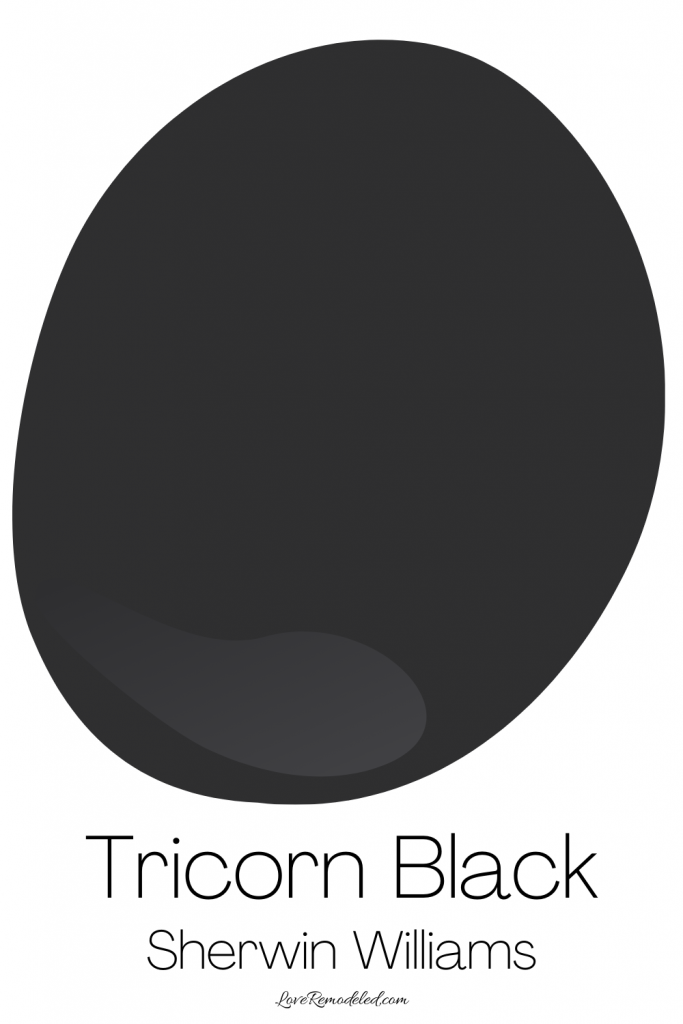 DIY Barn Door Step 5 – Add the Hardware
If you have used a piece of plywood for your base, you can add the hardware to the specs provided by the hardware company without any further modifications.
If you used a hollow core or slab door, you may need to either add a thicker backer board to the hardware track (make sure your screws that hold the track to the wall are long enough to go through the boards) or notch out the place where the hardware connects to the door.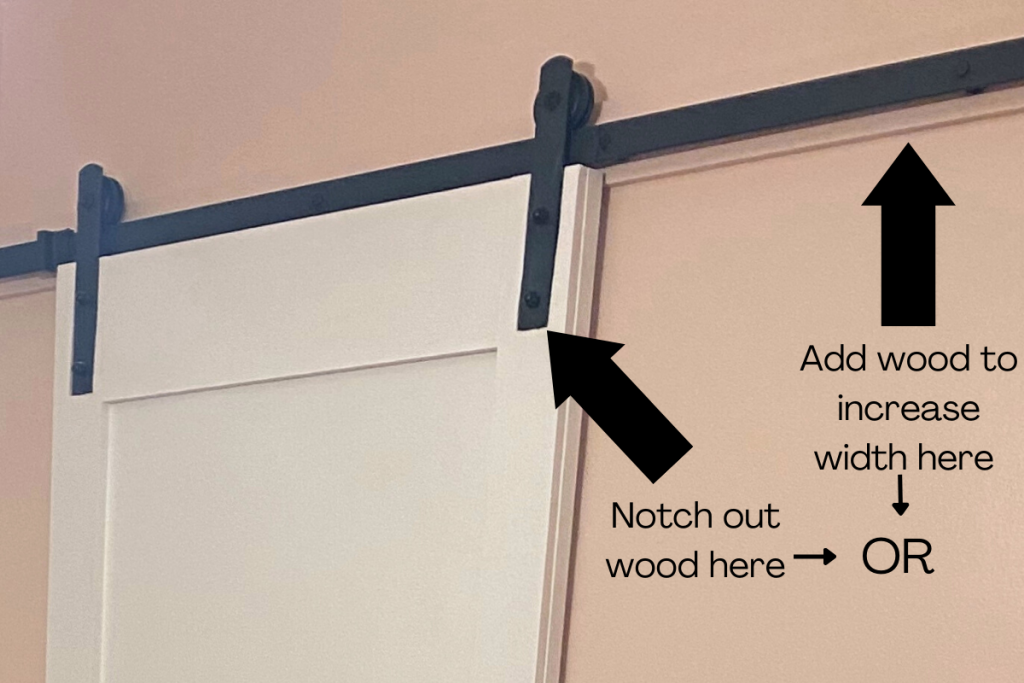 If you are a novice DIYer, the easier option is going to be to increase the width of the backer board.
If you don't do this, your door will be too thick to hang from the track. Put another way, the door will be thicker than the space allowed by the track.
Once your hanging hardware is attached to the door, connect the track to the wall.
Again, your door hardware kit will have specific details on this. But, the basic steps are to find your studs. Attach a backer board piece to the wall, screwing into the studs. This ensures that your hardware track has a solid backing.
Then, using a level and a friend or two, attach the track to the backer board as the directions indicate.
DIY Barn Door Step 6 – Hang the Barn Door
Everything is complete now, and you can hang the barn door on the track.
DIY Barn Door Step 7 – Attach the Barn Door Floor Guide
Using the instructions provided by the hardware kit, attach the barn door guide to the floor.
As mentioned earlier, you can either make a notch in the bottom of your barn door to ensure the door slides along the guide, or you can put the guide on the outside of the door.
Final Thoughts on DIY Barn Door Making
Making your own barn door is a fairly simply DIY. It requires only a few pieces of wood, a base, wood glue, and a barn door hardware kit.
If you are looking to add style to your house, or wanting hang a door over a cased opening, adding a barn door to your house will make a huge impact!