Dyeing leather is an easy way to change the color of your leather piece. You can use leather dye to recolor leather couches, chairs, and more.
If you have a piece of leather furniture that needs recolored, this tutorial will help you out. Dyeing leather is actually a fairly easy process, and can be completed in a day!
In this article, I will discuss how to easily recolor leather sofas or chairs at home.
This post may contain affiliate links. If you have any questions, please see my disclaimer page.
Frequently Asked Questions about Dyeing Leather
Before we discuss the actual process of changing the color of the leather, let's address some of the frequently asked questions about dyeing leather.
Can you dye leather?
Yes! You can dye leather to change its color.
It involves a simple three-step process of removing the leather's protective coating, adding dye to the leather's surface and then reapplying the protective coating.
Can leather be dyed any color?
You can dye leather to change its color, but there is an important exception.
Having talked to a few leather-working professionals, I've learned that you can't dye leather a lighter color than its original color. You can typically always dye leather to a darker color though.
For example, the leather chair that I dyed was originally a red color. Yes, you do see some dark black/brown on it as well, but that color was applied (by the factory) after the original hide was dyed red. I know this because that black/brown is removable, whereas the red doesn't ever come off. Also, I can tell because the underside of the leather is red (not black/brown).
This is important to know because it is helpful in knowing what color you can change your leather to be.
What can I use to dye leather?
Leather dye is the best way to dye leather. There are some companies that sell products that they call re-coloring balm, but I've seen reviews that they can't really be used to change the color of the leather.
I used Fiebing's Leather Dye to change the color of my leather chair and ottoman, and it worked great. I love that they have a live person you can call when you have questions. These guys really know their products and have great tips.
Fiebings also sells a product called Leather Colors that is supposed to change the color of leather. This product isn't quite as strong as the leather dye.
Since I wanted to make a drastic change in the color of my leather, I went straight to the dye product. Others seem to have good experiences with Fiebing's Leather Colors though!
Can you permanently dye leather?
Fiebing's Leather Dye is a permanent product…. but, I have found that you can remove it if you take the protective coating off of the leather first.
But, once the protective coating is on, you don't have to worry that the color of the dye will rub off on anything. Even if it is wiped with a wet cloth, I haven't seen any color rubbing off. (And believe me, with four children, this chair has been wiped a lot!).
Is it hard to dye leather?
Since I was a little nervous to try out dyeing leather on my own, I priced out having a professional leather worker dyeing it for me. The first quote came back at $700, and the next, at $2500!
So, for that price, I decided to overcome my fear and try it myself.
What I found was, it is actually really easy to dye leather! It is a simple three-step process that took me about 2 hours or so to complete.
Dyeing My Leather Chair and Ottoman
Here is my leather chair before I dyed it.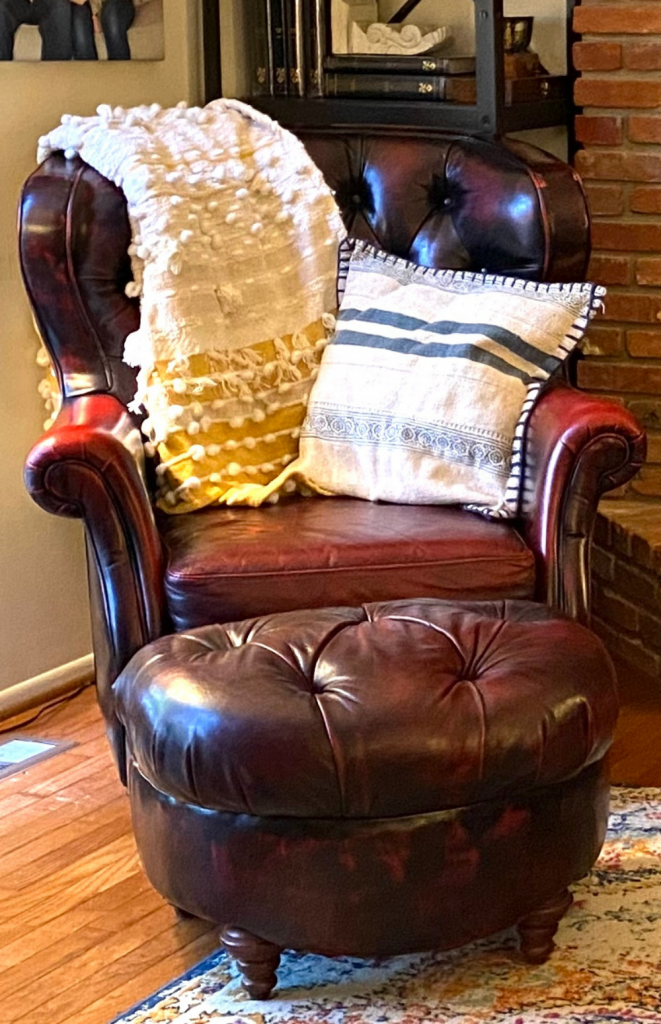 As you can see, it had a lot of red on it. And while I loved the bones of this chair, I just could not make the red arms work in my house. I would try to hide them, or at least distract the eyes away from them.
I had actually tried to dye the leather before using a Fiebings brown leather dye. Since it was my first try, I sampled it on the ottoman. Here is how it looked after applying a coat of brown dye.
Eek! I was worried that I had completely ruined the ottoman. The brown dye turned an iridescent, bronzed shade of green.
After doing some Googling on the issues, I called Fiebing's customer care number and spoke to a representative there. They said that sometimes they do see this issue, and advised me to buff it out with neutral leather polish. It worked!
But, it also took off a lot of the brown dye color, making my ottoman just a hint darker than the chair. Really, you couldn't even tell. That red was still showing through.
So, I forgot about the whole idea of recoloring my leather furniture for a long time.
After a while though, that red continued to bother me. So I decided to try recoloring the leather chair and ottoman with a black dye instead this time, hoping that I wouldn't have the same bronzing issue.
This time, using dye to recolor my leather chair and ottoman worked perfectly for changing the color of the leather!
Dyeing Leather Furniture
I started by removing the existing finish on my leather chair and ottoman with Fiebing's Deglazer.
I had read that you could also use acetone to remove the finish, so when I ran out of Deglazer (because I had used part of the bottle when I had previously done the ottoman), I finished up by using my nail polish remover – which was straight acetone.
Both worked well.
When you do this step, it is important to go section by section, instead of removing the whole finish at once. Leather will hold the dye better if it is a bit wet, so removing the existing finish with deglazer will wet the surface a bit. Think of it like opening the pores of wood.
So, for my chair, I deglazed just an arm, and then applied the dye. Then I deglazed the other arm, and applied the dye, etc. I deglazed and dyed each section separately.
You can see how the one arm looked after applying dye to it. It also gives a better view of just how red those arms were!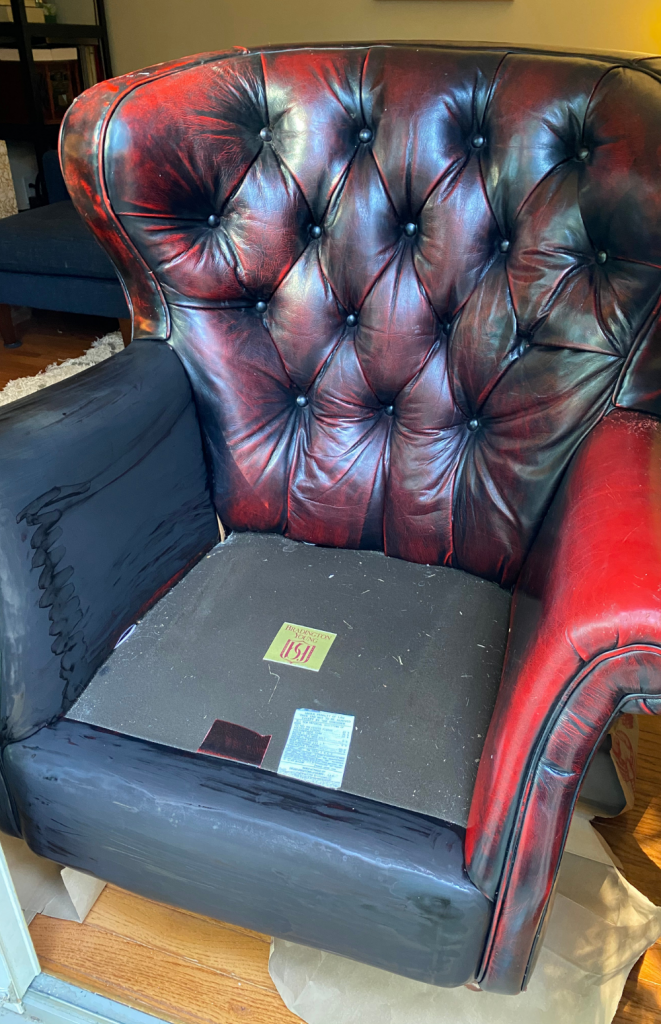 At this stage, it doesn't look great. You may find yourself wondering if you've just completely ruined your leather furniture. Trust the process though! The water-resistant acrylic top finish at the end will make a smooth, shiny finish.
As I mentioned earlier, I used Fiebing's Leather Dye in black for this chair. Each bottle comes with a little dauber to apply the dye. It is pretty small – smaller than a cotton ball – but the process goes faster than you'd think.
Here is a video showing how the dye went onto the leather.
After I applied the dye all over the chair, I wiped it all down with a rag to get any excess dye off.
Finally, I applied Resolene to the leather to apply a protective top coat. This seals the dye onto the leather, preventing the color from coming off. It also serves as a water-repellant for the chair.
At that point, I looked everything over and found a few spots that I had missed with the dye. I wiped them with deglazer, applied the dye, and finished them with the resolene.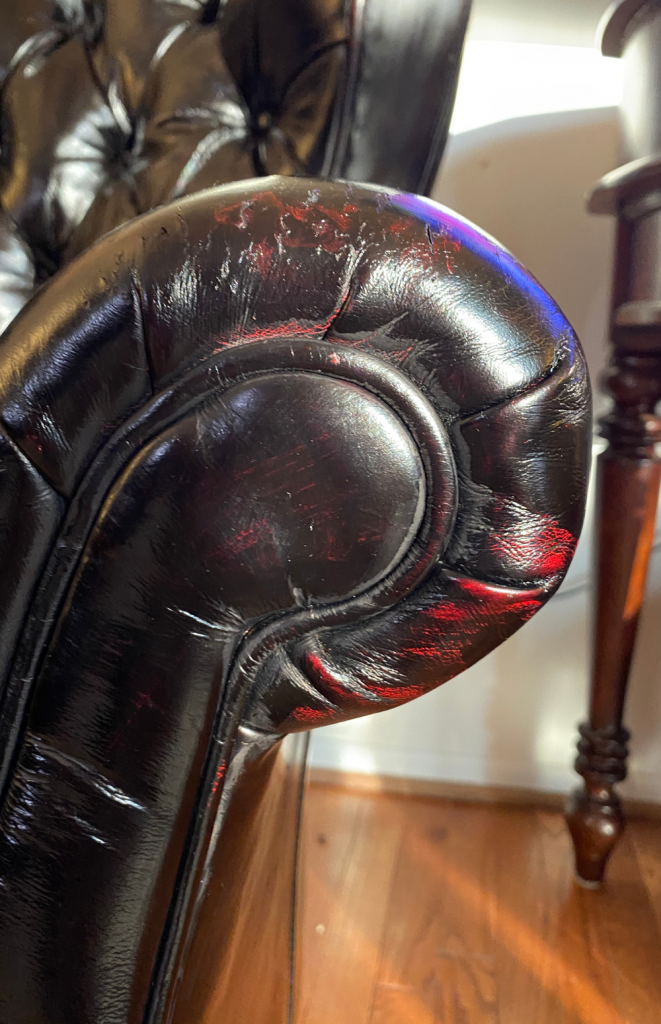 I am so thrilled with how the color change turned out on my leather. Not only that, the Resolene makes a beautiful, factory-looking finish that makes the chair look new again.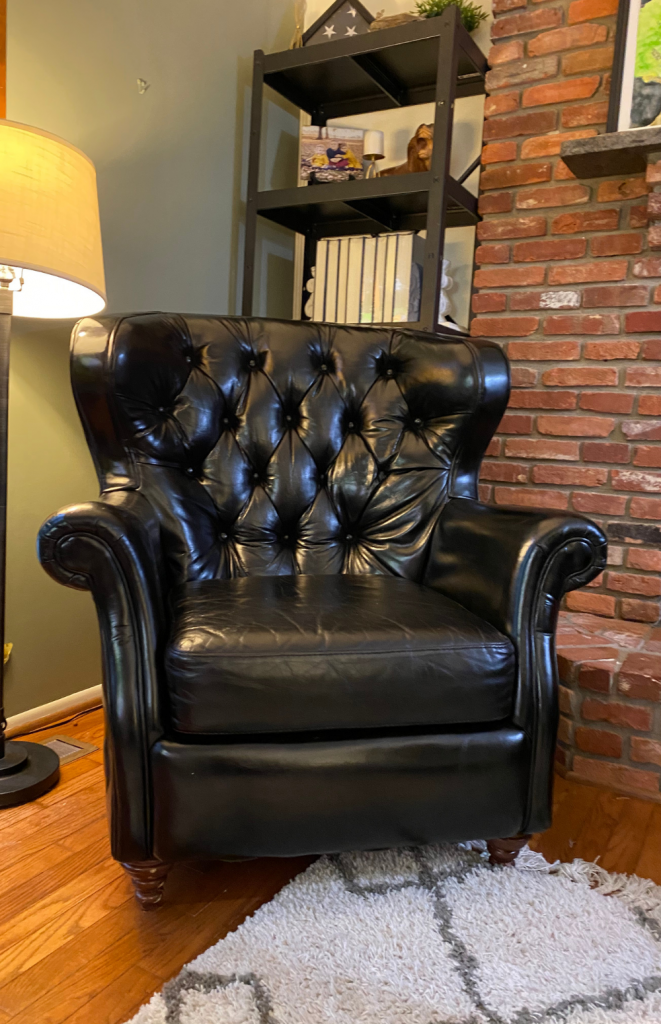 Steps to Dyeing Leather
To summarize, here are the steps of using leather dye to change the color of your leather.
Use Deglazer to remove the existing leather finish.
Apply leather dye using a dauber. Wipe off excess leather dye.
Apply Resolene for a protective top coat to the leather.
Final Thoughts on Dyeing Leather Furniture at Home
Recoloring your leather furniture is a super easy DIY project that even a beginner can complete. I have had good success using the Fiebing's leather products. My chair and ottoman went from a bright red to a gorgeous luxe black in about two hours.
If you have leather furniture that you want to change the color of, or even just give a richer, more even color to, pick up some leather dye and get to work recoloring your leather!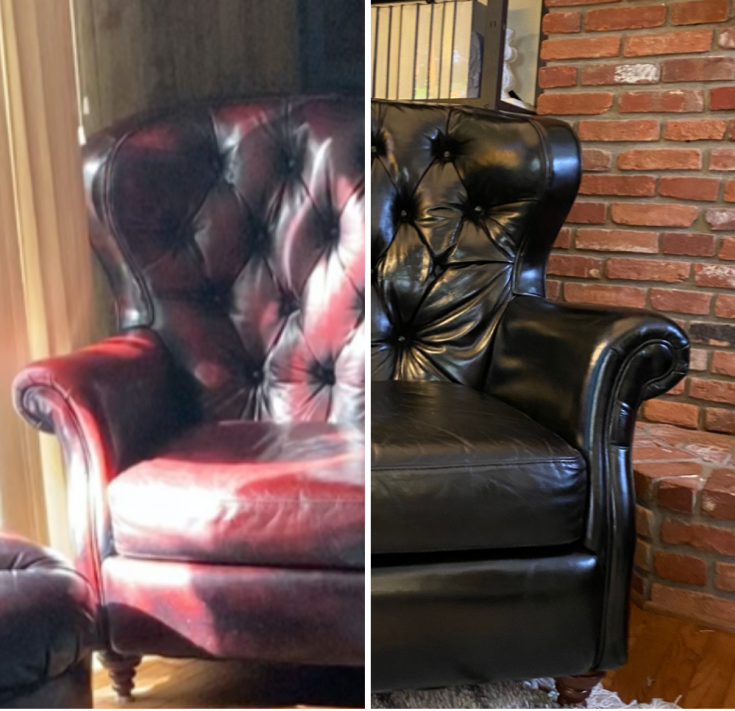 How to Dye Leather Furniture
Additional Time:
2 minutes
Total Time:
1 hour
2 minutes
Learn how to recolor leather furniture using leather dye with this easy three-step process!
Materials
Instructions
Use Deglazer to remove the existing leather finish.
Apply leather dye using a dauber. Wipe off excess leather dye with a spare rag.
Using a soft, clean rag, apply Resolene for a protective top coat to the leather.