Watery is a beautiful blue green paint color by Sherwin Williams. Watery paint color can be calming and soothing, fun and whimsical, or elegant and sophisticated.
Sherwin Williams Watery is part of the following color collections: 2015 Voyage, Coastal Calm, Precious Baby, Teen Space, and Living Well.
This post may contain affiliate links. If you have any questions, please see my disclaimer page.
Sherwin Williams Watery Paint Color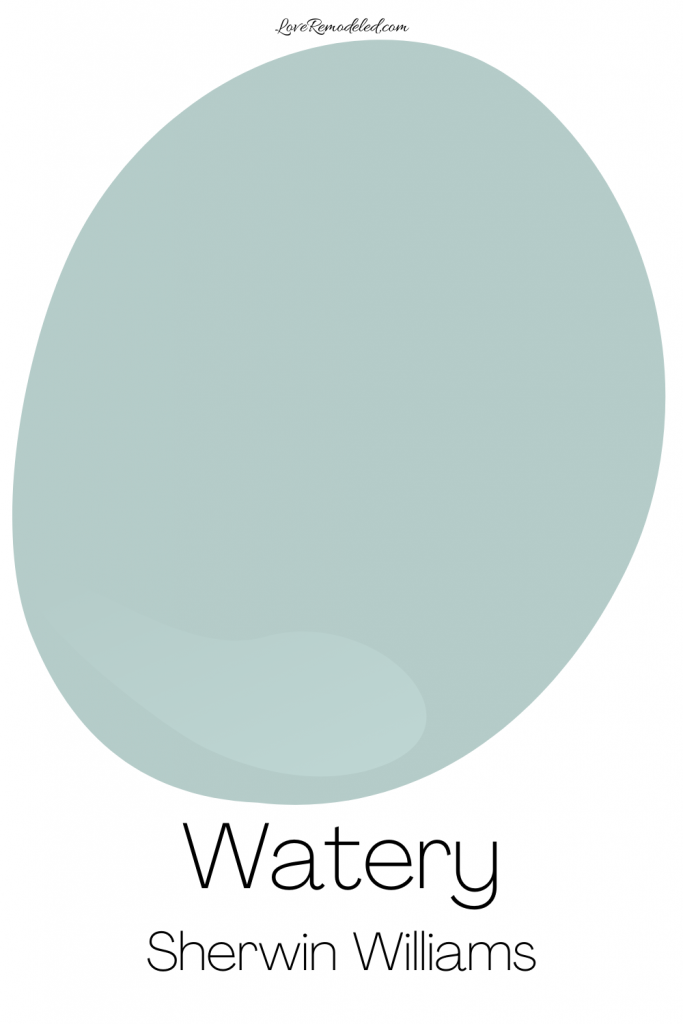 While Sherwin Williams classifies Watery as a blue paint color, Watery is probably better classified as a blue green paint color. Some may see it as a green paint color with a lot of blue, while others see it as a blue paint color with a lot of green.
Truly, the color will shift between looking more blue and more green depending on the lighting in the room. That's why it is best described as blue green paint color, rather than just a blue. You can't really identify it as a green, or a blue, without seeing the other shade in it.
Watery is a softer, pastel type paint color that has a little bit of brightness to it, but not too much. It sort of straddles the line between being bright and soft all at the same time.
In a room with a lot of northern facing light, Watery will look a little more washed out, where as a room with more southern sunlight will bring out that blue green color even more.
Sherwin Williams Watery LRV
Watery has an LRV of 57. While this is still considered to be in the light range, it does have some color to it.
The LRV, or Light Reflectance Value, scale goes from 0, which is completely black, to 100, which is completely white. So, as you can see, an LRV of 57 is pretty close to the middle of the range.
Despite this, Watery will still reflect an adequate amount of light back into the room. Overall, an LRV of 57 has some body to it, but is not a super saturated shade.
Is Sherwin Williams Watery Warm or Cool?
Because it is blue/green, Watery is a cool paint color. Cool paint colors are blue, green and purple. Warm paint colors are red, orange and yellow.
Cool paint colors evoke feelings of relaxation and calm. Accordingly, Watery is very soothing and spa-like.
Where Can I Use Sherwin Williams Watery?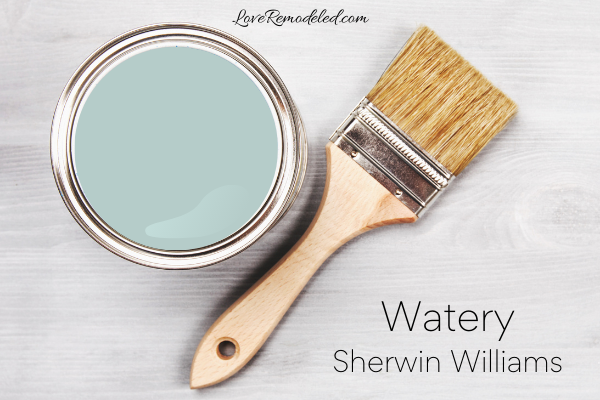 Watery is a great paint color to use in bedrooms and bathrooms, where cool colors are commonly used. But, it can also be great in dining rooms and living rooms, to give the space a beachy or even sophisticated look.
Watery is an interesting paint color because it can bring about a different feeling in the room depending on what it is paired with.
In a nursery or playroom, Watery can look fun and whimsical when paired with other bright colors. In a living room or dining room, Watery can look elegant when paired with bright, crisp white woodwork. In a bathroom or bedroom, Watery can look spa-like, evoking a feeling of calm.
Watery is also a nice color for a home exterior. In particular, Watery works well on a beach home. It will look a little more washed out in the sunlight, but will still bring a bit of brightness to a home's exterior. Alternatively, Watery can be used on a front door for a nice pop of color.
Watery is a perfect beach house paint color. It can also work in farmhouse, contemporary or traditional style home.
Sherwin Williams Watery Coordinating Colors
Watery works well with neutrals such as whites, creams, blacks, and grays. It can also work with yellows, lighter or darker blue green colors, and navys.
Here is an example paint color palette for Watery. Sherwin Williams pairs Watery with Glimmer, a soft, blue green paint color, Aged White, a cream toned off-white paint color, and Shell White, a grayish white paint color.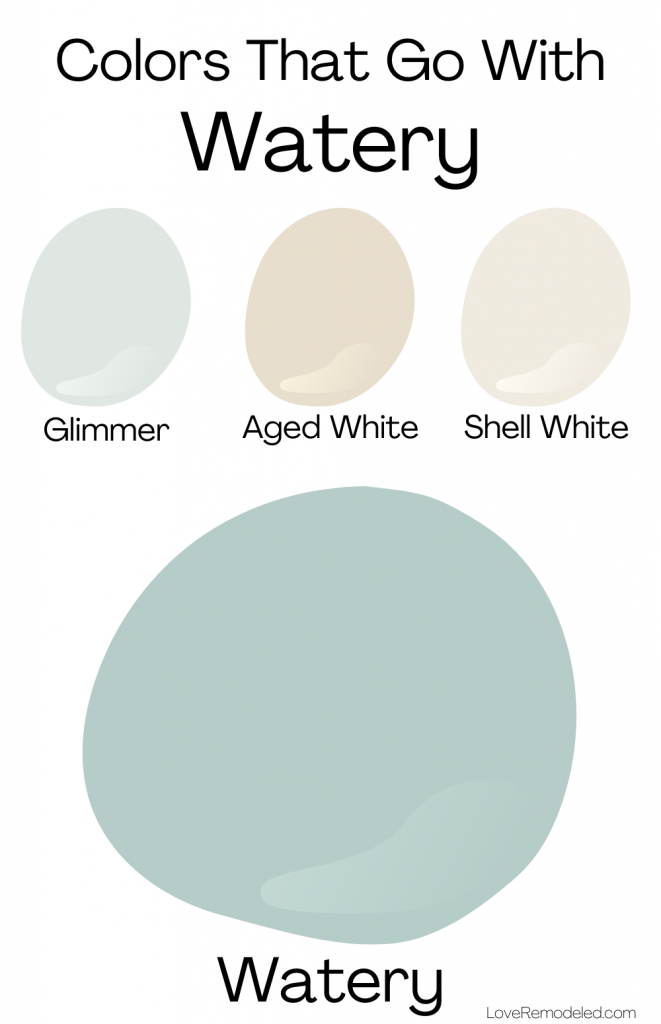 Sherwin Williams Watery Trim Colors
Watery can go well with a lot of different white paint colors. For some specific suggestions, you can pair Watery with High Reflective White and Pure White.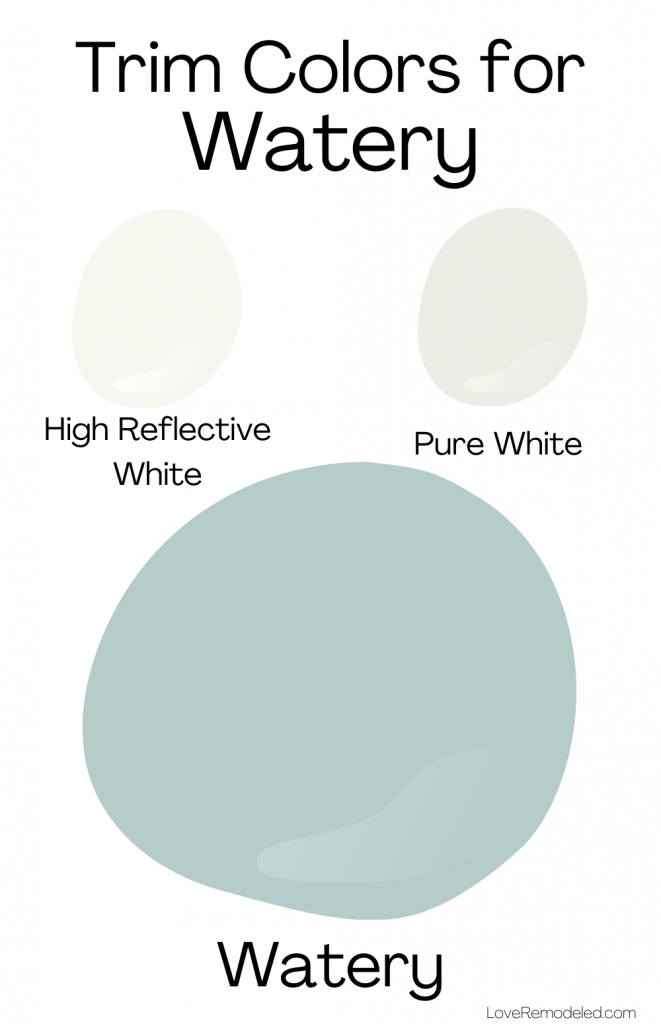 High Reflective White is a bright white paint color that is clean and crisp. It is almost undertone free, making it just very white looking.
Pure White is a softer white paint color. It still looks bright on your trim, but not as white as High Reflective White. This is because Pure White has a bit of gray and yellow in it. It leans warm, but goes well as a trim color with almost every shade of paint.
Sherwin Williams Watery Paint Color Comparison
When I do a full paint color comparison, I always like to compare the paint color to other similar paint colors. When people are searching for the right shade for their home, they're frequently looking at several paint colors and choosing between them
This sort of color comparison can be helpful in determining which paint color is the right one for your home. It can also help to identify other popular paint colors that maybe you should consider as well.
Watery vs. Tidewater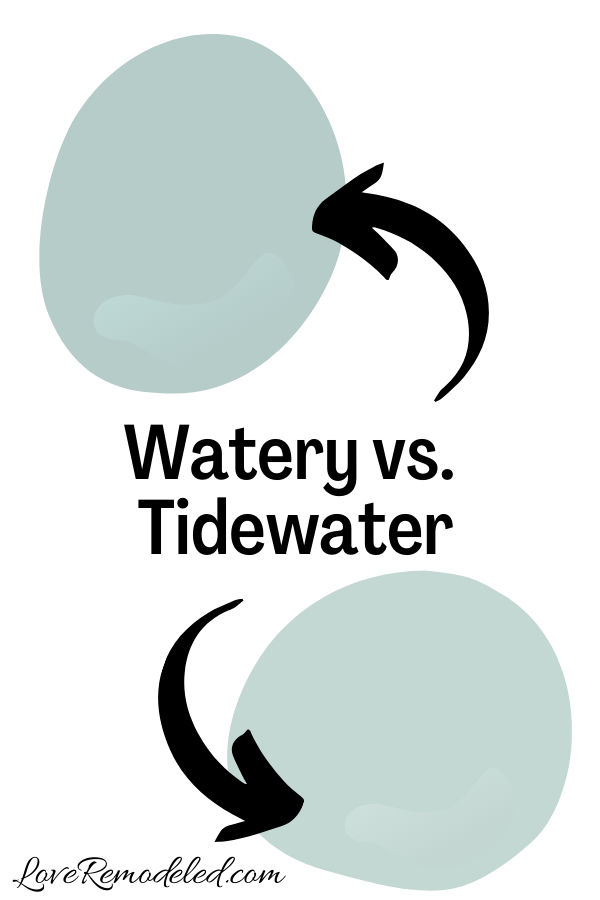 Tidewater is a Sherwin Williams paint color that shares a color strip with Watery. Some people would tell you that this means that they are the same paint color, just a lighter or darker version of each other.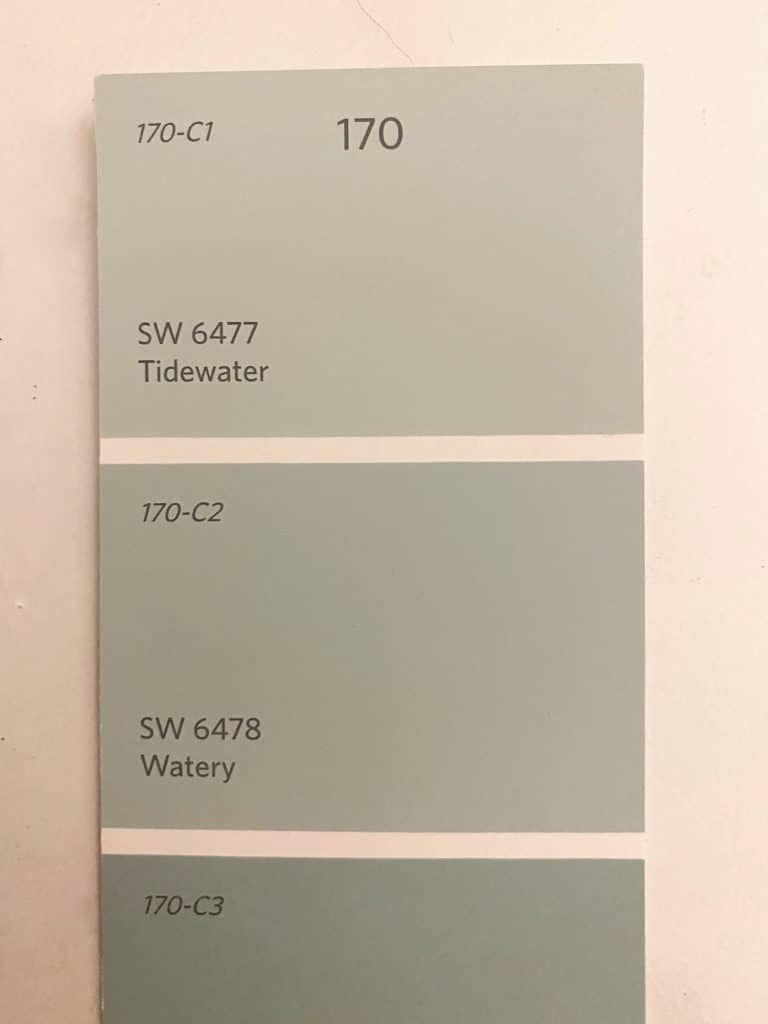 While this is true for some of Benjamin Moore's collections, this is not true of Sherwin Williams paint color strips. Instead, Sherwin Williams paint color strips are organized by general color families.
Truly, these paint colors are fairly similar in their undertones though. One may technically have a bit more blue or green than the other, but they look like just lighter and darker versions of each other.
Tidewater is one color block up from Watery, and is a lighter paint color. Tidewater has an LRV of 65, so it has a bit more white in it.
If you like Watery, but don't want so much color on your walls, Tidewater might be the better choice. Alternatively, if your room gets a ton of light and you're afraid that Tidewater may look a bit washed out, Watery may be the better choice.
If you're interested, I write all about Tidewater here.
Watery vs. Rainwashed
Rainwashed is a popular blue green paint color by Sherwin Williams as well. Rainwashed has more green and gray in it than Watery does though. The gray tones Rainwashed down considerably, making it look not nearly as bright as Watery.
Rainwashed and Watery have similar LRVs though, and will have about the same amount of weight on your walls.
Choosing between Rainwashed and Watery will come down to whether you want a paint color that is more muted, and also greener, or brighter and more blue.
If you're interested, I write all about Rainwashed here.
Watery vs. Sea Salt
Sea Salt is a classic sort of paint color by Sherwin Williams. It has been popular for years, due to its ability to almost act as a neutral.
Sea Salt is a blue green paint color that also has a lot of gray in it. The gray becomes even more evident in it when you compare it to Watery. Additionally, you see that Sea Salt has more green in it than Watery, making Watery look more like a blue and Sea Salt look more like a green.
Sea Salt and Watery are similar in that they are both soothing, cool paint colors. But, Sea Salt is more versatile, mostly because it just has less color in it. Whenever a shade as more gray in it, it tends to be a bit more functional than others that just have "color" in them.
If you want a color that can also play the part of a neutral, Sea Salt may be a better bet. But, if you want a paint color that looks like a true color, Watery is the go-to pick here.
If you're interested, I write all about Sea Salt here.
Wondering How To Pick the Perfect Paint Color?
I have the best solution for you!
Samplize sells 9×14.75 stick-on paint sheets in almost every paint color.
These no-mess, peel and stick sheets are made from real paint, so they will show you exactly what the paint color will look like.
Simply place them on your walls next to your trim, furnishings or fixed elements, and easily see which paint color works best in your space and with your lighting.
Then, peel the sheet off your wall and reapply it somewhere else if you like. You can try several different paint colors with no mess, no fuss and no cleaning paint brushes.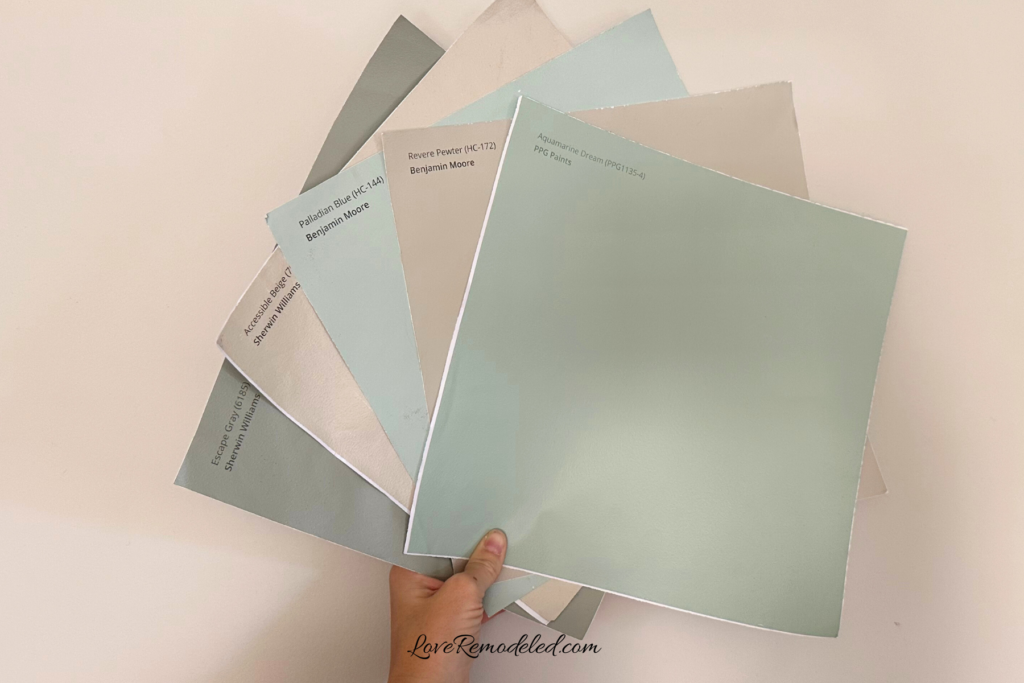 Oh, and you can have them in your home by tomorrow with OVERNIGHT shipping!
As a bonus, be sure to use the code LoveRemodeled10 at check out to get an extra 10% off! Samplize sheets are cheaper than a sample can of paint, and way less work.
They are the easiest (and fastest!) way to try a paint color in your home, with no hassle.
Final Thoughts on Sherwin Williams Watery
Watery is a beautiful blue green paint color that is soothing and relaxing on your walls. It is a welcoming sort of paint color, that is cheerful and fun, or sophisticated and elegant depending on what it is paired with.
Watery has a bit of brightness to it, but is still a fairly light paint color.
If you are looking for a beautiful blue green paint color that is beachy or spa-like, Watery may be a great choice for you!
Want to see all your paint options in one convenient place? Click here to get everything you need to start painting, including Sherwin Williams and Benjamin Moore paint color decks!
Have a question or want to show off your project? Join the discussion in Love Remodeled's Facebook group!