Rainwashed, by Sherwin Williams, is a beautiful paint color for your home. This light greenish blue shade imparts a relaxing feeling to a room, making it a great choice for a bedroom, bathroom or living room.
Rainwashed is part of the Living Well – Recharge paint color collection.
This post may contain affiliate links. If you have any questions, please see my disclaimer page.
Sherwin Williams Rainwashed Paint Color Characteristics
Rainwashed has shades of blue, green and gray in it.
Sherwin Williams actually classifies Rainwashed as a green paint color on their website, and as a neutral in their color book, but it has always looked blue to me.
Clearly, Rainwashed is a versatile color. It can lean blue or green depending on the lighting and the decor it is paired with.
While it does have some gray in it, you will likely never mistake Rainwashed for gray. In most lights in most rooms, Rainwashed will look like a blue paint.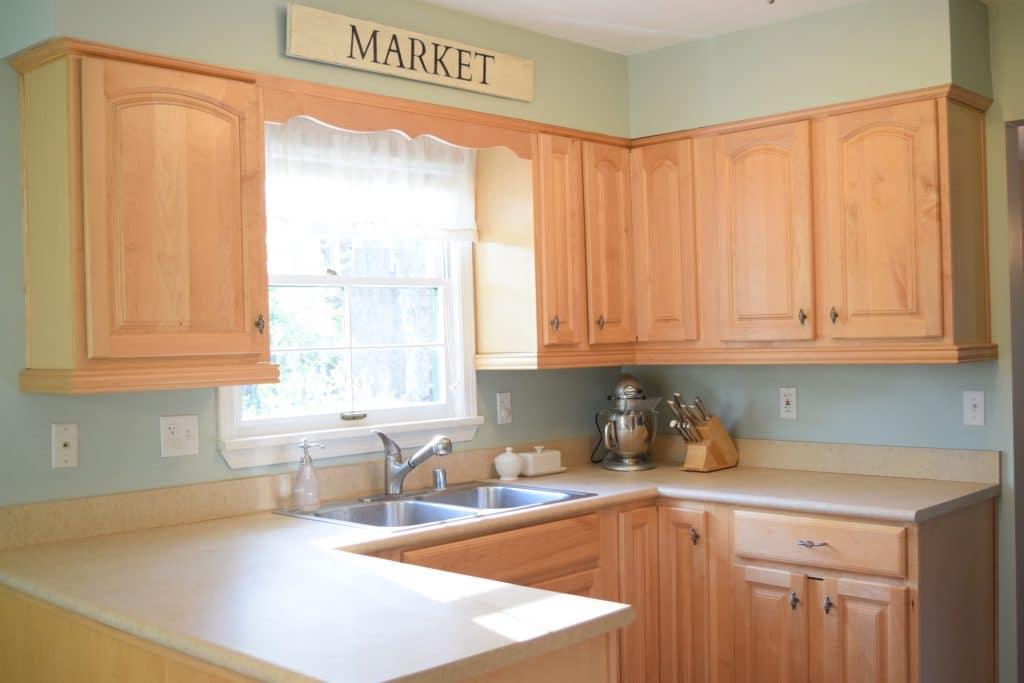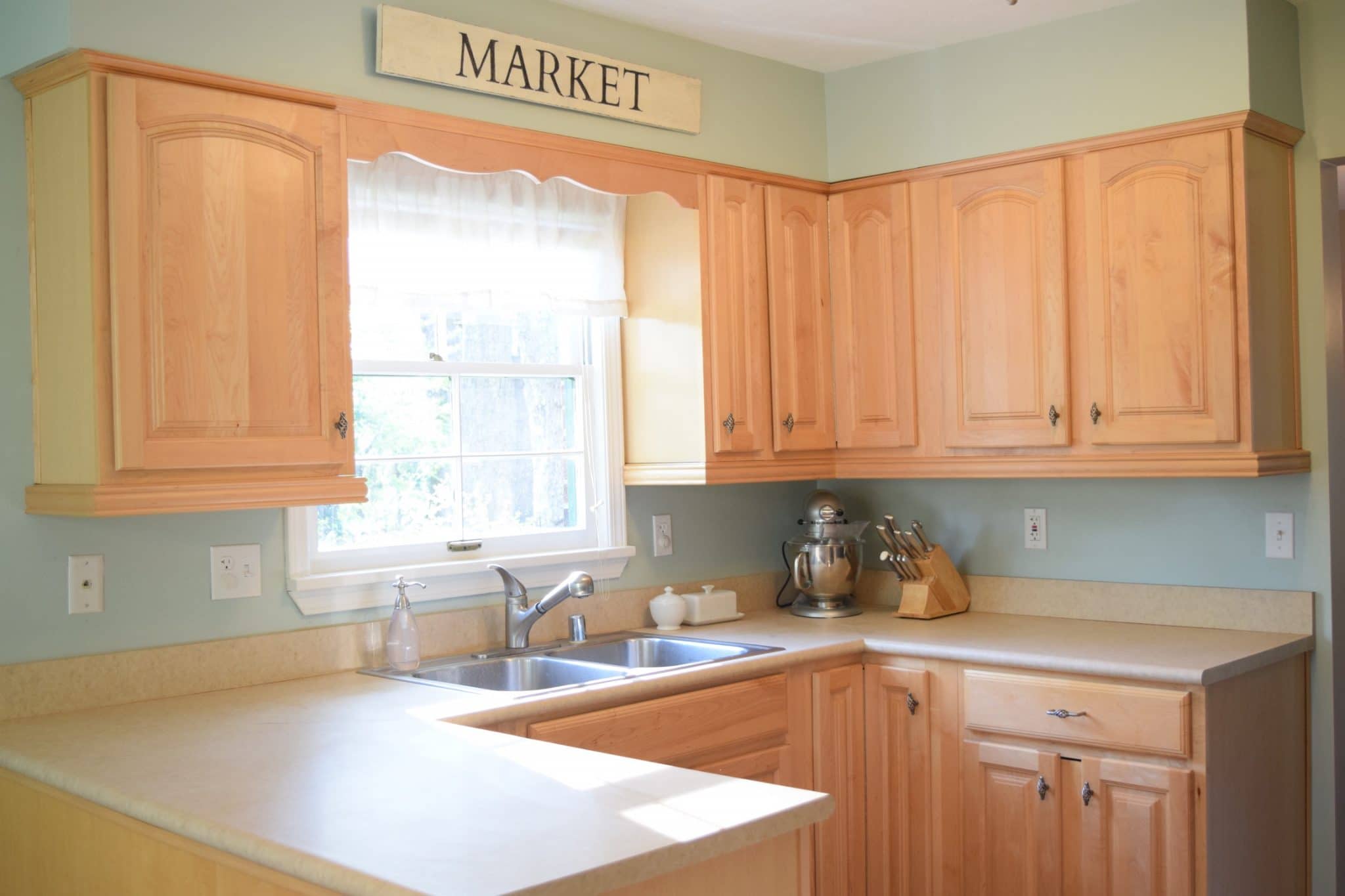 Is Rainwashed a Warm or Cool Color?
Rainwashed is a cool color. Like most cool colors, it is soothing and makes a space feel larger than it is.
Complimentary Paint Colors for Rainwashed
Rainwashed tends to go well with lighter or darker blue greens colors of similar composition as Rainwashed, yellow, orange, navy and some pink colors. Rainwashed is also great with neutrals like whites, creams, grays, blacks, and beiges.
Sherwin Williams pairs Rainwashed with First Star, a light gray paint color, Window Pane, a light blue green paint color, and Pewter Cast, a dark gray paint color.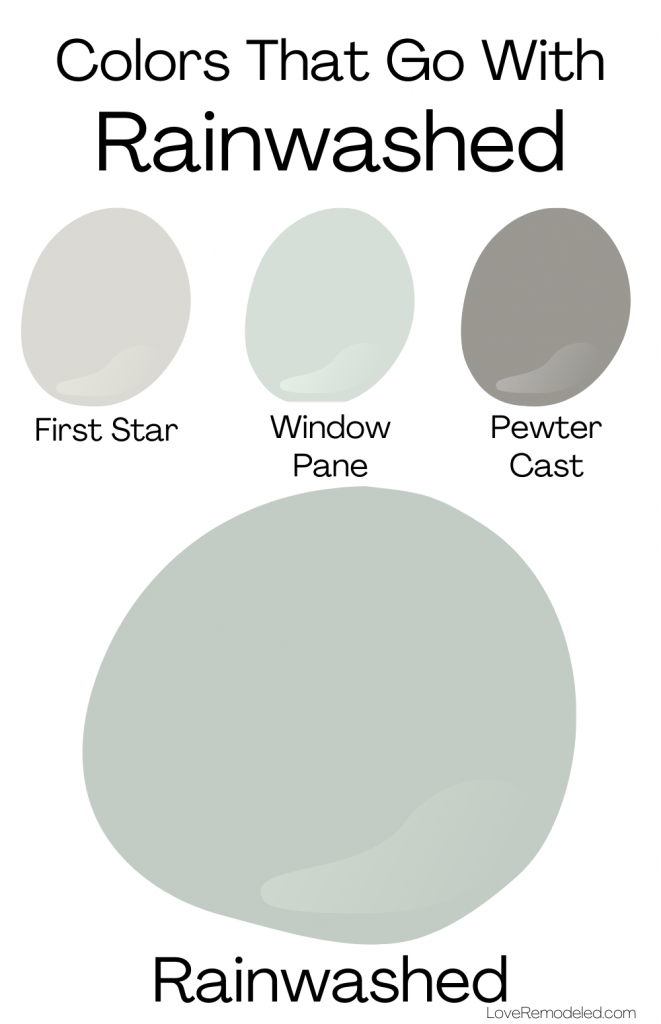 Trim Paint Colors for Rainwashed
Rainwashed is a fairly versatile paint color for pairing with white paint colors. It can go with everything from bright, clean white paint colors, or with creamy white paint colors.
Two great white paint colors to pair with Rainwashed are High Reflective White and Pure White.
High Reflective White is a bright white paint color that is almost undertone free. Pure White is a softer white paint color that has just a bit of yellow and gray in it. Both of these paint colors are my go-to paint shades for trim and woodwork.
But, Rainwashed also works well with Alabaster, a creamy white paint color with yellow undertones.
Sherwin Williams Rainwashed Compared
When I do a complete paint color review, I always compare several paint colors together. This can be helpful for people who are trying to decide between several colors that are in the same color family.
If someone is considering Rainwashed, they may also be considering Sea Salt, Quietude and Palladian Blue. Let's look at these paint colors to see which one might be the better pick for your home.
Rainwashed Vs. Sea Salt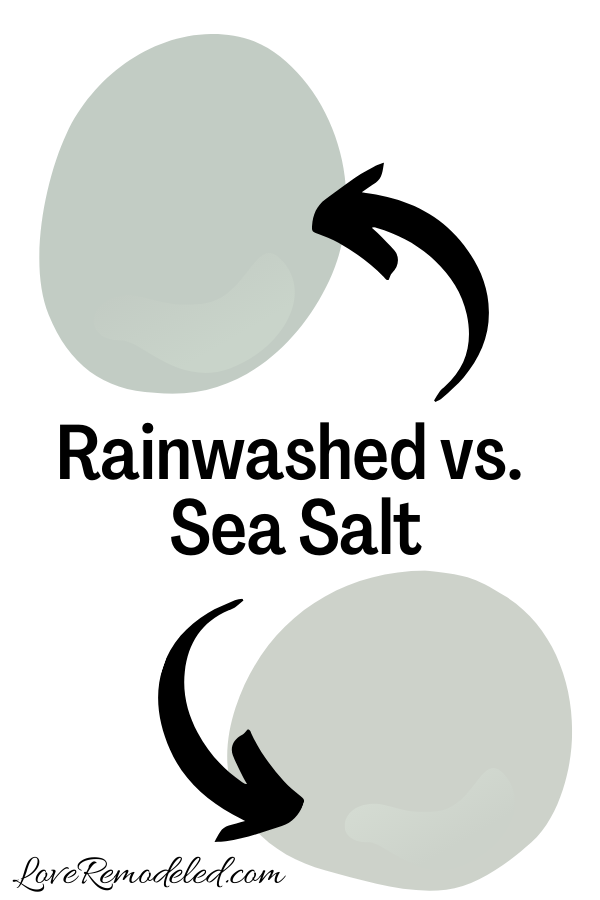 Rainwashed and Sea Salt are pretty similar colors.
Both are beautiful shades of blue green, though with differing amounts of blue and green. While Rainwashed is a blue with green undertones, Sea Salt is green with blue undertones. In addition, Sea Salt has more gray in it, so it is a more muted color than Rainwashed.
Overall, Sea Salt has a broader appeal than Rainwashed because it is even more of a neutral shade. That being said, if you prefer a color that looks like a color, Rainwashed is going to be a better choice for you.
Click here to learn more about Sherwin Williams Sea Salt.
Rainwashed vs. Quietude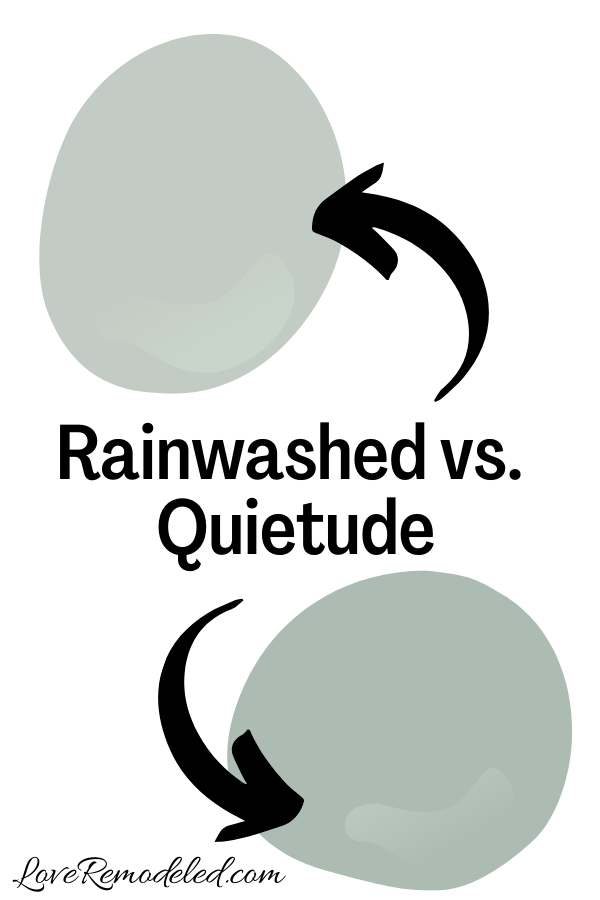 Quietude is a medium depth blue green paint color. It is slightly darker than Rainwashed.
Quietude actually shares a paint strip with Rainwashed. Some people would think that this means that they are the same paint color, just lighter or darker versions of each other. In fact, Sherwin Williams groups paint colors with other similar paint colors, but paint colors on the same strip can have different undertones.
Quietude tends to look greener on your walls than Rainwashed does. But, both Rainwashed and Quietude will give you that blue green look that you are going for.
So, if you like Rainwashed but want a darker paint color for your space, Quietude might be a good pick.
Rainwashed vs. Palladian Blue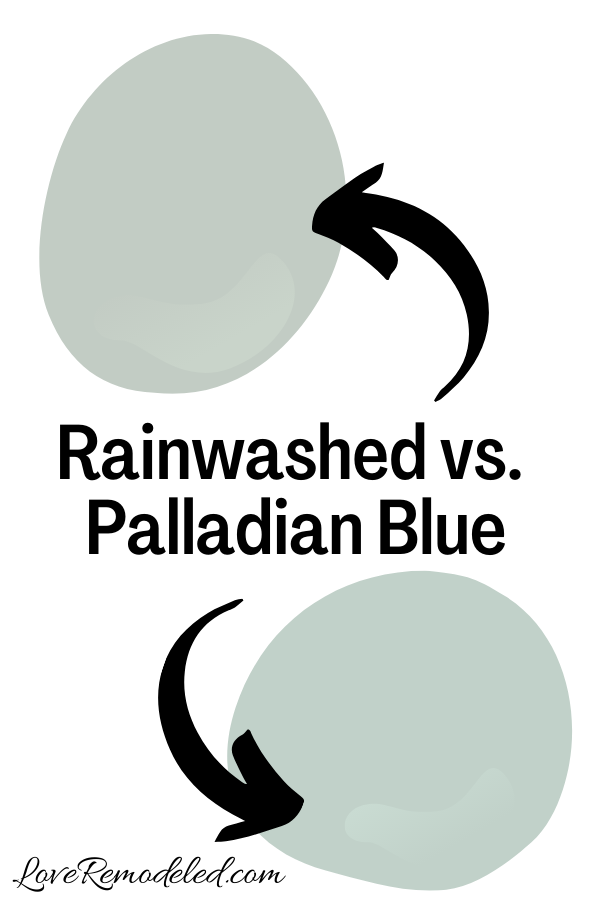 Palladian Blue is a soft, blue green paint color by Benjamin Moore. Palladian Blue has more green in it than Rainwashed, and less gray.
So Palladian Blue looks much more colorful on your walls than Rainwashed does. But, Palladian Blue and Rainwashed have about the same depth on your walls.
If you like a blue green paint color that has a bit of brightness to it, Palladian Blue is going to be your pick. But, if you want a shade that is more muted, the gray in Rainwashed softens it some.
Click here to learn more about Benjamin Moore Palladian Blue.
What Benjamin Moore color is like Sherwin Williams Rainwashed?
If you like Rainwashed, but prefer Benjamin Moore paint colors, you may want to consider Colony Green (694).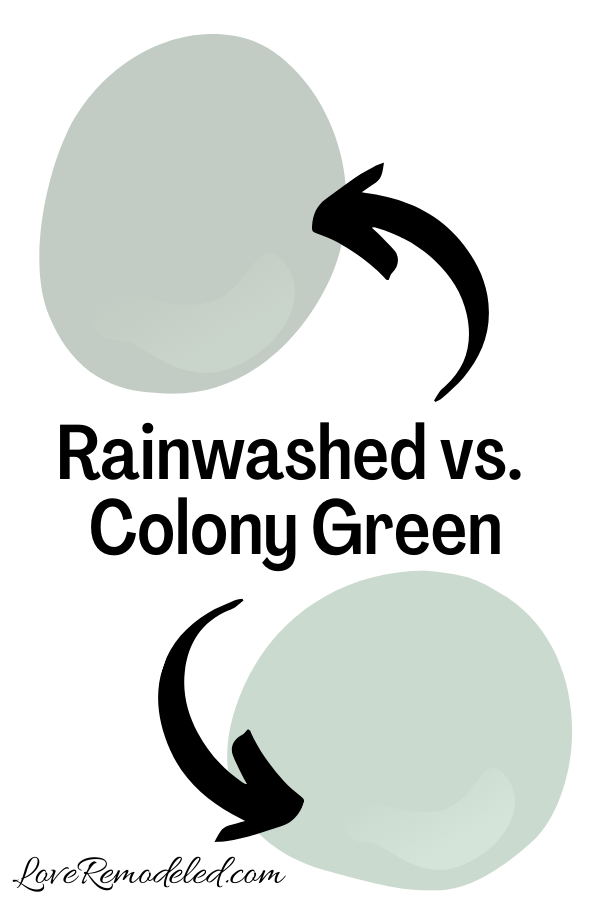 While no two paint colors are exactly the same between brands, Sherwin Williams Rainwashed and Benjamin Moore Colony Green are very similar.
Rainwashed has a tiny bit more gray in it than Colony Green does, but otherwise, they are very close in color.
Wondering how to pick the perfect paint color?
I have the best solution for you!
Samplize sells 9×14.75 stick-on paint rectangles in almost every paint color.
These eco-friendly, peel and stick rectangles are made from real paint, so they will show you exactly what the paint color will look like.
Simply place them on your walls next to your trim, furnishings or fixed elements, and easily see whether the paint colors work in your space and with your lighting. Then, peel the sheet right off your wall and reapply it somewhere else if you like!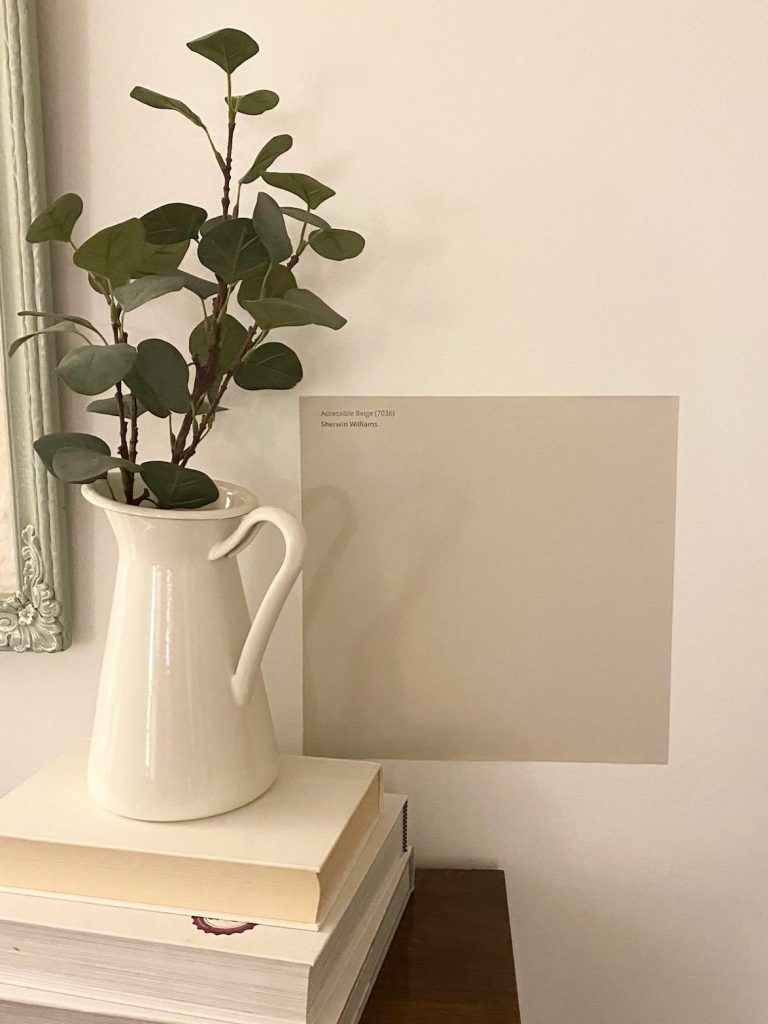 Oh, and you will receive them tomorrow with $5 overnight shipping! But, if you enter your email, you'll get $5 off your first order – which basically means that you will get free, overnight shipping!
Samplize sheets are truly the easiest (and fastest!) way to test a paint color in your home.
What Rooms Should I Paint Rainwashed?
Rainwashed is a great color for a room that you want to give a relaxing feel.
In a bathroom, it gives a clean, fresh look.
In a kitchen, it livens up white or light wood cabinets.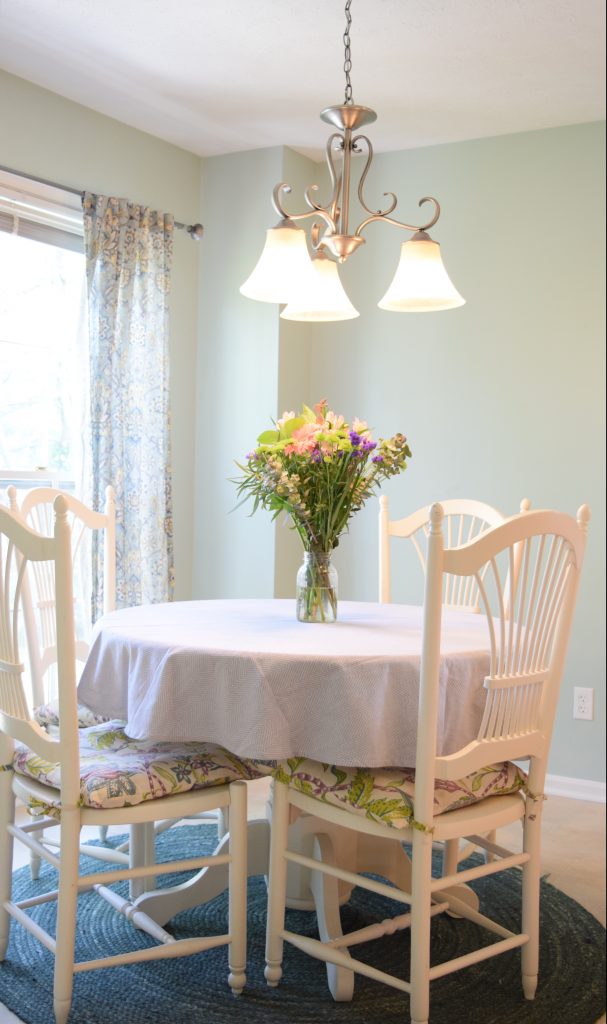 In a bedroom, it looks inviting.
In a living room, it hearkens you to stay awhile.
Truly, because it is a light "neutral," you can use it in any part of your home.
What Style of Home Can I Paint Rainwashed?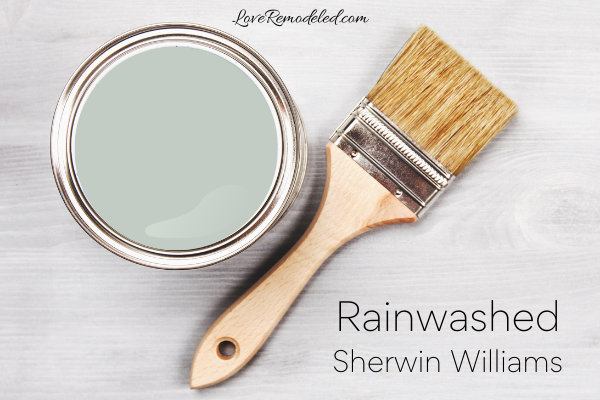 Rainwashed is a really beautiful color that goes in a lot of style homes.
It goes with white or wood trim, and looks amazing in traditional, transitional, french country, shabby chic, bohemian, coastal or farmhouse style homes.
In fact, it is so versatile that I chose it as my favorite blue green paint color from Sherwin Williams.
I also include it in my list of all the best blue green paint colors.
Final Thoughts on Rainwashed
Rainwashed is a great choice for almost any room in any home. It is a pretty shade of blueish green that will soothe your senses while inviting you to relax.
If you are looking for a blue green paint color for your space, Rainwashed should be on your short list!
Want to see all your paint options in one convenient place? Check out my Amazon Shop, where you can get everything you need to start painting, including Sherwin Williams and Benjamin Moore paint color decks!
Have a question or want to show off your project? I try to answer all comments within 2 weeks, but for a much faster response, join my new Facebook page here!