Colonnade Gray (frequently spelled Collonade Gray) is one of Sherwin William's "timeless paint colors." It has been popular for years, and will likely be popular for years to come. Colonnade Gray is a classic, enduring color that has wide appeal.
Why is this color called Colonnade Gray?
A colonnade is a group of pillars or support system for a roof. They were frequently used in ancient architecture and in traditional styled modern architecture. This style of supports have survived the test of time, both in popularity and in longevity.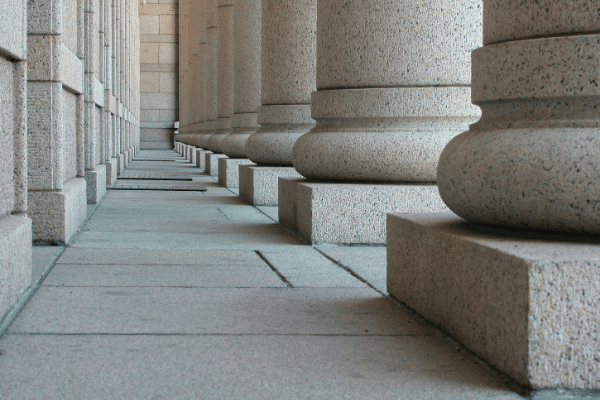 Because of this meaning, I would speculate that Sherwin Williams' chose this name for the striking shade because of its classic appeal. While it is not a dark color, it is strong, and will lend a bit of depth to a room.
In addition, colonnades were typically constructed out of earthen material – whether it was marble, limestone or painted timber.
Colonnade Gray is a distinctive gray/beige shade, reminiscent of the color of ancient colonnade pillars.
Colonnade Gray Undertones
Colonnade Gray has beige, gray and green undertones. It will never look green on your walls, but when paired next to a bluish gray or a purple-ish gray, it will be evident that the undertones of Colonnade are different.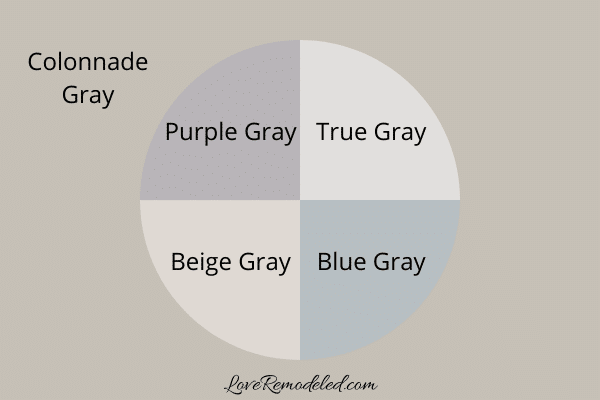 Here, you can see Colonnade Gray when compared to a blue gray, purple gray, true gray and beige gray. This demonstrates how the green and beige undertones become more evident.
Is Colonnade Gray warm or cool?
Colonnade is a neutral color with a bit of warmth to it. While many grays lean cool given their bluish undertones, Colonnade has beige undertones, making it lean slightly towards a warm color.
Is Colonnade Gray a greige color?
Yes! Colonnade Gray is a greige that leans more beige than gray, but will definitely look gray on your walls.
Greige paint colors are hugely popular right now. They are perfectly neutral. They can go with brown wood furniture, gray upholstery, white trim, or pops of whatever color you choose. Because of this, they are an amazing foundational shade for your home's color scheme.
This post may contain affiliate links. If you have any questions, please see my disclaimer page.
How dark is Colonnade Gray?
When compared to many greiges, Colonnade is actually on the lighter side. Sherwin Williams' rates the Light Reflective Value (LRV) at 53, which puts it in their light category. While it will have a bit more depth than the popular Agreeable Gray, Repose Gray and Accessible Beige, it won't make the room feel smaller, and will highlight white trim in a very nice way.
Where should I use Colonnade Gray?
Colonnade Gray is a perfect shade to anchor a whole house color scheme. Paired with crisp white trim, and colors that lean warm, Colonnade Gray will go nicely in main living areas, hallways, entryways and dining rooms.
I used Colonnade Gray in the basement of my home when I was looking for a greige that had a bit more depth to it than my tried and true choice of Agreeable Gray. I love how it looked when paired with the shiplap accent wall I made, and thought that it was a great choice for the space.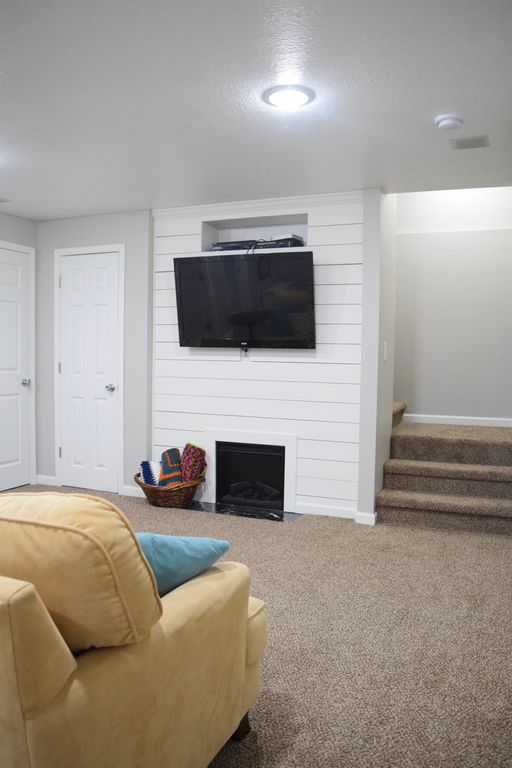 Wondering How To Pick the Perfect Paint Color?
I have the best solution for you!
Samplize sells 9×14.75 stick-on paint sheets in almost every paint color.
These no-mess, peel and stick sheets are made from real paint, so they will show you exactly what the paint color will look like.
Simply place them on your walls next to your trim, furnishings or fixed elements, and easily see which paint color works best in your space and with your lighting.
Then, peel the sheet off your wall and reapply it somewhere else if you like. You can try several different paint colors with no mess, no fuss and no cleaning paint brushes.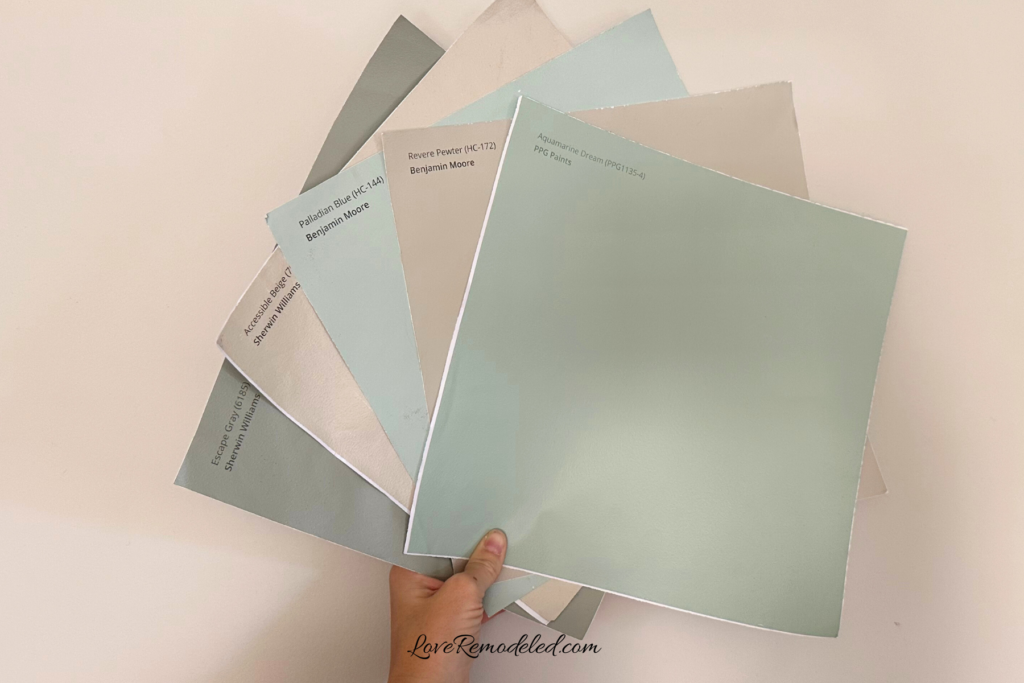 Oh, and you can have them in your home by tomorrow with OVERNIGHT shipping!
As a bonus, be sure to use the code LoveRemodeled10 at check out to get an extra 10% off! Samplize sheets are cheaper than a sample can of paint, and way less work.
They are the easiest (and fastest!) way to try a paint color in your home, with no hassle.
Final Thoughts on Colonnade Gray
Colonnade Gray is a timeless, neutral color that will work well in most homes.
If you're not sure about Colonnade Gray, be sure to check out Sherwin Williams' Top paint colors. There is sure to be something on the list that you like!
Oh, and before you go…
Want to see all your paint options in one convenient place? Click here to get everything you need to start painting, including Sherwin Williams and Benjamin Moore paint color decks!
Sherwin Williams Colonnade Gray
Have a question or want to show off your project? Join the discussion in Love Remodeled's Facebook group!