Sherwin Williams Agreeable Gray
Agreeable Gray paint color, by Sherwin Williams, is one of the most popular shades on the market today. It is a versatile shade that goes in any style of home.
Agreeable Gray is the perfect go to color for painting a living room, dining room, or hallway, but it can really be used anywhere in the house.
What Color is Agreeable Gray?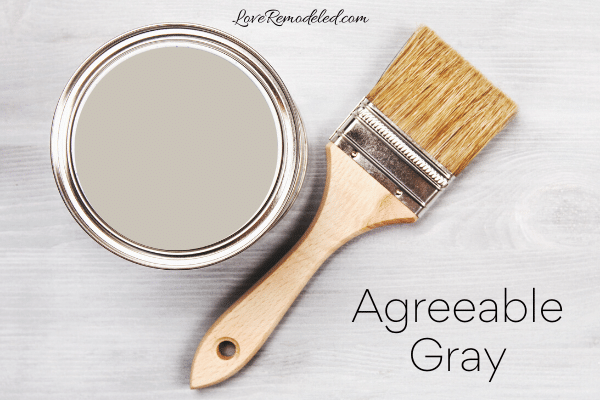 Agreeable Gray is the ultimate greige color, which means it is a mix of gray and beige.
With a lot of gray in it and just a touch of beige, Agreeable Gray is perfect in rooms that have gray or brown undertones.
Because it is a warm color, Agreeable Gray serves as a great backdrop for other warm shades.
Agreeable Gray has an LRV (Light Reflectance Value) of 60, meaning it reflects a fair amount of light.
Agreeable Gray Undertones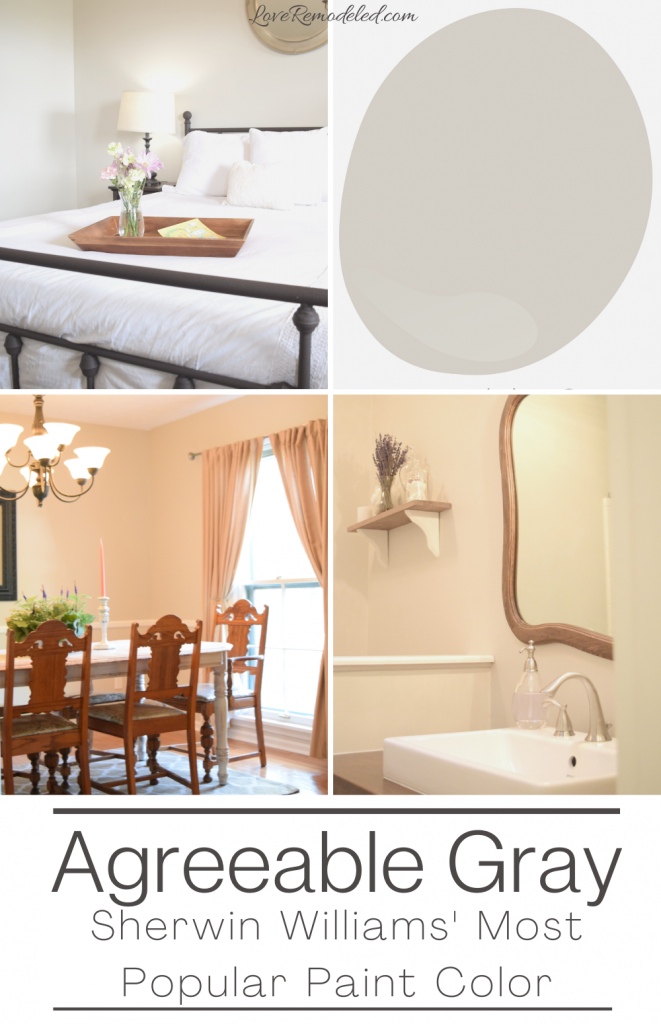 Agreeable Gray doesn't have strong undertones, but does have a hint of green mixed in with its beige and gray tones.
Because Agreeable Gray is a greige, it goes with almost anything.
It can pair with wood or white trim, goes well with all warm colors, and serves as a neutral backdrop for furnishings and accessories.
This color reminds me of an art gallery wall.
It is soothing and does not make much of a statement on its own, leaving the furniture and accessories to really stand out.
As with all colors, the lighting in your home will make a difference in how Agreeable Gray looks.
For example, in a room with lots of white light, Agreeable Gray may look more gray.
However, in a room with more yellow-toned lights, Agreeable Gray will take on more of a beige look.
The pictures below illustrate this.
Bedroom in Agreeable Gray: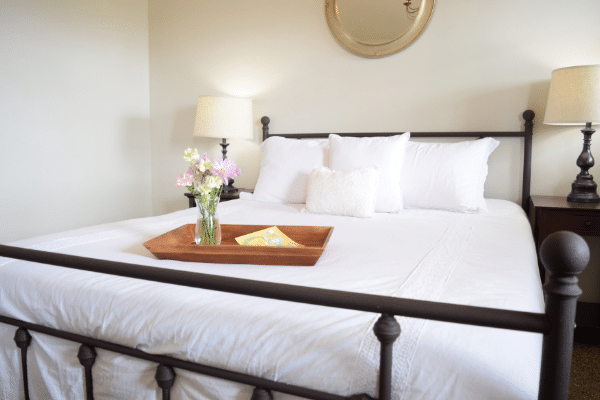 Dining Room in Agreeable Gray: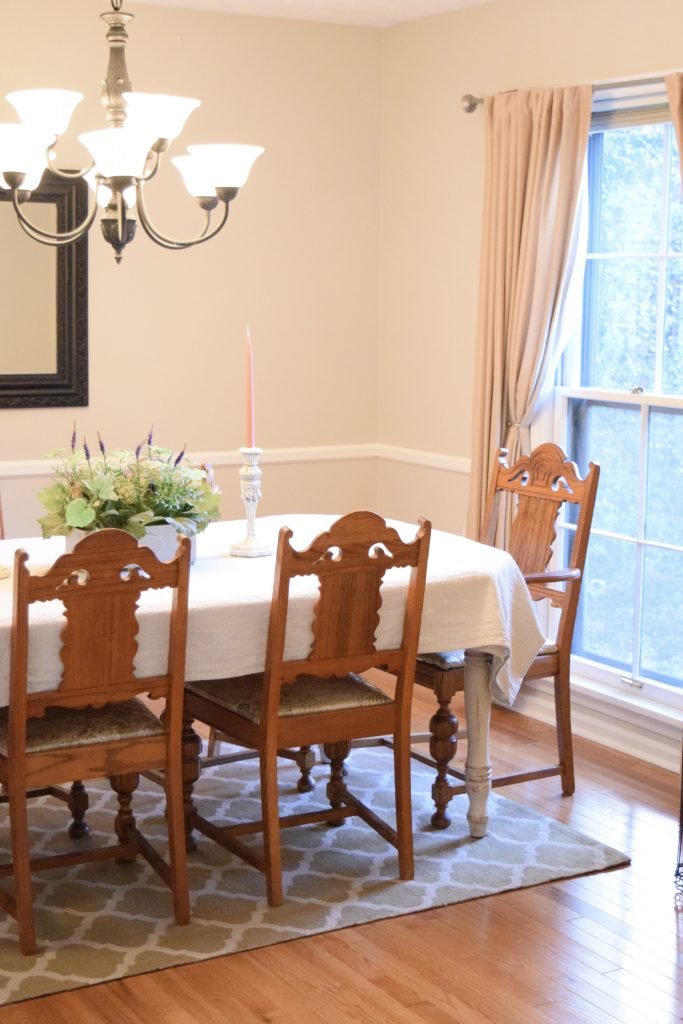 This post may contain affiliate links. If you have any questions, please see my disclaimer page.
Is Agreeable Gray Popular?
Sherwin Williams has a list of their most popular colors on their website, and the first color listed is Agreeable Gray.
Agreeable Gray has been chosen by homeowners and designers as the go-to color for years.
In fact, it is so versatile and popular that many realtors recommend it as the best color to paint your walls if you are selling your home.
This is because it goes with anything.
Agreeable Gray is light, doesn't have strong undertones, and plays well with any style or color that you put with it.
Agreeable Gray Compared
It can be difficult to choose the best greige color for your home. Let's explore some of the most popular greige colors on the market and compare them to Agreeable Gray.
Agreeable Gray vs Repose Gray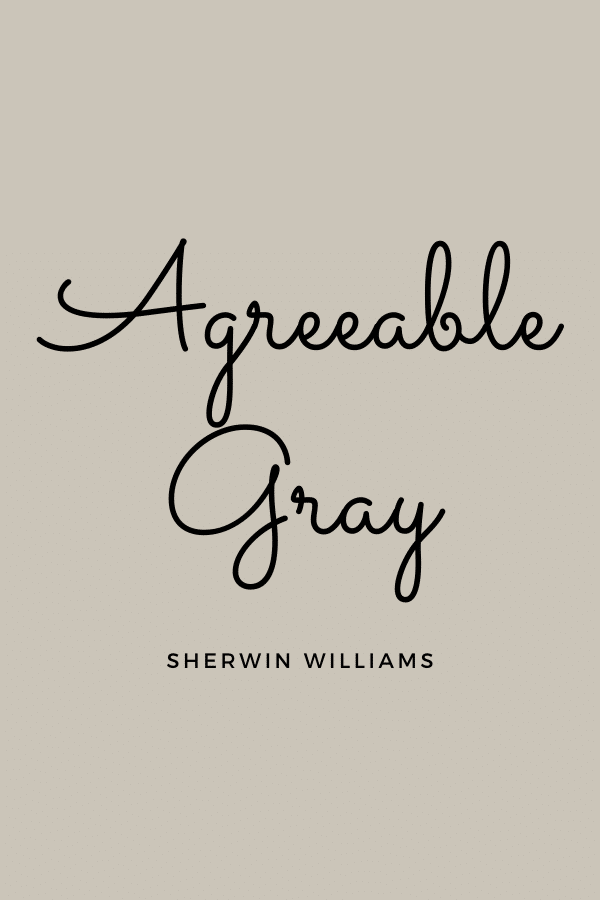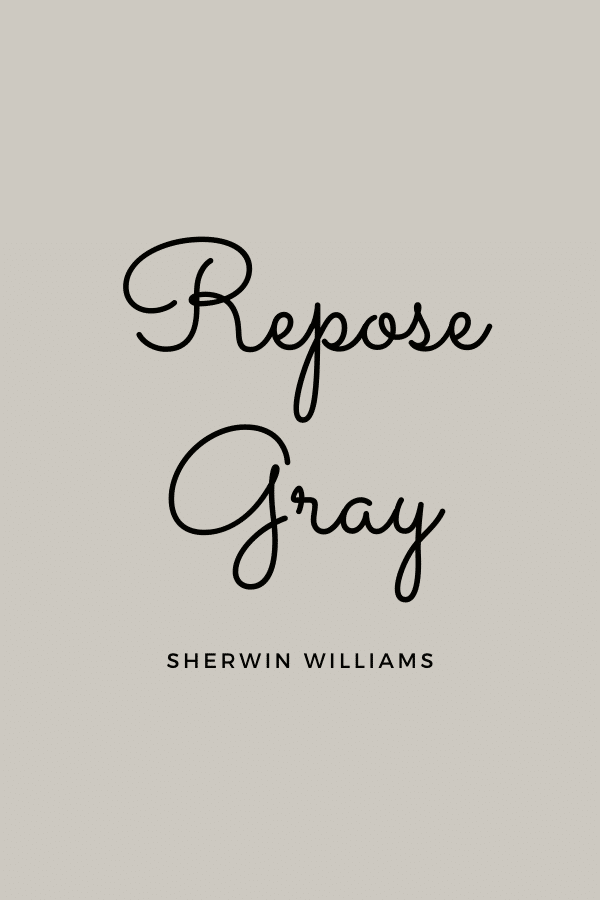 Repose Gray is a very popular Sherwin Williams color.
It is a greige that leans more towards gray than beige.
Both Agreeable Gray and Repose Gray are gorgeous choices for your walls.
While they each have gray and beige undertones, Agreeable Gray tends to do a slightly better job at going with everything.
With an LRV of 58, Repose Gray is not much darker than Agreeable Gray, but will look more like a true gray on the walls than Agreeable Gray will.
Click here for a full review of Repose Gray.
Agreeable Gray vs Revere Pewter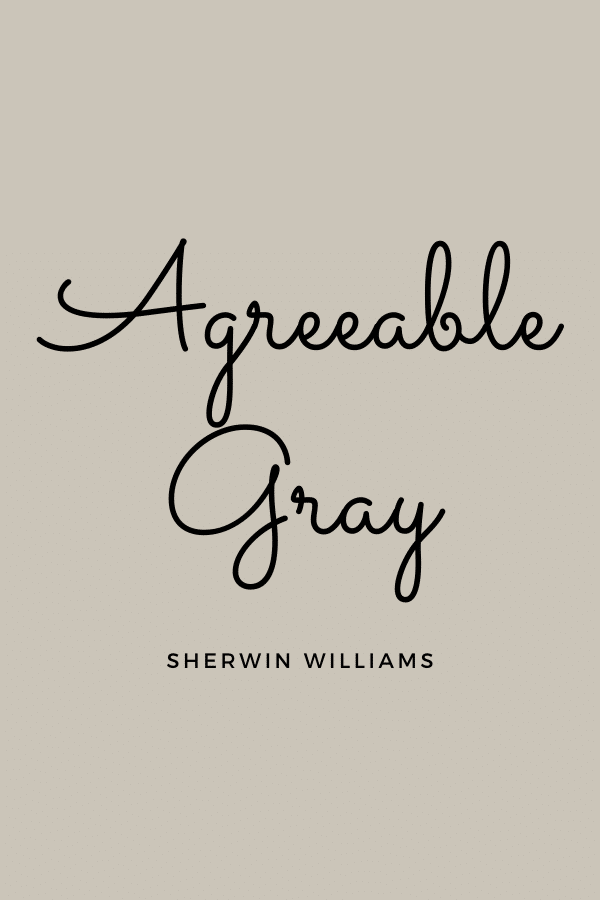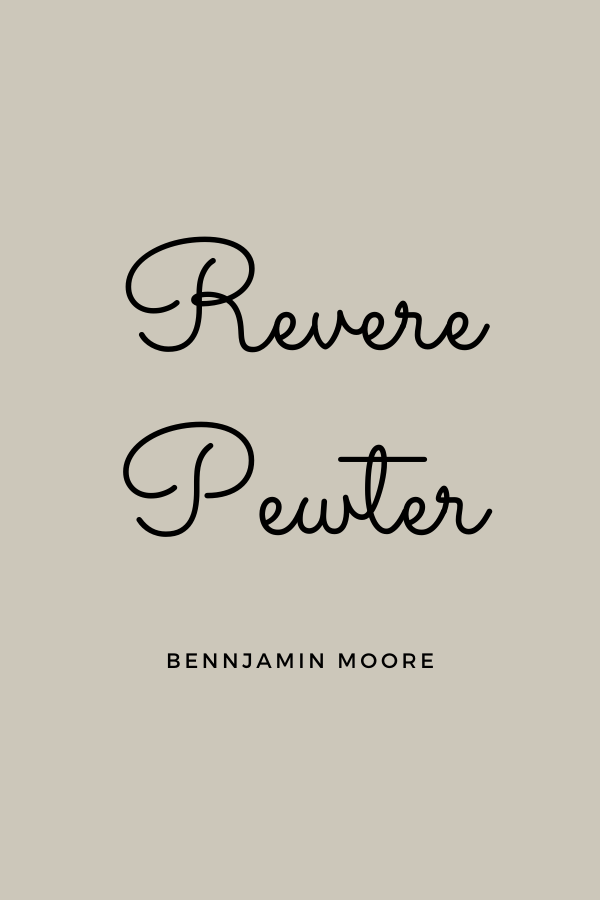 While Agreeable Gray is the most popular Sherwin Williams color, Revere Pewter may be the most popular Benjamin Moore color.
Both are included on almost all lists of the most popular gray paint choices (even though they are greiges).
Agreeable Gray and Revere Pewter are similar shades, though Revere Pewter has more beige in it.
With an LRV of 55, Revere Pewter is also a slightly darker shade than Agreeable Gray.
Revere Pewter was particularly popular several years ago when beiges were more in style.
With the rise of all things gray in homes, Agreeable Gray tends to be the go-to shade now.
Check out a full color review of Revere Pewter here!
Agreeable Gray vs. Edgecomb Gray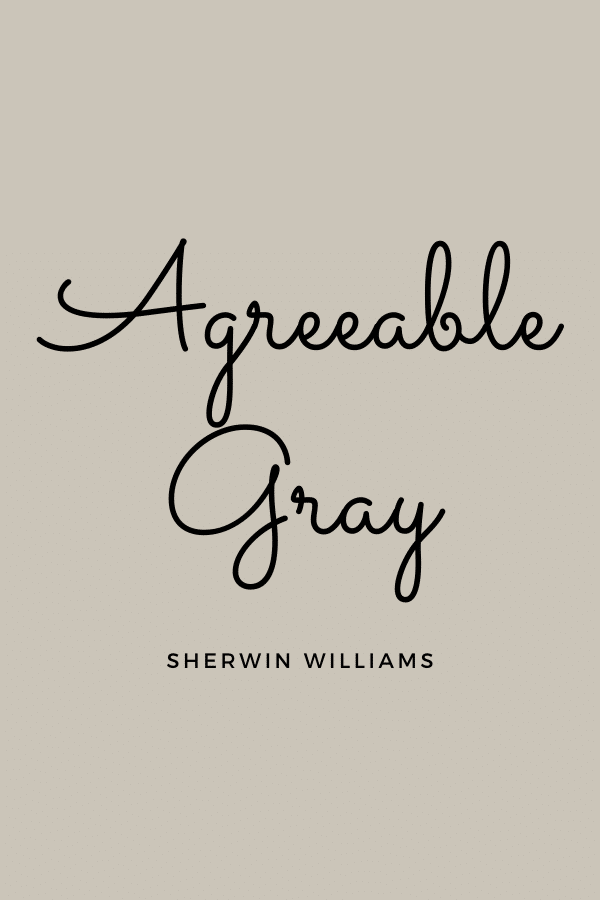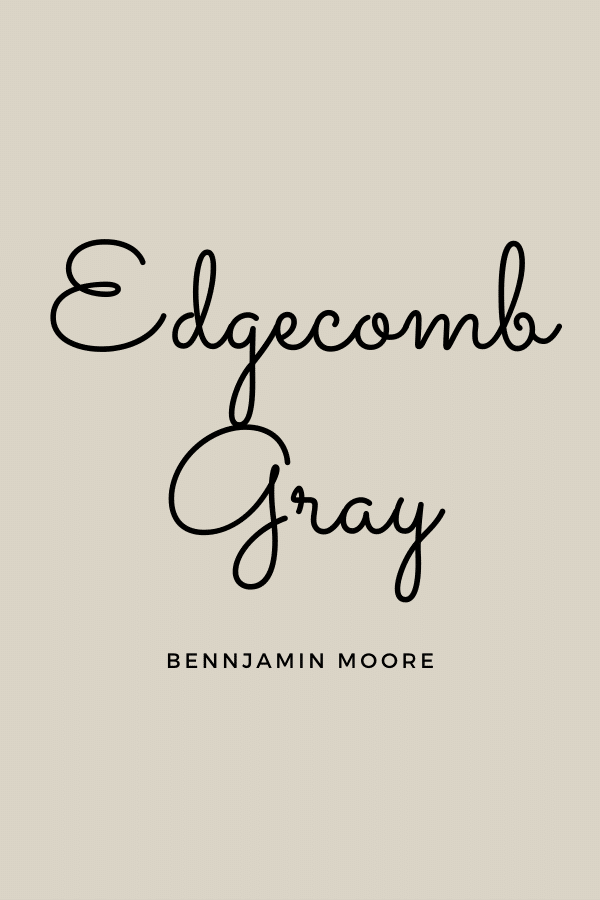 Edgecomb Gray is another highly popular Benjamin Moore Color.
In comparing them, Edgecomb Gray has more beige, while Agreeable Gray has more gray in it.
Both are amazing greige options, but Edgecomb Gray will be lighter and more airy on your walls then Agreeable Gray will be.
Edgecomb Gray has an LRV of 63, meaning it is a color that will reflect a lot of light.
Agreeable Gray's LRV is 60, so it will present as just slightly darker on your walls.
Agreeable Gray vs. Accessible Beige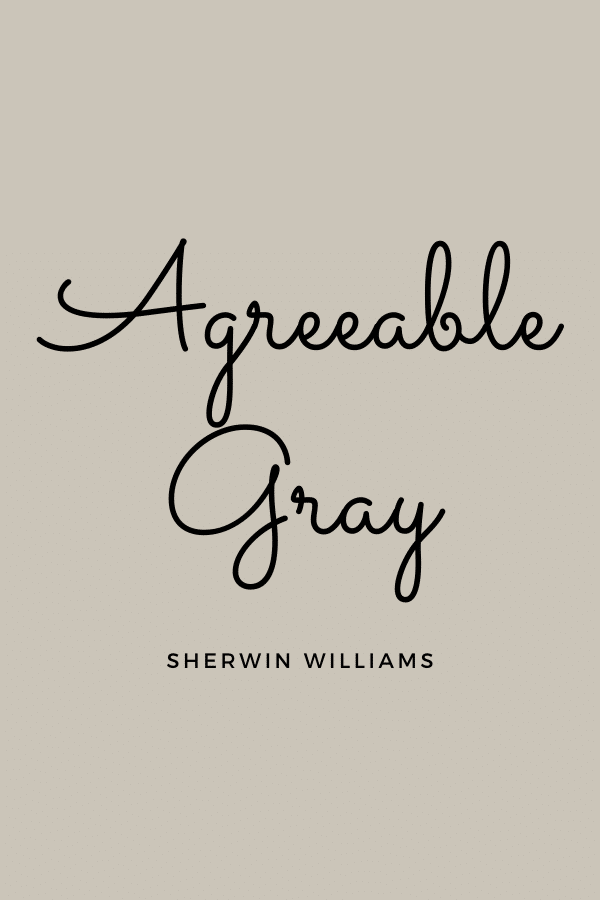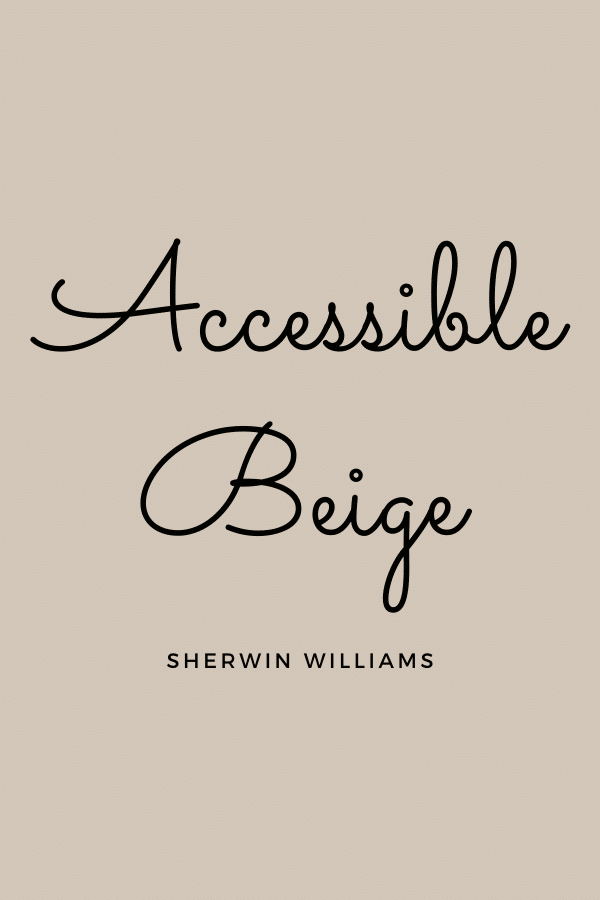 Accessible Beige, by Sherwin Williams, is another very popular paint color choice.
Accessible Beige is still a greige, but has much more beige in it than gray.
While Agreeable Gray's LRV is 60, Accessible Beige has an LRV of 58.
Accessible Beige is still considered a light color, but is on the darker end of the "light" choices.
Check out this post for all the details on Accessible Beige!
Agreeable Gray vs. Pale Oak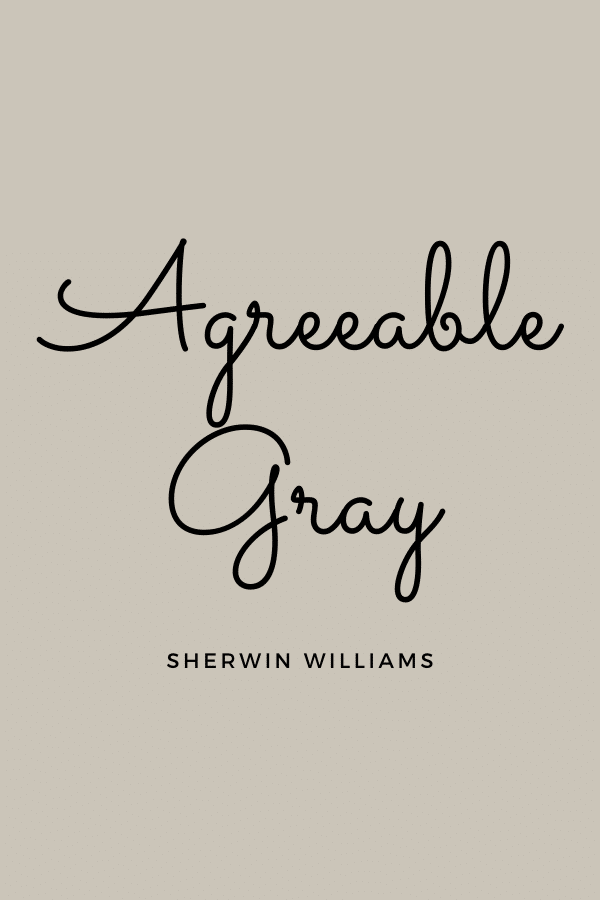 Pale Oak is another gorgeous, soft shade by Benjamin Moore.
It is considerably lighter than Agreeable Gray, with an LRV of 70.
Pale Oak has slightly more beige in it than Agreeable Gray does, and can almost look a little creamy on walls.
Wondering how to pick the perfect paint color?
I have the best solution for you!
Samplize sells 9×14.75 stick-on paint rectangles in almost every paint color.
These no-mess, peel and stick rectangles are made from real paint, so they will show you exactly what the paint color will look like.
Simply place them on your walls next to your trim, furnishings or fixed elements, and easily see whether the paint colors work in your space and with your lighting. Then, peel the sheet right off your wall and reapply it somewhere else if you like!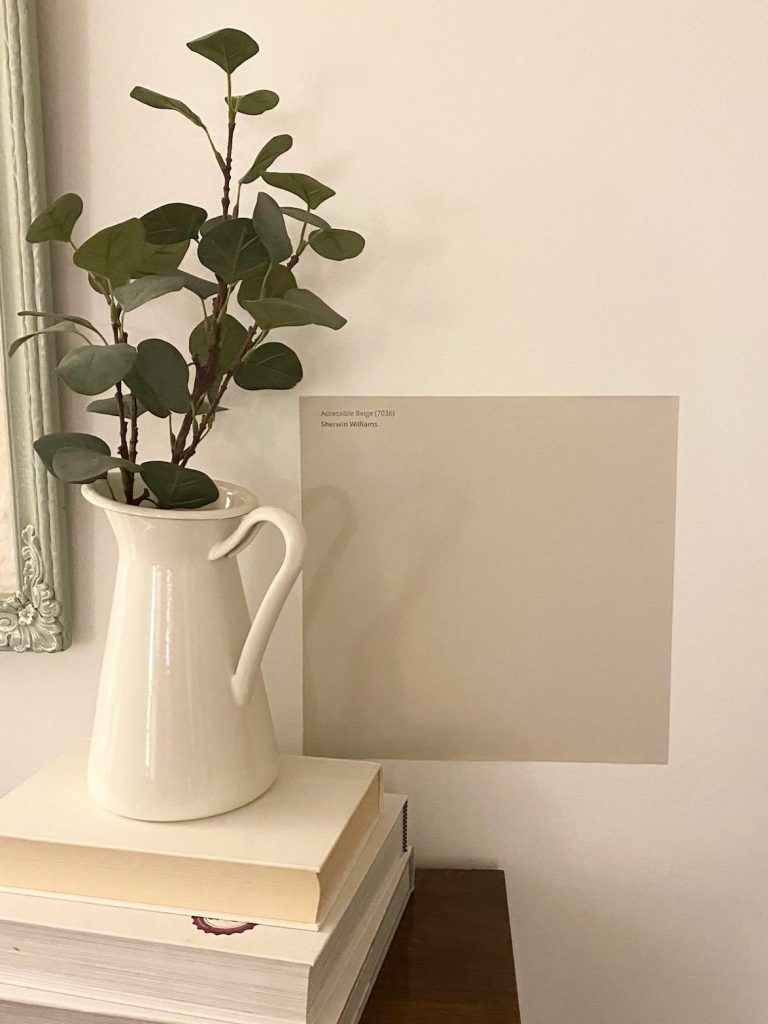 Oh, and you will receive them tomorrow with $5 overnight shipping! But, if you enter your email, you'll get $5 off your first order – which basically means that you will get free, overnight shipping!
Samplize sheets are truly the easiest (and fastest!) way to test a paint color in your home, with no mess.
Agreeable Gray Color Palettes
Painting the rooms in your house is such a quick, easy way to make your whole home feel fresh, clean and welcoming, but choosing a color can be a headache.
Who hasn't brought home paint sample after paint swatch looking for just the perfect color?
The first time I owned a home and had to choose paint colors, I was really nervous that I would choose the wrong paint shade.
I really didn't want to have to repaint the room if I did, so I started researching the most popular colors.
I figured that the majority of people couldn't be wrong about what colors looked best in a room.
My research brought me to Agreeable Gray.
It set the canvas for my house, and all of the other colors I painted the house flowed from it.
Agreeable Gray is the perfect foundation for a whole house color scheme.
Because it is a greige, it has many coordinating colors that go well with it.
Coordinating Color Palette #1
My favorite coordinating colors for Agreeable Gray are Sea Salt, Steamed Milk, and Mega Greige.
Because the colors go well together, the transitions between rooms is very understated.
Choosing coordinating colors is essential to a well planned whole house color scheme!
If you are nervous about painting your house the wrong color, or worried that that the colors you choose won't look right, check out this beautiful palette of coordinating colors for Agreeable Gray.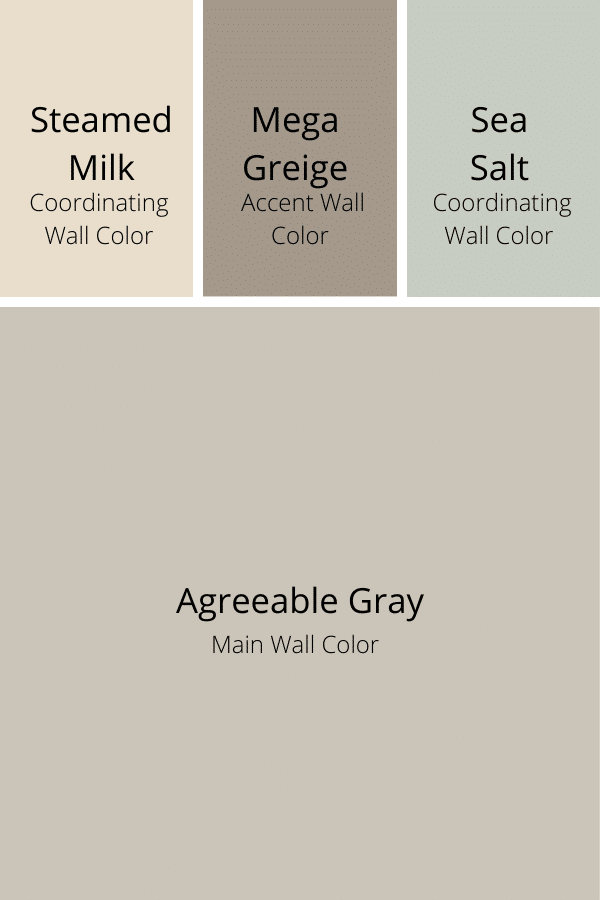 Pick up your Samplize square of Agreeable Gray here.
Sherwin Williams Sea Salt
This dreamy blue/green is my favorite color for a bathroom or even a kitchen.
Sea Salt is still considered to be a "neutral," even though it has a little more pop to it.
It can look more green or blue depending on your lighting, and coordinates perfectly with the other colors listed.
It is also one of Sherwin William's most popular colors, so you know that it has a wide appeal.
Find out more about the color Sea Salt by checking out this post!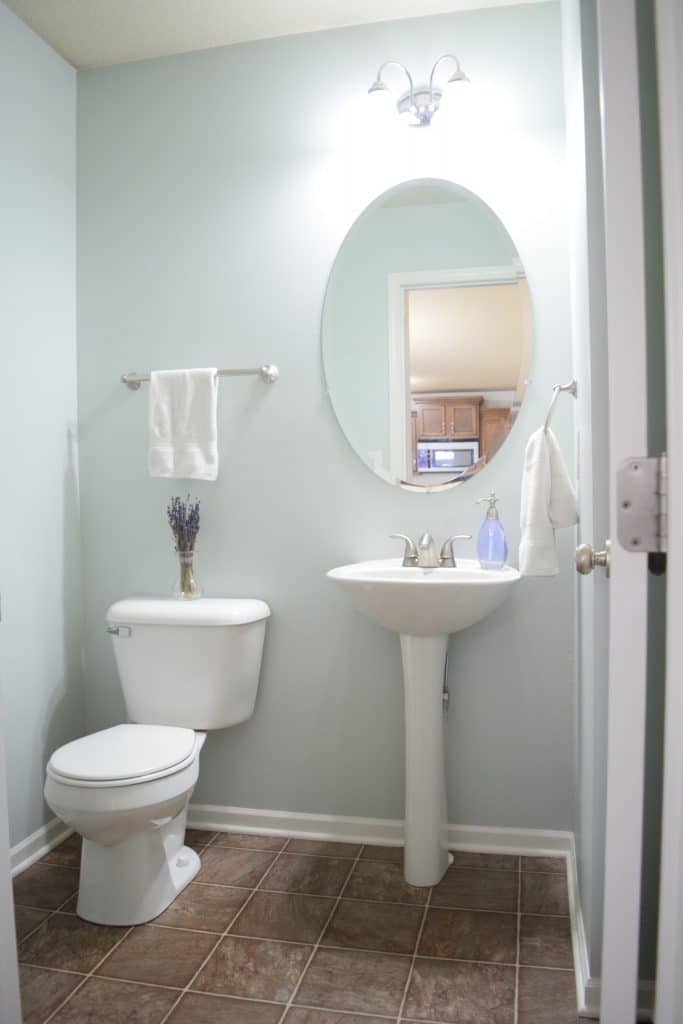 Sea Salt is a great color for a coastal paint scheme as well.
If you're looking for a relaxing, beach inspired feel, check out the top colors for coastal style homes as selected by the experts at Sherwin Williams.
Pick up your Samplize square of Sea Salt here.
If you like Sea Salt, but want something with a little more depth, Comfort Gray is gorgeous.
While Sea Salt is a neutral, Comfort Gray has always appeared more of a color to me when it is on a wall.
It looks absolutely amazing in a bedroom with dark wood furniture and wide white trim.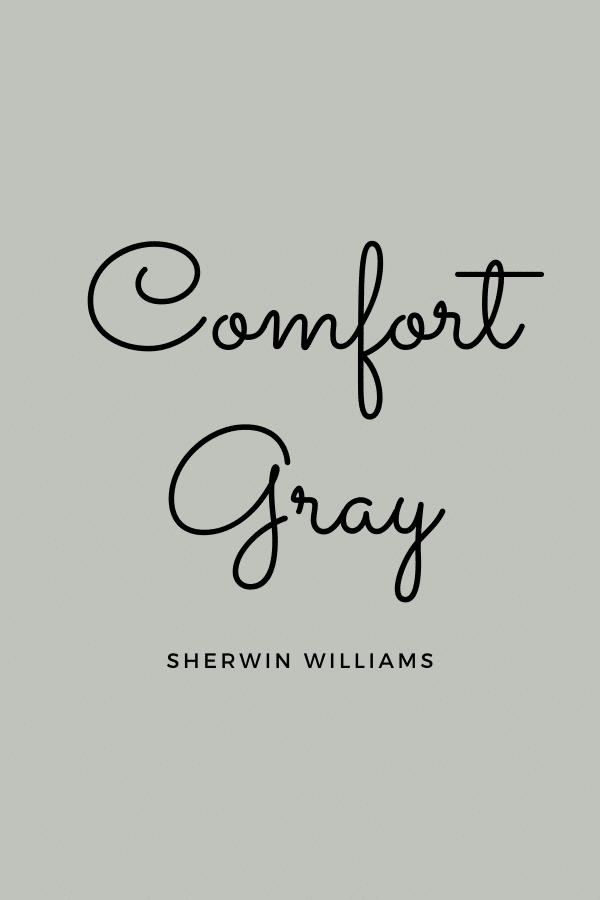 Sherwin Williams Steamed Milk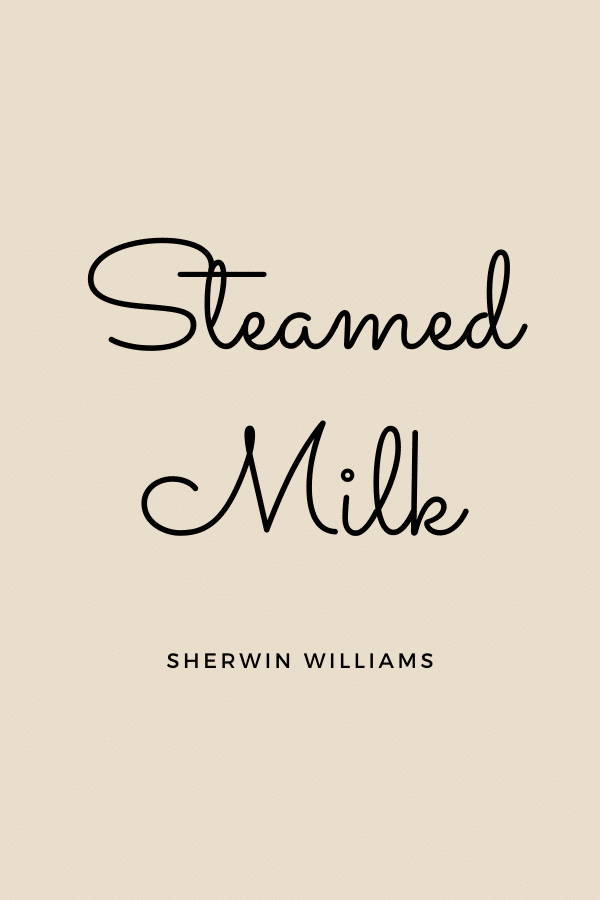 Steamed Milk is my unsung hero. Whoever thought that a creamy white could be so beautiful?
Steamed Milk is my favorite color for a room that does not have a lot of natural light coming in.
In a sunny room, it comes across as not particularly interesting. But in a dark room, it is pure heaven.
It stands out against white or wood trim, and it makes the whole room feel warm and inviting.
I painted my super high staircase walls with Steamed Milk using an extension pole. Since I had never used one before, I chose this color because it was light enough that it wouldn't be noticeable if I hit the ceiling with the paint. Thankfully, I didn't get paint on the ceiling. This tool made painting that tall wall really easy!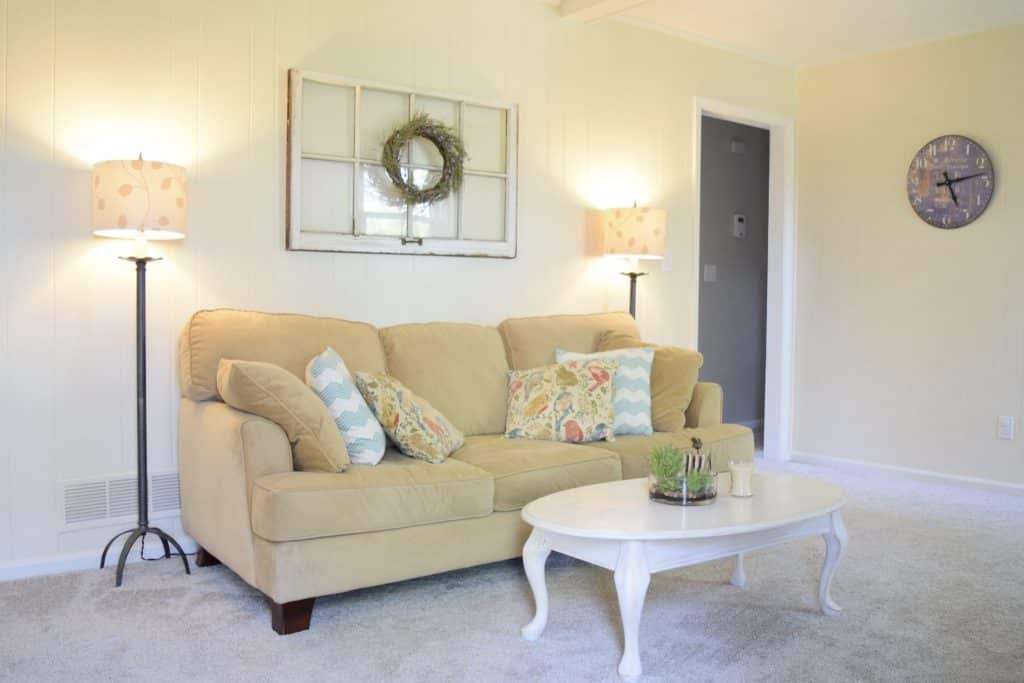 It is also a great color to go with oak cabinets, and was just highlighted in my post on best wall colors to go with honey oak cabinets.
You can get a Samplize square of Steamed Milk here.
Sherwin Williams Mega Greige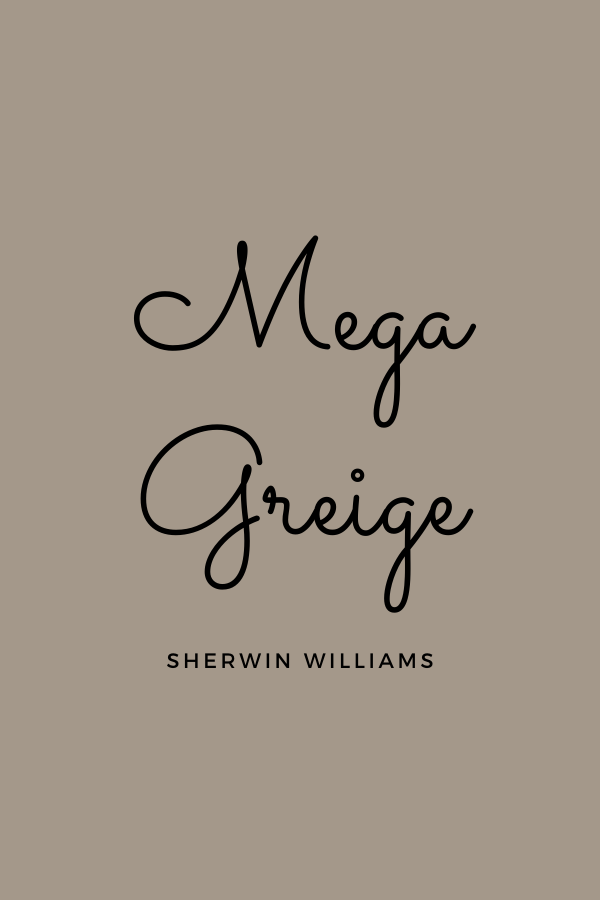 This beige-brown is a great color for a room that you want to have a little more impact, such as an entryway.
Like Agreeable Gray, it has the perfect combination of gray and brown, making it very versatile.
Be warned though, this color is much darker than the others discussed, and you may want to grab a sample of it before you paint your whole room in it.
That being said, it easily coordinates with the other colors and really rounds out the list.
Mega Greige Samplize squares are found here.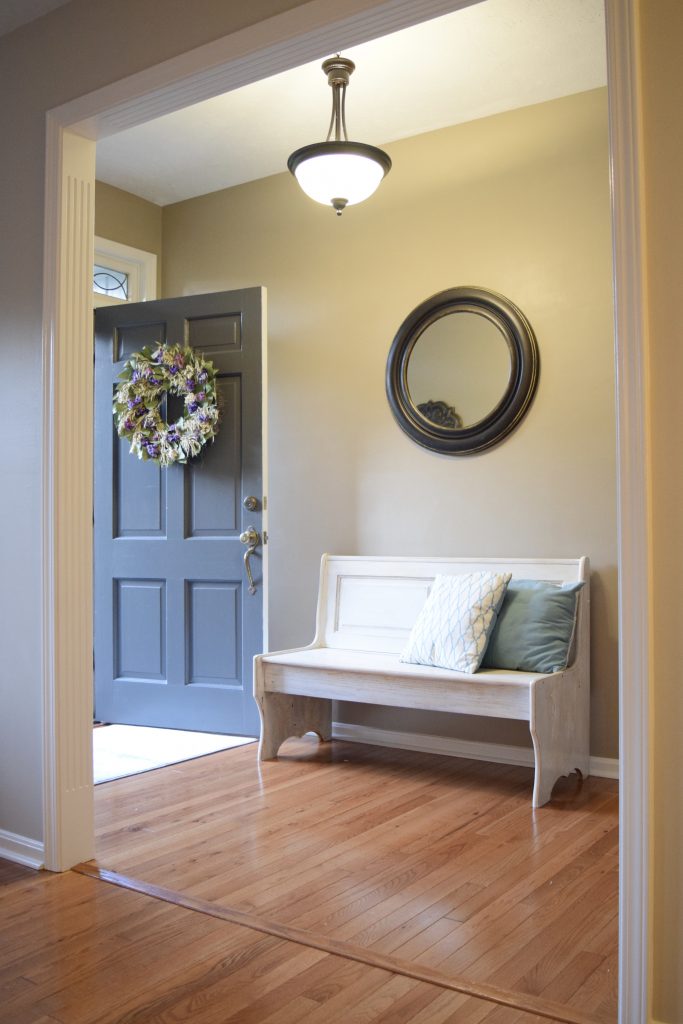 Sherwin Williams Pure White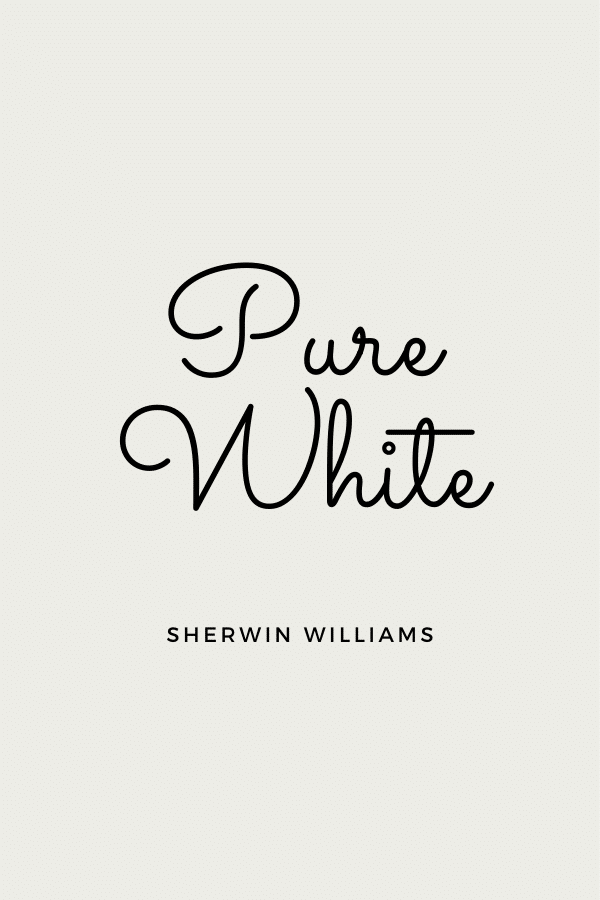 If you want to paint your trim, Pure White is a great color to choose.
As the name implies, it is a white-white, not a beige or yellow white. I've also heard it referred to as a clean white.
If you are nervous about painting your trim, check out my DIY trim painting guide for some tips and tricks! It is actually a lot easier than you would expect!
Coordinating Color Palette #2
Here is another example of a coordinating color palette for Agreeable Gray.
This is the color scheme that Sherwin Williams lists for Agreeable Gray.
Agreeable Gray is the main color for the home or room.
I like to call this the anchoring shade, because it serves as an anchor for the other elements of the room.
A good trim color is Extra White, which is a bright white color that goes with many paint shades.
For an accent wall, Coral Rose gives a pop of color.
Finally, Incredible White is a good shade to put in nearby rooms, as it will blend nicely with Agreeable Gray.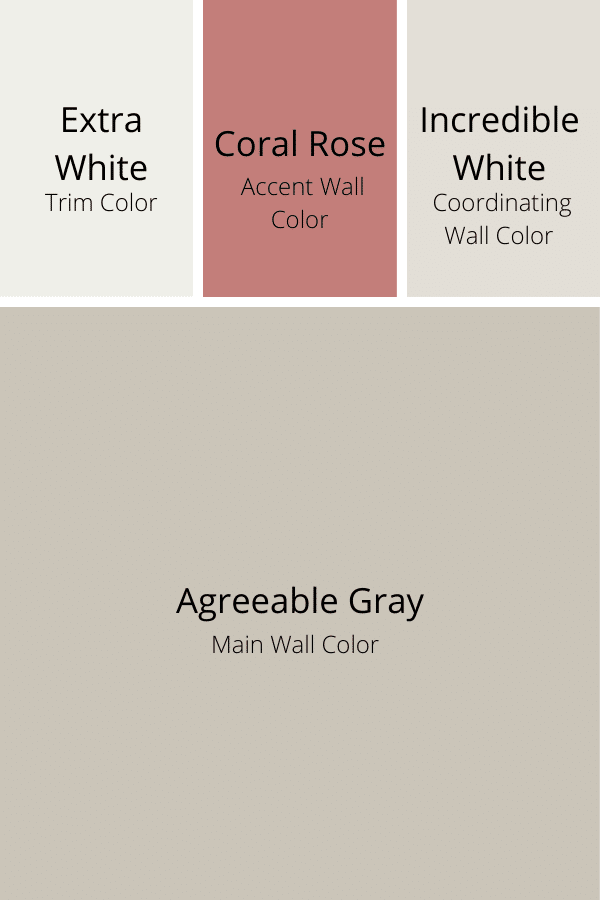 Choosing the Paint Finish
If you're not sure what sheen of paint to use on your walls, look at this guide to paint finishes.
It will tell you everything you need to know about different sheens of paint.
Wondering what paint to use?
Check out my review of SuperPaint, by Sherwin Williams. It is a great paint for your walls – easy to use and amazing coverage.
Getting Started with Painting
Do you plan on painting the walls yourself? Here is a post with tips on painting.
Agreeable Gray Final Thoughts
Agreeable Gray is a great warm color for walls.
It is the perfect mix of gray and beige, and will compliment your furnishings and accessories perfectly.
If you want a color that will go with anything, is light but still noticeable, and is perfectly neutral, Agreeable Gray should definitely be on your short list!
Pick up everything you need to paint your house!
Agreeable Gray and Coordinating Colors