Despite many options, there is an easy way to paint a stairwell or a wall with a high ceiling without expensive tools – and I'll tell you how to do it!
Painting staircase walls can seem like a really challenging task. Not only are the ceilings high, in order to paint them, you also have to stand on stairs!
The Backstory…
A few years ago, my husband and I purchased a home that had great bones but needed some updating.
We were going to be selling that home (for sale by owner) within a year, and had a ton of DIYs on our list.
This post may contain affiliate links. If you have any questions, please see my disclaimer page.
First on the list was to freshen up the paint. The ceiling in the stairwell was so high though, and I was terrified of getting on a ladder on top of the stairs.
There didn't seem to be any easy way to do it.
Since we were painting the house with colors from this color scheme with the most amazing neutrals, I knew I needed up get rid of the tan color that was there though.
So, I determined that we had to tackle the project to get the look I wanted for the home.
Here is how we painted those tall ceilings – easily!
There are the three tools you need to get in order to paint a staircase wall or a room with a high ceiling.
These are the best and cheapest options I've found, so check them out!
First, if you need to paint staircase walls or walls with high ceilings, you have to get an extension pole.
This particular extension pole is a good one because it extends to 20 feet. Those extra few feet can really come in handy when you have a super high stairwell or a room with a vaulted ceiling.
Extension poles are actually useful for a variety of tasks, too. You can use them to knock snow off a roof, to scrub siding, to remove cobwebs, and more!
But my favorite use for them is to paint stairwells. The long arm has a place at the end that you can twist your paint roller brush onto it.
Most paint rollers have a screwing end if you look inside of them, but if yours doesn't, here is a great option for a new paint roller.
Second, get an edging tool to paint your staircase walls.
These tools also screw onto the end of an extension pole, making it really easy to get right up to the edge of the wall.
They come with plastic rollers on the top edge, so they roll right along the ceiling. As they do this, they only deposit paint on the wall and leave the ceiling clean.
When we first tried the edging tool out, I was skeptical. I invisioned us having to rent scaffolding and was terrified at the thought of erecting it on the stairs and having to paint that high up. To my relief, the edging tool worked perfectly!
Here is the edge between the wall and the ceiling. This was after the first coat, and still required a second coat. But, you can see how it made a good line and didn't get paint on the ceiling.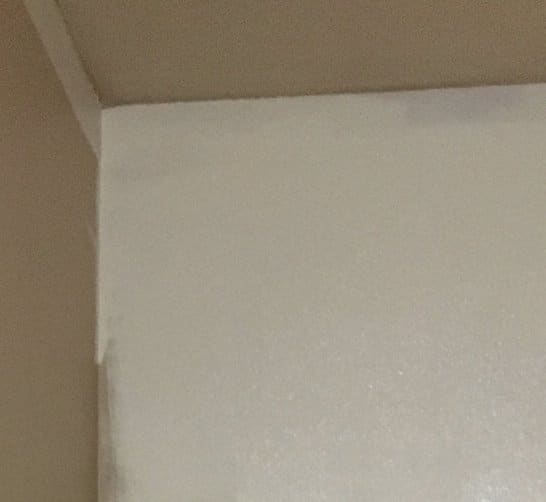 An edging tool isn't just for extra tall spaces though. If you lack a steady hand, or are nervous to edge a room free hand, pick one of these up. They make edging any room easy!
While the edger can get the top edges, it is made to leave a tiny space on the edge. For the corners, you need something to get right into that space.
With the corner tool, you screw it onto the extension pole, roll it in paint, and put it right up to the corner. Then roll it up and down, depositing the paint right in the corners of the walls!
If you prefer, this two pack comes with a corner tool and an edging tool, and two extra paint pads, too (though, if you wash them out well, you can definitely reuse them!).
Those are the only tools you need to paint your staircase walls!
There are other ideas for how to paint a staircase wall, such as ladder leveling tools. These are made to create a level space on stairs for you to put your ladder. But they are expensive if you only plan on painting one stairwell.
All of the tools listed above cost under $60 total! And the best part is, you don't have to risk life and limb climbing onto a ladder, in a stairwell!
Good luck painting your staircase wall or room with a high ceiling!
Truthfully, these tools can be used to make painting ANY room easy.
Need more painting tips? Check out these posts!
Paint is the fastest and cheapest way to refresh your whole house. I hope you enjoy this easy DIY home improvement project as much as I did!