Choosing the right paint sheen is as important as choosing the right color.
Some paint finishes hide imperfections, while others highlight them. Some types of paint sheens are easily scrubbed and others will rub off. And some paint finishes can withstand lots of touching, while others should not be used in high traffic areas.
If you're not sure which paint finish to choose, you're in the right place.
This post may contain affiliate links. If you have any questions, please see my disclaimer page.
Here is your guide to choosing the right type of paint finish for each room of your house.
Gloss Paint Finish
A gloss or high-gloss finish is best used on trim, doors, cabinets and furniture.
Gloss finishes are easy to wipe off, and hold up well on surfaces that are touched or washed frequently. In addition, the gloss sheen makes the surface look clean and bright.
There is one exception to this though. If you are painting something that is natural wood, and you want to hide the grain marks, a gloss paint is not the finish you want.
I painted the wood trim in one of my homes with a gloss paint, and no matter how much I tried, I could not get the grain look to go away. The high shine of the gloss paint sheen made every grain line look so much more apparent because of the way the light reflected off of the paint.
If you want to hide wood grain, choose a paint with a lower sheen, such as am eggshell or satin.
In the picture below, you'll be able to see how a gloss sheen highlights an imperfection and shows off the wood grain lines that would have been better concealed by a lower sheen paint.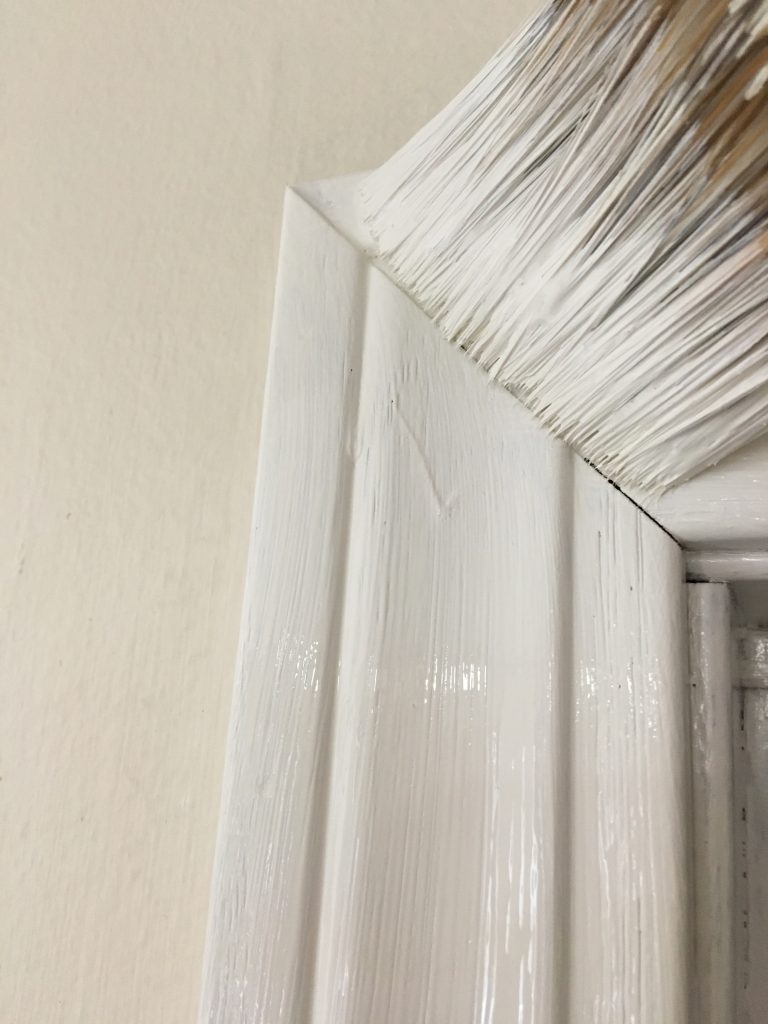 Semi-Gloss Paint Finish
A semi-gloss paint finish is a great choice for your kitchen.
It is durable, and can withstand a fair amount of scrubbing when you need to get that spaghetti sauce splatter off of the wall.
A semi-gloss paint finish has slightly less sheen than a gloss. It is still durable, and can be wiped down frequently.
Like a gloss, a semi-gloss paint sheen is also great for trim, cabinets and doors.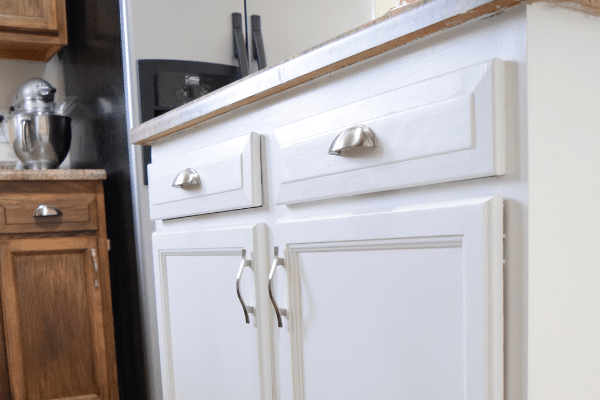 Satin Paint Finish
A satin paint finish is perfect for bathrooms, laundry rooms, family rooms, toy rooms, and kid's bedrooms. It is the best choice for a high traffic area.
Satin paint finishes have a medium amount of sheen, making it possible to scrub the walls, and just right for places where lots of hands touch.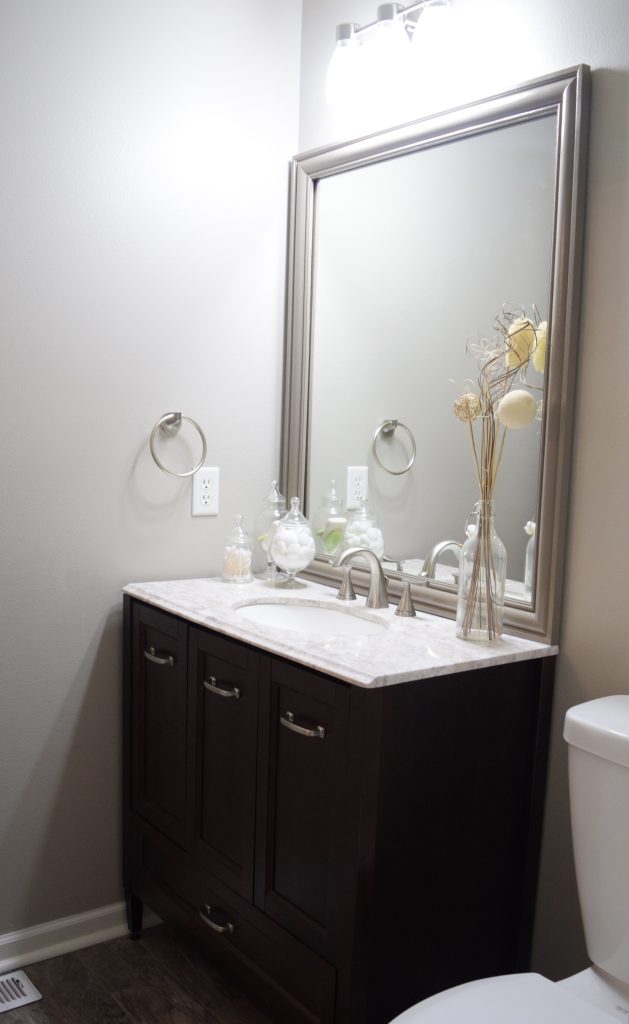 Eggshell Paint Finish
Eggshell paint finishes are perfect for bedrooms, living rooms and dining rooms.
An eggshell paint finish is the next step down in sheen. It will reflect a little light, but is much closer to a matte finish than a gloss finish.
An eggshell sheen will hide some imperfections in the wall finish, because it is not throwing much light around.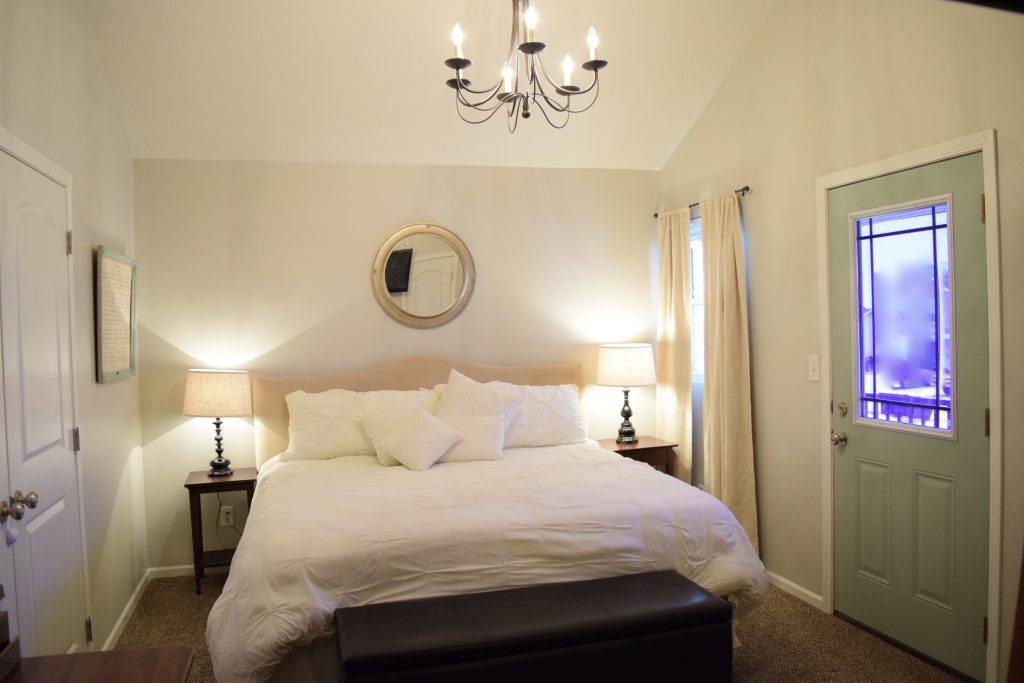 Matte Paint Finish or Flat Paint Finish
Matte and flat finishes are perfect for ceilings, or very low traffic rooms.
Matte and flat paint finish means the same thing, but different companies call this paint sheen different things. A matte or flat paint finish will reflect the least amount of light.
A matte or flat paint finish will hide imperfections such as tape lines on the drywall or grain in the wood better than any of the other sheens. In fact, contractors have started using matte paint on their new builds because the walls look smoother than if the use a paint finish with a higher sheen.
The downside of a matte or flat finish is that it is the least scrubbable type of paint sheen. Because of this, matte or flat finishes should rarely used on walls unless it is in an area that doesn't get a lot of traffic, such as a master bedroom or spare bedroom.
Most commonly, matte or flat paint sheens are reserved for ceilings, due to the difficulty that occurs when trying to make a perfectly smooth ceiling.
When I painted my shiplap wall, I wanted to hide the wood grain. To do this, I chose a matte paint sheen. Notice how there isn't any light reflecting off the shiplap.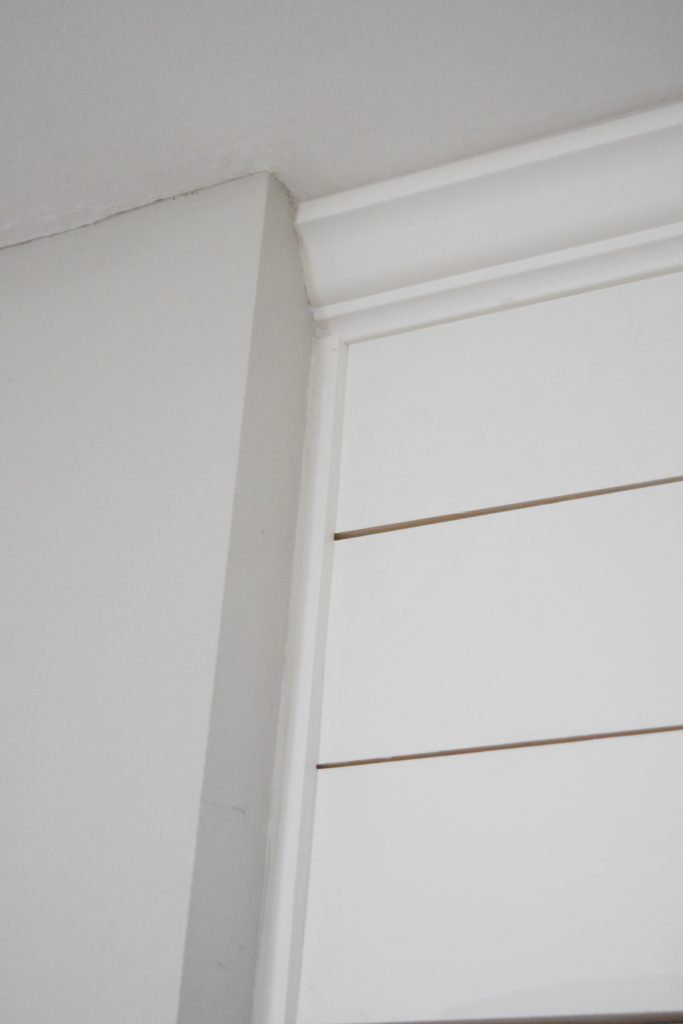 Paint Sheen Summary
To conclude, remember that the higher the gloss level in the paint, the more easily it will wash and the more durable it is. If a room gets a ton of traffic, you will want to use a paint with a higher sheen than a room that is barely used.
Also remember that a high gloss sheen will make a color look more bold on your walls. Darker paint colors typically look better in sheens such as satin, eggshell, or matte/flat.
If you'd like to check out these paint sheens in action, Behr Paint has a great website that shows you how the different types of paint finishes look. Check it out here!
Choosing the right type of paint finish makes a big difference in the look and functionality of the paint.
Next time you set out to buy paint, remember these tips to keep from having to repaint your room again before you want to!
Oh, and if you're looking for the perfect color, check out this whole house color scheme! And if you're a newbie DIY painter, learn how to paint a room the easy way!
Hope this guide helps you choose the right type of paint sheen for your room!