What You Should Know Before Making a Shiplap Wall…
Making a shiplap wall is an easy and (potentially) inexpensive way to make a space feel clean and bright, and give it a little of that farmhouse look that is so gorgeous.
For several years, I've been tossing around the idea to adding a shiplap wall somewhere in my house, but had never gotten around to it. In my current house, I have a wall in my basement that was seriously ugly. Now, you may be wondering how a wall can be ugly. Well, take a look for yourself: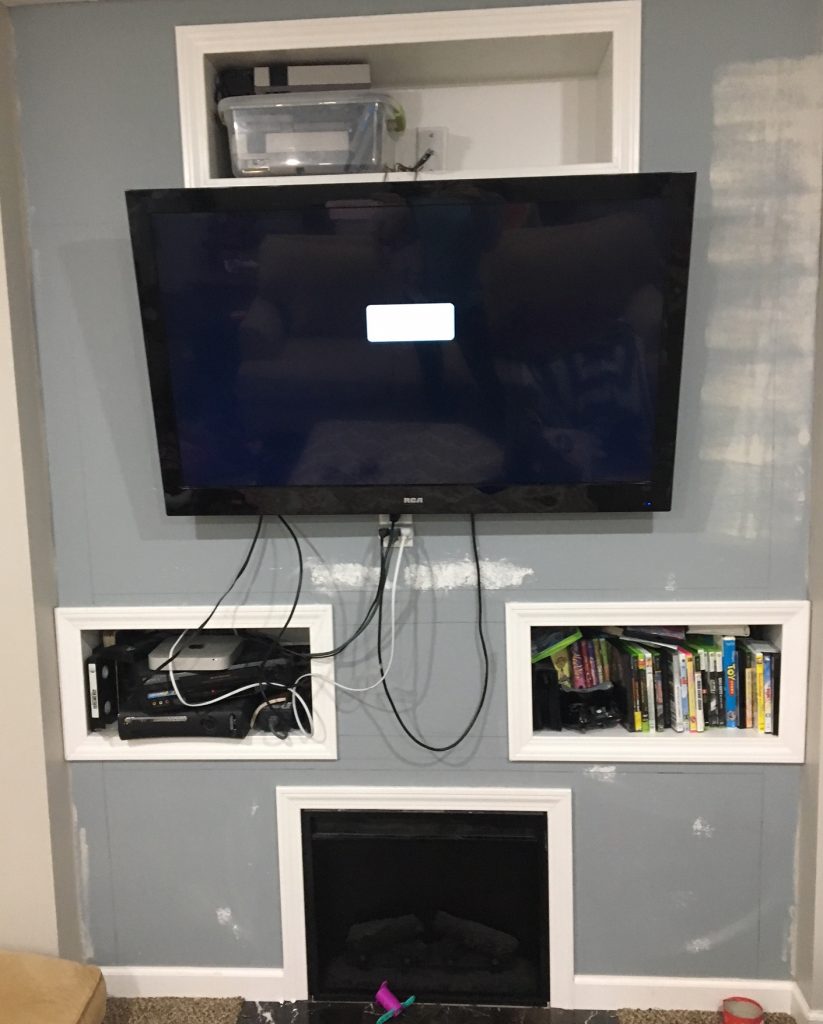 It was way too busy with the multiple cut out boxes for shelves, and had a dinky looking electric fireplace insert in the bottom. Not to mention those cords. I had tried to tape them up to look right, and put a mantle in the middle of the wall(where the puttied section of the wall is), but it just made it look even busier.
This seemed like the perfect place to try my hand at making a shiplap wall. Plus, as a bonus, I would be able to cover over a few of those shelf holes without anyone being any the wiser!
This post may contain affiliate links. If you have any questions, please see my disclaimer page.
Is making a shiplap wall hard?
Long story short, kind of.
I have seen lots of pictures of shiplap rooms, read a few tutorials and have watched Fixer Upper, so I figured that I was ready to go.
Several of the tutorials talked about how the cheapest way to add a shiplap wall was to buy sanded plywood and have Lowes or Home Depot rip cut it for you into 6 or 8 inch strips. Well my local Home Depot is on to this, and have a big sign posted saying, "No rip cuts under 12 inches." So that option was out for me.
So I looked at the actual strips of shiplap that they sell, but they cost about $13 a board, and I didn't want to pay that much, even though I was only doing a small area.
So I decided to just use pine boards. It's just nailing boards into the wall… simple right?
Turns out, adding shiplap to a wall is actually harder than it looks. Well, let me rephrase that.
Making a shiplap wall takes more thought than than I expected.
For example, I knew that I needed the long boards for the actual shiplapping. But I didn't realize that I would need all sorts of additional trim pieces to finish it off. Also, I didn't realize how important picking the right kind of long boards was.
Here is what I wish I knew before making a shiplap wall.
1. You can buy MDF board which are primed, lightweight, and easy to install for pretty cheap.
I used pine 1 x 8s because they are cheap (under $2 for a 6 foot board), and they were 8 inches wide. I wanted a wider shiplap because I prefer how that looks. Plus, I knew it would mean less cuts that I would have to make. With three kids under 5, I don't have time to make more cuts than necessary!
After using the pine boards, I found out about the MDF boards. They are a little pricier than pine boards, coming in around $7 for a 1 x 8. I wish that I would have used the MDF ones for a few reasons though. First, they are a lot smoother than pine boards. I filled in a bunch of knot holes with Durham's Water Putty and then had to sand the excess on my pine boards. The MDF boards would not have required this. Second, they are lighter than real wood because they are a composite of resin and wood. And third, my pine boards were not always straight. This made some lines in the shiplapped wall look wider than some other lines. Take a look:
See how that second line down looks so much wider? Its the same as the others (2 nickels), but because the pine board is slightly curved, it looks wider. This was the third board I tried in this spot, and I was out of boards at this time, so it made the final cut. Overall, it probably isn't noticeable to too many people now that the trim is on and everything is painted, but to my perfectionist eye, it is bothersome.
So, learn from my experience. Use the MDF (or use the pine, but have a better understanding of what you may be dealing with).
2. You don't have to worry about cutting any edges perfectly because you are going to add trim to the exposed edges.
I was really concerned with making sure my measurements were PERFECT. At the end, I realized that I needed to add trim to the sides of to give it a finished look. So there was no need to make them exactly right.
3. On that point, you are supposed to add trim to the exposed edges. This means on the top, the bottom and on any sides where the shiplap stops.
Some people just caulk the ends, but I found it looked much nicer with a piece of trim.
On the top, you can put crown moulding to finish it off. This was really important to me, because my ceiling is not quite level.

This was before I caulked the crown moulding. See how the crown moulding doesn't quite reach the ceiling on the right? It is actually level, the ceiling is not.
If the shiplap just ended at the ceiling, it would be really evident that it was unlevel. With a thick crown moulding, it is much less obvious because there isn't a dark line to compare the ceiling.
Here is how the trim looked when I was done. (Also, you can see at on the one picture where I used one nickel instead of two, and haven't yet sanded it to make the gap wider – see the next point for what I mean).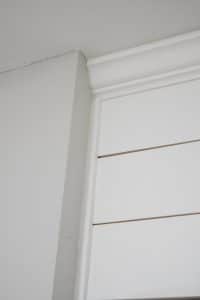 4. If your boards aren't level, you can't just adjust the thickness of the gap between the shiplap.
Maybe this is common sense, but I didn't realize it. When my boards weren't level, I put one nickel on the higher side and two nickels on the lower side. Problem solved, right?
Wrong. Problem created.
When I painted the boards, it was SUPER OBVIOUS that the lines were not the same thickness the whole way across. And then I had to go back and sand in between the pine boards until they were a similar thickness the whole way across. I created a lot more work for myself.
My advice on this is to make sure the bottom board is level. Level it really well, and don't just put it flush on the ground because the ground may not be level. Since you are going to be covering up the bottom with a trim piece anyways, it doesn't matter if one side is higher off the ground than the other.
So, level the bottom piece and the rest should turn out pretty level as well.
5. When everything is painted and all the edges are trimmed, its going to look good.
When I was making a shiplap wall, I was really concerned about all the little things.
Did I fill each knot hole? Was each board completely level? Did the edges of the shiplap board go the whole way to the wall? Did I cut the piece above my fireplace insert perfectly straight?
None of these things mattered once it was all complete. All the edges got covered by trim. Even that one above the fireplace insert that I meticulously sanded to be straight. I covered that up with a piece of trim. (As an aside, this shiplap wall took that dinky looking fireplace insert and made it look so much better! I love it!)
So that is what I learned about making a shiplap wall.
Even with all of the tutorials that I read, I had to really search to find information about how to finish the ends, and what the BEST type of material to use for the shiplap itself.
I hope this post is beneficial for you, and saves you some of the missteps that I took while I was making a shiplap wall!
If you're wondering what color to paint your shiplap, check out this post on the best whites from Sherwin Williams!
Happy shiplapping!
Check out some of the inexpensive and easy ways we have upgraded our home:
Kitchen Island Update
Refinishing Kitchen Cabinets
How To Whitewash Brick
How to Reface Vanity Doors
DIY Wood Countertop
Make sure you pin this post to remember these tips for when you get around to making your shiplap wall!