Are you ready to update your kitchen? I've partnered with Lily Ann Cabinets to share my experience and opinions on their RTA cabinets.
Whether your kitchen is outdated, not your style, or there is not enough storage space, putting in new cabinets is a great solution.
Because most people spend a lot of time in their kitchens, it is important that the room be both useable and aesthetically pleasing. Updating your kitchen with new cabinets is a great way to achieve both these goals, and it doesn't mean you have to spend a ton of money.
This post may contain affiliate links. If you have any questions, please see my disclaimer page.
Why I Needed Lily Ann Cabinets
With my new home purchase last summer, I fell victim to all these problems. My kitchen was not my style, outdated, and did not have nearly enough storage to fit all the things I needed to have in the kitchen.
My kitchen had high quality oak cabinets that were stained a medium brown color. While they were older, they were in pristine condition. Due to the condition and and the quality of the wood cabinets, and knowing that medium toned wood cabinets were starting to trend, I did not want to replace the cabinets.
What I did not realize until living in the home was how limited the kitchen was in functionality. There wasn't enough counter space; there were no drawers big enough to hold a silverware tray; large bowls had to be turned sideways to fit into the cupboards; and there just weren't enough cabinets to fit my dishes, food and gadgets.
So I decided to add cabinets to a previously empty space in the kitchen. It was intended to be a space for an eat in kitchen, but with 7 people in my family, there was no way we would fit there. It was the perfect place to add new cabinets.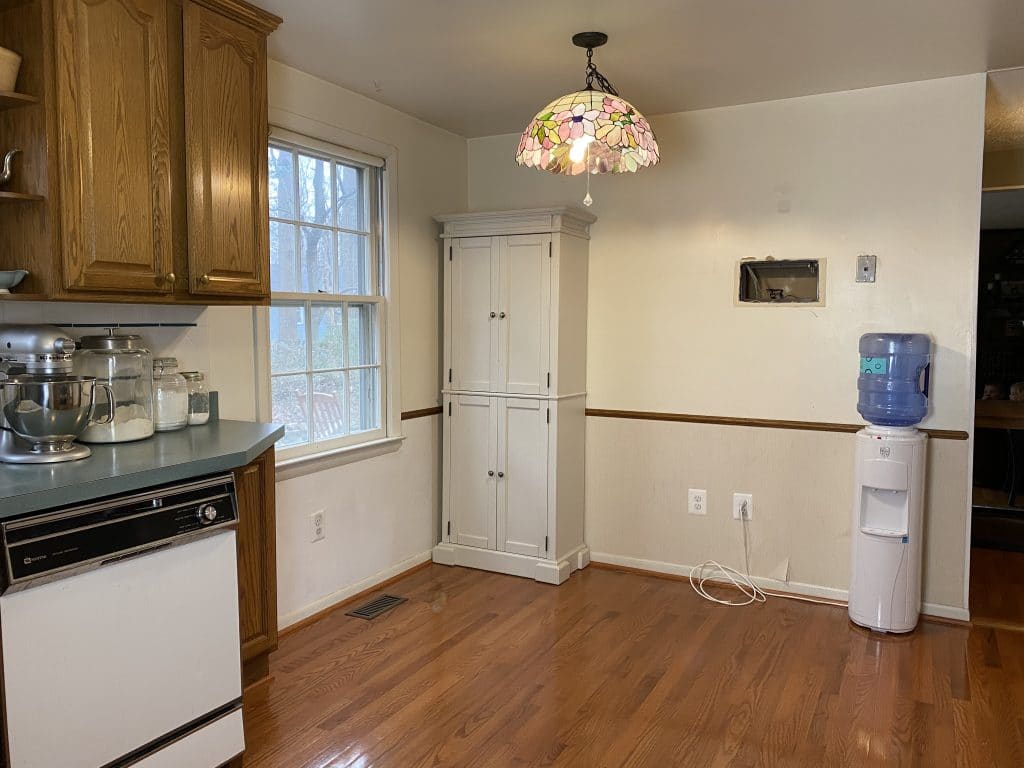 While we were adding new cabinets, it seemed the perfect time to move the refrigerator to this space, both to fit a larger fridge and to help tie the new cabinets into the current design. In the fridge's place, I built a pantry to store dry goods.
With a rough idea of what I was looking for, I started researching cabinets that I could order online.
RTA Cabinets
My research led me to RTA, or Ready-To-Assemble, cabinets. RTA cabinets are shipped to your home in flat-packed boxes with almost everything you need to assemble them. Plus, because you assemble RTA cabinets on your own, they are priced about 50% below what comparable cabinets are at a kitchen store. They seemed like the perfect solution to my problem.
After looking at several different companies, I found Lily Ann Cabinets and fell in love. The cabinets looked gorgeous, the website was easy to use and the company had great reviews. Plus, they offered free kitchen design, free door samples and an amazing variety of cabinet styles, colors and accessories. I was sold!
Planning and Ordering Lily Ann Cabinets
After determining what cabinet style would look best alongside my current cabinets, I ordered two free door samples from Lily Ann.
They came almost immediately, and I was instantly impressed.
If you order Lily Ann Cabinets, I definitely recommend taking advantage of their free sample offer.
I was afraid that the doors might feel somewhat flimsy, but was pleased to find that the doors were hard as a rock and had a perfect paint finish. The coating on the doors was smooth, durable, and flawless.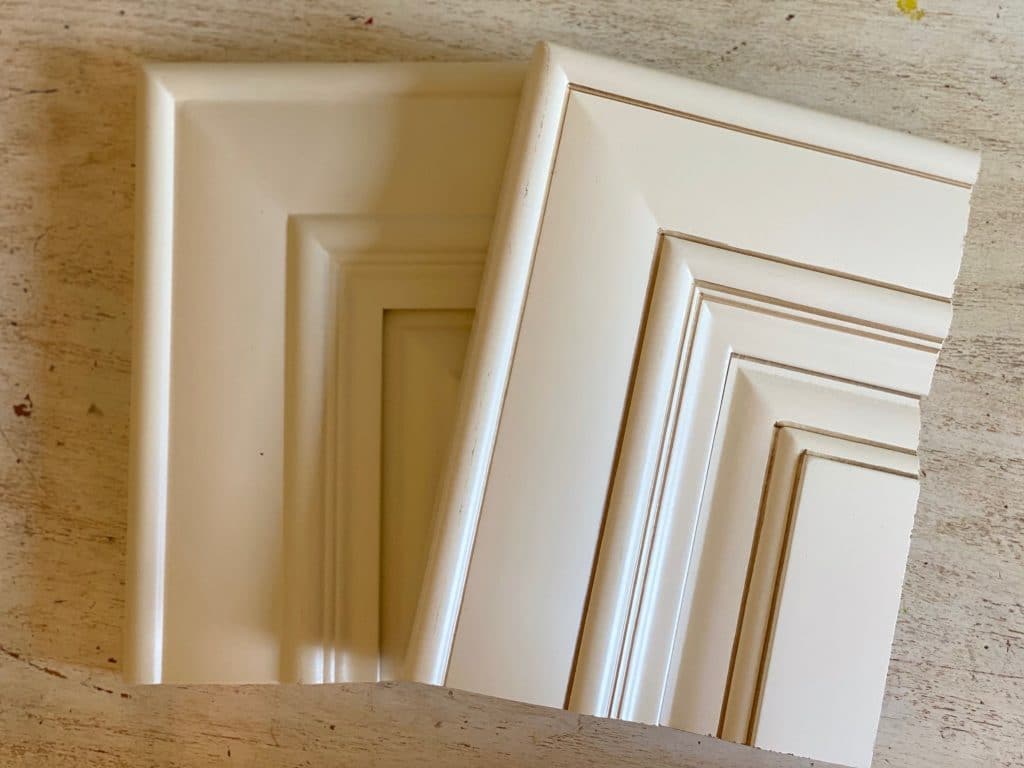 Receiving the samples was helpful in my decision making process. First, it sold me on the durability of the cabinets. Second, it helped me decide that I preferred the style of the door without a glaze on it for my kitchen.
I decided on the Bristol Linen cabinets. They are perfectly detailed, and are a creamy white color that pairs nicely with my wood cabinets.
After choosing the door style, I measured my kitchen to determine the best layout and chose some cabinets based on the measurements and how I wanted the space to look.
I was pretty confident in my selections, but before I sent the order in, I decided to try out Lily Ann's free kitchen design service to see what recommendations they had.
Lily Ann 3D Design Services
Lily Ann Cabinets' free 3D design service enables you to send your kitchen dimensions and receive a digital layout design. This is a great option if you're unsure of what cabinets to order, you're struggling to determine what sizes of cabinets will work best, or if you want the professional touch of a designer without having to hire a kitchen expert.
Because I wanted to see how the kitchen would look with the cabinets, and I was interested in seeing what the designer would come up with, I sent my specs over to Lily Ann through this service.
I loved the 3D design that was sent back to me. It gave a great visual of how my kitchen would look with the cabinets. This was particularly helpful in showing how my windows and walkways would mesh with my custom design.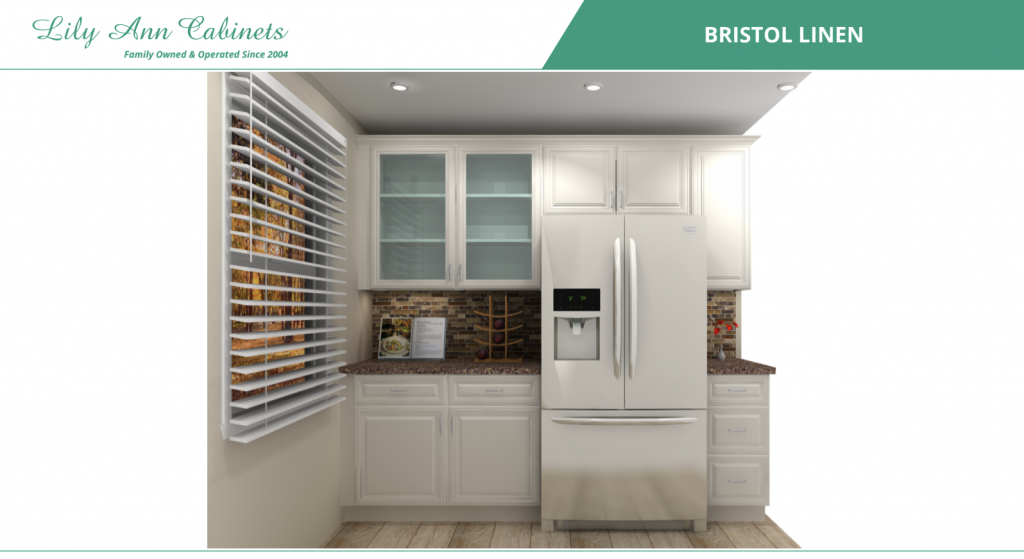 A Lily Ann rep sent this image, along with several other visual representations of how the kitchen would look, including one from above (to show the depth of the cabients) and two sketch ups of the actual cabinet dimensions.
More importantly, the 3D design came back with a recommendation for a smaller cabinets than I had chosen for the area to the right of the refrigerator. I was hesitant to choose a smaller cabinet because my original choice was a full pantry cupboard, and the recommended cabinet was an upper and lower set.
With lots of hesitation, I ordered the cabinet that the design service recommended and I'm so glad I did. The cabinet that I had wanted would definitely not have fit in my space.
The 3D design package also helped to visualize things like what depth I should choose for my uppers and how the filler strips would look.
Last, on the design questionnaire that I filled out when sending my kitchen specs, I had indicated that I liked glass front doors. The door size I needed did not come with glass fronts, but the customer service rep I was working let me know that they could custom make the doors without fronts so I could add glass. It was a great solution for me!
I love that this service was easy to use, helpful, and best of all, free!
Delivery of Lily Ann Cabinets
When my flat-packed boxes of cabinets arrived, we went out to help the delivery man unload them, only to have to him tell us that they were on a 500 pound pallet.
This was a first indication that these were high quality cabinets. We signed for the delivery and the shipping company stacked the boxes in the garage.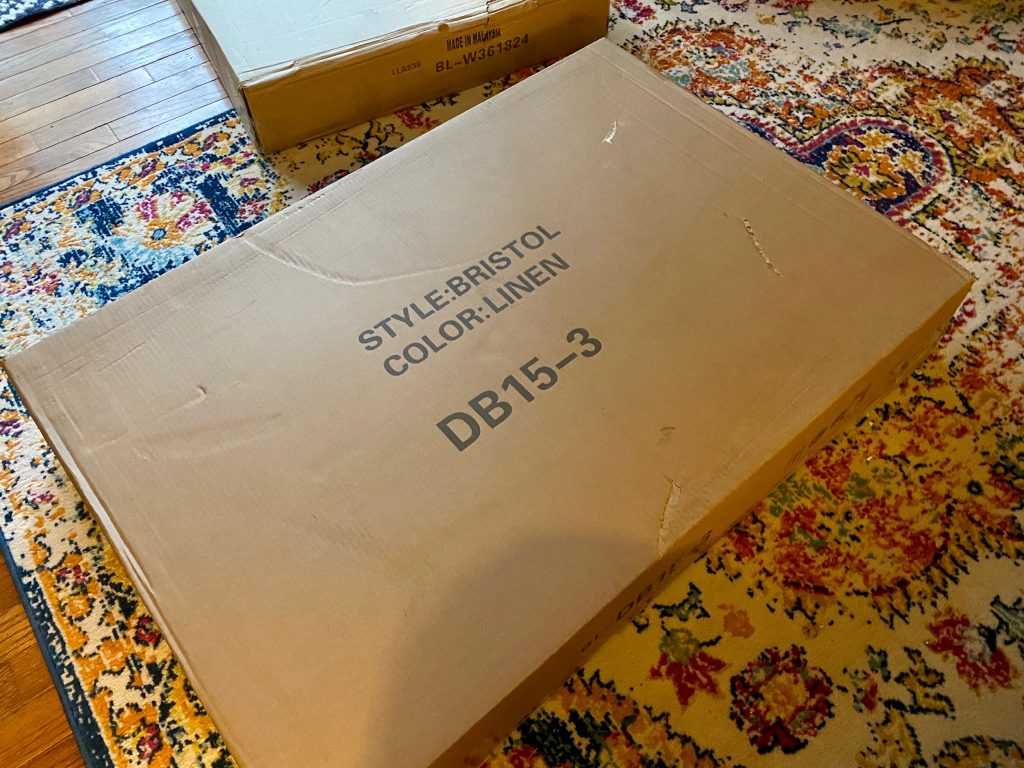 Are Lily Ann Cabinets Good? First Impressions
When I opened the first box, I found the pieces of one cabinet, the cabinet hardware, and the corresponding instruction page.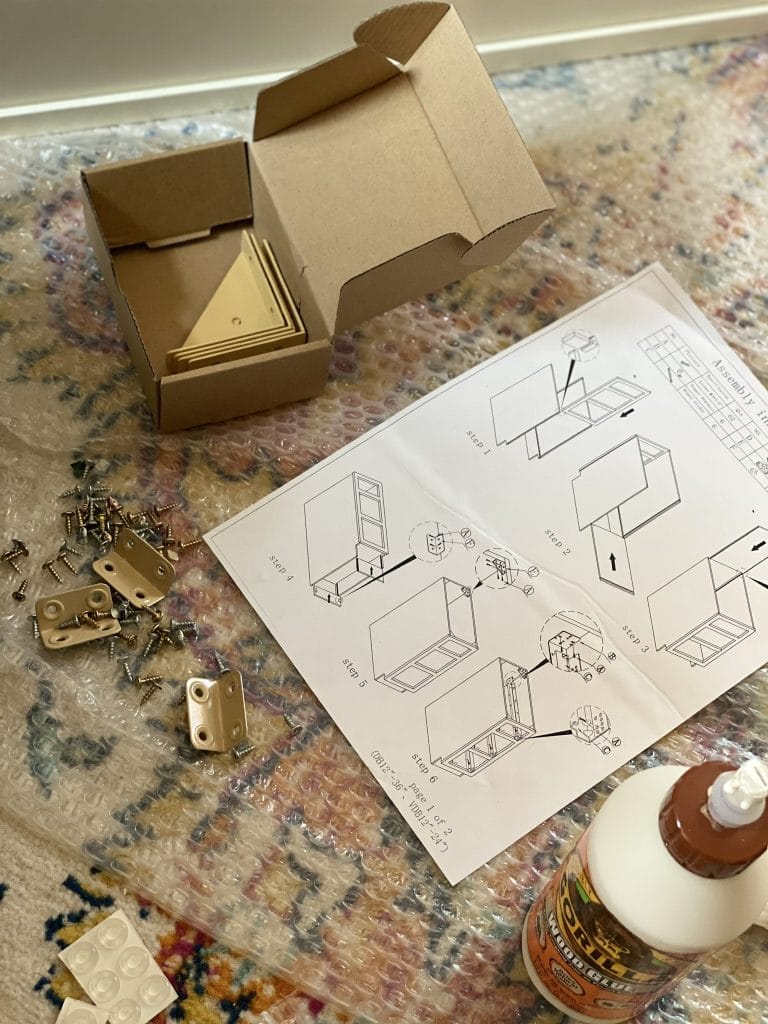 The cabinets were beautiful. They had durable cabinet boxes, hard finish door fronts, and dove tailed drawers – a sure sign of high quality cabinets!
Assembling Lily Ann Cabinets
If you have any reservations about putting together your own cabinets, let me set your mind at ease: assembling our new Lily Ann Cabinets was simple!
Have you have ever assembled cheap furniture that comes in boxes? If so, you know that oftentimes the screw holes don't line up, or the tracks aren't exactly where they are supposed to be.
Lily Ann Cabinets are nothing like that. Every piece fits together in absolute perfection. The pre-drilled holes are all exactly where they are supposed to be, eliminating any guesswork on the placement of the doors, drawer slides or hinges. In addition, each piece fits where it is supposed to without any gaps.
The printed instructions are easy to follow, but I recommend also watching the videos on their website. Having a visual of what you need to do makes it easier to understand. In addition, the videos provide a bit more information. For example, while the included instructions show how to assemble the cabinet, watching the videos will cue you in on things like applying a thin bead of wood glue on all the joints, and which way the drawer slides are supposed to go.
Putting together the first cabinet took the most time for a couple reasons.
First, I really took my time putting it together. I wanted to make sure I did everything just right. Second, I started with the largest cabinet (42″ base cabinet). Due to how large it was, it took two people to assemble, but many of the smaller ones were able to be done by just one person.
After taking my time on the first cabinet, the rest went together pretty quickly.
I love that my Lily Ann Cabinets have solid wood, soft close, dovetailed drawers, adjustable doors, and are easy to assemble!
Check out the video, showing how I assembled one of the cabinets (by myself, at 9 months pregnant!).
Hanging Lily Ann Cabinets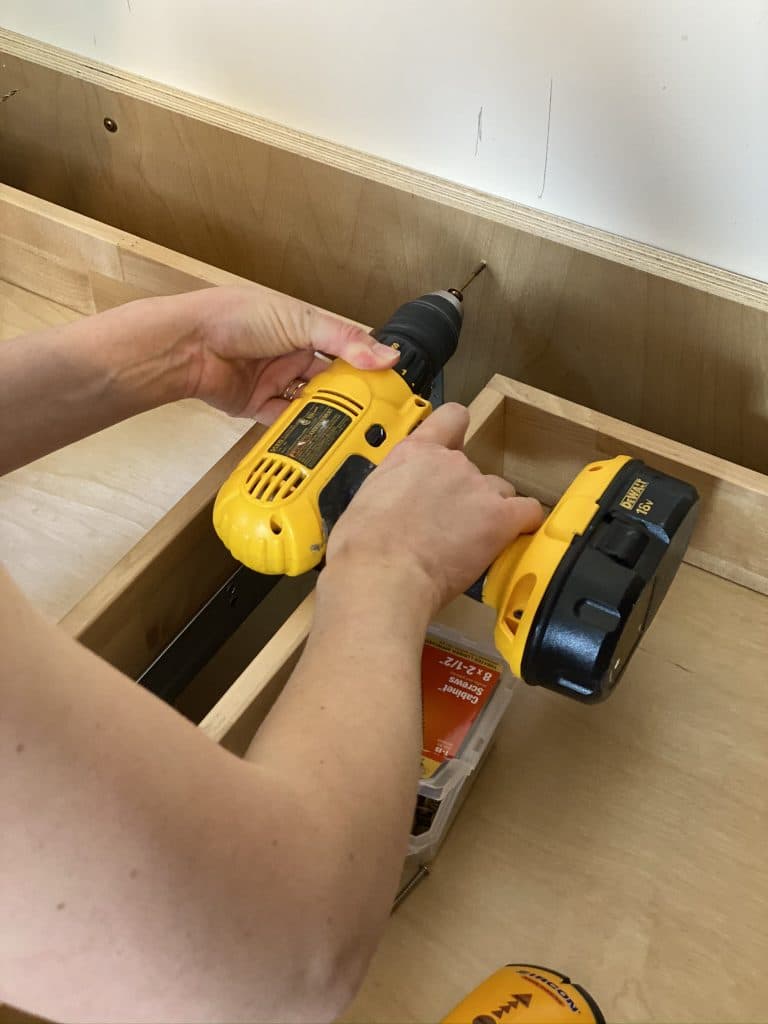 It took us the better part of a weekend to hang the cabinets. We had never hung cabinets before, so getting everything level, cutting the trim pieces and countertops, attaching the knobs and pulls, and putting the countertops on required some YouTube watching on our part.
A few tips we learned along the way:
First, use a long level and a 2×4 to hang upper cabinets. Level the 2×4 and screw it into a few studs. This will help to make sure your upper cabinets are perfectly level.
Second, use clamps to hold the cabinets where they should be. This helps when screwing everything in.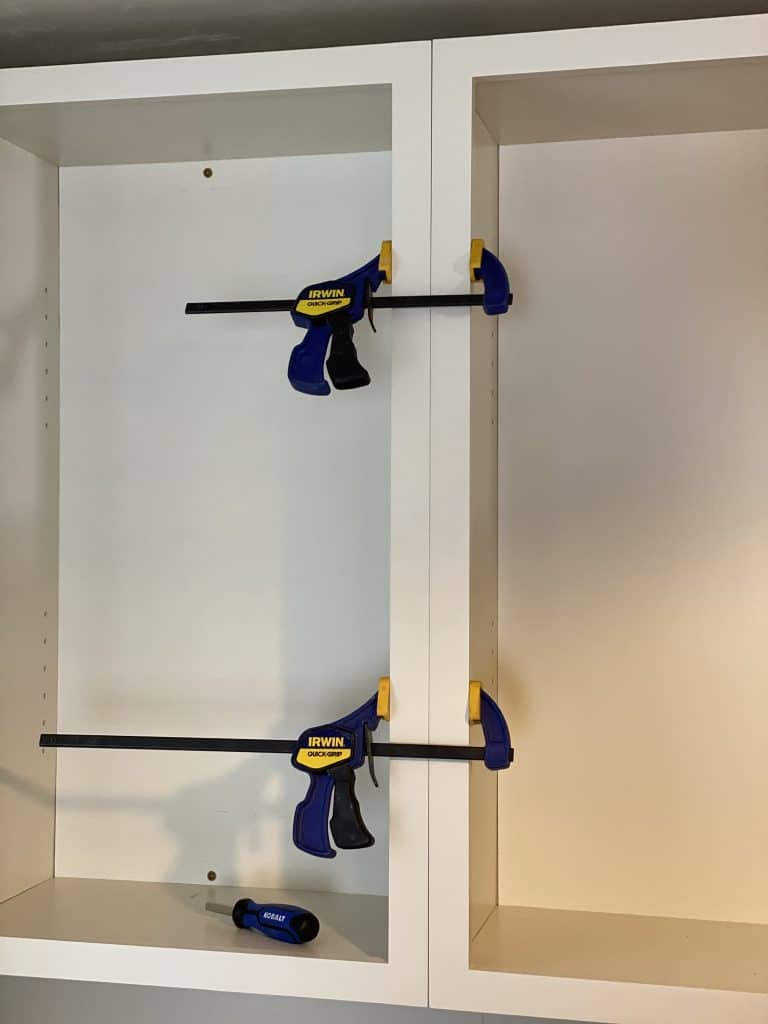 After hanging the cabinet boxes, I was amazed at how the cabinet doors were easily able to be leveled using a set of screws on the cabinet door. Turn them one way and the door moves up or down slightly. Turn the other screw and the cabinet moves left to right a bit. This easy system makes getting the door placement perfect every time!
When we were finished, everything fit just how it did on the 3d design plan, and looked gorgeous.
Putting the crown moulding at the top of the cabinets was difficult to get just right, but it was so worth it. Check out how the difference it makes!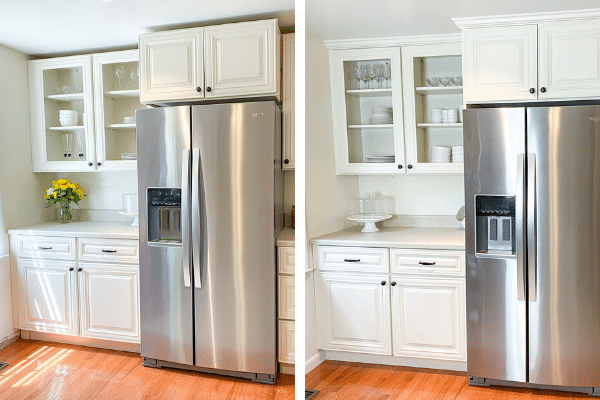 Remember to check out the matching panels, fillers, and trims. For my kitchen, I used crown moulding, refrigerator panels (for a really polished look), kickplates, and filler strips (attached to the left side of the cabinets so the drawer wouldn't hit the window sill). These "accessories" make the kitchen look like it was put together by a designer, and give the room a polished, upscale look.
End Result
We love how the kitchen turned out! We plan to update the countertops with marble and add a backsplash at some point, but with the country on pretty much shut down at the moment, we had to settle for what we could find at our local home improvement store for now.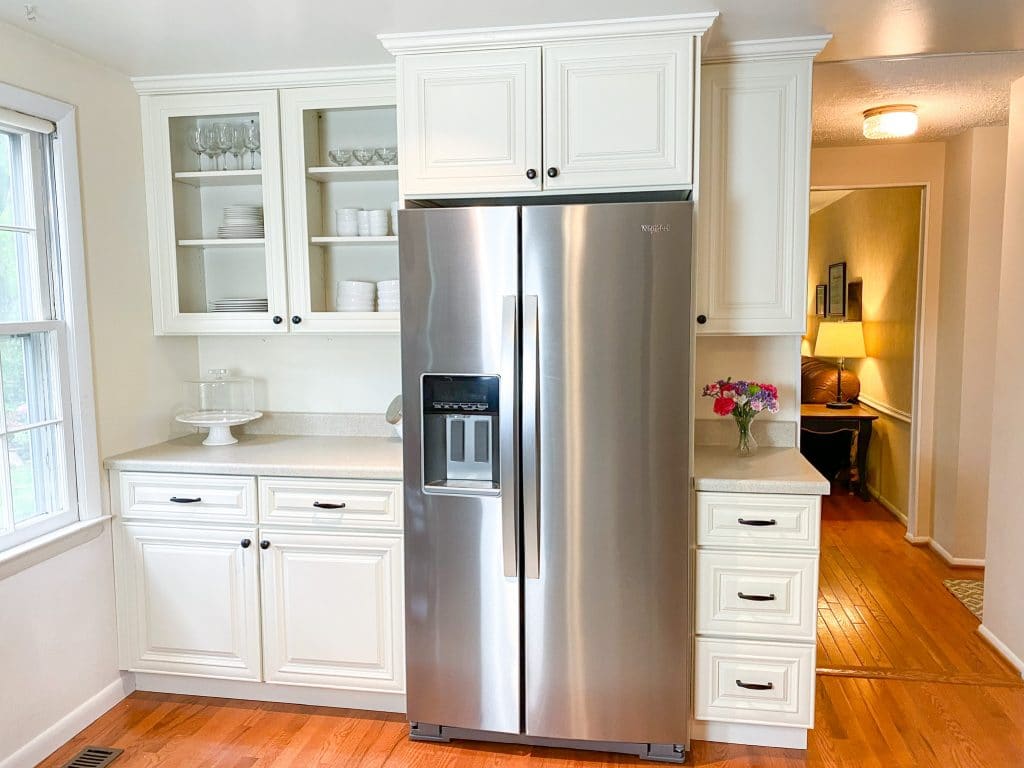 Here is how the cabinets look now that they are finished. Gorgeous!
Better yet, they give me extra countertop space, additional drawer storage, a place to put my silverware, and beautiful display cabinets for my dishes.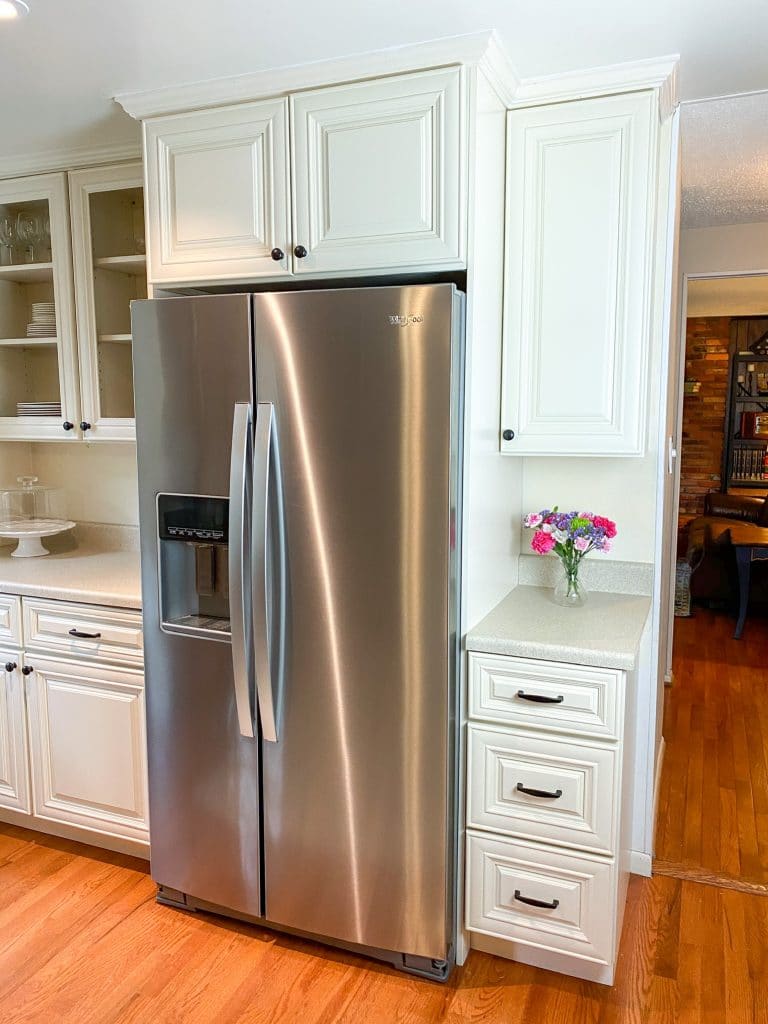 And, look at the detail on these cabinets!
I love that my new cabinets provide me with added function in my kitchen. Plus, the cabinets made a previously unused space in my kitchen look amazing!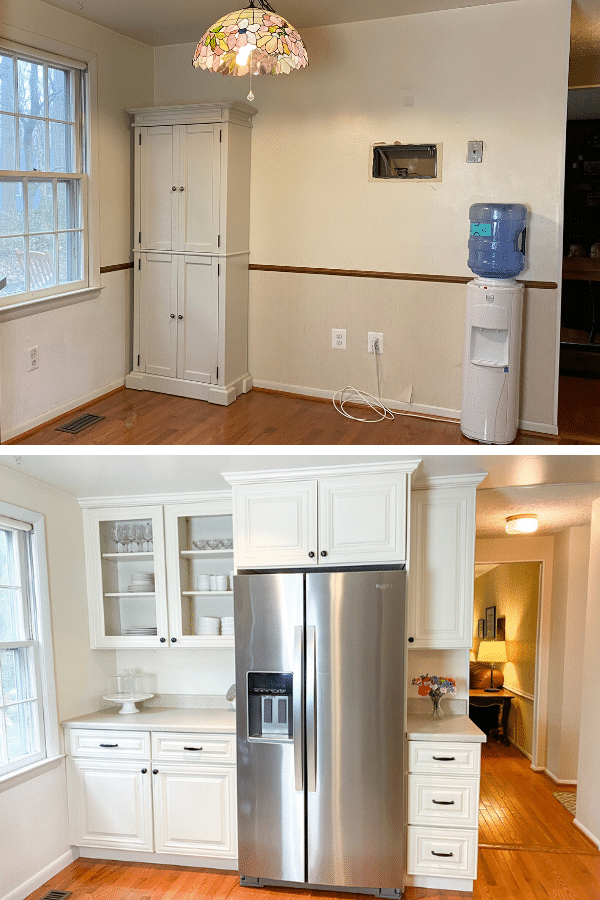 If you are looking to update your entire kitchen, or to simple augment your current kitchen with new cabinets, check out Lily Ann Cabinets. You will not be disappointed!
Check out how the whole kitchen turned out in this post on updating a wood kitchen without painting the cabinets!
Remember to pin this post to save it for later!