Sherwin Williams Romance is a gorgeous blush pink paint color. It was named HGTV Home's 2020 Color of the Year because of its "calming yet posh" appearance. While many pink paint colors can make you cringe when you see them, Romance is a perfectly understated shade.
This post may contain affiliate links. If you have any questions, please see my disclaimer page.
Details of Romance Paint Color
Romance is a soft pink with undertones that lean more orange than purple. It is almost a coral shade, but doesn't look bright like coral usually does.
This paint shade has a LRV (light reflectance value) of 66. This means it is in the "light" category of paint colors, and will reflect a lot of light into the room.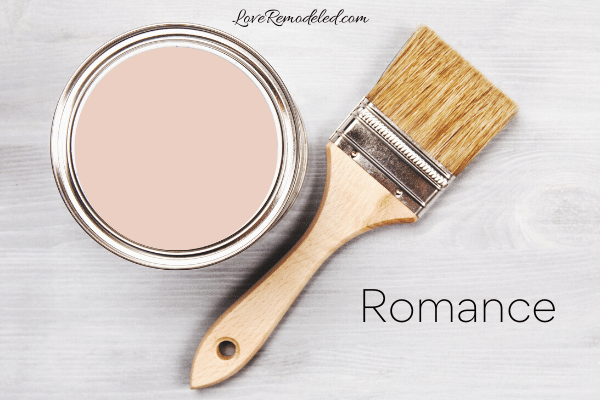 SW Romance is Featured In…
The paint color Romance is part of HGTV Home's Simply Blissful Color Collection.
In addition, Romance was chosen as one of the shades of Pottery Barn's Spring/Summer 2020 Collection and Pottery Barn Kid's Spring/Summer 2020 Collection.
What Colors Go with SW Romance?
Depending on how it is used, Romance can be subtle or make a statement.
Paired with gray or white furniture and accents, Romance is a creamy feminine paint shade. It presents as light and playful, with a touch of elegance.
But, when paired with jewel tones such as turquoise or emerald green, Romance acts as an exciting almost-neutral backdrop for the bright shades around it.
The colors in the Simply Blissful collection range from pastel to jewel tones, and all of the shades compliment each other nicely. They are great coordinating colors for Romance. The colors in this collection include Blue Endeavor, Finian Blue, Fundamental White, Restful, Gristmill Greige, Coral Reef, Mint To Be, Island Time and Vanillin.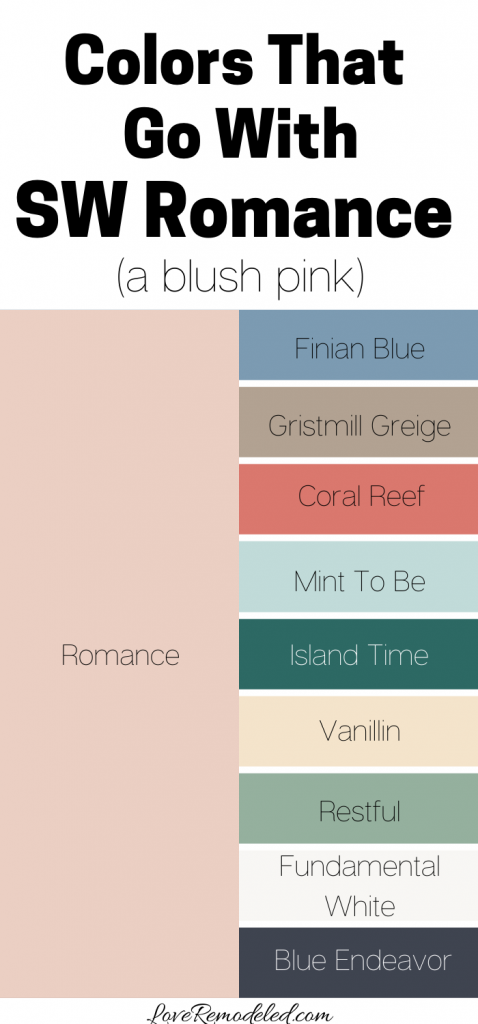 Lastly, Romance can take on a sophisticated air when placed with navy blue. Silver or rose gold accents complete the look.
Wondering how to pick the perfect paint color?
I have a great solution for you!
Samplize sells 12×12 stick on paint squares in almost every paint color.
These eco-friendly, peel and stick squares are made from real paint, so they will show you exactly what the paint color will look like.
I love Samplize squares because they are able to be placed on your wall and peel right off when you're done.
You can move these paint squares around your room to easily tell whether a color will go in your home, with your furnishings and accents, and with your lighting.
Plus, you can pick the perfect paint color without having to run to the store or open a can of paint, and you won't be pressured into picking a color because you have a bunch of different sample colors painted on your walls!
Oh, and you get free shipping and $5 off your first order – that is basically like getting one square for free!
Where Can Sherwin Williams Romance Be Used?
At first glance, Romance seems to be consigned to a girl's bedroom or nursery. It is the perfect pale pink that is not too cotton candy and not too Pepto Bismal.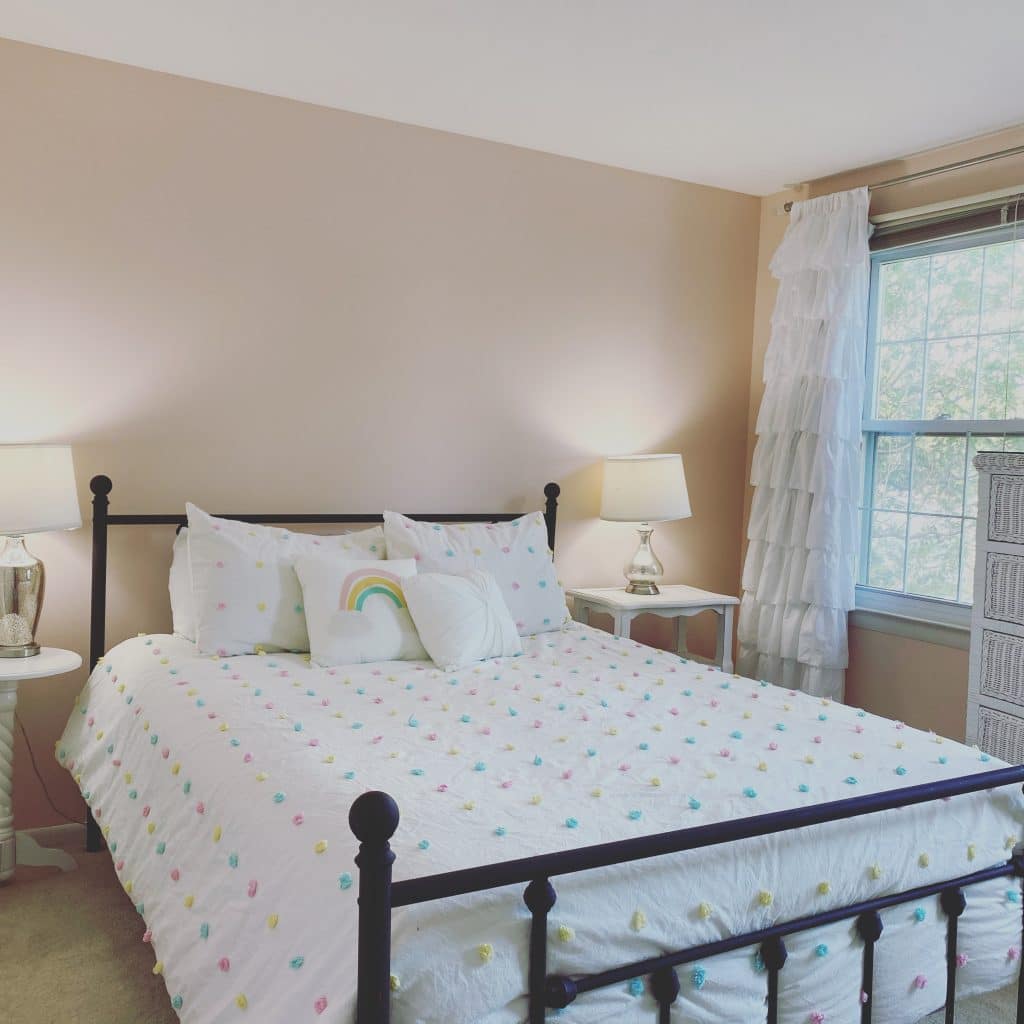 And while it is gorgeous in a girl's bedroom or nursery, it can also be used in a living room, dining room or master bedroom.
Here is an example of a room painted a soft, blush pink, and accented by navy, various shades of pink, red and neutral tones.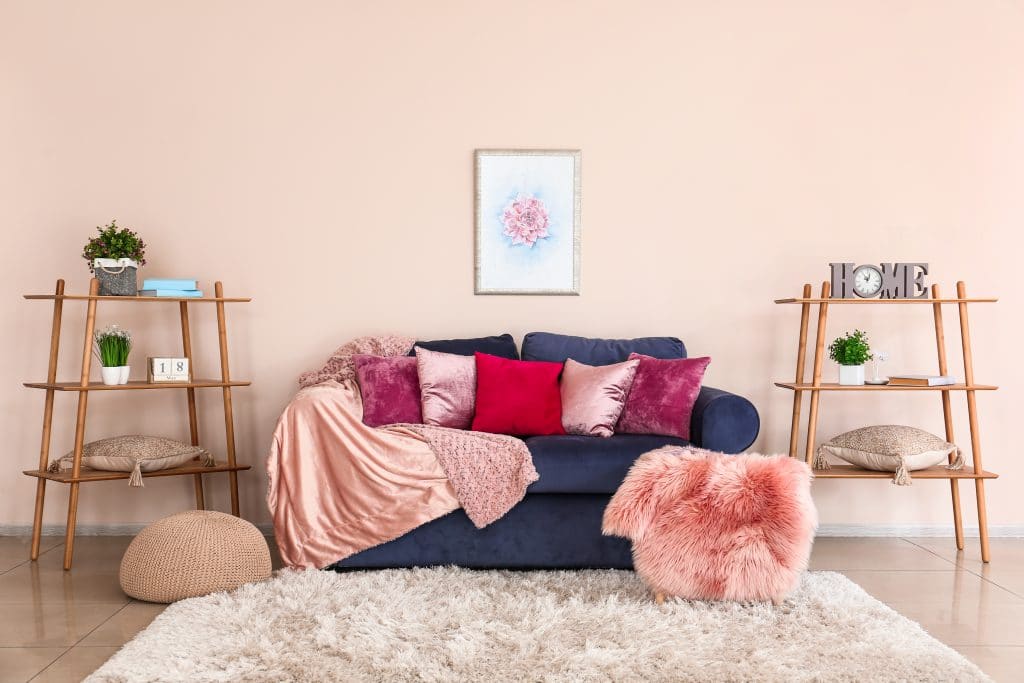 Final Thoughts on Romance Paint Color
Sherwin Williams Romance is a beautiful pink paint color for the walls. It can coordinate with neutrals for a feminine or sophisticated look, and with bright jewel tones for a daring display of color. While it is a light coral pink, it can almost be viewed as a neutral due to its subtle tone.
If you are looking for a light pink paint color, Romance is a great choice!
Painting Your Home
If you want to paint your home on your own, check out this post on how to paint a room.
Need a painter? Click here to find a painting professional in your area!
Want to see all your paint options in one convenient place? Click here to pick up a Sherwin Williams fan deck (contains all SW colors) or a Benjamin Moore Collections fan deck (contains many popular BM colors – other fan decks sold separately)!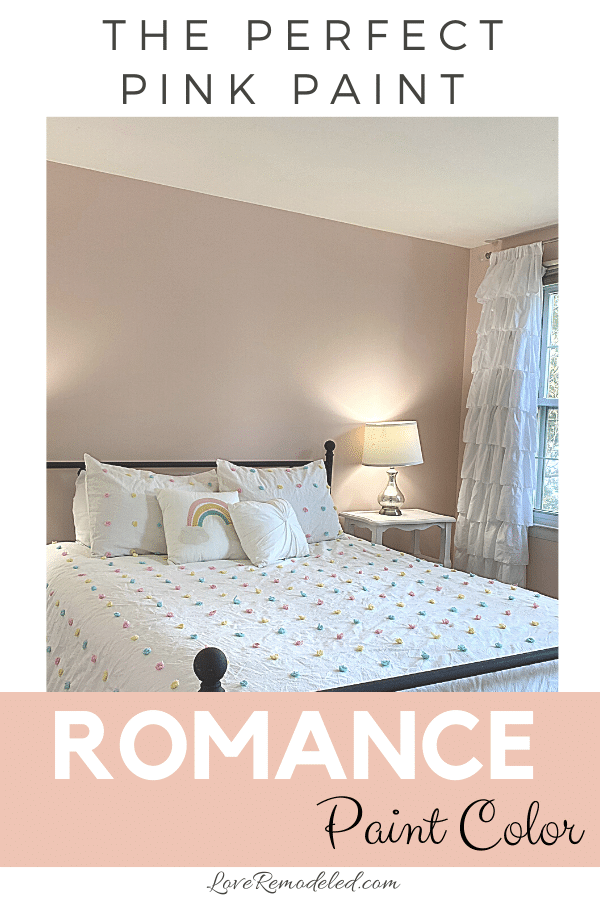 Romance Paint From Sherwin Williams
Have a question or want to show off your project? I answer all comments within 7-10 days, but for a much faster response, join my new Facebook page here!