Find out how to change the color of your outlets, without doing electrical work (and without painting them)!
Changing your electrical outlets from beige to white is much easier than you think.
White electrical outlets are the standard these days. White outlets are bright and clean looking, while beige electrical outlets can look dingy and date the home.
How do you change the color of an electrical outlet?
Hiring an electrician to change the color of your outlets can be an expensive venture. The average charge for an electrician is between $50 and $100 per hour. And while it is not hard to change an electrical outlet, it can be dangerous to do as a DIY job if you are unfamiliar with electrical work.
As a result of these limiting factors, many people try to solve this problem by doing one of two things.
First, they will change the plate cover to white, but leave the electrical component face as beige. You end up with an outlet that looks like this:
As you can see, it looks even worse than it would have if the whole outlet and plate were beige.
This post may contain affiliate links. If you have any questions, please see my disclaimer page.
Can you paint outlets white?
The second way people try to solve this problem is by painting their electrical outlets white.
This doesn't work for a few reasons. First, it is dangerous, as painting an electrical outlet can be a fire hazard. Second, since the outlet is made of plastic, the paint doesn't stay on and often becomes scratched.
How do you cover up old outlets?
Since painting doesn't work for the long term and is dangerous, changing just the plate cover doesn't look nice, and hiring an electrician is expensive, the easiest and cheapest way to change an outlet from beige to white is to cover up the entire outlet.
Recently, I found a product on Amazon that made changing my outlets to white super simple!
These outlet covers conceal the entire electrical outlet, instead of having cutouts for the electrical components. As a result, the whole outlet is covered and looks updated.
As an added bonus, if you have an outlet that is loose and the plugs fall out easily, these plate covers seem to fix this problem.
To use them, simply unscrew the center screw that holds the outlet cover on and remove the outlet cover. Then, screw the new outlet cover on in its place – and you're done!
My favorite part of this solution is the price. The outlet covers cost approximately $2 a cover, which is less costly than it would be to buy a plate cover and outlet to change out yourself, and much less expensive than it would cost to hire an electrician to do the job.
Here is how they look: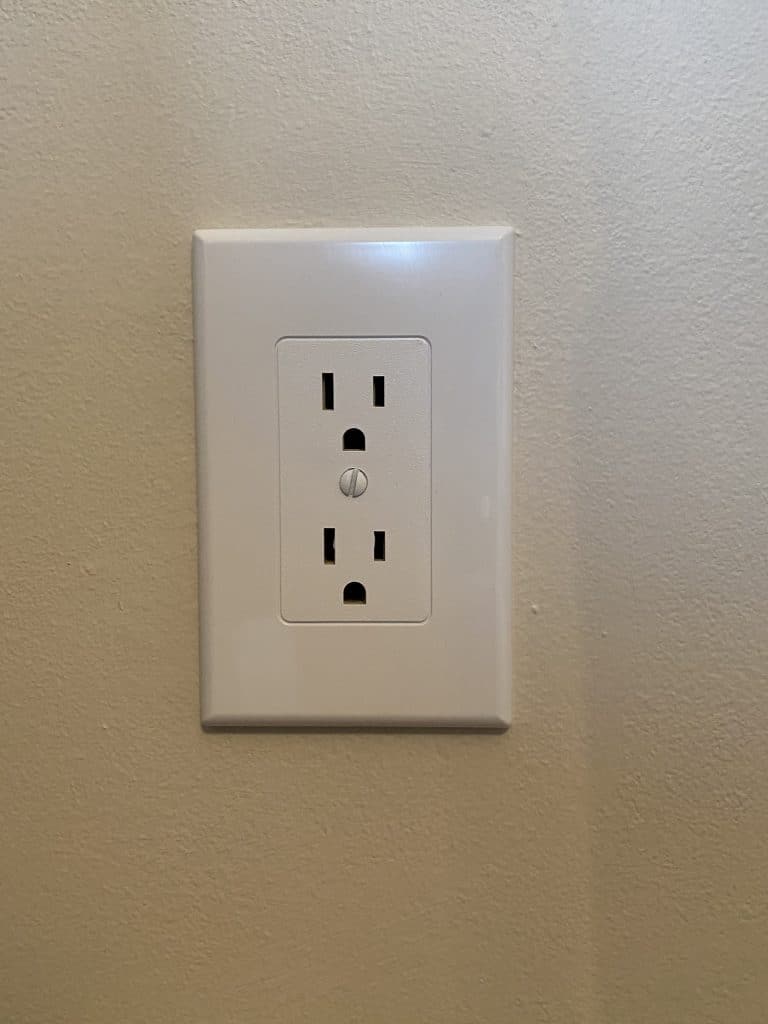 So much better, right?!?
Should switch plates and outlet covers match?
Yes!
Since outlet covers and light switch plates should be the same color, I began looking for an easy fix to change the color of my light switches. Again, I didn't want to change the plate cover and have a white plate with a beige switch.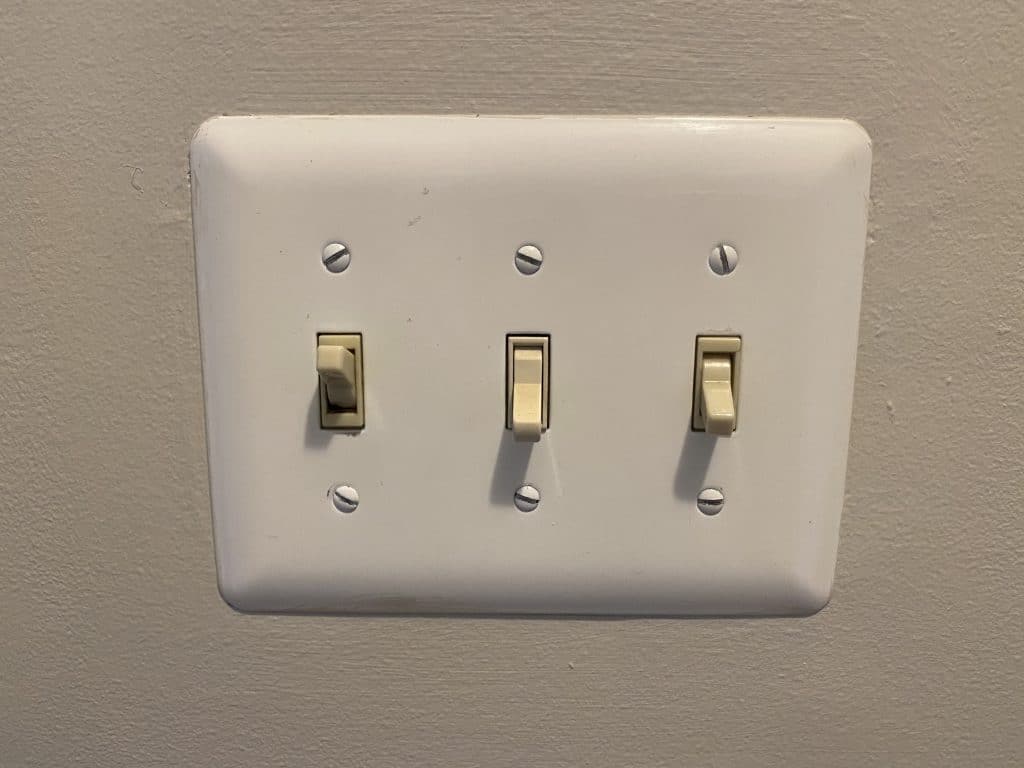 So I ordered this triple light switch cover to try out.
At first, the light switches looked way too boxy for me. They seemed to look a little weird since I had never seen light switches look like that. But, after a week of having them on the wall, I don't even notice them anymore.
Some reviewers on Amazon indicated that they didn't work well, but I don't have any trouble turning my lights on and off with these switch covers.
I ordered the triple light switch cover to try, but they're also sold as single lights switch covers, double light switch covers, and dual switch and outlet covers.
If you want a simple and inexpensive way to update the electrical in your home, pick up these covers! I love how changing the outlets from beige to white is such an easy thing, but makes the whole room look updated!
Changing Outlets from Beige to White