Samplize is a company that sells peel and stick paint sheets that can be used to try out different paint colors in your home.
Their slogan is, "a better way to test paint colors." And it is!
Samplize peel and stick paint samples have revolutionized how people try out paint colors in their home.
Trying a new paint color in your home is super simple with Samplize paint sheets.
If you are ready to try a new paint color in your home, keep reading for a full review on Samplize.
This post may contain affiliate links. If you have any questions, please see my disclaimer page.
The Old Way of Sampling Paint Colors
Prior to Samplize peel and stick paint samples, if you wanted to try a paint color in your home, you had two main options.
First, you could pick up a tiny paint swatch and hope that you got a good enough sense of the color from it. This was never a great option, because paint colors can look very different on a larger scale.
Second, you could go to the store, buy a sample pot of paint, paint it on your wall or a large sheet of poster board, clean your paint brush and wait for the paint to dry.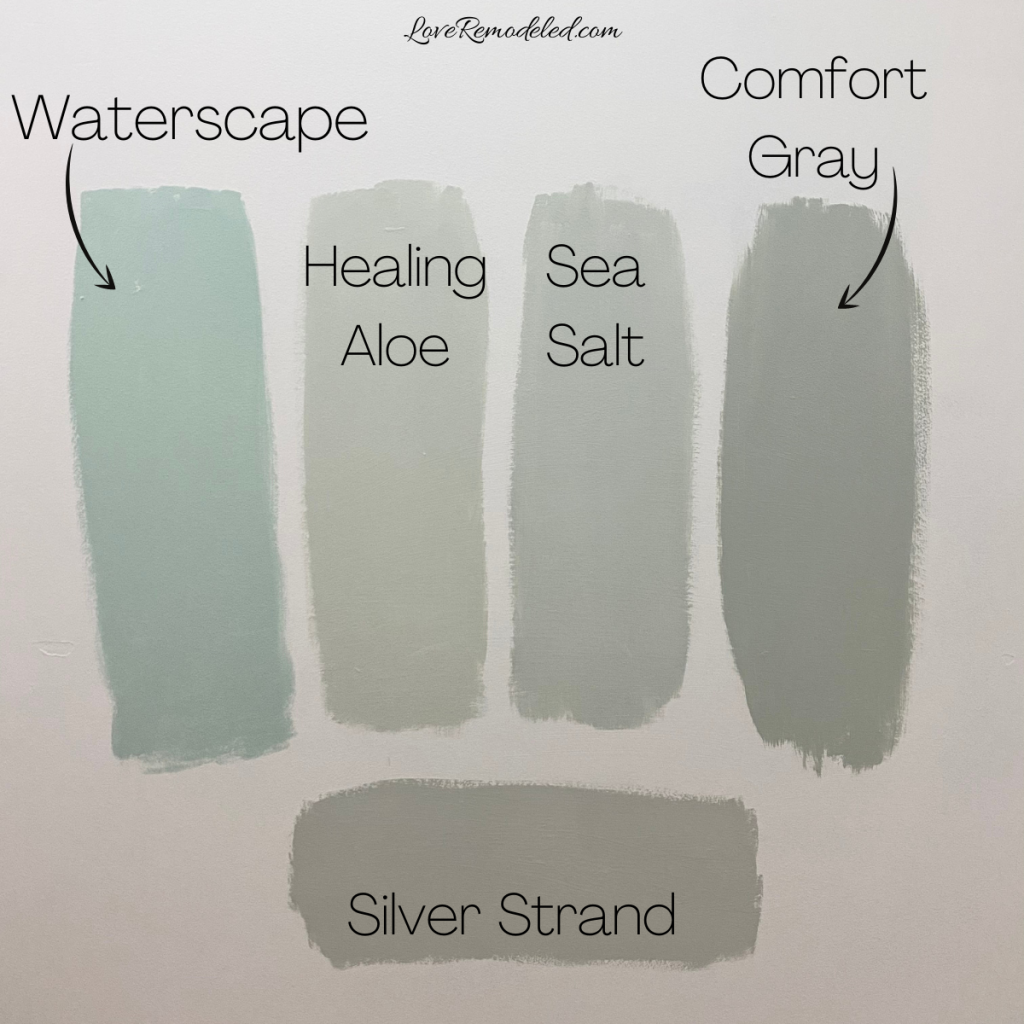 To see the color on several different walls, which is important, you would have to paint several spots in the room.
And then, you would be stuck with spots of painted color all over your home. When you finally chose a color, you may even have to prime those spots to ensure that the final color was consistent.
Finally, you have to figure out how to dispose of those extra sample cans, such as take them to your local dump or fill them with cat litter to dry them out.
It wasn't a great way to choose a paint color, and took a fair amount of effort.
Sampling a Paint Color with Samplize
Samplize has made trying out a paint color incredibly easy.
First of all, you can order the paint samples right from your home. You can select individual colors, or choose a color bundle that includes the most popular paint colors in that color family (ex. warm whites, light beiges, dark grays, etc.).
The samples come overnight with free shipping on orders over $40. This means that you could be choosing the perfect paint color by tomorrow.
Once the sample comes, I always recommend trying it out in different places in the room. Since the samples are peel and stick, its easy to remove them from the wall, leaving no damage, and place them in a different area.
Trying a paint color in different areas of the room allows you to see how the light coming in from different angles affect the color of the paint. Plus, you can try the paint color next to your fixed elements like countertops and floors, or next to your furniture.
How Do Samplize Samples Work?
Samplize sheets are a good size for seeing how a paint color is going to work in your space because they are 9″ by 14.75″. They give you a good sense of the shade.
As I mentioned earlier, Samplize sheets are peel and stick, so they don't leave any residue or pull paint off your wall when you remove them.
Plus, when you are done, you can put them on the backing sheet to be saved for later. I love that you can hold onto the color to try in different rooms later if you want, and you don't have to store a can of paint anywhere.
Are Samplize Paint Samples Accurate?
Samplize paint samples are made from real paint from the paint manufacturer of the paint color you chose. This gives them 100% color accuracy.
There are over 8,000 paint colors available in Samplize sheets, including shades from Sherwin Williams, Benjamin Moore, PPG, and Farrow and Ball.
If you're not sure what colors to even start with, I always find best sellers to be a great starting place.
What Sheen Does Samplize Use?
Samplize sheets are painted with an eggshell finish. Eggshell finishes have a bit of shine to them, but not too much.
An eggshell finish is very popular on interior walls, so it makes sense to try the paint color in that sheen.
Samplize Shipping Cost
As I mentioned earlier, if you order over $40 of Samplize sheets (which works out to 7 colors), your overnight shipping is free.
For an even better deal, you can purchase a bundle, which includes 8 colors, and add one additional color, putting you over the $40 mark.
If you don't want to order that many peel and stick colors, overnight shipping is $8.95.
Samplize Coupons and Sales
Samplize tends to run coupons or sales fairly frequently.
You can add the coupon code, "FIRSTFIVE" for $5 off your first Samplize order.
Or, right now you can use the code "LOVEREMODELED10" for 10% off your whole order (no minimum, works even for repeat customers!).
Another great way to save money on Samplize is to purchase a color bundle. With a color bundle, you get 8 paint samples for the price of 6.
Samplize Complaints
If you are like me, you probably look up companies prior to buying from them, especially if you haven't heard of them before.
Oftentimes, I find that the companies have negative reviews and low star ratings on websites like the BBB or TrustPilot. Not so with Samplize!
Samplize has a 4.9 rating with over 1,000 reviews on TrustPilot. The company is great to work with and delivers on what they promise – a better way to test paint.
Final Thoughts on Samplize Peel and Stick Paint Samples
Samplize peel and stick paint samples are my absolute favorite way to try out a paint color.
They are so much easier to use than a regular pot of paint, and I don't have to worry about what I'm going to do with the rest of the can when I'm done.
Plus, I don't need to spend time cleaning out my brush, or live with painted spots all over my home while I try to decide on a color.
If you are looking to find the perfect color for your home, Samplize sheets are the best way to try it out.