Salty Dog is a navy blue paint color by Sherwin Williams. It is a classic navy shade that is versatile.
Sherwin Williams Salty Dog is a part of the Color ID (Trendsetter) Collection.
While Salty Dog isn't Sherwin Williams most popular navy blue paint color, it definitely has its place among the top contenders.
If you are looking for the perfect navy paint shade, keep reading for all the details on Salty Dog, including where to use it, what colors to pair it with, and how it compares to other navy blues.
This post may contain affiliate links. If you have any questions, please see my disclaimer page.
What Color is Sherwin Williams Salty Dog?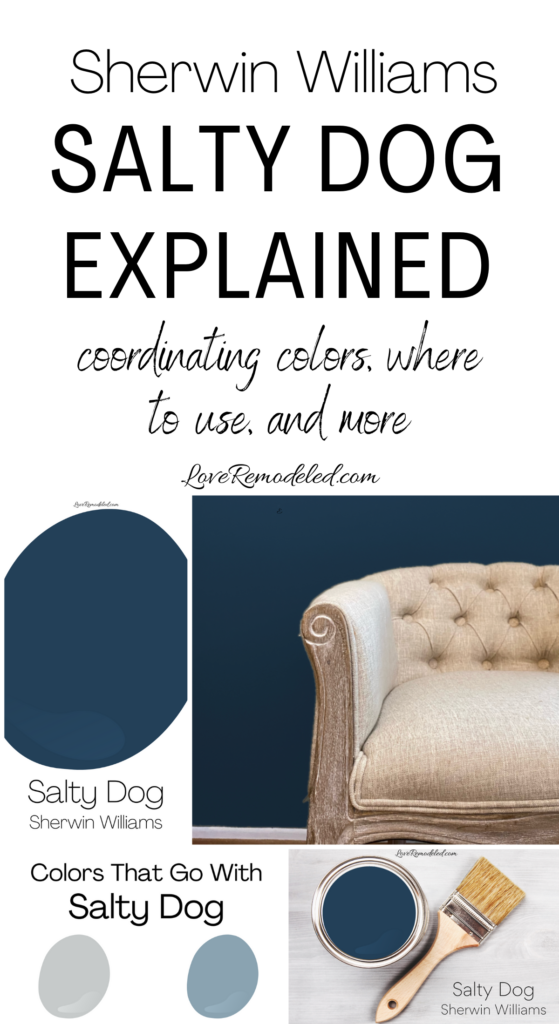 Sherwin Williams Salty Dog is a very dark blue paint color. Its so dark, that I consider it a navy blue shade.
There are several great navy blue paint colors by Sherwin Williams, but Salty Dog is among the brightest. It isn't a bright shade at all, but when you compare it to some other navy paint colors, you see the blue in it more because it has less gray.
Salty Dog has a lot of royal blue tones in it, and a hint of blue green undertones. You won't really see the blue green at all, but when you compare it to other navy paint colors, you can see it.
Salty Dog is a punchy sort of paint color that makes a big impact in a room. It is super saturated with depth and color.
Sherwin Williams Salty Dog LRV
Salty Dog has an LRV of 5.
The LRV scale goes from 0, which is completely black, to 100, which is completely white. It refers to how much light a paint color will reflect back into a space.
As you can see, an LRV of 5 is very low on this scale. Salty Dog will not reflect a lot of light back into a space.
This doesn't mean that you shouldn't use it, but perhaps that it is better in smaller doses.
If you do decide to use Salty Dog as a whole room paint color, be sure that you support it with a lot of natural and artificial light so you don't lose the beauty of this color in shadows.
Is Sherwin Williams Salty Dog Warm or Cool?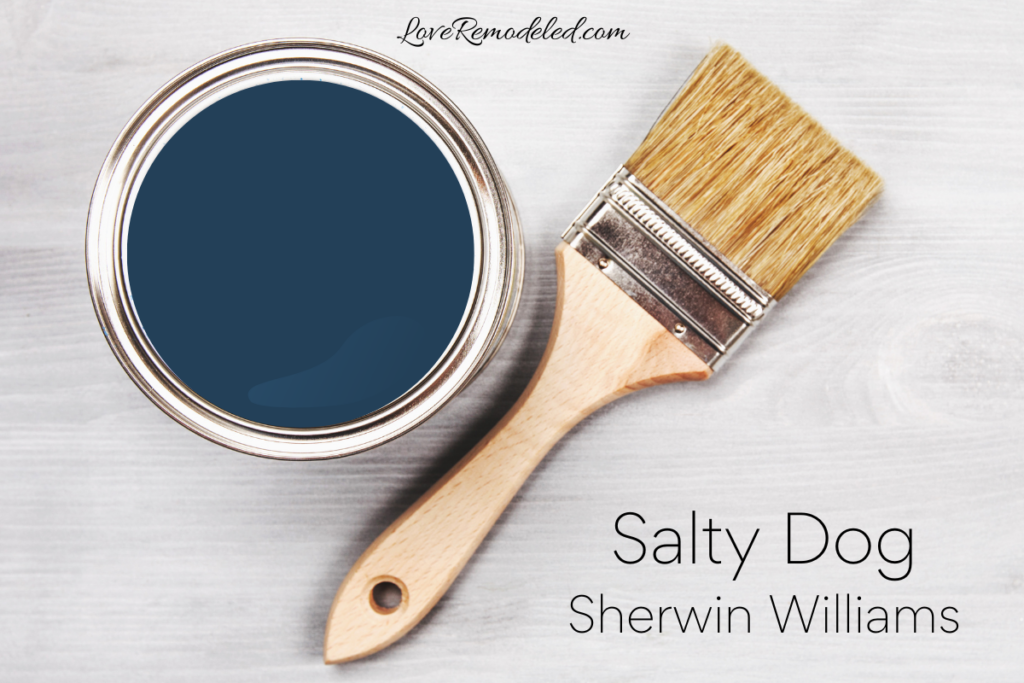 Since Salty Dog is a blue paint color, it is a cool shade.
Cool paint colors are blue, green and purples, or neutral colors that have these undertones. Warm paint colors are reds, oranges, yellows, and pinks, or neutrals that have these undertones.
Cool paint colors tend to feel expansive and refreshing. Salty Dog isn't exactly an expansive type of color though. It is too dark to invoke the feeling of the ocean or sky.
Instead, Salty Dog feels more rich and moody. It invokes a sophisticated and mature feeling that is common with any classic type of color.
What Color Goes Well with Salty Dog?
Salty Dog goes well with a lot of different shades. Like other navy blue paint colors, Salty Dog works with yellows, pinks, grays, creams, whites, browns, greens, greiges, oranges, reds, blue greens and more.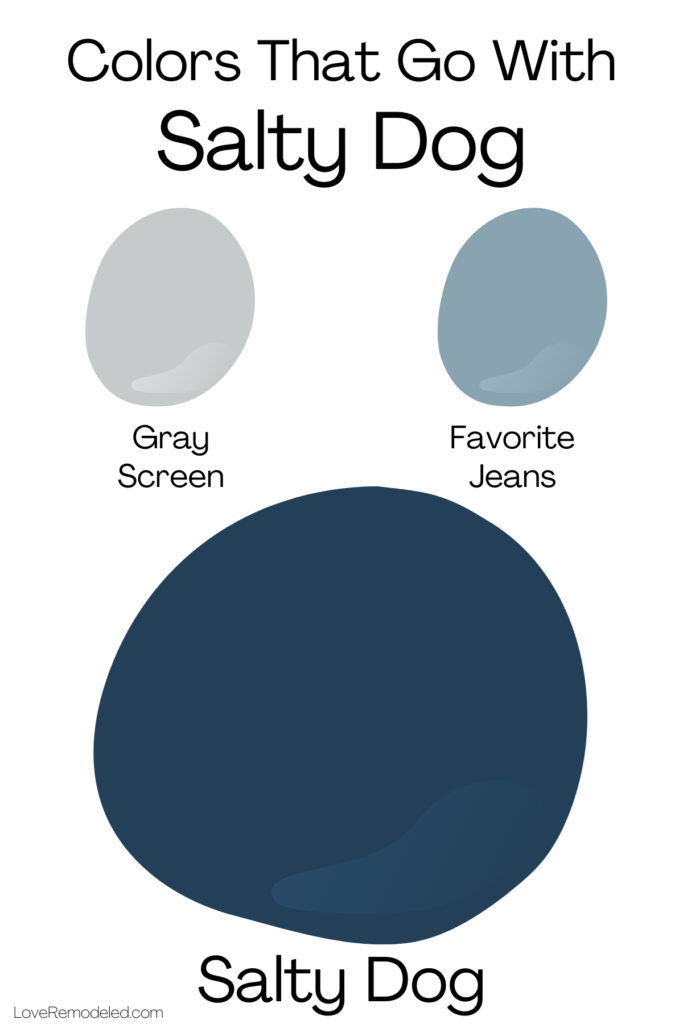 Specifically, Sherwin Williams has paired Salty Dog with Gray Screen, a light gray paint color, and Favorite Jeans, a light to mid-tone blue.
Together, this paint scheme for Salty Dog gives off a coastal, nautical or traditional vibe that creates a whole mood in a space.
You could easily add pops of color to this scheme by accenting it with coral pink or yellow, bringing a bit of balance between warm and cool tones.
What White Goes with Salty Dog?
If you are looking for a great white paint color to go with Salty Dog, you have a lot of good options. Salty Dog is so dark and pigmented that it can work with many different white paint shades.
Specifically, I like to pair Sherwin Williams Salty Dog with High Reflective White and Pure White.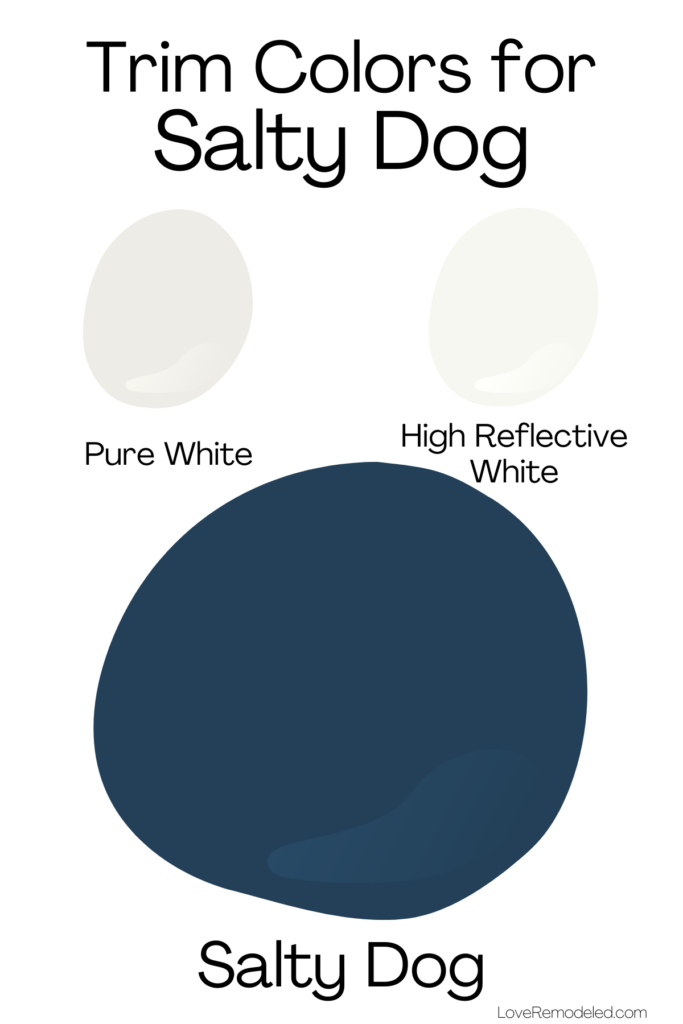 High Reflective White is Sherwin Williams brightest and cleanest white paint color. It has almost no undertones, so it goes with just about any wall paint color.
You can read more about High Reflective White here.
Pure White is a softer white paint color that has yellow and gray undertones. In a room without any brighter whites, or next to Salty Dog, it will look completely white though. It just isn't as stark as High Reflective White.
You can read more about Pure White here.
If you like a cool trim, you can also pair Salty Dog with Extra White. Extra White has blue and gray undertones, and works well in spaces with lots of cool shades.
You can read more about Extra White here.
Where Can I Use Salty Dog?
Salty Dog works as an accent in a lot of different spaces. You can use it on cabinets, kitchen islands, accent walls, shiplap, or furniture.
It is great for an office or study, or in a bedroom or nursery.
I used Salty Dog in my son's bedroom as an accent wall alongside Westhighland White. It worked perfectly in his Star Wars themed room for a dark, outer space looking wall.
Salty Dog is also a good exterior paint color. It pairs well with stone facades, brown or white trim, and many shades of red, orange or yellow brick.
It works in traditional, coastal, nautical, or transitional style homes, as it brings about a classic and traditional feeling.
Salty Dog Compared to Other Navy Blue Paint Colors
When I do a paint color review, I always like to compare the paint color to other popular shades in the same color family.
This can be helpful if you are between a few different paint colors and need to decide which is best for your home.
Since Salty Dog is a navy blue paint color, I am going to compare it to some of the most commonly used navy blue paint shades – Naval, Hale Navy, In the Navy, and Charcoal Blue.
Salty Dog vs. Naval
Naval is one of Sherwin Williams' most popular navy blue paint colors.
The difference between Salty Dog and Naval is that Salty Dog is a punchier shade than Naval. Naval has a lot of gray in it, and this gray makes it look less colorful than Salty Dog.
Naval is a bit more traditional, while Salty Dog is a bit more classic. You wouldn't see these distinctions if they were by themselves in a room, but only when you compare them to each other.
You can read more about Sherwin Williams Naval here.
Salty Dog vs. Hale Navy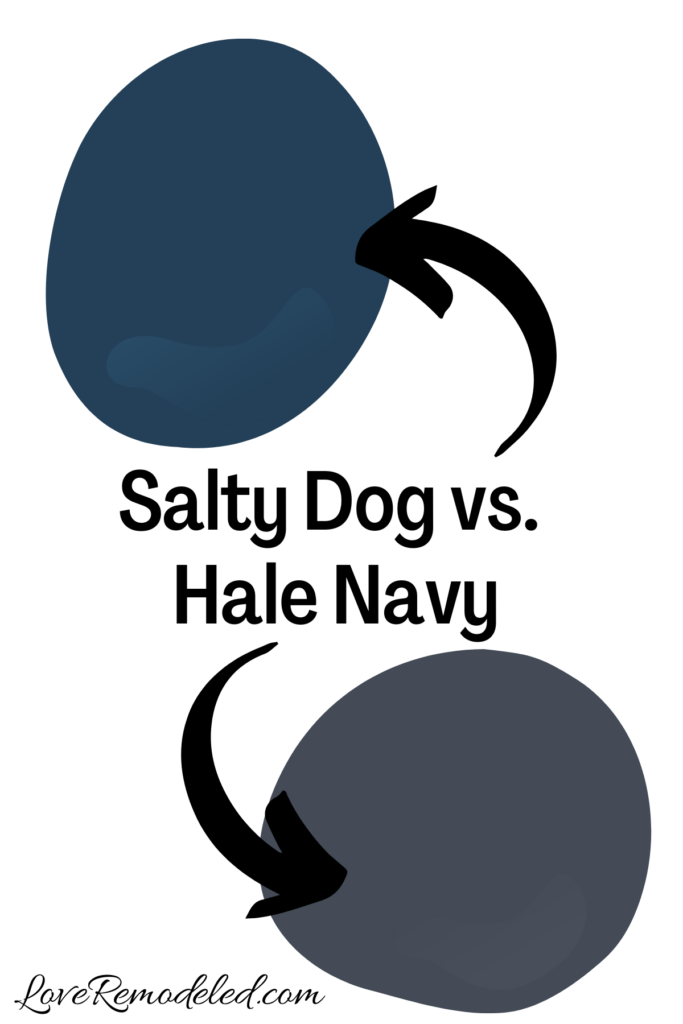 Hale Navy is one of Benjamin Moore's most popular navy paint colors. It is a very traditional navy paint color with gray and black undertones.
Hale Navy looks darker than Salty Dog, because it has more of that gray in it. Hale Navy more easily takes on a gray look in dim lighting than Salty Dog does.
You can read more about Benjamin Moore Hale Navy here.
Salty Dog vs. In the Navy
In the Navy is another popular Sherwin Williams navy paint color.
In the Navy has a bit of purple undertone in it that you don't see in Salty Dog. This gives it a slightly different look.
If you have finishes in your space that share those purple undertones, In the Navy might be a better paint color for you.
If you want a more classic blue, go with Salty Dog.
Salty Dog vs. Charcoal Blue
Charcoal Blue is a navy blue paint color by Sherwin Williams. Similar to Hale Navy, Charcoal Blue has a lot of gray and black undertones. It also has a hint of a purple undertone.
Charcoal Blue can easily look gray in dimmer lighting because of how much gray it has in it. Salty Dog looks much more blue than Charcoal Blue.
Click here to learn more about Sherwin Williams Charcoal Blue.
Wondering How To Pick the Perfect Paint Color?
I have the best solution for you!
Samplize sells 9×14.75 stick-on paint sheets in almost every paint color.
These no-mess, peel and stick sheets are made from real paint, so they will show you exactly what the paint color will look like.
Simply place them on your walls next to your trim, furnishings or fixed elements, and easily see which paint color works best in your space and with your lighting.
Then, peel the sheet off your wall and reapply it somewhere else if you like. You can try several different paint colors with no mess, no fuss and no cleaning paint brushes.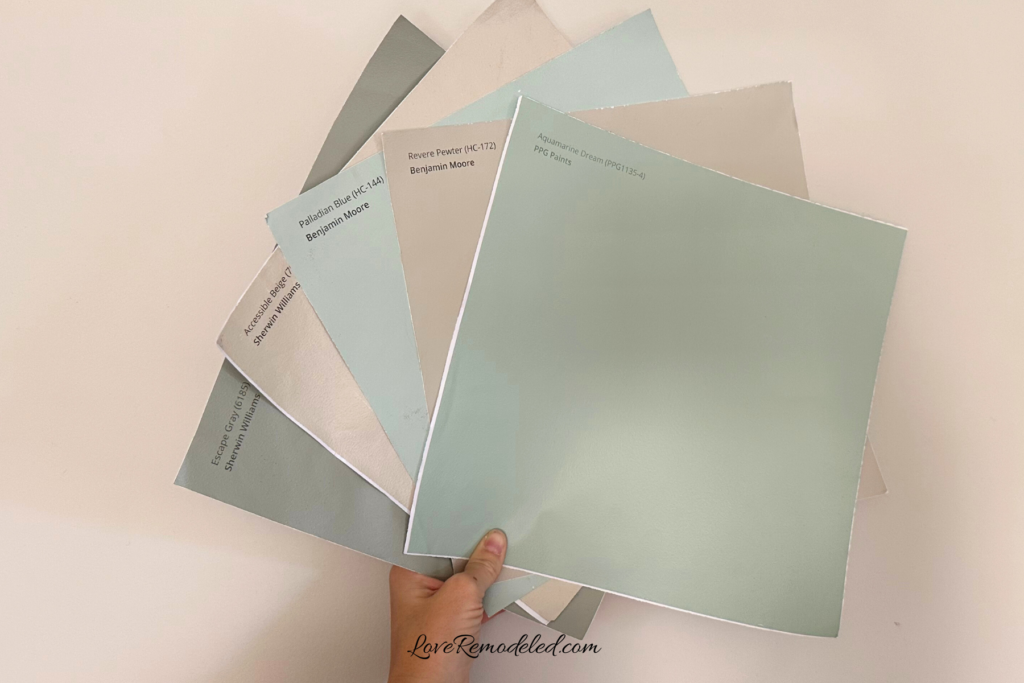 Oh, and you can have them in your home by tomorrow with OVERNIGHT shipping!
As a bonus, be sure to use the code LoveRemodeled10 at check out to get an extra 10% off! Samplize sheets are cheaper than a sample can of paint, and way less work.
They are the easiest (and fastest!) way to try a paint color in your home, with no hassle.
Final Thoughts on Sherwin Williams Salty Dog
Salty Dog is a punchy navy blue paint color that is great in many spaces. It works best as an accent color, but if you are feeling really daring, you can use in in a whole room.
Salty Dog is also a great color for a home exterior.
If you are still on the hunt for the perfect navy, check out this list of the best navy blue paint colors for an overview of all the most popular ones.
Have a question or want to show off your project? Join the discussion in Love Remodeled's Facebook group!
Want to see all your paint options in one convenient place? Click here to get everything you need to start painting, including Sherwin Williams and Benjamin Moore paint color decks!