Navy blue is a versatile paint color that can be used in a lot of different places in the home. Navy paint colors are considered to be neutrals, grounding a space while adding a bit of color and interest.
If you are interested in painting your walls, cabinets, or exterior a navy blue paint color, keep reading to find out which navy paint colors are the best and most popular.
This post may contain affiliate links. If you have any questions, please see my disclaimer page.
Where Can I Use Navy Blue Paint?
Navy blue paint is a popular choice for accent walls, front doors, and cabinets, but it can also be used in whole rooms or on home exteriors.
Some of the most common rooms to find navy blue paint in are bedrooms, dining rooms, and living rooms.
Navy Blue Paint in a Bedroom
Navy blue is a great color for a bedroom because it creates a calming, sophisticated, or perhaps even a moody look in the space. While you may not want to paint your whole bedroom navy blue, it can work as an accent wall.
Navy blue paint is often thought of as a masculine sort of shade, but as you can see from the picture below, when paired with a soft pink, navy blue brings balance to this bedroom.
Navy Blue Paint in a Dining Room
Navy blue paint is also frequently used in dining rooms alongside wainscotting or board and batten trim. This tends to give the space a traditional, elegant look.
Navy blue painted dining rooms can look industrial when paired with black metals and neutral accents, or can take on a glam look in a space that has gold or silver metals and warm colored accents.
The dining room pictured below shows how navy blue paint can bring depth and dimension to a room.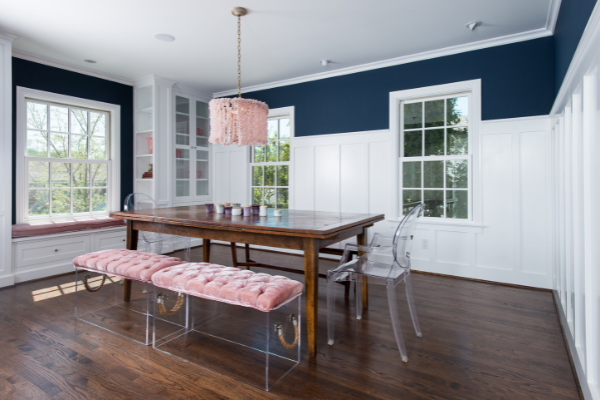 Navy Blue Paint in a Living Room
Living rooms are another great place to use navy blue paint.
In this living room, you see that the navy blue paint works in a more contemporary or modern space. Paired with neturals, black metal and greenery, you have a space that is calming and updated.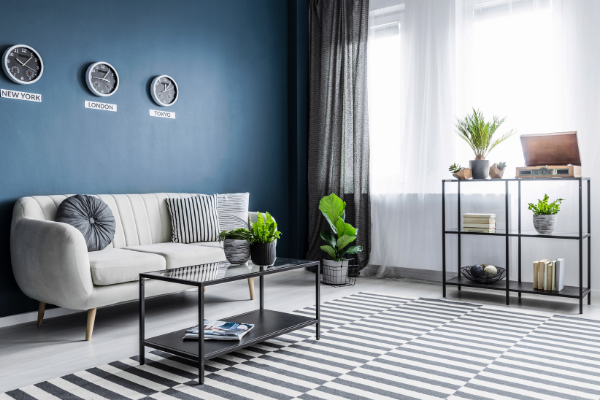 Navy Blue Paint on Cabinets
Navy blue is a popular cabinet color right now. It is neutral enough that it goes with anything, but also brings a bit of drama and excitement to a space.
People tend to accent navy cabinets with white or wood countertops.
While you may find some nautical-inspired bathrooms with navy blue paint on the walls, most often you'll find navy blue cabinets, as pictured below.
The Top 7 Navy Blue Paint Colors
Navy blue paint colors are timeless and classic looking. But they are also very on-trend right now.
Navy blue is the perfect accent color to so many different colors, and this makes it a versatile shade for your home.
It is also a great neutral color for someone who wants something other than the typical gray, off-white or beige neutrals that are so common.
Here are some of my favorite navy blue paint colors, chosen by designers and homeowners all over.
Naval, by Sherwin Williams
Naval is quite possibly Sherwin Williams most popular navy blue paint color.
It is a very dark navy blue that is traditional looking, but also has a bit of brightness and color to it. It is not the most colorful navy blue, but it also isn't the most muted.
While some navy blue paint colors can have a bit of purple, gray, or green in them, Naval tends to look much like you expect a navy blue to look.
Truthfully, Sherwin Williams Naval does have a bit of purple and green in it, but not too terribly much. It will look navy blue, and not purple or green.
Click here for more details on Naval.
Hale Navy, by Benjamin Moore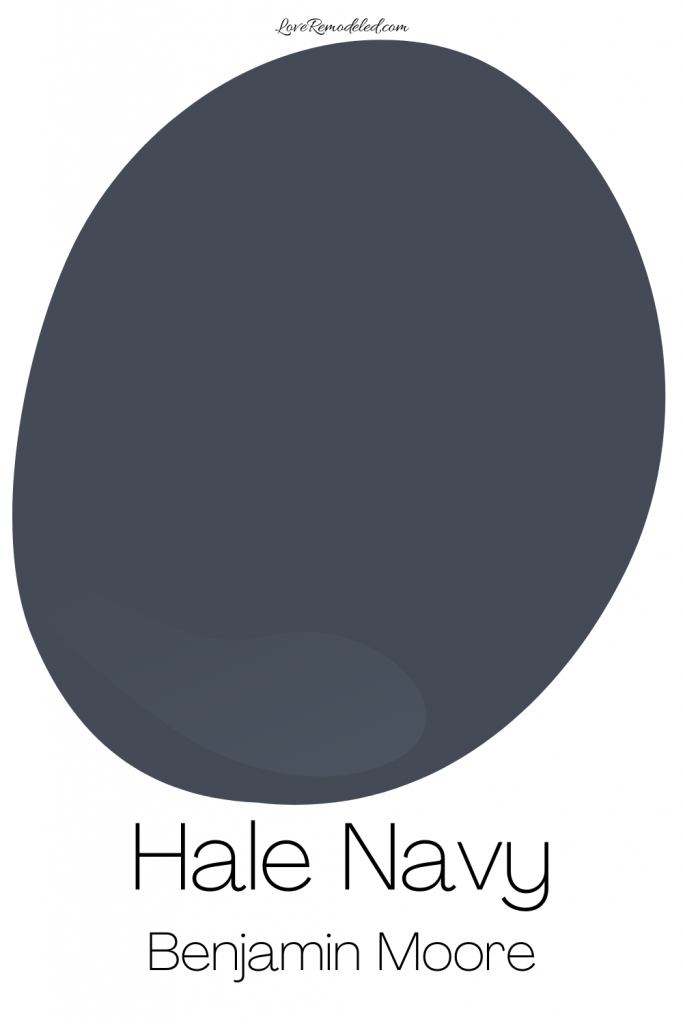 Hale Navy is Benjamin Moore's most popular paint color. It is a deep, dark navy paint color with a good bit of gray and black in it.
Hale Navy is very traditional looking. It is a bold, classic looking navy paint color.
Here is Hale Navy on laundry room cabinets. It is paired with wood countertops, white shiplap and Repose Gray walls.
Click here for more details on Hale Navy.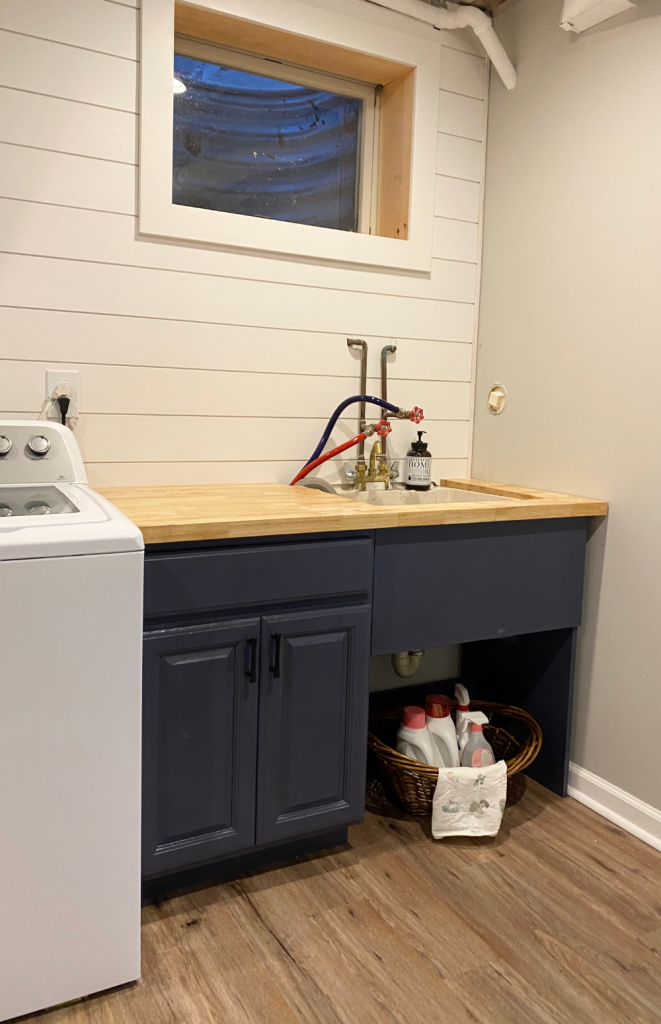 Gentleman's Gray, by Benjamin Moore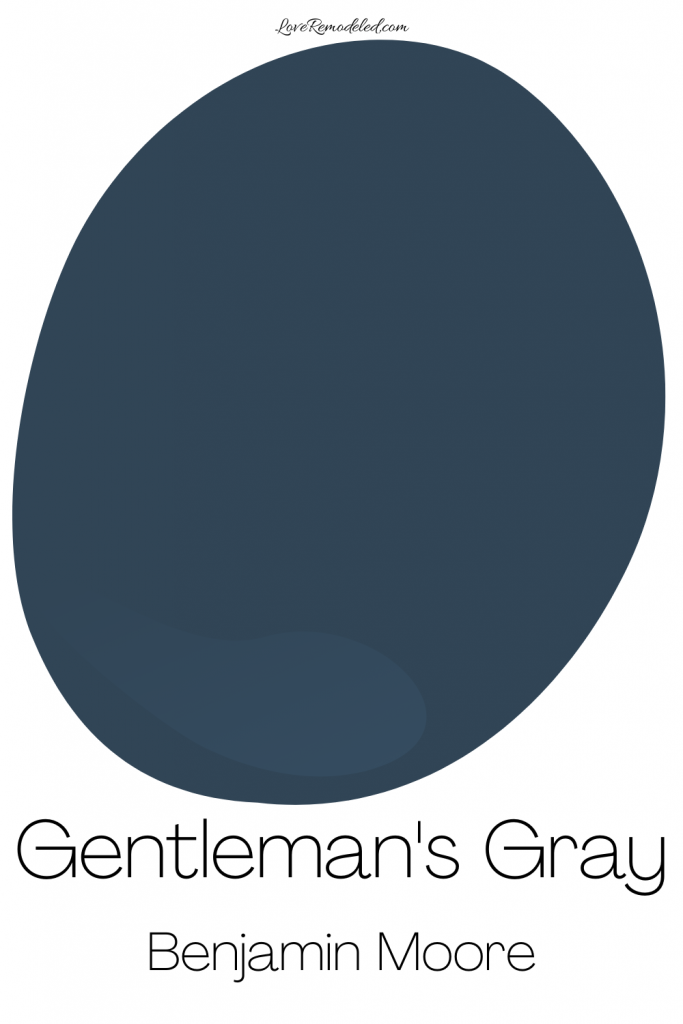 Gentleman's Gray is a Benjamin Moore navy paint color that is a little bit lighter than Hale Navy or Naval.
While called "gray," Gentleman's Gray doesn't actually have a ton of gray in it. Instead, it is a brighter, navy paint color with blue green undertones.
Salty Dog, by Sherwin Williams
Salty Dog is one of Sherwin Williams' brighter navy blue paint colors. It trends more towards a royal blue undertone than a blue green, purple or green undertone.
While Salty Dog has a bit more chroma (most easily understood as color) than Hale Navy or Naval, it is still just as saturated.
Salty Dog is a punchy, bold navy shade.
Van Deusen Blue, by Benjamin Moore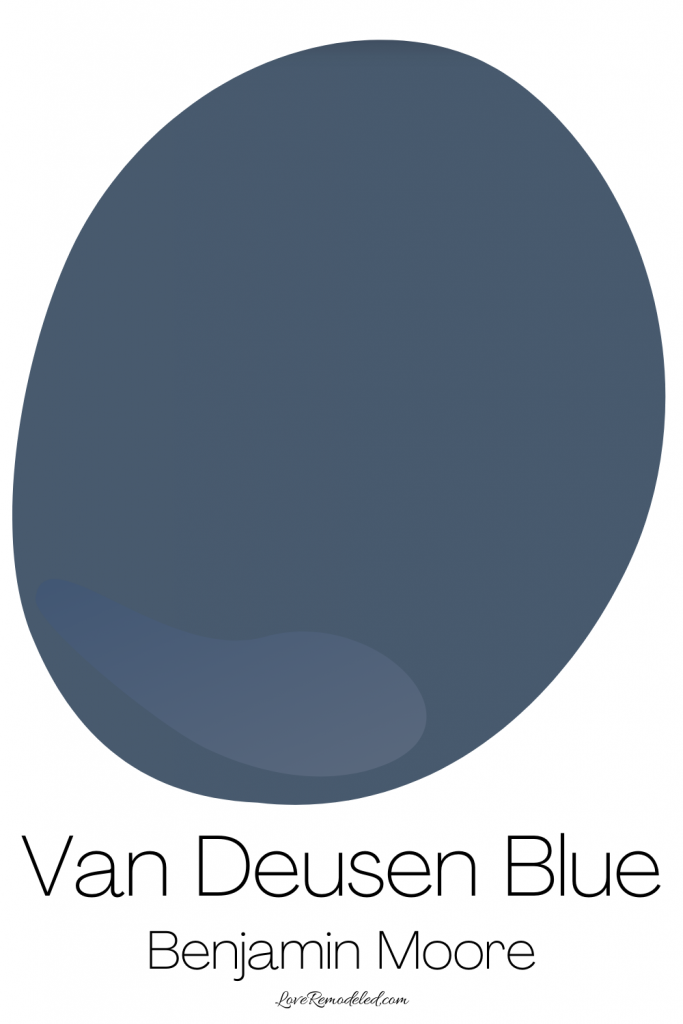 Van Deusen Blue is another popular blue paint color by Benjamin Moore. Truthfully Van Deusen Blue isn't quite a navy paint color, but has similar uses. I tend to think of it as a light navy paint color.
Van Deusen Blue has a bit of gray in it that keeps it from being too bright.
If you are interested in a navy blue paint color, but don't want a shade that is quite as dark as the other navy blue paints we discussed, Van Deusen Blue may be a great shade for you.
Click here for more details on Van Deusen Blue.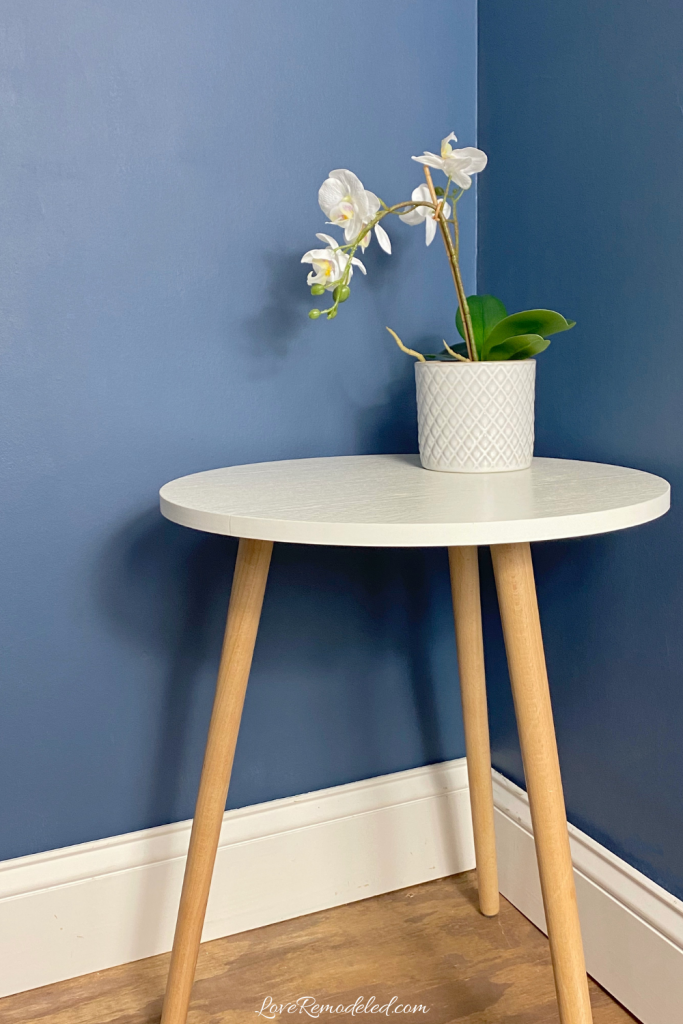 Charcoal Blue, by Sherwin Williams
Charcoal Blue is a navy blue paint color by Sherwin Williams that is fairly similar to Benjamin Moore's Hale Navy.
It is a dark, deep blue that has a good bit of gray and black in it. Charcoal Blue looks refined and traditional in a space.
Click here for more details on Charcoal Blue.
Cyberspace, by Sherwin Williams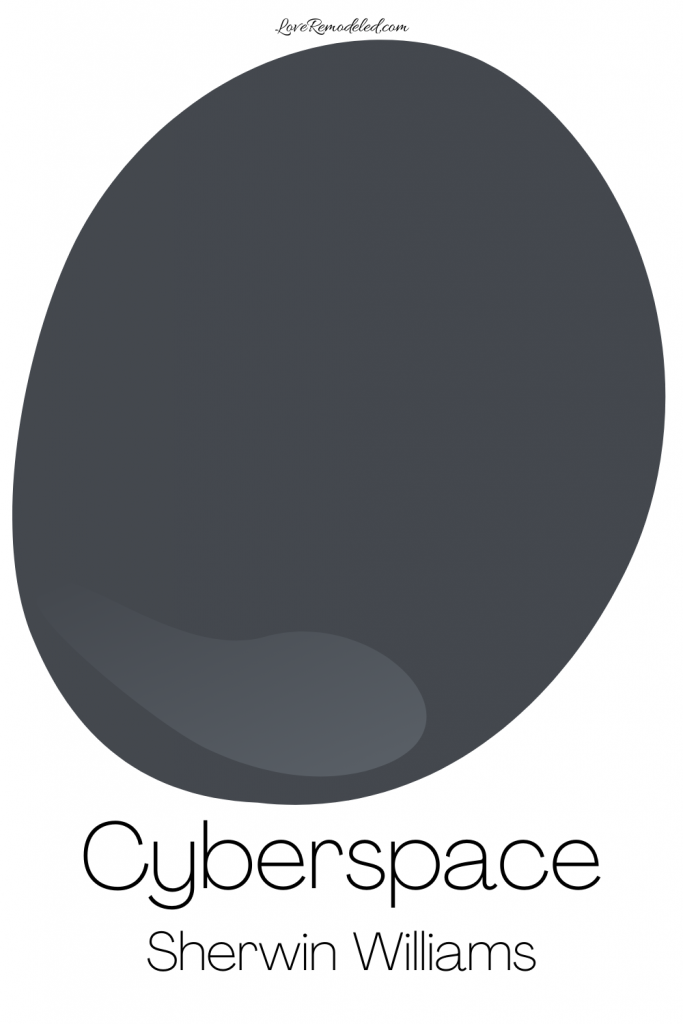 Sherwin Williams Cyberspace is a dark navy paint color that has gray undertones.
It has more gray in it than the other navy paint colors on the list. This makes it your most muted and least brightly colored navy shade here.
Click here for more details on Cyberspace.
What Other Colors Best Go With Navy Blue?
Since navy paint acts as a neutral, it goes well with many different colors. Navy blue paint can be accented with yellows, pinks, grays, creams, whites, browns, greens, greiges, oranges, reds, blue greens and more.
Navy blue paint can be used as an accent color or as part of a color scheme alongside many other paint colors.
Here is a list of popular paint colors that tend to go well with navy paint:
What Are the Best White Paint Colors to Go With Navy Blue Paint?
Navy blue looks classic and timeless next to white paint. Additionally, white paint trim or woodword brings some brightness to a space that may otherwise just look dark.
Some of my favorite white paint colors to pair with navy blue paint are Chantilly Lace or High Reflective White. These are two very bright white paint colors that look crisp and clean.
If you like a warm white paint color, Alabaster and White Dove are great with navy paint colors. Both Alabaster and White Dove are creamy white paint colors with yellow and gray undertones. On woodwork or walls, these warm white paint colors look soft and warm, giving balance to the dark cool navy paint.
Navy paint also works with cool white paint colors. Extra White is a cool blue paint color with soft blue undertones. The blue undertones in Extra White give off a chilly sort of look that looks stark and icy next to navy blue paint.
Final Thoughts on Navy Blue Paint Colors
Navy blue paint colors can look bold and dramatic, elegant and regal, or modern and minimalistic depending on what you pair them with.
Warm colors and wood tones tend to bring balance and dimension to space with navy blue paint. Navy blue paint is most commonly used on accent walls, cabinets and front doors. While navy blue paint is a color, it acts as a neutral.
If you are interested in painting your spaces navy blue, be sure to pick up a Samplize sheet of the paint colors mentioned to determine which one is right in your space.
Wondering how to pick the perfect paint color?
I have the best solution for you!
Samplize sells 9×14.75 stick-on paint sheets in almost every paint color.
These no-mess, peel and stick sheets are made from real paint, so they will show you exactly what the paint color will look like.
Simply place them on your walls next to your trim, furnishings or fixed elements, and easily see whether the paint colors work in your space and with your lighting. Then, peel the sheet right off your wall and reapply it somewhere else if you like!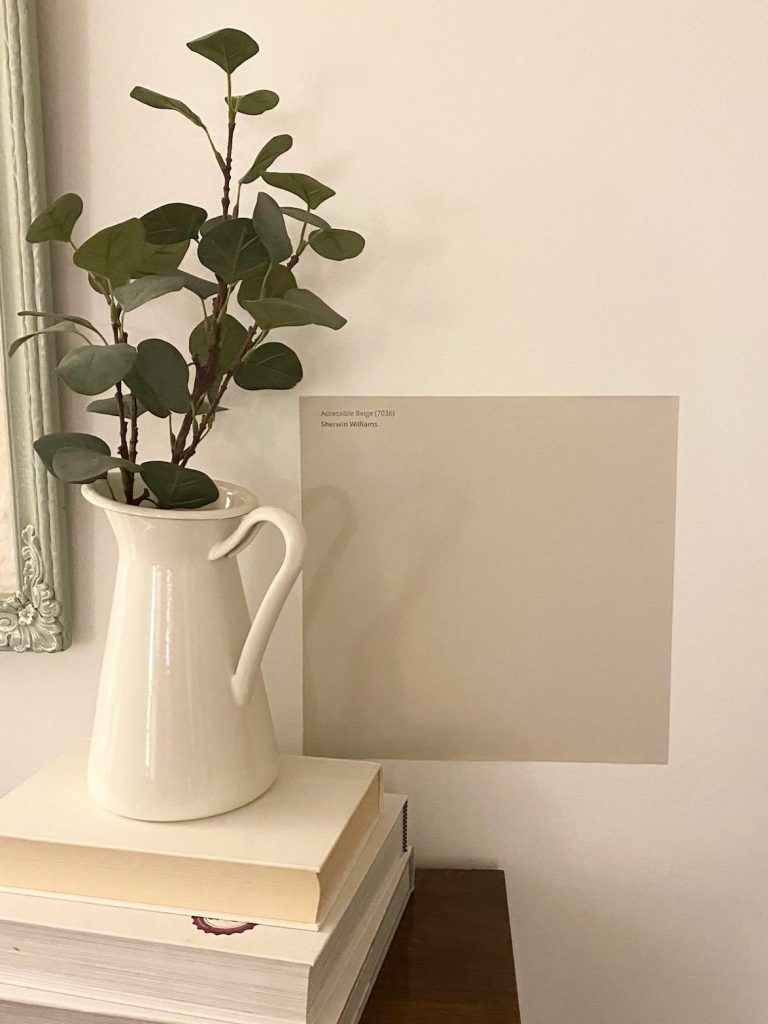 Oh, and you can have them in your home by tomorrow with OVERNIGHT shipping!
As a little tip, if you enter your email, you'll get $5 off your first order! Samplize sheets cheaper than a sample can of paint, and way less work!
Samplize sheets are truly the easiest (and fastest!) way to try a paint color in your home, with no mess.
Want to see all your paint options in one convenient place? Click here to get everything you need to start painting, including Sherwin Williams and Benjamin Moore paint color decks!
Have a question or want to show off your project? Join the discussion in Love Remodeled's Facebook group!