Chantilly Lace is a bright white paint color by Benjamin Moore. It is a perennial favorite paint color for trim, cabinets, walls and exteriors. In addition, Chantilly Lace is probably Benjamin Moore's most popular white paint color.
While white trim is classically in style, white walls have become increasingly more popular in the last few years. They can give a room a minimalistic look, and work well with traditional, southwestern, modern and farmhouse style homes.
If you're considering painting your walls, trim, cabinets or exterior white, continue reading for all the information you need to know on Chantilly Lace.
This post may contain affiliate links. If you have any questions, please see my disclaimer page.
Details of Benjamin Moore's Chantilly Lace
Chantilly Lace is a very clean white paint color. As a color, it is bright, crisp and pure looking.
Benjamin Moore's website compares it to textiles such linen or lace, because it is a white paint that is so unadulterated with any other colors (we'll talk more about that later).
It has an LRV (light reflectance value) of 92, on a scale of 0-100. This means that it is going to reflect a ton of light back into the room.
Chantilly Lace actually has one of Benjamin Moore's highest LRVs.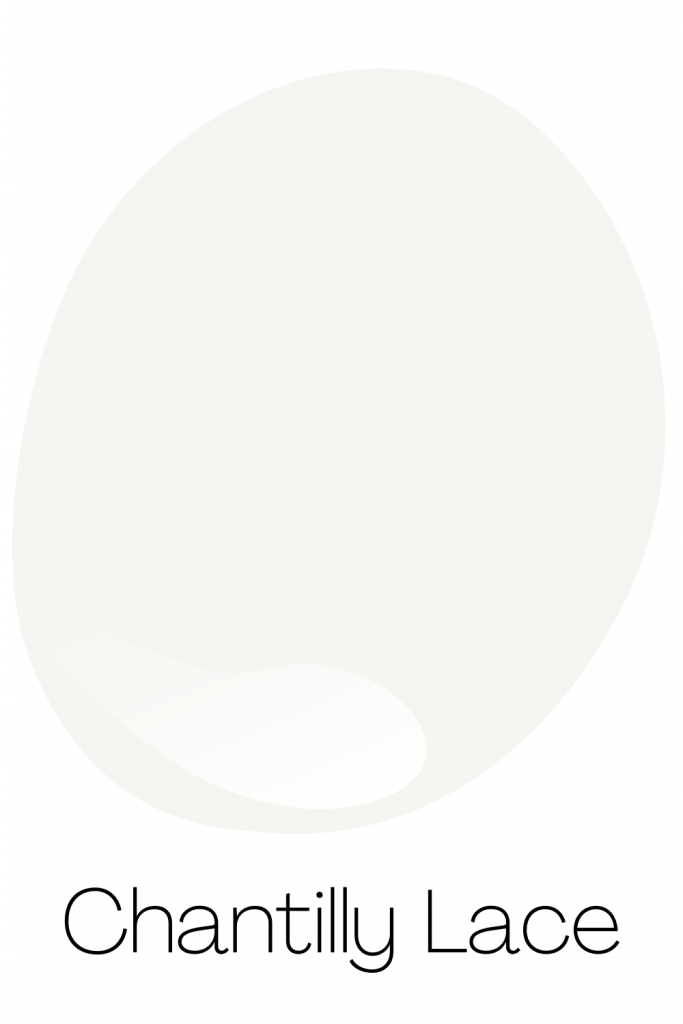 Chantilly Lace Numbers
Sometimes people get a little confused when researching Chantilly Lace because it has two numbers from Benjamin Moore.
Chantilly Lace is both OC-65 and 2121-70. This is because Benjamin Moore includes Chantilly Lace in both their Color Preview Collection, and their Off-White Collection.
Most commonly, you will see Chantilly Lace referred to as OC-65. Whether you order OC-65 or 2121-70 though, both colors are the same Chantilly Lace. The only difference is the number.
Undertones of Chantilly Lace
While all white paint colors (and all paint colors in general) have undertones, Chantilly Lace has very minimal hints of color in it.
The easiest way to see the undertones in a white paint color is to compare it to other whites. Some say that a good backdrop for comparison is a simple white sheet of computer paper.
I find that comparing Chantilly Lace to other whites, such as Simply White and Super White yield answers as well.
When you look at Chantilly Lace in comparison to other popular whites, you will see that it does not look yellow, it does not look gray and it does not look beige.
Instead, Chantilly Lace has just a hint of creaminess that pulls it away from looking too stark. Don't misunderstand this though – Chantilly Lace is not a creamy white. But, when you look at Chantilly Lace you will see that it doesn't have any chill to it, making it more of a soft white.
Is Chantilly Lace Warm or Cool?
With Chantilly Lace, it is hard to say whether it is warm or cool because its undertones are just so slight.
It is truly not a cool white though, since it doesn't have any blue or green undertones.
When I compare it to other white paint colors, my eye sees that it leans warm, but without any yellow, orange or pink undertones.
So, we will call Chantilly Lace a neutral white, but really it just barely hints warm.
People frequently wonder if Chantilly Lace looks yellow. It doesn't. It can look a little warm in southern facing light, but it should never look yellow.
However, if you DO find your Chantilly Lace paint looking yellow, you may want to consider changing your light bulbs from a warm temperature to a cool temperature – this makes a huge difference!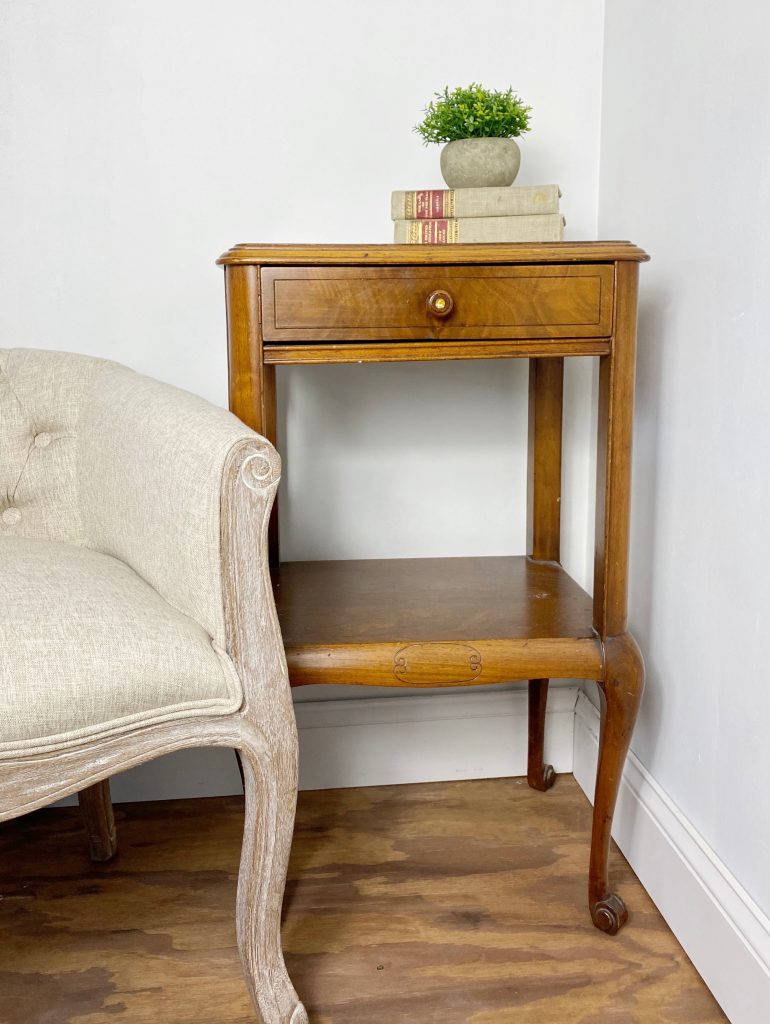 Chantilly Lace Color Comparisons
When I discuss white paint colors on Love Remodeled, I like to compare the white paint colors to each other.
Choosing the right white paint color can leave your head swimming and induce a lot of doubt, and I find that this helps readers determine which paint color is the right white paint color for them.
Here, I will compare Chantilly Lace to some of the other most popular white paint colors by Benjamin Moore and Sherwin Williams.
While there are TONS of other white paint options, these white paints are the ones that are most frequently used in similar places, such as on trim, on cabinets, as a bright white exterior or on walls.
If you're considering one of these white paint color, you may also be considering another.
So without further ado…
Chantilly Lace vs. Pure White
Before we get into the actual color, let me say that I am discussing Sherwin Williams' Pure White paint color, NOT Benjamin Moore's Pure White paint color. They both have a "Pure White" but Sherwin William's Pure White is much more popular than Benjamin Moore's (and is also a better comparison for Chantilly Lace).
Pure White has been a long time favorite white paint color for me. It is crisp and clean and bright, and actually warm (instead of just almost warm like Chantilly Lace is). It has slight greige undertones in it that make it work well with other warm shades. Pure White is my go-to shade for trim in my own homes, though I've also used Simply White.
I love Pure White on trim, cabinets and exteriors, and also find that it does well on walls when you want a stark white look that doesn't lean blue at all.
When you look at the two colors next to each other on the chart below, you'll see that Pure White looks like a much darker white than Chantilly Lace does. In reality, Pure White is darker, but not as drastically darker as this depiction shows. Pure White is definitely still a really light white.
Check out this post if you want more information on Pure White.
Chantilly Lace vs. Decorators White
Decorator's White is another popular white paint color by Benjamin Moore.
While it also has a high LRV, it has much more color in it than Chantilly Lace. Decorator's White has gray and purple undertones in it. These undertones make it less versatile than Chantilly Lace, as it could pick up a hint of color that you don't want in your white walls or trim.
In addition, while Chantilly Lace hints warm, Decorator's White is a cool white. Though it works well with other colors, Decorators White is not a good white to pair with other whites, as it will more readily show it's undertones.
Click here for a full color review on Decorator's White.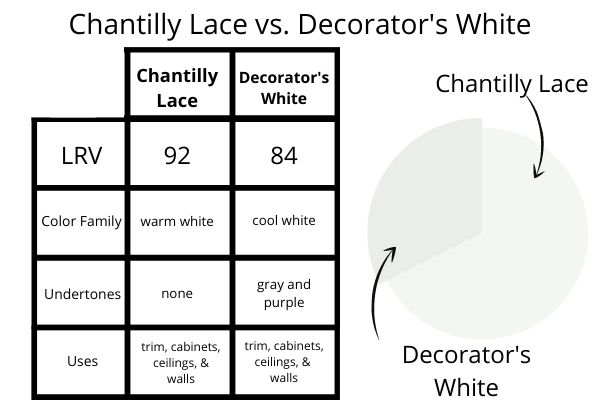 Chantilly Lace vs. Simply White
When you compare Chantilly Lace to Simply White, it is easy to see that Simply White is a bit of misnomer. Simply White has more color in it that Chantilly Lace, though is still a very light white paint color.
Simply White has yellow undertones that put it firmly in the warm category. It doesn't typically show up as yellow looking on your walls or trim, though it can read a bit warmer in a southern facing room.
Simply White works in all the same places as Chantilly Lace does, though they're not necessarily interchangeable. I find that Simply White is a little bit more versatile than Chantilly Lace, as it tends to work on walls a bit better.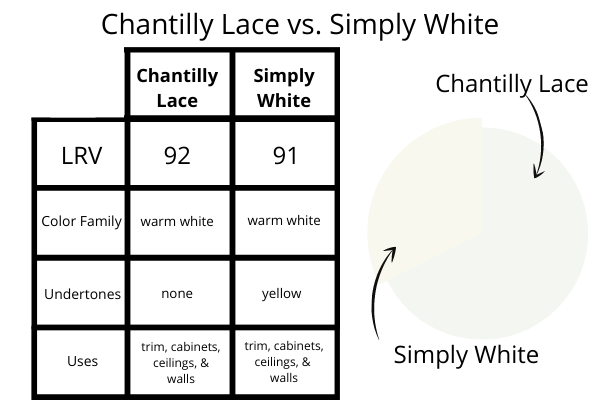 Check out this post if you want more information on Simply White.
Chantilly Lace vs. High Reflective White
Of all of the white paint colors that Sherwin Williams carries, High Reflective White is the most similar white paint color to Chantilly Lace. While High Reflective White and Chantilly Lace are not equivalent, you will find that they almost look the same.
Both have extremely high LRVs, and both have very little undertones.
When you compare Chantilly Lace to High Reflective White, you can see that Chantilly Lace has just a smidge more color in it (though it is hard to really qualify what that color it).
Basically, it just looks a little bit warmer. Not actually warm, just a little bit warmer than High Reflective White.
Click here for a full paint color review on High Reflective White.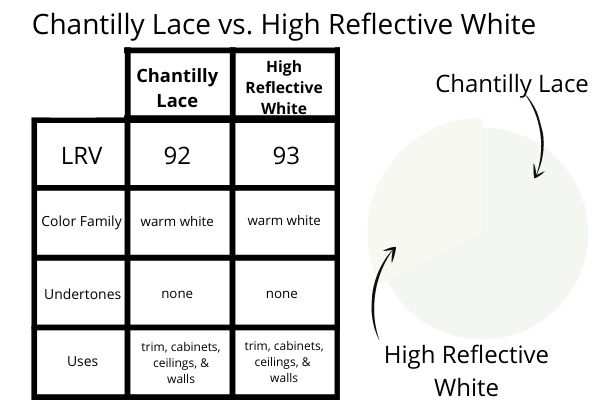 Chantilly Lace vs. Super White
As a a last color comparison, let's discuss Chantilly Lace vs. Super White.
Super White is, as the name implies, a very light white paint color. It has a hint of gray undertones that make it a bit cooler than Chantilly Lace. Overall though, it is very popular and highly versatile as it has less potentially offensive undertones than a shade such as Decorator's White.
Chantilly Lace and Super White can be used for many of the same spaces. If you want a white that leans cool, go with Super White. If you want one that leans warm though, pick Chantilly Lace.
Check out this full review of Super White if you're interested in this paint shade.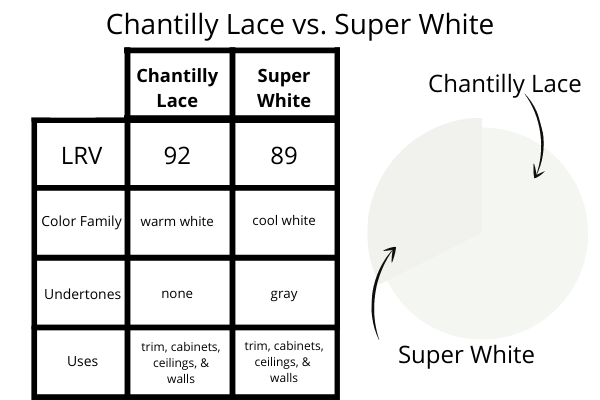 Wondering how to pick the perfect paint color?
I have the best solution for you!
Samplize sells 9×14.75 stick-on paint sheets in almost every paint color.
These no-mess, peel and stick sheets are made from real paint, so they will show you exactly what the paint color will look like.
Simply place them on your walls next to your trim, furnishings or fixed elements, and easily see whether the paint colors work in your space and with your lighting. Then, peel the sheet right off your wall and reapply it somewhere else if you like!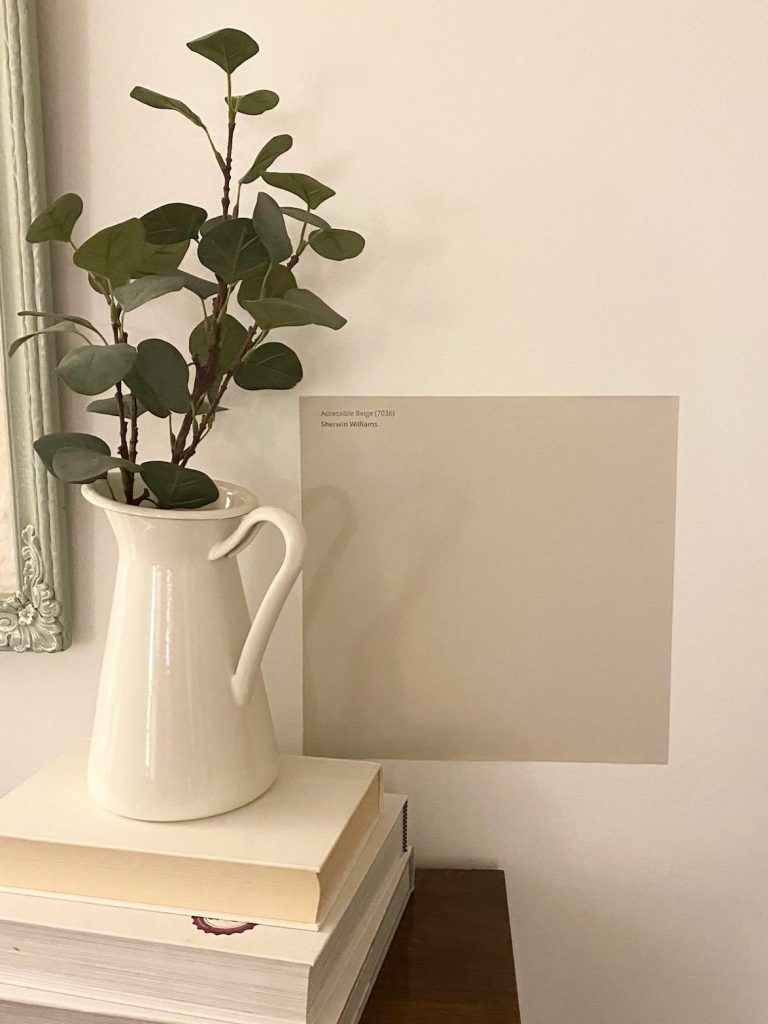 Oh, and you can have them in your home by tomorrow with overnight shipping!
As a little tip, if you enter your email, you'll get $5 off your first order! Plus, if you buy 8 samples, you get 2 more for free!
Samplize sheets are truly the easiest (and fastest!) way to try a paint color in your home, with no mess.
Colors that Go With Chantilly Lace
Chantilly Lace is such a clean white that it plays nicely with most other colors. It looks good with deep reds, smoky blues, blue-greens, grays, oranges and browns.
You can put it with anything because the undertones are so minimal.
Where Can You Use Chantilly Lace
Chantilly Lace is at its best when it is on trim and cabinets. Its clean white look gives them a bright appearance that doesn't look too terribly stark (because Chantilly leans slightly warm).
Chantilly Lace is also a good white for exteriors if you're trying to match whites with exterior trim. Oftentimes, a darker white can look dingy on siding when painted next to white windows or other white features. Chantilly Lace tends to not have this problem.
Last, Chantilly Lace can work on walls, but often, a white with a bit more color may work better.
Final Thoughts on Benjamin Moore's Chantilly Lace
In my opinion, Chantilly Lace is Benjamin Moore's truest white paint color. It looks pure, crisp and bright on your surface, and it does all this without hinting towards any particular color.
When you want a white paint color that is going to just look white, Chantilly Lace is a great pick!
Click here to see other great Benjamin Moore white paint colors!
Want to see all your paint options in one convenient place? Click here to get everything you need to start painting, including Sherwin Williams and Benjamin Moore paint color decks!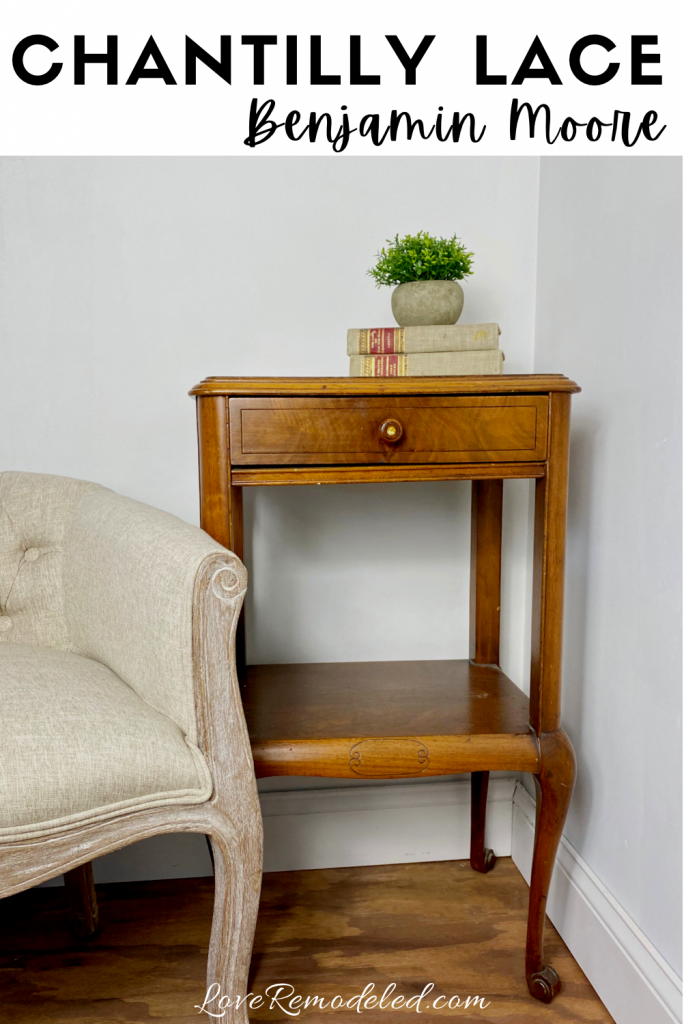 Have a question or want to show off your project? Join the discussion in Love Remodeled's Facebook group here!