Aegean Teal, by Benjamin Moore, is a gorgeous blue paint color that is both soft and deep.
This luxurious color has been chosen as Benjamin Moore's 2021 Color of the Year. And for good reason: Aegean Teal is a paint color that inspires relaxation, reflection and balance.
Named for the Aegean Sea, Benjamin Moore's Aegean Teal is a reminiscent of the deep blue green water that intrigues and soothes.
This post may contain affiliate links. If you have any questions, please see my disclaimer page.
Details of Benjamin Moore's Aegean Teal
Aegean Teal Undertones
Aegean Teal is a blue paint color with green and gray undertones. Depending on the lighting throughout the day, it transitions from a more saturated yet soft blue to a more bold blue-green. It can even take on more of a gray tone in dim lighting.
Typically though, Aegean Teal is going to look more blue than anything else.
Because Aegean Teal is a blue-green paint color, it is decidedly a cool paint color.
Cool paint colors tend to evoke a feeling of calm, relaxation and reflection, and Aegean Teal is no exception.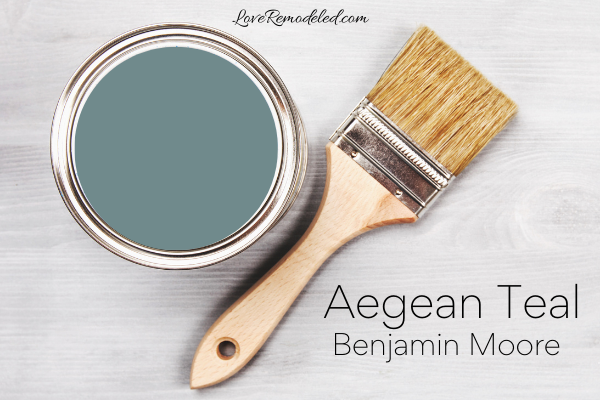 Aegean Teal LRV
Aegean Teal has an LRV (Light Reflectance Value) of 24. The scale of LRV goes from 0, which is a true black paint color, to 100, which is a true white paint color.
This puts Aegean Teal in the dark range of paint colors, and means that it will not reflect very much light back into the room. Instead, it will absorb the light.
One way to describe a color with a low LRV like this is to say that when the light comes in through the windows, it doesn't light up the paint like it will on higher LRV colors. This is because on a paint color with a higher LRV, the sunlight bounces off the walls and reflects back into the room. With a lower LRV, such as 24, the paint color absorbs the light, instead of bouncing it back into the room.
Practically speaking, if you have a dark room, Aegean Teal is going to look very dark. It is not going to "help" the situation in any way. This doesn't mean that it can't be used in a dark room though. We'll talk more about that in the "Where To Use Aegean Teal" section.
Aegean Teal Color Strip
Aegean Teal's color code is 2136-40.
It is part of a color strip with 6 other paint shades. All of the shades are just lighter or darker versions of each other.
As you can see, the darkest member of Aegean Teal's color family is a deep black paint color called Black Knight.
This is followed by Regent Green, which actually looks more like a dark navy with strong green undertones than a true green.
We start to see a shade more similar looking to Aegean Teal with the next color, Amazon Green. Again, this color shows up with more blue in it than green.
While Aegean Teal has a fairly low LRV, it is the mid-tone on this color strip.
On the lighter end, you can see Colorado Gray, a gray with blue-green undertones, and Harbor Haze.
Finally, Whispering Spring looks like a white paint color when nothing is around it. When compared to a pure white though, it is easy to see that this "white" is actually a very soft blue-green shade (with gray undertones).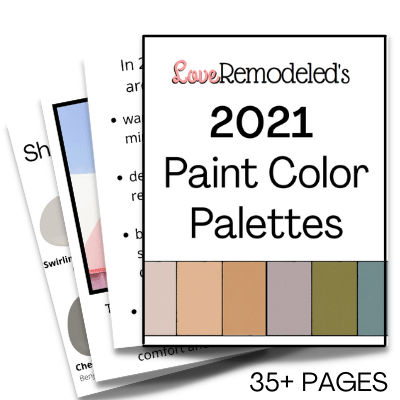 You know the feeling you get when you walk into someone's home and the paint colors are just perfect?
Introducing Love Remodeled's 2021 Paint Color Palettes!
No more having to guess which paint colors are in style, and what paint colors go together well, this colllection of paint palettes does all the work for you!
Check out these gorgeous color palettes from Benjamin Moore, Sherwin Williams, and PPG with all the hottest colors for 2021.
PLUS, I'll show you the best white and gray paint colors to make your home look amazing this year!
Coordinating Colors for Aegean Teal
Aegean Teal is a true color, so it can be difficult for many to pair it with other shades with confidence.
As a general idea, Aegean Teal will look gorgeous with most blacks, whites, creams, golds, and browns. It can also play very nicely with some greens, grays, yellows and purples.
Here are two specific coordinating color palettes for Aegean Teal. This will give you an idea of how you can pair this paint color with other shades.
Aegean Teal Color Scheme #1 – Muted Colors
First, Aegean Teal is paired with Salisbury Green and Sweet Spring. Salisbury Green is a soft green, while Sweet Spring is more of a gray-green with some beige undertones.
These coordinating colors show how Aegean Teal can be used in a muted, soft space.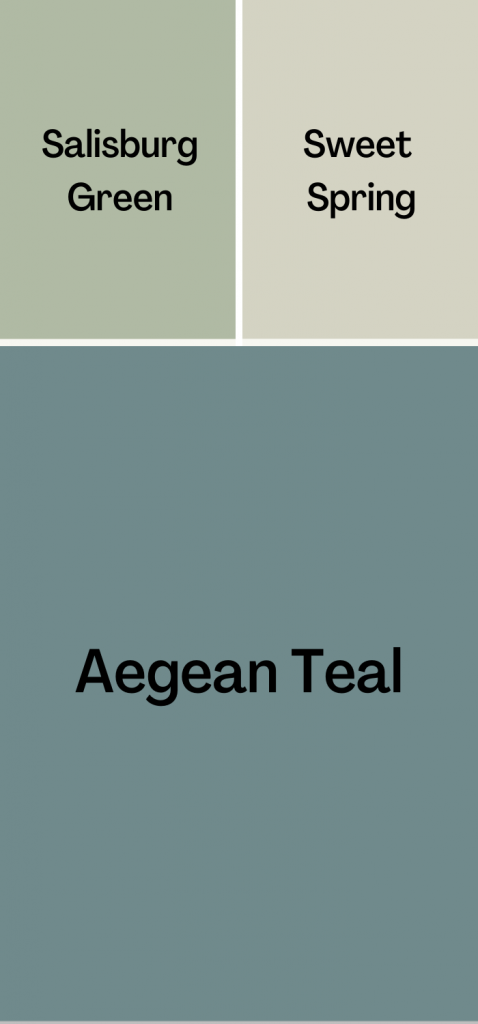 Aegean Teal Color Palette #2 – Bolder Colors
This second color palette is a bit more dramatic.
Here, Aegean Teal is put with Tulsa Twilight and Winterwood. Winterwood is a gray with green undertones. Tulsa Twilight is a deep and rich purple with black undertones.
The colors work together to create a dramatic look that is very on trend right now.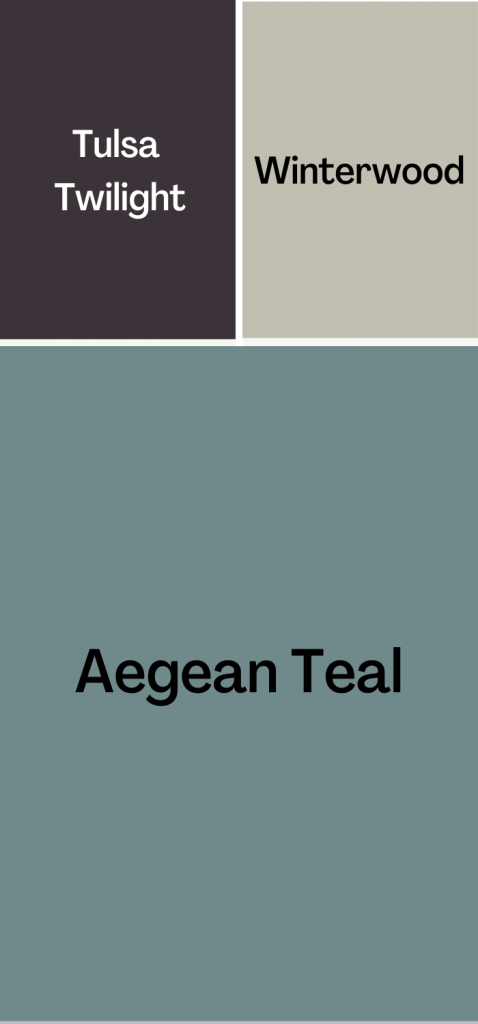 I also pair Aegean Teal with Gray Owl and a few other paint shades. You can see that palette here.
Wondering how to pick the perfect paint color?
I have a great solution for you!
Samplize sells 12×12 stick on paint squares in almost every paint color.
These eco-friendly, peel and stick squares are made from real paint, so they will show you exactly what the paint color will look like.
I love Samplize squares because they are able to be placed on your wall and peel right off when you're done.
You can move these paint squares around your room to easily tell whether a color will go in your home, with your furnishings and accents, and with your lighting.
Plus, you can pick the perfect paint color without having to run to the store or open a can of paint, and you won't be pressured into picking a color because you have a bunch of different sample colors painted on your walls!
Oh, and you get free shipping and $5 off your first order – that is basically like getting one square for free!
Where to Use Aegean Teal
Aegean Teal is a perfect color for accent spaces. This can include accent walls, cabinets, furniture, and front doors.
On a grander scale, Aegean Teal can also be used on entire rooms, but with some reservations.
Because Aegean Teal has such a low LRV, it is not going to work in every room. But, darker colors can be used in smaller or more dimly lit rooms to create a certain mood – whether that be luxurious, rich, bold or dramatic.
I like to use darker colors in smaller bedrooms or in dens, to give the room a distinctive, bold look.
Aegean Teal can also work on the walls of a living room, especially if the space has lots of natural light and other bright accents for the light to reflect off of.
Aegean Teal is a great color to pair with white cabinets to give a kitchen an intriguing and soothing appearance.
And last, I love that Aegean Teal works really well with both white and wood accents and trim. If you have wood trim, the dark, cool look of Aegean Teal with play off of the warm tones of the wood very nicely.
Final Thoughts on BM Aegean Teal
Aegean Teal was chosen as Benjamin Moore's Color of the Year because of the feeling it evokes – one of calm and balance.
It is a great paint color for accent spaces, such as a front door or cabinets, but can also be used as a whole-room color in the right space.
If you are wanting a rich teal color that inspires and looks gorgeous, Aegean Teal might be the right color for you.
Interested in other blue paint colors? Check out this post.
Need a painter? Click here to find a painting professional in your area!
Want to see all your paint options in one convenient place? Click here to pick up a Sherwin Williams fan deck (contains all SW colors) or a Benjamin Moore Collections fan deck (contains many popular BM colors – other fan decks sold separately)!
Have a question or want to show off your project? I answer all comments within 7-10 days, but for a much faster response, join my new Facebook page here!