Benjamin Moore has announced their 2024 Color of the Year – Blue Nova (825).
Each year, all the major paint companies select a paint color that represents current design trends and reflects a mood or aspiration that is present in the world at that time.
This year, both Sherwin Williams and Benjamin Moore chose blue paint colors.
Blue paint colors tend to evoke a soothing feeling. They are reminiscent of the sky or the ocean, vast spaces that draw your eyes into them.
Additionally, blue paint colors are comfortable shades that bring reassurance.
Blue Nova does all these things. Let's take a good look at Blue Nova to see why Benjamin Moore chose it as their Color of the Year.
This post may contain affiliate links. If you have any questions, please see my disclaimer page.
What Color is Benjamin Moore Blue Nova?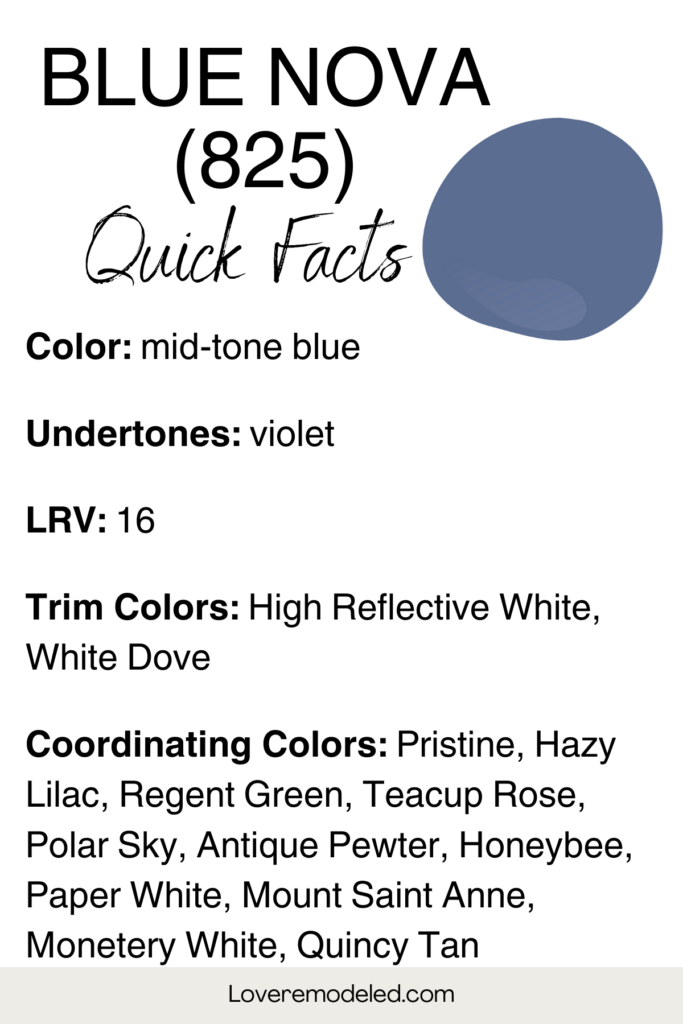 Blue Nova is a mid-tone blue paint color that is as classic as it is daring.
As a rule, blue paint colors tend to be some of the most classic types of hues. They are versatile and have wide appeal.
But Blue Nova isn't the most conventional blue paint color. It isn't a light and breezy blue, or even a traditional sort of navy.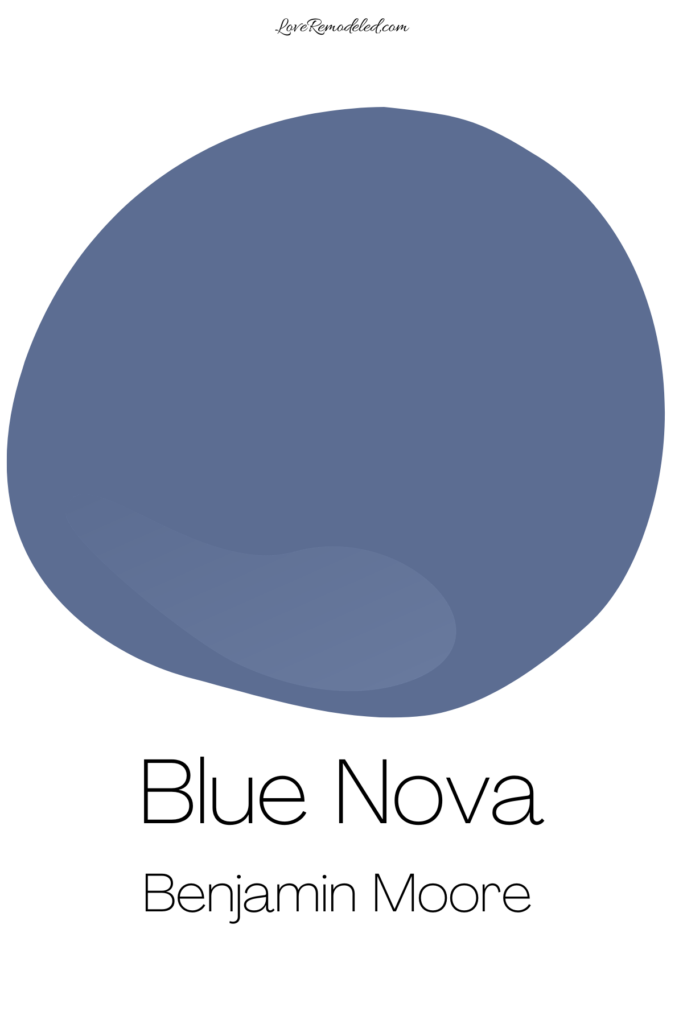 This is because Blue Nova has a purple undertone that makes it a little more audacious.
The purple undertone in Blue Nova is pretty pronounced too. In fact, Benjamin Moore has given Blue Nova the tagline, "Violet and blue come together in this elevated, sumptuous hue." They consider it a blend of purple and blue.
The violet undertone makes Blue Nova a bit less versatile than other blues. To use Blue Nova in your space well, you will need to make sure that the other blues in the space have a similar undertone, otherwise you will find the shades clashing.
But, Blue Nova still pairs nicely with a variety of colors.
Colors that Go With Blue Nova, by Benjamin Moore
Blue Nova has a good bit of color to it, and because of this, it looks great with other colors. Sure, you can pair Blue Nova with neutrals like whites and creams, but Blue Nova really comes to life when you put it with COLOR.
Benjamin Moore has selected 8 paint colors to go with Blue Nova in their Color Trends 2024 Palette. The colors include:
White Dove, a soft white
Pristine, a peachy off-white
Antique Pewter, a muddy green
Polar Sky, an airy blue
Honeybee, a golden yellow
Teacup Rose, a peachy pink
Regent Green, a blackish green
Hazy Lilac, a grayish purple
With the white home trend peaking a few years ago, the pendulum has swung the other way and people are craving color in their home design.
And specifically, people are loving blues. This year we saw an increase in the popularity of the Coastal Grandmother or Grandmillenial trend, which is characterized by lots of blue decor.
The Color Trends 2024 Palette can be used together, or you can just pick one or two colors out of it to use with Blue Nova. Either way, you will be set with a curated palette of shades that work together perfectly.
If you prefer a more neutral color palette, Benjamin Moore also pairs Blue Nova with Monterey White, a light beige, and Quincy Tan, a medium light tan shade.
Where Can I Use Benjamin Moore Blue Nova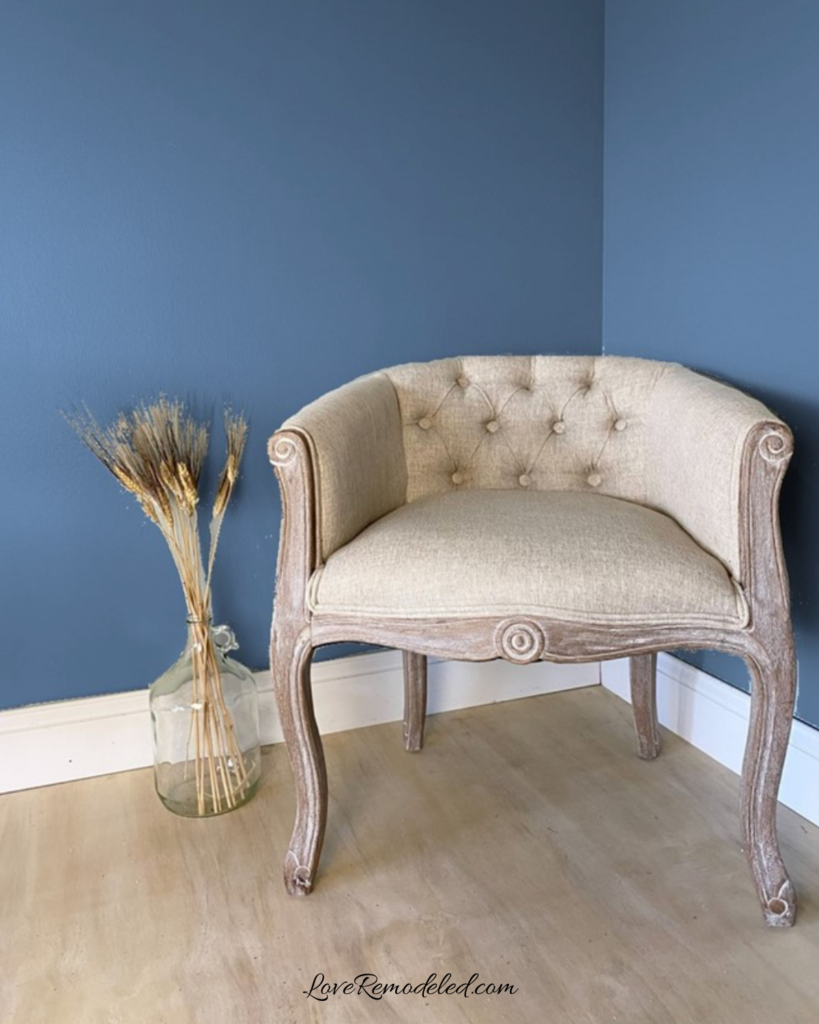 Blue Nova is a great paint color to use in spaces where you want to add a pop of color without being too dramatic.
With an LRV of 16, Benjamin Moore Blue Nova is great for an accent wall, cabinets, a vanity, furniture or exterior siding. You can also use Blue Nova as a wall paint color, but remember that it isn't going to reflect a lot of light with that lower LRV number.
Though it is a saturated paint color, Blue Nova still has a bit of brightness to it. It won't pass as a navy or even a dark, sophisticated blue. Instead, Blue Nova brings a fair amount of intrigue to a space.
Blue Nova Trim Colors
If you are feeling daring enough to paint your walls Blue Nova, I would recommend painting your trim in either White Dove or Chantilly Lace.
White Dove is a soft, warm white paint color that has yellow and gray undertones. It is a very popular Benjamin Moore paint color, and is frequently used on both walls and trim.
Chantilly Lace is a brighter white paint color that will look a bit more crisp next to Blue Nova. It is Benjamin Moore's lightest and brightest white paint color.
Final Thoughts on Benjamin Moore Blue Nova
Benjamin Moore Blue Nova is an adventurous choice for this years Color of the Year.
Instead of going with a more muted blue like Sherwin Williams did with their pick of Upward for the 2024 Color of the Year, Benjamin Moore put all their chips on the table by selecting a bold blue with a heavy purple undertone.
If you love a traditional blue, Blue Nova may not be for you. But, if you are ready for a bit of color and don't want to branch out too far from the classics, Blue Nova may be exactly the shade you have been looking for.
I would love to hear your thoughts on Blue Nova! Drop me a note below and let me know what you think of Benjamin Moore's 2024 Color of the Year.
If you are still on the hunt for a blue paint color, check out this list of the best blue paint colors by Sherwin Williams.