Benjamin Moore's White Dove is a hugely popular white paint color.
Heralded as one of the top ten best-selling paint colors by Benjamin Moore year after year, White Dove is favored by homeowners and designers alike.
In fact, many people would say that White Dove is Benjamin Moore's best white. It is both classic and versatile, making it a great choice if you're looking for an amazing white paint shade.
What Color is White Dove?
White Dove is a soft, warm white. It is almost creamy without being too yellow, and is warm, but not so warm that it is stifling.
This post may contain affiliate links. If you have any questions, please see my disclaimer page.
The Undertones of White Dove
With an LRV (Light Reflectance Value) of 85, White Dove is a fairly light white.
To give you some perspective, white paint colors can range in LRV from the upper 70s all the way to 100. A quick peruse of the Benjamin Moore paint fan found that the paint shades with the highest LRVs top out at about 90 (White Opulence, Chantilly Lace, Palm Coast Pale, Pink Damask, and Aloe Vera, in case you're wondering!). So an LRV of 85 means White Dove is a pretty light white paint color.
Despite being a white paint color, and a light one at that, the undertones that are present in white paint are hugely important.
Undertones can really influence how the color looks on the wall. For instance, in comparing the colors below, the undertones are very apparent: Pink Damask looks pink, Aloe Vera looks green/blue, and White Opulence just barely hints at pink.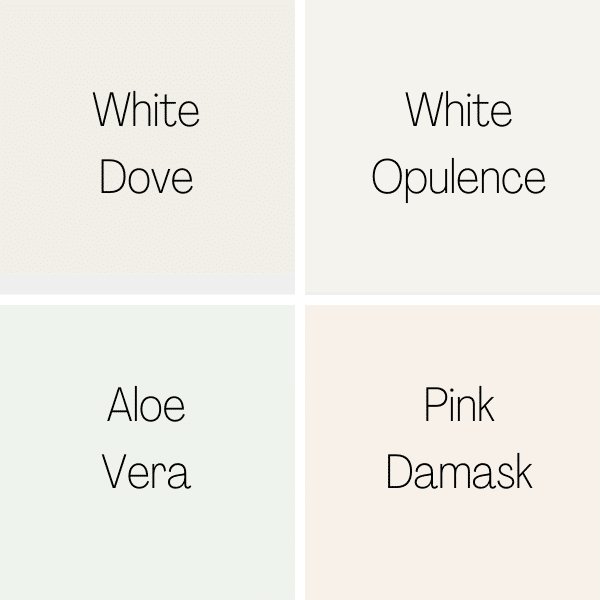 Because of the different undertones of these "white" paint shades, the feeling they impart on the room changes. Aloe Vera is cool, potentially making the room feel larger. Pink Damask has a very warm feeling, and has enough pink to make a room feel feminine. White Opulence, with its very subtle pink undertones, is warm but not too overpowering.
As you can see from the picture above, White Dove doesn't have any super strong "color" undertones. It has a bit of yellow in it, and White Dove also has a just a hint of gray in it, which pulls it back from appearing too stark.
So to summarize, White Dove is a good white that isn't too white, meaning it won't appear stark. It has a little bit of a creamy quality, but isn't so yellow that it looks yellow on your walls. It is right in the sweet spot!
Where Can I Use White Dove Paint Color?
White Dove is a great color for your walls, but can also be used on trim or cabinets.
On your walls, White Dove is bright and luxurious.
White Dove is a great white to paint your walls if you aren't sure what white to pick. It's barely-there warm undertones in a neutral gray make it a friendly option for a variety of styles and accent colors.
On trim, White Dove is clean but not overly crisp.
Some trim paint colors, such as Sherwin William's Extra White, are cool and stark feeling. White Dove won't present that way.
Painted in a semi-gloss sheen, White Dove will be bright and will look perfectly white, and will be a perfect compliment to warm wall paint colors.
On cabinets, White Dove is warm and welcoming.
White Dove is a great shade for painting your countertops if you have warm shades in the kitchen. Many colors of granite countertops and any number of backsplashes will look amazing when put next to White Dove cabinets.
But, while White Dove is a popular white paint color for cabinets, it is important to use this white paint color carefully if you're going to have a lot of other white elements in the kitchen.
Typically, modern white accents in a kitchen favor cool whites. Quartz or marble countertops and traditional white subway tile tend to be pretty stark whites. If you have elements such as these, you may want to consider going with a different white paint color, as White Dove may appear dingy next to them.
What Colors Go with Benjamin Moore White Dove?
White Dove is a highly versatile white paint color. Due to its very subtle gray undertones, it can coordinate with a lot of different colors.
Benjamin Moore pairs White Dove with Cheating Heart (a dark gray color) and Silver Lake (a silvery shade), for a bold, minimalistic palette.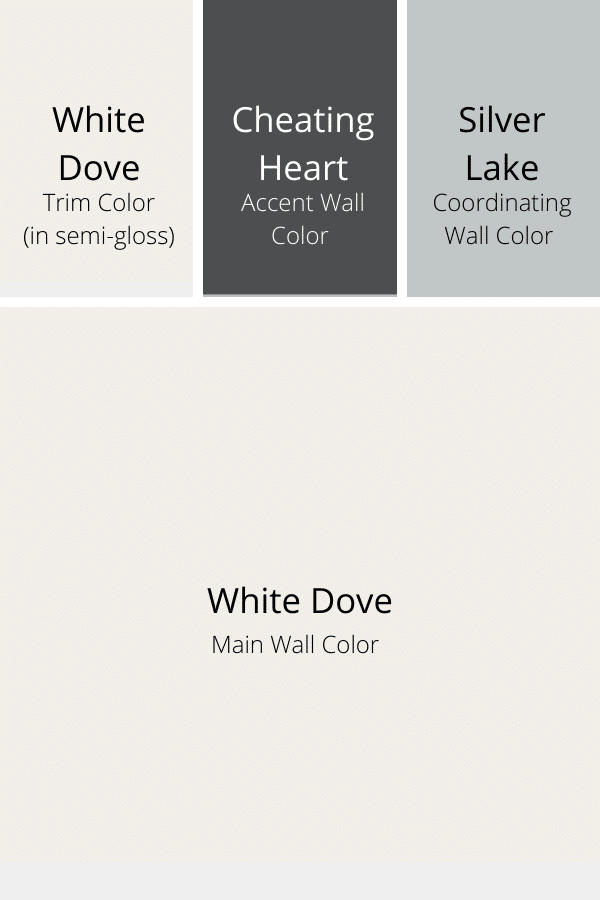 Additionally, White Dove is paired with Yukon Sky (a purpley-gray) and Horizon Gray (a sage green) for a more muted, pastel palette.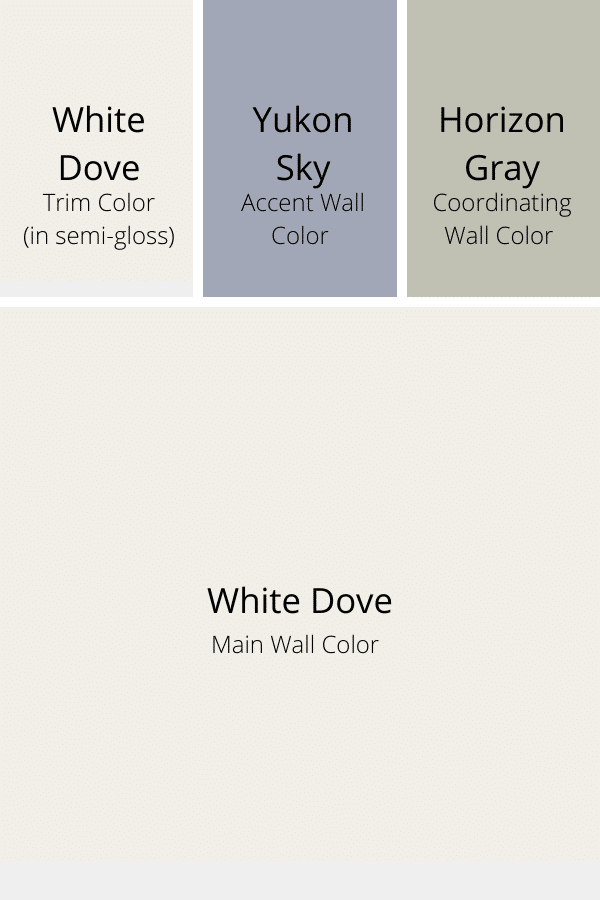 Truly, White Dove looks amazing with beiges, grays, blacks, blues, greens, reds, and more.
One of my personal favorite pairings for White Dove is to put it with greige paint colors. Because it has those gray undertones, it is a great white to put with greige paint shades such as Revere Pewter, Edgecomb Gray and Agreeable Gray.
It also pairs nicely with both wood and metal accents.
Looking for a Curated Color Palette for White Dove?
If you want even more suggestions for coordinating colors for White Dove, check out Love Remodeled's White Dove Paint Palette.
It has 8 hand-picked paint colors that all go perfectly with White Dove, including white shades, neutrals, and accent colors.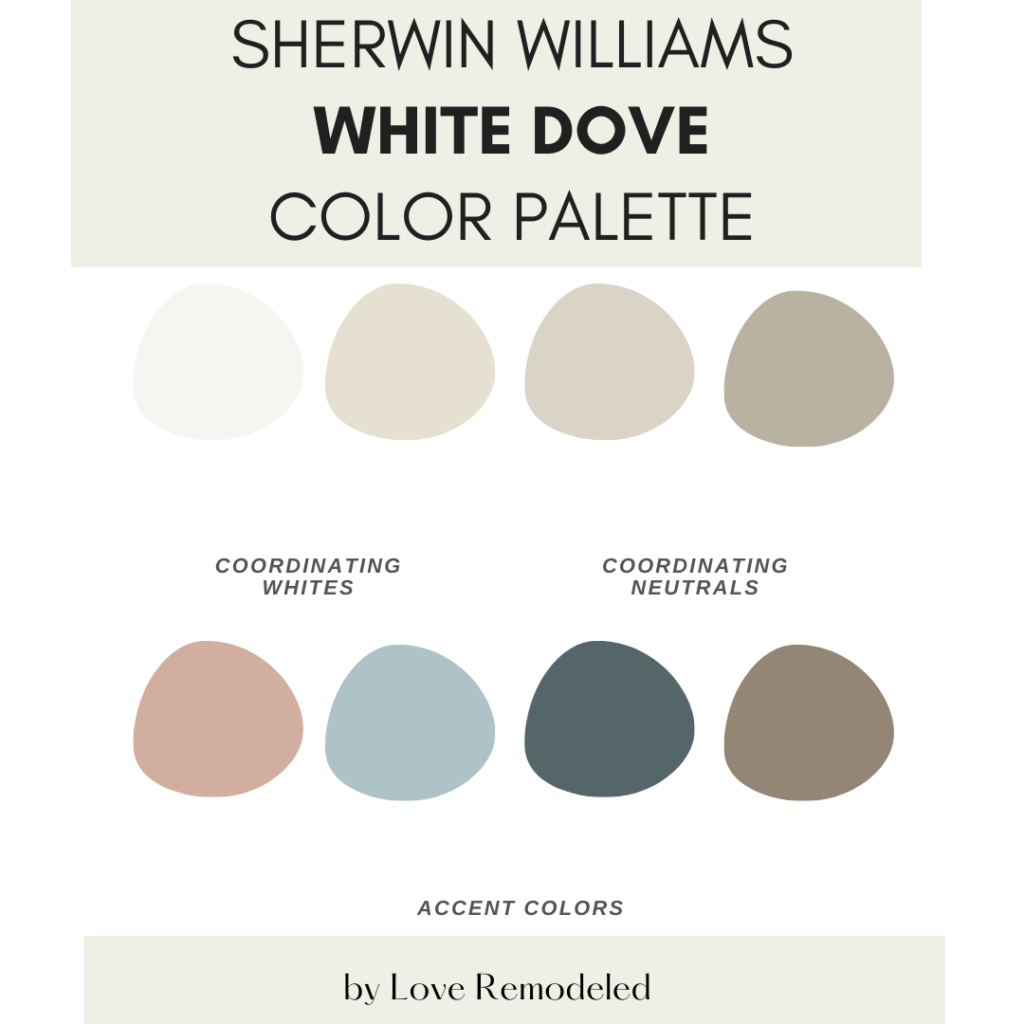 The Most Popular White Paint Colors
White paint colors can be challenging to pick. The undertones alone make it a hard choice.
One of the best ways to determine if a white paint color will go in your home is to get a sample of it. My favorite way to try out a paint color is to get a Samplize square. This 12×12 stick on sheet is made with real paint, and is easily transferable to different surfaces. This means you can try White Dove next to your couch, on the wall by the window, and even in that back corner that gets almost no light.
Pick up a Samplize square here!
If you'd prefer to roll the dice on a white paint color, White Dove is a good one to try. It tends to do well in a lot of homes (which is why it is so popular!).
A few other highly popular white colors are Alabaster, by Sherwin Williams, and Simply White, by Benjamin Moore.
White Dove vs. Alabaster
Alabaster is one of Sherwin William's most popular white paint shades. In my opinion, it is basically Sherwin Williams' White Dove (or White Dove is Benjamin Moore's Alabaster, depending on how you look at it).
Now, I'm not saying that they're the same color, because they're not. When compared to each other, Alabaster has a bit more gray in it, and maybe even the slightest hint of beige, and doesn't come off as luminous as White Dove is. But they're similar in terms of their popularity and versatility.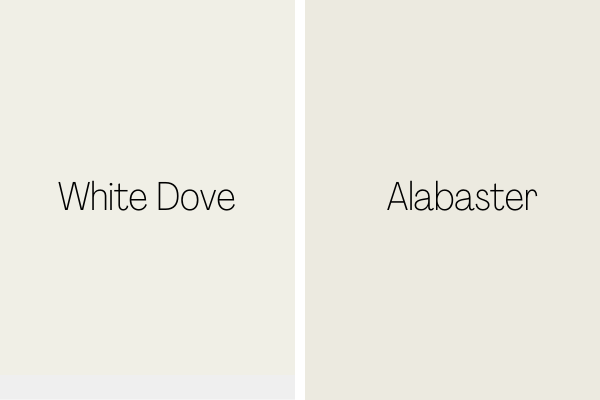 Check out this post for a full review on Alabaster Paint Color.
White Dove vs. Simply White
Simply White is another highly popular Benjamin Moore color. It is very clean, and has an LRV of 91 – wow!
As you can see, Simply White has much less "color" in it than White Dove. It is a great shade for trim, cabinets, and can even be used on walls for a stark, minimalistic look.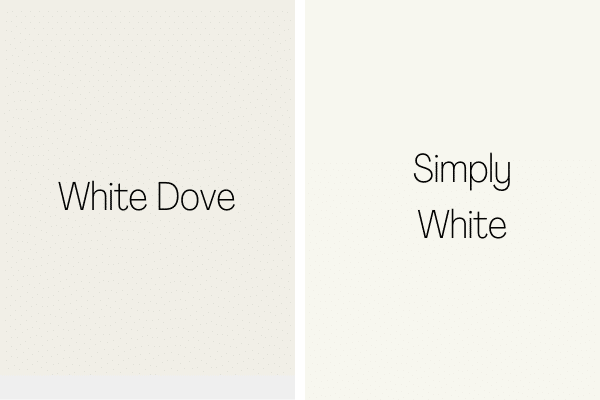 Check out this full color review on Simply White!
Final Thoughts on White Dove Paint
White Dove is an amazing go-to paint color for walls, trim and cabinets. While there are important considerations when choosing white paint colors, White Dove tends to be a safer choice than many due to its light gray undertones.
White Dove is hailed as one of the most popular Benjamin Moore paint colors (is possibly the most popular white shade from Benjamin Moore) and is a favorite of homeowners and designers. Because of this, I've included it in my list of top white paint colors from Benjamin Moore.
Want to see all your paint options in one convenient place? Click here to get everything you need to start painting, including Sherwin Williams and Benjamin Moore paint color decks!
Benjamin Moore White Dove Paint Color Review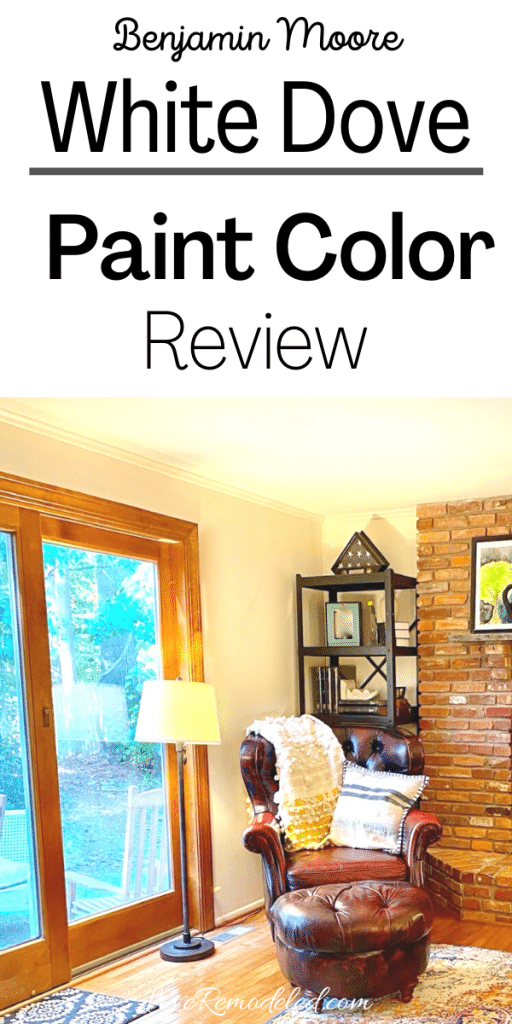 Have a question or want to show off your project? Join the discussion in Love Remodeled's Facebook group!