Simply White is a beautiful white Benjamin Moore paint color that is very popular among homeowners and designers.
It has been popular for a number of years, and has been included in Benjamin Moore's Off-White collection due to its wide appeal.
Find out everything you should know about this amazing paint color, including the nitty gritty on Simply White's undertones, where to use it, and, most importantly, where NOT to use Simply White.
This post may contain affiliate links. If you have any questions, please see my disclaimer page.
Benjamin Moore Simply White Details
Simply White's Undertones
Simply White is a pretty white paint color with soft yellow undertones. While it will probably not ever look entirely yellow on your walls, it may look a little yellowy at times. This is especially apparent depending on your lighting.
In a room with southern facing light, Simply White can look bright and clean on your walls. But, since the incoming light is a warm, southern light, it can also make the yellow undertones in Simply White look a bit more pronounced.
On the other hand, if you have a northern facing room with cool light coming in, the yellow undertone will likely show through less.
I have Simply White in my basement with cooler temperature light bulbs in the space (and no natural light), and there is not even a hint of yellow coming through. So, Simply White can also just look very, very white in certain lighting as well.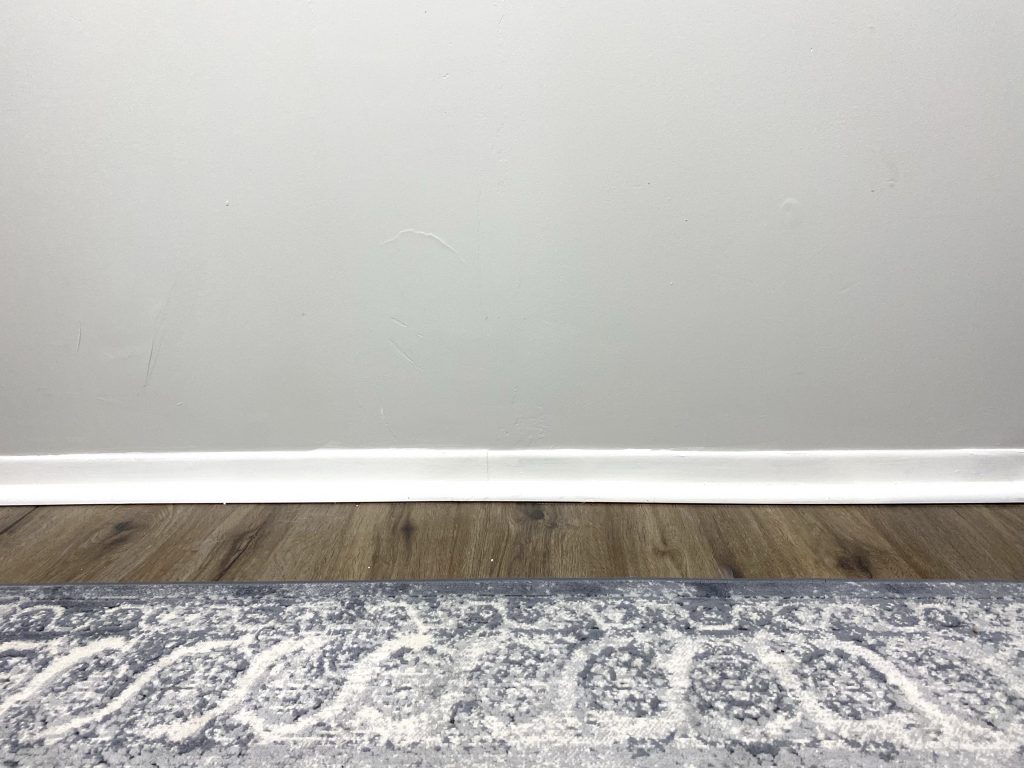 Overall, I don't find that Simply White is too white, too yellow or too warm, making it great white paint color for someone who wants a clean, crisp, bright white paint color.
Is Benjamin Moore's Simply White Warm or Cool?
The yellow undertones in Simply White make it a warm white.
There are a lot of warm whites on the market, but Simply White is somewhat unique in that it does not have any gray in it. This makes it a pretty clean and bright white paint color.
Simply White's LRV
Benjamin Moore's Simply White has an LRV (Light Reflectance Value) of 91.
This is a very high LRV. The LRV scale goes from 1-100, with 1 being complete black and 100 being complete white. It is pretty rare to find an LRV about 90, but Simply White is one of those exceptions.
This means that Simply White is going to reflect a ton of light back into the space. In a well-lit room, Simply White is going to brighten the space even more by bouncing the light around. However, in a dark room, Simply White will not show its brilliance in the same way.
As with most white paint colors, Simply White looks best in a well lit space – whether this light is natural or artificial.
Simply White's Number
Benjamin Moore has assigned Simply White two different number identifiers.
It is numbered 2143-70 and OC-117.
This is because it is included in both the Color Preview Collection (2143-70), and also featured in the Off-White Collection (OC-117).
Don't let this be too confusing for you. Whether you ask Benjamin Moore for 2143-70 or OC-117, you'll end up with the same color – Simply White.
Where Can I Use Simply White?
Simply White is a great choice for cabinets, trim, built-ins, ceilings and even exteriors.
Here, you can see Simply White on an interior door and on trim: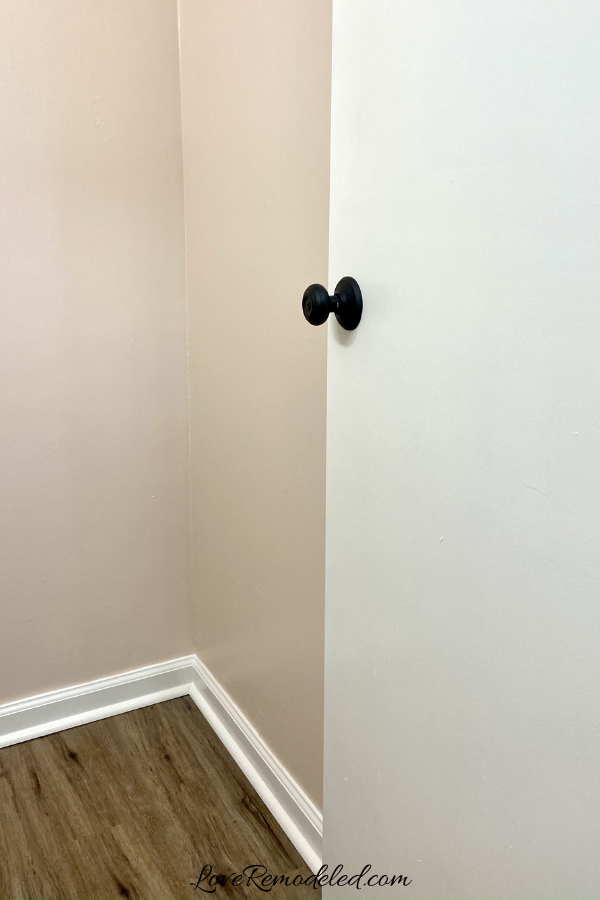 It can also be used on walls to reflect a ton of light and give you that white walled room look that is so popular right now.
As I mentioned above though, be sure that you have good light in the room if you plan to use Simply White on the walls. Otherwise, you'll end up with a space that looks dingier than you thought possible when you decided to paint the walls bright white!
Where NOT to Use Simply White…
While Simply White doesn't have a lot of color in it, meaning the yellow is not too pronounced, it is not the purest white paint you can get. This touch of color can be a good thing or a bad thing depending on your needs.
For instance, if you want a warm white that is going to reflect a ton of light in the room, and one that will not look stark, Simply White is a great choice for you.
However, one of the current trends in kitchens is an all white kitchen – white walls, white cabinets, and white countertops.
I frequently get questions about how to match a white paint to "polar white" cabinets, white subway tile, and white quartz.
The answer is always the same. You need to get samples of different white paints and compare them to your quartz, subway tile and cabinets to see if the undertones will work together.
Simply White is probably not going to be a great paint color for a kitchen that has quartz, and may not go with a lot of white kitchen cabinets and white subway tile.
This is because quartz and other kitchen elements typically have cool white undertones that can hint towards blue. This cool undertone is not going to match the warm undertone of the warm Simply White paint color. Instead, it is going to make the walls look yellow compared to the cabinets or countertops.
It doesn't mean that it will never work in a kitchen. Simply White can look amazing with a warmer white cabinet, or a granite countertop, as they tend to have warmer tones in them.
But, before you paint your all white kitchen Simply White, make sure you test the undertones of the paint next to the other elements in your kitchen.
Which brings me to my next point…
Wondering how to pick the perfect paint color?
I have the best solution for you!
Samplize sells 9×14.75 stick-on paint sheets in almost every paint color.
These no-mess, peel and stick sheets are made from real paint, so they will show you exactly what the paint color will look like.
Simply place them on your walls next to your trim, furnishings or fixed elements, and easily see whether the paint colors work in your space and with your lighting. Then, peel the sheet right off your wall and reapply it somewhere else if you like!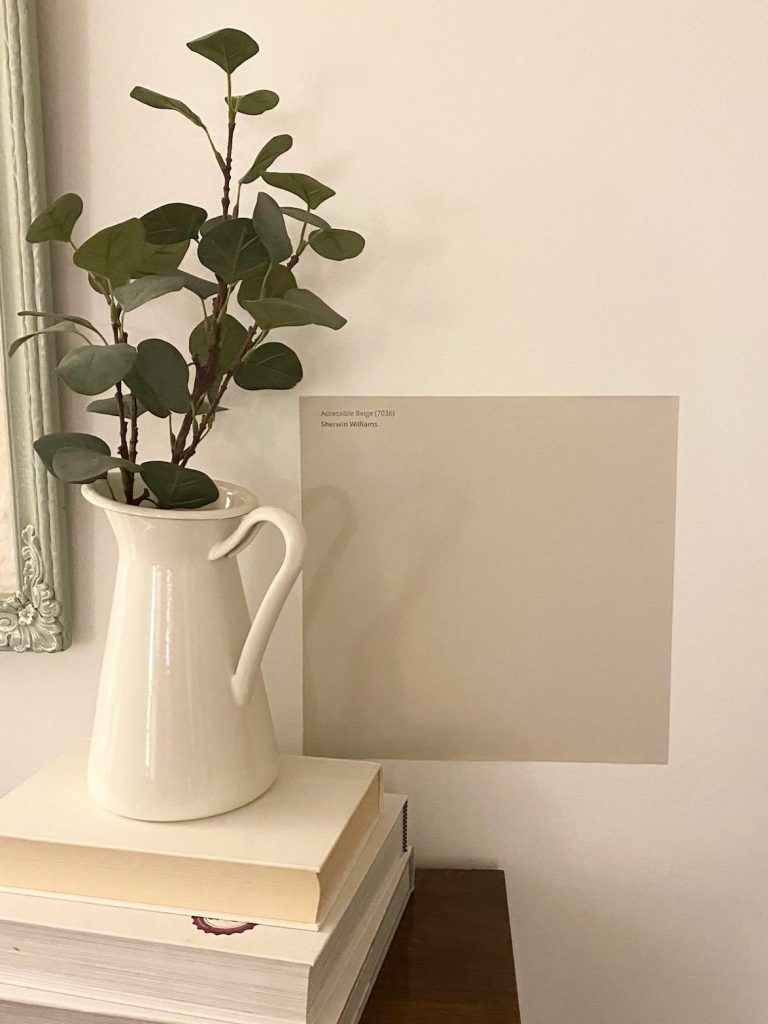 Oh, and you can have them in your home by tomorrow with OVERNIGHT shipping!
As a little tip, if you enter your email, you'll get $5 off your first order! Samplize sheets cheaper than a sample can of paint, and way less work!
Samplize sheets are truly the easiest (and fastest!) way to try a paint color in your home, with no mess.
Simply White Compared to Other Popular Whites
Simply White vs. Cloud White
Cloud White is a good white paint color made by Benjamin Moore. It has yellow, beige and gray undertones, but will still look pretty white on your walls.
Cloud White has an LRV of 85, so it will still reflect a ton of light, but is not quite as bright as Simply White.
While Cloud White is a good color for nearly anywhere, it does not have that clean look that Simply White does, because of the greige in it. If you want a warm white that isn't too yellowy though, Cloud White should be on your short list.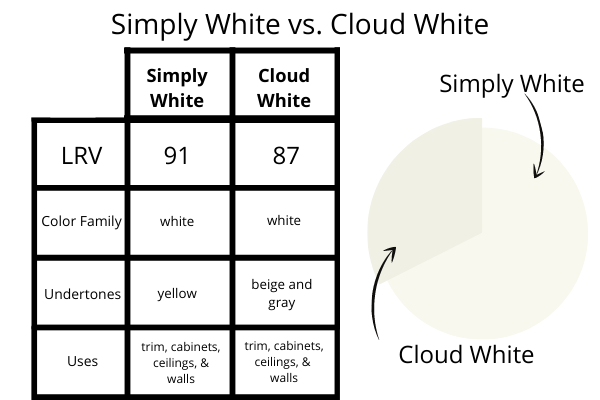 Simply White vs. Westhighland White
Westhighland White is one of my favorite Sherwin William's white paint colors. It is clean and bright, with yellow and a bit of beige undertones.
Sherwin Williams doesn't have a direct match to Benjamin Moore's Simply White, but I find Westhighland White to be the closest match to it.
They both have those yellow undertones, but the beige in Westhighland White makes it a bit more colorful (but yes, both are still extremely white). It also means that it will look just a tad darker (and in turn means that it has a lower LRV).
The graphic below makes them look SUPER different, but when you compare the actual paint to each other, they are much closer than the computer visuals display.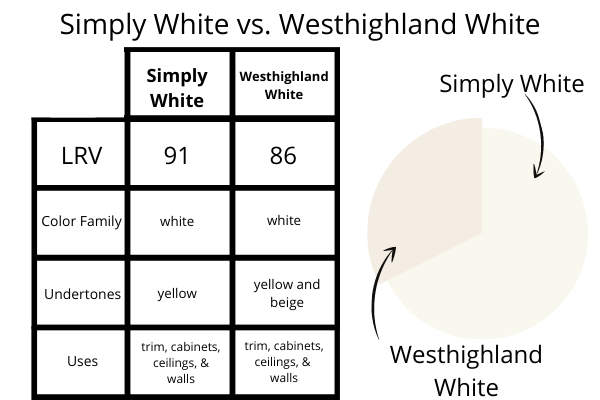 Simply White vs. Alabaster
Alabaster is one of Sherwin William's most popular paint colors. It has been popular for years because it looks great on walls, trim, cabinets and more.
Alabaster has a greige undertone, with both gray and beige notes in it. This makes if a very neutral white paint color that can go in a lot of places and work with a lot of other shades.
Alabaster has a bit more depth and color to it, and is a bit darker than Simply White as well. When you look at the graphic below, it looks like Alabaster is a greige color as opposed to a white. It truly is white, but the comparison and the colors of the screen make it look much darker that it would on your walls.
While many people use Alabaster on trim, I find that it is not quite bright enough for me. Between the two, I would always use Simply White on trim over Alabaster.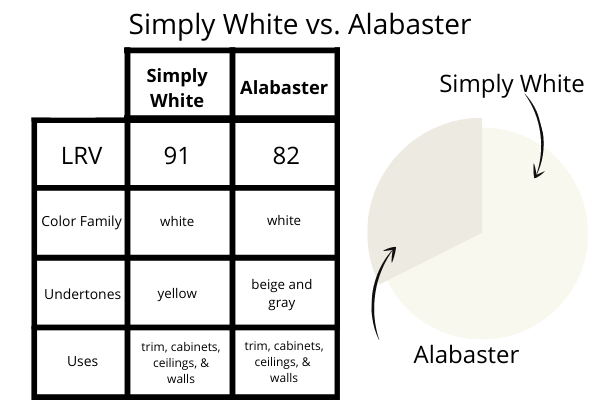 For more information on this paint color, check out this complete color review of Sherwin William's Alabaster.
Simply White vs. Chantilly Lace
Chantilly Lace is the white of all whites from Benjamin Moore. It is super clean, and very bright, with the least undertones of almost all white paint colors.
I truly struggle to see any undertone in Chantilly Lace. Maybe it has a blue undertone? But really, it is just super clean and crisp.
It has a slightly higher LRV than Simply White, but this will not be perceptible. They are both great white paint colors, but Chantilly Lace trends just a hint more cool, where as Simply White is more warm.
Chantilly Lace is a great color for trim, ceilings, cabinets, and walls.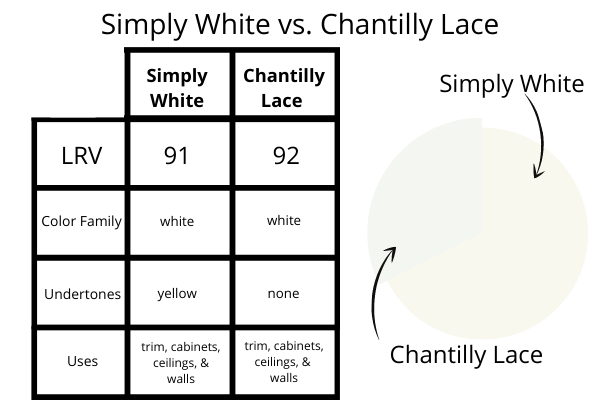 Check out this post if you'd like a full review of Chantilly Lace.
Simply White vs. White Dove
White Dove is a Benjamin Moore paint color that is a rival to Simply White. It is a good white paint color that can be used in all of the same places as Simply White.
Where Simply White has yellow undertones, White Dove has more of a gray undertone. This means that, like Simply White, it won't be stark, but also means that it doesn't have the same crisp, clean look that Simply White has.
Between the two, White Dove is probably a bit more versatile because the gray undertone can be less offending than a yellow one. By this, I mean that most people can paint a room white and live with it looking just a tinge grayish MORE than they can live with it looking a bit yellow.
Click here if you want more information on White Dove.
Coordinating Colors for Simply White
Simply White is a great paint color for almost any color that you want to pair it with. It looks nice with grays, beiges, blues, greens, yellows and reds.
The only color I would hesitate to pair it with is another white shade. This is because of those yellow undertones we've talked so much about.
When paired with a white paint or other furnishing with different undertones, you'll really see the yellow, or the undertone of the white you paired it with.
This doesn't mean that it definitely won't work. It just means that you need to compare the undertones to make sure it does before you paint the whole room (so pick up a Samplize sheet).
Final Thoughts on Benjamin Moore's Simply White
To me, Simply White is Benjamin Moore's best warm white because it is clean, bright, and really beautiful.
It is a great white for trim, cabinets, ceilings, built-ins, and exteriors, and looks amazing on the walls of a well-lit room.
I like Simply White so much that I feature it on my list of the best white paint colors by Benjamin Moore.
Simply White is a gorgeous, versatile, white paint color that is perfect for someone who wants a white paint color that is crisp, but not too stark.
Want to see all your paint options in one convenient place? Click here to get everything you need to start painting, including Sherwin Williams and Benjamin Moore paint color decks!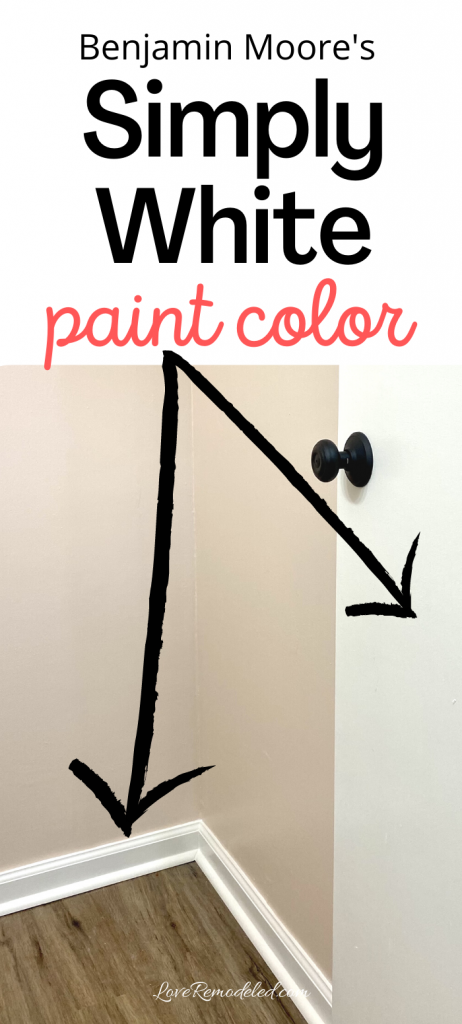 Have a question or want to show off your project? Join the discussion in Love Remodeled's Facebook group!