Gray Owl is a lovely gray paint color by Benjamin Moore. It is one of Benjamin Moore's most popular colors due to its wide appeal.
Gray Owl is a muted, soft gray with an LRV (Light Reflectance Value) of 65. This means that it will reflect a good amount of light into the room, as opposed to absorbing it.
This post may contain affiliate links. If you have any questions, please see my disclaimer page.
Gray Owl Details
Gray Owl may be a pretty solid gray paint color, but it does have blue and green undertones. Typically, it will look like a gray on your walls, but it can show those undertones depending on your lighting and other room elements.
In some lighting, Gray Owl will look blue on your walls. I find this to be especially true when there is cool northern-facing light coming in a room or cooler temperature light bulbs in a space.
In addition, Gray Owl can also look green on your walls at times, or even like a turquoise (blue-green).
Most frequently, this color will shift throughout the day based on the lighting in your house.
So, how can you know what color it will look like in your home? You need to sample it. Keep reading for my best tip on making sure it is the right color for you.
Wondering how to pick the perfect paint color?
I have the best solution for you!
Samplize sells 9×14.75 stick-on paint sheets in almost every paint color.
These no-mess, peel and stick sheets are made from real paint, so they will show you exactly what the paint color will look like.
Simply place them on your walls next to your trim, furnishings or fixed elements, and easily see whether the paint colors work in your space and with your lighting. Then, peel the sheet right off your wall and reapply it somewhere else if you like!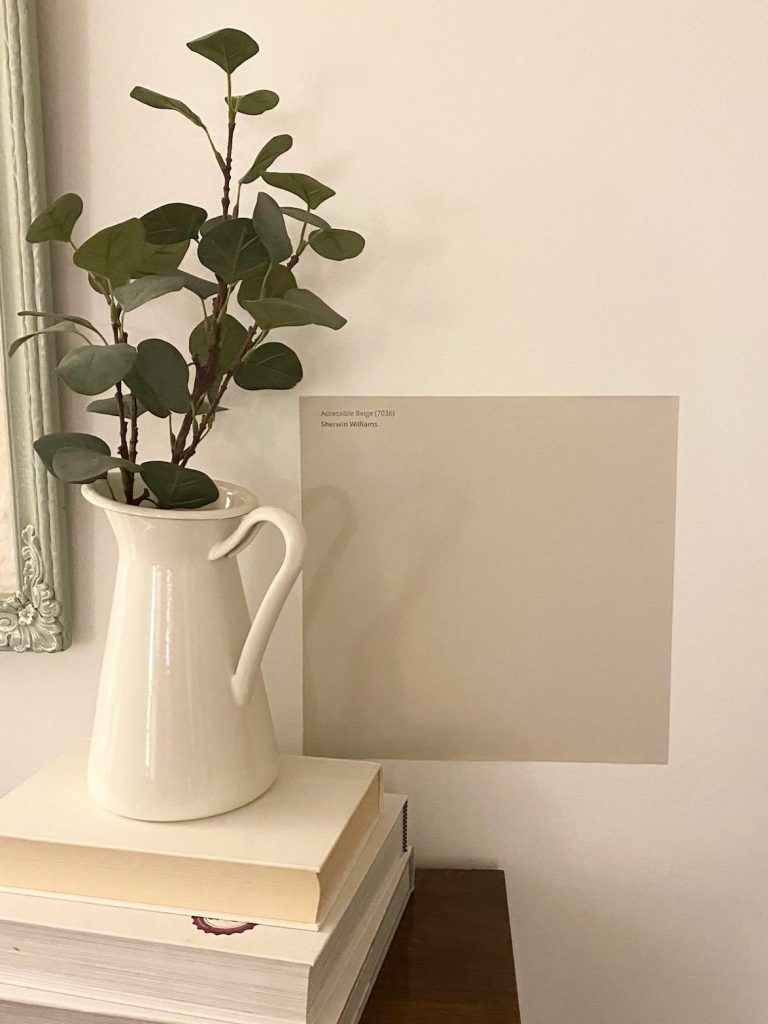 Oh, and you can have them in your home by tomorrow with overnight shipping!
As a little tip, if you enter your email, you'll get $5 off your first order! Plus, if you buy 8 samples, you get 2 more for free!
Samplize sheets are truly the easiest (and fastest!) way to try a paint color in your home, with no mess.
Benjamin Moore Gray Owl in Different Lights
As I just mentioned, like any paint color, Gray Owl can look very different depending on the different light that is around it.
I recently painted my basement paneling Gray Owl. The lightbulbs that were in the basement were not all the same temperature (warm or cool) and this really highlighted how different Gray Owl can look in different types of lighting.
Here, Gray Owl looks really quire greenish and a bit brown due to the warm, orange light that is on it.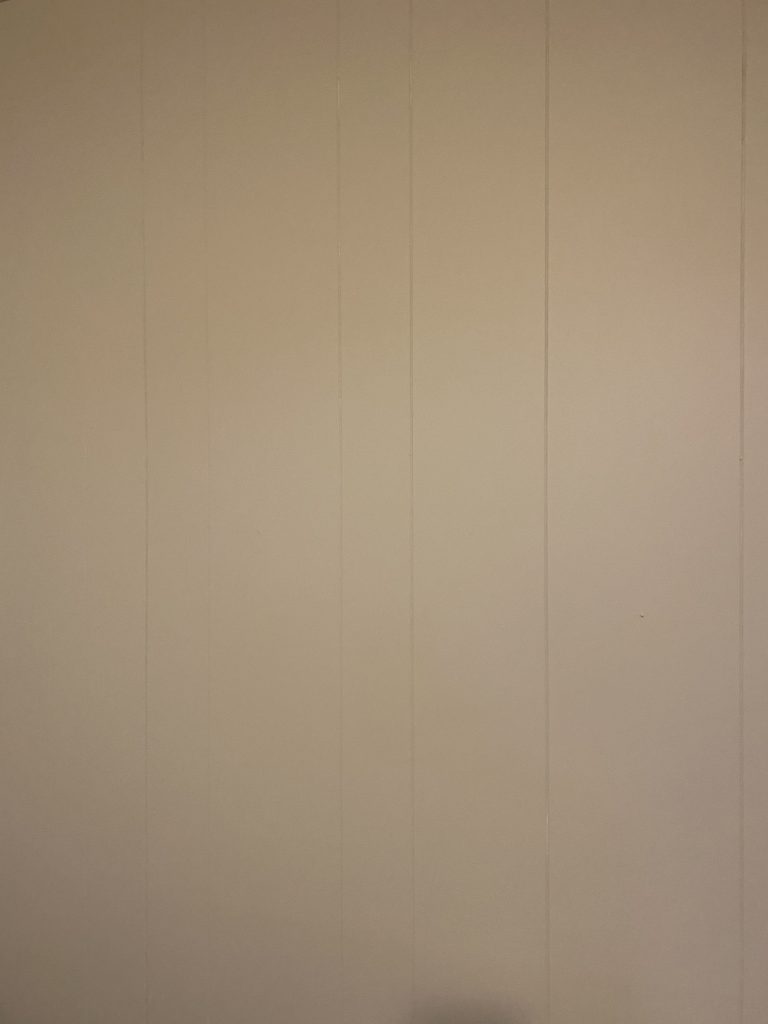 But when placed under a cool light bulb, Gray Owl's more true color shows. As you can see, Gray Owl looks much more gray, and just slightly hints towards blue and green in this lighting.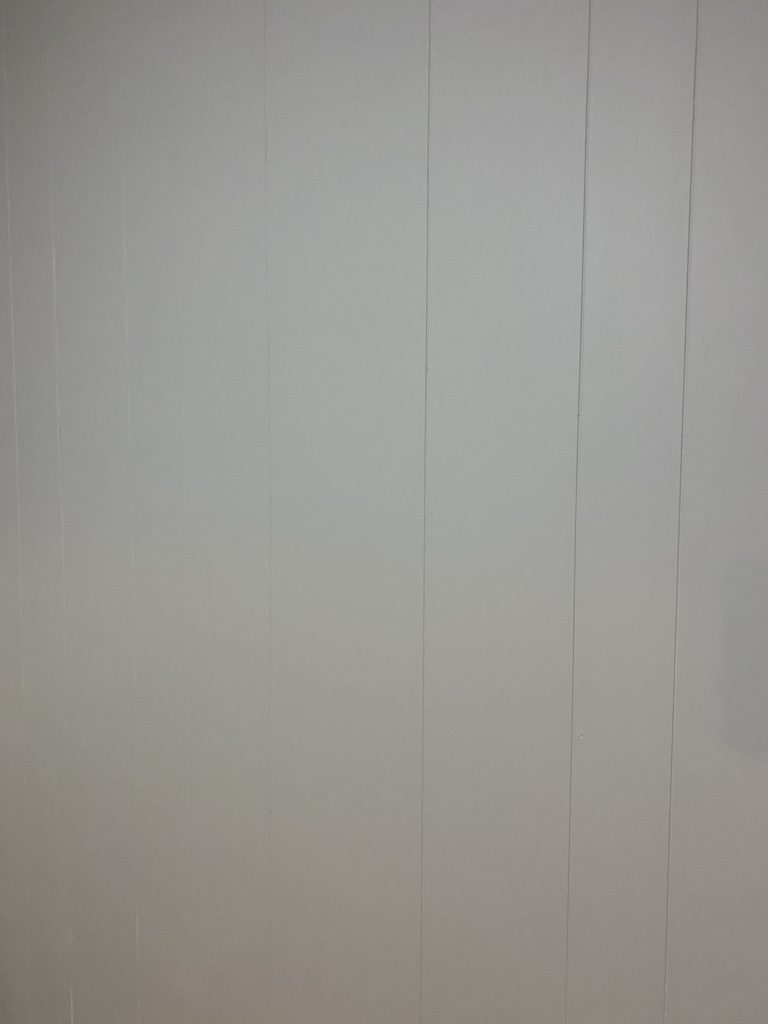 Click here for more about how to paint paneling for a durable finish.
Pretty frequently, someone reaches out to me to say that they painted their walls a certain color and they hate how it looks. Instead of being (whatever color it is supposed to be), it looks (blue/green/purple/pink/etc.).
As you can see, changing your light bulbs can really make a big difference in the way a paint color looks.
Is Gray Owl Warm or Cool?
Because of its green and blue undertones, Benjamin Moore Gray Owl is a cool paint color.
A warm gray typically has brown undertones, and falls into the "greige" category of paint colors. If you're looking for more of a warm gray, check out this list of great greige paint colors.
Click here if you want to see other nice cool gray paint colors.
Gray Owl Color Strip
Gray Owl is number 2137-60 in Benjamin Moore's Color Preview fan deck.
It shares a color strip with White Wisp, a lighter version of Gray Owl, and Sea Haze, Desert Twilight, Durango, Char Brown and Otter Brown, which are all successively darker versions of Gray Owl.
When you get into the darker versions of Gray Owl, such as Char Brown and Otter Brown, you do see a lot of brown mixed in with the green and blue undertones (but truthfully, mostly brown). However, this brown hue is very muted in Gray Owl, and doesn't cause it to come off as a warm brown in your home.
Gray Owl also has a number of OC-52. This is because, in addition to housing the paint color in the Color Preview fan deck, Benjamin Moore also features it in their Off-White Collection.
This classification of being included in the Off-White Collection really shows you how light Gray Owl is. It truly is an off-white. In a room with a lot of natural light, it doesn't come across strongly as a color on your walls.
Additionally, this makes it a great choice for a basement or other dark space that you want to brighten up.
Ultimately, don't let the fact that Gray Owl has two numbers assigned to it confuse you. Whether you ask Benjamin Moore for 2137-60 or for OC-52, you'll end up with the same color.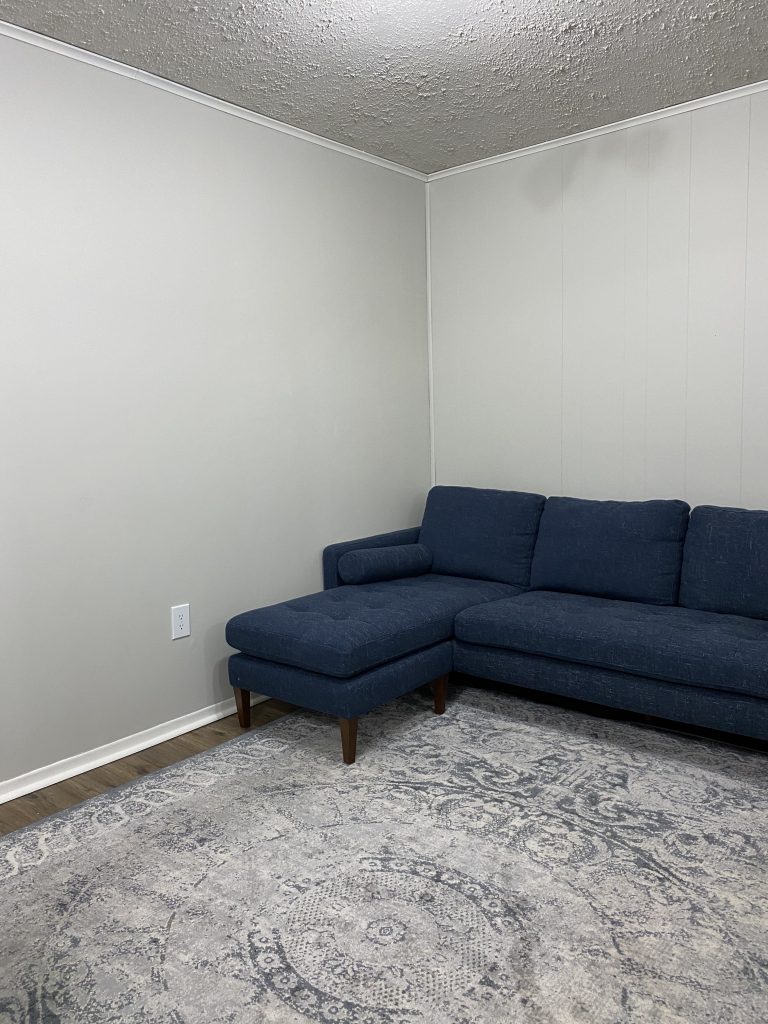 Where Can I Use Gray Owl Paint Color?
Gray Owl is a great paint color for a lot of different surfaces. It works well on walls, cabinets, furniture and exteriors.
Gray Owl is a perfect color for a living room, dining room, entryway, bathroom, bedroom, or kitchen. Gray Owl is listed here among other paint colors for kitchens.
Gray Owl is also a great "anchor" shade. By this, I mean that it is a great all over neutral that can be the foundation for a lot of great color schemes.
Gray Owl Complimentary Colors
Gray Owl is a good paint color because it is very versatile. It can easily pair with a variety of other shades.
First and foremost, Gray Owl pairs nicely with all of the colors on its color strip. If you want the perfect white for Gray Owl, go with White Wisp. If you want a dark accent wall that perfectly coordinates with Gray Owl, consider Durango.
But, if you want a paint color that is going to look nice but be outside the gray family, check out these color palettes.
Here, Gray Owl is complimented by several other very on trend paint colors. Kasbah, a light purple, Firenze, a muted orange, and Boreal Forest, a dark green, all work together with Gray Owl, or individually with it.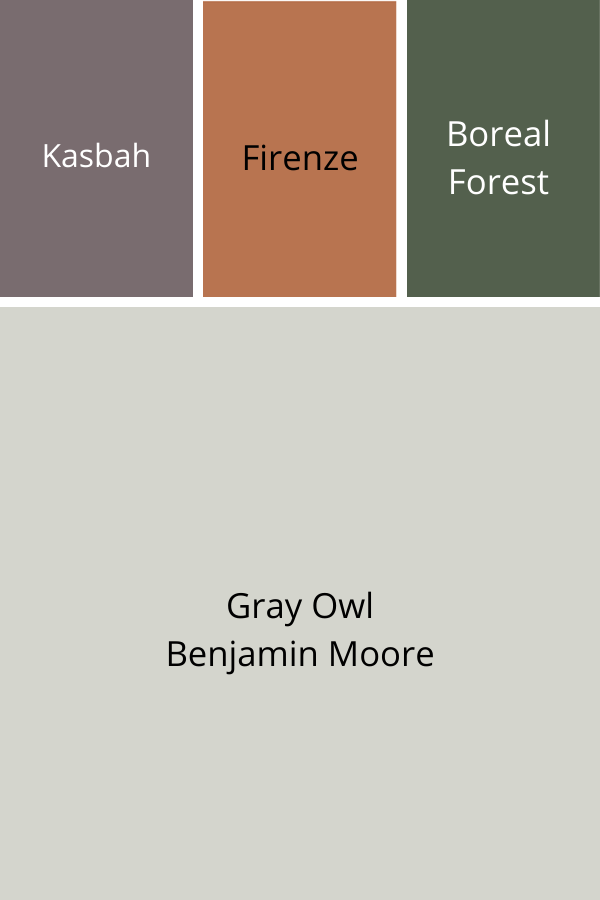 This second complimentary color palette for Gray Owl is a bit more muted. Gray Owl is paired with a darker version of itself, Desert Twilight, to ground the color scheme a bit. Then, a bright but muted blue, Aegean Teal (which is Benjamin Moore's 2021 Color of the Year) is highlighted by Regent Green, which looks a bit more blue than green to me.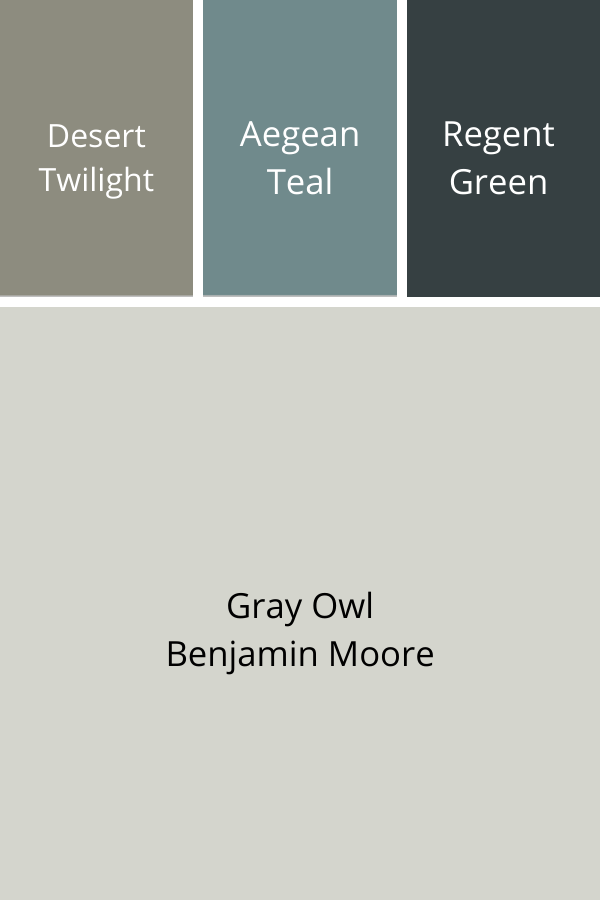 Other Benjamin Moore paint colors that Gray Owl will coordinate with are:
Rock Gray
Silken Pine
Mustang
Snow White
St. Lucia Teal
Natural Elements
Shoreline
Storm Cloud Gray
Louisberg Green
French Vanilla
Cloudy Sky
Polar Frost
Wind Chime
Hampshire Gray
Blue Echo
Ocean Beach
Gray Owl Compared to Other Popular Gray Paint Colors
Gray Owl vs. Moonshine
Gray Owl and Moonshine are fairly similar colors in a lot of ways. They both are very light grays of a similar depth. In addition, Moonshine has an LRV of 68, making it just slightly brighter than Gray Owl. This higher LRV will not be perceptible to the naked eye though.
Between the two, I prefer Gray Owl. This is because I find the undertones of Gray Owl to be more livable and less pronounced than Moonshine's. This doesn't mean that everyone will prefer Gray Owl to Moonshine though! This is why I love Samplize squares – they make it so easy to see how a color will look in your space!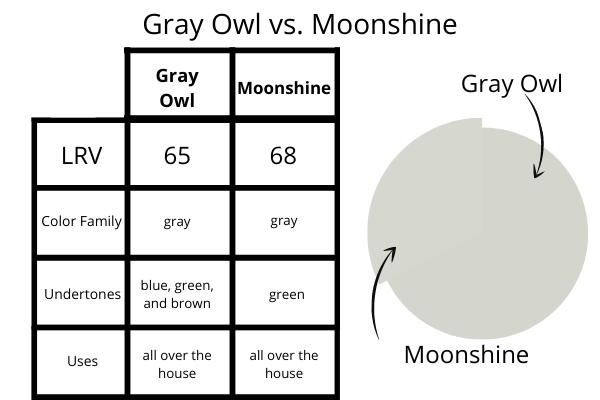 Gray Owl vs. Stonington Gray
Stonington Gray is another really popular gray paint color by Benjamin Moore.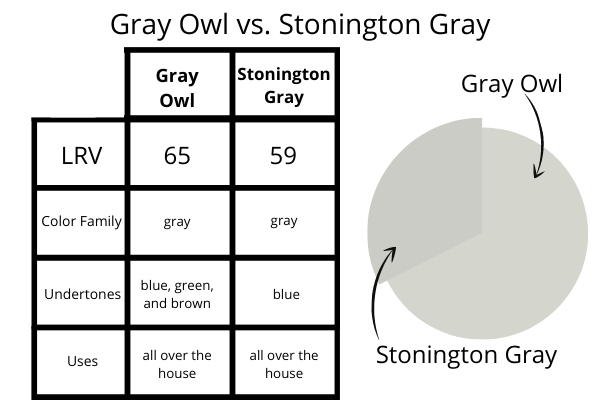 Where as Gray Owl has a blue and green undertone in it with a hint of brown, Stonington Gray has more of a cooler blue tone to it. In addition, Stonington Gray has a bit more depth to it than Gray Owl. It also has a lower LRV, meaning it will reflect just a bit less light back into your space.
Gray Owl is more reminiscent of an art gallery wall, whereas Stonington Gray has a bit more of a punch to it. Both are easy on the eyes, but Gray Owl has more of a light and airy feel to it than Stonington Gray does.
Click here for all the details on Stonington Gray.
Gray Owl vs. Repose Gray
Repose Gray is a very popular Sherwin Williams paint color. It is a really gorgeous shade that works about anywhere. It is slightly darker than Gray Owl.
Again, where as Gray Owl has more of an airy quality to it, Repose Gray is more earthy.
This is because Repose Gray is actually a greige paint color. It is a warm gray with strong brown undertones.
Final Thoughts on Benjamin Moore Gray Owl
Gray Owl is a great paint color for any room in your house. It can also go easily on walls, cabinets, furniture and exteriors.
In addition, it coordinates nicely with other paint colors and is a perfect all over color for your living spaces.
Gray Owl should be on the shortlist for anyone who wants a gray paint color that is cool, versatile, and functional.
Want to see all your paint options in one convenient place? Click here to get everything you need to start painting, including Sherwin Williams and Benjamin Moore paint color decks!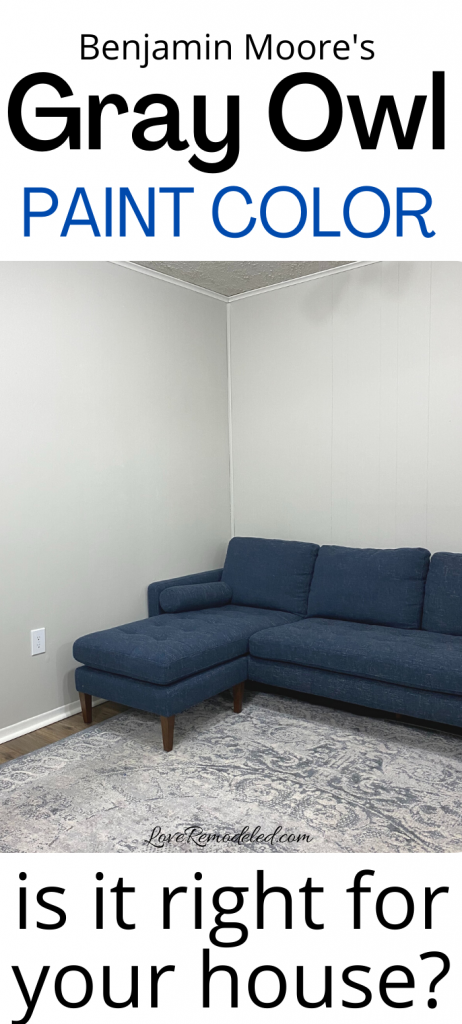 Have a question or want to show off your project? Join the discussion in Love Remodeled's Facebook group here!