How to Paint Over Fake Wood Paneling
Painting wood paneling is an easy and cost effective way to update a room with wood paneling.
While many home improvement websites will tell you that you need to clean the wood paneling with TSP, sand it, prime it, sand it again, prime it again (if you took some of the primer off with sanding), and then paint it, I have found this to be much more work than is needed for most wood paneling.
If you want to paint your wood paneling and you don't have days to devote to the project, check out this post on the best and fastest way to paint wood paneling.
Frequently Asked Questions about Painting Wood Paneling
Before we get into the actual how-to of painting wood paneling, check out these frequently asked questions.
This post may contain affiliate links. If you have any questions, please see my disclaimer page.
Is wood paneling outdated?
Wood paneling was all the rage in the 1970s. While some trends stand the test of time, wood paneling hasn't.
In my current home, I have wood paneling in the family room on two of the walls. It is the classic dark wood 70's paneling, with some "boards" being thicker than others. Some people would call it faux wood, but this kind of wood paneling is actually a wood composite product, sort of like plywood.
For about a year and a half, I held out hope that this style of wood paneling was going to come back into fashion. After all, mid-century modern style is back, 70's colors are back. Why not wood paneling?
But, after living with the wood paneling for a while though, I determined that my style of wood paneling was not going to make a comeback. It was too dark, unsymmetrical (why are some boards thick and some are thin, on a random basis?), and just sort of ugly.
So, I decided to not only paint my wood paneling, but also to fill in the lines to make the walls smooth.
Click here for more information on how I filled the lines in my wood paneling to make it look like drywall.
Just to clarify, I don't actually believe that all wood paneling should be painted. If you have gorgeous, solid stained wood paneling that you love, leave it! Wood accents in a home are warm and earthy, and totally in style. But, if your paneling is more of an eyesore than an accent, it may be time to paint it.
So now that we've discussed all that, let's get into the nuts and bolts of painting wood paneling.
Can you paint paneling without sanding?
Yes. You do not need to sand your paneling before you paint it.
Unless there is a good reason to sand your wood paneling, such as it is rough, or there are holes that need repaired, I haven't found a reason to sand wood paneling prior to painting it.
In addition, sanding wood paneling will make your space dusty, creating a lot more work for you. This fine dust will get all over the room, pulled through the homes heating/cooling system, and will be re-deposited throughout the whole house. This means that your entire home will have to be dusted (and, if you're super yucked out by that fine dust, you'll probably want to wash any linens that are not in a drawer or closet).
In addition, I always have a concern for asbestos in any home products that were made before 1978. You can do your own research on this, but suffice to say, for this reason and the ones listed above, I do not recommend sanding wood paneling prior to painting it.
Do you have to prime paneling before painting?
Yes. You need to prime your wood paneling before painting it.
I don't usually recommend using primer when painting walls. I haven't found that it is necessary, and I don't have time to do extra steps that aren't need.
But, there are some exceptions to this. Painting paneling is one of them. I always recommend using a primer before painting your wood paneling.
There are four big reasons that you need to prime wood paneling before you paint it.
First, primer has special adhesion elements in it that stick to the wood paneling better than paint does. If you were to just apply paint to your wood paneling, the paint would likely peel off easily if it were scratched with a fingernail or other hard object (toy car, furniture, etc.).
Second, primer will block out any stains or dark color from the wood from seeping through the paint. This ensures that the color of the walls is consistent.
Third, using primer will enable you to use less paint. Wood paneling sucks up a TON of paint if it is not primed first. You'll paint and paint and paint and wonder where it all went. If you apply a coat of primer before you paint the wood paneling, you'll be able to get away with only two coats of paint (just like a normal wall).
Last, if you want to be able to paint your wood paneling without sanding it first, you need to use a primer.
What kind of paint do you use on paneling?
Once you have primed your wood paneling, you can use any kind of good quality latex paint to paint it.
I tend to use Sherwin Williams Super Paint for most of my wall painting projects. I like the coverage it gives and it acts just like paint should.
How do you paint wood paneling with grooves?
If your paneling has fairly shallow grooves, you may be able to just paint the whole wall with a roller. According to Wooster, choose a roller with a 1/2 inch or 3/8 inch nap for paneling. Remember, the deeper the groove on the paneling, the higher nap roller is necessary to reach inside the groove.
Now, I have painted some wood paneling where the groove is just too deep for a roller to reach. In those cases, you have to use a paintbrush. Brush all the lines, and then roll the rest. It takes much longer to do it this way, but sometimes there is just no choice.
Since it takes much longer to paint the paneling with a brush and a roller, I would suggest trying to paint the paneling with a roller first. If it doesn't work, go to the two step method.
To learn how to paint wood paneling, check out this How-To.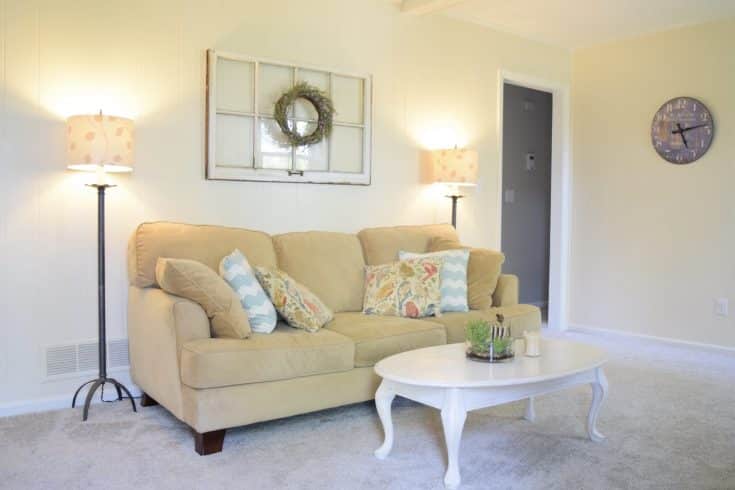 How to Paint Wood Paneling
Find out how to paint wood paneling - the fastest and easiest way!
Materials
PrepRite ProBlock Primer
Super Paint
Instructions
Using a good quality primer, paint the primer on the wood paneling, ensuring it goes into the grooves of the paneling.
When the primer dries (1-2 hours), paint the paneled area with a paint roller. If the paint goes into the grooves using only the roller, skip step 3.
Paint the grooves with a paint brush.
Edge the ceiling, baseboards and around doors and windows with a paintbrush (for more information on how to edge with a paintbrush, check out this post on how to paint a room).
When the paint is dry (1-2 hours), repeat steps 2-4 for a second coat.
Notes
Be sure to select a primer that is made for slick surfaces. This will help to ensure that your paint has good adhesion to the wood paneling, and will reduce the likelihood of the paint peeling off when scuffed.
What is the best color to paint paneling?
Choosing a color to paint wood paneling can be difficult, but it doesn't have to be. To help determine what color you want to paint the paneling, consider the overall style that you're going for in the room.
As I mentioned earlier, painted paneling lends itself particularly well to a cottage, shabby chic, farmhouse or even coastal styled home.
Accordingly, I would recommend painting the paneling in a light shade. Good paint color options for painted paneling are white, light gray, yellow or pale blue. For more ideas on paint colors for wood paneling, check out these posts:
Painting Paneling – Before and After Photos
Here is my living room before I painted the paneling. It had very dark wood paneling on two of the walls, and beige wallpaper on the other two. Plus, it has lots of trees outside, blocking the sunlight. Altogether, this made for a very dark space.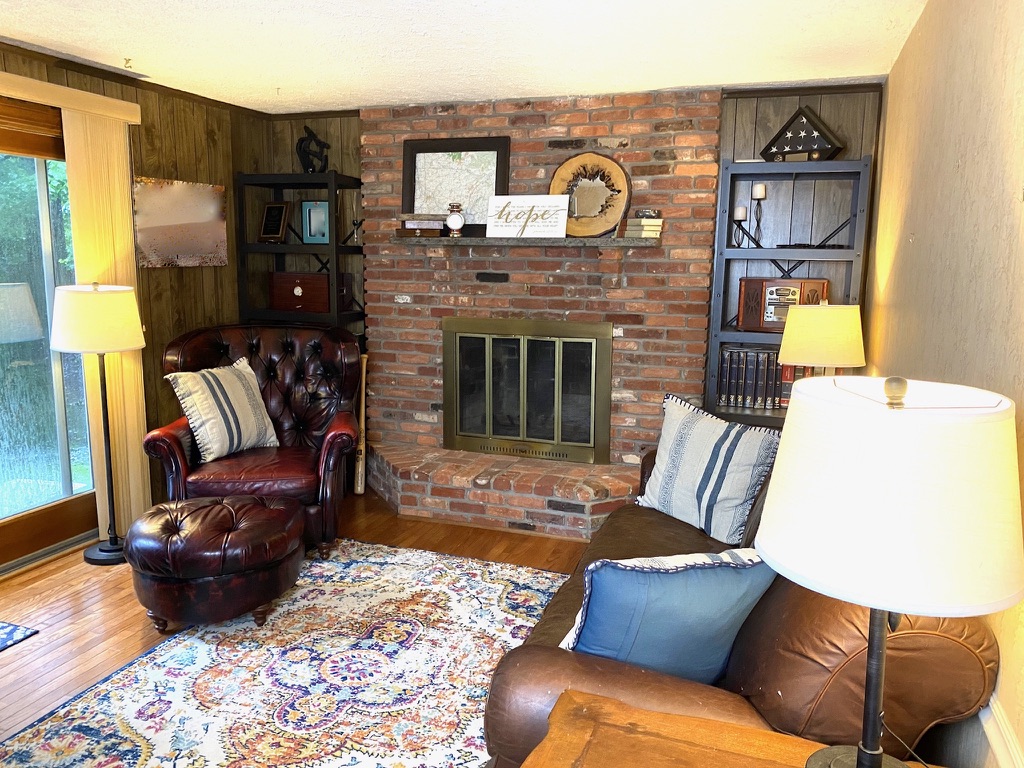 After painting one coat of primer, I decided to fill in the grooves. This is what the paneling looked like with one coat of primer.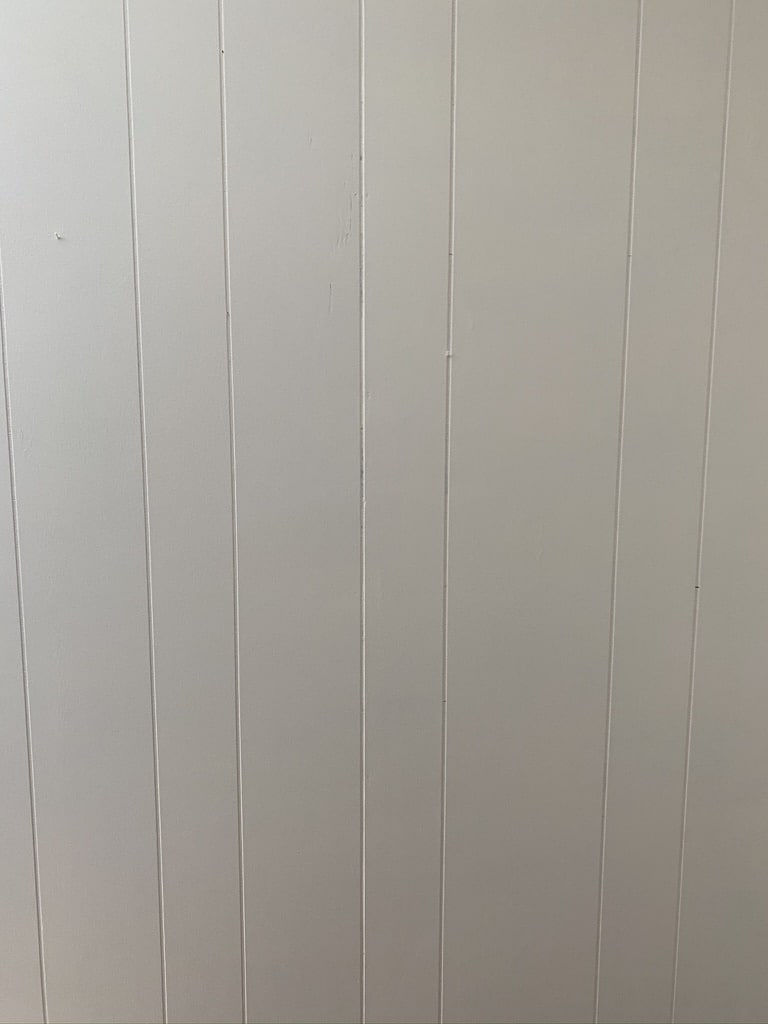 You can see the benefit of using a good primer – you can't see any wood color through just one coat of this primer!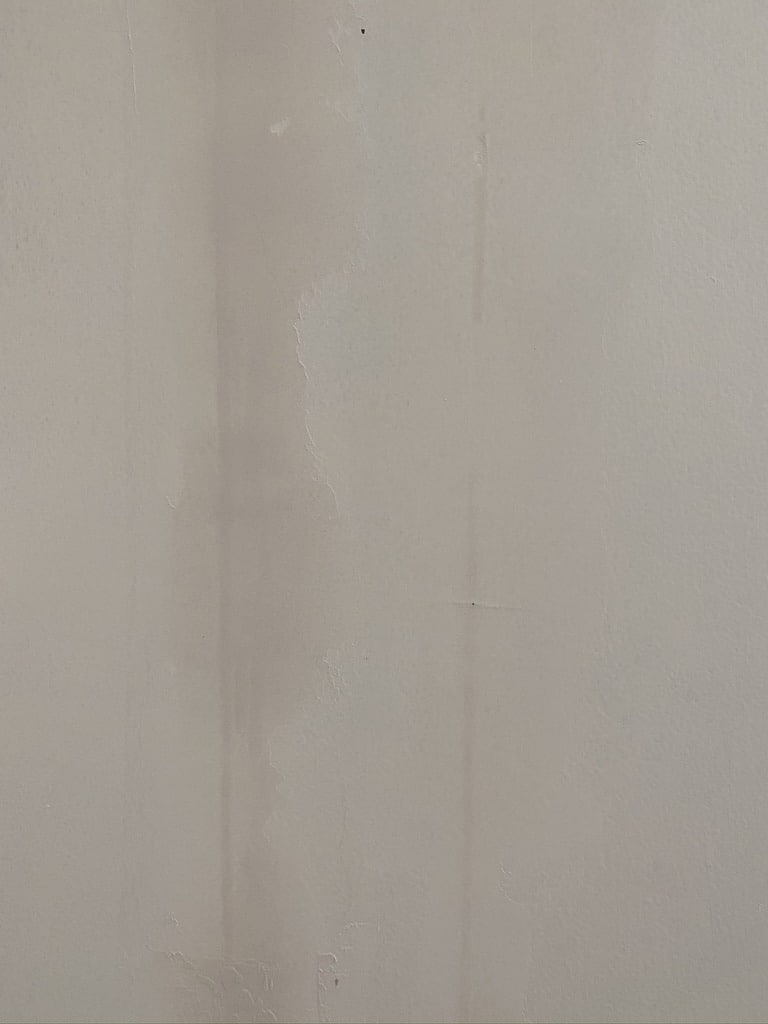 This is what the wall looked like after I filled in the grooves. For more on that, check out my post on making wood paneled walls look like drywall.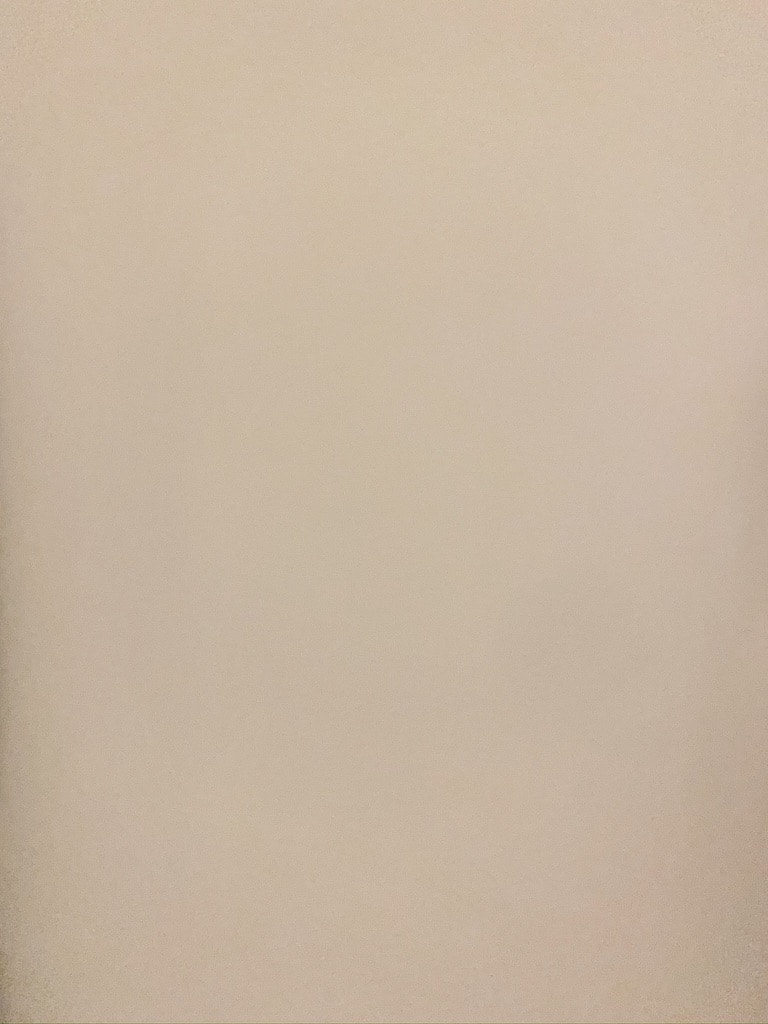 And this is what the wall looked like once it was painted. Just looks like a wall, right? Exactly what I wanted.
Here is how the room looks now: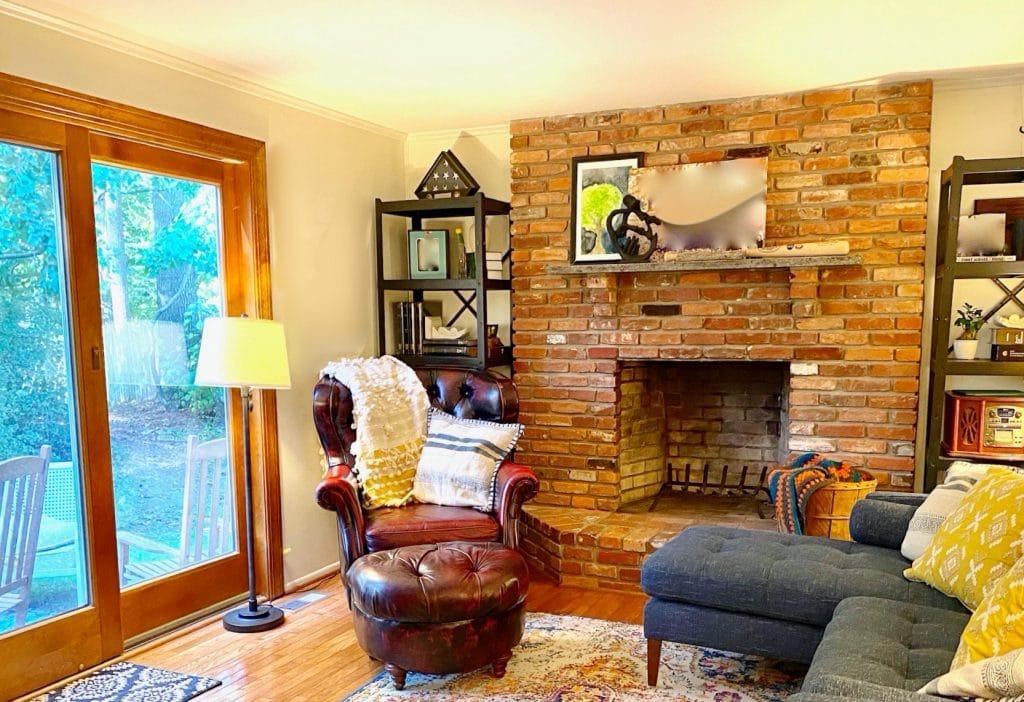 Don't mind the weird "artwork"…
I think the room looks so much better now that my faux wood paneling is painted. It looks fresh and updated, and so much brighter!
Final Thoughts on Painting Fake Wood Paneling
Painting your wood paneling is an easy project that makes a huge impact on the room. It instantly updates it, and makes it feel clean and bright. Plus, it is inexpensive! Get started painting your wood paneling today!
Want to see all your paint options in one convenient place? Click here to get everything you need to start painting, including Sherwin Williams and Benjamin Moore paint color decks!