With Christmas coming, it is time to start thinking about how you are going to decorate for the holidays.
The fireplace mantle is a great place to begin your decorating. Because fireplaces are so entrenched in holiday lore (you know, because that is how Santa gets in), they are an obvious and expected place to bring in some holiday cheer. Plus, the mantle is a small space that is fast and easy to decorate.
So whether you're going for a traditional holiday mantle, a farmhouse Christmas mantle, or a Scandinavian holiday mantle, this article has some ideas for you!
This post may contain affiliate links. If you have any questions, please see my disclaimer page.
Farmhouse Christmas Mantle Decor
A farmhouse holiday decorating theme is a really popular way to tie your Christmas decor into your home's general style. If your home is decorated in a farmhouse look, this theme will naturally be a good option for you.
As with most things farmhouse, neutrals such as white and brown are great choices for the traditional (somewhat) monochromatic color scheme.
You can include pops of color alongside your neutrals too, if you like. Cool colors, such as blues and greens, look really nice with a farmhouse holiday theme. Deep reds and greens can also be used to give the mantle a more traditional feel, while still looking farmhouse. To make the look really work, try to stick to decor choices inspired by nature, such as red berries, green garland or white frosted pine cones.
Decorating your mantle in a farmhouse style can incorporate a lot of homemade decor options too. Here, you see some branches mounted on the wall with simple packages wrapped in brown packaging and a bit of jute rope or ribbon to finish it off.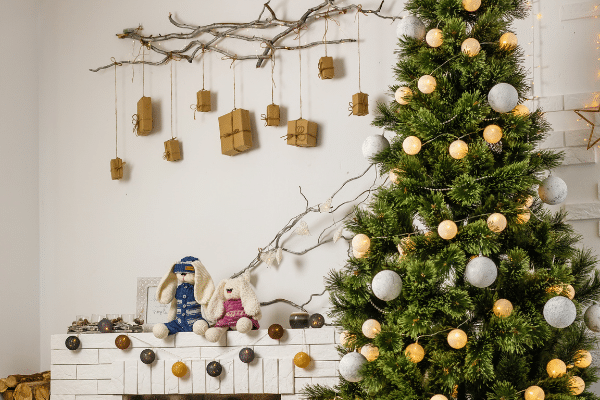 The look can be a little more polished though, if you prefer.
Check out these great farmhouse Christmas mantle decor finds:
Nothing says the holidays quite like Christmas stockings. If you're looking for something a little more muted than red and green stockings, check out this set of ivory and tan stockings!
Reminiscent of nature, birch candles are great accent to add to your fireplace mantle. These candles are remote control operated, meaning you don't have to worry about lighting them (or them catching your garland on fire!).
Mistletoe Garland is a gorgeous, farmhouse inspired alternative to traditional pine garland. While you can definitely go with any type of fir garland, using mistletoe garland gives a softer, more rustic feel to your mantle.
For more farmhouse decor ideas, check out this post on Christmas decorating themes.
Nature-Inspired Christmas Mantle Decor
Speaking of nature-inspired Christmas ideas, this can be a theme for your mantle all on its own.
I love how this mantle is decorated with mostly things only found in nature. The red berries, brown pinecones, green garland and tan walnuts bring the perfect Christmas feel to the mantle.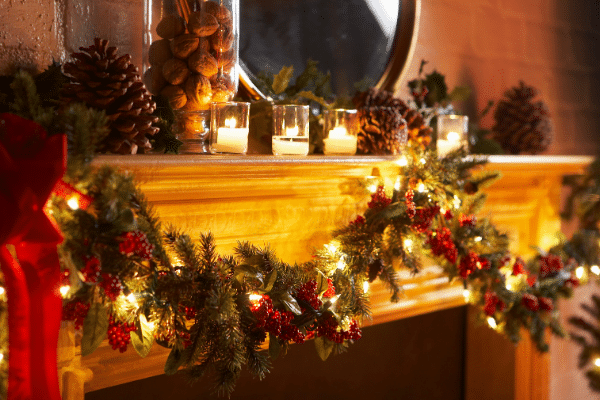 Pick up some nature-inspired holiday decor here:
These English walnuts are not only decorative, they're edible too! I love when decor is both beautiful and functional. Plus, you don't have to store them when the holiday season is over!
If you need a container to put your English walnuts in, this 3-pack of hurricane vases if perfect! Use one on your mantle, and still have two leftover for candles or fresh flowers.
Pine Garland is a holiday favorite. While the real stuff gives off a soft pine scent that smells so amazing, it tends to shed its needles. Instead of having to deal with the mess, pick up some of this artificial pine garland with pre-lit lights.
These cinnamon-scented pinecones get a bad rap because they don't have much cinnamon smell, but hear me out. I like this bunch because they are large in size, but mostly because they don't have bugs in them! I checked the reviews on the "natural" ones, and almost all had reviews that said they got bugs in their home from them. So, for me, barely-scented cinnamon pinecones are the way to go!
Minimalist Christmas Mantle Decor
If you are a minimalist, or you just don't love a lot of holiday clutter, this decorating option is for you!
This simple decorating style is a great way to incorporate function with decorating. It typically requires only things that you already have in your home for the holidays.
For example, on this mantle, a few holiday cards, alongside a glass with candy canes, is all it takes to give the room some Christmas style.
Traditional Christmas Mantle Decor
Traditional holiday decor is quite possibly my favorite. I love all the different ways of decorating for Christmas, but this was brings me home.
Decorating for the holidays in a traditional way feels merry, warm and nostalgic for me.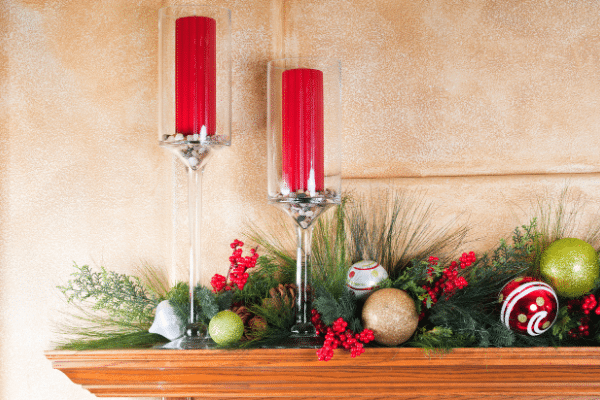 If you want to decorate your mantle in a traditional manner, you probably don't need a lot of instruction. Here are a few of my favorite things to get you going though.
I love this little "Night Before Christmas" nutcracker with tiny mice on the hat!
Christmas villages are so nostalgic for me! I remember sitting as a child and looking at all the intricacies on the houses and shops in the village. I loved how they lit up (with a Christmas light bulb in the back), looking so real. As with all things vintage, they're becoming increasingly popular again.
Ready to hang your stockings by the chimney with care (as the song goes)? These stocking holders will make it easy! Plus, they're super cute and festive.
And, lest we forget the real meaning behind Christmas, this little figurine is always a great reminder that Jesus is the true gift of this season.
Scandinavian Christmas Mantle Decor
Scandinavian Christmas decor is a pretty big trend right now. This crisp, clean, white style of decor is a great way to give your home a holiday flair while still looking sophisticated.
Scandinavian holiday decor, also called Nordic Christmas decor, can trend towards both minimalism and towards a white Christmas motif, depending on what you like.
For more about a Scandinavian Christmas theme, check out this post.
White garland is a great accent to your fireplace. I love that this garland has little white lights on it, for a bit of extra cheer.
These faux fir holiday stockings are a perfect compliment to your Nordic Christmas decor.
This glittery reindeer with gold accents is perfectly elegant with a hint of glam. It is 13 inches, so this guy is big enough to make a statement too.
Alright, I know that I said that Scandinavian holiday decor is sophisticated. And it mostly is. Except for these little guys. These Swedish gnomes are an adorable accent to sit on your mantle, so I had to include them.
Final Thoughts on Decorating Your Mantle for Christmas
Decorating your house for the holidays is a wonderful way to kick off the season. It gives your home a festive spirit that will last the whole season long.
I hope you enjoy your decorating! From my family to yours, Merry Christmas!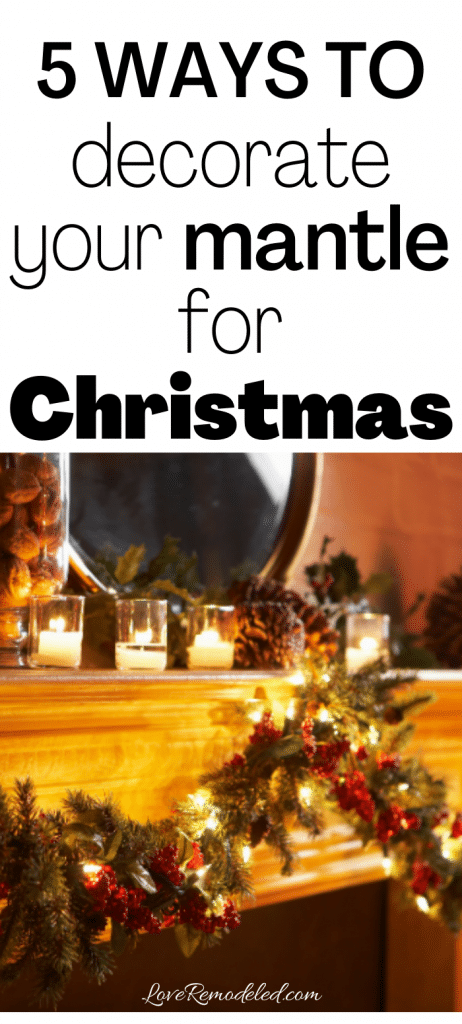 Ready to try something new? Check out these 6 holiday color schemes!