Decorating for the holidays is a fun, festive tradition each year. Decking your halls not only makes your home look nice, it also makes your home feel like Christmas – warm, merry and almost magical.
This post may contain affiliate links. If you have any questions, please see my disclaimer page.
If you grew up like I did, Christmas decorating consisted of hanging a bunch of handmade Christmas decorations on the tree, alongside a few of the "good" ornaments, putting a decorative snowman or Santa on the fireplace, and then setting one of these on an end table:
(Yes, you can still buy one of these – click on the picture to purchase a little piece of nostalgia).
While this made the home feel jolly, decorating for the holidays has evolved to be so much more. It is a chance to showcase your own personal style, whether it be modern, farmhouse, or traditional.
While in years gone by, everyone decorated for Christmas in pretty much the same way, we now have Christmas decorating themes.
The themes we'll cover are Classic Christmas, Silver and Gold, Winter Wonderland, Candy Christmas, Scandinavian (Nordic) Christmas, and Farmhouse Christmas.
So, whether you're looking for a sophisticated or fun way to decorate for Christmas, check out these five holiday decorating themes to inspire your festive decor choices.
Classic Christmas Theme
A classic Christmas decorating theme consists of all things that make us feel jolly – snowmen, santa, reindeer, and all things red and green.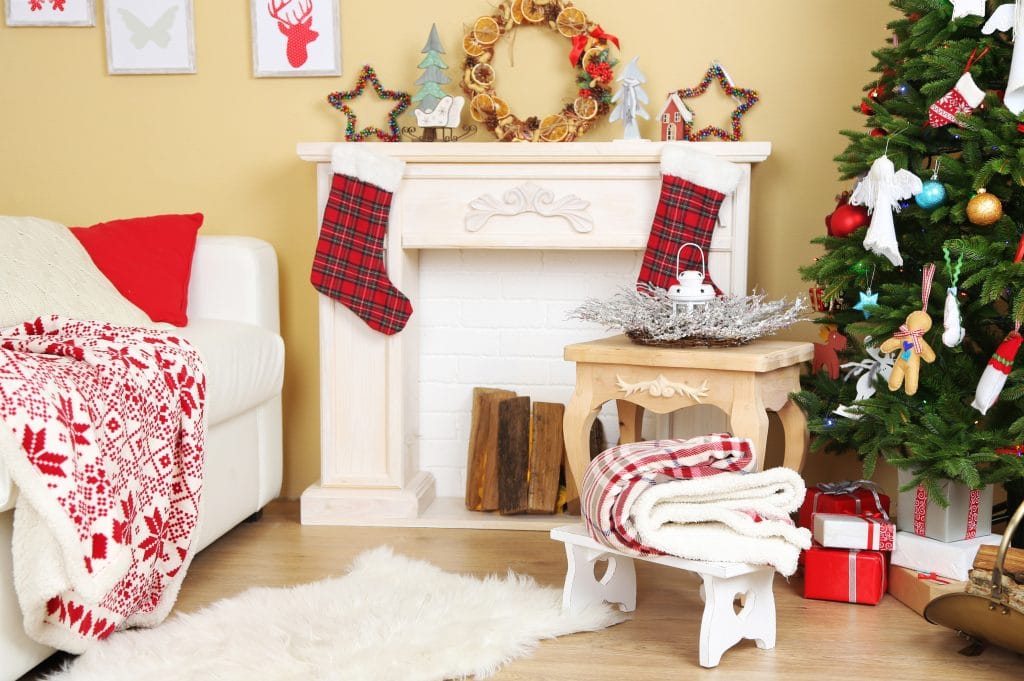 When I think of Christmas decorations, this classic holiday decor is what I think of.
Classic doesn't mean it has to be cheesy though (but it can if you want it to!).
Tall evergreen trees, with wide bases, tend to be the classic holiday tree. Decorate them with brightly colored ornaments and lots of white or colored lights.
Add a few stockings to the fireplace, a decorative nutcracker or two, and have a train running around the tree for that classic holiday look.
Pine garland is the perfect traditional holiday accessory to drape around a staircase handrail, put on top of your mantel, or to hang around your front door.
Classic Christmas Decor – Get the Look
If you're looking for a traditionally themed holiday decor, check out these finds.
(Click on the picture to see the price)
Silver and Gold Theme
Remember when the snowman on Rudolph the Red Nosed Reindeer sang, "Silver and Gold?" This song refers to silver and gold decorations on a Christmas tree – the hallmark of this classic holiday decorating style.
As the name implies, this theme has lots of silver and gold, but also includes lots of white and the greenery from a tree.
A silver and gold holiday theme is almost always classy and elegant.
Any type of tree works for this theme. Adorn the tree with glittery snowflakes, silver and gold balls, and a bright start at the top (or an angel, if that's what you fancy).
Almost every holiday decoration comes in silver and gold, so whatever you like best will work great and look amazing!
Silver and Gold Decor – Get the Look
If you're looking for a silver and gold holiday decor, check out these finds.
(Click on the picture to see the price)
Winter Wonderland
A winter wonderland holiday theme is pretty similar to a silver and gold theme Christmas, but with a lot more white to signify the snow that comes with the season.
The color palette for a winter wonderland themed home is white, white and more white (okay and maybe a dash of silver).
For example, you could include a white frosted Christmas tree with white ornaments, and lots of glittery silver tinsel or snowflakes.
A winter wonderland theme is elegant and cheery. It pairs sophistication with sparkle.
Winter Wonderland Decor – Get the Look
If you're looking for Winter themed holiday decor, check out these finds.
(Click on the picture to see the price)
Candy Christmas
A candy Christmas themed holiday isn't one of your most classic decor choices, but it sure is fun!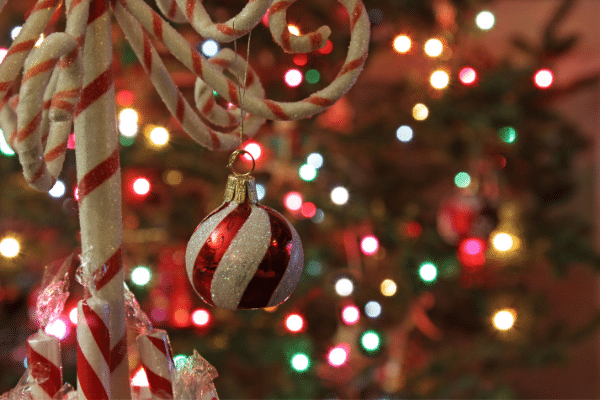 For this theme, think candy canes, gingerbread houses, and cookies, with a mostly red and white color palette. A candy Christmas is jovial and perfect for a home where children will visit for the holidays.
Snowmen also work really well with this theme.
Christmas Candy Decor – Get the Look
If you're looking for fun, candyland themed holiday decor, check out these finds.
(Click on the picture to see the price)
Scandinavian Christmas
Scandinavian Christmas decor, or Nordic Christmas, contains mostly white Christmas decor, with accents of silver.
This look ties in really nicely with a modern or minimalist type home, because you can do anything from a very sparsely decorated tree, to a tree with a fairly heavy decoration like the tree above.
One of the differences in a Nordic Christmas theme is the actual holiday tree. While a Classic Christmas themed home may have a traditional triangular shaped tree (like a Spruce), a Scandinavian styled tree has more of a narrow shape with more room in between the branches.
White ornaments don the tree to bring in a crisp feeling, reminiscent of fluffy snow.
In addition to lots of white, red is frequently used as an accent color. For example, red berries are a great addition to a tree or mantle. They give the space a naturally festive look, without being too cheesy.
And then you have the traditional Swedish gnomes (sometimes called Scandinavian Santas), which add a bit of whimsy to your Christmas decor.
Nordic (Scandinavian) Decor – Get the Look
If you're looking for Nordic themed holiday decor, check out these finds.
(Click on the picture to see the price)