Beige and tan paint colors are a classic, neutral choice for a wall paint color.
These neutrals are warm and earthy, and serve as a great backdrop to a lot of coordinating colors.
But, are they in style right now? Keep reading to find out!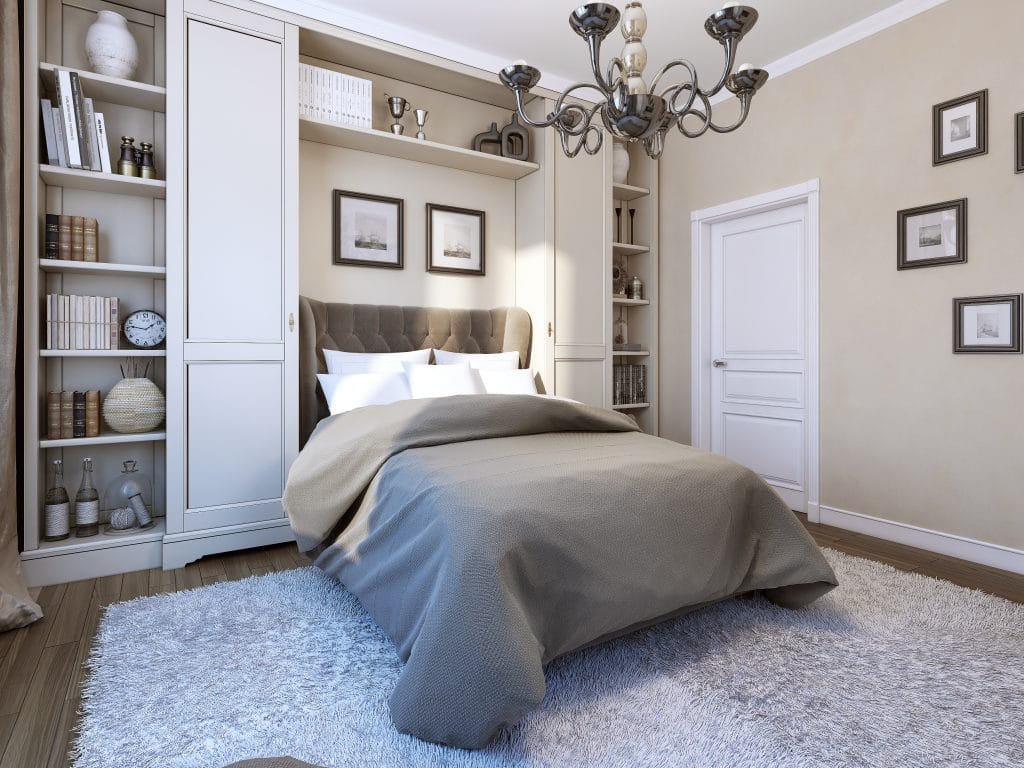 The Range of Neutral Paint Colors
The most popular paint colors for walls right now are neutrals. Due to their ability to serve as a backdrop for many different styles and all sorts of colors, neutral paint colors remain the top choice for homeowners.
Neutral paint colors are traditionally thought of as beige paint colors, but they also include grays, whites, and even a few "colors" that are grounded with gray undertones.
There are many variations of neutrals. You can have warm, yellow whites or cool bluish whites. You can have warm purple grays or cool bluish grays. And you can have a huge spectrum of beige paint colors ranging from warm golden beiges to cool greenish tans.
Before we dive into the actual paint colors though, let's talk for a minute about the undertones that can be present in beige and tan paint.
This post may contain affiliate links. If you have any questions, please see my disclaimer page.
Undertones in Beige Paint
If a color has yellow, orange or red undertones, it is a warm color. Warm paint colors can make a space feel cozy or energetic. They welcome you into the space with an enveloping feeling.
If a color has blue, green or purple undertones, it is typically a cool color. Cool paint colors are soothing and sophisticated. They tend to recede into the background more.
Beige paint colors can be either warm or cool, depending on their undertones.
Beiges that have purple undertones are considered taupe. Taupes can preset as either warm or cool. If they have more reddish tones, they will look warmer on your walls. But if they have more purple or grayish tones, they'll look cool.
Beiges with more brown in them are tan. True tan colors are pretty neutral in their "temperature" (whether they read warm or cool).
Beiges with green undertones are khaki colored. They'll typically be more cool on the walls.
Beiges with gray undertones are greiges. These are sort of like taupes, in that the particular makeup of their undertones will dictate whether the greige wall color reads warm or cool.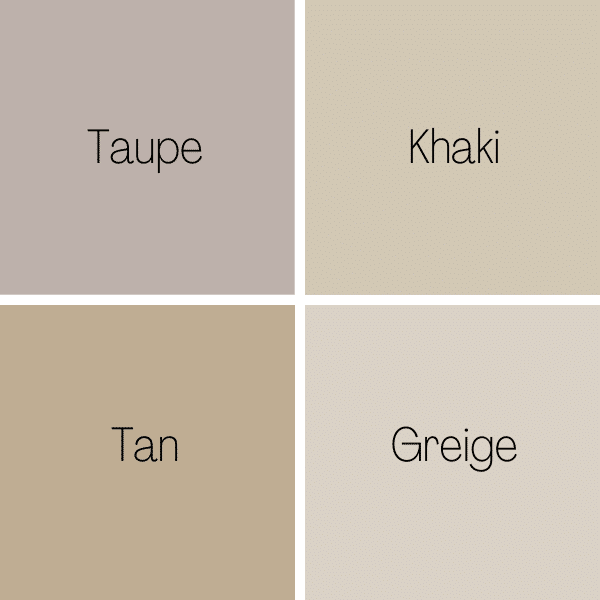 So, as you can see, the undertones in beige paint colors (and all paint colors) are pretty important.
They can change whether the room feels more energetic or calming.
In addition, some undertones are more "livable" than others. Green and pink undertones are typically thought of hardest to work with, so if you're concerned, steer away from paints with those.
Is Beige Paint In Style?
If you're painting your home, you most likely looking for a paint color that a) you love, and b) is in style.
If beige is your color, you may be in luck! Let's talk about the (relatively recent) history of beige paint.
Beige paint colors were the go-to choice for homes in the new 2000's. Every new build had that builder beige paint (alongside those granite countertops).
As with all things though, the beige wall style ended and the gray paint color phase was ushered in. Followed by the greige paint color trend (which is still hot, by the way).
There is rumor that beige is coming back though in 2020. In fact, Sherwin Williams listed several beige colors on their 2020 Color Forecast.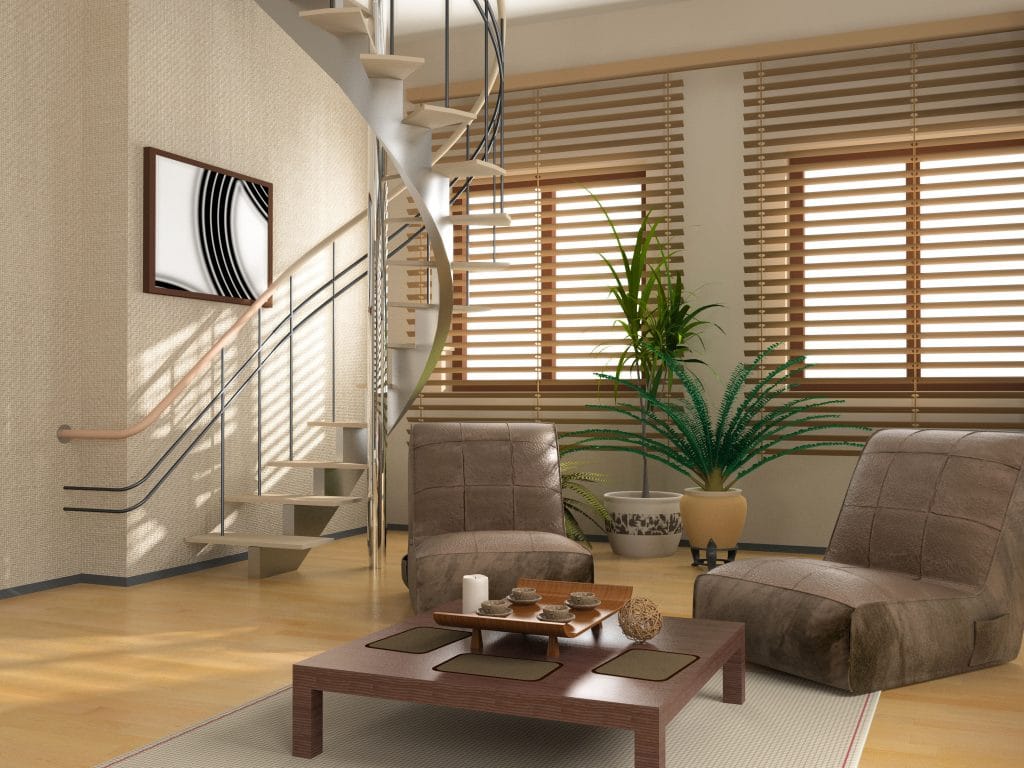 Top Beige and Tan Paint Colors
Before we start looking at the colors, I have an important note about beige and tan paint colors. Just because Sherwin Williams or Benjamin Moore give a paint color a name that includes "Tan" or "Beige" doesn't mean that the color is actually tan or beige. It all depends on the undertones.
So just keep that in mind when you're looking at the colors below.
Canvas Tan (SW 7531)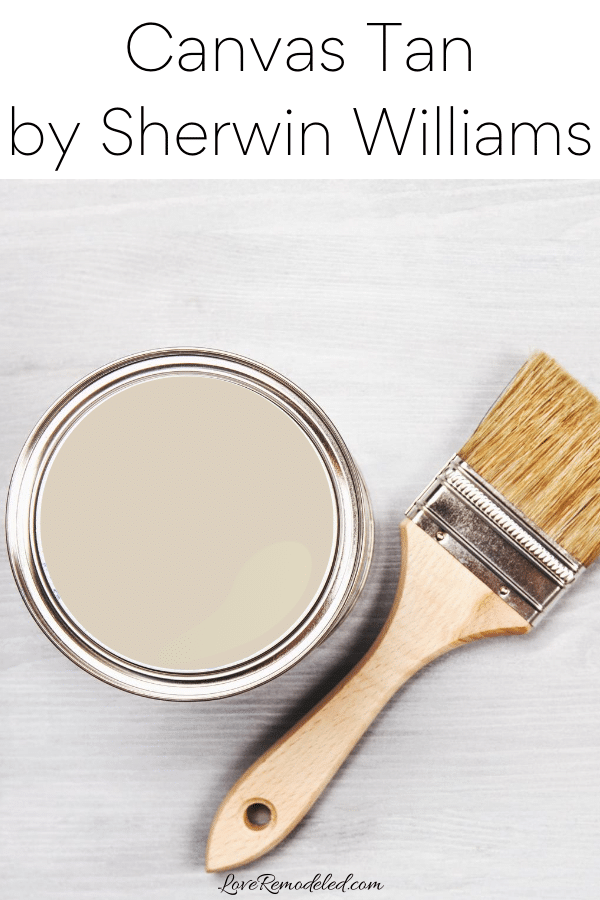 Canvas Tan is a light tan paint color with a bit of gray in it. It has almost an airy feeling to it, and is my favorite beige or tan paint color on this list.
With an LRV of 64, it is a part of Sherwin Williams' White and Pastel Paint Collection, because of how light it will appear on your walls.
Canvas Tan has a bit of yellow in it, but not that golden glow that some beiges carry.
Overall, it is also probably the best neutral beige paint color on the list, because it doesn't lean particularly warm or cool.
Grant Beige (HC-83)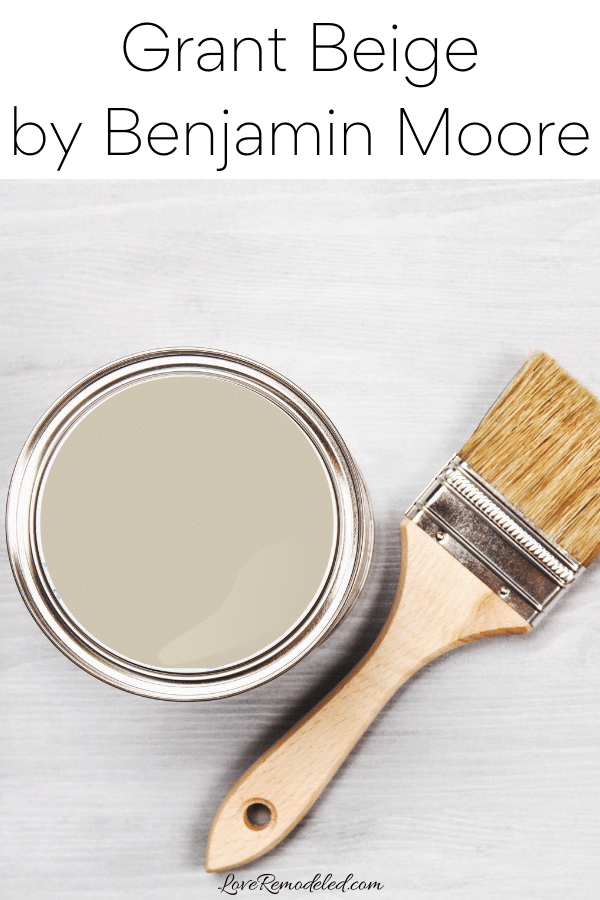 Grant Beige is a great choice for your room if you want an earthy, tan paint color that doesn't have those yellow undertones of a true beige.
Grant Beige is one of the best tan paint colors, because it is light enough to go in a lot of rooms, but dark enough to make a statement. It has an LRV of 56.
It may have the tiniest bit of green in it, but don't let that scare you. It's undertones are much less apparent than most beige or tan paint colors.
Stone Hearth (984)
Stone Hearth is a medium depth taupe color from Benjamin Moore's Classic Color Collection.
It has an LRV of 48, which puts it in the medium category of colors.
Stone Hearth has a slight purple undertone and a good amount of gray in it, so much so that we could probably classify it as a greige (a purply greige though). While it is a warm color, the gray and purple in it pull it back from being too warm on your walls.
Stone Hearth will read a little cool in a North facing room, but will really tone down a South facing room nicely.
This beige is a pretty on-trend color for 2020. It will look amazing paired with white trim, but also goes well with blonde and light colored wood.
Shaker Beige (HC-45)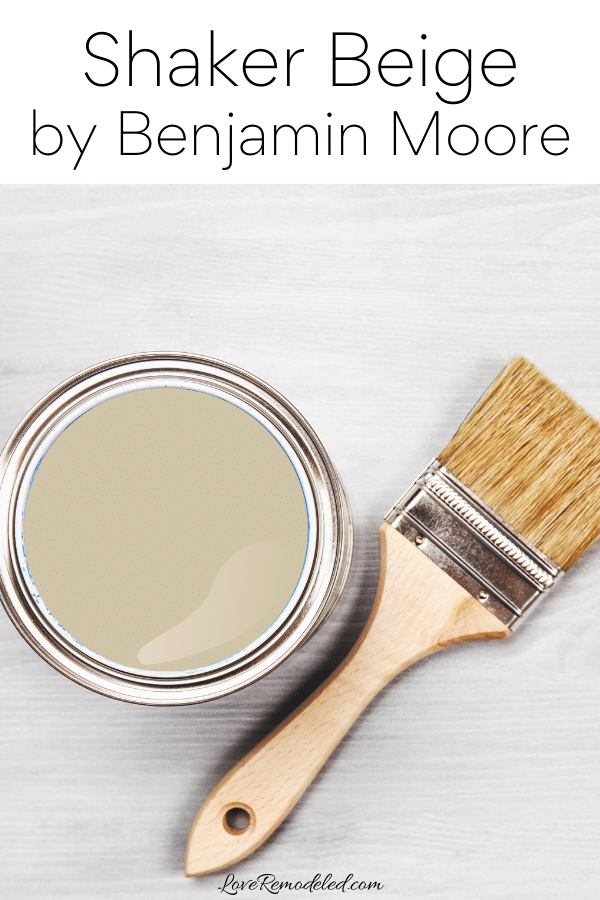 Shaker Beige is a popular Benjamin Moore beige that is reminiscent of a sandy beach. It is a part of the Historical Colors collection, which is a palette of colors that are favored by designers and homeowners.
It has an LRV of 54, which means that it will have some weight on your walls, but won't be too terribly dark.
Shaker Beige has a slight orange undertone, and just a hint of gray in it that helps tone it down.
Due to its orange undertone, Shaker Beige may not be your go to beige color if you want a shade that goes with cream colored upholstery. But, if you're looking to warm up a North facing room, Shaker Beige is a good choice.
Kilim Beige (SW6106)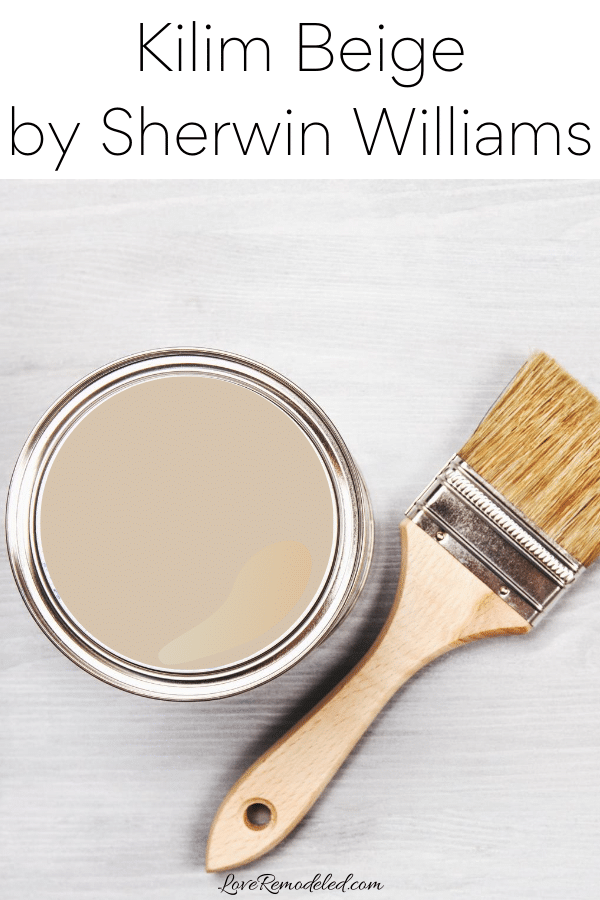 Kilim Beige, by Sherwin Williams, is a light beige color that has a slight orange undertone. It also has a barely-there tinge of a pink undertone that you don't notice unless you put it next to a beige with an orange undertone but NO pink.
These orange undertones make it one of the truest "beiges" on the list, because most people think of a orangy sort of color when they hear beige.
It has an LRV of 57, which puts it in the light category, will feel like a paint color with a medium depth on your walls.
You can get more details on Kilim Beige here.
Manchester Tan (HC-81)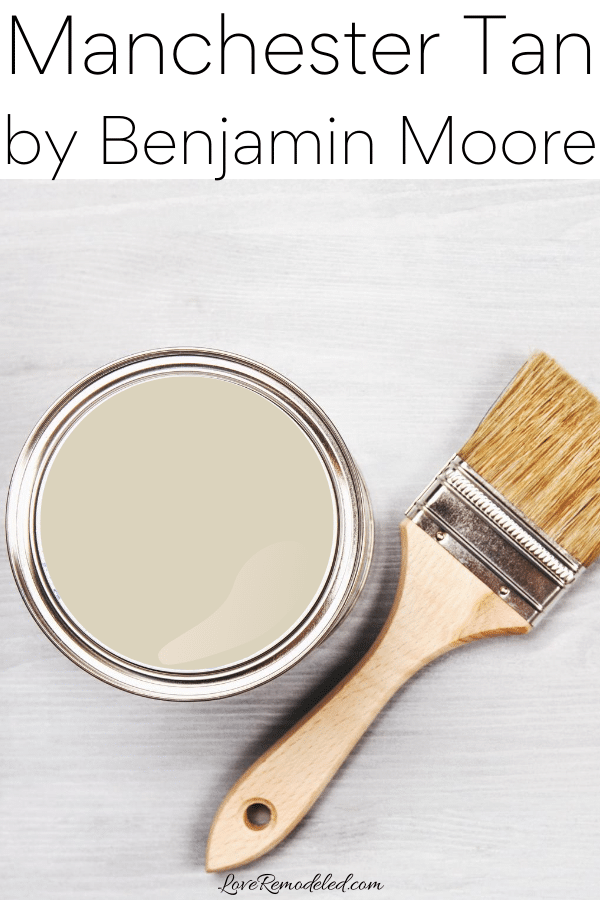 Manchester Tan, by Benjamin Moore, is a light, subtle beige paint color.
With an LRV of 64, it is fairly light, though not light enough that it will come off as an off-white paint color on your walls.
Manchester Tan is closer to a khaki color than some of the others on the list, with a hint of a green undertone. This green undertone makes it feel a bit more cool on your walls. It can be a great choice for a south facing room that you want to tone down a bit.
Overall, Manchester Tan is an elegant color that does well in homes.
Click here for more details about Manchester Tan.
Accessible Beige
I'll bet you're expecting a bit about Accessible Beige here… but you won't find it!
Accessible Beige is one of the most popular beige paint colors on the market, but I'll let you in on a little secret. It is not actually a beige paint color.
It is actually a greige paint color. While some of the shades on the list have just a touch of gray, Accessible Beige (which is probably the best gray beige paint color of all) has enough gray in it that I bumped it over to post on the Best Greige Paint Colors.
Check out this post on Accessible Beige for all the details about it!
What Style of Home Are Beige Walls Good For?
As a wall color, beige and tan paints set a nice neutral background for your accents. Beige and tan can go just as nicely with other neutrals as they do with warm, bright colors.
Because of this, beige and tan paint colors work well in many different style of homes.
For a monochromatic palette, beige and tan pair nicely with accent colors of white, ivory, cream and brown. This works well for a traditional, farmhouse or coastal style home.
For a more modern and trendy look, beige and tan are nicely offset with black accents.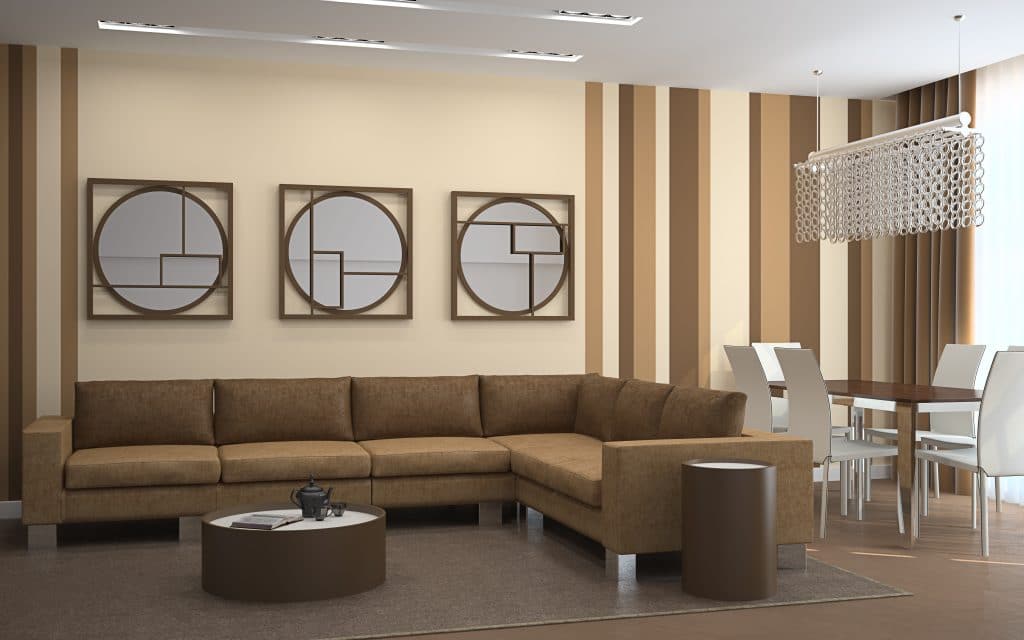 Or, pair beige walls with other warm shades, such as reds, oranges and yellows for a tuscan style home.
Final Thoughts on Beige and Tan Paint Colors
It is hard to choose which paint color is the best beige or tan, because it all depends on what you're looking for.
For a starting point, consider this:
If you want a neutral beige, check out Canvas Tan or Grant Beige.
If you're more interested in a warm beige, pick up a Samplize square of Shaker Beige or Kilim Beige.
If you want a cooler beige, take a look at Stone Hearth or Manchester Tan.
My biggest recommendation when picking a paint color is to see how the color looks in your home, with your furnishings and accent colors, and with your lighting.
The easiest way to do this is to get a Samplize sheet. These large stick-on paint samples are made from real paint (in all the best colors), so they will show you what each color will look like. You can remove them easily and put them on different part of the room to make sure the color is perfect!
Oh, and you can take $5 off your first order of Samplize paint squares!
I hope this post is helpful for you in picking a paint color! Feel free to drop me a question in the comment section if you'd like!
Want to see all your paint options in one convenient place? Click here to get everything you need to start painting, including Sherwin Williams and Benjamin Moore paint color decks!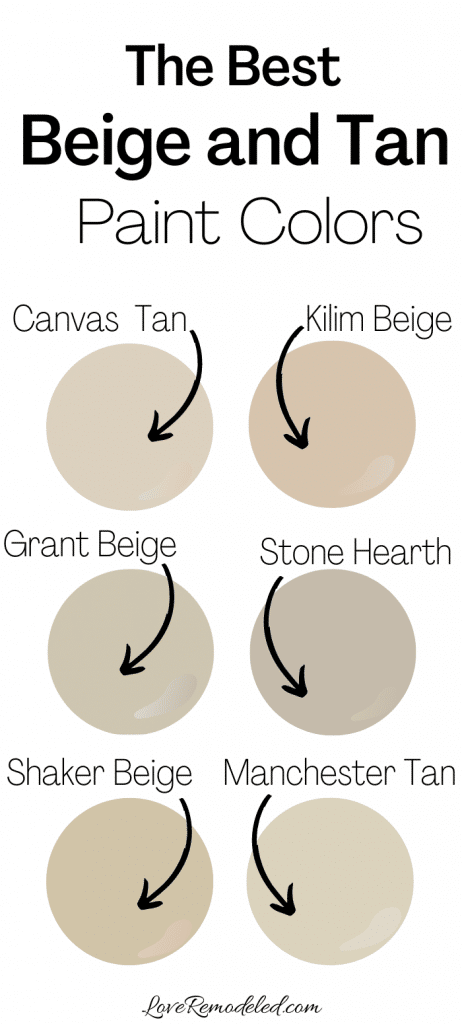 The Best Beige and Tan Paint Colors
Have a question or want to show off your project? Join the discussion in Love Remodeled's Facebook group!