Kilim Beige is a beige paint color by Sherwin Williams. It is included in Sherwin Williams' Top 50 Paint Colors collection because it is one of their most popular beige paint colors.
Kilim Beige is a traditional sort of beige that goes well in homes with more traditional finishes.
If this sounds like your home, keep reading for all the details on Sherwin Williams Kilim Beige.
This post may contain affiliate links. If you have any questions, please see my disclaimer page.
What Color is Kilim Beige?
Sherwin Williams Kilim Beige is a soft and cozy paint color that feels welcoming. It is a true beige, with its foundation being more orange than tan.
Kilim Beige has an LRV of 57. LRV stands for Light Reflectance Value. The LRV scale goes from 0, which is completely black, to 100, which is completely white.
An LRV of 57 is in the medium range of paint colors. It has a good amount of depth, but isn't too terribly dark.
In fact, Kilim Beige works in most spaces, though you may find that it does best with average or more than average lighting conditions.
What are the Undertones of Kilim Beige?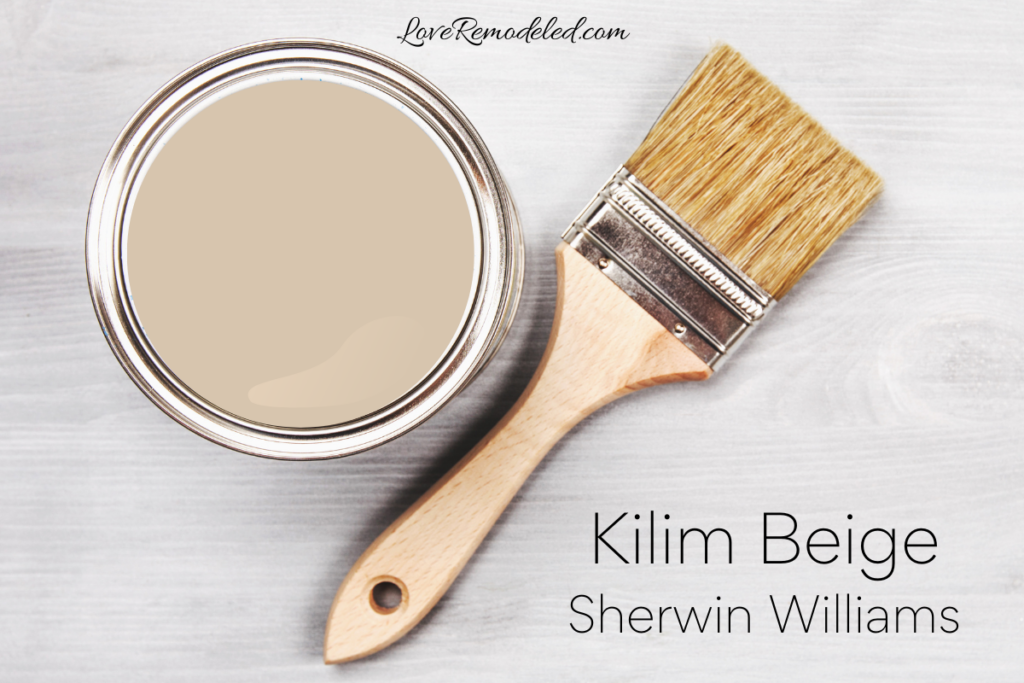 Sherwin Williams classifies Kilim Beige as an orange paint color, due to its strong orange undertones. In addition to having orange undertones, Kilim Beige also has a slight pink undertone.
Kilim Beige doesn't really look peach on your walls, but you may see it's pink undertone come out from time to time.
The undertones in Kilim Beige makes it appear more like a traditional beige paint color, such as those that were so popular in the 90s.
It is very reminiscent of the color of travertine tiles, which were also popular in that time. If you still have travertine tiles in your home, Kilim Beige may be a great paint color to coordinate with them.
In warmer, southern light, Kilim Beige will look even warmer, showing off that orange undertone that it has. In cooler, northern light, Kilim Beige will appear a bit more muted.
Is Kilim Beige a Warm or Cool Color?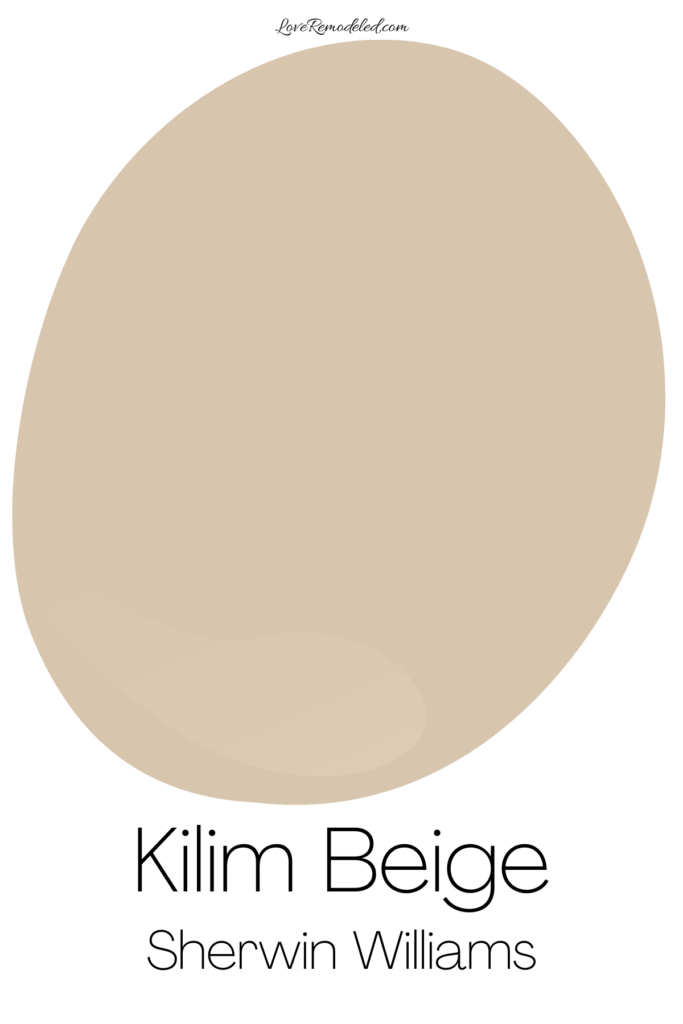 Since Kilim Beige is a beige paint color with orange and pink undertones, it is definitely in the warm category of paint colors.
In fact, Kilim Beige is a very warm shade, even more warm than other beige paint colors.
Many more modern beiges have a bit more gray and a bit less orange in them. But since Kilim Beige has a lot of orange and pink, with very little gray, it comes across as very warm.
What Colors Go with Sherwin Williams Kilim Beige?
Kilim Beige tends to go with lighter or darker beiges with similar undertones, creamy whites, navys, blue grays and some blue green shades.
If you're looking for paint colors that coordinate with Kilim Beige, check out Divine White, Latte and Storm Cloud.
Divine White is a very light beige paint color with similar undertones to Kilim Beige. In fact, it is so light, it can be considered an off-white shade. Latte is a darker beige shade that really is just about in the brown family. It shares a paint strip with Kilim Beige. Storm Cloud is a dark grayish blue that perfectly coordinates with Kilim Beige.
Trim Colors for Kilim Beige
Kilim Beige is a warm paint color and definitely works best with other warm white paint colors.
For trim, my top two favorite trim colors are Pure White and High Reflective White.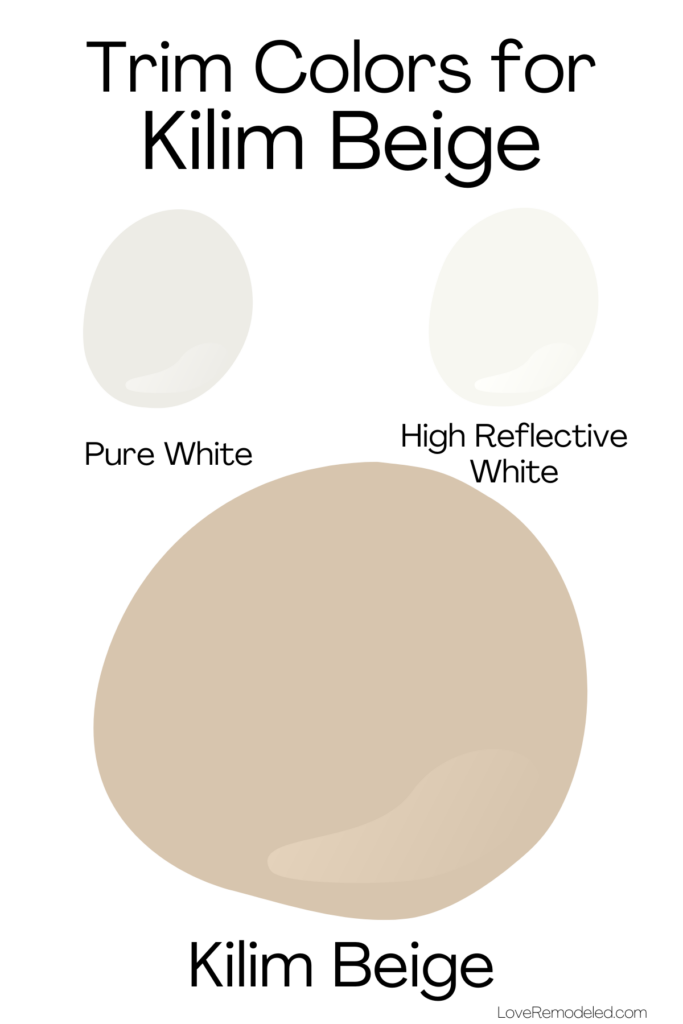 Pure White is a soft white with gray and yellow undertones. It tends to work with most warm paint colors.
High Reflective White is Sherwin Williams lightest and brightest white paint color. It is a very clean white that hints warm, making it great for someone who wants a very white looking trim shade.
But, since Kilim Beige has a bit of depth to it, you may want a bit less contrast with your trim shade. In this case, look at a shade like Futon, which has similar undertonqes to Kilim Beige.
But, if you plan to repaint again in the future and aren't sure you want a trim color with pink/orange undertones, I would recommend sticking with either Pure White or High Reflective White, as they are more versatile for pairing with wall paint colors.
Kilim Beige Paint Strip
Kilim Beige shares a paint strip with several other beige and brown paint colors.
While this doesn't mean that they are all lighter or darker versions of each other, or that they all even have the same undertones, it tends to mean that they are a good starting place when looking for coordinating or accent colors for a paint color.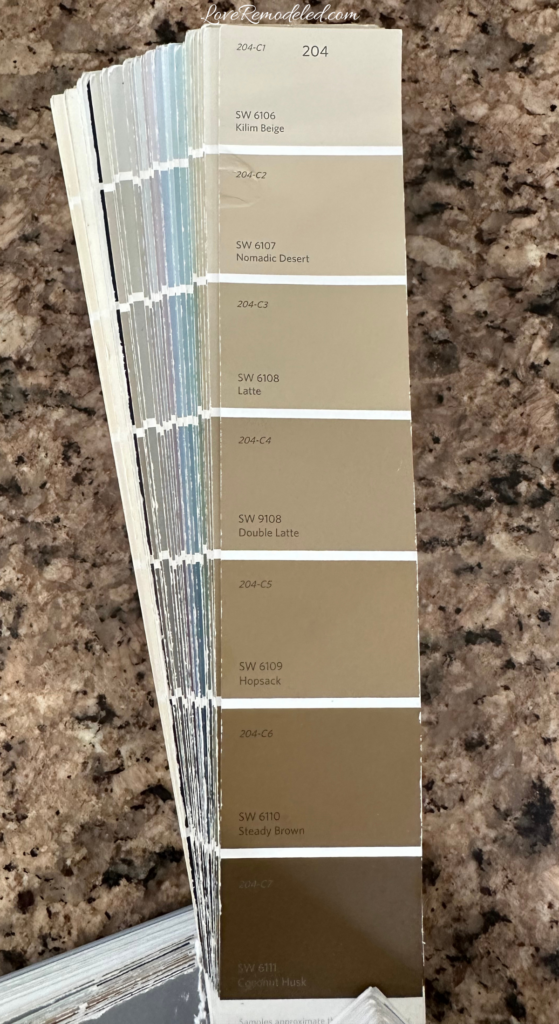 The Kilim Beige paint strip contains the following paint colors:
Kilim Beige
Nomadic Desert
Latte
Double Latte
Hopsack
Steady Brown
Coconut Husk
Where Can I Use Sherwin Williams Kilim Beige?
Kilim Beige is a great color for walls or home exteriors.
On home exteriors, Kilim Beige goes well with stone or brick with similar undertones. It also looks amazing as a trim color next to gray or gray blue siding, such as siding painted in Storm Cloud.
In kitchens, Kilim Beige looks good when paired with granite or quartz with similar undertones.
You can use Kilim Beige as a whole home color, or just in specific rooms like living rooms or bedrooms.
Kilim Beige Compared to Other Paint Colors
If you're considering Kilim Beige, one of the best ways to decide whether it is the right paint color for you is to compare it to other popular beige paint colors.
So, let's look at Kilim Beige in comparison to Accessible Beige, Natural Linen, Manchester Tan and Shaker Beige.
Hopefully, it will help you decide which is best for you.
Kilim Beige vs Accessible Beige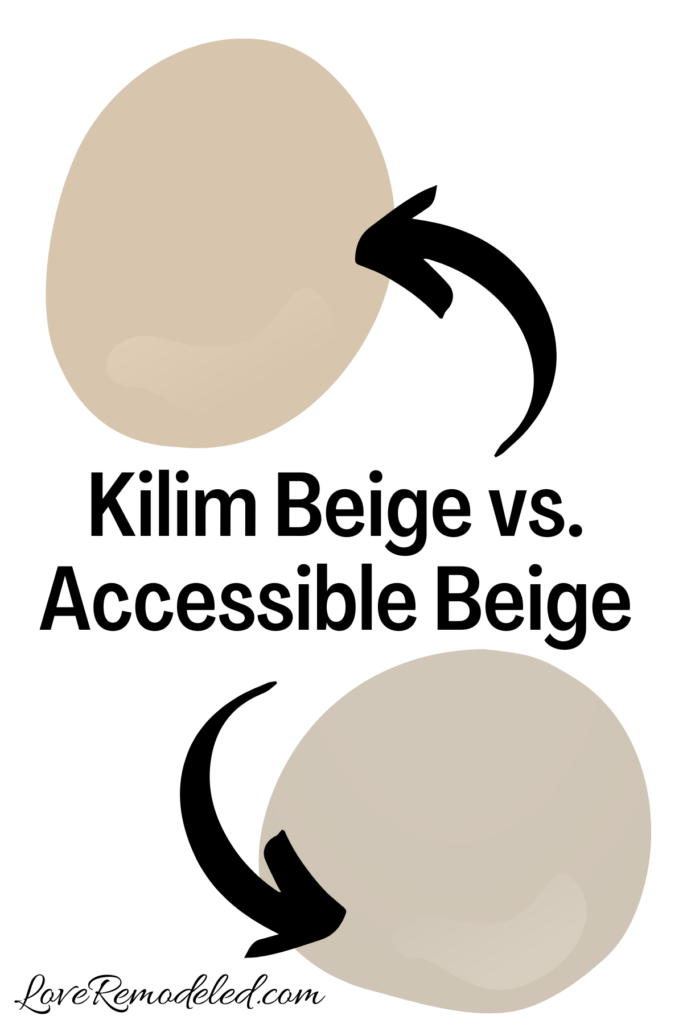 Accessible Beige is a greige paint color by Sherwin Williams. It is a blend of gray and beige that favors beige, but still has a good amount of gray in it.
Accessible Beige is a popular color because it gives a nod to beige without overcommitting to it.
It tends to come across as warm but not orange, making it a great beige for some homes.
If you aren't fully committed to a beige paint color, but need a neutral with a bit of warmth, Accessible Beige might be a good paint color for you.
Kilim Beige vs. Natural Linen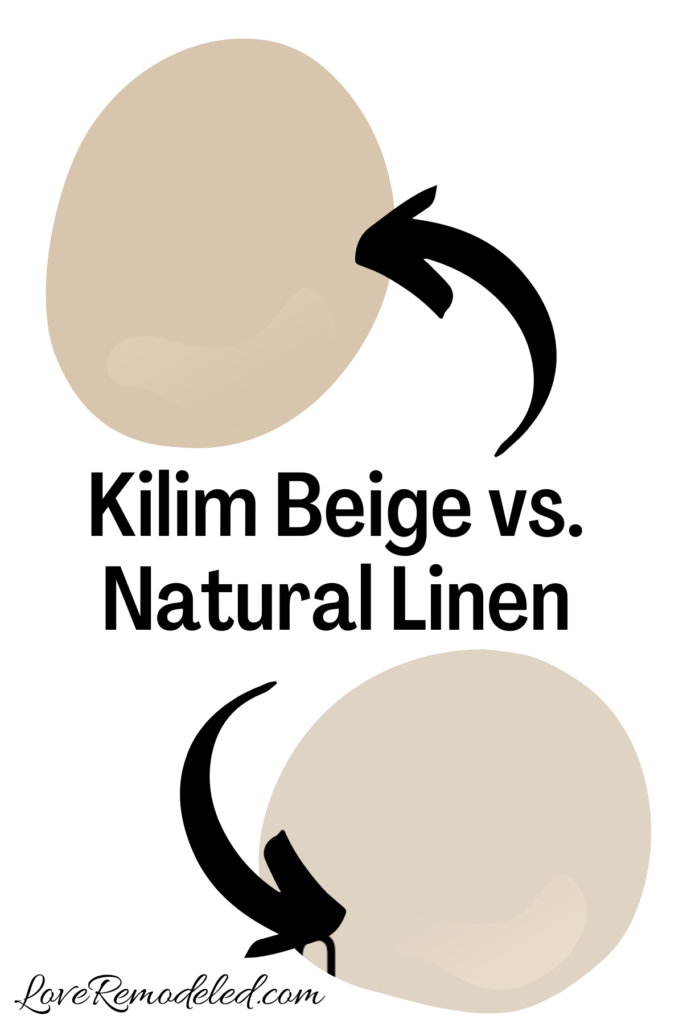 Natural Linen is another popular beige paint color by Sherwin Williams.
Natural Linen has a good bit more gray in it, making it appear less like a traditional beige. Additionally, it doesn't have quite as much orange in it as Kilim Beige does, so the whole appearance tends to be a bit more modern.
Lastly, Natural Linen is lighter than Kilim Beige, giving off a more airy look.
If you are choosing a beige to coordinate with other beige things in your home, you will need to compare a sample of these shades to those items to determine which is best.
But, if you're just looking to repaint and love beige paint shades, Natural Linen may be a bit easier to pair with modern finishes.
Kilim Beige vs. Manchester Tan
Manchester Tan is a popular beige paint color by Benjamin Moore, despite them naming it "tan."
In fact, Manchester Tan is so popular it is included in Benjamin Moore's Favorites Fan Deck.
Manchester Tan is a blend of beige and gray. It has a bit less orange than Kilim Beige, and is a little bit lighter.
Overall, it is probably a more usable paint color than Kilim Beige, because its undertones aren't quite so strong.
But, this doesn't mean that Kilim Beige won't be perfect in your space. It just all depends on what other tones you have going on in the room.
Kilim Beige vs. Shaker Beige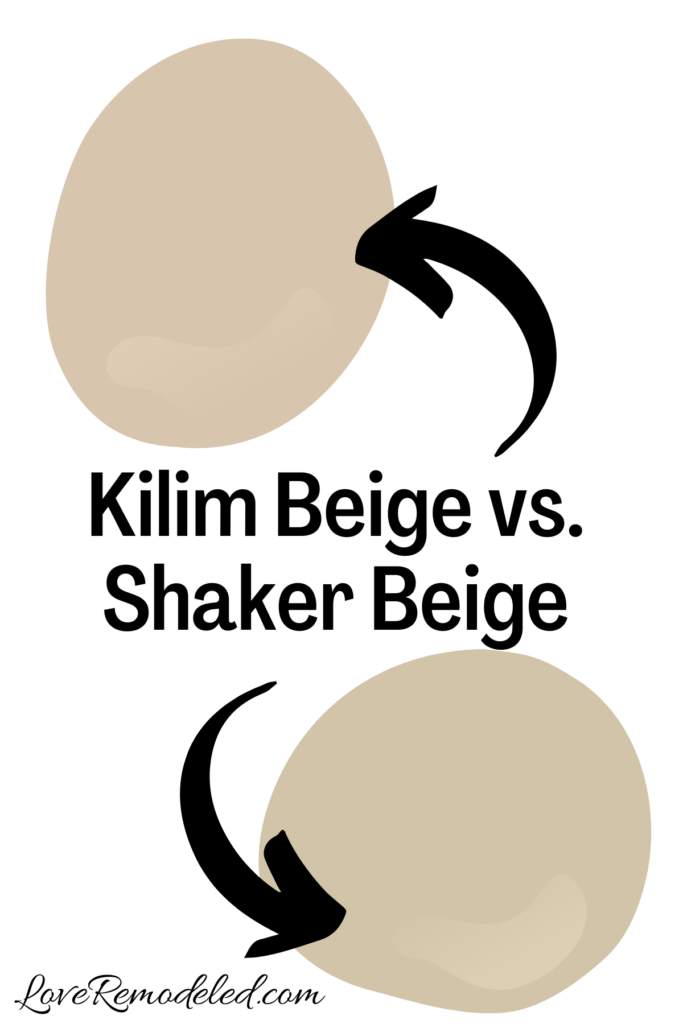 Shaker Beige is a Benjamin Moore paint color that has a lot of similarities to Kilim Beige.
It is about the same depth, and also has a good bit of orange in it. But, Shaker Beige has a bit less pink, making it look slightly lighter than Kilim Beige.
Both are pretty traditional looking beiges, as they lack the gray tones that tends to modernize paint colors.
Again, these beiges has just slight nuanced differences, so the best way to know which is better in your space is to get a sample of them both.
What is a Lighter Version of Kilim Beige? What is a Darker Version of Kilim Beige?
With Sherwin Williams paint colors, there are no lighter or darker versions of the same exact paint colors. But, you can look at the specific blends of shades that make up each paint color and find similarities between them.
If you like Kilim Beige but want something a little lighter, I would recommend checking out Manchester Tan by Benjamin Moore.
If you like Kilim Beige but want something a little darker, I would recommend taking a look at Nomadic Desert.
Wondering how to pick the perfect paint color?
I have the best solution for you!
Samplize sells 9×14.75 stick-on paint sheets in almost every paint color.
These no-mess, peel and stick sheets are made from real paint, so they will show you exactly what the paint color will look like.
Simply place them on your walls next to your trim, furnishings or fixed elements, and easily see whether the paint colors work in your space and with your lighting. Then, peel the sheet right off your wall and reapply it somewhere else if you like!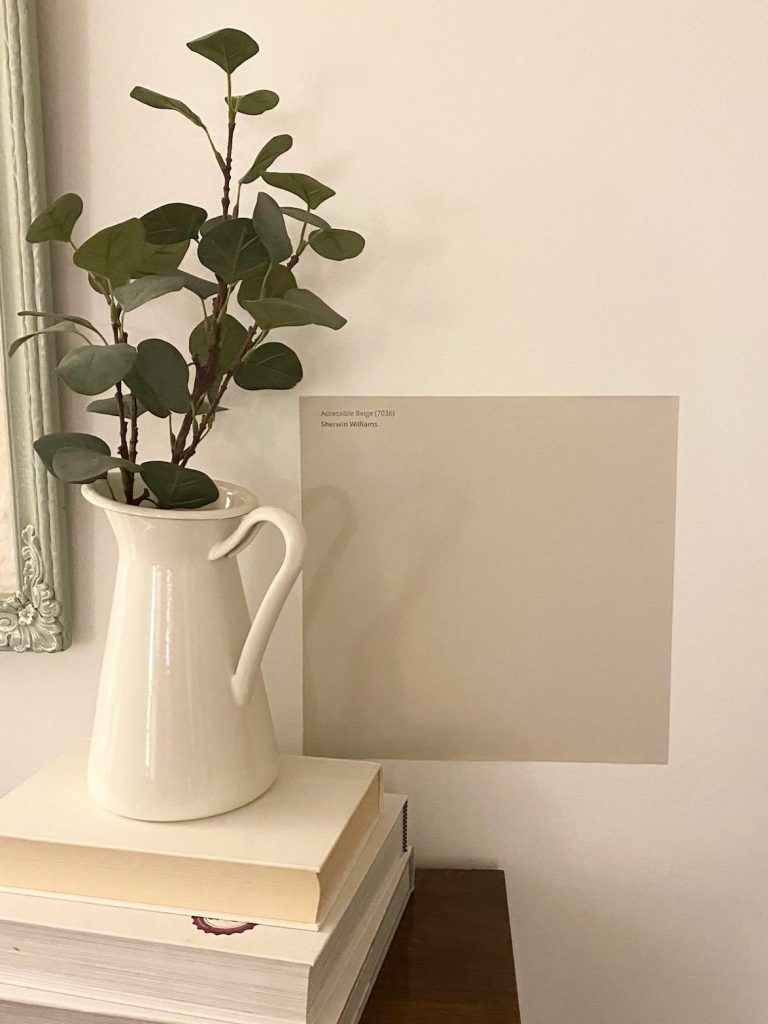 Oh, and you can have them in your home by tomorrow with OVERNIGHT shipping!
As a little tip, if you enter your email, you'll get $5 off your first order! Samplize sheets cheaper than a sample can of paint, and way less work!
Samplize sheets are truly the easiest (and fastest!) way to try a paint color in your home, with no mess.
Final Thoughts on Sherwin Williams Kilim Beige
Kilim Beige may be the perfect paint color for your space if you want a very traditional looking beige.
It is oftentimes the perfect beige for painting a home that has finishes from the 90's, because it carries the same undertones as many of the most popular beiges that were used then.
Pick up Samplize's most popular light beige paint colors bundle here. It includes most of the beige paint colors talked about in this article, and a few more as well.
If you're interested in other popular beige shades, check out this post on the best beige and tan paint colors.
Have a question or want to show off your project? Join the discussion in Love Remodeled's Facebook group!
Want to see all your paint options in one convenient place? Click here to get everything you need to start painting, including Sherwin Williams and Benjamin Moore paint color decks!