Pure White Paint Color, by Sherwin Williams, is a go-to white paint color for walls, trim, exteriors, cabinets, and more.
Pure White is part of the Trendsetter, Dreamer, Pottery Barn – Fall/Winter 2020, Timeless White, 2020 Play, Acute Care Cool Foundations, ABC's and 123's, Inbe Tweens, Teen Space, 2021 Sanctuary collections from Sherwin Williams.
Basically, this means that it is extremely popular. It has been chosen by designers repeatedly as a no-fail white paint color.
What Color is Pure White?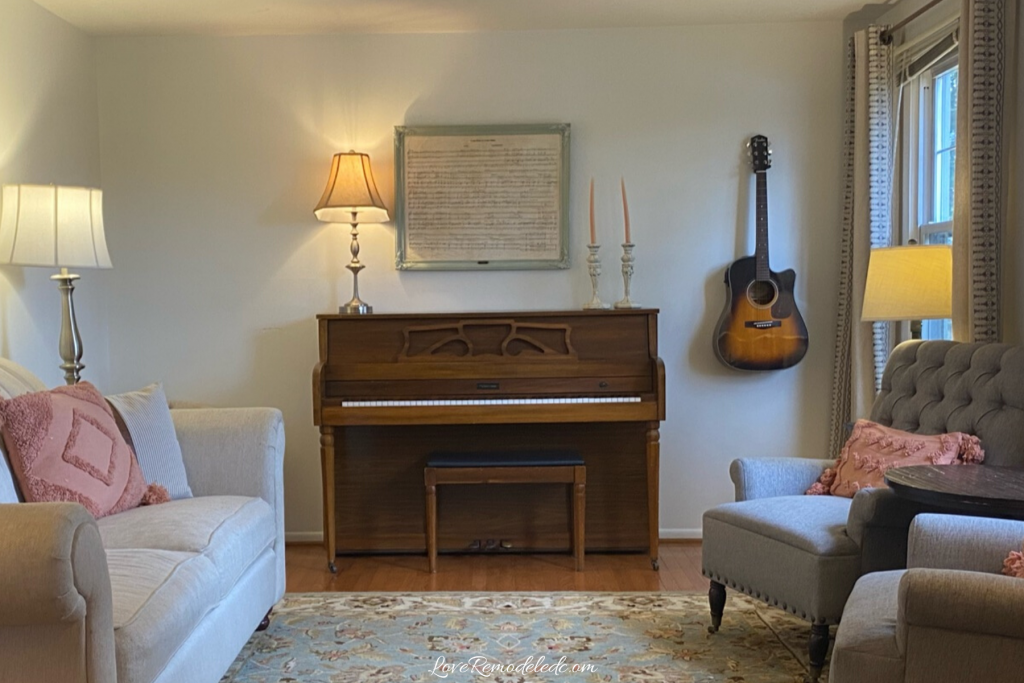 Sherwin Williams' Pure White is a very bright white paint color that is not overly stark. It is a good, fairly clean white that is not too white, but also doesn't lean in any particular color.
Let me explain that statement a little bit.
It can be hard to define white paint colors in terms of what they are, without also discussing what they are not. For example, Pure White is not a bluish white, is not a yellow white, is not too stark, is not too cool, is not a soft white, and is not too warm.
I would guess that Sherwin Williams gave it the name Pure White because it is not any of those things.
It is, as the name suggests, just purely white (almost).
With that being said, all white paint colors (and actually just about all any color paint colors) have undertones.
This post may contain affiliate links. If you have any questions, please see my disclaimer page.
Pure White Undertones
Pure White is a very white paint color, but it does have a hint of a gray undertone. This gray undertone serves to ground the paint color, and keeps it from being too stark.
Pure White also has just the slightest nod towards a yellow undertone. This makes it come off as slightly warm, but not in any perceptible way.
Basically, the yellow in the formula for Pure White keeps it from going cool. It will likely never look yellow on your walls or trim though (unless you have very yellowy lights in the room).
Sherwin Williams Pure White almost perfectly straddles the line between warm and cool. This is why you will see some websites say it is a cool color and other websites say it is a warm shade.
Because it is so bright, and not a soft white, many will say it is cool. But, because it has that nod towards yellow, which is a warm color, it actually lands in the warm category of paint colors.
But it is really ever so slightly warm. This is why I think it is the perfect white paint color that goes with everything.
Pure White has an LRV, or Light Reflectance Value, of 84. Since the LRV scale goes from 1-100, this means that Pure White reflects a ton of light, and is a pretty white white (yes, I know I said 'white' twice).
Where Should I Use Pure White?
In my opinion…
Pure White is the best Sherwin Williams white paint color for trim (also called baseboards). On trim, it looks crisp, clean and bright, but not blue, yellow or dingy.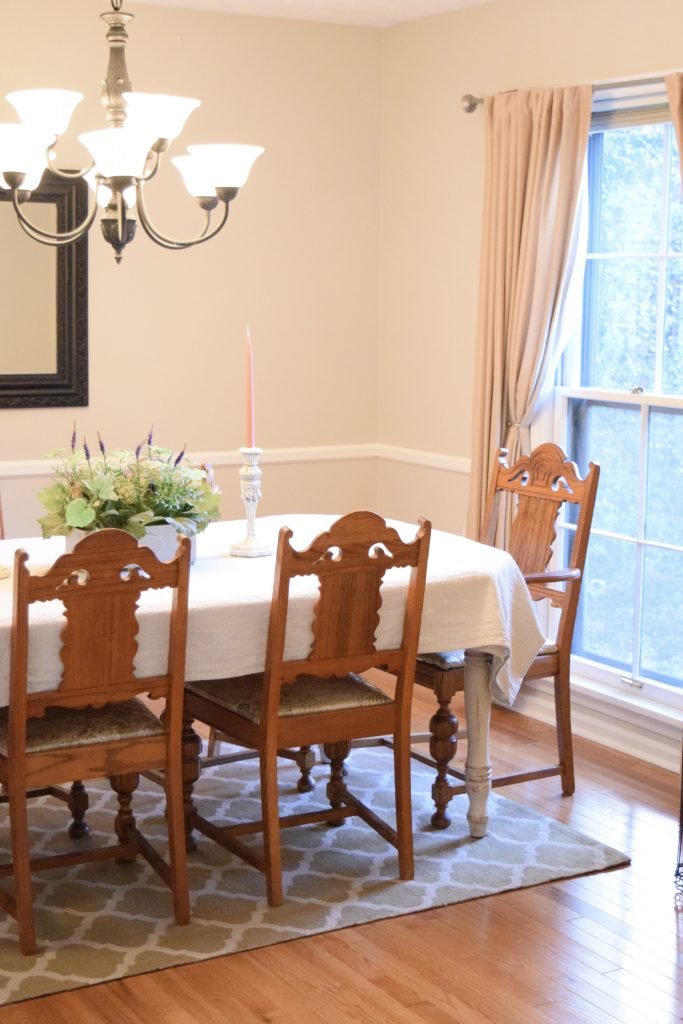 Because it doesn't have much in the way of undertones, it goes perfectly with almost any wall paint color. In fact, I list it on this post about the best white paint colors for every surface as the best white paint color for trim.
Pure White paint color ranks as one of the most popular paint colors for trim, alongside Extra White and Super White.
In addition, Sherwin Williams Pure White can also be used on walls, ceilings, exteriors, and doors.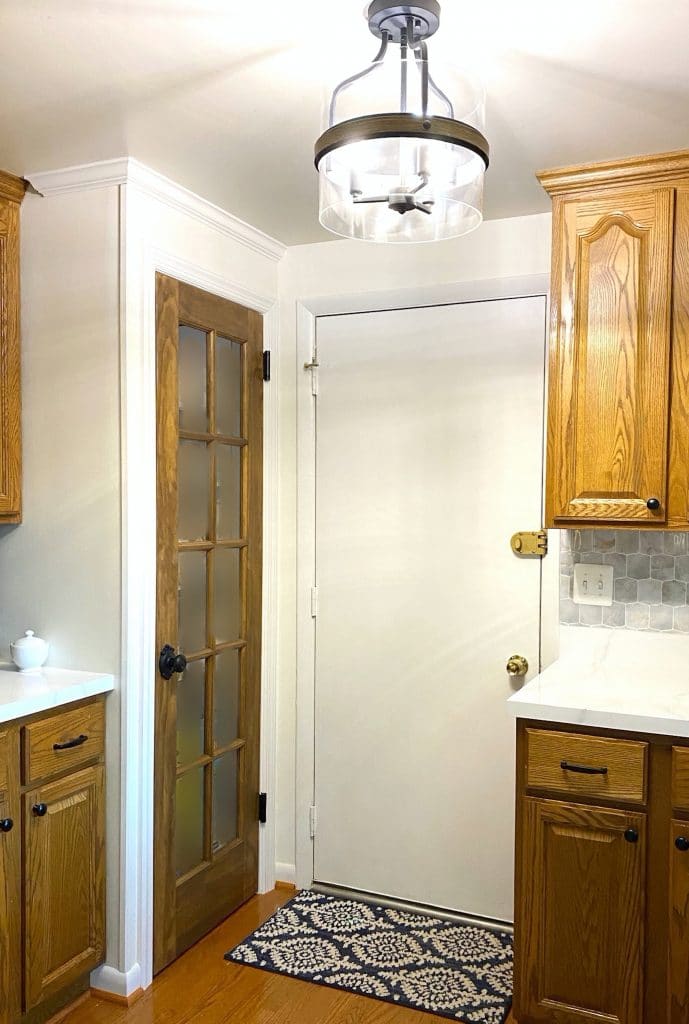 The 2020 White Paint Color Trend
Have you seen the white paint trend that is all over Pinterest right now? Many of these pictures are of a white paint like Pure White.
While I can't say for certain that they actually Sherwin Williams' Pure White, the crisp look they demonstrate, without being too cool or too warm, is entirely reminiscent of Pure White paint color.
I am going to compare Pure White to a few other popular white paint colors, but before I do, let's talk for a minute out how to choose the best white paint color for your home.
Wondering how to pick the perfect paint color?
I have the best solution for you!
Samplize sells 9×14.75 stick-on paint sheets in almost every paint color.
These no-mess, peel and stick sheets are made from real paint, so they will show you exactly what the paint color will look like.
Simply place them on your walls next to your trim, furnishings or fixed elements, and easily see whether the paint colors work in your space and with your lighting. Then, peel the sheet right off your wall and reapply it somewhere else if you like!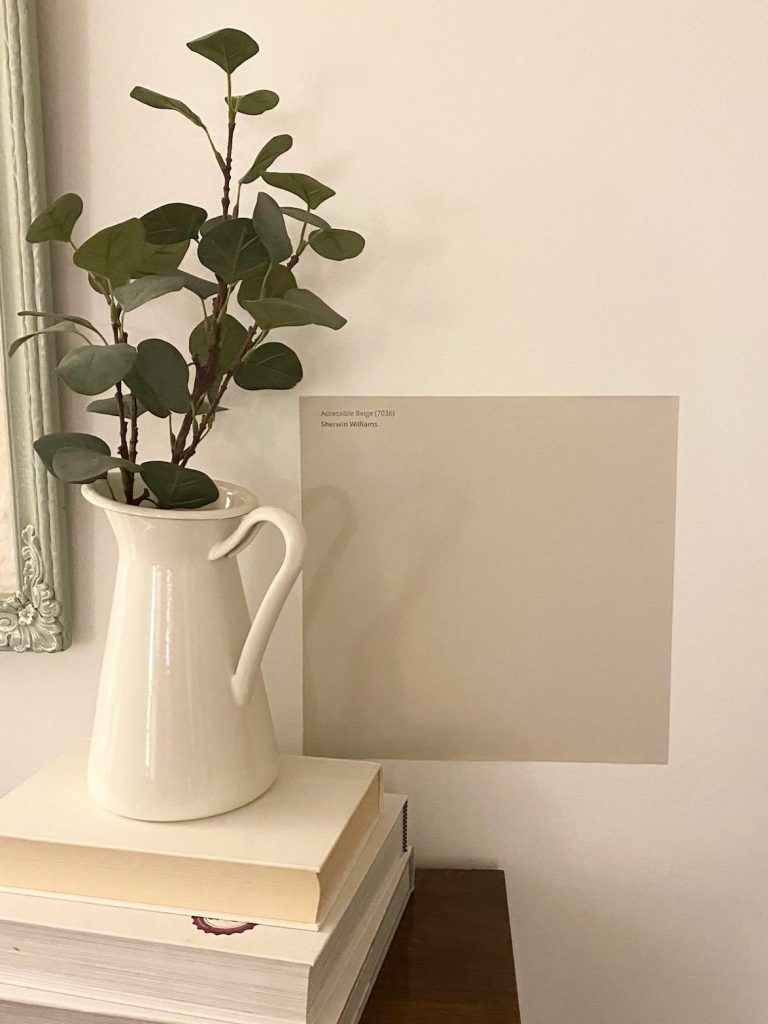 Oh, and you can have them in your home by tomorrow with overnight shipping!
As a little tip, if you enter your email, you'll get $5 off your first order! Plus, if you buy 8 samples, you get 2 more for free!
Samplize sheets are truly the easiest (and fastest!) way to try a paint color in your home, with no mess.
Pure White Paint Color Comparisons
Pure White vs. Sherwin Williams Extra White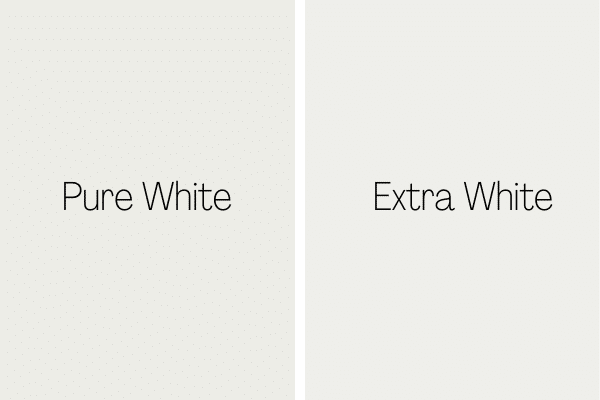 For our first color comparison, lets look at Pure White and Extra White.
Pure White and Extra White are probably the most popular white paint colors for trim. And, both are great, but for different rooms.
While Pure White is has a touch of gray in it, Extra White carries a soft bluish undertone. This hint of blue puts Extra White firmly in the cool category of paints.
In a room with warm colors, I would also go with Pure White over Extra White. In a room with cool colors, I find that either Pure White or Extra White work. But, you want your room to have that crisp, clean look, you may want to choose Extra White.
Pure White vs. Alabaster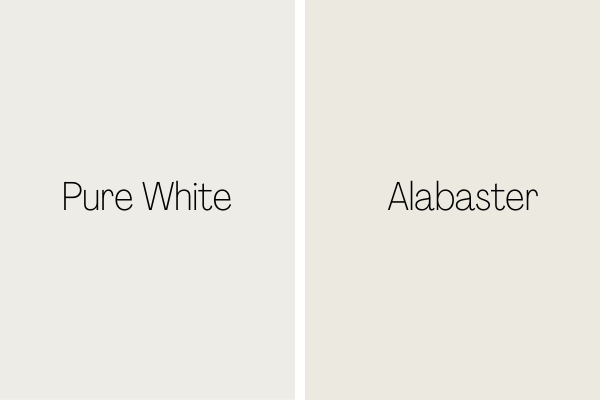 For our next comparison, take a look at Pure White vs. Alabaster.
Alabaster is one of Sherwin Williams' most popular paint colors. Click on this link to learn more about the paint color Alabaster.
As you can see from the picture, both Pure White and Alabaster have hints of gray in them, but Alabaster has a lot more yellow or beige in it than Pure White does.
This makes Alabaster come off as softer, warmer and much less crisp than Pure White. Alabaster is a great trim or wall color if you want to warm up a room, but it won't go as well in a room with cool accents.
In addition, if you want your trim or walls to look like a crisp white, you will want to paint them Pure White over Alabaster.
Pure White vs. High Reflective White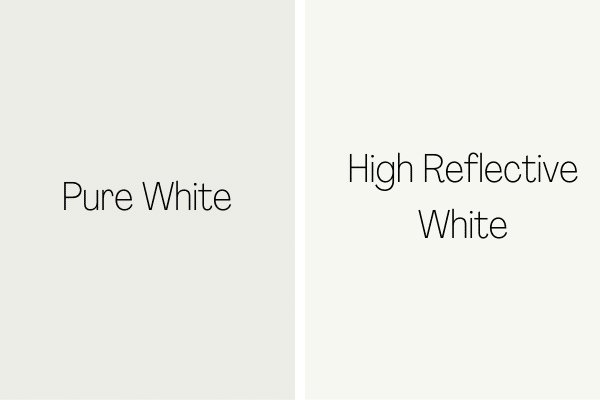 Next, take a look at Pure White vs. High Reflective White.
High Reflective White is probably the whitest white paint color you can pick. It doesn't have really any undertones, and it is bright bright bright.
Lest you think that this means it is the perfect white, hold on. I have been told that it doesn't cover very well. I haven't tried it on my own, so I can't verify, but you may want to ask at Sherwin Williams before you purchase a big can of it.
Click here for a full paint color review on High Reflective White.
Pure White vs. Snowbound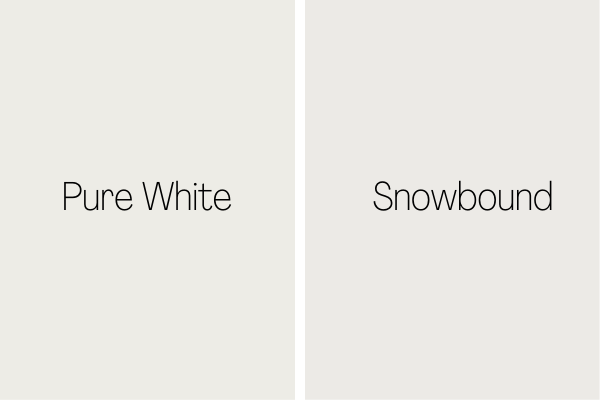 For one last color comparison, let's look at Pure White and Snowbound.
Snowbound is a cool white with gray undertones. It has an LRV of 83 (Pure White's LRV is 84), and is a very similar depth of paint color to Pure White.
Snowbound is a very popular paint color for walls and trim, and they are actually pretty similar colors. Where they differ is that Pure White has that touch of yellow, where Snowbound does not.
If you want a cool paint color with no warmth, but is not particularly stark, Snowbound might be a good choice for you.
Click here to read more about Sherwin Williams Snowbound.
Final Thoughts on Sherwin Williams Pure White Paint Color
Pure White is one of my favorite Sherwin Williams paint colors because of its versatility. It is a great color for trim, crown molding, walls, exteriors, cabinets, furniture, and more. Plus, it can coordinate with either warm or cool paint color and accents, because it really straddles the line between warm and cool.
When you want a no-fail white paint color, strongly consider Pure White for your home.
Want to see all your paint options in one convenient place? Click here to get everything you need to start painting, including Sherwin Williams and Benjamin Moore paint color decks!
Have a question or want to show off your project? Join the discussion in Love Remodeled's Facebook group here!