Swiss Coffee is a popular off-white paint color by Benjamin Moore. It is a part of the Benjamin Moore of the "Favorites" fan deck, which means that it is one of the top 75 paint colors that Benjamin Moore sells.
Benjamin Moore Swiss Coffee is a sophisticated, soft paint color.
There are actually several paint companies that carry a paint shade named "Swiss Coffee". In fact, when I first because a homeowner, before I knew anything about paint colors, I heard about Swiss Coffee and went to get a can.
Not knowing that it was a Benjamin Moore shade that was so commonly raved about, I purchased a Valspar shade named "Swiss Coffee." It was still beautiful, but not the Swiss Coffee that I thought I was getting!
So, just to make sure we're all thinking about the same paint color, today we're going to discuss Benjamin Moore's Swiss Coffee.
This post may contain affiliate links. If you have any questions, please see my disclaimer page.
Benjamin Moore Swiss Coffee Paint Color Characteristics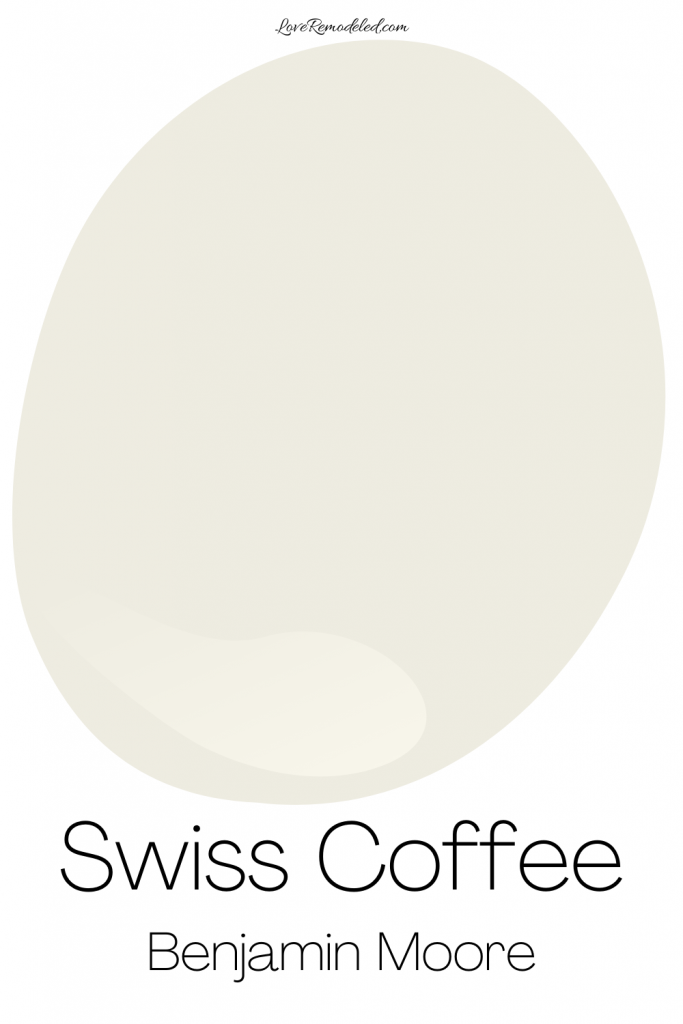 Swiss Coffee is a soft white paint color that falls into the off-white range of shades. It isn't a bright white.
Instead, Swiss Coffee is a creamy white paint color.
It is calming and lovely. Swiss Coffee is cozy, without being too yellow.
Benjamin Moore Swiss Coffee LRV
Swiss Coffee has an LRV of 83.
LRV stands for Light Reflectance Value. This is a scale that provides information about how much light a color will reflect back into the room. It also tells us some a bit about how light or dark a paint color is.
The LRV scale goes from 0, which is completely black, to 100, which is completely white.
As you can see, an LRV of 83 is relatively high up on the scale. True white paint colors tend to have higher LRVs though, so we know that Swiss Coffee has some color to it.
Benjamin Moore Swiss Coffee Undertones
Swiss Coffee has yellow, gray and green undertones.
The yellow undertones are the most powerful, but they are toned down a bit by the gray in Swiss Coffee. The gray adds a nice bit of balance to Swiss Coffee because it keeps it from being overly bright and sunny. Last, Swiss Coffee has just a hint of green in it.
The green in Swiss Coffee can be a bit tricky. It can show up as an unexpected guest, so its important to be aware of this prior to painting your walls.
Is Swiss Coffee Warm or Cool?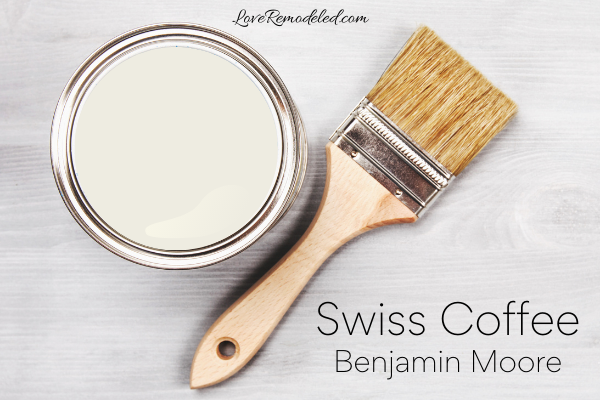 With its yellow undertones, Swiss Coffee is a warm white paint color. It gives off a cozy, inviting feeling.
Where Can I Use Benjamin Moore Swiss Coffee?
Swiss Coffee can be used on walls, on trim, or on home exteriors. In fact, this versatility is part of what makes Benjamin Moore Swiss Coffee paint so popular.
Swiss Coffee is a great paint color for a traditional, contemporary, coastal or farmhouse style home. It works as a warm, neutral backdrop.
Benjamin Moore Swiss Coffee Complimentary Colors
Swiss Coffee is a soft, off-white, but that doesn't mean it can just go with any other paint color. In fact, it tends to go better with darker paint colors than lighter ones.
For example, Benjamin Moore pairs Swiss Coffee with Nightfall, a nearly black paint color, and Mr. Rainier Gray, a blue-ish gray paint color with a bit of depth to it.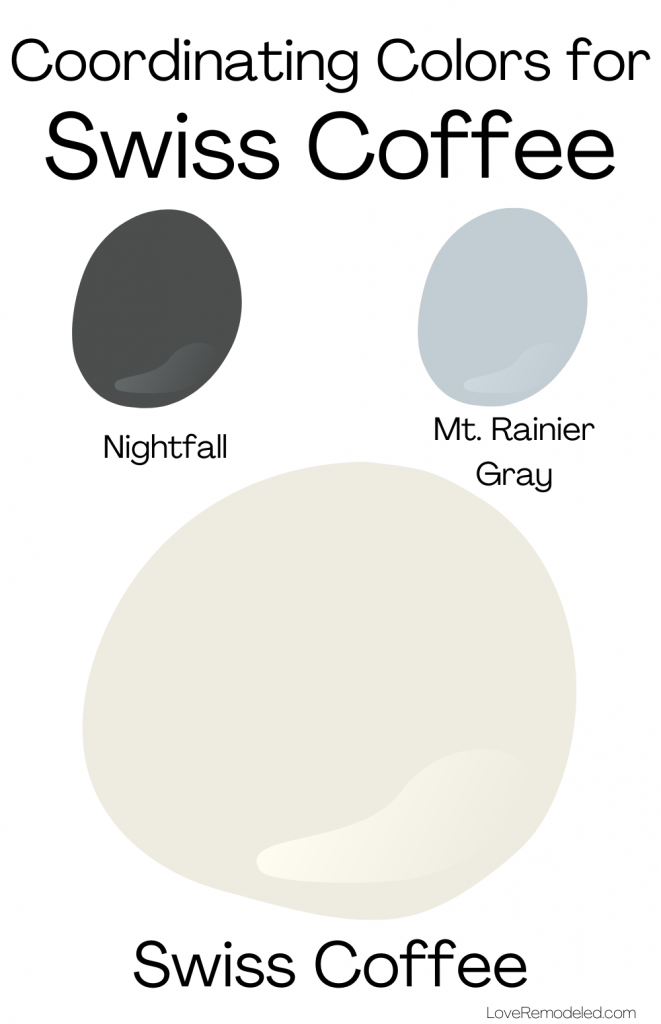 This Swiss Coffee color scheme works in farmhouse, modern, contemporary and traditional style homes.
For a second color scheme, Swiss Coffee is paired with Nickel, a steely gray paint color, and Senora Gray, a greige paint color. This color scheme is a bit more classic than the first.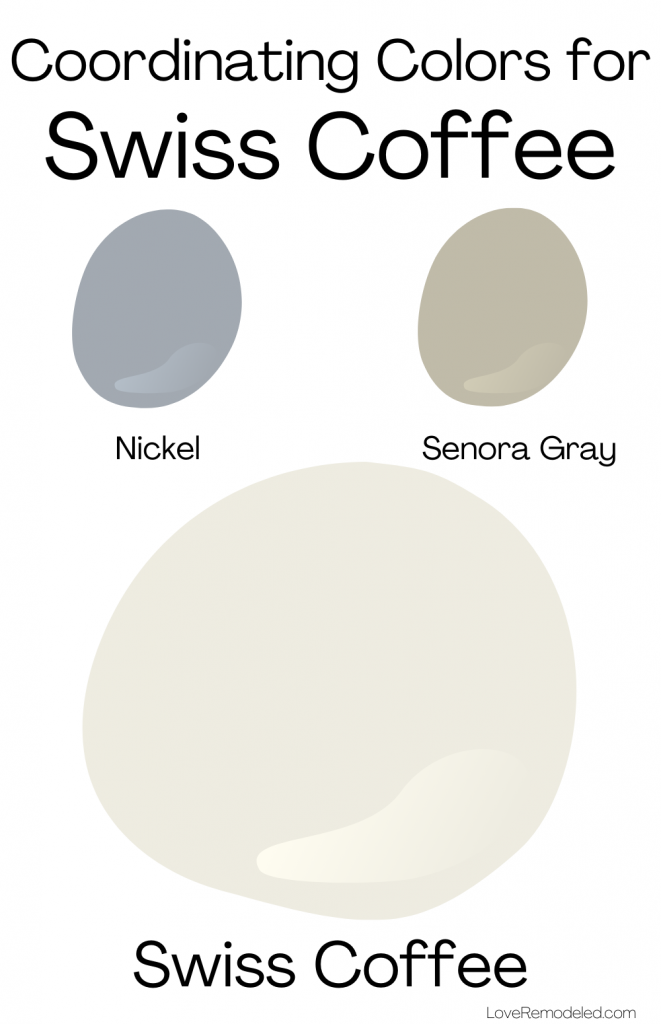 Swiss Coffee and Classic Gray
People frequently wonder if Swiss Coffee goes with Classic Gray. Classic Gray is another popular Benjamin Moore paint color. It is light and airy.
Overall, Swiss Coffee and Classic Gray paint colors are okay together.
I probably wouldn't use them in the same room for a few reasons. For example, they are fairly similar in depth. They don't play off each other, and instead run the risk of looking fairly similar. Additionally, you may find that one pulls out an odd undertone in the other.
But, I would use Swiss Coffee and Classic Gray in the same house, assuming the rooms didn't run into each other.
Swiss Coffee and White Dove
A second paint color pairing that people frequently question is whether Swiss Coffee and White Dove work together.
White Dove is another off-white paint color by Benjamin Moore. We will talk more about White Dove later when I compare it to Swiss Coffee, but for now, I'll just say that I wouldn't recommend using Swiss Coffee and White Dove together.
Benjamin Moore Swiss Coffee Trim Colors
Finding a good trim color for an off-white paint color can be a difficult thing.
This is because all white paint colors have different undertones, and getting those undertones to work together requires a bit of planning. You can't just put two white paint colors together and expect them to work.
If so, you may find that a shade that previously looked white now looks yellow.
For Swiss Coffee, the easiest way to get a perfect match with your trim color is to paint your trim in Swiss Coffee. This tone-on-tone look is very nice, and ensures that all the undertones match perfectly. If you choose this route, you can differentiate the different surfaces by the sheen you choose.
For example, you can do the walls in Swiss Coffee in an eggshell or satin, and the trim in a semi-gloss. This slight sheen difference will make the trim look brighter and lighter than the walls, even though they are the same color.
The other option you have for a white paint color to go with Swiss Coffee is Chantilly Lace. Chantilly Lace is my go-to Benjamin Moore white paint color for trim. It is clean and bright, perfectly white and almost warm.
This makes Chantilly Lace a great white trim color because it goes with almost any other paint color.
Click here to learn more about Chantilly Lace.
So, to summarize, if you want a white trim paint color to go with Swiss Coffee, I would recommend going with either Swiss Coffee itself, or with Chantilly Lace.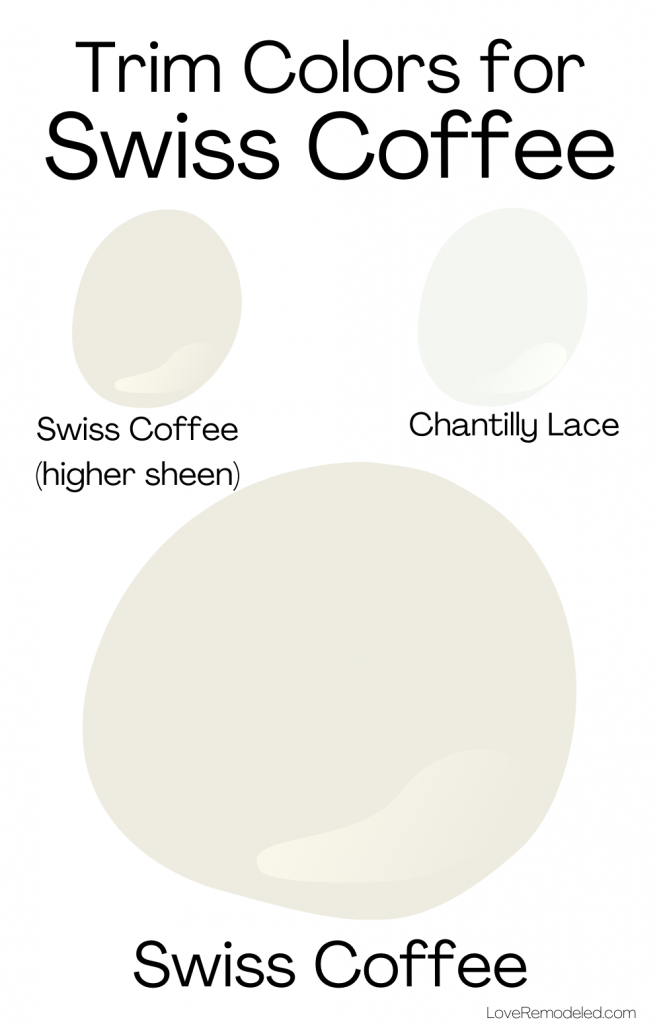 Benjamin Moore Swiss Coffee Compared
If you are considering Benjamin Moore Swiss Coffee, you are probably also considering a few other popular paint colors alongside of it.
In an effort to help you decide which paint colors may work best for your home, I am going to take a minute to compare Swiss Coffee to other soft, white or off-white paint colors. Specifically, we will look at Swiss Coffee versus White Dove, Alabaster and Greek Villa.
Swiss Coffee vs. White Dove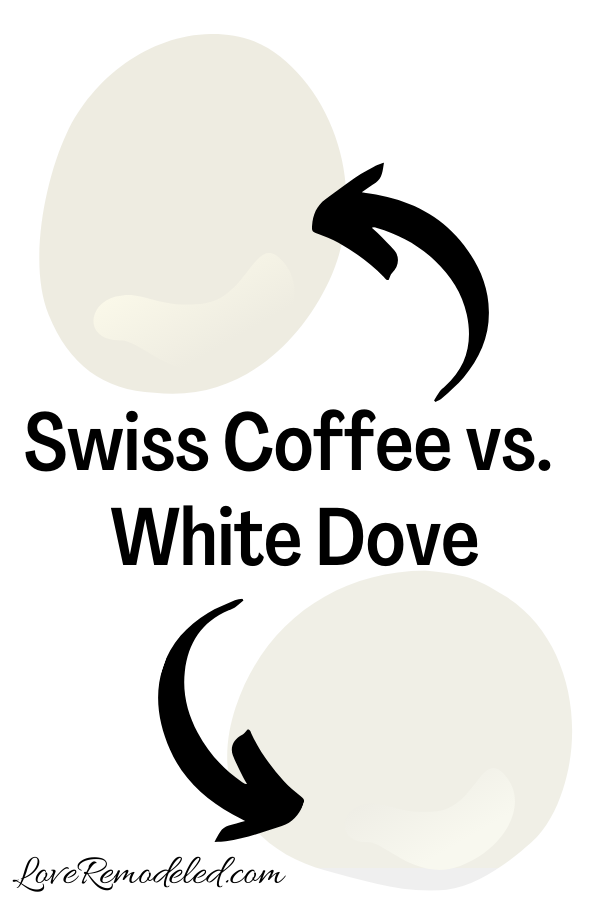 As I mentioned earlier, White Dove is an off-white paint color by Benjamin Moore. It is very similar to Swiss Coffee, except that it does not have a green undertone to it. Instead, White Dove has creamy yellow undertones and just a hint of gray.
In fact, it is probably a better paint color than Swiss Coffee. They have nearly identical LRVs and depths, but White Dove is just more versatile than Swiss Coffee. The green undertone in Swiss Coffee makes it a bit of a wild card at times.
So, if you want a soft, off-white paint color that just sort of works, White Dove is a favorite for a reason.
Click here to learn more about White Dove.
Swiss Coffee vs. Alabaster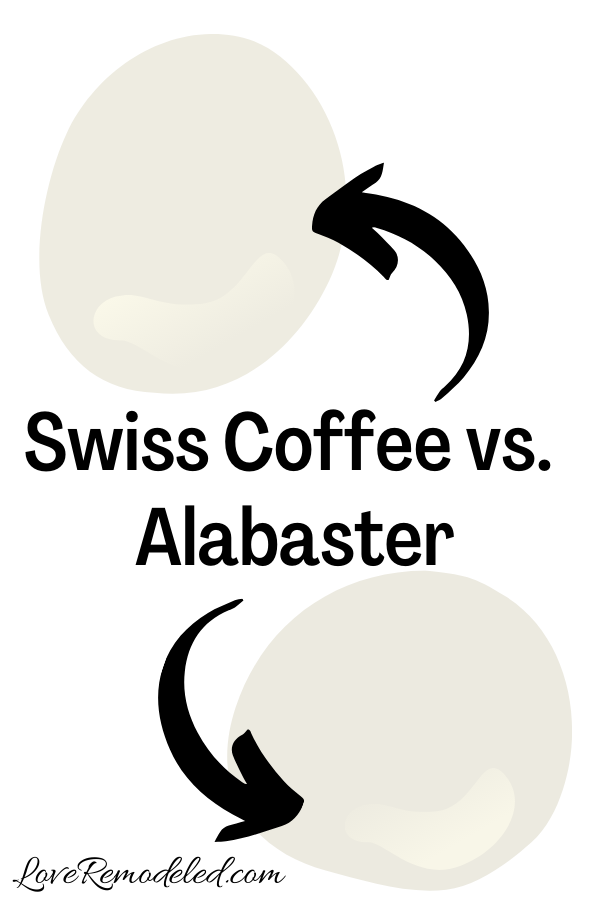 Alabaster is one of Sherwin Williams most popular white paint colors. It is a soft, warm white with yellow and gray undertones.
In a lot of ways, Alabaster and Swiss Coffee are very similar. They are both light off-whites. They have very similar depths and LRVs.
Swiss Coffee has a bit more gray in it though. And, Alabaster lacks those green undertones that Swiss Coffee has.
This makes Alabaster a safer choice for most people's walls. By choosing Alabaster instead of Swiss Coffee, you eliminate the risk of having the paint color show up as a bit green.
Click here to learn more about Alabaster.
Swiss Coffee vs. Greek Villa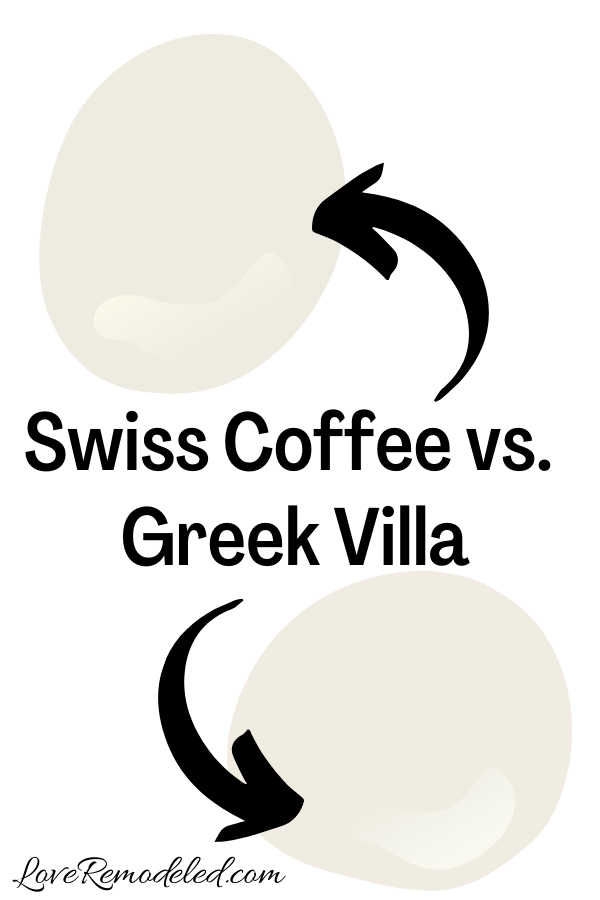 Greek Villa is another popular Sherwin Williams paint color. It is an off-white shade that has creamy tones to it.
Like Swiss Coffee, Greek Villa shares a hint of green undertones, but not quite as much as Swiss Coffee has. They are very similar shades. While no Sherwin Williams and Benjamin Moore paint colors are exactly the same, Swiss Coffee and Greek Villa come close!
In fact, the best way to decide between these two paint colors is to try them in your home. They are so similar that it is hard to provide a meaningful distinction between them.
Click here to learn more about Greek Villa.
Wondering how to pick the perfect paint color?
I have the best solution for you!
Samplize sells 9×14.75 stick-on paint sheets in almost every paint color.
These no-mess, peel and stick sheets are made from real paint, so they will show you exactly what the paint color will look like.
Simply place them on your walls next to your trim, furnishings or fixed elements, and easily see whether the paint colors work in your space and with your lighting. Then, peel the sheet right off your wall and reapply it somewhere else if you like!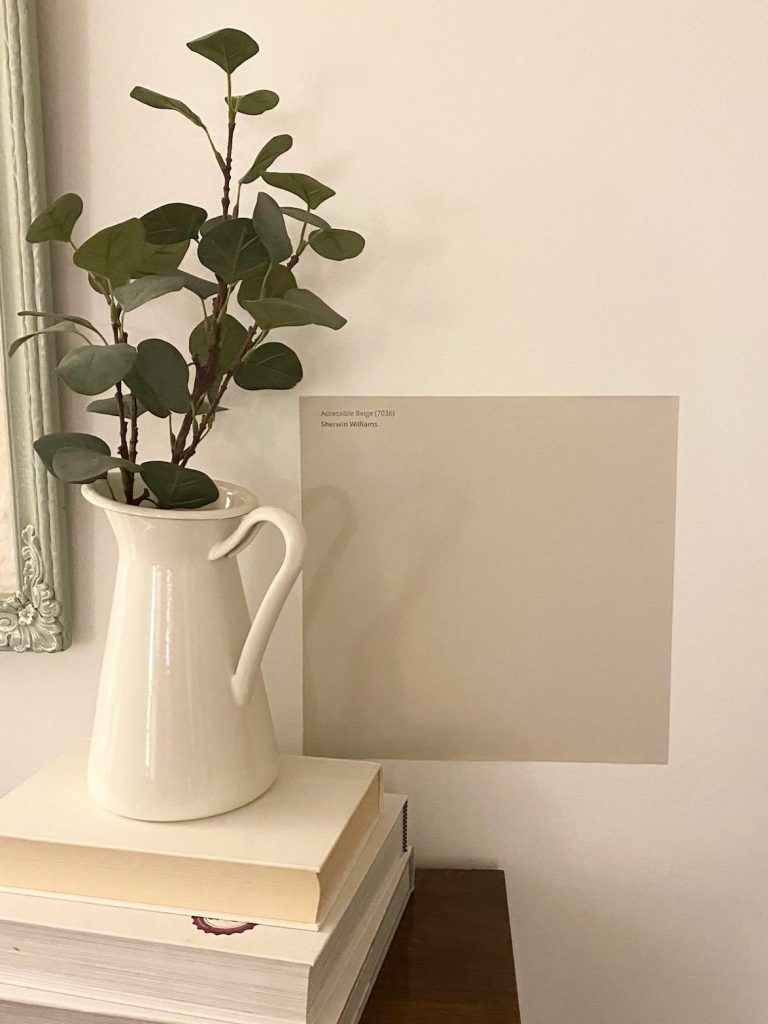 Oh, and you can have them in your home by tomorrow with overnight shipping!
As a little tip, if you enter your email, you'll get $5 off your first order! Plus, if you buy 8 samples, you get 2 more for free!
Samplize sheets are truly the easiest (and fastest!) way to try a paint color in your home, with no mess.
Final Thoughts on Benjamin Moore Swiss Coffee
Swiss Coffee is a beautiful paint color. It is soft, sophisticated and welcoming.
While it can be a great paint color in some spaces, it isn't a paint shade that you can just put on your walls and know it will work. It is a paint color that needs to be tested to make sure it will work with your lighting. There is nothing worse than thinking you're painting your walls a creamy white, only to find that they look a bit greenish at times.
Don't let me talk you out of Swiss Coffee though! Just make sure to pick up a sample can or a Samplize sheet before you go painting your whole house.
If you are looking for a soft, creamy white paint color, consider Swiss Coffee. And maybe, consider Alabaster and White Dove as well.
Want to see all your paint options in one convenient place? Click here to get everything you need to start painting, including Sherwin Williams and Benjamin Moore paint color decks!
Have a question or want to show off your project? Join the discussion in Love Remodeled's Facebook group here!