Greek Villa is a soft, off-white paint color by Sherwin-Williams. It is an elegant and timeless shade that works almost anywhere.
Greek Villa is part of the following Sherwin-Williams paint color collections: Free Spirit, Living Well, Top 50 Colors, Timeless White, 2021 Tapestry, and Rejuvenation – Spring/Summer 2021.
This post may contain affiliate links. If you have any questions, please see my disclaimer page.
Sherwin Williams Greek Villa Paint Color Details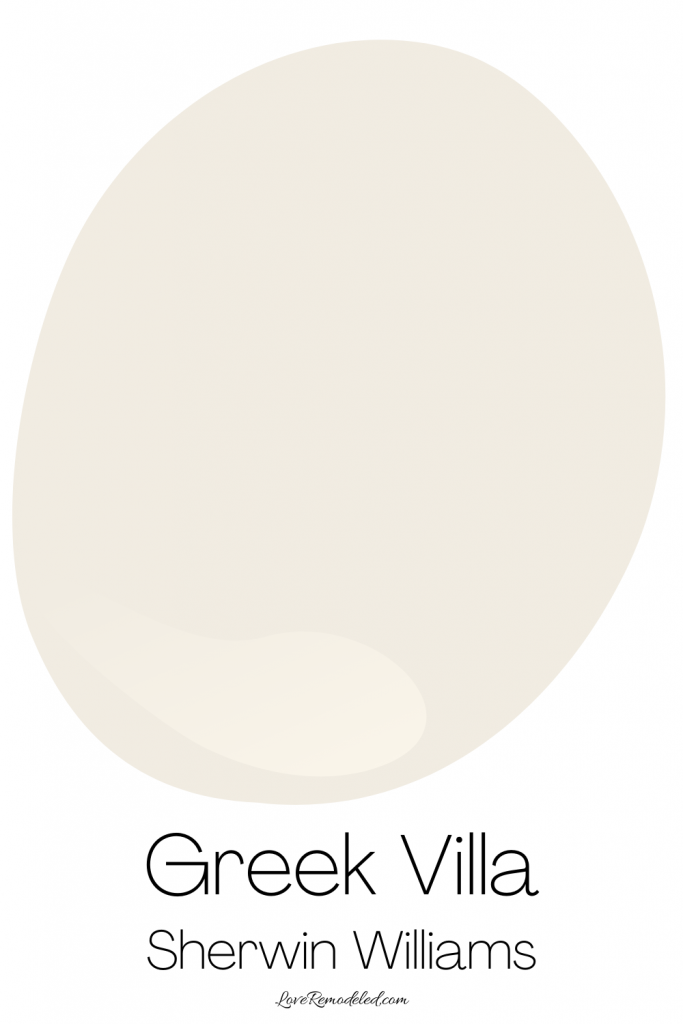 Greek Villa paint is a soft and airy paint color by Sherwin Williams.
When I think about the top warm white paint colors from Sherwin Williams I always think of Alabaster, Westhighland White, and Greek Villa.
Greek Villa falls into the white or off-white color family of paint colors. It is not a true, pure white. But, it has so little color in it that it is very close. It sort of straddles the line between white paint colors and off-white paint colors.
As one of the top 50 paint colors by Sherwin Williams, Greek Villa paint is very popular among home owners and designers.
Is Sherwin Williams Greek Villa a Warm Paint Color?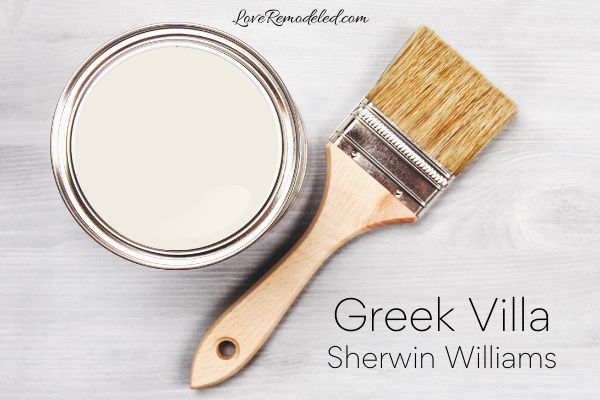 As I mentioned before Greek Villa is a warm white. This is because Greek Villa has light yellow undertones.
Greek Villa paint actually has fairly little in the way of undertones. A bit of yellow, maybe a hint of green, and not much else.
Greek Villa has an LRV (Light Reflectance Value) of 84. This means that it is a very light color, just a hint off-white.
The LRV scale goes from zero, which is entirely black, to 100, which is entirely white. From this information, you can see the Greek Villa is a very light paint color.
Overall, Greek Villa paint is a very classic color. It's not one that goes out of style easily, because it is so soft, and so neutral.
Greek Villa is great in the traditional style, farmhouse style, or even contemporary style home. It can go in most spaces and work well.
Greek Villa Paint Color Comparison
When I look at paint colors, I always like to compare them to other popular paint colors. I find that this helps people determine which paint color is the right one for their home.
Let's look at Greek villa and compare it to several other popular white or off-white paint colors.
Sherwin Williams Greek Villa vs. Snowbound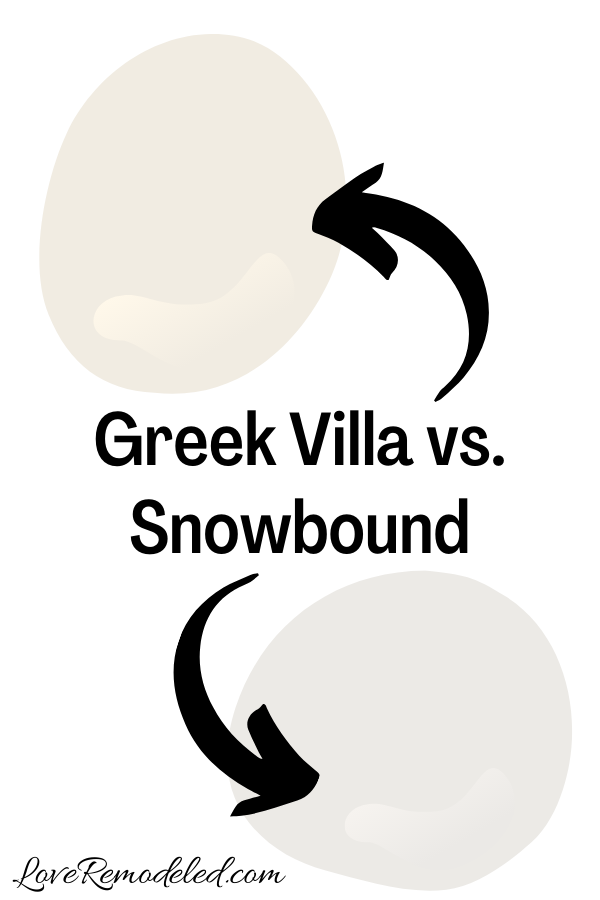 Snowbound is another very popular paint color by Sherwin Williams.
It is another one of their top 50 paint colors, because it is a very light off-white.
While both Snowbound and Greek Villa are off-white paint colors, they are sort of like two sides to the same coin.
Snowbound reads more cool, while Greek Villa reads more warm.
Snowbound also has a lot of gray in it while Greek Villa paint doesn't carry much in the way of gray undertones. Snowbound's LRV is 83, so it's very similar to Greek Villa's LRV.
If you want a light and soft paint color that leans warm, Greek Villa might be a good choice for you.
If you want a light and soft paint color that leans cool, Snowbound might be the better bet.
Click here for a full color review on Snowbound.
Sherwin Williams Greek Villa vs. Alabaster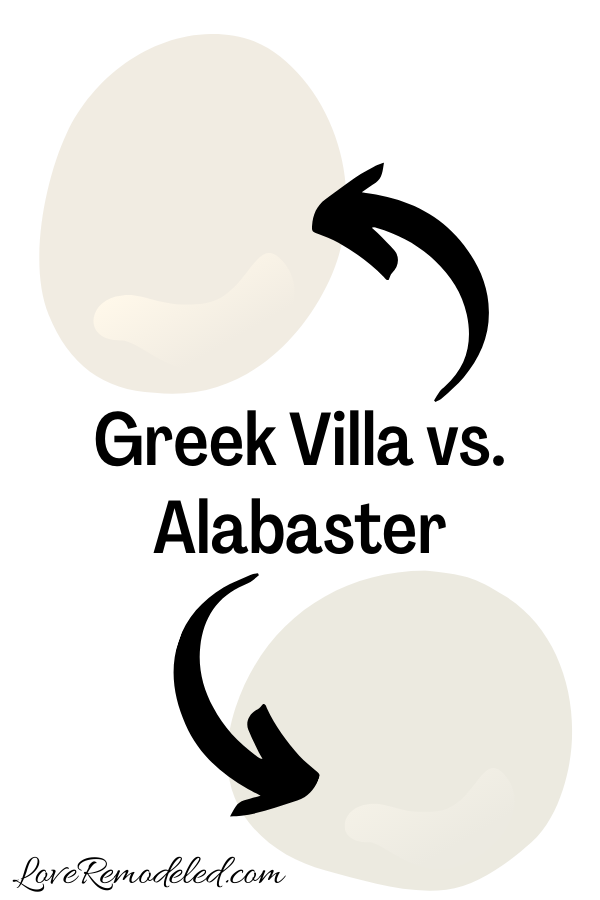 Alabaster is probably Sherwin Williams most popular white paint color.
Many describe it as the perfect white because it is warm, and it is soft, but it isn't too much of anything.
Greek Villa and Alabaster are very similar. They both have yellow undertones, but Alabaster has a bit of gray in it.
Again, Alabaster has an LRV that is very similar to Greek Villa's. Both will reflect a good amount of light into the room.
Alabaster and Greek Villa can both be used on walls and trim if you want a warm look for them.
Now that you understand the similarities, let's talk about their differences.
Greek Villa is a little bit brighter than Alabaster, but not necessarily lighter. It looks like more of a pure white when you compare the two.
Of course, when you compare Greek Villa to a pure white you see that it does have a hint of color in it.
If you like the idea of a warm white such as Alabaster but want something that's just a bit brighter, go with Greek Villa.
Click here for a full color review on Alabaster.
Sherwin Williams Greek Villa vs. Westhighland White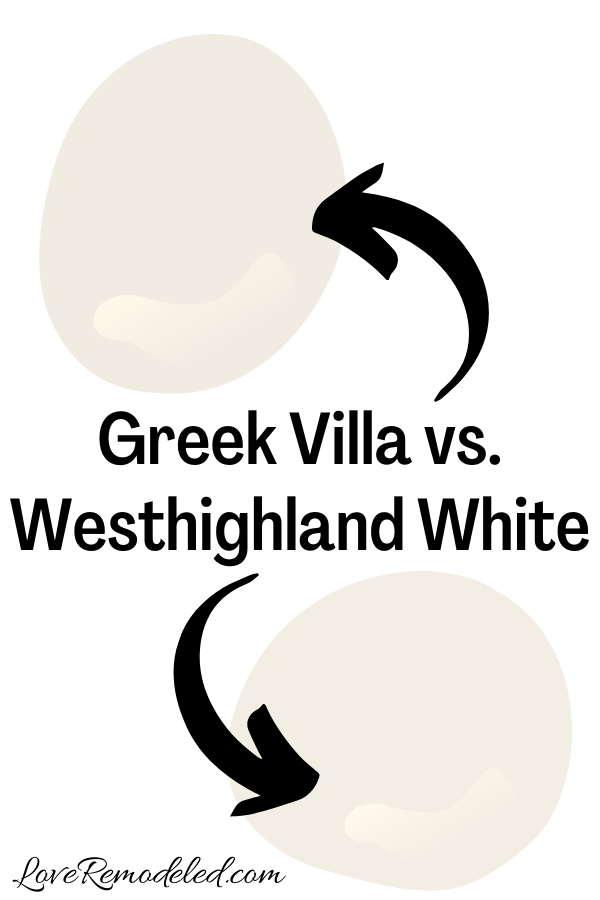 Greek Villa and Westhighland White are also very similar paint colors.
Westhighland White has just a hint of a beige undertone, which makes it a little bit more of a color. But it is still a very light paint color.
Since all of the these white paint colors are so similar, the best way to determine which one will be right for you is to view it in your own space.
How Do I Know Which White Paint To Choose?
In particular, compare the white paint colors to the other white tones in the space. If you want Greek Villa to be the brightest and lightest white in the room, you need to make sure that the other white tones in the room.
In addition, you want to make sure that the other whites in the space don't bring out the yellow or green undertone in Greek Villa. If they do, it is a good time to consider either Alabaster, Snowbound or Westhighland White.
Wondering how to pick the perfect paint color?
I have the best solution for you!
Samplize sells 9×14.75 stick-on paint sheets in almost every paint color.
These no-mess, peel and stick sheets are made from real paint, so they will show you exactly what the paint color will look like.
Simply place them on your walls next to your trim, furnishings or fixed elements, and easily see whether the paint colors work in your space and with your lighting. Then, peel the sheet right off your wall and reapply it somewhere else if you like!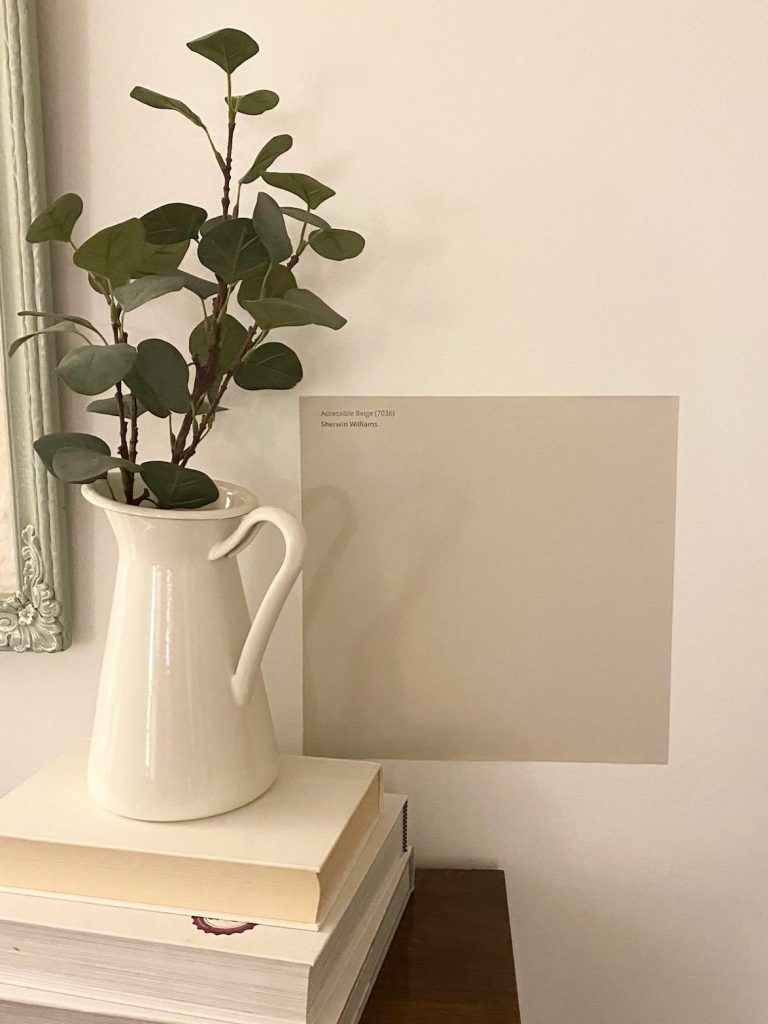 Oh, and you can have them in your home by tomorrow with OVERNIGHT shipping!
As a little tip, if you enter your email, you'll get $5 off your first order! Samplize sheets cheaper than a sample can of paint, and way less work!
Samplize sheets are truly the easiest (and fastest!) way to try a paint color in your home, with no mess.
Where To Use Sherwin Williams Greek Villa
Greek Villa paint color is a very versatile shade.
It can be used on walls in almost any room, because it is so light and bright.
The one place you may want to avoid using Greek Villa, though, is in a room with exclusively Northern light. In this case, you might find that Greek Villa will look flat. As with any paint color, Greek Villa needs the right kind of light to support it.
Greek Villa is also a great color for cabinets or vanities. It can also be used on trim if you want warm soft trim look.
Last, you can use Greek Villa on exteriors. It pairs nicely with lots of exterior accent colors such as black, brown, blue, red and green.
Coordinating Colors for Sherwin Williams Greek Villa
Because Greek Villa is a light off-white paint color, it goes with a lot of other shades.
In particular, Sherwin Williams pairs Greek Villa with muted grayish-green called Illusive Green.
Additionally, it is paired with a dark navy called In the Navy.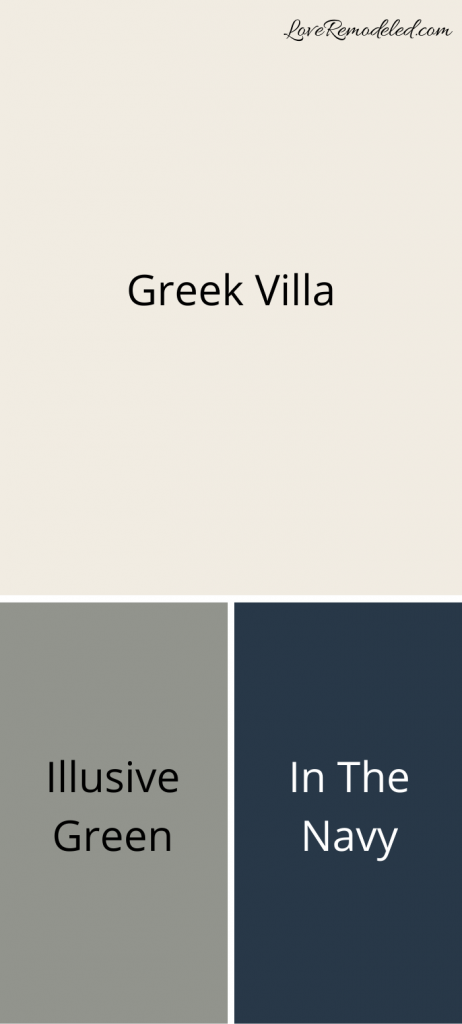 Together, this palette makes for an amazing exterior paint color scheme, or for a gorgeous farmhouse or traditional style color scheme in a home.
Greek Villa also looks great with other blues and greens if they have a touch of gray in them. Greek Villa can even work with the oh-so-popular greige paint colors.
Greek Villa works nicely with some pinks and reds, but mostly it loves cooler paint colors.
Final Thoughts on Sherwin Williams Greek Villa
Sherwin Williams Greek Villa is an elegant and classic paint color. It will not go in and out of style like many of the current trendy colors.
Additionally, it is a great foundation for lots of different type of color schemes, and Greek Villa tends to go well with the colors that are in style right now.
If you're looking for an amazing paint color that is soft, light, airy and beautiful, Greek Villa should be on your shortlist!
Want to see all your paint options in one convenient place? Click here to get everything you need to start painting, including Sherwin Williams and Benjamin Moore paint color decks!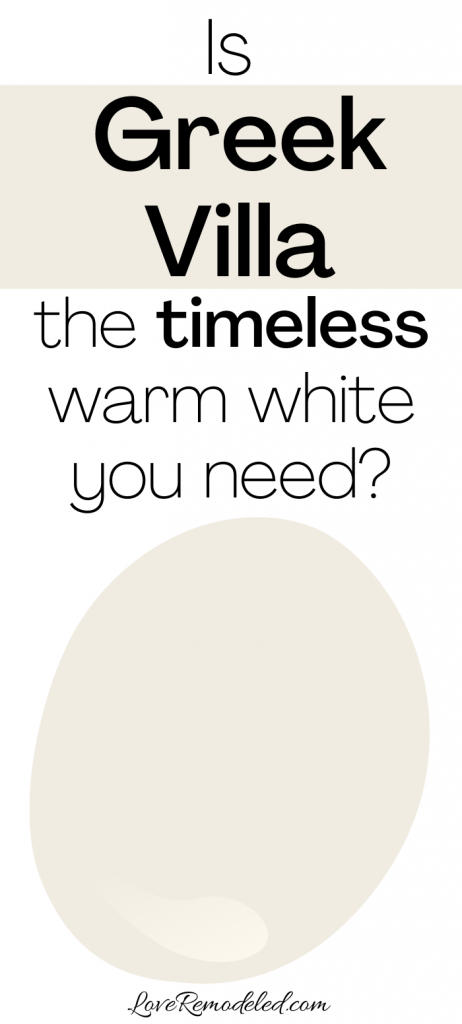 Have a question or want to show off your project? Join the discussion in Love Remodeled's Facebook group!