Shoji White is a beautiful off-white paint color by Sherwin Williams. Shoji White is not a pure white which makes it very versatile. In fact, it is included as one of the Sherwin Williams top 50 paint colors, because it is so popular among homeowners and designers.
Shoji White is part of the following color collections: Living Well – Inspire, Top 50 Colors, and Warm Whites.
For more information about this gorgeous paint color keep reading!
This post may contain affiliate links. If you have any questions, please see my disclaimer page.
Shoji White Color Details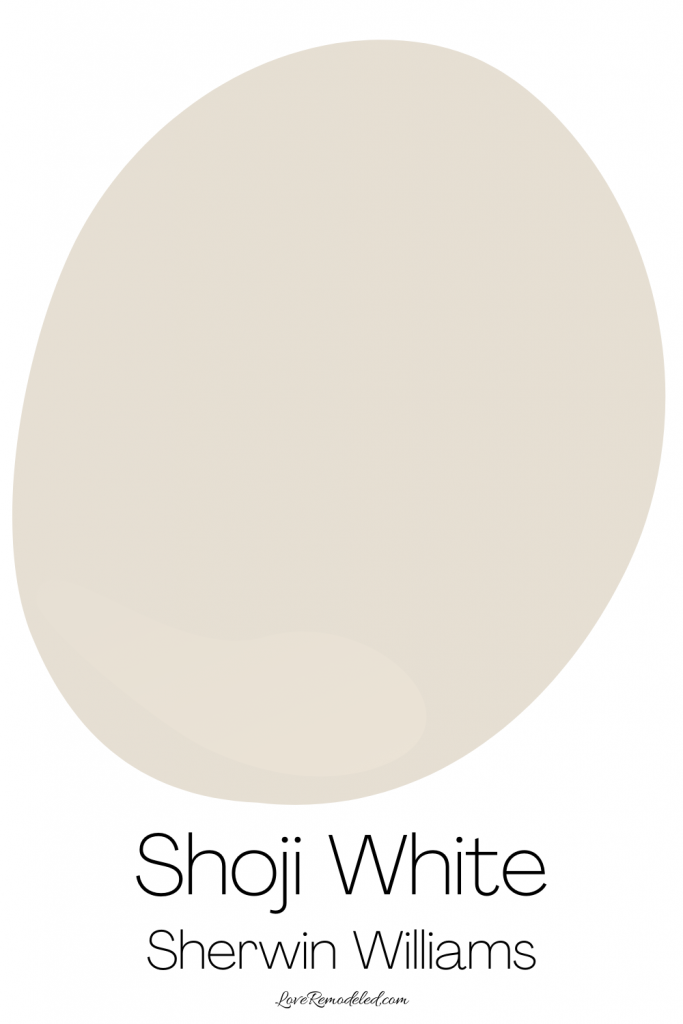 Shoji White is a gorgeous paint color that has been increasing in popularity over the last few years.
This is because Shoji White is a neutral paint color. It is perfectly in that neutral beige/gray category that is so popular right now. Shoji White is sort of like a cream paint color that has some gray in it.
It doesn't read exactly like a greige, which is a blend of gray and beige, because it also has creamy notes in it.
Shoji White also doesn't fall cleanly into the beige category, because it doesn't have that golden tone that beige paint colors have.
And last, Sherwin Williams Shoji White isn't it gray paint color either.
It sort of straddles the line between all of these beautiful neutral shades.
In addition to having cream, gray, and beige tones in it, Shoji White also has the tiniest bit of a green undertone. Don't let this worry you though. Some of the most popular paint colors have a green undertone.
For example Agreeable Gray and Accessible Beige, two of the most popular paint colors right now, also have a green undertones.
Is Shoji White Warm or Cool?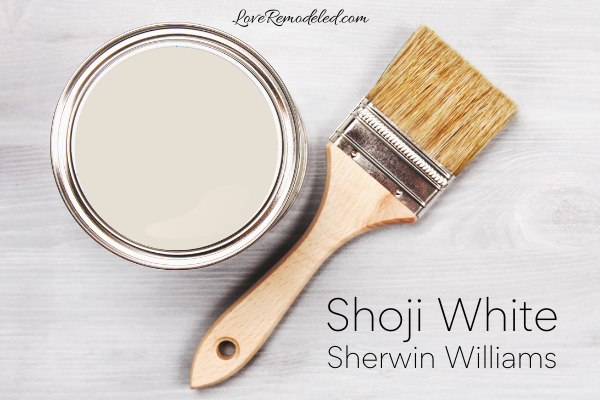 With its creamy tone, Sherwin Williams Shoji White is a warm paint color. It isn't so warm that is going to look glowing or yellow though.
If you have a Northern facing room that gets a lot of cooler light, Shoji White will look just warm enough. In a Southern facing room you'll see a bit more of the warmth of this paint color, from the yellow turned light coming in the windows.
Shoji White LRV
Shoji White has an LRV (Light Reflectance Value) of 74.
This means that Shoji White is a light paint color, that will reflect a lot of light into a room.
The LRV scale goes from 0 to 100, with zero being completely black and 100 being completely white. So Shoji White is fairly high in the light range.
Is Shoji White Yellow?
Shoji White is not a yellow paint color.
You don't have to worry that Shoji White will turn up to yellow on your walls. In a southern facing the room, Shoji White will be even warmer, because of the warm light coming in.
Shoji White doesn't have a golden undertone, so it will look warm and perhaps like a beige but it shouldn't look like a yellow.
Where Can I Use Sherwin Williams Shoji White?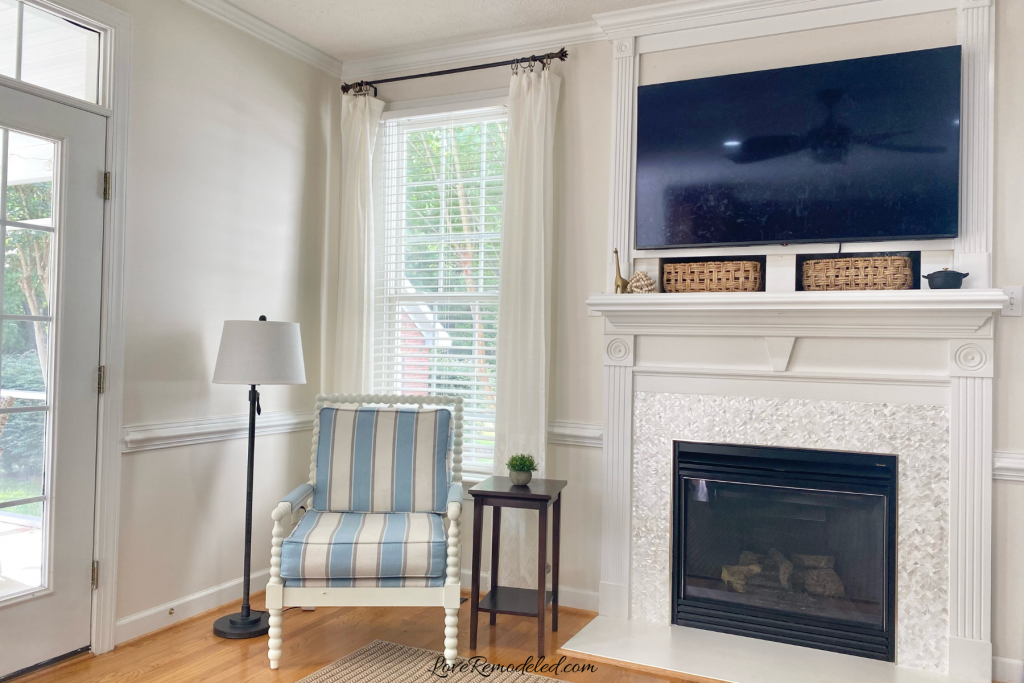 Shoji White paint is a great color for walls. It has enough color in it that will look like an actual color on your walls, but not so much that it will be too saturated. Shoji White is a perfect light paint color for that farmhouse look. It also goes well in a traditional style home.
On cabinets, Shoji White is a great warm paint color. Since it is a neutral, which makes it go well with cabinets with gold or black tone metals.
last, shoji white can be used on an exterior. Repairs great with crisp white trim, black shutters, or a wood door.
Shoji White Compared
When I do a full paint color of you, I always like to compare the shade to other popular paint colors that people might be considering alongside of it. I find that this sort of differential diagnosis is helpful in determining whether a paint color is the exact right one for you.
But the truly best way to determine this is to pick up a can of paint or a Samplize square. More on that later.
For Shoji White, people often considered Alabaster, Oyster White, and White Duck.
Let's look at each of these paint colors now.
Shoji White vs. Alabaster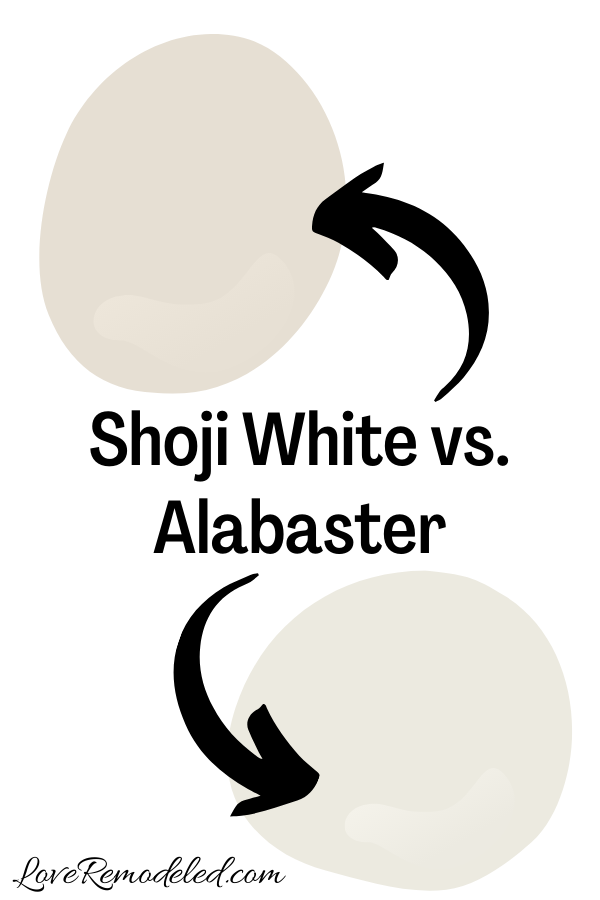 Alabaster is probably the most popular white paint color by Sherwin Williams. It has a bit of warmth to it, because it has some yellow undertones. But it's not too bright because it also has a tiny bit of gray in it.
In comparison, Shoji White paint has a lot more color to it. It is a much more saturated paint shade.
Whereas Alabaster can look and function more like a true white (people use it for a trim color), Shoji White is never confused as a true white paint color.
So while Shoji White and Alabaster are both popular white or off-white paint colors they have very different intentions.
If you're looking for a paint color that it's just a hint of a pure white, alabaster is going to be the right place for you. But if you want a paint color that has more of a neutral look, as opposed to a white look, Shoji White is going to be the better choice.
Click here for a full color review on the paint color Alabaster.
Shoji White vs. Oyster White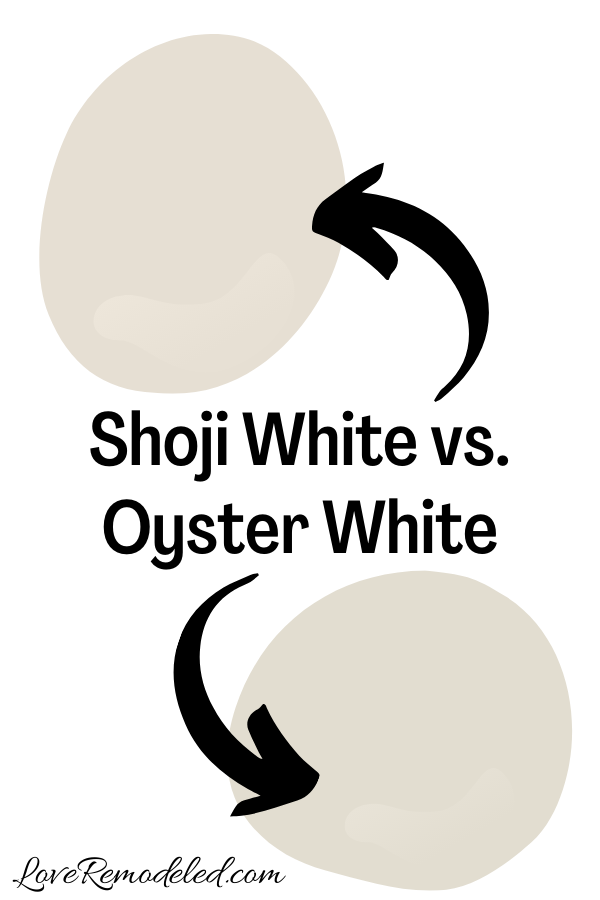 Oyster White is another popular Sherwin Williams paint color.
Unlike Alabaster, Oyster White has very similar intentions to Shoji White.
It is a warm neutral that has many of the same undertones as Shoji White. Their LRVs are almost identical, but Shoji White comes off as just a tiny bit darker and more saturated. Shoji White has a bit more gray in it and oyster white has a bit more green.
So, Shoji White and Oyster White are both amazing neutral paint colors. If you have a very cool tone room, Shoji White might be your better bet, because it has a bit less green in its mix to come out.
Shoji White vs. White Duck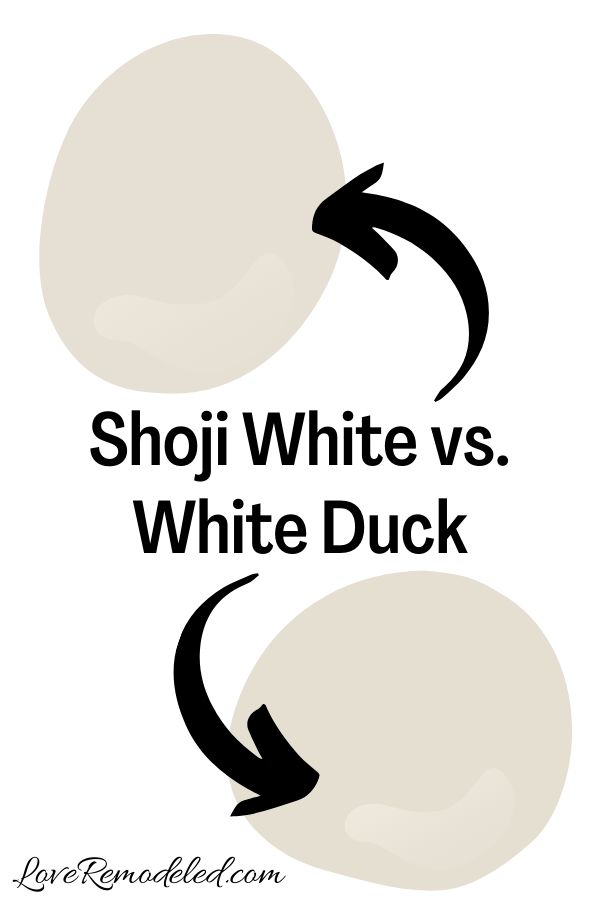 For a last paint color comparison, let's look at Shoji White and White Duck.
Shoji White and White Duck share a paint strip. And, in fact, they are very similar paint colors.
Because of this, it's going to be very hard to determine which one is the right color for your room, without trying them both in your room.
They are not exactly the same paint color, but they are both gray beige cream blend.
Shoji White has maybe a bit more gray in it. White Duck has maybe a bit more beige in it. But they both are great on walls, cabinets, and exteriors.
If you're leaning toward Shoji White, and it's just not quite the right color, check out White Duck, and vice versa.
Wondering How To Pick the Perfect Paint Color?
I have the best solution for you!
Samplize sells 9×14.75 stick-on paint sheets in almost every paint color.
These no-mess, peel and stick sheets are made from real paint, so they will show you exactly what the paint color will look like.
Simply place them on your walls next to your trim, furnishings or fixed elements, and easily see which paint color works best in your space and with your lighting.
Then, peel the sheet off your wall and reapply it somewhere else if you like. You can try several different paint colors with no mess, no fuss and no cleaning paint brushes.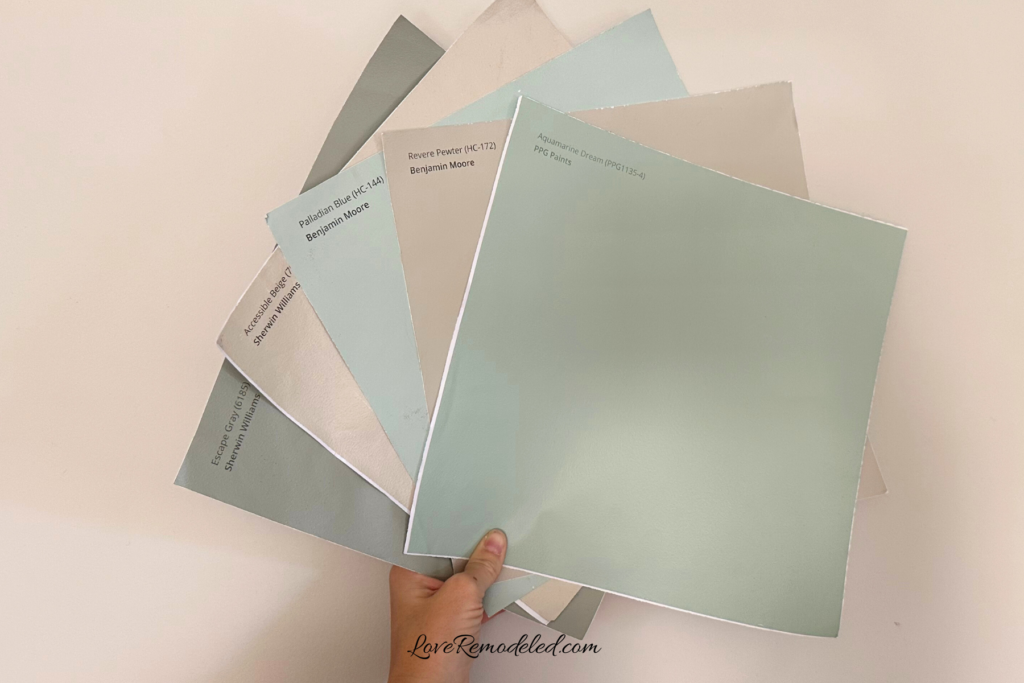 Oh, and you can have them in your home by tomorrow with OVERNIGHT shipping!
As a bonus, be sure to use the code LoveRemodeled10 at check out to get an extra 10% off! Samplize sheets are cheaper than a sample can of paint, and way less work.
They are the easiest (and fastest!) way to try a paint color in your home, with no hassle.
Coordinating Colors for Shoji White
Shoji White is a great paint color because it works well with other paint colors.
For example, Sherwin Williams pairs Shoji White with a few really awesome paint colors.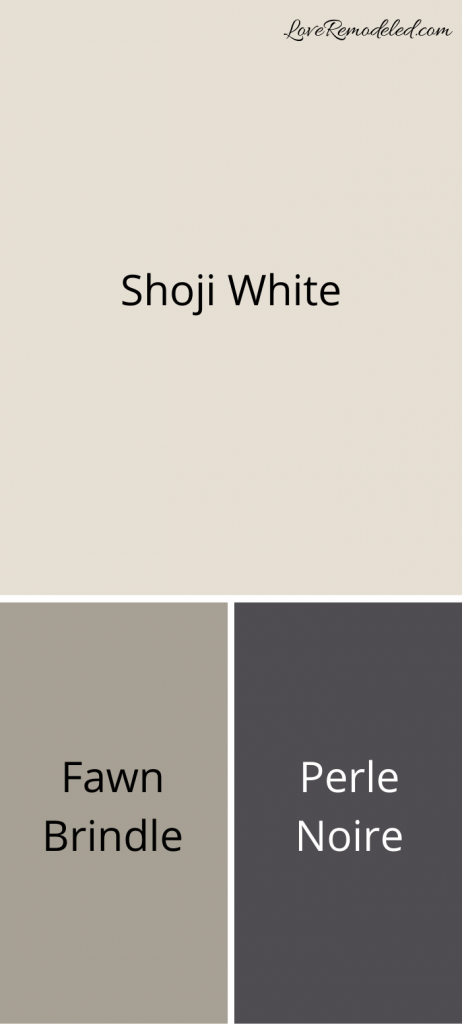 First it is paired with Fawn Brindle, which is a dark grayish brown paint color. Click here for a full color review on Fawn Brindle.
Shoji White also coordinates with Pearl Noire, a dark gray paint color.
Last, Sherwin-Williams pairs Shoji White with Pure White. If you're looking for a white for a trim color that goes with Shoji White, Pure White is a great option. Click here for full color review on Pure White.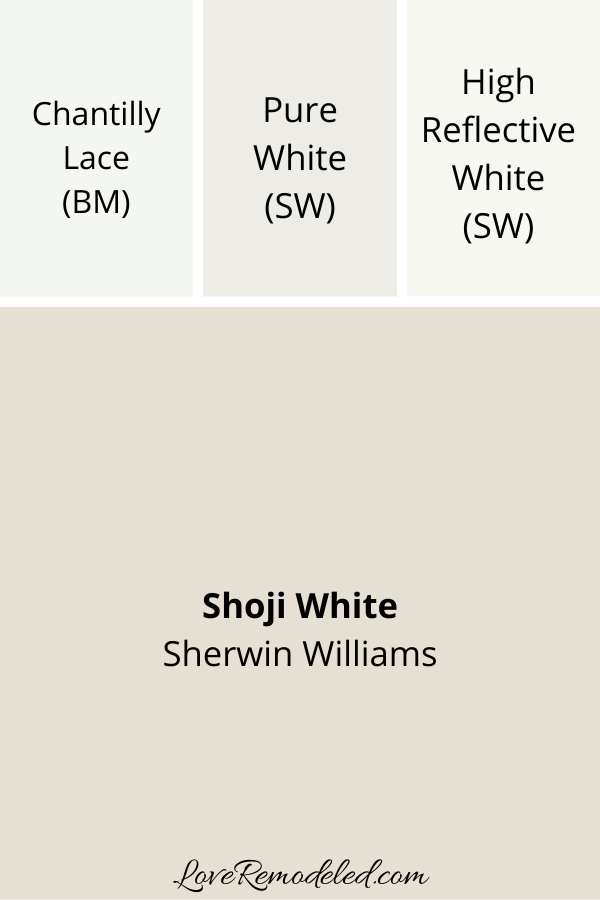 You could also put Shoji White with a brighter white such as High Reflective White or Benjamin Moore's Chantilly Lace. These whites would really make sure the weight stand out, as the clean crisp look of these white paints would highlight the warm tones of Shoji White. If you're interested in Chantilly Lace, click on the link.
I also like Shoji White with some green colors, navy colors, and dark reddish colors.
---
Final Thoughts on Shoji White
Looking for a white paint color for a farmhouse style house, Shoji White should definitely be on your shortlist.
It is a great neutral that straddles the line between cream, gray, and beige which makes it go with other furnishings and accessories with those tones.
It is also great and a traditional style home that wants a beige paint color that is a little more updated.
All in all, shoji white is a really pretty, up to date take on a neutral paint color.
Pick up everything you need to paint your house!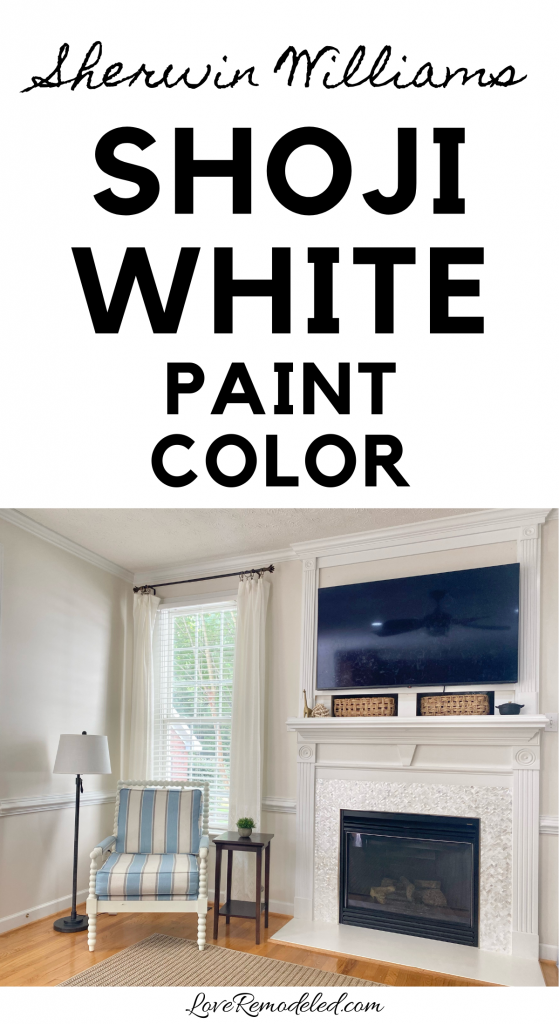 Have a question or want to show off your project? Join the discussion in Love Remodeled's Facebook group!