If you are ready to paint your home in a green paint color, but aren't sure what green is best, you're in the right place!
Green paint colors can range from soft, calming greens to bold, dramatic green, and everything in between.
Green paint is back in a big way right now. While soft blue green paint colors were in style for many years in the 2010s, bolder, darker greens are trending a bit more right now. (I still love the blue greens though, and probably always will).
Whether you want a bright green wall in your living room or a sage green bedroom, keep reading to find out the best green paint colors for your home.
This post may contain affiliate links. If you have any questions, please see my disclaimer page.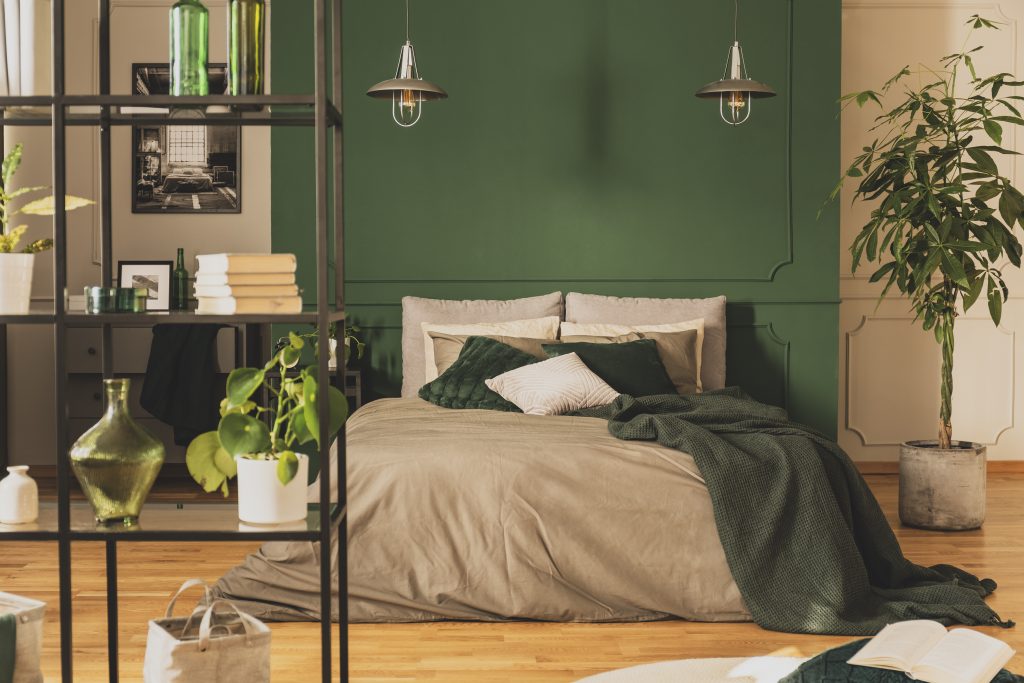 How Does Green Paint Make You Feel?
Paint has an ability to evoke a feeling in a room and can affect a person's mood.
Green is considered a cool paint color, but that doesn't mean that it always acts like a true cool paint color.
Cool paint colors tend to bring about a feeling of calm, peace, tranquility and restfulness. For example, a blue paint color is reminiscent of the sea or the sky.
Green paint colors are made up of a mix of yellow and blue shades though. And yellow tends to be a color that energizes.
So, green paint can make people feel different ways depending on the particular mixture of blue and yellow in the green paint.
For example, a soft green can make you feel relaxed and calm like a traditional cool paint color.
Alternatively, a darker green is a color that is reminiscent of many things in nature. It can bring about a sense of harmony and balance.
A bright green with yellow tones in it is associate with feeling lucky, and can make a room feel energized.
So, if you want a particular feeling in a room, choose a green based on that. When you want a soothing, spa like feeling, try a soft sage green. If you're going for a more classic, traditional look, check out a dark green.
Is Green a Good House Color?
Green paint colors work great on the interior or exterior of a home.
In a home interior, green paint tends to bring a bit of the natural world inside. Green paint makes us feel connected with nature and grounded in a way that other paint colors don't.
In the same way, green is a good exterior house color because it tends to blend with the landscape. Since green is a color commonly found in nature, it is a great color for the exterior of a home.
Most homeowners tend to prefer muted greens such as sage greens or earthy greens for the exterior paint.
If you don't want to paint your whole house green but want a bit of it, consider painting your front door green. Green front doors are associated with growth and prosperity.
Where Should I Use Green Paint?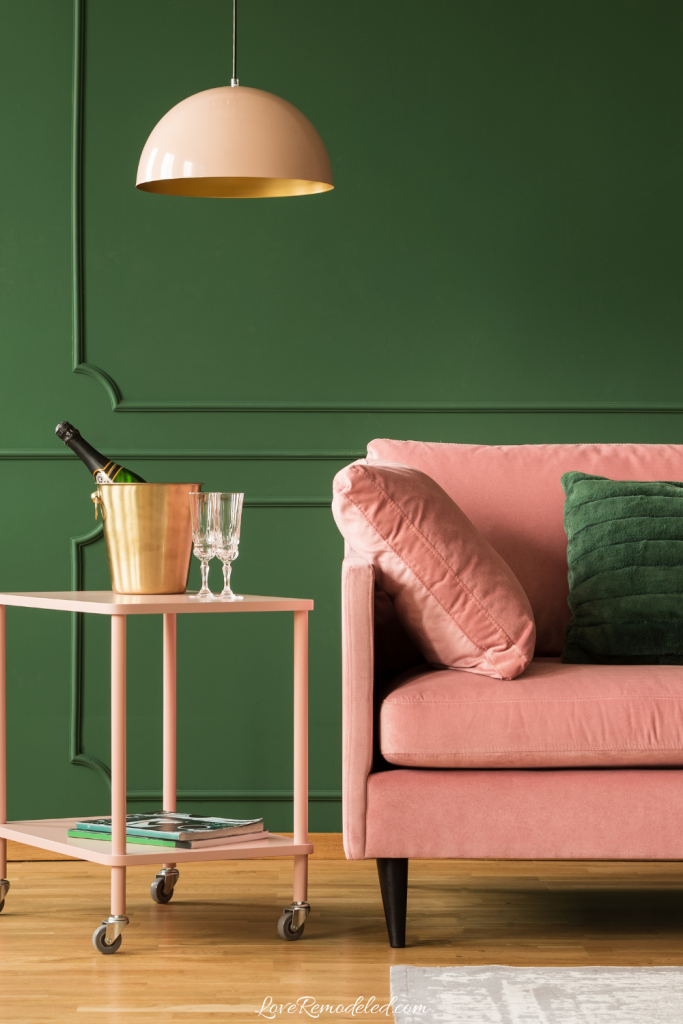 Green paint is a great color paint color for a lot of different places in a home. It works well as a main wall color in a bedroom, living room, or even a kitchen. Green is also a popular color to use as an accent wall shade.
Recently, painted green cabinets have risen in popularity. These dark green hues are often highlighted with warm neutrals and crisp whites, like the gold handles and white backsplash in this picture.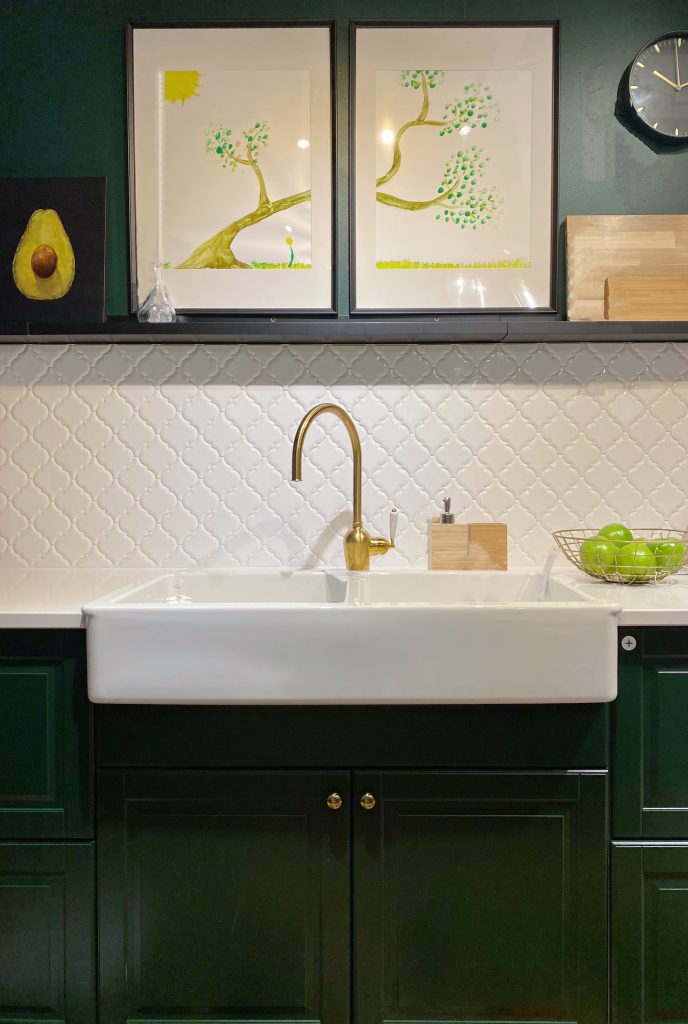 Since green paint colors vary in depth and shade, they can really be used all over the house.
What are the Most Popular Green Paint Colors?
Right now, the most popular green paint colors tend to fall into one of four categories: dark greens, earthy greens, sage greens and soft greens.
While there are tons of other green paint colors, like ones with a lot of brown in them, or greens that have strong yellow undertones, the most popular shades tend to fall into one of these group, so we'll focus on them.
Dark Green Paint Colors
Dark green paint is back in a big way right now. While soft blue green paint colors were in style for many years in the 2010s, bolder, darker greens are trending a bit more right now.
As I mentioned above, dark green paint is really popular on cabinets right now.
In addition to in kitchens, dark green paint colors look amazing in studies or dens, or in traditional styled living rooms.
Here are some of the most popular dark green paint colors.
Benjamin Moore Essex Green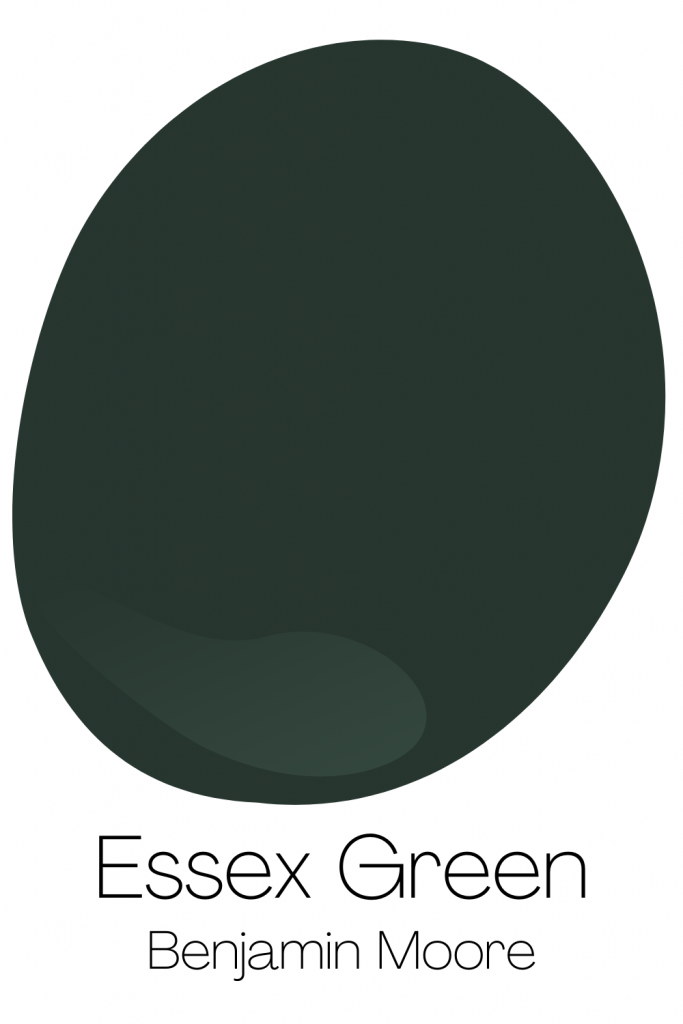 Essex Green is a very dark green paint color. It has a lot of black undertones, making it bold, dramatic and more of a neutral shade than some of the greens on the list.
Essex Green is a great paint color for cabinets, a front door, exterior trim, or can even be used on walls. I love it in a farmhouse style or midcentury modern looking room.
Essex Green looks amazing with light or mid-tone woods, or with white trim. It also coordinates with grays, blues, tans, beiges and lighter greens.
Benjamin Moore Salamander
Salamander, by Benjamin Moore, is a very hot paint color right now.
You may be seeing a lot of green cabinets coming across your Pinterest feed. Many of them are painted a color very similar (or maybe they are) Salamander.
Salamander paint color is a dark green with a lot of black undertones and hint of blue. When compared to a true hunter green, the blue comes out a bit. But, if this green paint color was seen in isolation, it would look like a very dark true green.
Dark green paint colors like Salamander are being accented with gold metals, white trim and wood accents. This paint shade also coordinates with browns, yellows, pale blues, grays and whites.
Earthy Green Paint Colors
Earthy green paint colors are shades that tend to have more brown and yellow undertones.
When I think of an earthy green color, I think of ferns and moss. Earthy green paint colors tend to work well in a lot of the same spaces as dark green paint colors. But, where dark green paint can look sophisticated and dramatic, earthy green shades tend to look a bit more fun.
Earthy green shades of paint work well in a lot of different style homes, including traditional and modern.
Benjamin Moore Cushing Green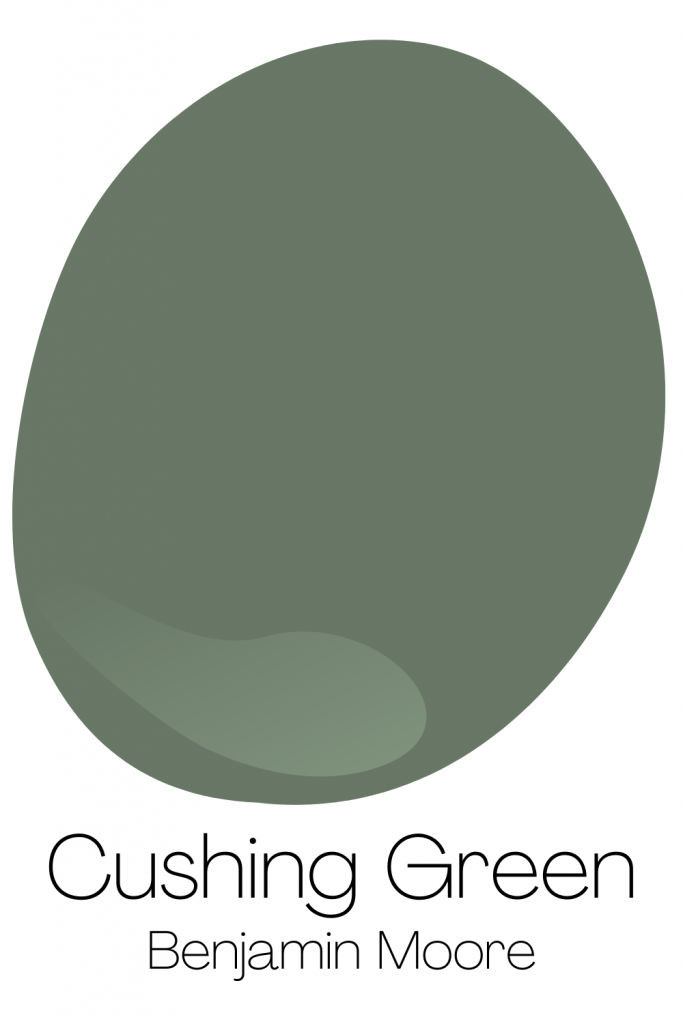 Cushing Green is one of Benjamin Moore's more popular paint colors, and definitely one of their most popular green paint colors.
Cushing Green is part of Benjamin Moore's historical collection of colors, meaning it is inspired by an American landmark.
It has some gray undertones and a hint of yellow that give it a little more energy than some of the other greens on the list. Overall though, it is a grounded, balanced shade that can look amazing with natural or stained wood, or with bright white trim.
Cushing Green looks good when paired with yellows, browns, grays, whites and creams.
Sherwin Williams Pewter Green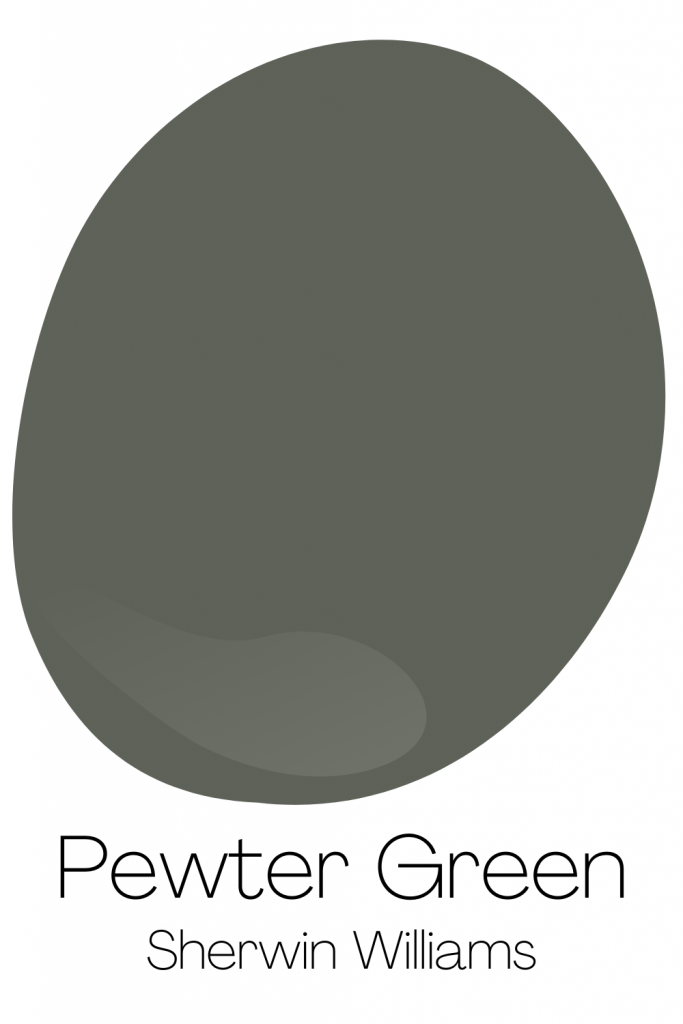 Pewter Green, by Sherwin Williams, is a medium depth green paint color. It was featured in Sherwin William's 2020 Haven collection, the Naturalist collection, and Pottery Barn's – Fall/Winter 2020 collection. As you can see, it is a popular shade.
Pewter Green is the brownest green on this list, which may make it sound a bit dingy. But, it is actually really beautiful. It also has gray undertones that keep it from looking too bright or too much of a true green.
As an interesting fact, it actually shares a paint strip with Sea Salt, one of Sherwin William's best selling blue-green paint colors.
Pewter Green is a great shade for a farmhouse style home, and it also works well in traditional homes as well.
You can pair Pewter Green with other muted grays, greens, and yellows, or highlight it with whites or creams.
Sage Green Paint Colors
Sage green paint colors could probably fall under the soft green category, but I'm going to go ahead and give them their own classification here.
This is because sage green is actually having a moment right now. It was popular in the 90's and now we are seeing it again in a lot of design.
It is being featured on furniture, ceramic tile, cabinets, and on walls.
Sage green paint colors are great in bedrooms or living rooms.
Let's take a look at two of the most popular sage green paint colors.
Sherwin Williams Clary Sage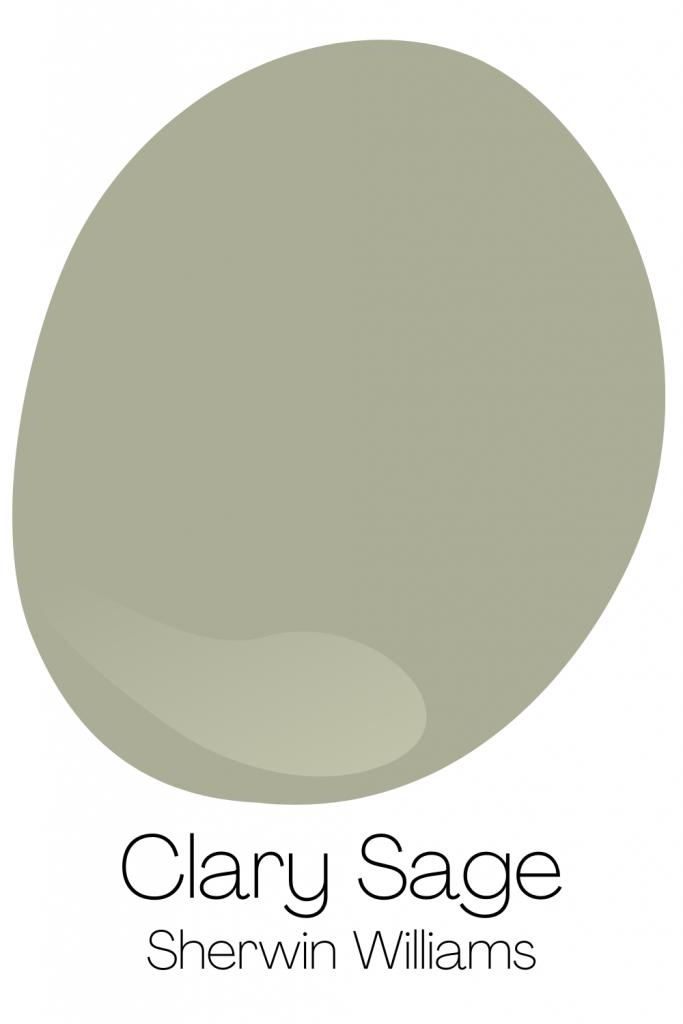 Clary Sage, by Sherwin Williams, is one of their most popular green paint colors. It is a name that I have heard for years, even before I started in the paint business.
This paint color has been featured in Sherwin William's Independence collection of paint colors.
Clary Sage is a beautiful light to medium green color. It has undertones of yellow and gray, and is a fairly true sage green paint color.
I love Clary Sage on cabinets or on exterior siding, but its also a great wall color.
Benjamin Moore Saybrook Sage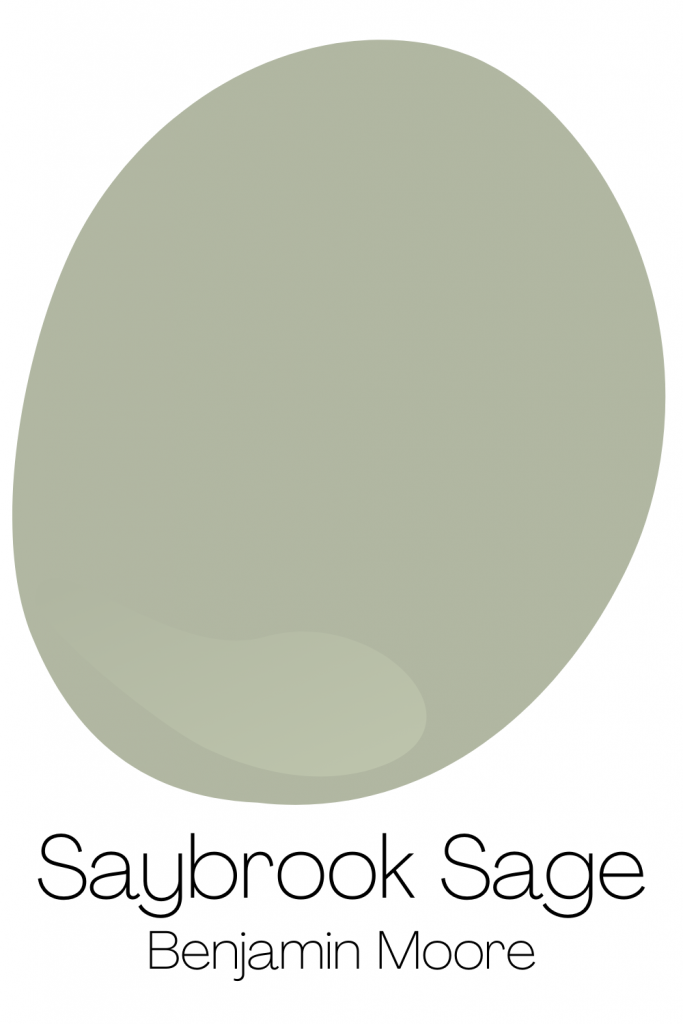 Saybrook Sage is another beautiful sage green paint color. It has a little less yellow than Clary Sage and a bit more gray in it. Altogether, this makes it a bit more of a versatile sage green paint color.
Saybrook Sage is a great wall color, or is beautiful on exteriors.
This paint color looks great with creams, blues, grays and browns.
Soft Green Paint Colors
Soft green paint colors are particularly great colors for bedrooms and bathrooms. They are relaxing and promote a feeling of tranquility.
There are a lot of gorgeous soft green paint colors, and it would be impossible for me to discuss them all. So I've picked out two of my favorites to discuss here.
Benjamin Moore Soft Fern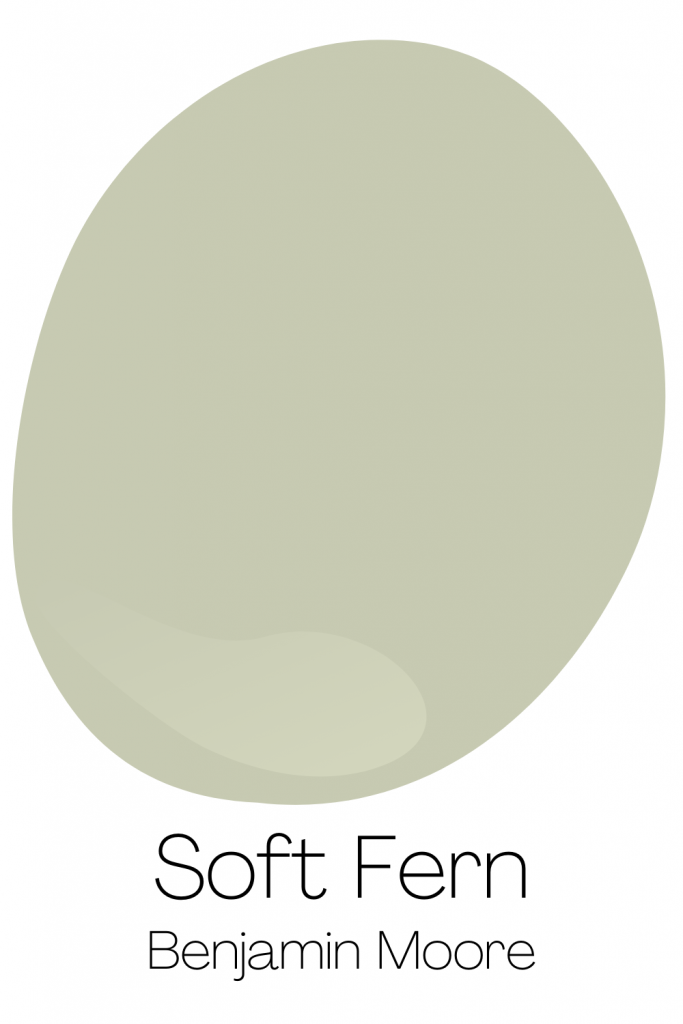 Soft Fern, by Benjamin Moore, is a beautiful pale green with yellow, gray and brown undertones. As the name implies, it is a very natural looking shade.
Soft Fern is a good color for a living room, bedroom, bathroom or kitchen. It would pair nicely with wood trim as well as white trim.
This paint color coordinates with browns, light blues, creams, yellows and warm whites.
Sherwin Williams Filmy Green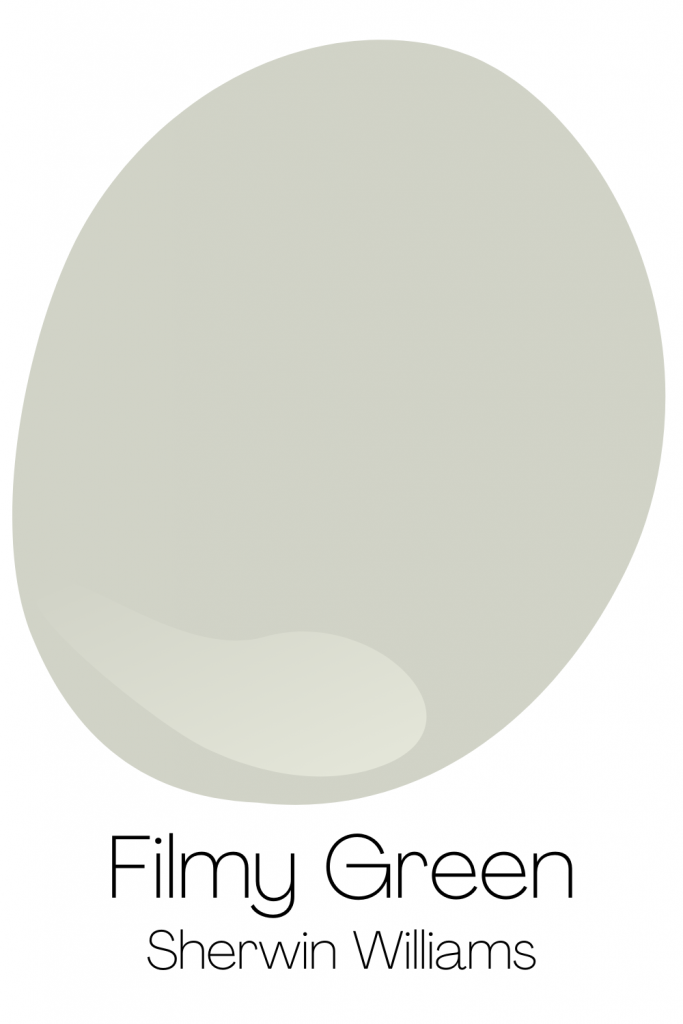 Filmy Green may not have the most appealing name, but it is a really beautiful shade of soft green. It is more of a true green than Healing Aloe.
Filmy Green is a blend of green with soft gray undertones. It is more reminiscent of a jade green color than a sage green or blue green, though is not bright light you would expect a jade green paint color to look. The gray in it keeps it light and subtle.
Filmy Green is a great color for a bedroom, bathroom or living room. Truly, it can be used anywhere in the home because it is so light and airy.
Wondering How To Pick the Perfect Paint Color?
I have the best solution for you!
Samplize sells 9×14.75 stick-on paint sheets in almost every paint color.
These no-mess, peel and stick sheets are made from real paint, so they will show you exactly what the paint color will look like.
Simply place them on your walls next to your trim, furnishings or fixed elements, and easily see which paint color works best in your space and with your lighting.
Then, peel the sheet off your wall and reapply it somewhere else if you like. You can try several different paint colors with no mess, no fuss and no cleaning paint brushes.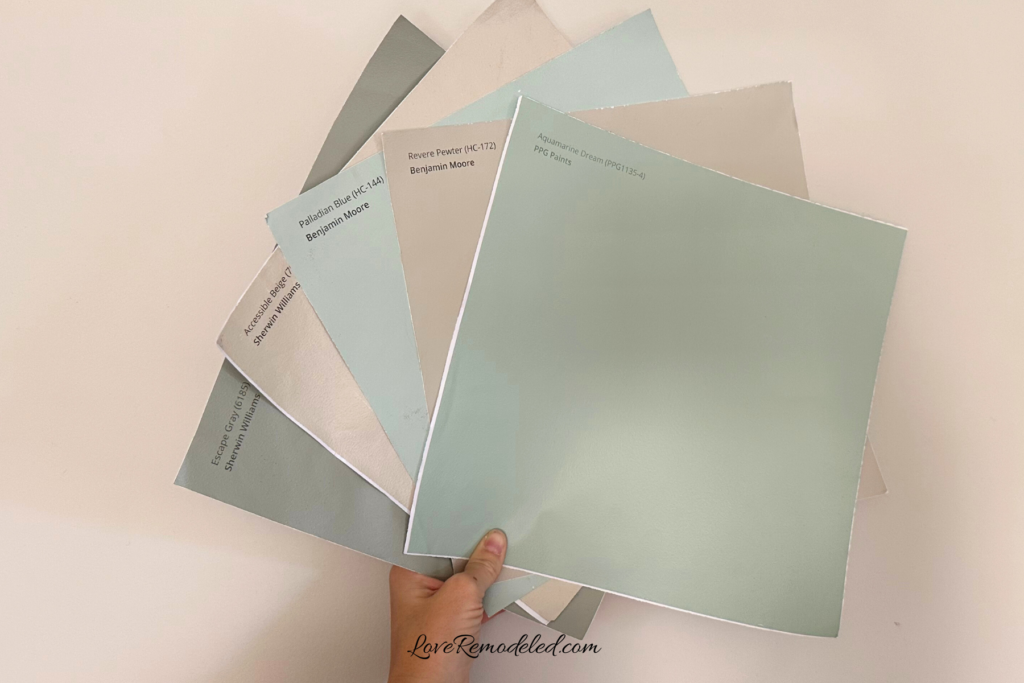 Oh, and you can have them in your home by tomorrow with OVERNIGHT shipping!
As a bonus, be sure to use the code LoveRemodeled10 at check out to get an extra 10% off! Samplize sheets are cheaper than a sample can of paint, and way less work.
They are the easiest (and fastest!) way to try a paint color in your home, with no hassle.
Final Thoughts on Green Paint Colors
Painting a room in your home a green paint color is a great way to bring the outside in, creating a space that soothes, energizes or grounds.
Green paint colors are very on trend right now, whether you want dark green cabinets or a sage green living room. If you want a paint color that is a true color, as opposed to a neutral, yet still timeless, green paint colors area a great choice.
Want to see all your paint options in one convenient place? Click here to get everything you need to start painting, including Sherwin Williams and Benjamin Moore paint color decks!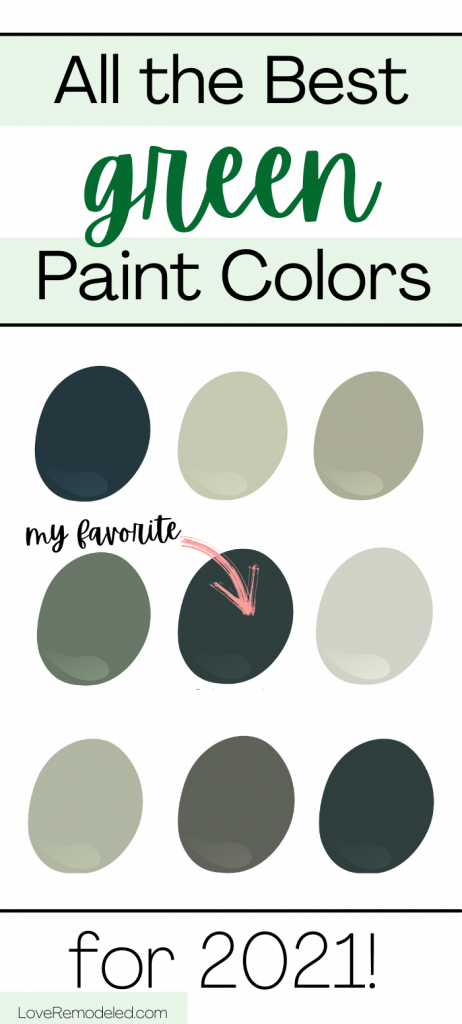 Have a question or want to show off your project? Join the discussion in Love Remodeled's Facebook group!