Sherwin Williams Sea Salt is one of the best selling colors for home interiors right now.
While grays, whites and greiges are still king when it comes to home design, Sea Salt is one of the few actual colors that is loved by most.
Many would consider Sea Salt a neutral, even though it is a true color. It is muted enough that you can use it in almost any room in your home, but still has enough color to give the room a little pop.
SW Sea Salt is great for a room that you want to paint a color, but you don't want the color to appear too intense.
What Color is SW Sea Salt?
Sea Salt is a beautiful greenish blue. It is reminiscent of a pale green sea with the sun shimmering through it, though not as bright.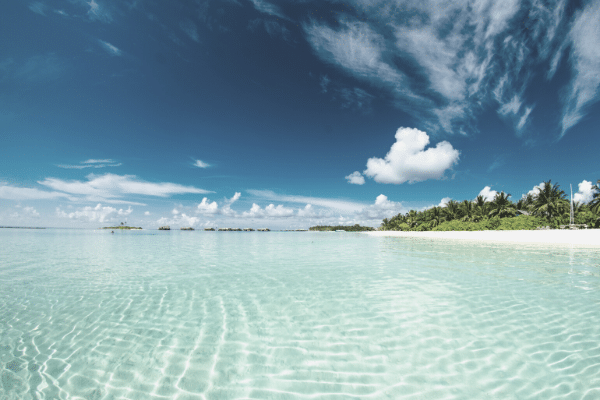 Sea Salt is a really interesting color, because how it looks depends on lighting and what is around it. You could say that it is a chameleon of sorts. For example, when paired next to a brighter blue green paint color, Sea Salt looks gray.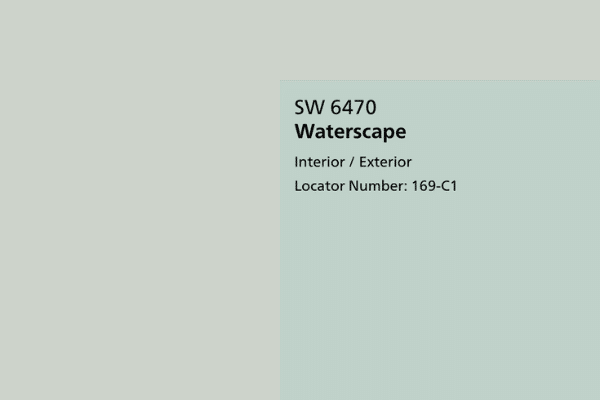 When Sea Salt is compared to a true gray though, it looks more green.
And when you place Sea Salt with a green paint color, it almost takes on a pale blueish hue.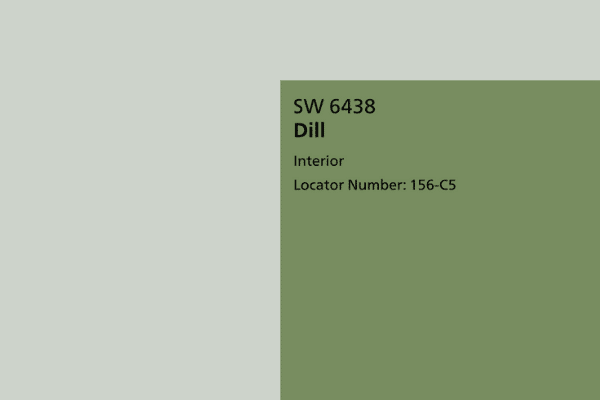 Sea Salt Undertones
As you can tell from the color comparisons, Sea Salt paint has undertones of mostly green and blue, with a gray undertone.
When you look at Sea Salt on the Sherwin Williams color strip, you can see that the darker shades on the color strip are pretty green.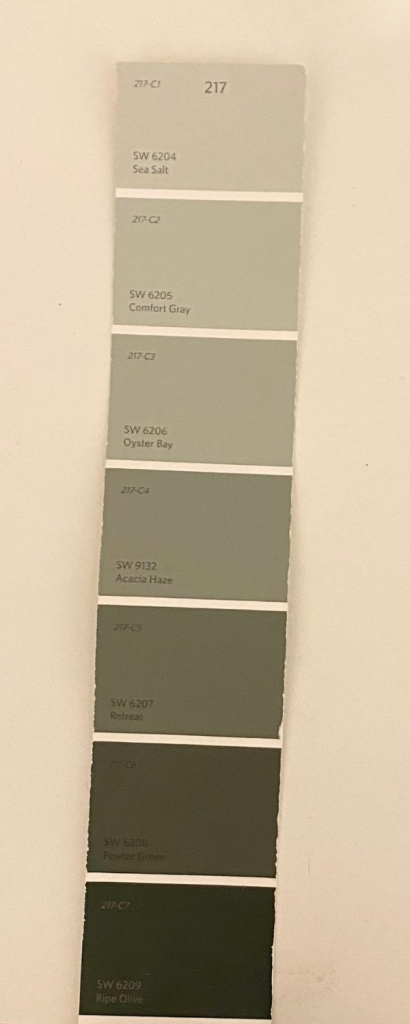 Sea Salt is the lightest color on the strip, with a Light Reflectance Value of 63.
It is followed by a slightly darker shade called Comfort Gray.
After, you will find Oyster Bay, Acacia Haze, Retreat, Pewter Green and, finally, Ripe Olive. While the colors get increasingly dark in color and LRV, it is clear that green is the primary shade of Sea Salt.
Is SW Sea Salt Warm or Cool?
Sea Salt is a cool color because of the blue and green in it. Since cool colors are typically calming, this enables it to go well in many different rooms in a home.
One of the things that I love about Sea Salt is the spacious, relaxing feel that that it lends to a room. Being a cool color means it tends to give depth to a room, making it feel larger than it is.
What Type of Home Does Sea Salt Work In?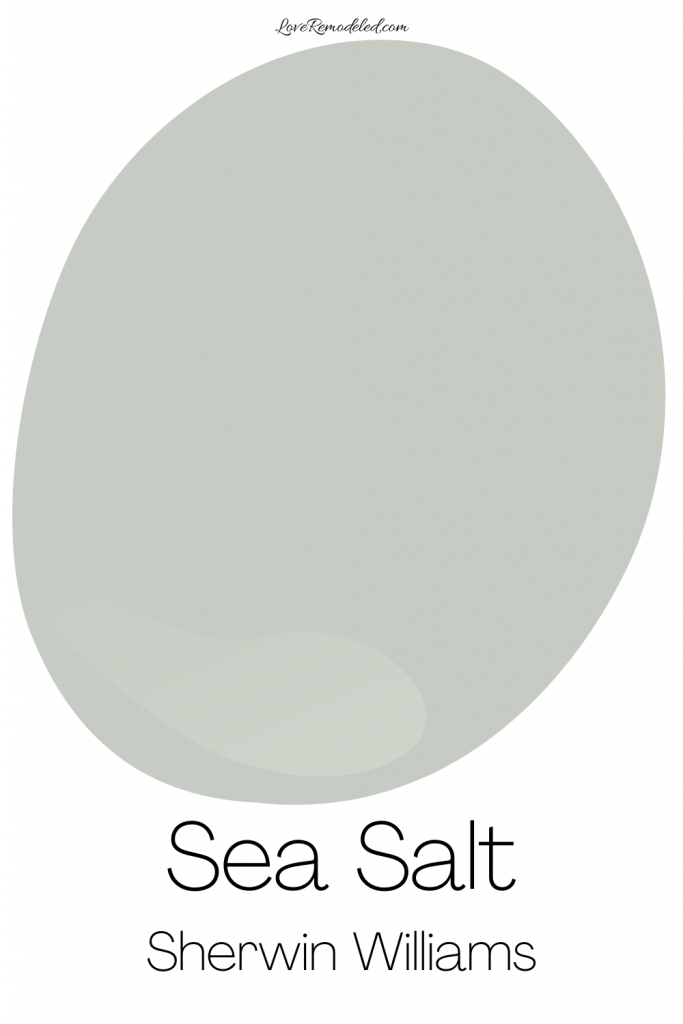 Sea Salt is a great choice for many different styles of homes.
While Sea Salt has been a popular color for a long time, it rose to even greater fame with the show Fixer Upper. Joanna Gaines, the designer on the show, used light greens like Sea Salt in a lot of the homes she featured. As a result, Sea Salt was a natural pick for many homeowners, as it is light, almost neutral, and really pretty.
In addition, Sea Salt is a very popular color for homes with a coastal look. In fact, experts at Sherwin Williams chose it as one of the best selling colors for beach homes.
I have used it in my own whole house color scheme, featuring Agreeable Gray, for several years. This color scheme works well in any style home, including traditional, farmhouse, coastal, or transitional.
Coordinating Colors for Sea Salt
Sea Salt goes well with grays, whites, beiges and greiges. Some examples of good coordinating colors for Sea Salt are:
Agreeable Gray
Steamed Milk
Mega Greige
Heron Plume
Accessible Beige
Comfort Gray
Sherwin Williams pairs Sea Salt with Fleur de Sel, a white paint color, Spare White, a grayish off-white paint color, and Summit Gray, a light gray paint color.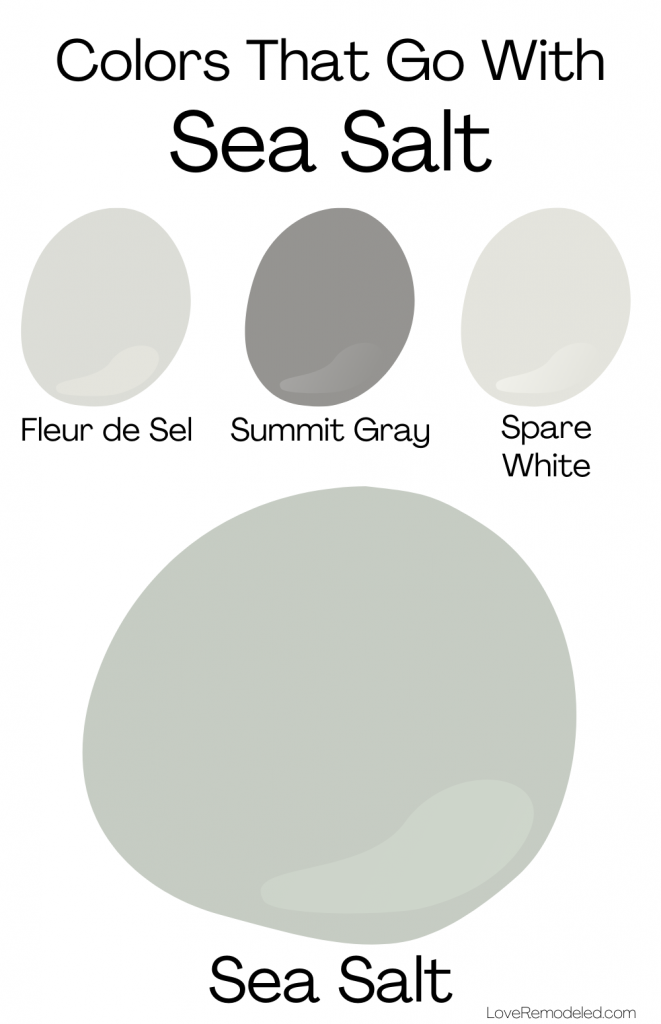 Trim Colors for Sea Salt
Sea Salt tends to go well with a lot of white paint colors. It can work with white paints with both cool and warm undertones.
Two of my favorite trim colors for Sea Salt are High Reflective White and Pure White. High Reflective White is a very bright white paint color that will give your trim a bright, crisp look. Pure White has warmer and softer undertones, with a hint of yellow and gray.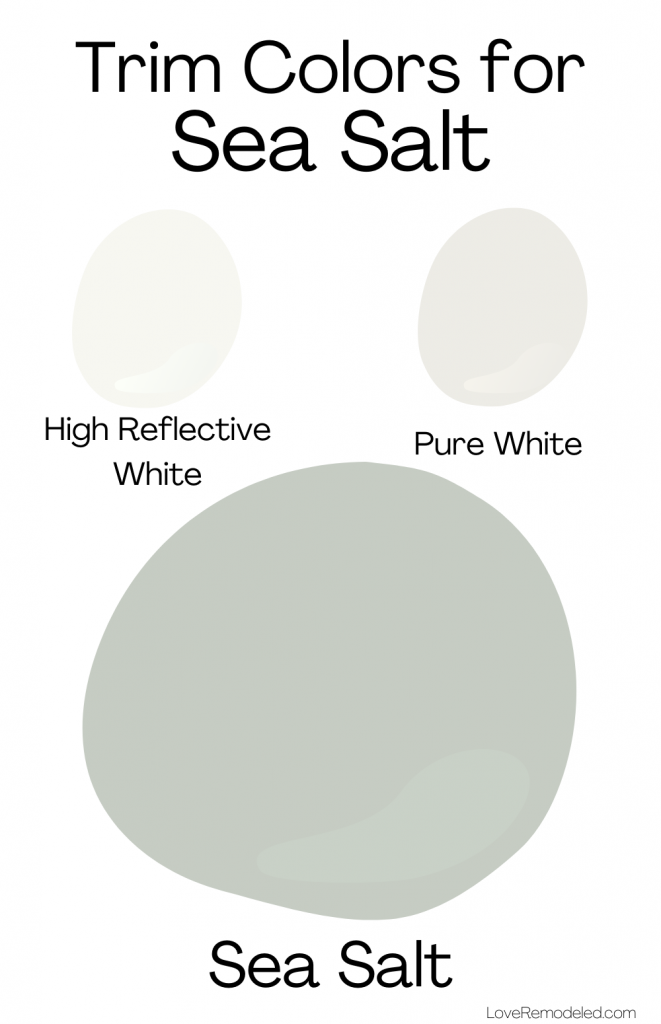 Sea Salt also goes with Alabaster, a warm white paint color with yellow undertones. Alabaster is a creamy sort of white that won't give you a stark white trim look, but instead gives a soft, muted trim shade.
Best Rooms to Paint Sea Salt
Sea Salt is a perfect color for a bathroom. It is tranquil, calming and clean looking. It tends to look as though it has a bit more color in a bathroom, as there is typically a lot of white in a bathroom from the toilet and sink.
As you can see from the picture, Sea Salt looks more blue than green in this picture, due to the lighting. This is why Sea Salt is called a chameleon color – it changes based on lighting, time of day, and what colors are around it.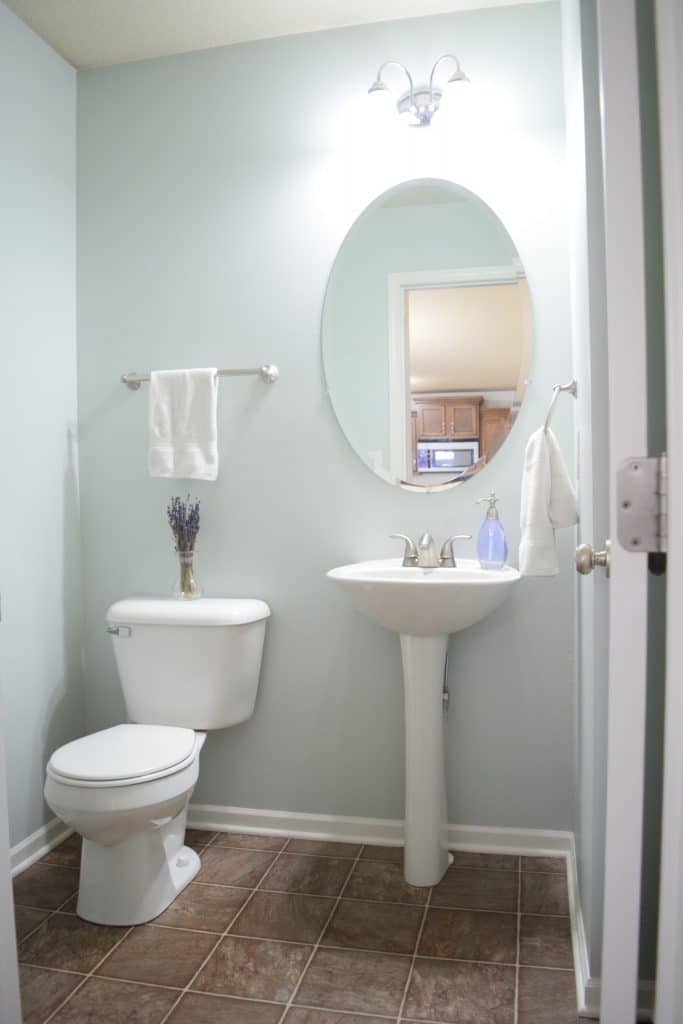 Sea Salt also works well in a bedroom, as bedrooms are relaxing retreats from the hustle of daily life.
Last, I have seen Sea Salt be used in kitchens as a beautiful accent to gleaming white backsplashes and marble countertops.
Truly, Sea Salt can go in any room of your home. Because its gray undertones can make it look neutral in certain rooms, it can be used throughout the home for an understated elegant look.
Sea Salt vs. Rainwashed
If you like Sea Salt, but want a color that leans more toward blue, check out Rainwashed. Rainwashed and Sea Salt are very similar, except that Rainwashed leans blue with a hint of green and Sea Salt leans green with a hint of blue.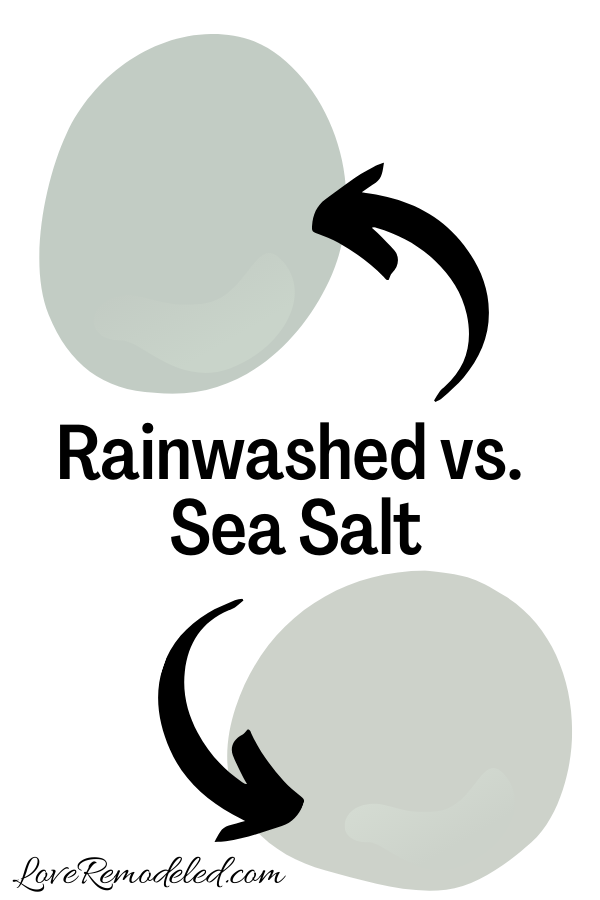 Both are great colors, and would provide the same calming effect in a room without being overpowering.
For more information, check out this post on Rainwashed. For other amazing blues from Sherwin Williams, click here.
Wondering How To Pick the Perfect Paint Color?
I have the best solution for you!
Samplize sells 9×14.75 stick-on paint sheets in almost every paint color.
These no-mess, peel and stick sheets are made from real paint, so they will show you exactly what the paint color will look like.
Simply place them on your walls next to your trim, furnishings or fixed elements, and easily see which paint color works best in your space and with your lighting.
Then, peel the sheet off your wall and reapply it somewhere else if you like. You can try several different paint colors with no mess, no fuss and no cleaning paint brushes.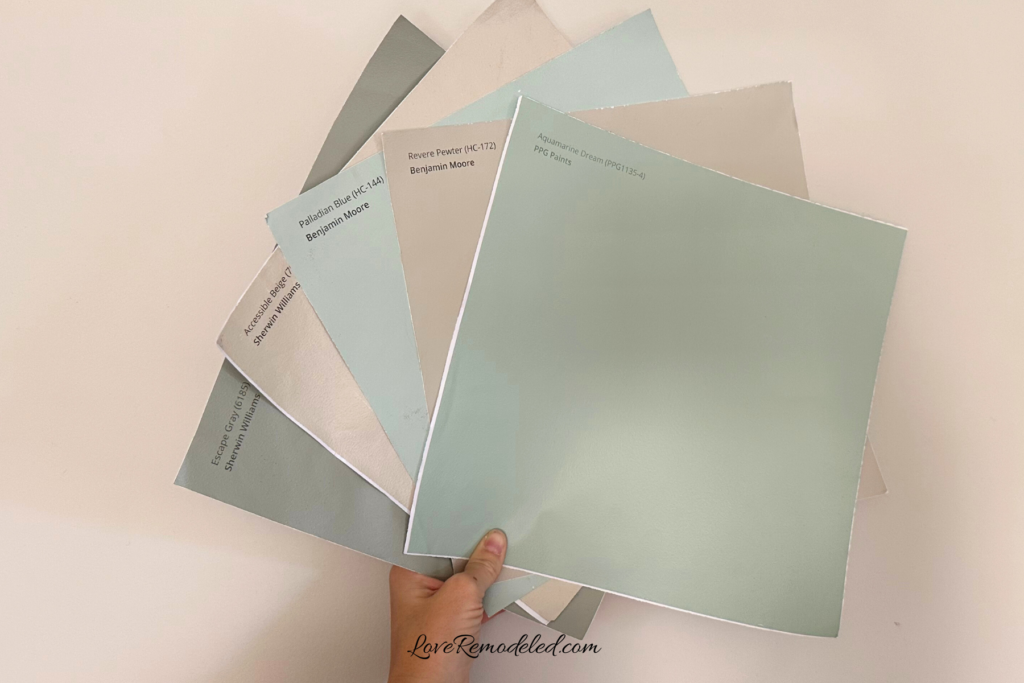 Oh, and you can have them in your home by tomorrow with OVERNIGHT shipping!
As a bonus, be sure to use the code LoveRemodeled10 at check out to get an extra 10% off! Samplize sheets are cheaper than a sample can of paint, and way less work.
They are the easiest (and fastest!) way to try a paint color in your home, with no hassle.
Final Thoughts on Sea Salt
Sea Salt, by Sherwin Williams, is a beautiful color that can go well in any room of the house. It is listed as one of Sherwin Williams' top 50 best selling colors, because it is selected time and again by both designers and homeowners.
If you want to paint your home on your own, check out this post on painting a room.
Want to see all your paint options in one convenient place? Click here to get everything you need to start painting, including Sherwin Williams and Benjamin Moore paint color decks!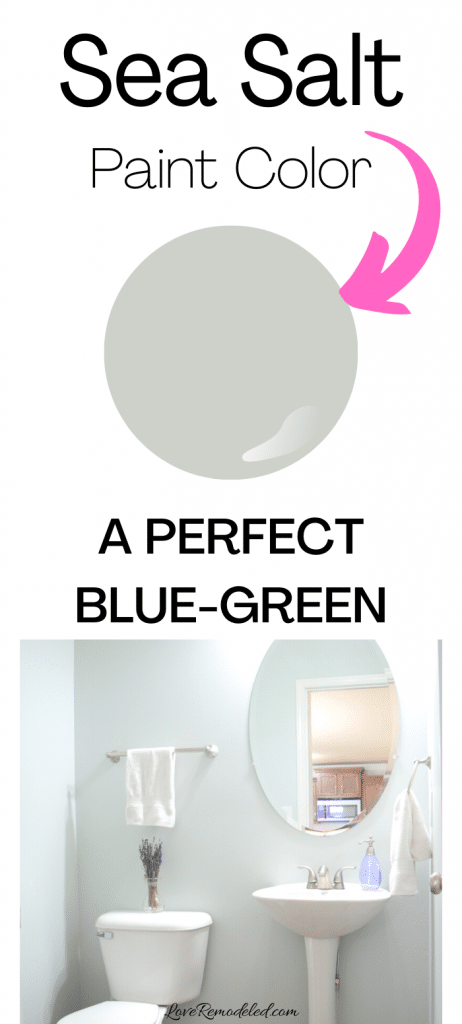 Have a question or want to show off your project? Join the discussion in Love Remodeled's Facebook group!