Calm coastal paint colors can turn your home into a relaxing retreat from the pressures of every day life.
During a recent trip to the beach, I visited the local Sherwin Williams to talk to the experts about their top selling paint colors.
The answer was unanimous. Most beach home owners choose shades that are light blue or light green hues.
The colors that are chosen for the interior of your beach home are meant to reflect the same colors you see when you are soaking up the sun.
They are classically beachy feeling, and impart a sense of peacefulness.
Coastal paint colors for the home are always in style. They play on the hues of the ocean, the sky, the sun and the sand.
Paired with coastal decor, they give your home a perfectly casual and nautical feeling.
This post may contain affiliate links. If you have any questions, please see my disclaimer page.
Here are my picks for the top five coastal paint colors from Sherwin Williams.
Tradewind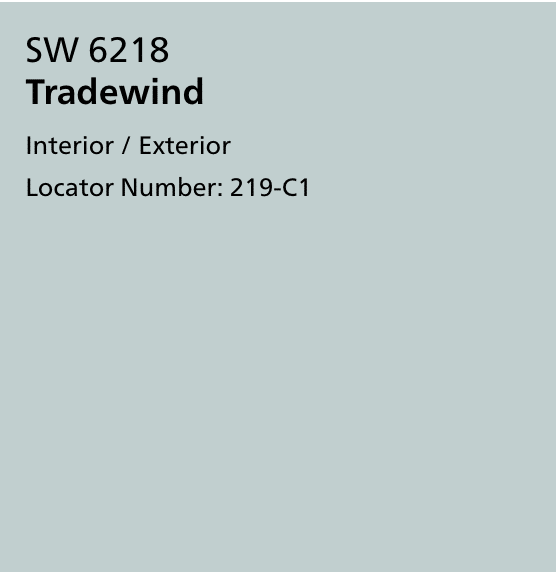 Tradewind is a designer favorite, and it is easy to see why.
Named by Coast Living Magazine as one of the best paint colors for a beach house bedroom, it has notes of blue and gray in it, with a touch of green.
This color tends toward the cool side, and is light enough to paint in any room.
As with all colors, it will look like a darker color in a small, windowless room, or may look almost like a neutral in a larger, well lit room.
It is a serene, beautiful shade that is reminiscent of the blue expanse of the ocean or of the clear sky.
Popular with both the average beach home owner and with designers, Tradewind is the number one choice to anchor your coastal design.
Cottage Cream
Cottage Cream is a great addition to a coastal color scheme. What would a beach house be without a soft yellow?
This warm color is reminiscent of sunsets over the ocean and the sand beneath your feet.
This calming paint shade is subdued enough to be considered a beige, but has enough yellow in it to look like a color when it is on the wall.
Cottage Cream brings a bit of sunny brightness to this beach house color scheme without being too prominent.
Meander Blue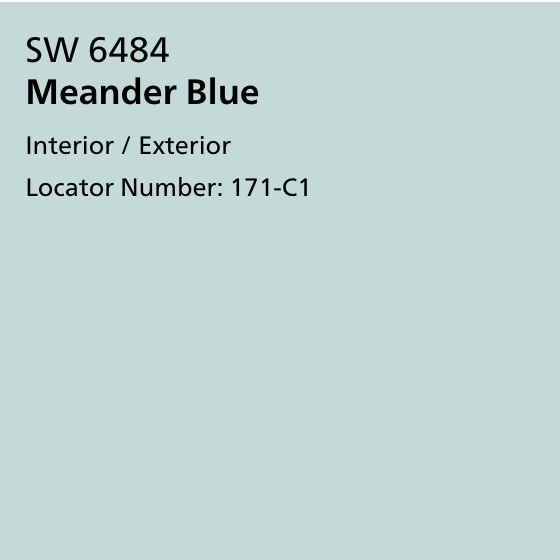 Meander Blue is a slightly brighter blue-green paint color that feels almost tropical.
While this cool beachy teal compliments the other shades in this coastal color scheme from Sherwin Williams, it would be best used in a stand alone room such as a small bathroom, or a sunny guest room.
It begs for some crisp white beadboard or white wicker furniture to accent it on the walls.
Meander Blue will give your home a sea glass inspired feel.
Passive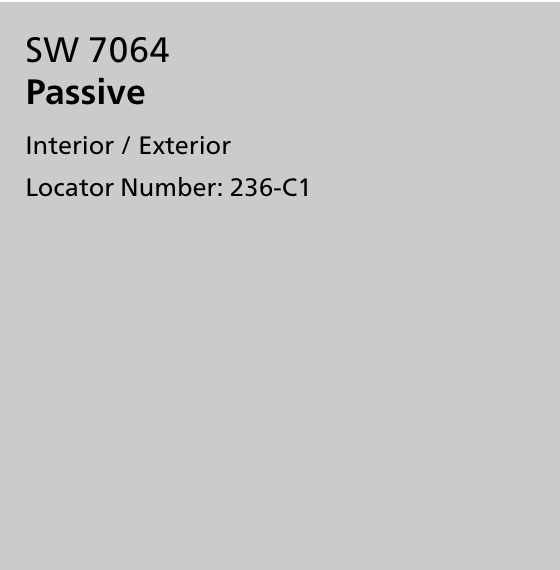 Passive is a classic gray. It could be placed next to any color in this beach paint scheme, and blend in the home seamlessly.
It is another top pick for beach home owners, according to the local Sherwin Williams experts, because it can go with any style, and in any room. It is the color of the sky on a stormy day at the beach.
Click on this post for more information on Sherwin Williams Passive.
Waterscape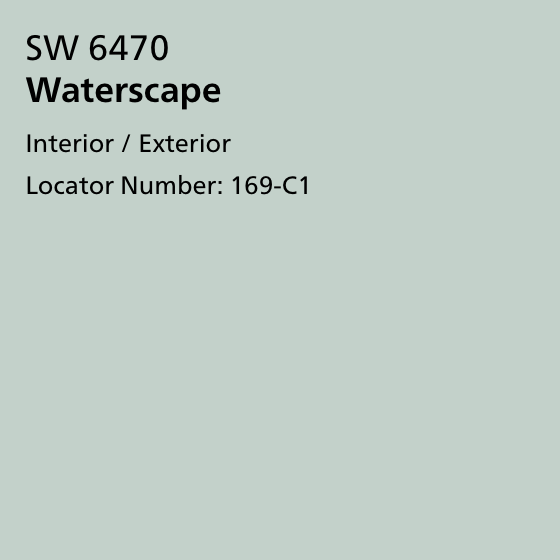 When I think of Waterscape, I think of tranquility.
As the name implies, Waterscape will remind you of the water. It is a similar depth to Tradewind, but where Tradewind leans towards blue, Waterscape leans towards green.
Waterscape is another great choice for the main living areas of your home, for the bedrooms, or for any room where you want to hear the call of the ocean.
But Sherwin Williams' most popular calm coastal paint color…
…is Sea Salt.
Sea Salt is a soft blue green paint color that has a lot of gray in it.
While Sea Salt is a blue green paint color, it is frequently referred to as a neutral. It has some color in it, but doesn't look bright.
The gray in it calms it down, making it a bit understated.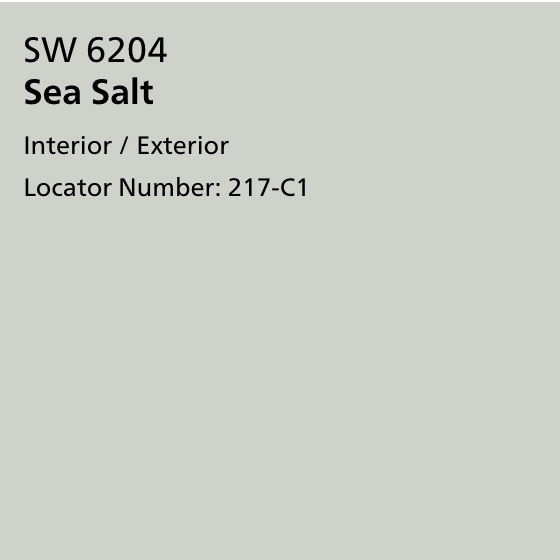 For a long time, it was the number one color on the coast, in the plains and anywhere in the nation for years.
I use it in my whole house color scheme, perfect for any home.
Learn everything you need to know about Sea Salt here.
This beach house color scheme will make your home feel like it is steps from the ocean, even if it isn't.
All of the colors are calming, relaxing, and beautiful shades that Sherwin Williams heralds as their most popular coastal colors.
Remember that the paint sheen you choose will make a different in how the color is perceived.
If you need some guidance on this, check out this post on paint finishes.
Want to see all your paint options in one convenient place? Click here to pick up a Sherwin Williams fan deck (contains all SW colors) or a Benjamin Moore Collections fan deck (contains many popular BM colors – other fan decks sold separately)!
Need a painter? Click here to find a painting professional in your area!
Let me know what your favorite coastal paint colors from Sherwin Williams are!
Oh, and finally, complete the look by picking up some great beach decor finds!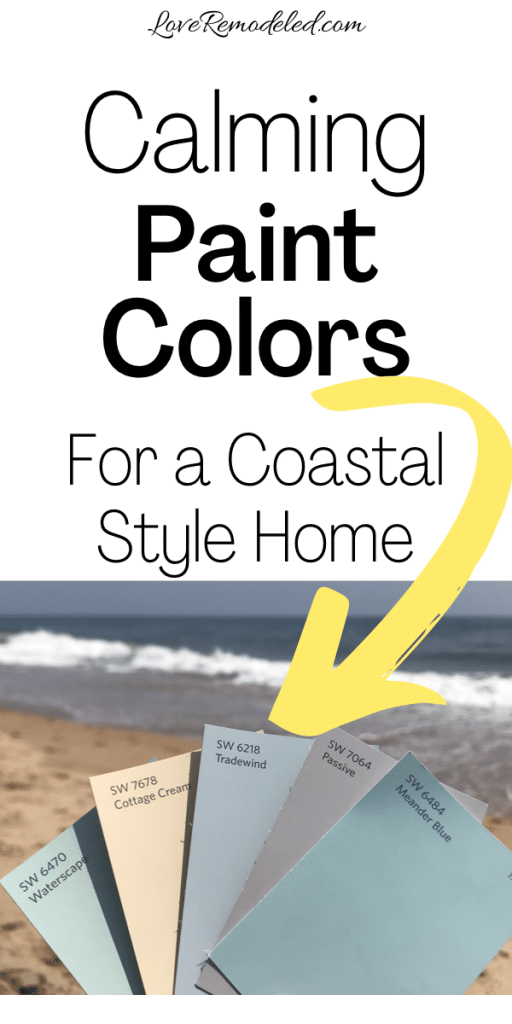 Top Beach House Paint Colors from Sherwin Williams