Sherwin Williams Tradewind is a beautiful blue paint color. In fact, it is such a great paint color that I can't believe I haven't written on it before now!
Tradewind has been included in Sherwin William's Living Well – Inspire Collection, likely because of its calming and rejuvenating look.
Sherwin Williams Tradewind is a soothing, gentle paint color that can look elegant and sophisticated.
If you're looking for a blue that doesn't look childish, but isn't too steely, keep reading for all the details on Sherwin Williams Tradewind.
This post may contain affiliate links. If you have any questions, please see my disclaimer page.
What Color is Sherwin Williams Tradewind?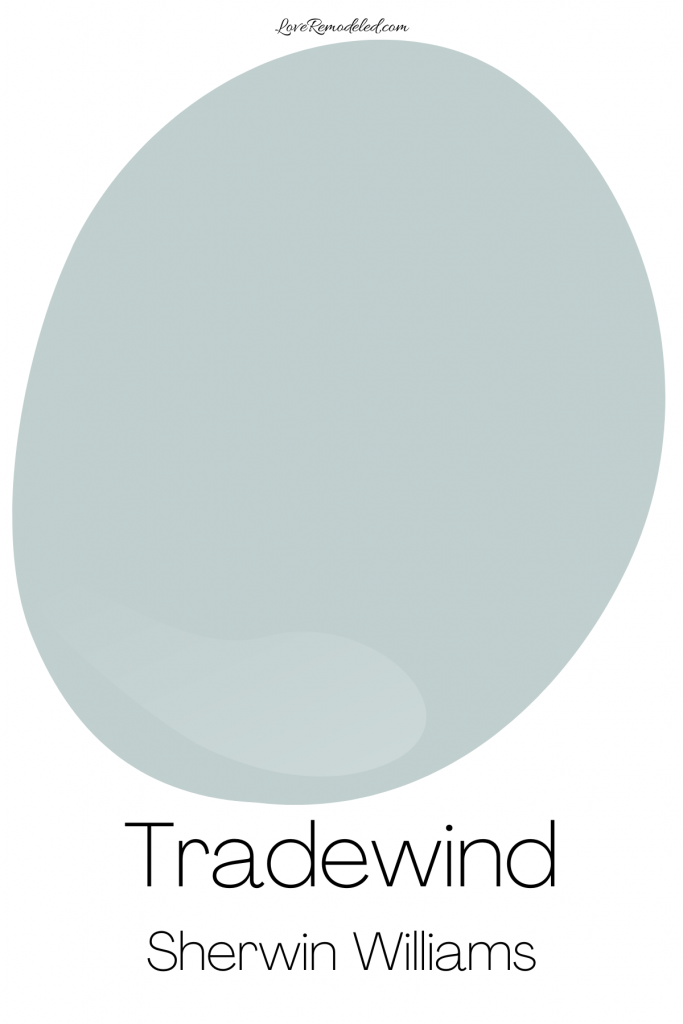 Sherwin Williams Tradewind is a blue paint color.
People commonly wonder whether Tradewind is blue or green, but I would definitely consider it a blue. In fact, I wouldn't even consider it a blue-green paint color, because it doesn't have a lot of green in it.
Sherwin Williams Tradewind Undertones
All paint colors have undertones. These are the little bits of color that help to make a shade what it is.
Now, Tradewind does have some green in it. It isn't a true blue like a royal blue or anything, but it is solidly more blue than green, for sure.
The green in Tradewind helps make it a little bit more subtle than a shade like Sherwin Williams Sleepy Blue, which looks must more like a true blue.
Sherwin Williams Tradewind also has gray undertones. The gray in Tradewind is what gives it that sophisticated look.
Blue paint colors that don't have any gray can look bright and juvenile, or pastel like an Easter egg. Tradewind isn't any of these things.
Because Tradewind has a bit of gray in it, it looks elegant and mature.
Sherwin Williams Tradewind LRV
Sherwin Williams Tradewind has an LRV of 61. This means that it is still in the light range of the LRV scale.
LRV stands for Light Reflectance Value. It is a scale that tells us how much light a color reflects back into a room.
The LRV scale goes from 0, which is completely black, to 100, which is completely white. As you can see, a white paint color reflects the most light back into a room. A black paint color reflects the least light back into a room.
So an LRV of 61 means that Tradewind is light, but it isn't the lightest paint color around. It has some color, and is moving towards a more medium-depth shade.
Practically speaking, Tradewind won't significantly darken a room, but it also won't brighten the space up.
It works in most spaces, but if your room is particularly dark, you may want to go with a lighter blue paint color, or with Tradewind at a reduced percentage (such as Tradewind at 50%).
Is Sherwin Williams Tradewind Warm or Cool?
Because Tradewind is blue, it is a cool paint color.
Cool paint colors are blues, greens and some purples. They tend to give a room an expansive feel, like the walls are receding into the background.
Additionally, cool paint colors generally feel calming.
Sherwin Williams Tradewind feels serene and soothing.
Where Can I Use Sherwin Williams Tradewind?
Sherwin Williams Tradewind is a great paint color for any room in the house.
It works well in a kitchen with white quartz, stainless appliances and white or light wood cabinets.
Tradewind is a good paint color for a living room, dining room or entry way.
Because Tradewind is a calming paint color, it is always a great shade for a bedroom or bathroom. People tend to love blues for bedrooms and bathrooms because they invoke the feeling of a retreat.
Now, since Tradewind doesn't have the highest LRV, I would be sure it to sample it in any room where I was worried that it didn't have enough light.
Every paint color needs adequate light to really look amazing, so be sure that your space gets sufficient natural light, or be sure to use artificial lighting to support your paint.
Without enough light, Sherwin Williams Tradewind runs the risk of looking dingy.
What Colors Coordinate With Sherwin Williams Tradewind?
Tradewind goes well with whites, creams, grays, blacks, greiges, tans, beiges and yellows.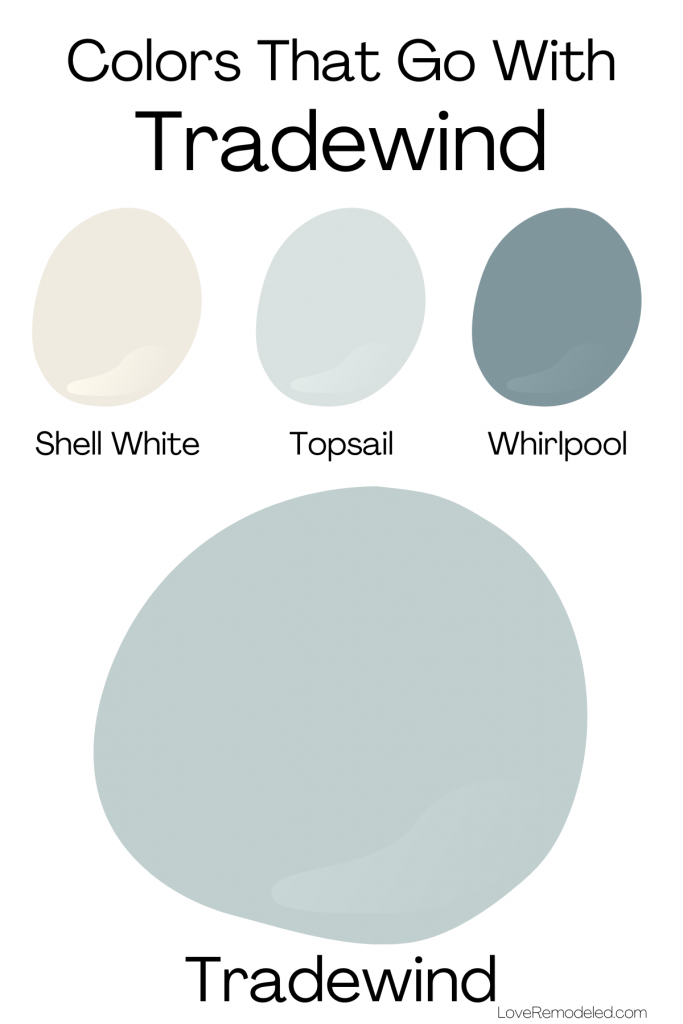 This color palette for Sherwin Williams Tradewind is one of my personal favorites. It combines gorgeous blues and soft whites to make a room that is perfectly coordinated.
This color palette is perfect for someone who is going for the Coastal or Coastal Grandmother look that is so popular right now.
Trim Paint Colors for Sherwin Williams Tradewind
If you're interested in painting your trim to coordinate with Sherwin Williams Tradewind, I would recommend going with either Extra White or Pure White.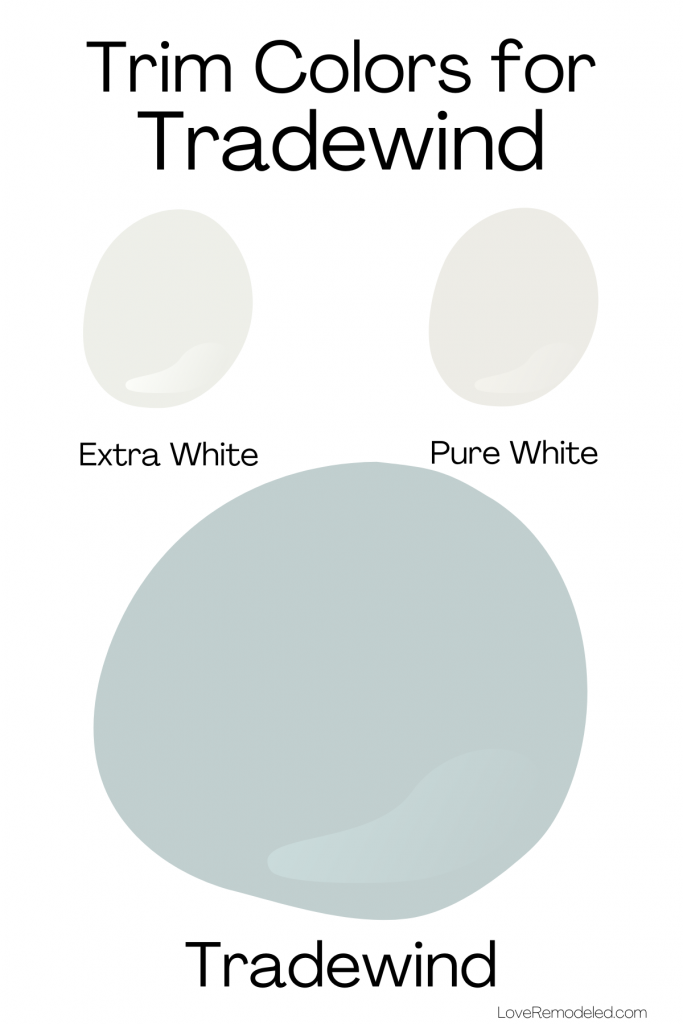 Extra White is a bright, crisp white paint color with a blue undertone. It will give your trim a very stark, cool look next to the wall painted in Tradewind (by cool I mean a cool, not warm appearance, not "neat").
I don't recommend Extra White for all paint colors because the blue in it can make it look too cool, but when paired with Tradewind, Extra White really looks great.
Another option for your trim would be Pure White. Pure White is one of my go-to paint colors for trim. It leans just slightly warm, but also has a bit of gray in it.
The gray gives Pure White a little bit more of a subtle look, instead of being so bright. It will still look very white on your trim, but not so crisp.
Sherwin Williams Tradewind Compared to Other Paint Colors
When people are selecting paint colors, they tend to be comparing the shades they are considering to other shades in the same color family.
Many people who are considering painting their space Tradewind are also considering Sea Salt and Rainwashed.
So, let's compare Tradewind with Sea Salt and Rainwashed and see white one might be better for your home.
Sherwin Williams Tradewind vs. Sea Salt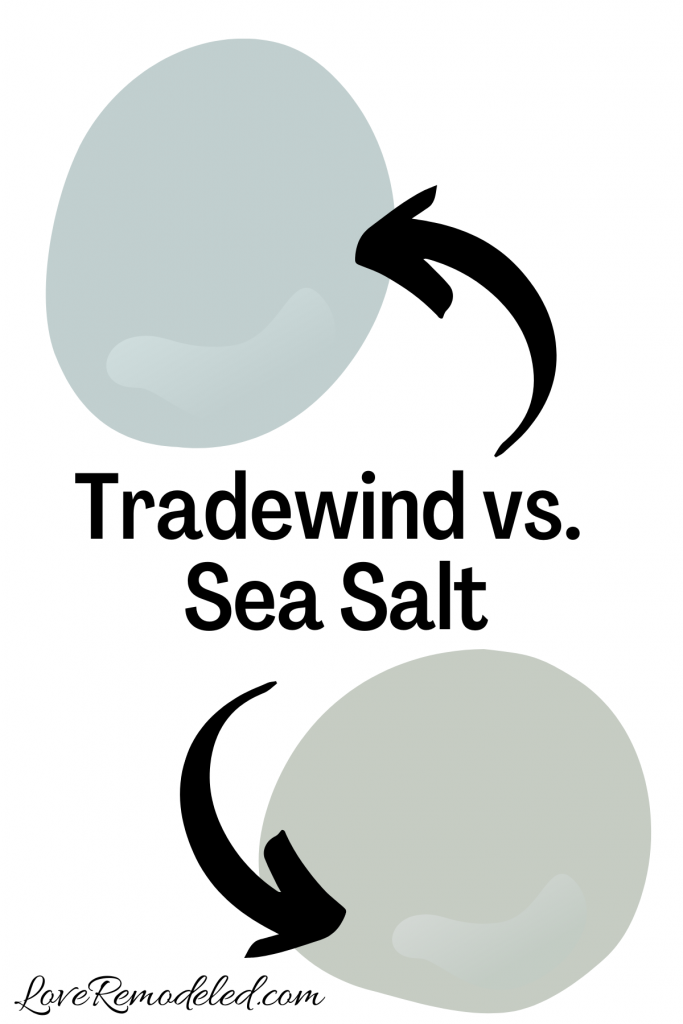 Sea Salt is a very popular Sherwin Williams paint color. It rose to its highest popularity with the show Fixer Upper, as it was one of the the quintessential blue green paint colors that Joanna Gaines seemed to use so frequently.
But, Sea Salt isn't only for those who love the modern farmhouse look. In fact, Sea Salt has long been a favorite for bedrooms and bathrooms due to its soft, spa-like appearance.
Sea Salt is a much greener paint color than Tradewind.
Sea Salt is a blue-green blend with gray undertones. The gray in Sea Salt makes it come across like a neutral at times.
It is one of those chameleon types of paint colors that can look blue in some lights, green in others, and gray in others. It can even look all these things at the same time in the same room.
Sea Salt and Tradewind have very similar LRVs, so one isn't really darker than the other.
If you're looking for a greener paint color, Sea Salt is going to be the pick here. But, if you want a blue paint color, Tradewind wins.
Sherwin Williams Tradewind vs. Rainwashed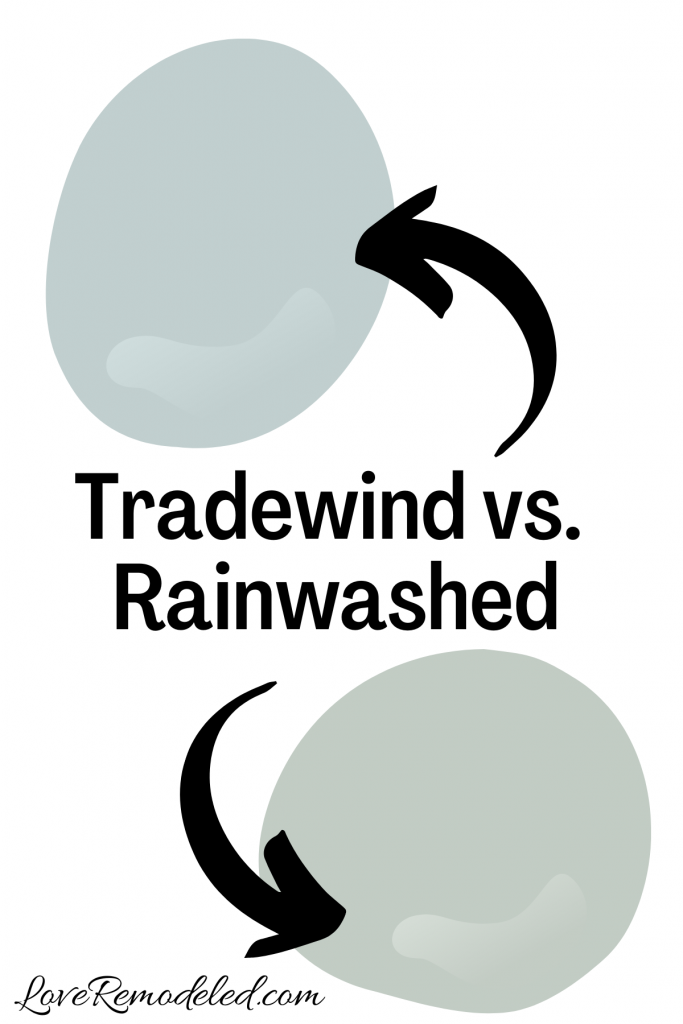 Rainwashed is another popular blue-green paint color with gray undertones by Sherwin Williams.
Like Sea Salt, Rainwashed has a lot more green in it than Tradewind does. It doesn't have as much as Sea Salt, but Rainwashed is a true blue-green paint color. This is in contrast to Tradewind, which is a green paint color with a hint of green in its undertones.
Again, Rainwashed and Tradewind have similar LRVs. One won't have more depth on the wall than the other.
If you like Tradewind, but prefer more of a true blue-green, Rainwashed is the better bet.
Wondering how to pick the perfect paint color?
I have the best solution for you!
Samplize sells 9×14.75 stick-on paint sheets in almost every paint color.
These no-mess, peel and stick sheets are made from real paint, so they will show you exactly what the paint color will look like.
Simply place them on your walls next to your trim, furnishings or fixed elements, and easily see whether the paint colors work in your space and with your lighting. Then, peel the sheet right off your wall and reapply it somewhere else if you like!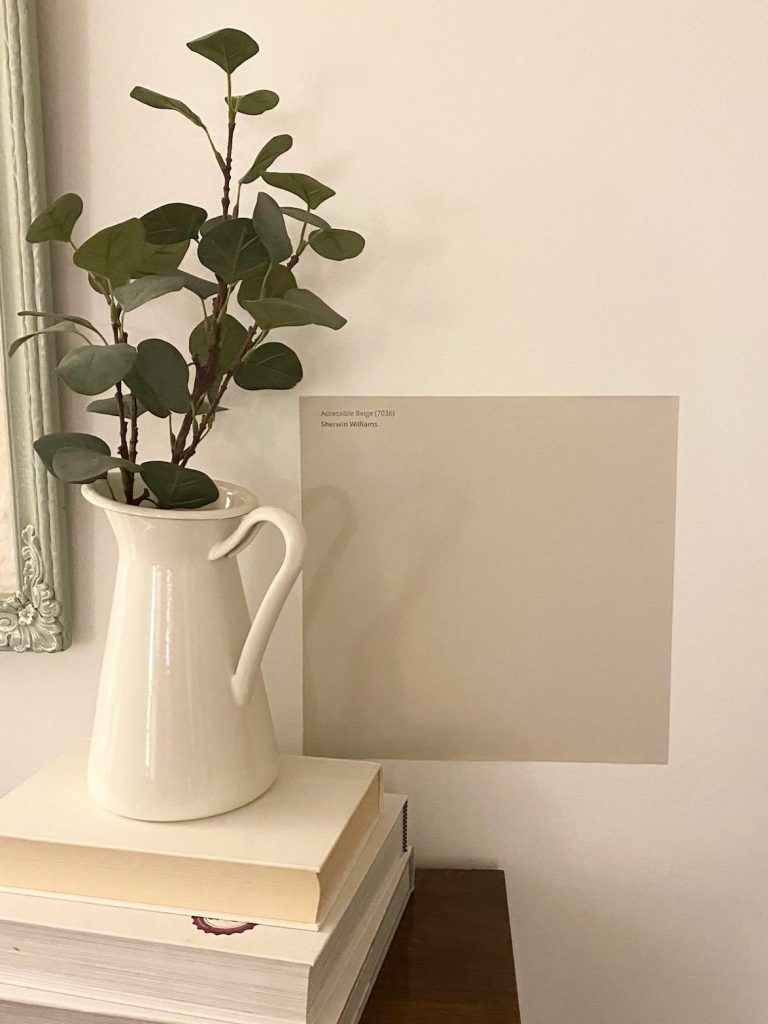 Oh, and you can have them in your home by tomorrow with OVERNIGHT shipping!
As a little tip, if you enter your email, you'll get $5 off your first order! Samplize sheets cheaper than a sample can of paint, and way less work!
Samplize sheets are truly the easiest (and fastest!) way to try a paint color in your home, with no mess.
Final Thoughts on Sherwin Williams Tradewind
Tradewind is one of the best light blue paint colors by Sherwin Williams. It has a bit of gray in it, which keeps it from looking too childish, and instead gives it a sophisticated look.
Tradewind looks gorgeous with wood or white trim, can work in any style home, and is a paint color that you can use in most spaces.
If you like blue paint, pick up a Samplize sheet of Tradewind today and see how it looks in your home!
Want to see all your paint options in one convenient place? Click here to get everything you need to start painting, including Sherwin Williams and Benjamin Moore paint color decks!
Have a question or want to show off your project? Join the discussion in Love Remodeled's Facebook group!