Extra White is a bright, crisp white paint color by Sherwin Williams. It is commonly used on interior and exterior trim.
Sherwin Williams Extra White is featured in the following color collections: Artistically Bright, High Voltage, Reasoned, Creative, Pottery Barn Kids – Fall/Winter 2021, Pottery Barn Teen – Fall/Winter 2021, 2019 Shapeshifter, Timeless White, ABC's and 123's, Precious Baby, Teen Space, and West Elm.
If you are looking for an icy, fresh white paint color, keep reading for all the details on Sherwin Williams Extra White.
This post may contain affiliate links. If you have any questions, please see my disclaimer page.
Sherwin Williams Extra White Paint Color Details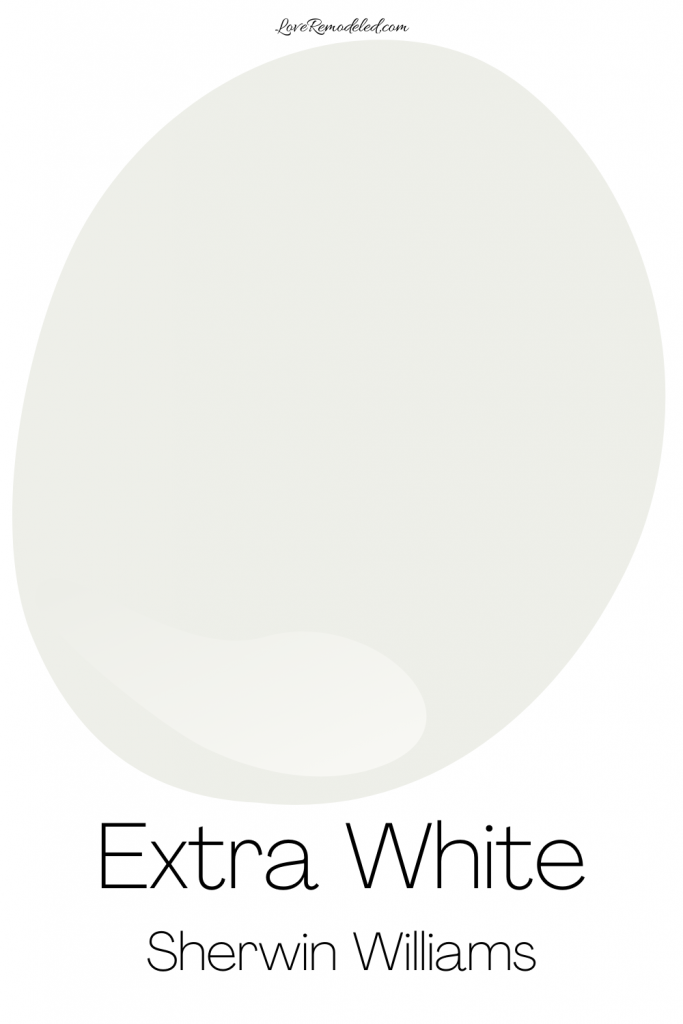 Extra White is a popular white paint color, but it is not one of the most popular Sherwin Williams white paint shades. Despite this, you see a lot of people choose it as a trim color.
One reason that Extra White doesn't get quite the same attention as Pure White, Alabaster or Snowbound is because it has strong undertones that make it less versatile.
Sherwin Williams Extra White Undertones
Extra White has an icy blue undertone to it. This blue undertone makes it a good color to pair with grays, blues, and greens. But, a blue undertone doesn't work as well with creams, tans, yellows, browns or greiges.
And, if you pair Extra White with a truer white, you may just find that Extra White looks a bit blue.
For these reasons, it just isn't quite as functional or as versatile as some other white paint colors.
Is Sherwin Williams Extra White Warm or Cool?
As I mentioned above, Extra White has a blue undertone. This makes it a cool paint color.
Cool paint colors have blue, green or purple undertones. They tend to make a space feel calming and can make a room feel more expansive (sort of like the blue sky receeding into the background).
Some blue undertones can give a paint color a particularly icy look, and Extra White is one of those types of cool colors. This chilly white looks very bright and stark.
Click here to check out other white paints with blue undertones.
Sherwin Williams Extra White LRV
Extra White has an LRV (Light Reflectance Value) of 86. An LRV of 86 is a pretty high LRV. The Light Reflectance Value Scale goes from 0, which is completely black, to 100, which is completely white.
An LRV of 86 isn't exactly the brightest white you can get, but it is up there.
Where Should I Use Sherwin Williams Extra White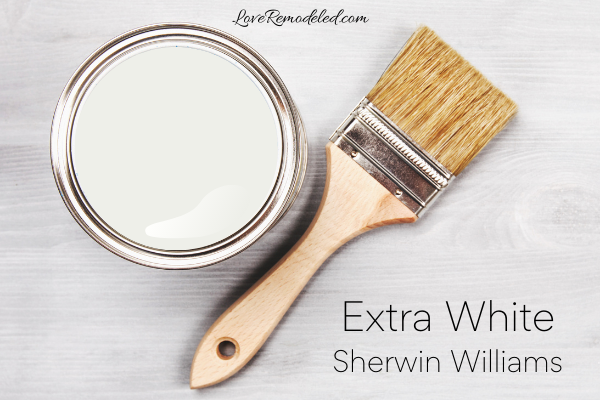 Extra White is a good color for trim, crown molding, woodwork, built-ins, cabinets and the like. It can even be used for walls.
But, Extra White tends to work better with some paint colors than for others. For this reason, if I were going to pick a trim color for a new build, or was going to paint all the trim in a home, I probably wouldn't pick Extra White for my trim color.
Because Extra White can be finicky with the colors it's paired with, it just may not stand the test of time as a trim paint color. Instead, I might go with a color like Pure White, which goes with a whole range of shades.
When would I use Extra White? If I was going to paint a room gray, black, blue or green, I would consider using Extra White as the trim color. In a room that was one of these colors, Extra White would look clean, crisp and stark.
Additionally, if my trim was Extra White and I wanted to paint my walls white, I would choose Extra White for the wall color as well. Pairing Extra White with a different white would highlight the blue undertone in it.
This is a good tip for many white paint colors. When you paint the wall and the trim the same white, use a lower sheen for the wall, and a higher sheen for the trim. This will cause the light to bounce off of the trim more than the walls, making the trim look a bit brighter while still all having the same undertones.
Frequently Asked Questions about Extra White…
Is Sherwin Williams Extra White too white?
While the blue undertone in Extra White makes it come across as SUPER white in some spaces, it isn't the most white looking white paint.
This is because of the blue undertone in Extra White, that gives it a hint of softness. You can really see this when you compare Extra White to a very white paint color like High Reflective White (stay tuned… we'll look at these two colors together in a minute).
Is Extra White too white for walls?
Extra White wouldn't exactly be my go-to color for walls. While it can work on walls (and should always be paired with Extra White trim), I would probably more frequently go with a warmer or more neutral white, such as Pure White.
If your interior has lots of steely grays and cool blues though, Extra White might be the perfect white paint color for your walls, and it shoudln't look too white.
Is Extra White too white for exterior?
Extra White also wouldn't be my first choice for a whole home exterior.
In bright sunlight, Extra White can look a bit too white for an exterior. Now, if you really want that cool, fresh look, Extra White be perfect for you though. A lot of whether a color is too this or that is dependant on the eye of the beholder.
Extra White can work better in small doses on an exterior, so if you want a fresh, clean white for your trim, Extra White comes with less reservations.
Coordinating Colors for Sherwin Williams Extra White
Extra White is a decidedly cool white paint color, so it goes well with other cool paint colors. Blues, greens, purples, blacks, and cool grays are all great coordinating shades for Extra White
Sherwin Williams pairs Extra White with Charcoal Blue, a dark grayish navy, and Smoky Azurite, a mid-tone blue.
Together, this Extra White color scheme is perfect for almost any design style – farmhouse, modern, contemporary, traditional, industrial and more.
Extra White Compared
When people are considering a paint color, they are commonly comparing it to other popular paint colors in the same family as a way to decide which is best in their home.
In an effort to answer some of your questions, let's look at Extra White compared to some other popular white paint colors.
Specifically, we will compare Extra White to Pure White and High Reflective White. These two Sherwin Williams paint colors are the other most popular white paint colors for trim by Sherwin Williams.
Sherwin Williams Extra White vs. Pure White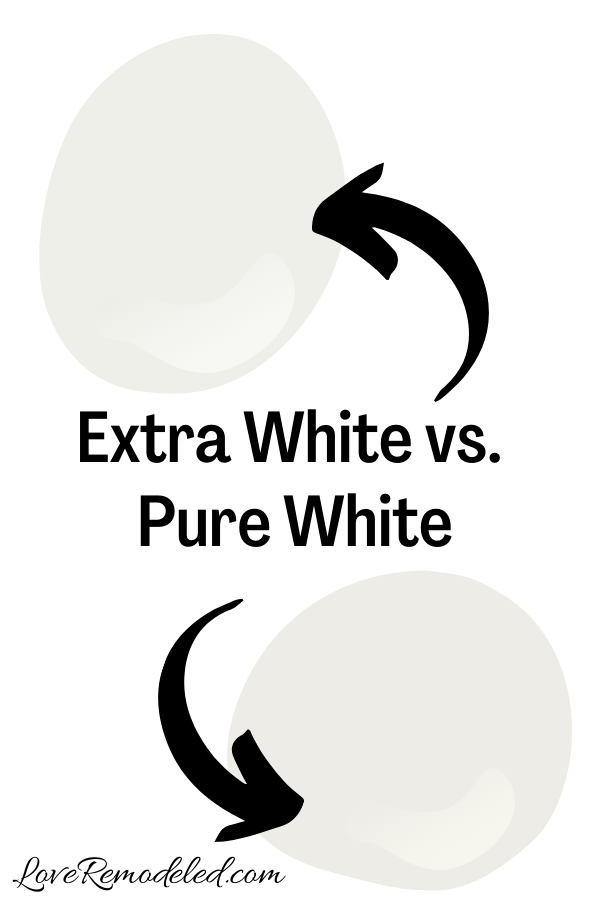 Pure White is a very popular white paint color. It is most frequently used on trim, cabinets and woodwork, but can also be used on walls and home exteriors.
Like Extra White, Pure White also has a bit of softness to it that comes from a gray undertone. In addition to this, Pure White also has a yellow undertone that makes it look a bit softer on your walls or trim than Extra White does though.
When you compare Pure White to Extra White, you see that one looks cooler and one looks warmer, but otherwise, they appear to be similar depths and brightness. In fact, their LRVs are almost the same.
If you want a cool, fresh white paint color, Extra White is the pick here. But, if you want a white paint color that is more versatile and can work with almost any other paint color, Pure White is the better choice.
Click here to learn more about Pure White.
Sherwin Williams Extra White vs. High Reflective White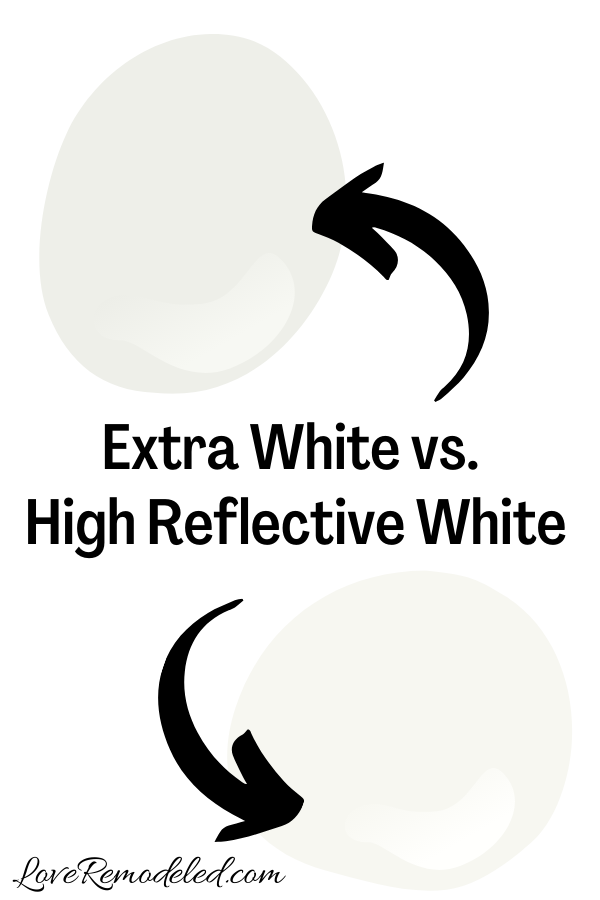 High Reflective White is Sherwin Williams' brightest and whitest white paint color. It has very little in the way of undertones, but leans a little more warm than cool. Overall, it is very neutral looking.
High Reflective White has no softness to it. It has an LRV of 93, which is very high for paint. When you look at High Reflective White next to Extra White, you see why I mentioned earlier that Extra White has some softness to it.
High Reflective White is a stark white that looks very white (unless it is reflecting back the colors around it – which does happen!).
When you compare Extra White to High Reflective White, you really see that blue tone in Extra White pop out.
Truthfully, High Reflective White would almost always be my pick for a clean, fresh white paint color over Extra White, UNLESS I knew that I was always going to paint the walls a cool shade. High Reflective White is just more neutral, and thus, more versatile.
Click here to learn more about High Reflective White.
Wondering How To Pick the Perfect Paint Color?
I have the best solution for you!
Samplize sells 9×14.75 stick-on paint sheets in almost every paint color.
These no-mess, peel and stick sheets are made from real paint, so they will show you exactly what the paint color will look like.
Simply place them on your walls next to your trim, furnishings or fixed elements, and easily see which paint color works best in your space and with your lighting.
Then, peel the sheet off your wall and reapply it somewhere else if you like. You can try several different paint colors with no mess, no fuss and no cleaning paint brushes.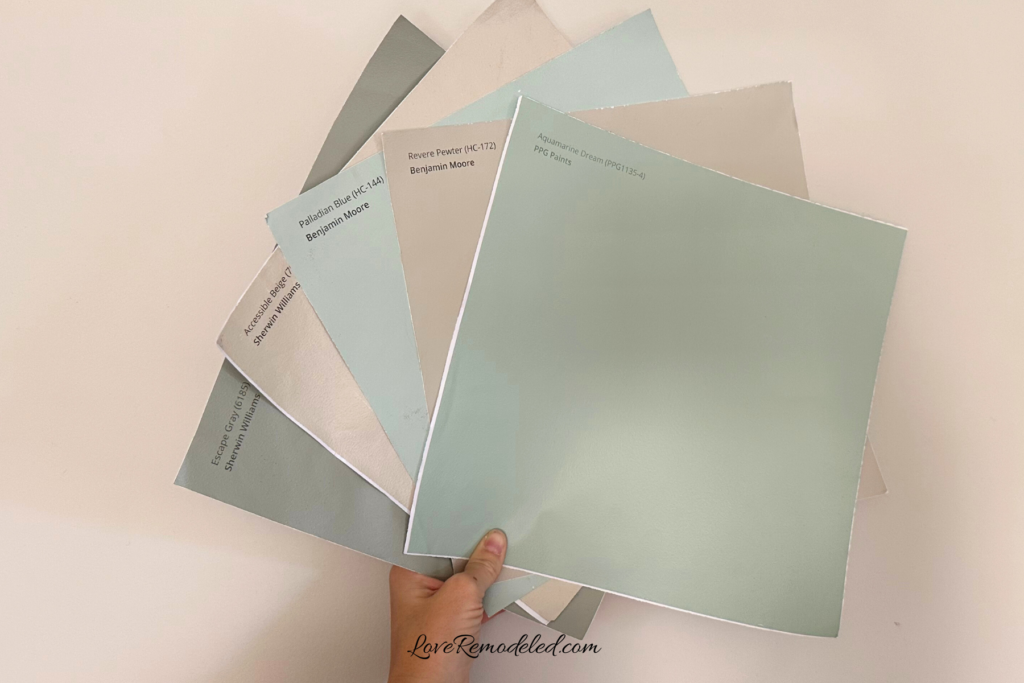 Oh, and you can have them in your home by tomorrow with OVERNIGHT shipping!
As a bonus, be sure to use the code LoveRemodeled10 at check out to get an extra 10% off! Samplize sheets are cheaper than a sample can of paint, and way less work.
They are the easiest (and fastest!) way to try a paint color in your home, with no hassle.
Final Thoughts on Sherwin Williams Extra White
Sherwin Williams Extra White is a popular trim paint color amongst people who want a cool, fresh look to set off their wall color. Extra White works best with other cool paint colors, and I would not recommend putting it with warm paint colors.
You can also use Extra White on walls, but it should definitely be tested before you paint your whole room in Extra White to make sure it doesn't come across looking too blue.
And, if you're using Extra White on your walls, you probably also want to paint your trim Extra White to ensure the walls don't end up looking blue next to a more neutral or warm white trim color.
Don't let me talk you out of Extra White! Just be sure to understand the nuances of this shade, and to try it in your space before painting.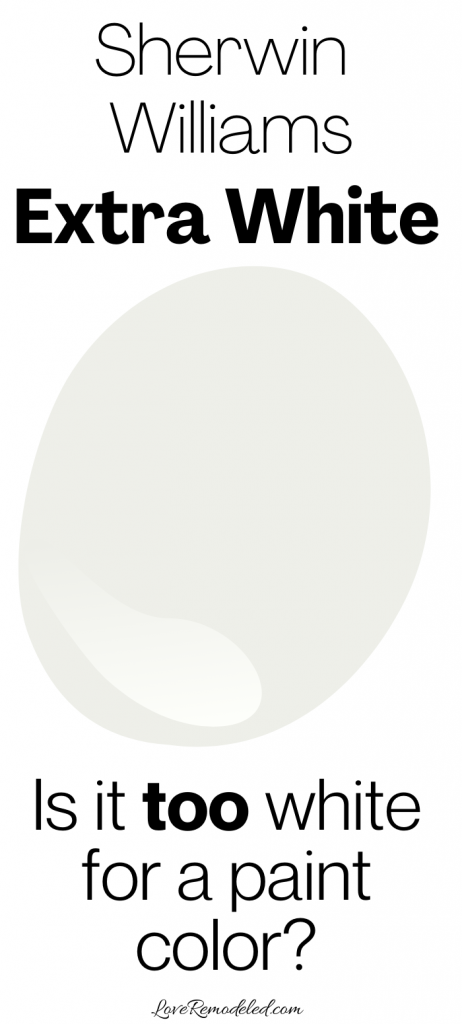 Have a question or want to show off your project? Join the discussion in Love Remodeled's Facebook group!
Want to see all your paint options in one convenient place? Click here to get everything you need to start painting, including Sherwin Williams and Benjamin Moore paint color decks!