Cyberspace is a dark navy paint color by Sherwin Williams. It is moody and dramatic, and can be used to create a gorgeous focal point in your space.
Sherwin Williams Cyberspace is included in the following collections: 2017 Noir, 2015 Voyage, Naturally Neutral, Enthusiast, and 2021 Continuum. It was also named as the Color of the Month in October of 2021.
If you are looking for a bold and powerful paint color for your space, keep reading for all the details on Sherwin Williams Cyberspace.
This post may contain affiliate links. If you have any questions, please see my disclaimer page.
Sherwin Williams Cyberspace Color Details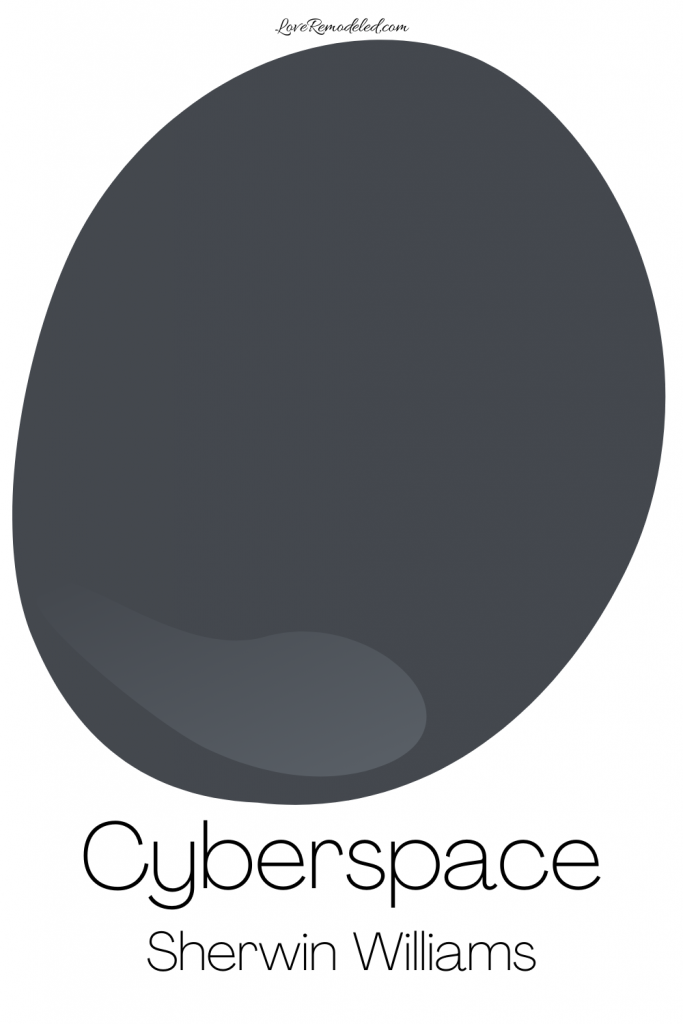 Sherwin WIlliams Cyberspace is a very dark paint color. If you have really dim lighting, it can be hard to decide whether Cyberspace is a gray or blue.
In fact, Cyberspace is a blue paint color. Specifically, Cyberspace is a navy blue. It is dark and moody, bold and dramatic, modern and minimal. Cyberspace tends to feel industrial and formidable.
SW Cyberspace is the kind of paint color that provides a bit of grounding in a space. It is a good shade to use to in place of a neutral, such as black or dark gray, when you want a paint that will bring balance to a space but still want a bit of color.
Put another way, Cyberspace is a blue you can use as a neutral paint color.
Cyberspace Undertones
Cyberspace has a navy base with a good bit of charcoal gray. This is what makes it so hard to tell whether it is a gray or a blue.
When you compare Cyberspace to a blue paint, it looks gray. But when you compare Cyberspace to a gray paint, it looks blue.
Overall though, ample lighting will highlight Cyberspace's true colors – which is a deep, dark navy.
Cyberspace LRV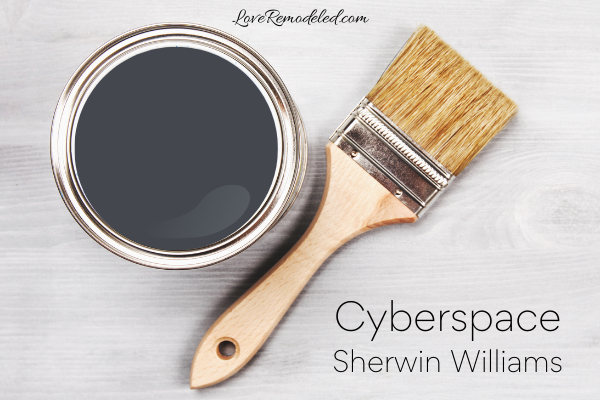 Sherwin Williams Cyberspace has an LRV (Light Reflectance Value) of 6. The LRV scale goes from 0, which is completely black, to 100, which is completely white. Few paint colors really hit the very upper or lower limit of the scale, so an LRV of 6 is very, very low.
When you are working with a color with a low LRV, it is important to have a good amount of light in the space to make it work. Otherwise, a color like Cyberspace will just look dark and nondescript.
But, when you have a good amount of light, Cyberspace will take on the grayish navy blue color that it is.
Where Can I Use Sherwin Williams Cyberspace?
Cyberspace is a good paint color for cabinets, kitchen islands, accent walls and front doors.
You can also use Cyberspace in bedrooms, living rooms, dining rooms or offices, creating a cozy, distinctive room.
You can even use Cyberspace on a home exterior, though I might stick to using it as an accent or a front door color, as opposed to a main house shade.
Cyberspace is a paint color that works in coastal style homes, farmhouse style homes, modern style homes, industrial style homes, contemporary style homes, traditional style homes and more.
Cyberspace Sherwin Williams Coordinating Colors
Cyberspace is fairly versatile. It can work work many other shades nicely.
Cyberspace tends to go well with blueish or charcoal grays, light greige paint colors, creams, whites, off-whites, yellows, light pinks, tans, and lighter greens.
If you're looking for some example colors that work with Cyberspace, Sherwin Williams recommends Site White, a soft gray; Shell White, a creamy off-white; and Network Gray, a mid-tone gray. Together, this neutral color scheme can go in any home.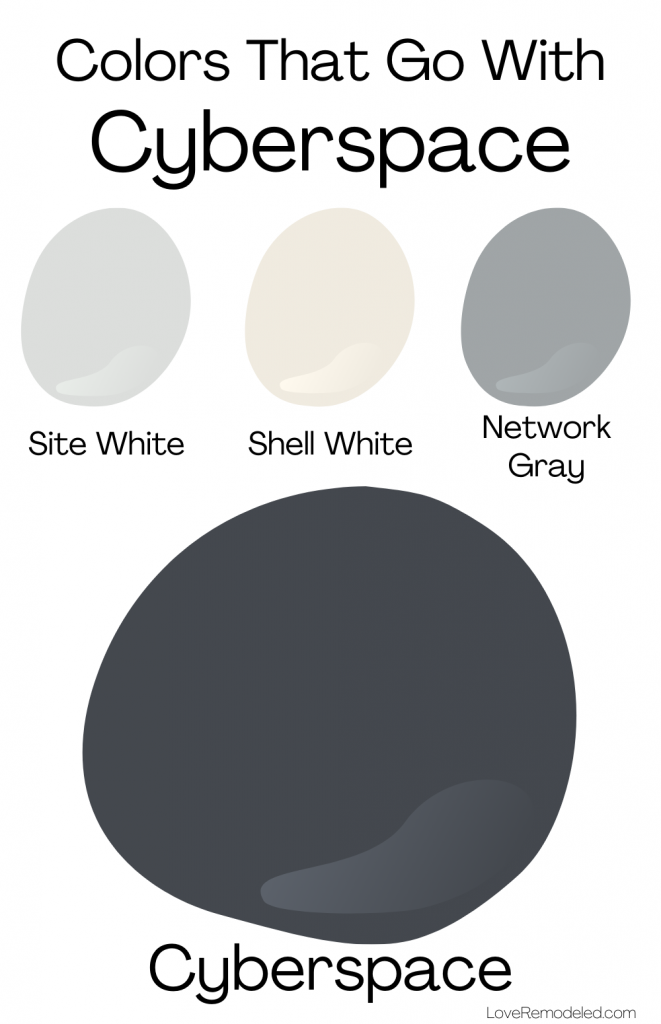 In addition, Moonraker, a light yellow paint color; Gray Screen, a soft gray paint color; Software, a medium gray paint color; and Reddened Earth, a pinkish red paint color, are also identified as possible coordinating paint colors for Cyberspace.
As you can see, Cyberspace is versatile enough that it pairs well with a range of other paint colors.
Cyberspace Sherwin Williams Trim Colors
Cyberspace is a great color for trim, in that it goes with a lot of trim colors. You can put Cyberspace with a very cool white, such as Extra White, or with a warm white, such as Alabaster.
If you like a more middle of the road white paint colors, my favorite is Pure White.
Pure White is a clean, crisp white paint color with just a bit of warmth and softness. It works well with almost any wall paint color.
But truly, because it is so dark, Cyberspace is one of the less picky paint colors when it comes to trim color. Some good options for white paints to go with Cyberspace are: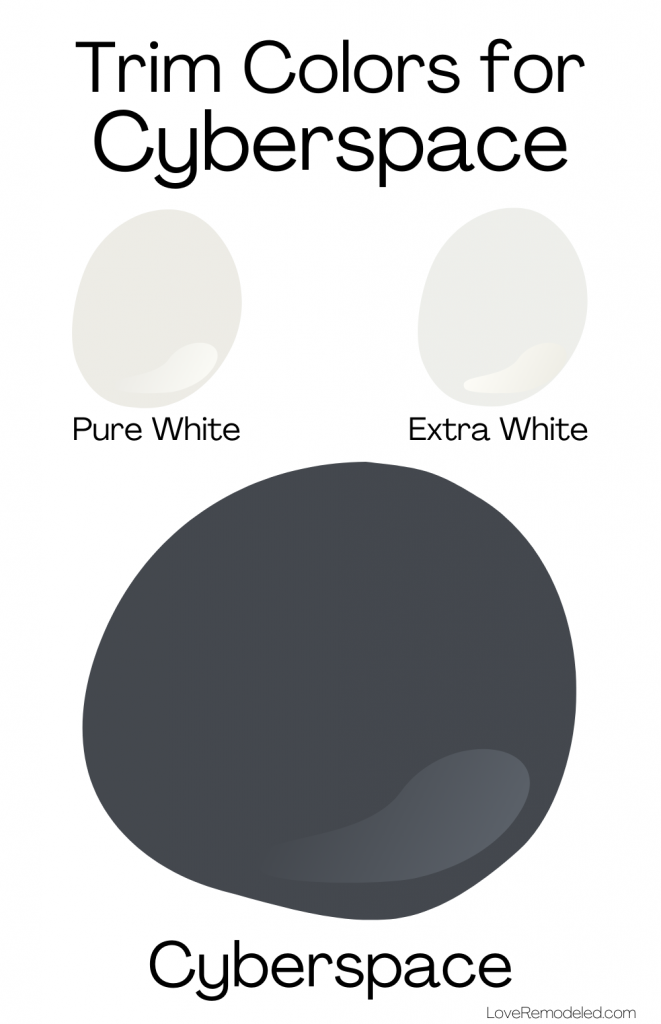 Sherwin Williams Cyberspace Compared
When I do an in-depth review of a paint color, I like to compare that paint color to other paint colors that are similar.
Because readers are often trying to decide between several similiar shades, this can sometimes be helpful in determining whether one is a clear winner over the other.
For Cyberspace, I will look at how it stacks up next to two other popular navy paint colors: Benjamin Moore Hale Navy and Sherwin Williams Naval.
Sherwin Williams Cyberspace vs. Hale Navy
Hale Navy is Benjamin Moore's most popular navy paint color. It is included as one of Benjamin Moore's top 75 paint colors for this reason.
Hale Navy is a fairly similar color to Cyberspace. It has an LRV of 8, which is pretty imperceptible difference from Cyberspace's LRV of 6.
And, Hale Navy is also a navy blue with gray tones in it. Hale Navy has a bit more blue and a bit less gray in it than Cyberspace does though. But overall, these colors are very similar.
Because they are so similar, there is no easy way to differentiate them from each other to help you decide which would be better for you.
So, the easiest way to decide which one is best for your home is to pick up a sample can or a Samplize square of these two shades and see which works best in your lighting and with your fixed elements and furnishings.
Click here for more information about Hale Navy.
Sherwin Williams Cyberspace vs. Naval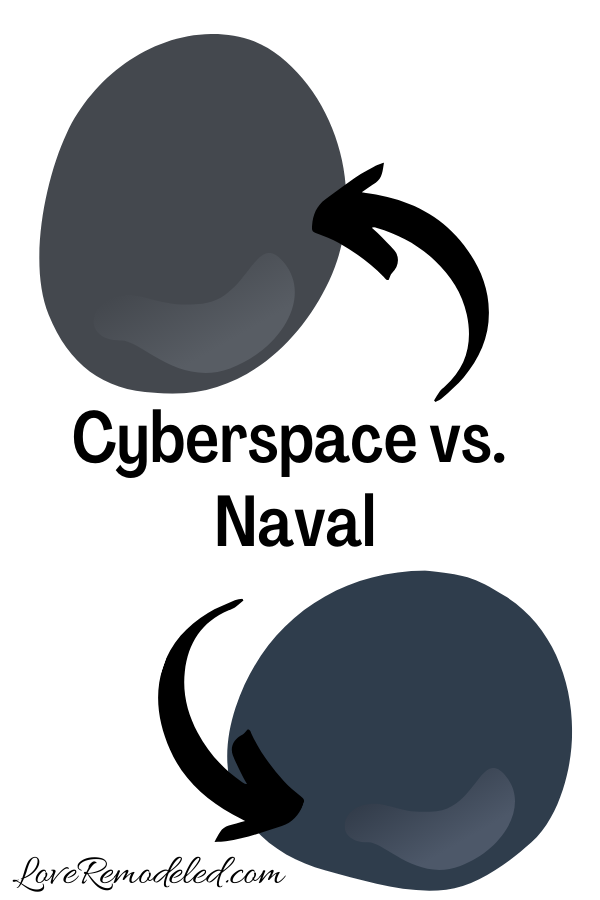 Naval is one of the most popular navy blue shades by Sherwin Williams. It is a dark navy paint color with an LRV of 4, with makes it even darker than Cyberspace!
Despite this, Cyberspace actually appears to be a bit dark because it has more gray in it than Naval does.
When you compare the two together, Cyberspace looks almost like a gray, while Naval takes on a more blue tone.
In reality, Cyberspace is a navy, but comparing it to a navy like Naval really highlights how much gray it actually has in it.
Cyberspace and Naval both have similar uses. They can be used on cabinets, front doors, accent walls, kitchen islands, and more.
If you want a paint color looks more blue, Naval is the obvious choice here. But if you like a blue that can look blue or gray, depending on the light, Cyberspace is a good choice.
Click here for more information about Sherwin Williams Naval.
Wondering How To Pick the Perfect Paint Color?
I have the best solution for you!
Samplize sells 9×14.75 stick-on paint sheets in almost every paint color.
These no-mess, peel and stick sheets are made from real paint, so they will show you exactly what the paint color will look like.
Simply place them on your walls next to your trim, furnishings or fixed elements, and easily see which paint color works best in your space and with your lighting.
Then, peel the sheet off your wall and reapply it somewhere else if you like. You can try several different paint colors with no mess, no fuss and no cleaning paint brushes.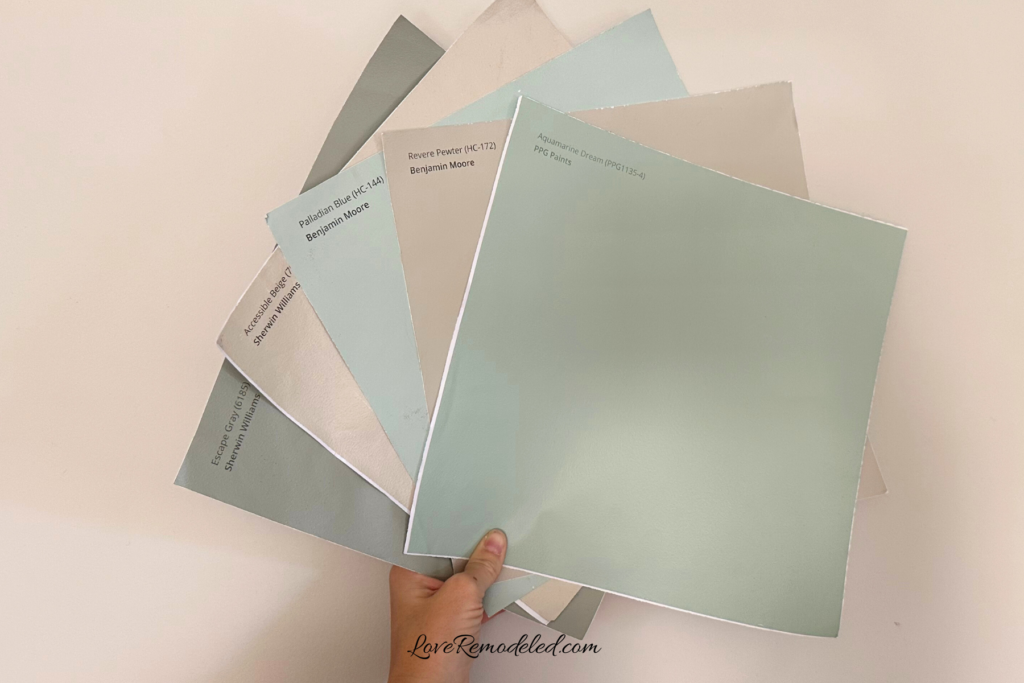 Oh, and you can have them in your home by tomorrow with OVERNIGHT shipping!
As a bonus, be sure to use the code LoveRemodeled10 at check out to get an extra 10% off! Samplize sheets are cheaper than a sample can of paint, and way less work.
They are the easiest (and fastest!) way to try a paint color in your home, with no hassle.
Final Thoughts on Sherwin Williams Cyberspace
Sherwin Williams Cyberspace is a bold and modern paint color. This dark navy paint color has a good bit of gray in it, making it a versatile neutral style shade for anywhere in your home.
In addition, Cyberspace is a paint color that can be worked into almost any design style. It works in modern, contemporary, traditional, farmhouse, industrial and coastal style homes.
If you are interested in a navy paint color, Cyberspace should be on your list of paint colors to consider!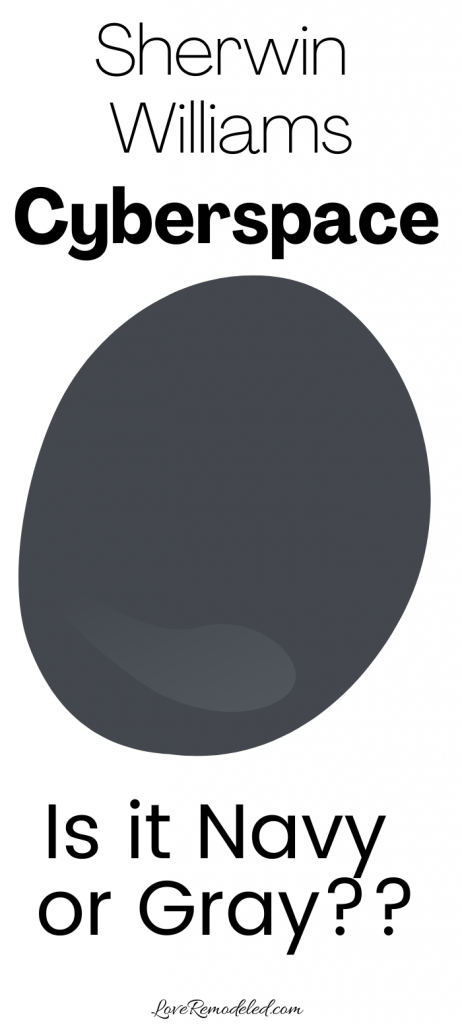 Have a question or want to show off your project? Join the discussion in Love Remodeled's Facebook group!
Want to see all your paint options in one convenient place? Click here to get everything you need to start painting, including Sherwin Williams and Benjamin Moore paint color decks!