Benjamin Moore October Mist is a mid-tone green paint color that is organic and natural feeling. According to Benjamin Moore, this sage green both "anchors and uplifts".
In a room, October Mist creates a soft backdrop for your furnishings and accessories. It is a beautiful paint color that has the potential to have a lasting impact on current design. In fact, October Mist was recently chosen as Benjamin Moore's 2022 Color of the Year.
Keep reading for all the details on this gorgeous green paint color, including what colors go well with it, where to use it in your house, and why it was chosen as Benjamin Moore's 2022 Color of the Year.
This post may contain affiliate links. If you have any questions, please see my disclaimer page.
Benjamin Moore 2022 Color of the Year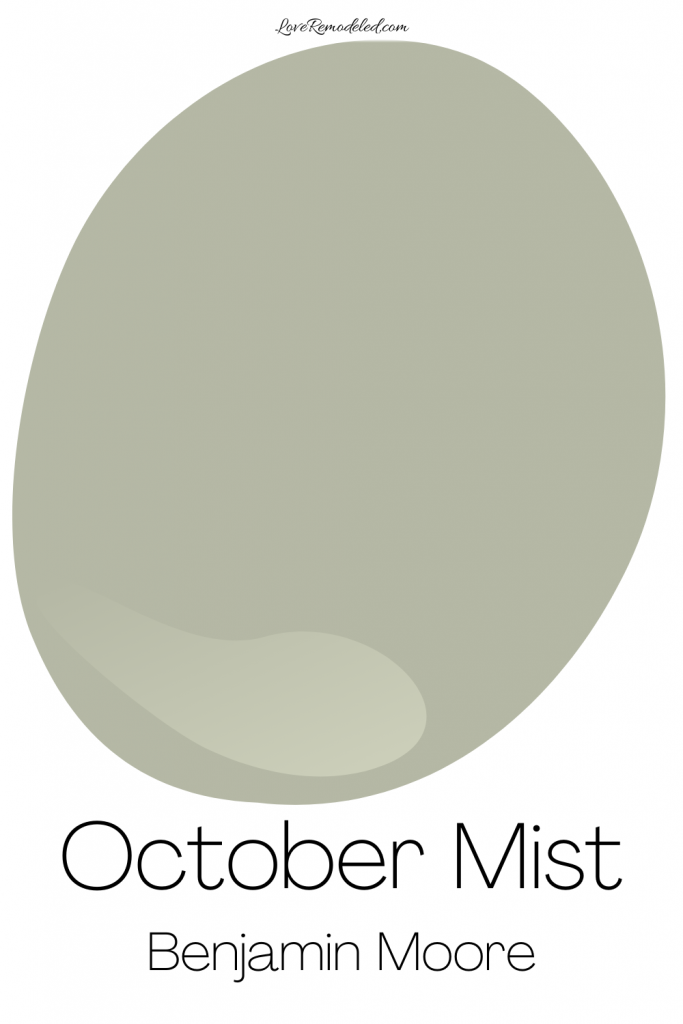 Each year, all the major paint companies fastidiously search for what they believe is a paint color that represents the year. Typically drawing from the mood in the world, designers select a shade that will speak to people.
This year, the Marketing and Development Group at Benjamin Moore chose October Mist as their 2022 Color of the Year.
October Mist is a paint shade that balances our need to feel grounded with the excitement of new possibilities.
This gorgeous green shade was inspired by the stem of a flower – the transition between the stability of the earth and the promise of new life. October Mist, like 2022, feels full of possibilities.
Benjamin Moore's 2022 Color Palette
In addition to identifying a particular color as their Color the Year, Benjamin Moore also curated a palette of thirteen paint shades that coordinate with October Mist. Together, these paint colors create a modern color scheme that will have sticking power for years to come.
Benjamin Moore describes this color palette as, "harmonious yet diverse, reliable yet whimsical, and meditative yet eclectic."
The 2022 Benjamin Moore color palette includes a balance of warm and cool paint colors, including soft pastels, comfortable neutrals, and bold pops of color.
Here are the shades of 2022, according to Benjamin Moore:
Collector's Item (AF-45)
Steam (AF-15)
Hint of Violet (2114-60)
Natural Linen (966)
Venetian Portico (AF-185)
Morning Dew (OC-140)
Fernwood Green (2145-40)
High Park (467)
Gloucester Sage (HC-100)
Mysterious (AF-565)
Pale Moon (OC-108)
Wild Flower (2090-40)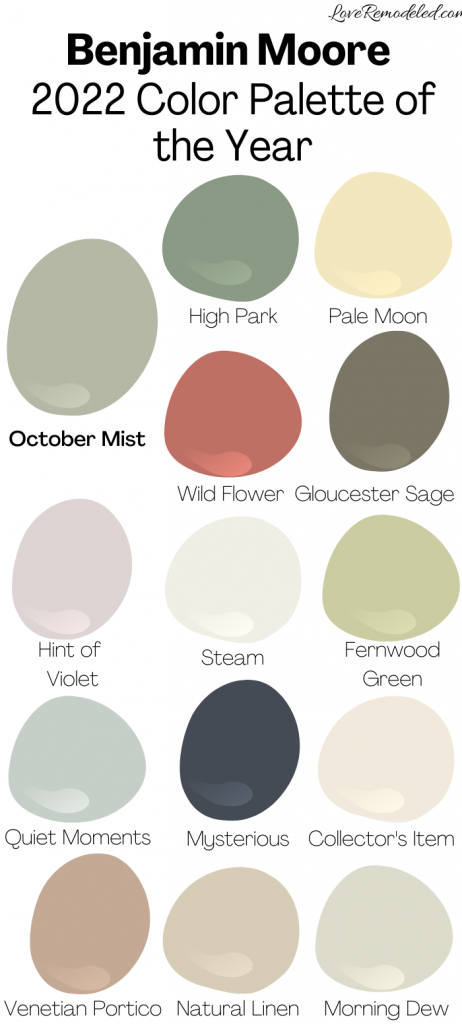 As you can see, you have warm neutrals, such as Natural Linen, Collector's Item, and Steam; soft pastels, like Venetian Portico, Quiet Moments, Morning Dew, Hint of Violet, Fernwood Green, and Pale Moon; and bold hues, such as High Park, Wild Flower, Gloucestor Sage and Mysterious.
Between all of the shades on this list, there is something for everyone. Each color pairs nicely with October Mist, or can work as a stand alone paint color in your space.
Now that we have discussed why October Mist was chosen, let's look at the nitty gritty of this calming paint color.
Benjamin Moore October Mist Color Characteristics
As mentioned earlier, October Mist is a sage green. Sage greens tend to have green, gray and a hint of yellow in them.
Benjamin Moore's October Mist is no exception. But, October Mist doesn't have quite as much yellow in it as some sage greens.
Instead, October Mist is a silvery green that is a modern take on the old sage green of the 90's. The gray in October Mist gives it a shaded foundation that pulls it back from being too retro looking.
In lower light, you may find that October Mist looks a bit more gray than green. Like many other popular green or blue greens, October Mist can have a bit of a chameleon property to it, shifting between gray and green depending on the time of day and the lighting in the space.
With warm toned light bulbs, you can see October Mist look even more yellow as well, and take on a bit of a more traditional sage look.
Altogether, Benjamin Moore October Mist looks refined and hopeful, muted yet invigorating.
October Mist LRV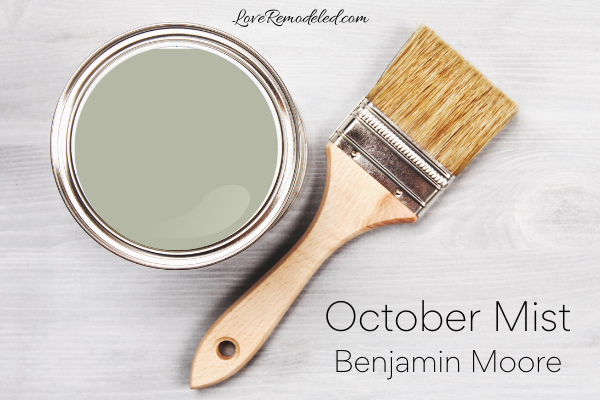 October Mist is a soft green with a bit of depth to it. It isn't a light paint color, but it isn't too dark either.
Instead, October Mist sits in the medium range of colors.
To look at it from a technical angle, Benjamin Moore October Mist has an LRV of 46. The LRV scale, or Light Reflectance Value, goes from 0, which is completely black, to 100, which is completely white.
An LRV of 46 is almost square in the middle of this scale.
Practically speaking, October Mist has enough color in it to look saturated. It isn't a pastel shade, but it isn't a dark green either.
Because it has a mid-scale LRV, it is a paint color that won't bounce too much light around the room. Like most paint colors, it will need adequate natural or artificial light to support it and make it look as amazing as it does in pictures.
Is October Mist Warm or Cool?
Being a green paint color, October Mist is a cool shade.
Cool paint colors are blues, greens and purples. They tend to make you feel calm and relaxed. Greens, in particular, are reminiscent of growth.
Where to Use Benjamin Moore October Mist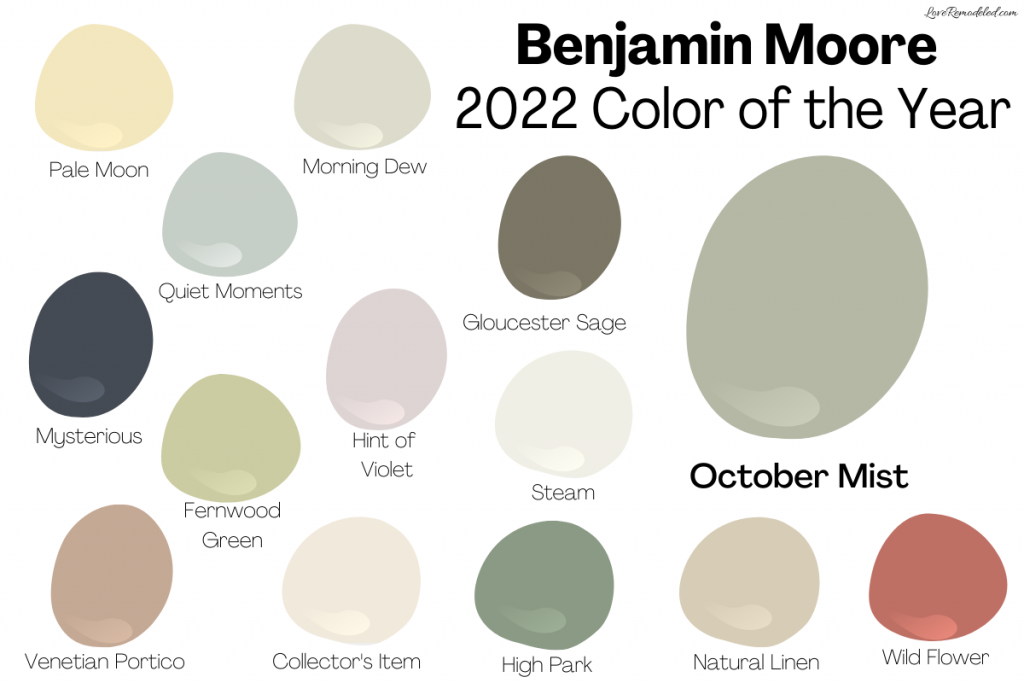 Benjamin Moore's October Mist is a great paint color for a living room, kitchen, bathroom, or bedroom. It can work in almost any space, but soft green paint colors are almost always favorites for these spaces.
October Mist is also a great way to update your kitchen cabinets, while also invoking a bit of nostalgia.
Lastly, October Mist can work on a home exterior.
Benjamin Moore October Mist Coordinating Colors
In addition to the colors listed above, Benjamin Moore also has two other coordinating paint color palettes for October Mist.
In the first, October Mist is paired with Home on the Range, a true green, and Squirrel Tail, a grayish neutral.
This classic color scheme works well in contemporary, southwestern, traditional or farmhouse style homes.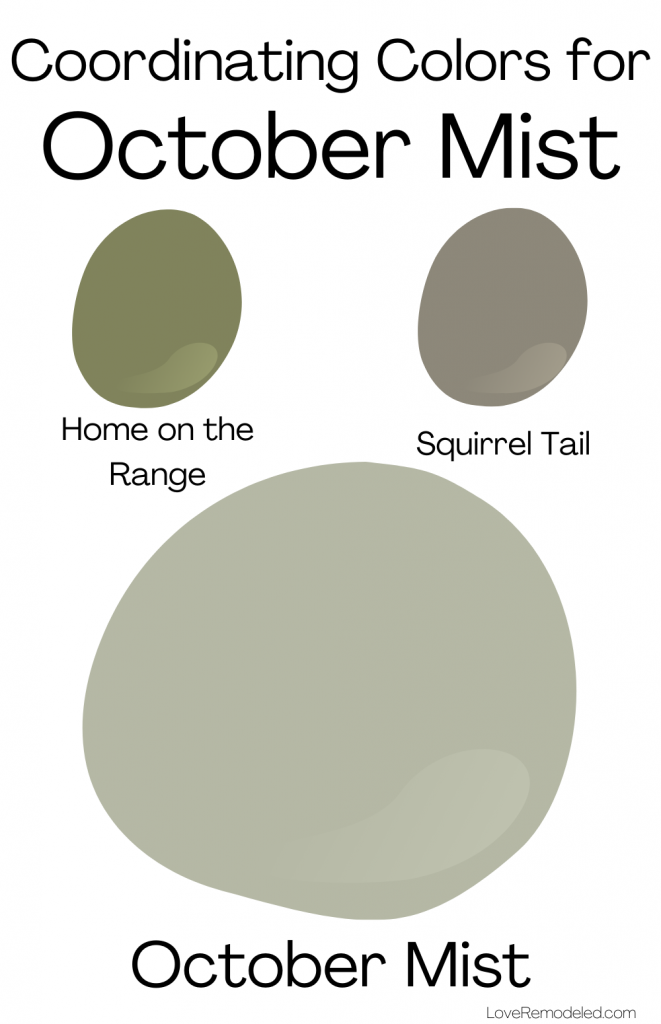 In a second color scheme, October Mist is shown with Caponata, a dark red, and Mineral Ice, a cool neutral. This color pairing can also work in a traditional, southwestern, farmhouse or contemporary style home.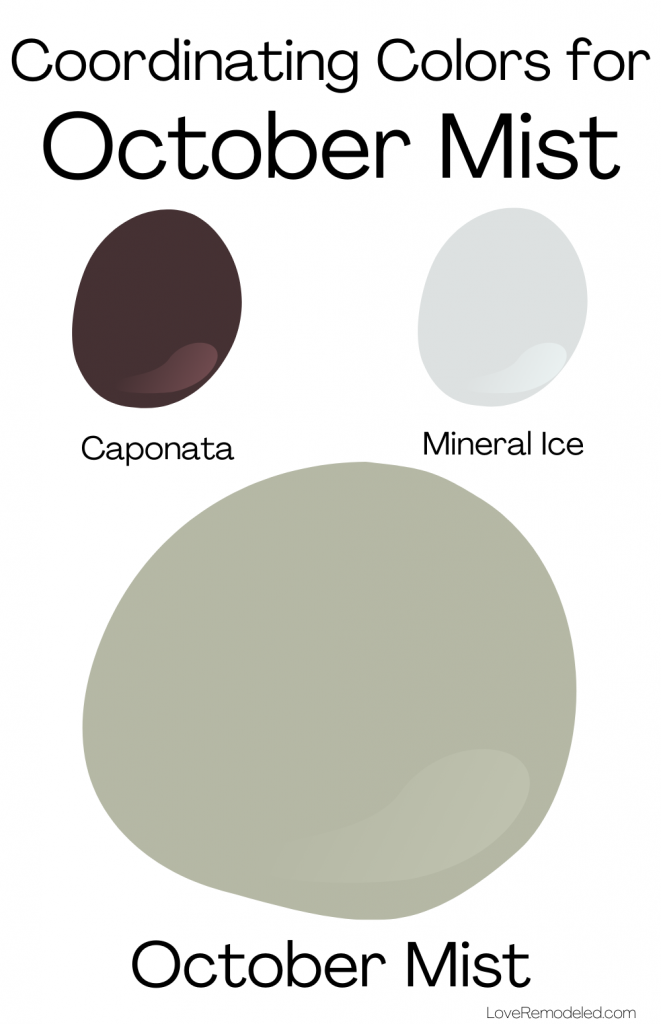 Benjamin Moore October Mist Trim Colors
When people are looking at paint colors they frequently want to know what color of white will go with them.
In this instance, you have a few options already listed in the 2022 Color Palette of the Year. For example, October Mist can work with Steam or Collector's Item.
But, if you want a great white paint for your trim, you might want to consider a more classic paint color, as people tend to want a trim paint color that will work with their space even after their repaint their walls.
My favorite trim colors to pair October Mist with are Chantilly Lace and White Dove.
Chantilly Lace is a gorgeous, crisp and clean white paint color. It goes with almost any other paint color, which makes it perfect for trim. Chantilly Lace just barely leans warm, so it doesn't look icy at all, but also does look yellow either.
If you like a softer white trim look, consider White Dove. White Dove is a creamy white paint color that has yellow undertones. These yellow tones in White Dove coordinate nicely with the yellow in October Mist. White Dove isn't quite as versatile of a trim color, in my opinion, as Chantilly Lace is, but it is a very popular trim color nonetheless.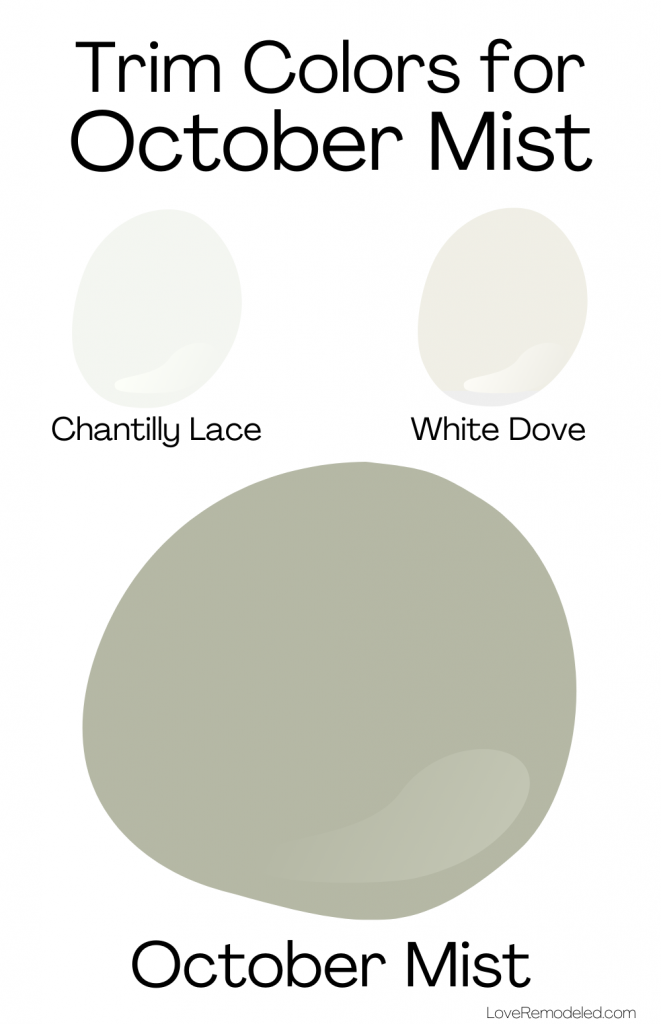 Wondering how to pick the perfect paint color?
I have the best solution for you!
Samplize sells 9×14.75 stick-on paint sheets in almost every paint color.
These no-mess, peel and stick sheets are made from real paint, so they will show you exactly what the paint color will look like.
Simply place them on your walls next to your trim, furnishings or fixed elements, and easily see whether the paint colors work in your space and with your lighting. Then, peel the sheet right off your wall and reapply it somewhere else if you like!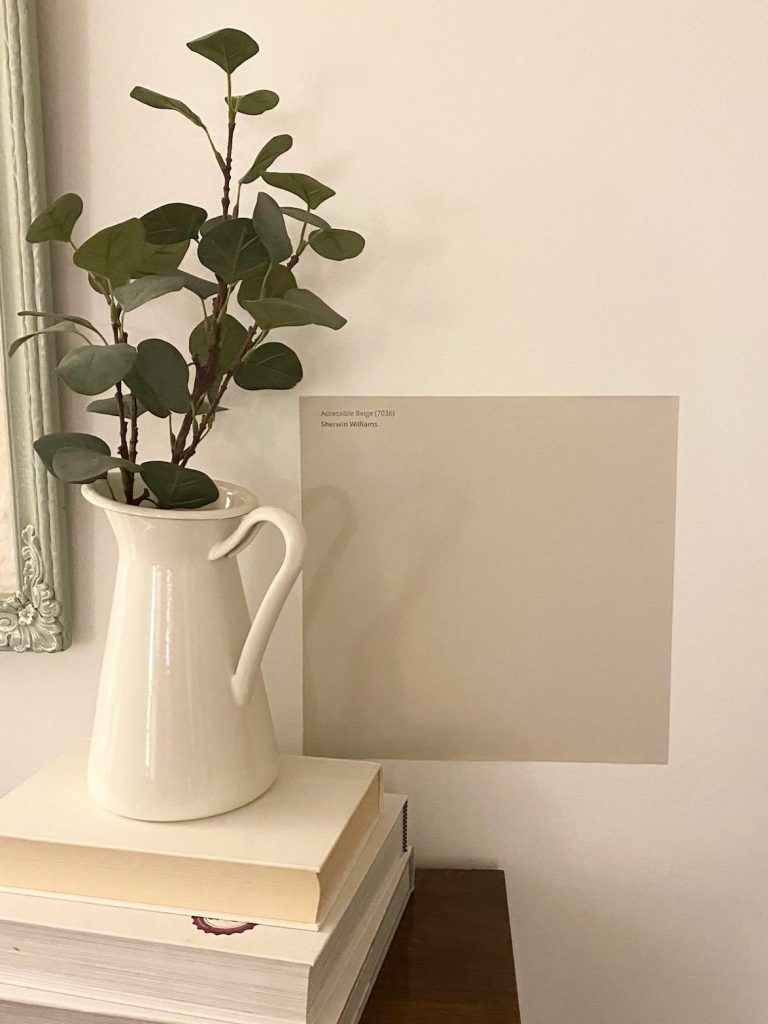 Oh, and you can have them in your home by tomorrow with OVERNIGHT shipping!
As a little tip, if you enter your email, you'll get $5 off your first order! Samplize sheets cheaper than a sample can of paint, and way less work!
Samplize sheets are truly the easiest (and fastest!) way to try a paint color in your home, with no mess.
Final Thoughts on Benjamin Moore October Mist
Benjamin Moore October Mist is a refined, harmonious paint color that plays well with other shades. This makes it very versatile. You can use October Mist as an anchor color for dark navys, bright pinks, warm neutrals or cool pastels.
Because of this, October Mist can work for any design style as well. Regardless of whether you love the eclectic look of a boho inspired space, the starkness of a Scandinavian aesthetic, or the rich tapestry of colors commonly used in a traditional style homes, October Mist can work in your space.
October Mist is a good color for anywhere in the house, assuming you have a fair amount of light, and can even be used on cabinets or home exteriors.
If you are looking for a trendy yet classic paint color that will make you feel grounded and inspired, October Mist is a great paint color to consider for your space.
Need some help picking a paint color?
Pick up my 40+ page e-book, containing 30 of the hottest shades for 2022. These paint colors have been specially selected to help you choose from colors that are in style, and teaches you how to use them in your house!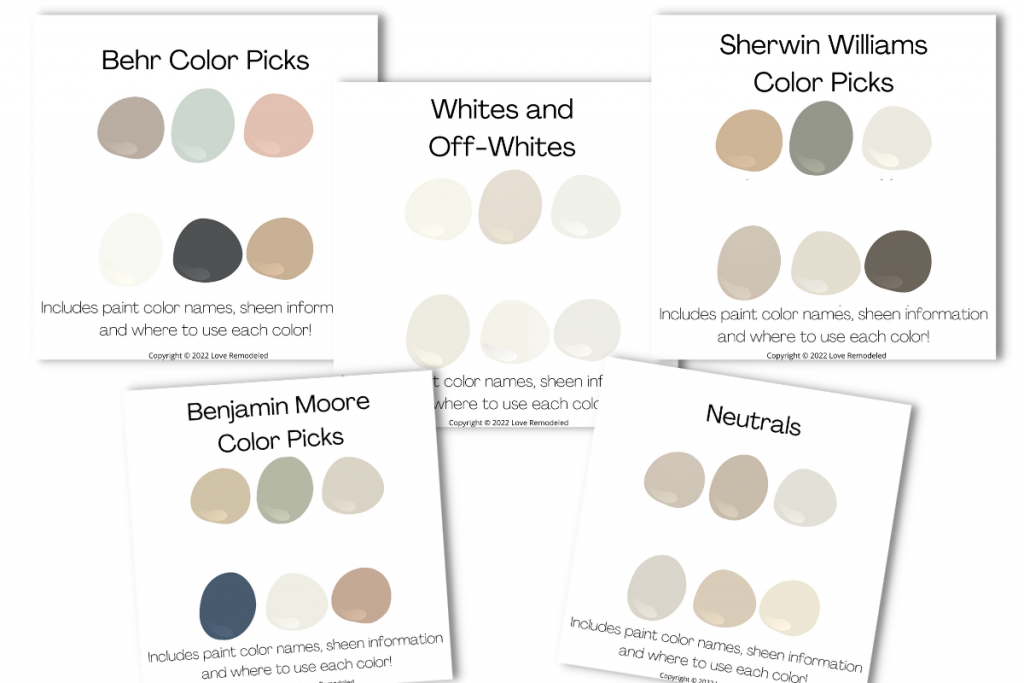 This 40+ page ebook contains:
a curated Sherwin Williams paint color palette
a curated Benjamin Moore paint color palette
a curated Behr paint color palette
the best white paint colors for 2022
the best neutral paint colors for 2022
PLUS a bonus section with my best painting tips!
Hurry! The 2022 Paint Color Palettes e-book is over 30% off right now!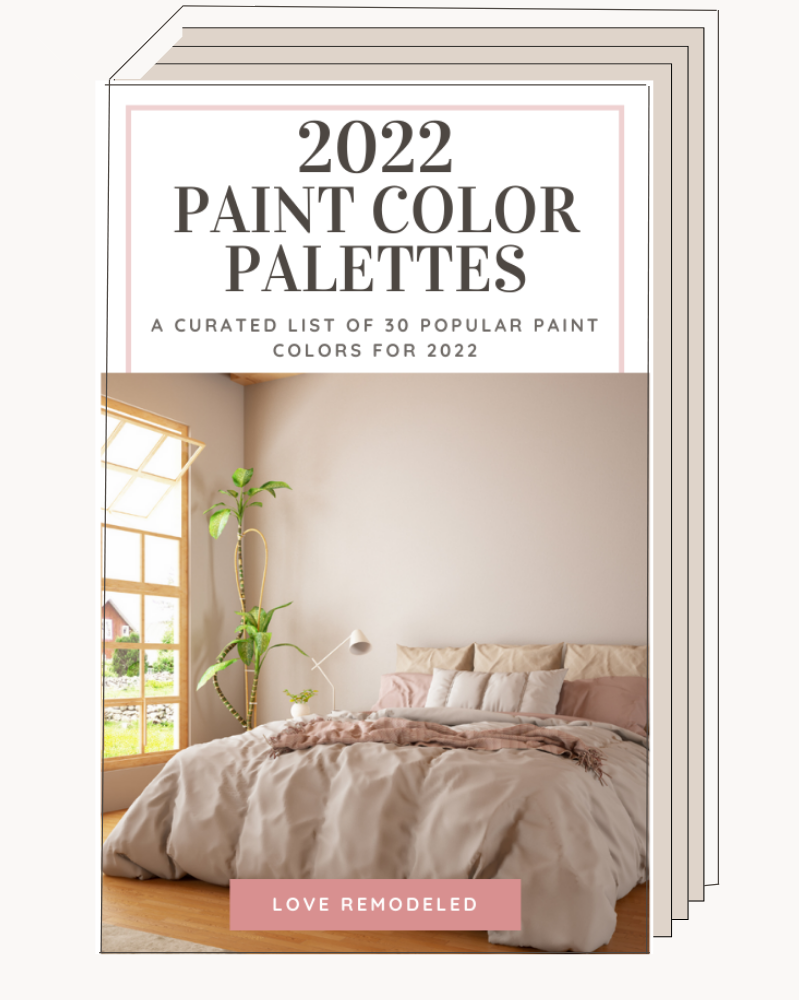 Buy Now – Over 30% off!
If you love green paint colors, you might also want to consider Evergreen Fog – Sherwin Williams 2022 Color of the Year!
Or, check out all the 2022 Colors the Year from each of the major paint companies here!
Have a question or want to show off your project? Join the discussion in Love Remodeled's Facebook group!
Want to see all your paint options in one convenient place? Click here to get everything you need to start painting, including Sherwin Williams and Benjamin Moore paint color decks!