Evergreen Fog is a calming, mid-tone green paint color by Sherwin Williams. Evergreen Fog was named Sherwin Williams 2022 Color of the Year, due to its nostalgic, yet modern feel.
Due to its rising popularity, Evergreen Fog is a part of the following Sherwin Williams collections: Pottery Barn – Fall/Winter 2021, Pottery Barn Kids – Fall/Winter 2021, Pottery Barn Teen – Fall/Winter 2021, and West Elm – Fall/Winter 2021.
If you are looking to paint your walls a soothing, organic green paint color, keep reading for all the details on Evergreen Fog.
This post may contain affiliate links. If you have any questions, please see my disclaimer page.
Sherwin Williams 2022 Color of the Year – Evergreen Fog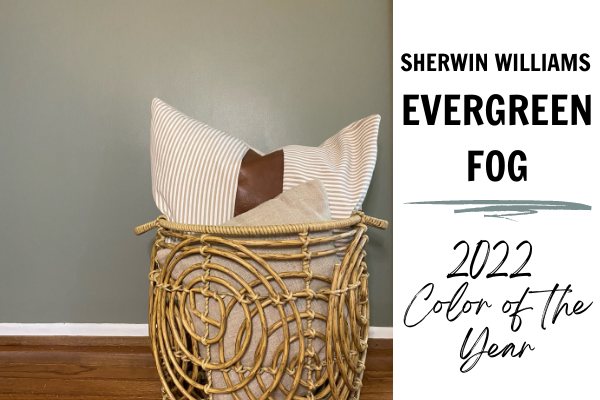 Every year, each major paint company chooses a paint color to be their color of the year. The colors are chosen based on what designers predict will be the up and coming shades of the following year.
This year, Sherwin Williams chose a gorgeous grayish green paint color that is on-trend and forward thinking.
Evergreen Fog goes perfectly with all of the current styles – black metal accents, touches of gold and brass, layered whites and off-whites, and rich, warm wood tones. It expands on these trends though, with the addition of a more vintage shade of green.
Sherwin Williams Evergreen Fog Color Characteristics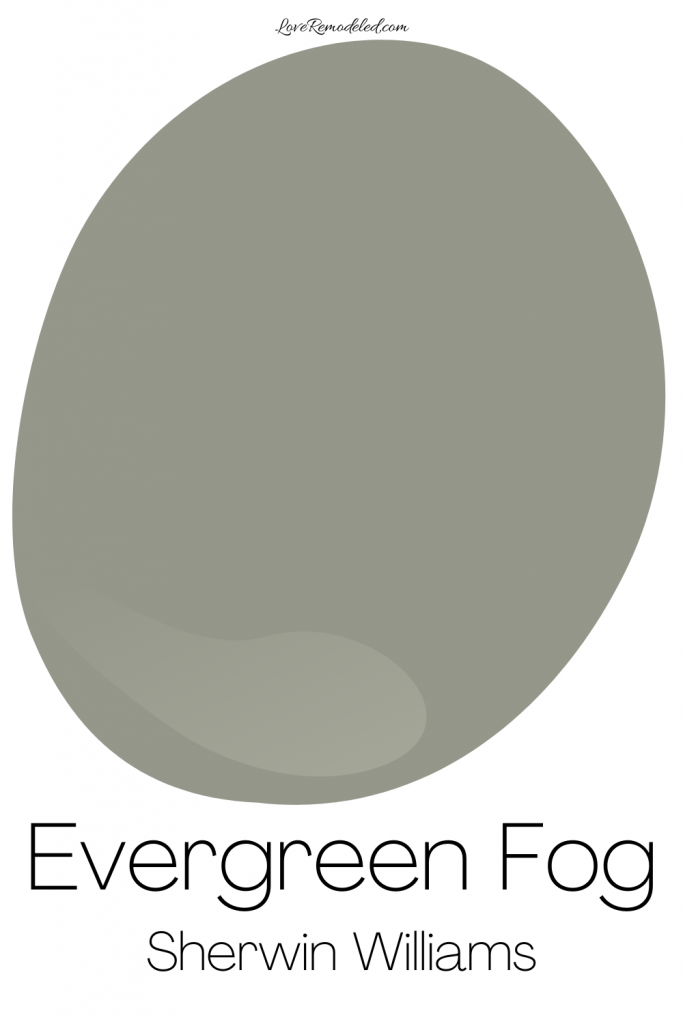 Evergreen Fog is said to be a chameleon paint color due to its ability to shift between gray and green. This shift in the paint color happens throughout the day due to the varied lighting in a home.
For example, in cooler-toned or dimmer light, Evergreen Fog can look more gray. But, with the warmer light of the afternoon, you tend to see Evergreen Fog lean more towards green.
Sherwin Williams describes Evergreen Fog as a "stunning statement shade." Instead of being a bold green though, the gray in Evergreen Fog gives it a more subtle approach. Evergreen Fog is remarkable in its ability to be both muted and distinctive at the same time.
Sherwin Williams Evergreen Fog LRV
Evergreen Fog has an LRV of 30. LRV stands for Light Reflectance Value. It is a scale that provides information about how much light a paint color will reflect back into a room. It also gives information about how light or dark a paint color is.
The LRV scale goes from 0, which is completely black, to 100, which is completely white. So, as you can see, and LRV of 30 is pretty low on the LRV scale. This means that Evergreen Fog will not reflect a ton of light back into the room.
As with all paint colors, this simply means that you will need to have enough light to support this paint color to make it work in your space. If your room is particularly dark, Evergreen Fog may look dull and dark as well. But, with ample natural or artificial light, Evergreen Fog can look beautiful.
As I mentioned earlier, Evergreen Fog is a mid-tone paint color. It isn't so dark that it looks bold or daring, but it is dark enough to make a statement in a room.
Sherwin Williams Evergreen Fog Undertones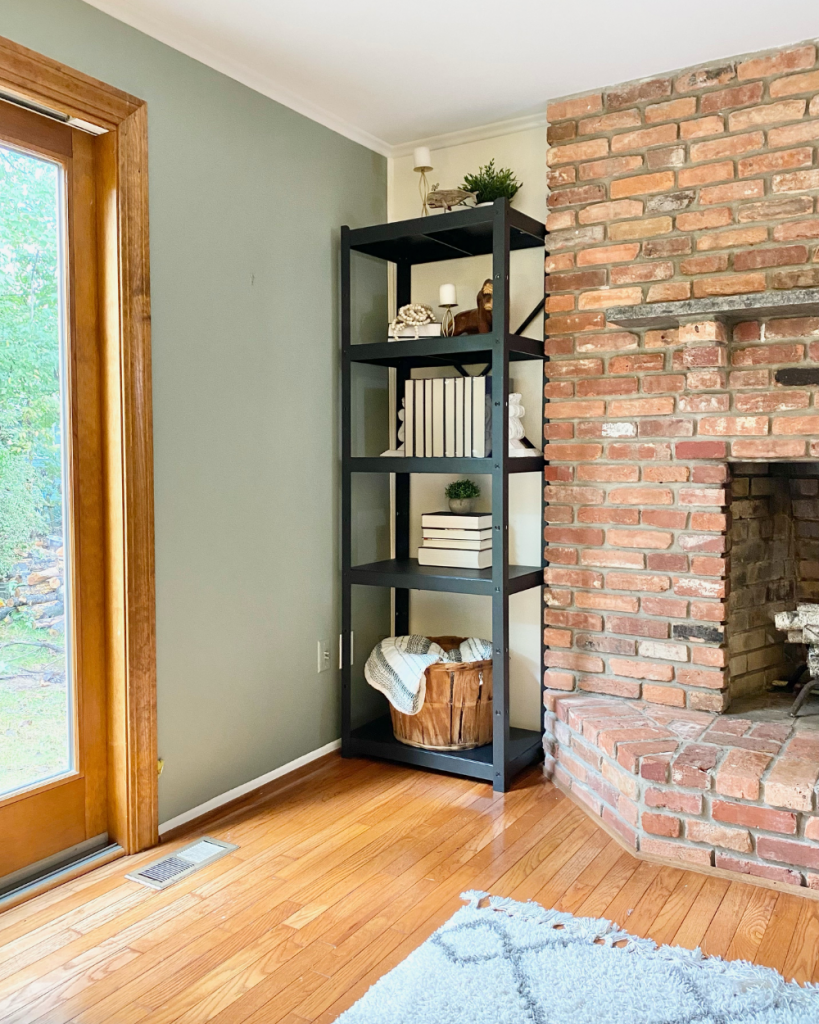 In addition to being a green-gray paint color, Evergreen Fog also has a hint of blue undertones. These blue undertones help Evergreen Fog look calming, and pull it back from being too reminiscent of an evergreen, grassy or moss colored green.
Instead, Evergreen Fog is a bit more like an updated sage green.
Is Evergreen Fog Warm or Cool?
Evergreen Fog is a cool paint color. As such, Evergreen Fog evokes a calming and relaxing feeling in a room.
Sherwin Williams Evergreen Fog Coordinating Colors
Evergreen Fog looks amazing with soft, creamy neutrals, warm wood tones, gold metals, and matte black accents.
As for pairing Evergreen Fog with other paint colors, it tends to go well with earthen neutrals, such as warm whites, browns, and oranges.
Here is one sample color palette for Evergreen Fog. As you can see, it includes Ethereal White, a grayish off-white, Dried Edamame, a greenish brown, and Neutral Ground, a light tan.
In addition to naming Evergreen Fog its Color of the Year, Sherwin Williams also curated a color palette of gorgeous shades to pair with Evergreen Fog.
In this color palette, we see Shoji White, Bakelite Gold, Accessible Beige, Woven Wicker, Urbane Bronze, and Uber Umber.
Shoji White, Accessible Beige and Urbane Bronze are all well-known paint names. In fact, Urbane Bronze was Sherwin Williams Color of the Year for 2021. Accessible Beige has been popular for years, and Shoji White is a warm white that everyone is loving right now.
Bakelite Gold, Woven Wicker and Uber Umber are three lesser-known paint shades that bring a bold punch to this color palette. Heavily leaning into warm tones, they bring a bit of balance to the coolness of Evergreen Fog.
Overall, this color palette is perfect for a farmhouse style or modern style home.
Evergreen Fog Trim Colors
Evergreen Fog can pair with a lot of different trim colors. Since it is a fairly dark shade, it can even go with some of the more creamy trim colors that we frequently find in older homes.
But, most people prefer clean white trim in their homes right now. To get this look, you can pair Evergreen Fog with High Reflective White. High Reflective White is a very crisp, bright white paint color that goes with most any paint shade.
If you like a softer white trim color (but still not creamy), Pure White is a great option for you. It is still a bright white, but it has a bit of gray in it that keeps it from being too stark.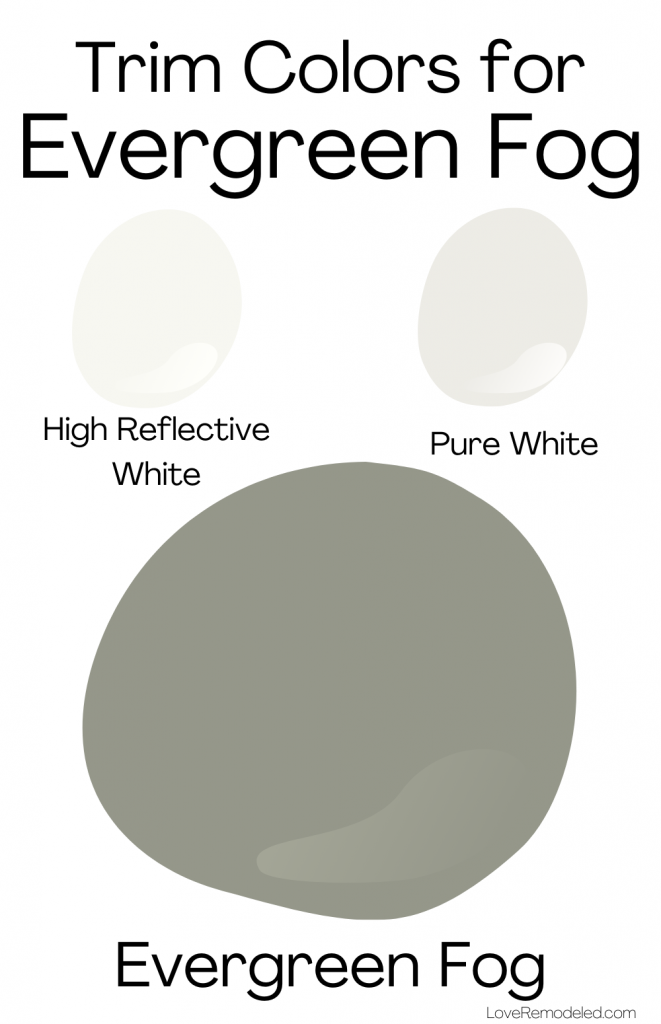 Even after reading all the details on a paint color, it can be difficult to know whether it will work in your home. The best way to find out is to sample the color in your space. Your particular lighting, furniture and fixed elements will all influence the way a color looks in your space.
Wondering How To Pick the Perfect Paint Color?
I have the best solution for you!
Samplize sells 9×14.75 stick-on paint sheets in almost every paint color.
These no-mess, peel and stick sheets are made from real paint, so they will show you exactly what the paint color will look like.
Simply place them on your walls next to your trim, furnishings or fixed elements, and easily see which paint color works best in your space and with your lighting.
Then, peel the sheet off your wall and reapply it somewhere else if you like. You can try several different paint colors with no mess, no fuss and no cleaning paint brushes.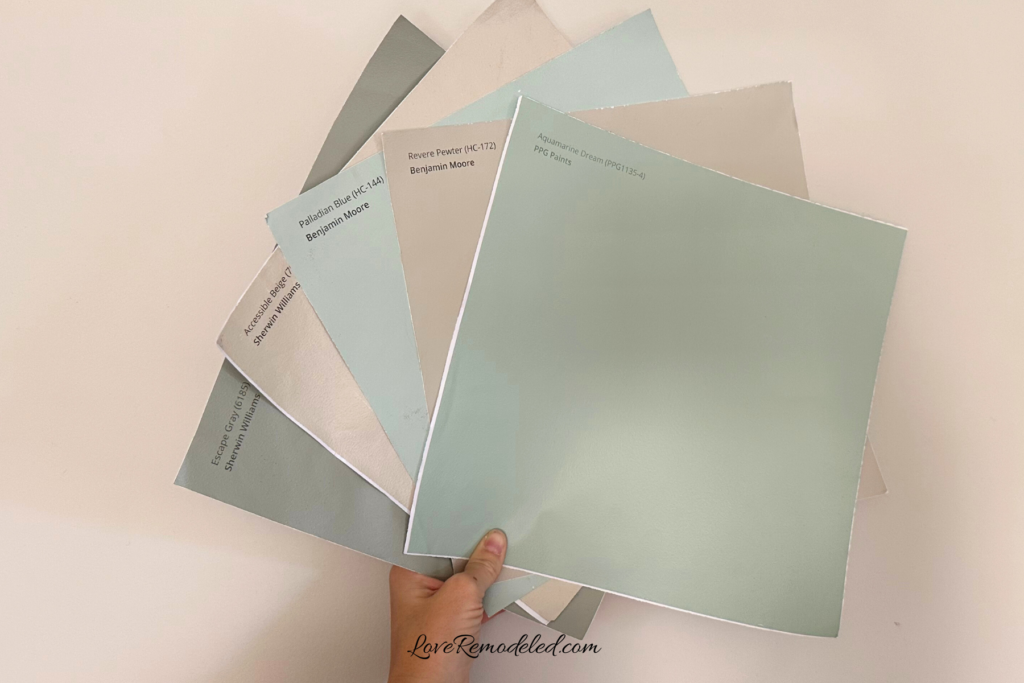 Oh, and you can have them in your home by tomorrow with OVERNIGHT shipping!
As a bonus, be sure to use the code LoveRemodeled10 at check out to get an extra 10% off! Samplize sheets are cheaper than a sample can of paint, and way less work.
They are the easiest (and fastest!) way to try a paint color in your home, with no hassle.
Final Thoughts on Sherwin Williams Evergreen Fog
While Evergreen Fog can work in any style home, it lends itself particularly to modern, farmhouse or traditional designs.
Evergreen Fog is a gorgeous paint color for rooms, accent walls, front doors, shutters, or home exteriors.
Because Evergreen Fog is a green paint color, and people tend to like calming paint colors in these spaces, it is a great shade for a bedroom, bathroom or living room.
If you are looking to freshen up your space with a sophisticated, soothing shade of green, Evergreen Fog should definitely be on your shortlist!
Need some help picking a paint color?
Pick up my 40+ page e-book, containing 30 of the hottest shades for 2022. These paint colors have been specially selected to help you choose from colors that are in style, and teaches you how to use them in your house!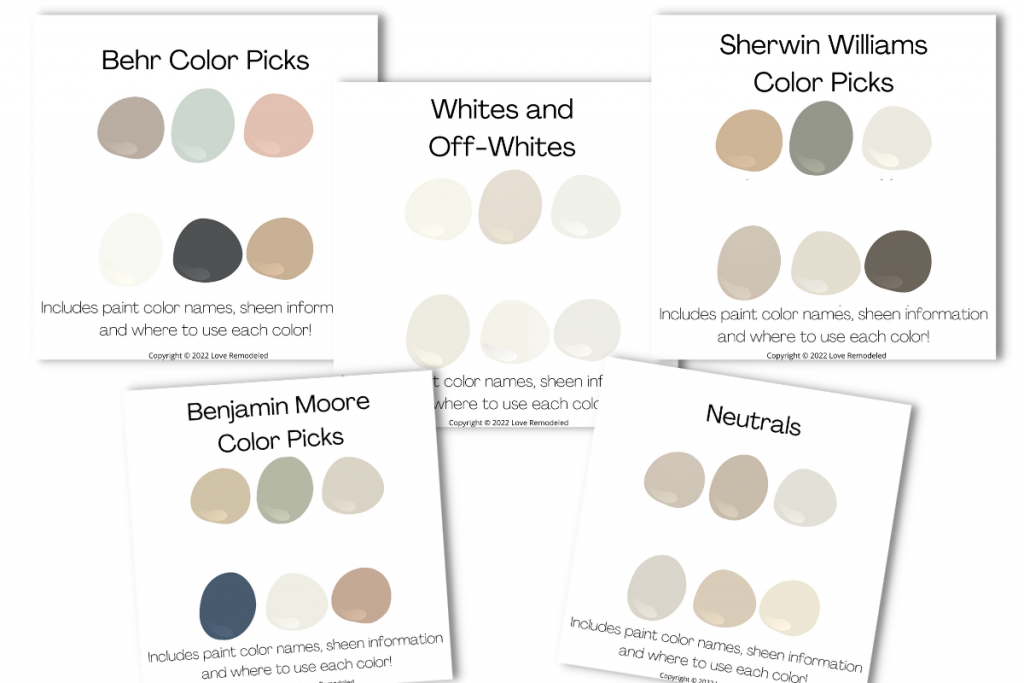 This 40+ page ebook contains:
a curated Sherwin Williams paint color palette
a curated Benjamin Moore paint color palette
a curated Behr paint color palette
the best white paint colors for 2022
the best neutral paint colors for 2022
PLUS a bonus section with my best painting tips!
Hurry! The 2022 Paint Color Palettes e-book is over 30% off right now!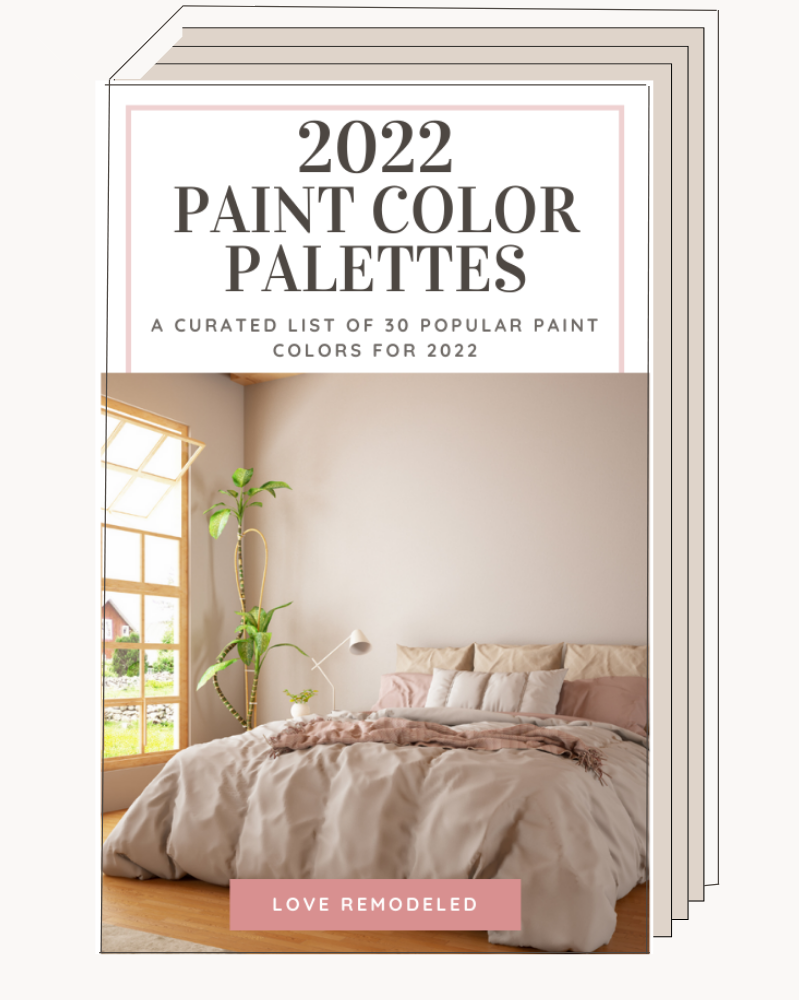 Buy Now – Over 30% off!
Want to see all your paint options in one convenient place? Click here to get everything you need to start painting, including Sherwin Williams and Benjamin Moore paint color decks!
Have a question or want to show off your project? Join the discussion in Love Remodeled's Facebook group!