Cloud White is a popular white paint color by Benjamin Moore. It is included in Benjamin Moore's "Favorites" fan deck, which means it is one of the top 75 paint colors that they sell.
Benjamin Moore Cloud White paint color is a very classic, muted shade. It is timeless, and because of that, it will always be well liked and frequently used.
If you are interested in a soft white paint shade, keep reading for all the details on Benjamin Moore Cloud White.
This post may contain affiliate links. If you have any questions, please see my disclaimer page.
Benjamin Moore Cloud White Color Characteristics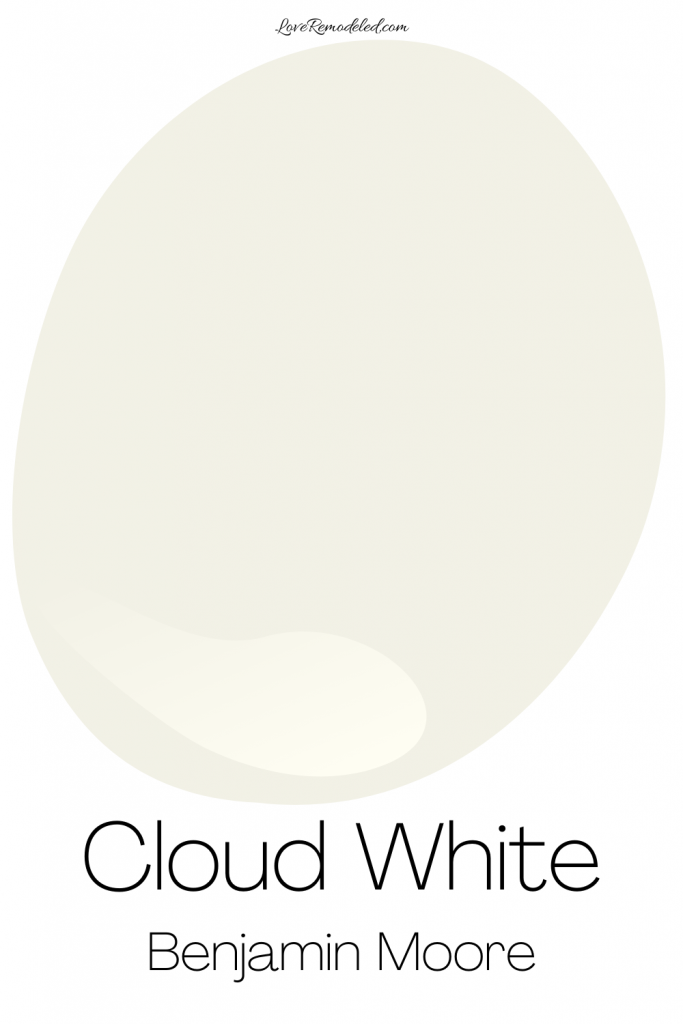 Cloud White is a white paint color that is soft, light and airy. Cloud White isn't a true white. Instead, it is an off-white paint color.
Cloud White Undertones
Benjamin Moore Cloud White has yellow undertones. In addition, it has just the tiniest amount of greige (gray and beige) in it. This makes it a bit more neutral that just a white with yellow in it.
With its yellow undertones, people frequently wonder if Benjamin Moore Cloud White looks yellow.
Cloud White isn't too yellow. Instead, it looks like a soft white. In warmer lights, such as southern facing rooms, Cloud White can take on a bit of a yellow tone, but it shouldn't ever look like a true yellow on your walls or cabinets.
In a northern facing room, Cloud White will look even less yellow. The cool blue light will balance out the yellow in Cloud White, making it just look more like a soft white.
Cloud White LRV
Cloud White has an LRV of 85. LRV stands for Light Reflectance Value. It is a scale that ranges from 0-100, with 0 being completely black and 100 being completely white.
An LRV of 85 is a high LRV. This means that Cloud White will reflect a lot of light back into the room, bouncing the light off of the paint color. It is not quite high enough to be a true white, Cloud White is pretty light still.
Is Benjamin Moore Cloud White Warm or Cool?
The yellow undetones in Cloud White make it a warm paint color.
Warm paint colors are reds, oranges and yellows. They tend to give a space a cozy feeling. Cloud White is like this – it will make your space feel cheerful.
A Few Important Notes About Benjamin Moore Cloud White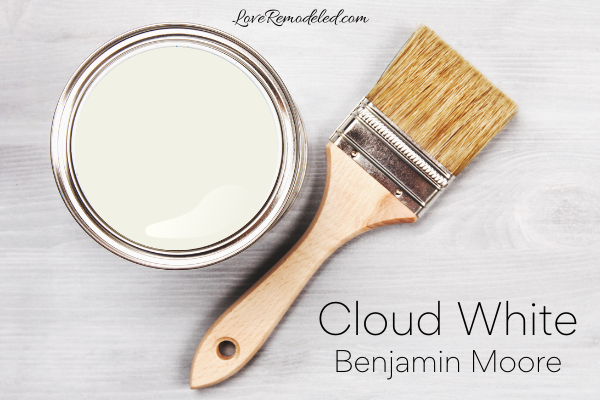 Benjamin Moore Cloud White Numbers
Cloud White has a few number identifiers by Benjamin Moore, including OC-130, 967, and CC-40.
This means that Cloud White is a part of a few color collections, including the Off-Whites color collection, the Designer Classics collection and the Classic color collection.
While this seems a little confusing, it basically just means that there are several numbers that are associated with Cloud White. They are all the same color though. If you go into Benjamin Moore and ask for any of these numbers, you will end up with Cloud White.
And, actually it is important that you ask for Cloud White by one of these numbers…
Cloud White vs. White Cloud
Before we go any further, we need to take a minute to talk about another Benjamin Moore white paint color: White Cloud.
Just to remind you, the color we're discussing is Cloud White (OC-130 or CC-40). This is an entirely different color than White Cloud (2159-70).
I'm not sure why Benjamin Moore decided to name two colors with such similar names, but just make sure you say the right name, and to be safe, the associated number, when you order your paint from the store.
Complimentary Colors for Benjamin Moore Cloud White
Cloud White goes well with a lot of different colors.
It works with other neutrals, such as greiges, tans, browns and blacks. Cloud White also goes well with greens, blues, blue greens, pinks, and reds.
Benjamin Moore pairs Cloud White with Brushed Aluminum, a light greige paint color, and with Yukon Sky, a light blue. This pretty color scheme pairs soft neutrals with a pop of color.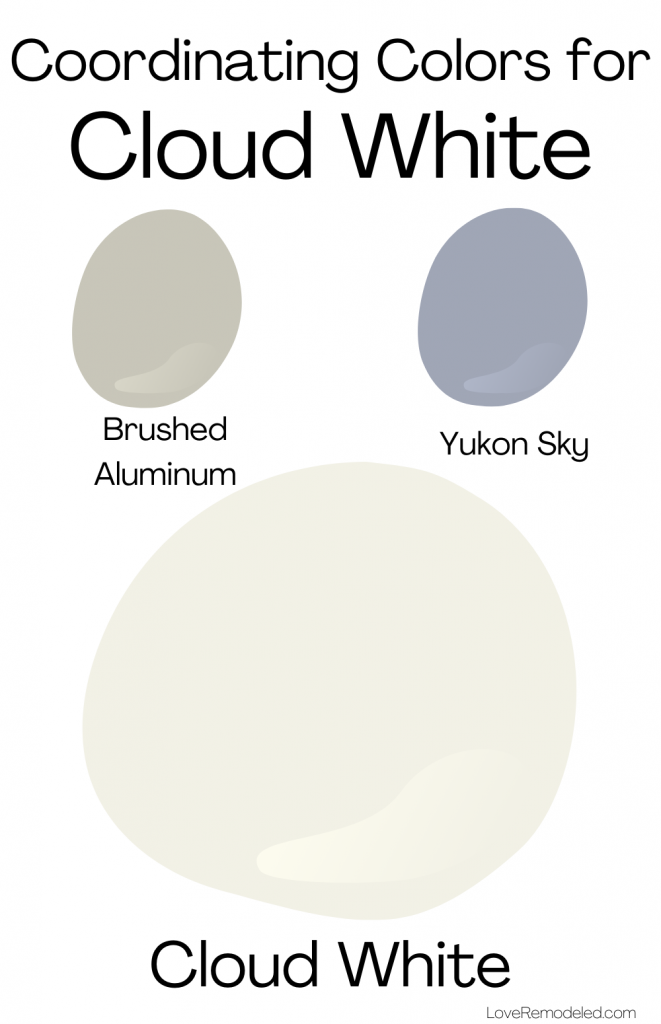 For a second color scheme, Benjamin Moore pairs Cloud White with Gentle Gray, a cool gray paint shade, and Westcott Navy, a dark blue. This neutral scheme is a great option for someone who wants a coastal, farmhouse or traditional look.
Trim Colors for Benjamin Moore Cloud White
Cloud White is a very light off-white paint color. In fact, many like to use it as a trim color.
On trim, Cloud White looks like an off-white, lending a subtle, warm white accent to your walls.
If you are going to use Benjamin Moore Cloud White on your walls, the best color for your trim is going to also be Cloud White.
Because Cloud White is so light, it doesn't go all that well with other white paint colors. You have to worry about whether the undertones of the two whites will go together. When you used Cloud White on both your walls and your trim, you eliminate the problem of the undertones potentially not working well together.
The important thing to do when you use Cloud White on both your walls and your trim, is to differentiate the two surfaces by the type of paint sheen you use.
My recommendation is to use Cloud White in a satin or eggshell on your walls, and Cloud White in a semi-gloss on your trim.
If you really want a bright, clean white for your trim, I would use Chantilly Lace with Cloud White. Chantilly Lace is a very bright, almost undertone free white paint color. It is my go-to Benjamin Moore trim paint color, because it goes so well with most other paint colors.
Chantilly Lace just barely leans warm, so it is a good white paint color to put with Cloud White. But, don't expect Cloud White to stand out too much. The colors are both very light, so neither shade will really pop.
Click here to learn more about Chantilly Lace.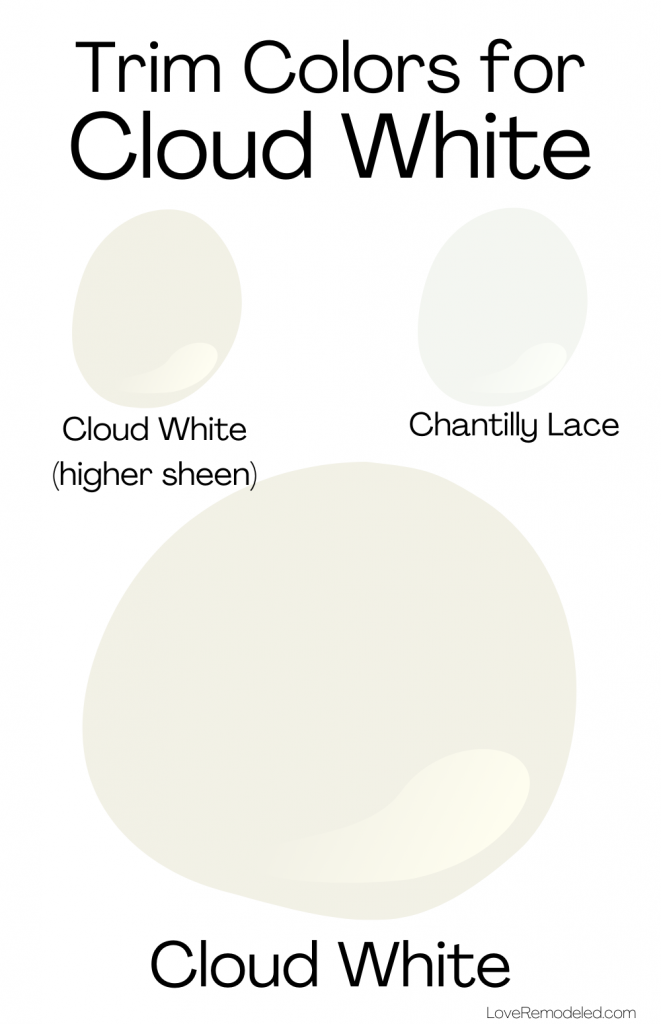 Where to Use Benjamin Moore Cloud White
Cloud White is great paint color to use on walls, trim, cabinets, exteriors, and built-ins.
Due to its high LRV, Cloud White can be used in almost any room, including living rooms, dining rooms, kitchens bedrooms, bathrooms, hallways, entryways, and basements.
Benjamin Moore Cloud White works in traditional, contemporary, farmhouse, coastal, transitional and country style homes.
Benjamin Moore Cloud White Compared
When people are searching for a paint color, they are often comparing paint shades to other paint colors. So, I always like to compare the paint color I am discussing with other popular paint colors that are similar.
In this case, we will look at Cloud White in comparison to Simply White and Dove White.
Cloud White vs. Simply White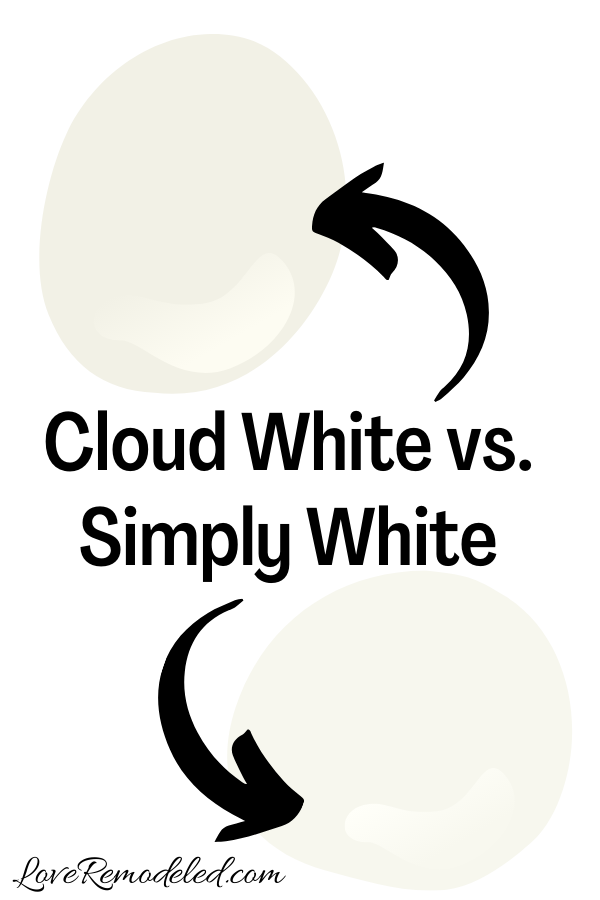 Simply White is another very popular white paint color by Benjamin Moore.
Simply White is a brighter white, but still a warm white with yellow undertones. In comparison, Cloud White has much more color in it than Simply White. The yellow in Simply White is more understated.
In addition, Cloud White has greige in it, and this makes in not quite as clean as Simply White is.
If I were painting trim, I would pick Simply White. I tend to like a clean white trim, and Simply White gives this look more than Cloud White does.
But, if I wanted a warm white for walls, Cloud White is definitely the better bet.
Click here to learn more about Simply White.
Cloud White vs. White Dove
White Dove is another very popular Benjamin Moore white paint color. It is also included as one of Benjamin Moore's top 75 paint colors.
The difference between Cloud White and White Dove is subtle. White Dove has a bit more of a beige undertone than Cloud White does. And, White Dove has just a hint more depth to it (and a slightly lower LRV).
Other than that, they are very similar shades.
Click her to learn more about White Dove.
Since these paint colors are so similar, the best way to determine which one is right for your space is to sample it in your own home.
Wondering how to pick the perfect paint color?
I have the best solution for you!
Samplize sells 9×14.75 stick-on paint sheets in almost every paint color.
These no-mess, peel and stick sheets are made from real paint, so they will show you exactly what the paint color will look like.
Simply place them on your walls next to your trim, furnishings or fixed elements, and easily see whether the paint colors work in your space and with your lighting. Then, peel the sheet right off your wall and reapply it somewhere else if you like!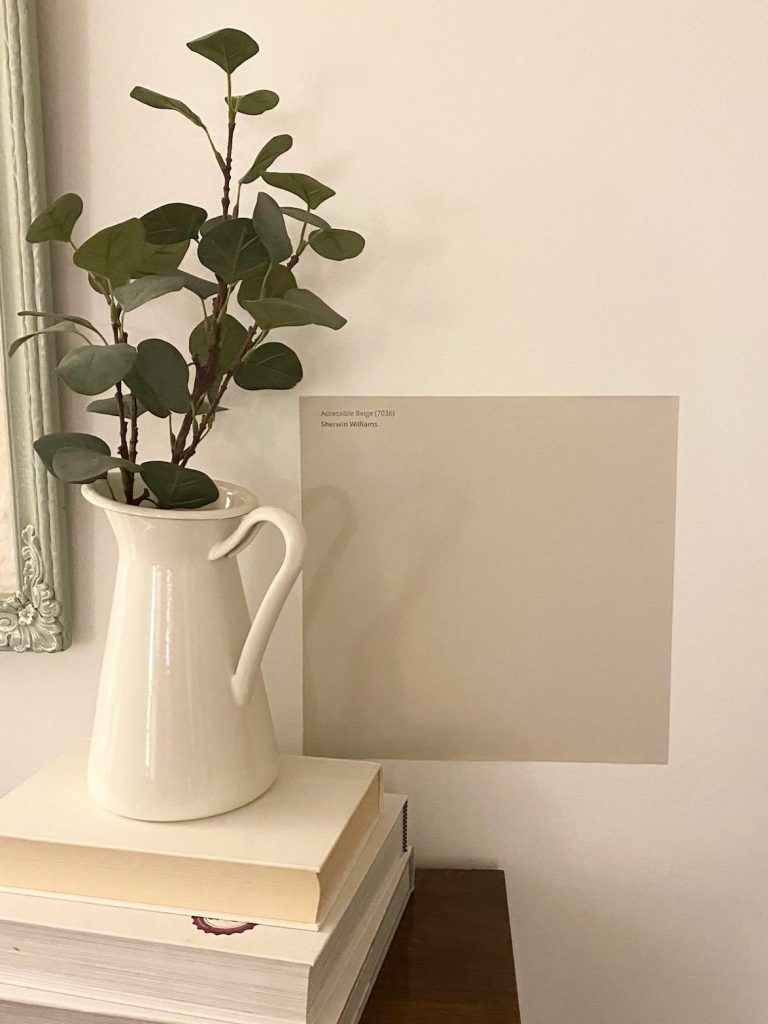 Oh, and you can have them in your home by tomorrow with OVERNIGHT shipping!
As a little tip, if you enter your email, you'll get $5 off your first order! Samplize sheets cheaper than a sample can of paint, and way less work!
Samplize sheets are truly the easiest (and fastest!) way to try a paint color in your home, with no mess.
Final Thoughts on Benjamin Moore Cloud White
Benjamin Moore Cloud White is a beautiful, soft white paint color that is very popular. This warm white is great on walls, trim and exteriors.
If you are looking for a white paint color that will feel cozy and cheerful, lacks any starkness, and is full of warmth, Cloud White is a good option for you!
Want to see all your paint options in one convenient place? Click here to get everything you need to start painting, including Sherwin Williams and Benjamin Moore paint color decks!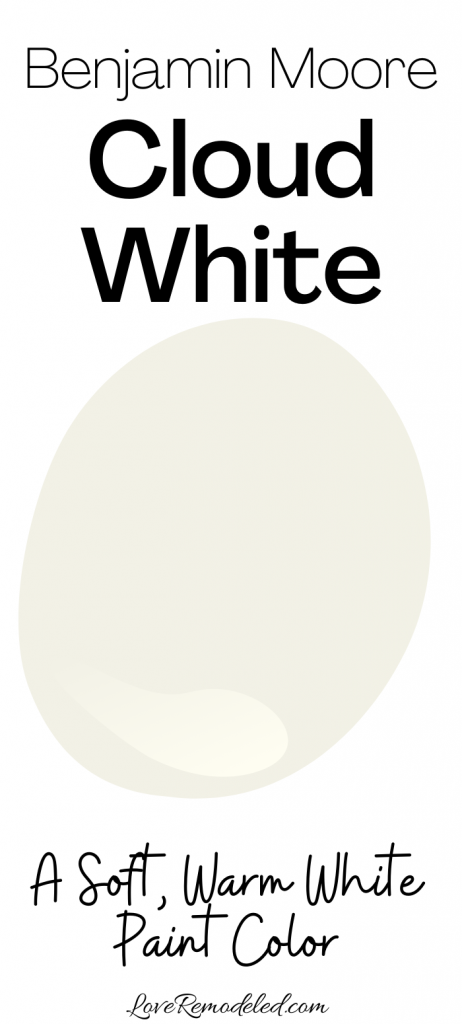 Have a question or want to show off your project? Join the discussion in Love Remodeled's Facebook group!