Sherwin Williams has announced its 2021 Color of the Year, and no surprise, it is Urbane Bronze!
This color has been trending in the home decor world for a lot of 2020. It is being featured on front doors, cabinets, home exteriors, and even walls.
Urbane Bronze is so popular that it has been chosen for the 2016 Pura Vida collection, the Pottery Barn – Fall/Winter 2020 collection, the Minimalist collection, and the 2021 Sanctuary color collection at Sherwin Williams.
Let's talk about this amazing color and how to best use it.
This post may contain affiliate links. If you have any questions, please see my disclaimer page.
Urbane Bronze Paint Color
Urbane Bronze, SW 7048, is an earthy, warm paint color that almost straddles the line between brown and gray.
Depending on where you view it, Urbane Bronze can look like a dark brown, or like a murky gray. Sometimes, it can even look a like a green.
Urbane Bronze has an LRV (Light Reflectance Value) of 8. The LRV scale goes from 1-100, with 1 being completely dark and 100 being completely light. As you can see, this means that Urbane Bronze is a very dark color. It will reflect very little light into a room.
The depth of this nature-inspired color, as well as the particular mix of shades in it, make it feel both sophisticated and bold, while also being welcoming and tranquil.
Sherwin Williams describes it as "grounded, meditative, and serene."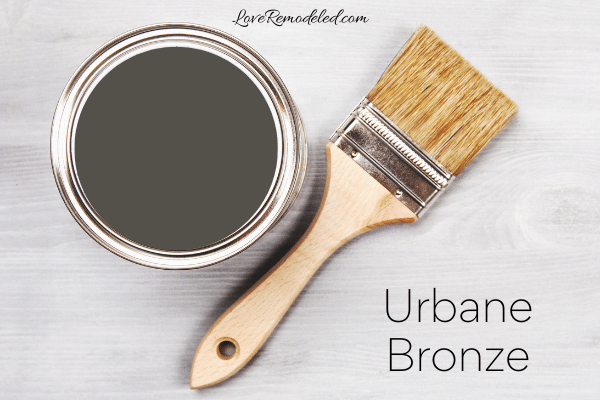 Urbane Bronze Undertones
Urbane Bronze has a significant amount of black undertones, as well as a lot of warm brown undertones. It also has more than a hint of green in it. These shades round it out to make it a perfectly earthy color.
Overall, Urbane Bronze comes across as a warm shade, as the brown undertones are dominant over the green.
Where To Use Urbane Bronze
Because it is so dark, Urbane Bronze is best used as an accent color for the average person.
It looks gorgeous on front doors, whole house exteriors, windows, cabinets, and furniture.
Here is Urbane Bronze on the inside of a built in. I love how it gives this built-in a distinctive and elegant look.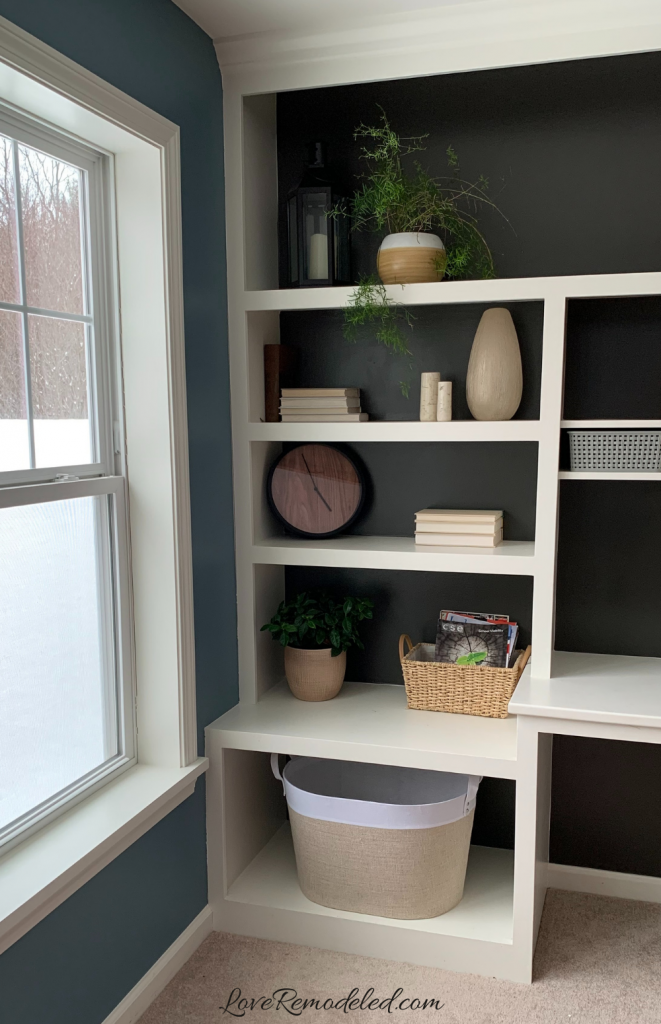 But while most people will like to use Urbane Bronze as an accent color, someone who is a little more daring with their paint choices may choose if for a whole room.
When used as a wall paint color, Urbane Bronze will give a room a dramatic, bold look. While it may not be suitable for all rooms, it looks amazing in a study, dining room, or even a bedroom.
Before we go any further, let's chat for a minute about how to figure out if Urbane Bronze will work in your home.
Wondering how to pick the perfect paint color?
I have the best solution for you!
Samplize sells 9×14.75 stick-on paint sheets in almost every paint color.
These no-mess, peel and stick sheets are made from real paint, so they will show you exactly what the paint color will look like.
Simply place them on your walls next to your trim, furnishings or fixed elements, and easily see whether the paint colors work in your space and with your lighting. Then, peel the sheet right off your wall and reapply it somewhere else if you like!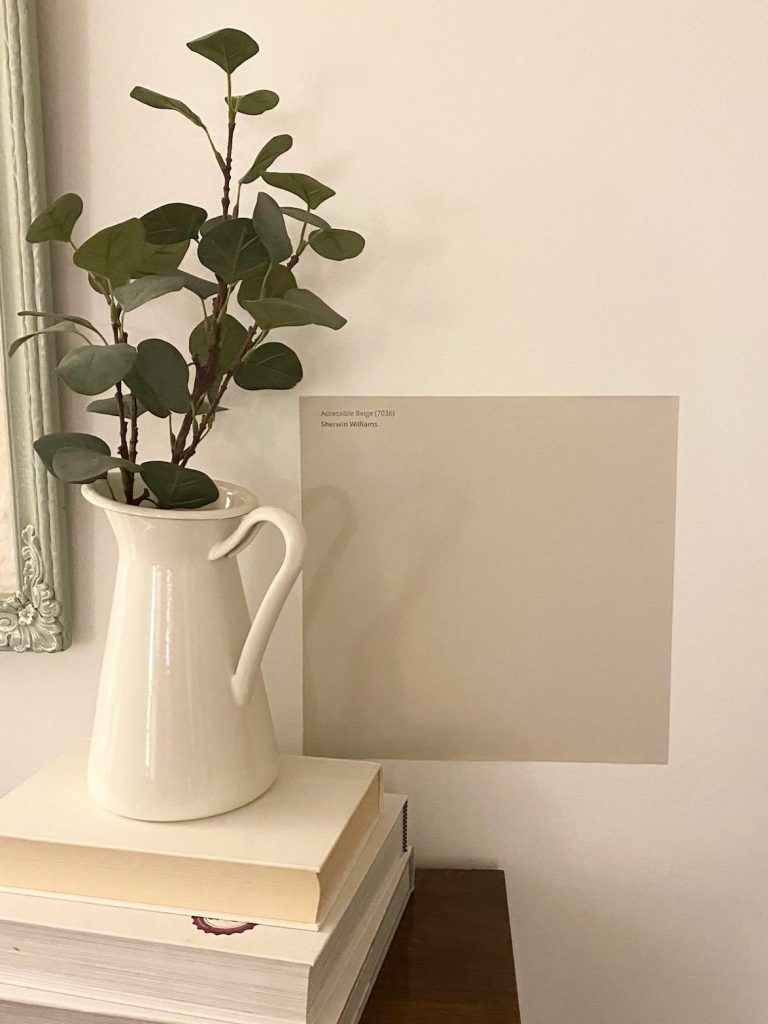 Oh, and you can have them in your home by tomorrow with overnight shipping!
As a little tip, if you enter your email, you'll get $5 off your first order! Plus, if you buy 8 samples, you get 2 more for free!
Samplize sheets are truly the easiest (and fastest!) way to try a paint color in your home, with no mess.
Urbane Bronze Color Scheme
Some great coordinating colors for SW Urbane Bronze are Extra White, Ivoire, Shoji White, Modern Gray and Messenger Bag.
Extra White serves as a great trim color for a room that has Urbane Bronze walls. Shoji White and Modern Gray are versatile neutrals that will act as a great backdrop from Urbane Bronze accents. Last, Messenger Bag and Ivoire can be pulled in as an accent wall or through furnishings and accessories.
Take a look at this color scheme here: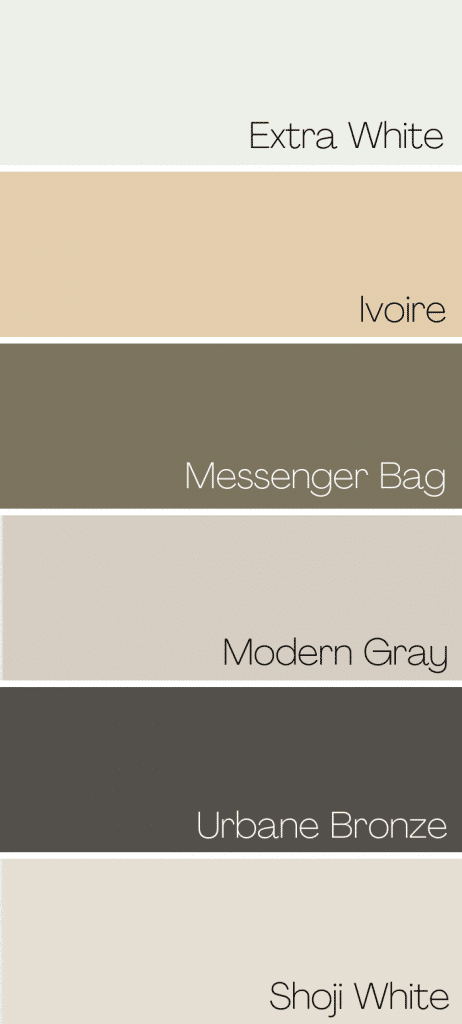 Urbane Bronze Color Strip
Urbane Bronze is housed on the same color strip as some of Sherwin Williams most popular greige shades.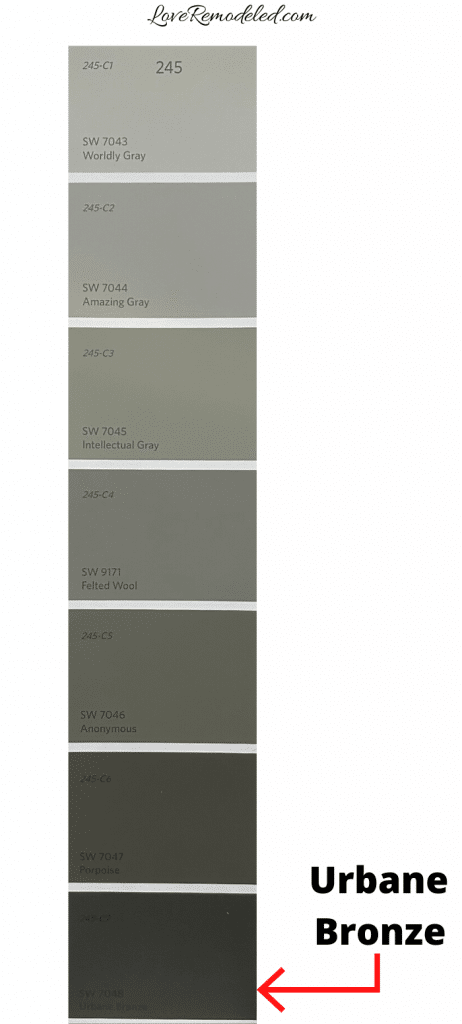 Wordly Gray, Amazing Gray, Intellectual Gray, Felted Wool, Anonymous, and Porpoise are all listed on Urbane Bronze's color strip.
While some would say that this means that they are all either lighter or darker versions of each other, this just isn't true. For example, you can see that Porpoise has a lot of green in it, where as Intellectual Gray has a hint of blue.
Final Thoughts on Urbane Bronze
Urbane Bronze, Sherwin William's 2021 Color of the Year, is a very popular paint color reminiscent of nature. This brownish-gray (or grayish-brown) paint color is perfect for doors, windows, home exteriors and furniture, or as a wall color for a dramatic look.
If you're looking for a bold paint color that that is earthy and sophisticated, Urbane Bronze is a great choice!
Pictures of Urbane Bronze
For pictures of Urbane Bronze, check out this Pinterest board I created. Oh, and if you have any pictures of your own of Urbane Bronze or any other paint color, and you'd like to have them featured on my site, feel free to contact me!
Want to see all your paint options in one convenient place? Click here to get everything you need to start painting, including Sherwin Williams and Benjamin Moore paint color decks!
Have a question? Leave a comment below! I read and respond to all of them!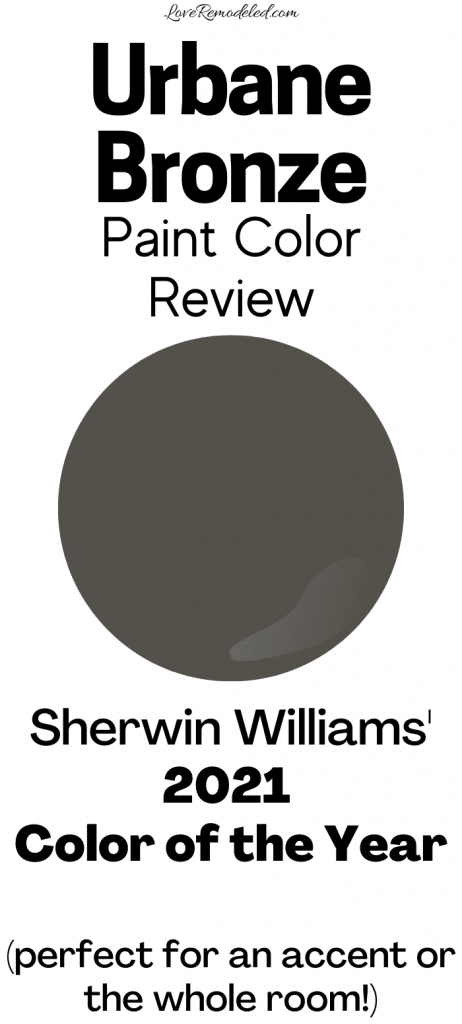 Have a question or want to show off your project? Join the discussion in Love Remodeled's Facebook group here!