Choosing an interior paint color for 2022 is easier than ever!
Each year, all the major paint companies (Sherwin Williams, Benjamin Moore, Behr, Valspar, etc.) select either a paint color of the year or a paint color palette.
Selecting shades that reflect current design and the cultural mood of the times, the designers at these paint companies choose paint colors in an effort to speak to the majority of homeowners.
If you are looking for an interior paint color for your home, check out these gorgeous paint colors, handpicked by all the major paint companies.
This post may contain affiliate links. If you have any questions, please see my disclaimer page.
2022 Mood and Design Styles
Like never before, people are choosing home paint colors with intentionality. In the past, the home was a place of retreat from the world, and many just chose paint colors that they liked.
In 2022 though, a home is your office, your gym, your daycare and more. Accordingly, people are selecting interior paint colors to set a certain mood.
Maybe you feel overwhelmed by the current events in your world? A calming blue might be the shade you want for your home.
Perhaps you feel tired of working, playing, and living at home? An energetic yellow might liven things up.
Or maybe you want a paint color that presents a blank canvas for your space? A soft white is just the thing.
This year, designers are predicting that people want calmness, a fresh start, and new passions.
This comes after 2021, when designers predicted that homeowners wanted tranquility, focus and relaxation. This proved to be true, and we saw a shift towards warm paint colors.
As you can see, designers are still anticipating that people will want calming shades, but they also want new possibilities.
If 2021 was the year of recentering ourselves, 2022 will be the year of reinventing ourselves.
If you're interested, click here to see last year's picks, the top interior paint colors for 2021 (as chosen by designers).
What is the color for year 2022?
Typically, home design follows the design trends on the runway. Pantone is a major player in choosing the colors that trend in both fashion and home design.
This year, Pantone has chosen a fairly bright palette of shades, mixed with some muted neutrals. For the top color of the year for 2022, Pantone has selected two shades.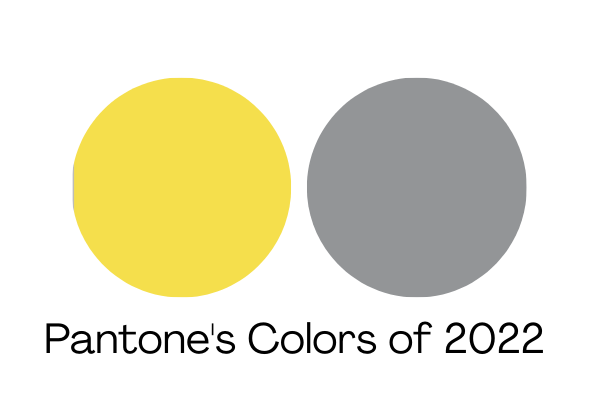 The first 2022 color of the year is a cool gray named Ultimate Gray. In a true juxtaposition, Pantone has chosen Illuminating, a cheery yellow, for their other 2022 color of the year.
We can't know for sure, but Pantone is signaling that we can expect to see a lot of grays and yellows this year.
What are the new paint colors for 2022?
The interior paint color of the year for 2022 is going to vary by paint manufacturer. Several paint companies have already made their announcements.
Here are the 2022 Colors of the Year, as chosen by Sherwin Williams, Benjamin Moore, Valspar and Behr.
Sherwin Williams 2022 Color of the Year
For 2022, Sherwin Williams has chosen Evergreen Fog as their 2022 Color of the Year.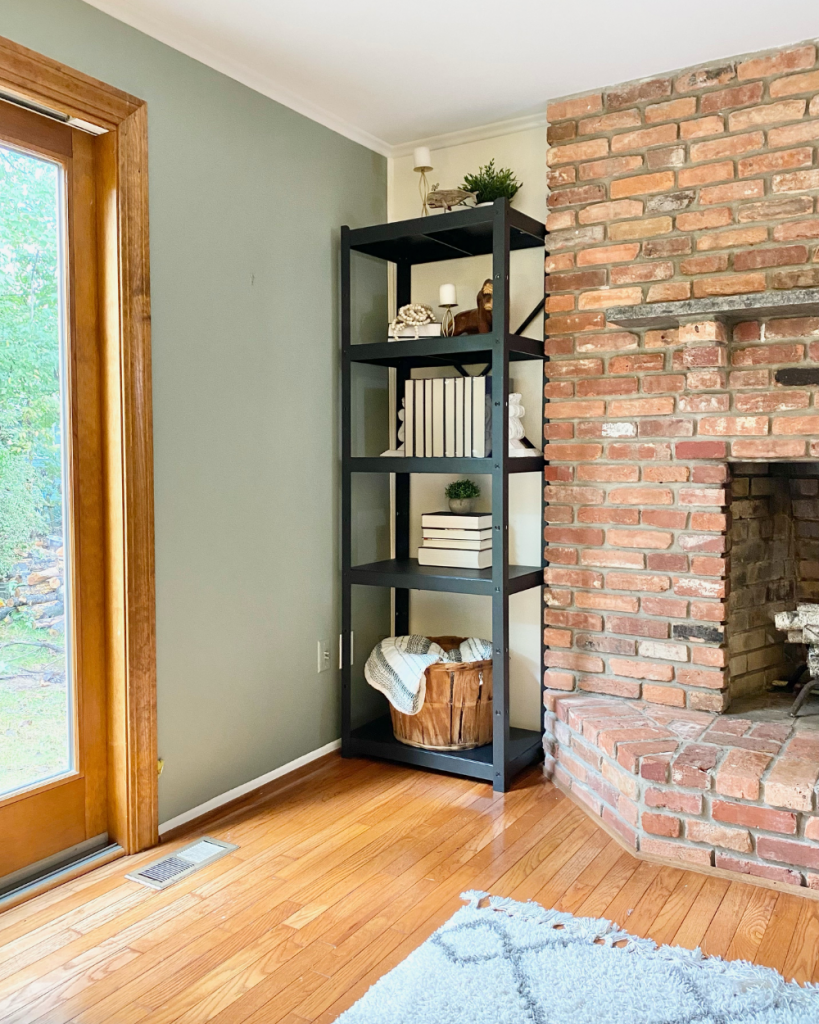 Evergreen Fog is a cool, grayish green paint color that has just a hint of blue. Evergreen Fog is calming and organic. It feels like bringing a bit of the outside into your home. Evergreen Fog hearkens feelings of a fresh start, while also providing a relaxing backdrop.
In addition, Sherwin Williams identified a paint palette that would pair well with Evergreen Fog.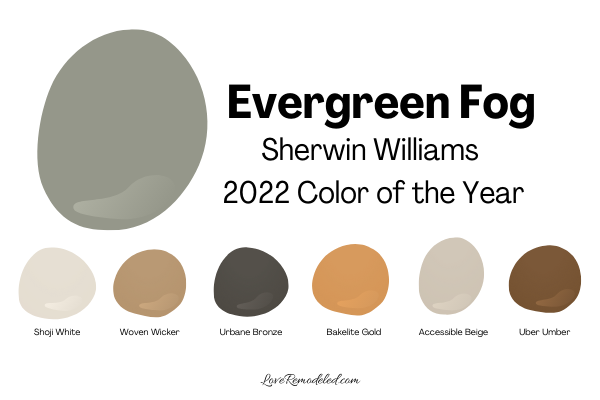 Pairing neutrals with warm, rich tones, Sherwin Williams curated a paint scheme for any home.
Benjamin Moore 2022 Color of the Year
Benjamin Moore's 2022 Color of the Year is October Mist!
This soft, silvery green paint color is a similar to idea to Sherwin Wililams' Evergreen Fog, but a bit lighter.
In addition to naming October Mist as the Color of the Year, Benjamin Moore also listed thirteen shades that coordinate with it for their 2022 palette. The shades range from warm neutrals to bold pops of color.
Each paint color pairs nicely with October Mist, making it a paint color that can go with almost any style decor or design.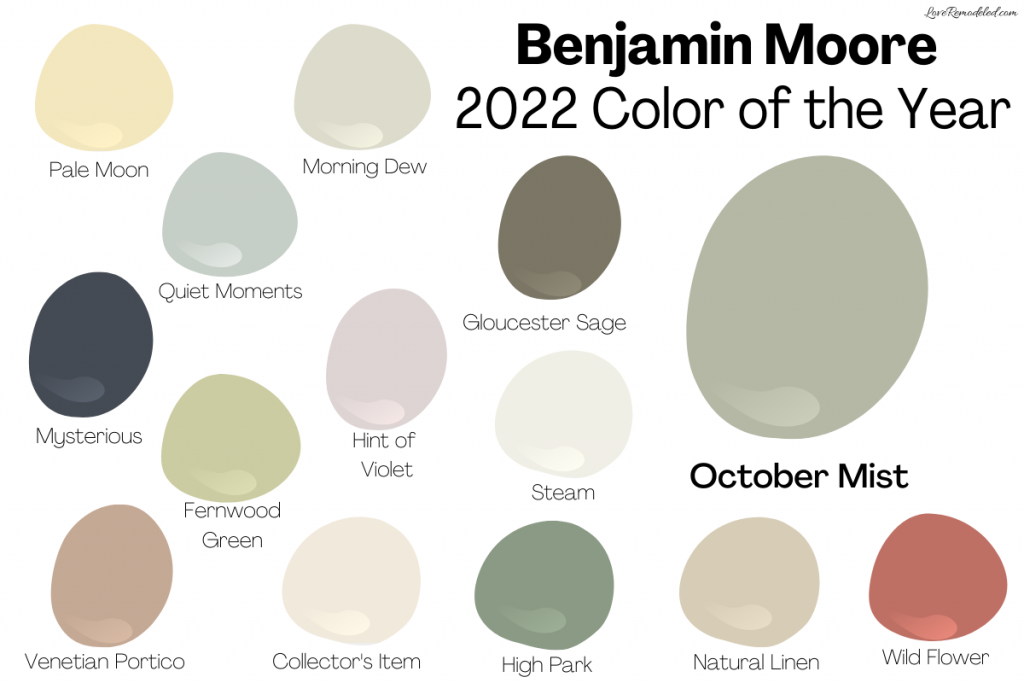 Valspar 2022 Colors of the Year
Instead of choosing one single color as their color of the year, Valspar has selected twelve nature-inspired paint shades.
Valspar's 2022 Colors of the Year are:
Blanched Thyme, a light to mid range green paint color
Gilded Linen, a creamy off-white paint color
Delighted Moon, a bright, cheery yellow paint color
Lilac Lane, a soft pinkish paint color
Mountain River, a deep navy blue paint color
Orchid Ash, a cool toned gray paint color
Grey Suit, a gray paint color
Subtle Peach, a soft, pinkish orange paint color
Rustic Oak, a reddish, brown paint color
Sunset Curtains, a peachy paint color
Country Charm, a beige-yellow paint color
Fired Earth, a black/brown paint color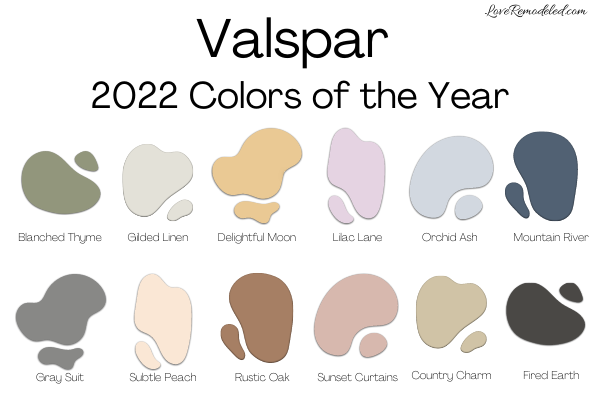 Overall, Valspar's 2022 Colors of the Year tend to be warm, trendy shades that are calming and comfortable.
Behr 2022 Colors of the Year
For 2022, Behr chose 20 shades to spotlight as their Colors of the Year. The shades are similar to many of the colors chosen by Valspar.
As two different major paint companies have chosen these types of paint colors, we can probably assume that they will be popular!
Behr's 2022 Colors of the Year are:
Whisper White, a warm white paint color
Sunwashed Brick, a pinkish paint color
Breezeway, a blue-green paint color
Etched Glass, a pale gray paint color
Lunar Surface, a mid-tone gray paint color
Nightingale Gray, a grayish brown paint color
Studio Clay, a light tan paint color
Corn Stalk, a bright yellow paint color
Wave Top, a brighter blue green paint color
After Rain, a light, baby blue paint color
Perfect Penny, a coppery reddish paint color
Basswood, a mid-toned tan paint color
Sustainable, a browish green paitn color
Explorer Blue, a bright mid-tone blue paint color
Dark Cobalt Blue, a royal blue paint color
Lingonberry Punch, a pinkish red paint color
Wild Mustang, a mid to dark brown paint color
Laurel Tree, a fresh green paint color
Ocean Abyss, a dark, blue green paint color
Cracked Pepper, a dark gray paint color
Behr's 2022 Colors of the Year have something for everyone. Whether you like pale shades, bright shades, neutrals or deep tones, there is a paint color on this list for you!
What are popular wall colors for 2022?
Just because these colors have been chosen by designers as the hot colors for 2022, doesn't mean that these shades have necessarilly carried over into the real world yet.
Overall, the most popular wall colors for 2022 are going to be your neutrals. Grays, whites, and even some beiges are being chosen by the majority of homeowners.
Neutrals tend to give a black slate sort of background so that furnishings and accessories can take center stage in the home. Additionally, neutrals are calming shades.
Is beige coming back in 2022?
People are beginning to wonder if beige is coming back in 2022. Yes! We are starting to see more people gravitating towards beige paint colors. In 2022, we are seeing homeowners and designers shift towards more warmer shades, and beige is a great warm neutral paint color.
Now, not all beige paint colors are created equal. I am predicting that we won't see those yellowy beige paint colors come back in as quickly as we will see more grayish beiges. For example, Natural Linen is a beautiful beige paint color that has a bit of gray in its base. This helps keep it from being too beige, if you know what I mean.
Click here to check out some gorgeous beige paint colors.
Is gray going out of style 2022?
The other question that people have is if gray is going out of style in 2022. No! I am not predicting that gray will be out of style in 2022. We will see people continuing to shift away from those cool gray paint colors. This has been occuring for years now though.
Greiges, paint colors that are a blend of gray and beige, are still going to be in style in 2022. This is because they are the perfect neutral. They can typically go with both warm and cool furnishings and accessories.
In fact, the most popular paint color (in my estimation) is still Agreeable Gray, by Sherwin Williams. Agreeable Gray is a greige paint color that balances between gray and beige. It is hugely popular among homeowners and realtors, and if you ask a painter, they will tell you that this is the color that people choose most often.
Wondering how to pick the perfect paint color?
I have the best solution for you!
Samplize sells 9×14.75 stick-on paint sheets in almost every paint color.
These no-mess, peel and stick sheets are made from real paint, so they will show you exactly what the paint color will look like.
Simply place them on your walls next to your trim, furnishings or fixed elements, and easily see whether the paint colors work in your space and with your lighting. Then, peel the sheet right off your wall and reapply it somewhere else if you like!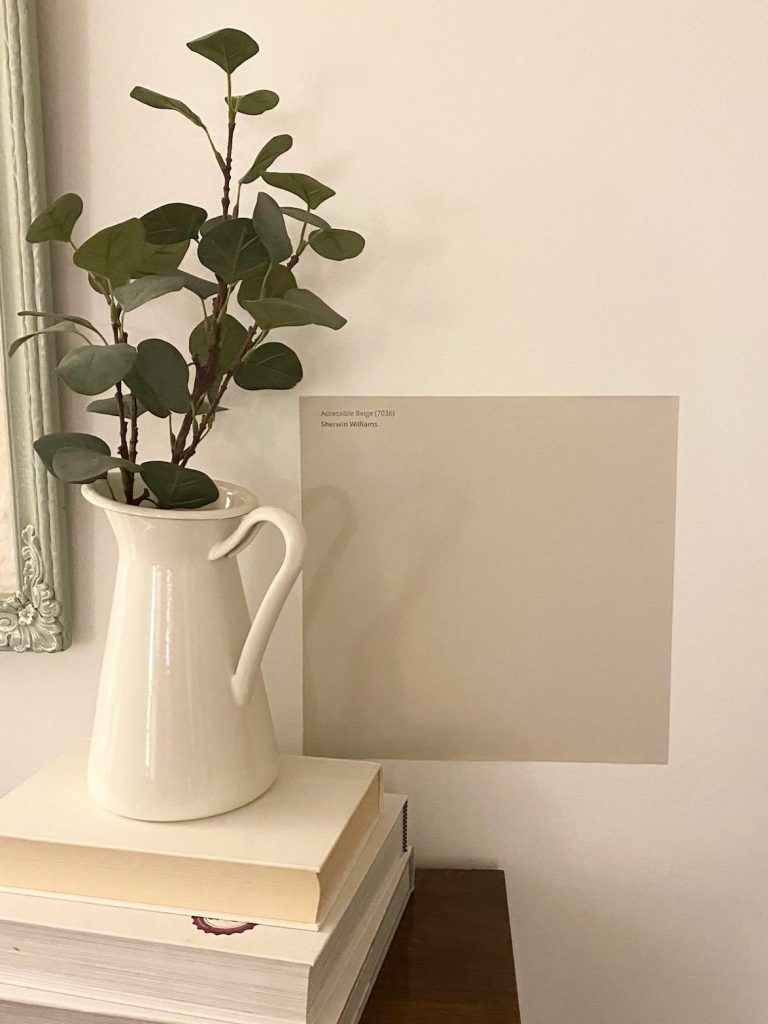 Oh, and you can have them in your home by tomorrow with overnight shipping!
As a little tip, if you enter your email, you'll get $5 off your first order! Plus, if you buy 8 samples, you get 2 more for free!
Samplize sheets are truly the easiest (and fastest!) way to try a paint color in your home, with no mess.
Final Thoughts of Interior Paint Colors for 2022
If you follow fashion trends at all, or even if you have been in your local mall recently, you know that styles are all over the place at the moment. Despite the seemingly randomness of the trends, there are some commonalities that are driving both fashion and paint colors right now.
People are desiring comfort, warmth, and nature-inspired types of spaces. The paint colors on this list have been chosen by designers as shades that will speak to these desires, and will help create a space that is both welcoming and inspiring.
Still need some help picking a paint color? Pick up my 40+ page e-book, containing 30 of the hottest shades for 2022. These paint colors have been specially selected to help you choose from colors that are in style, and teaches you how to use them in your house!
Get the 2022 curated paint color palettes now!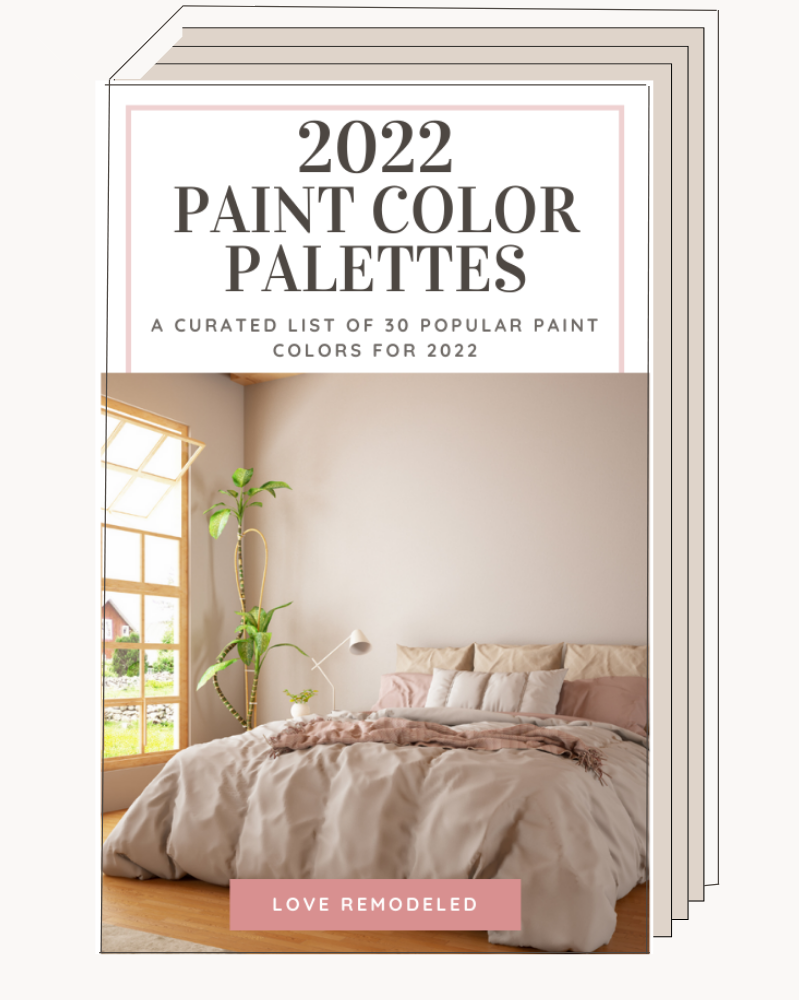 If you are looking for a paint color that will be fresh and trendy, check out one of the shades on this list of the 2022 Colors of the Year!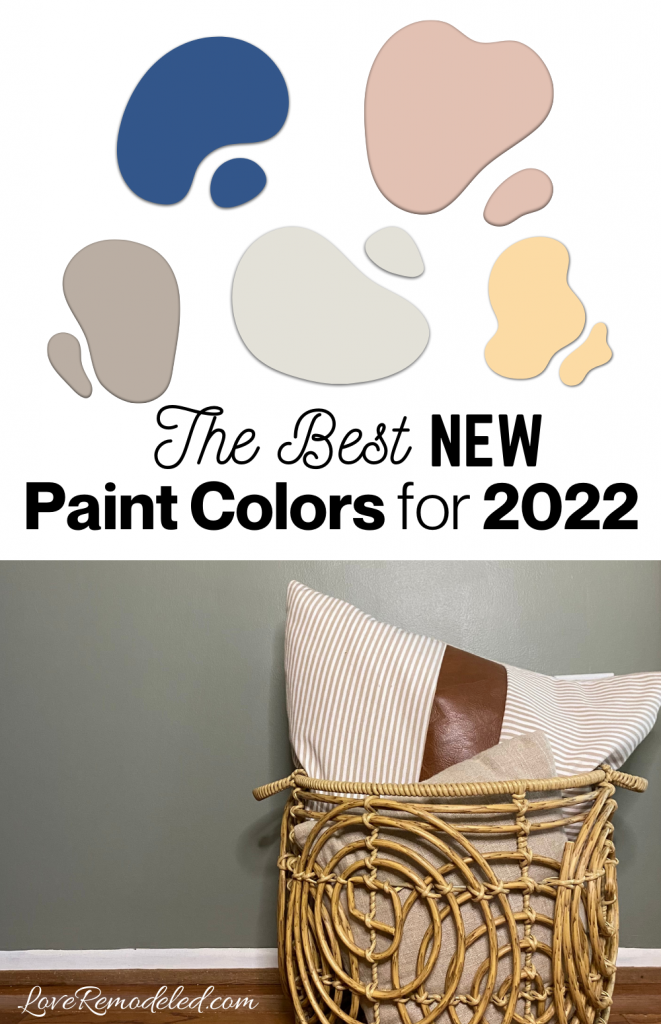 Want to see all your paint options in one convenient place? Click here to get everything you need to start painting, including Sherwin Williams and Benjamin Moore paint color decks!
Have a question or want to show off your project? Join the discussion in Love Remodeled's Facebook group here!