Alabaster (SW 7008) is a soft, creamy white. It is not as stark as a true white, but still white enough that it will always look white, in any light and on any surface.
Alabaster has a Light Reflectance Value of 82, meaning that it will reflect back a lot of light into the room. This makes it a good choice for any room that you want to have a bright, cheery look.
Alabaster's Popularity
Sherwin Williams Alabaster color is one of the most popular whites that Sherwin Williams' makes.
It has been a best seller for many years, and was actually named by Sherwin Williams as their Color of the Year in 2016.
In addition, Alabaster has been featured in Pottery Barn's Spring/Summer 2019 collection, Pottery Barn Kids' Spring/Summer 2019 collection, and PBteen's Spring/Summer 2019 collection.
Is white in style for home decor right now?
Based on Alabaster's appearance in all of the major collections that Pottery Barn put out in 2019, it is safe to say that SW Alabaster has not declined in popularity in the last several years.
In fact, white walls are trending right now on Pinterest in a big way.
While gray walls ruled for a long time, white walls are becoming the color of choice for homes in 2018 and 2019.
When you look at Alabaster, it is easy to see why it is so popular, yet not at all trendy.
Trendy colors come in and out of fashion depending on current styles. Popular colors though, are more classic in their appeal.
Sherwin Williams' Alabaster color is the perfect, timeless white.
It has a bit of warmth without being too yellow, too blue or too beige. In addition, it pairs well with both warm or cool colors.
Sherwin Williams Alabaster Undertones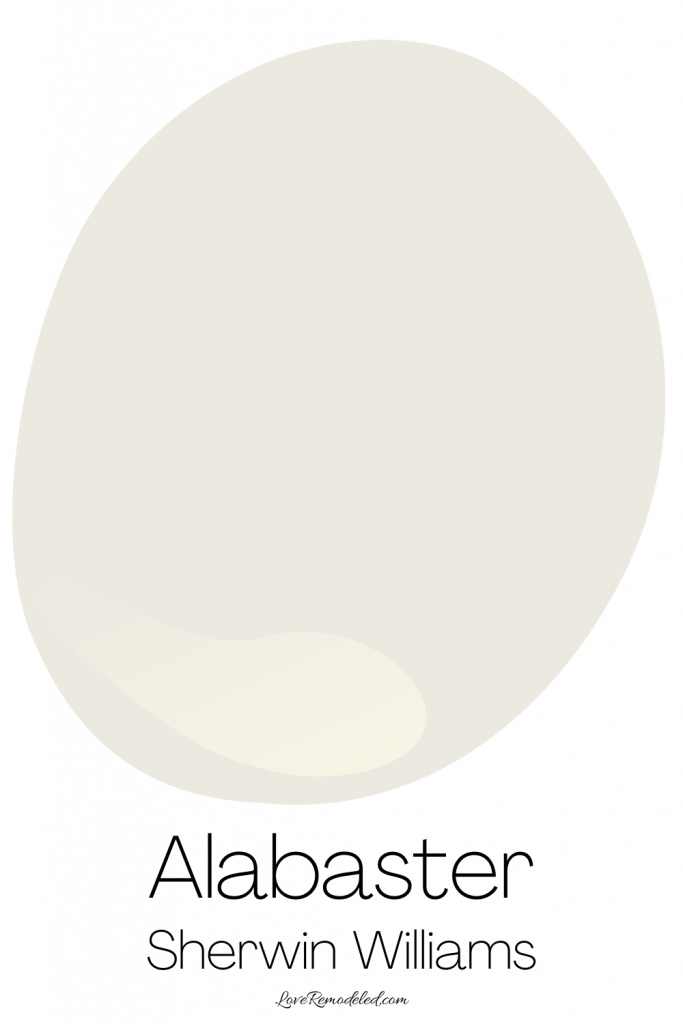 The undertones of Alabaster are subtle. Alabaster doesn't lean strongly towards any one color, and almost has a greige undertone.
This means that it has both a beige and gray base, though it mostly just comes off as white.
What is thought of as a true white typically has cool undertones, and can almost lean towards blue.
If you look at Extra White or Pure White by Sherwin Williams, you will see that this cool, bluish white is what many would consider a real white.
Without a visual comparison to a real true white though, Alabaster will look completely white.
Take a look at SW Alabaster next to a cool white (Extra White) and a warm white (Greek Villa), and see how it compares.
This post may contain affiliate links. If you have any questions, please see my disclaimer page.
Alabaster Vs. Extra White
When set against a color such as Extra White, you will notice Alabaster's warm hints.
Both will look white if you are painting a whole room in the color, but Alabaster will look a little cozier than Extra White will.
Alabaster Vs. Greek Villa
When you compare Alabaster with Greek Villa, you will see how Alabaster leans more gray, while Greek Villa leans more yellow.
Both are warm colors, and both will look pretty white when painted on the wall.
But Alabaster looks a little more muted than Greek Villa.
Click here for a full color review on Greek Villa.
So, is SW Alabaster color a warm or cool color?
If you look at Alabaster compared to other whites, it is easy to see what it is a warmer white.
Though it's greige undertones make it very versatile, it is not as stark as many of Sherwin Williams' cooler whites.
If Alabaster is a warm white, is it cream or white?
SW Alabaster is a creamy white. But while Alabaster does have almost a creamy look to it, it is considered to be white, and not a cream color.
Where should I use Sherwin Williams' Alabaster?
Alabaster white is a perfect choice in many different settings.
Because it is a solid white with just a hint of color, it can go anywhere that you want a clean, bright look.
You can use it on the walls as a crisp, clean backdrop to your decor.
You can use it on your trim as a warm white contrast to colored walls.
You can use it on your cabinets, for a perfect white kitchen.
And it is a top choice for a white paint color on shiplap.
Alabaster Walls with Pure White Trim
I get a lot of questions about a trim color for Alabaster, so I thought I'd include a section for you on this very topic.
When you have white walls, there are two ways you can go with your trim.
First, you can paint your walls and your trim the same white, and differentiate them by sheen.
For example, you can paint your walls Alabaster in a satin finish, and paint the trim Alabaster in a semi-gloss finish. This will still make the trim stand out because of how the light bounces off it a semi-gloss sheen more than a satin sheen.
Second, you can paint your walls one white paint color and paint your trim a coordinating white paint color.
For example, you can paint your walls Alabaster and your trim Pure White.
Here is a picture of walls in Alabaster and trim in Pure White.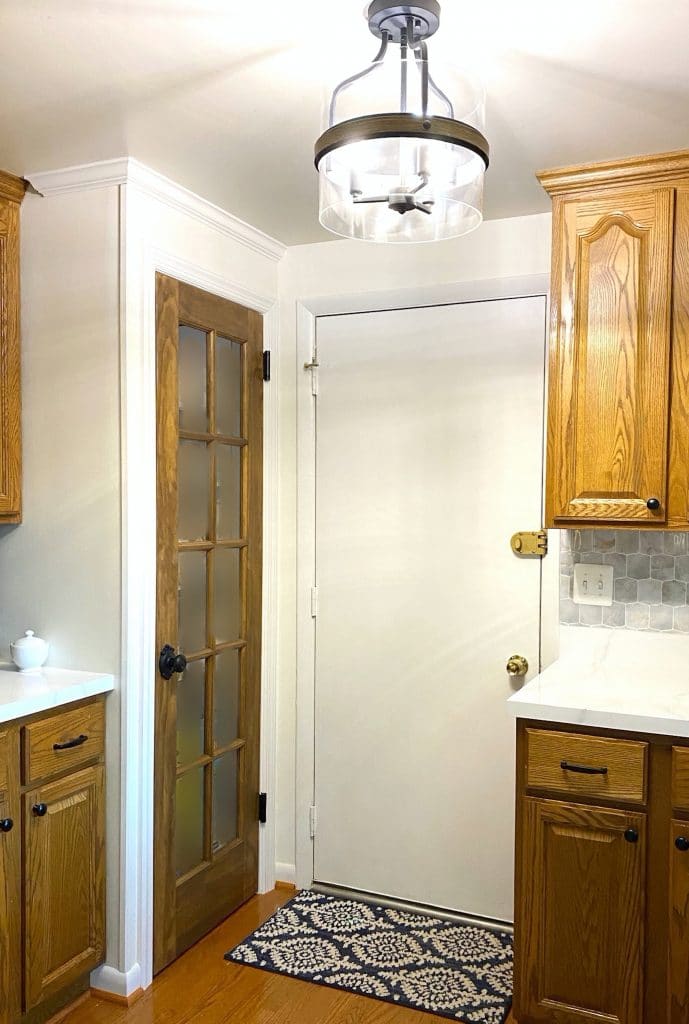 As you can see, the walls have that creamy white color, while trim and door look slightly brighter and more crisp.
There is not a huge difference in how they look.
Final Thoughts on Alabaster Paint Color
Choosing a white paint color for your walls can be challenging, but Alabaster is a go-to paint color for anyone who wants warm, bright and airy white walls.
Overall, Alabaster is a really gorgeous white and is perfect for anywhere in your home.
It is a great choice in a room of any style, from modern to farmhouse, and will highlight the decor of the room.
Wondering how to pick the perfect paint color?
I have a great solution for you!
Samplize sells 12×12 stick on paint squares in almost every paint color.
These eco-friendly, peel and stick squares are made from real paint, so they will show you exactly what the paint color will look like.
I love Samplize squares because they are able to be placed on your wall and peel right off when you're done.
You can move these paint squares around your room to easily tell whether a color will go in your home, with your furnishings and accents, and with your lighting.
Plus, you can pick the perfect paint color without having to run to the store or open a can of paint, and you won't be pressured into picking a color because you have a bunch of different sample colors painted on your walls!
Oh, and you get free shipping and $5 off your first order – that is basically like getting one square for free!
Getting Started With Painting
Need a painter? Click here to find a painting professional in your area!
If you want to paint your home on your own, check out this post on how to paint a room.
Want to see all your paint options in one convenient place? Click here to pick up a Sherwin Williams fan deck (contains all SW colors) or a Benjamin Moore Collections fan deck (contains many popular BM colors – other fan decks sold separately)!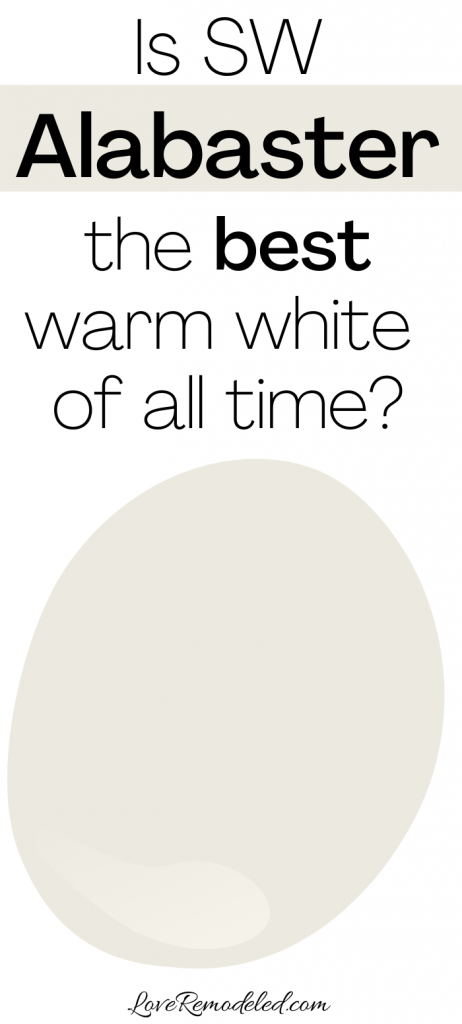 Have a question or want to show off your project? I answer all comments within 7-10 days, but for a much faster response, join my new Facebook page here!