Iron Ore is a soft black paint color by Sherwin Williams. It is very popular, and is included as one of their top 50 paint colors.
Sherwin Williams Iron Ore is part of the following color collections: Nurterer, Pottery Barn Teen – Fall/Winter 2021, West Elm, Top 50 Colors, and Rejuvenation – Spring/Summer 2021.
Iron Ore is in the black color family, but that doesn't mean it is a simple black paint color. Find out all the details on this soft black paint color – and what exactly that means!
This post may contain affiliate links. If you have any questions, please see my disclaimer page.
Sherwin Williams Iron Ore Color Characteristics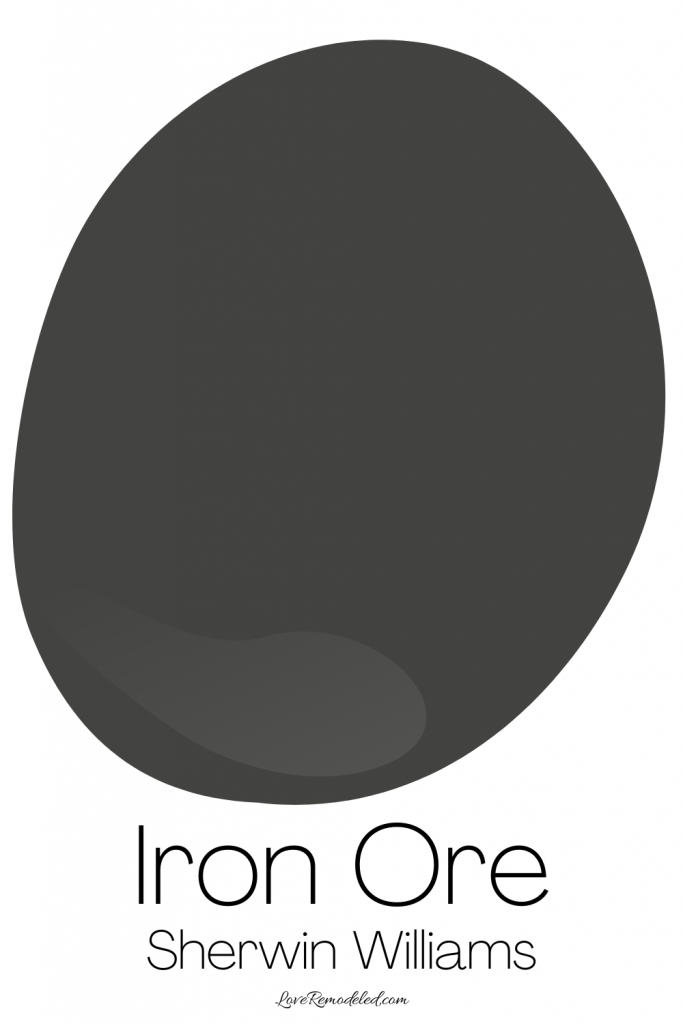 While Iron Ore is technically in the black color family, many would describe it as a dark charcoal gray paint color.
This is because Iron Ore is not as dark as many black paint colors. Instead, it is a softer, more muted approach to a black paint color.
For example, when you think of a typical black paint color, you probably think of a dark, crisp, inky black shade.
Iron Ore tends to be more of a subtle black paint color.
Sherwin Williams Iron Ore LRV
Sherwin Williams Iron Ore has an LRV of 6. I love the scale goes from 0, which is completely black, to 100, which is completely white. As you can see, Iron Ore has a very low LRV rating.
Despite this, it is not the deepest of black paint colors.
For instance, Tricorn Black, Sherwin Williams most popular black paint color, has an LRV of 3.
While it might not seem that three points in an LRV rating mean very much, it is actually the difference between a paint color being as dark as the bottom of a cave, or like a night sky, illuminated ever so slightly by the light of distant stars.
Sherwin Williams Iron Ore Undertones
All black paint colors contain undertones that make them look slightly different. These undertones can present differently in different lights. Typically, black paint colors have purple, blue or green undertones.
Iron Ore has just a hint of blue undertones. The blue in Iron Ore is very slight though, and doesn't make Iron Ore look chilly – more just sort of steely.
One of my favorite things about Iron Ore is that it doesn't have a lot of blue, purple, or green in it. Painting something black but finding that it looks purple when you are finished is a terrible feeling, and I love that Iron Ore doesn't do this.
Some folks will say that Iron Ore has gray undertones, but actually, that just means that Iron Ore has a bit less saturation or depth than some other blacks. An easier way to think of it would be to say it has a bit more white in it (though this isn't technically correct).
Is Sherwin Williams Iron Ore Warm or Cool?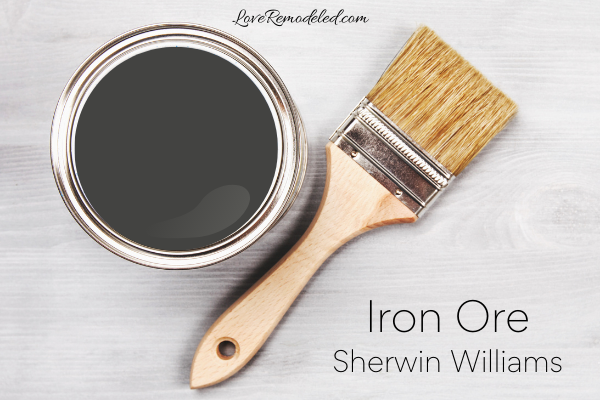 Many paint colors lean towards looking warm – with red, yellow or orange undertones, or cool – with green, blue or purple undertones.
Iron Ore tends to just be neutral. If I had to pick, I would say that Iron Ore leans just slightly cool with those blue undertones. But mostly, Iron Ore is a neutral paint color.
Where Can I Use Sherwin Williams Iron Ore?
Iron Ore is a perfect accent paint color. This soft black paint color can act to define a space by highlighting different features.
For example, Iron Ore is a great paint color for cabinets, fireplaces, furniture, doors, and interior or exterior trim
Iron Ore can also be a great paint color for a whole room. But, you need to have the right space for Iron Ore to work in.
First, you need to have a room that has enough natural and/or artificial light to support this dark of a paint color.
When placed in a dimly lit room, Iron Ore will tend to look dark and foreboding. But, when in a room with ample light, Iron Ore looks like a soft black.
Be clear on this though, even with a lot of light, Iron Ore will probably not ever look like a charcoal on your walls.
When colors are seen in greater quantities, they tend to take on a darker look. Because of this, Iron Ore will look black on your walls.
Instead of looking like a jet black or an inky black, Iron Ore has a more muted approach. It appears like a soft, understated black.
Overall, Iron Ore gives a space a very luxe, sophisticated look. It can work well in dining rooms, living rooms, offices and bedrooms.
Iron Ore also works on a home exterior as a whole home shade, particularly on a farmhouse style home.
Sherwin Williams Iron Ore Coordinating Colors
Iron Ore is actually not the most versatile black paint color. It doesn't tend to go well with many blues or greens.
Instead, Iron Ore looks best with other neutral paint colors. It can work with some grays, whites, and off-whites.
And because Iron Ore leans more cool than warm, it looks best with other colors that have cooler undertones.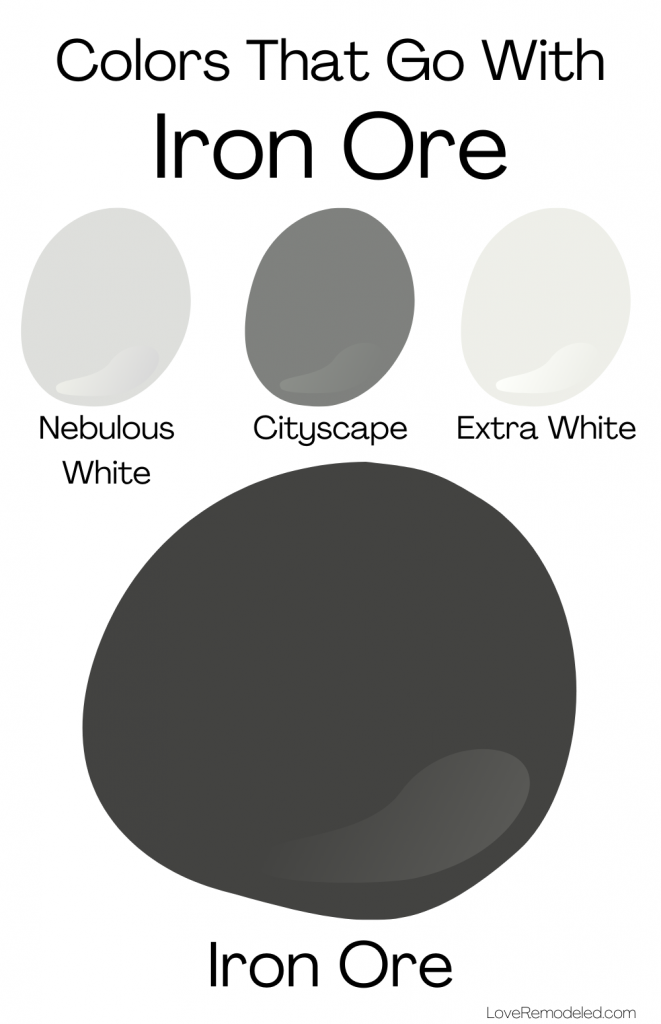 For example, Sherwin Williams pairs Iron Ore with Extra White, a cool white with blue undertones.
Iron Ore also goes well with Cityscape, a medium dark gray paint color.
Last, Sherwin Williams lists Nebulous White as a coordinating color for Iron Ore. Nebulous White is a soft, grayish off-white paint color.
As you can see, Iron Ore loves those neutrals. It doesn't act like a classic black, in that it can't just pair with any shade. But, it is great when paired with the right colors.
Sherwin Williams Iron Ore Trim Colors
Iron Ore looks amazing with crisp, clean white paint colors.
Specifically, Iron Ore works well with Extra White and High Reflective White.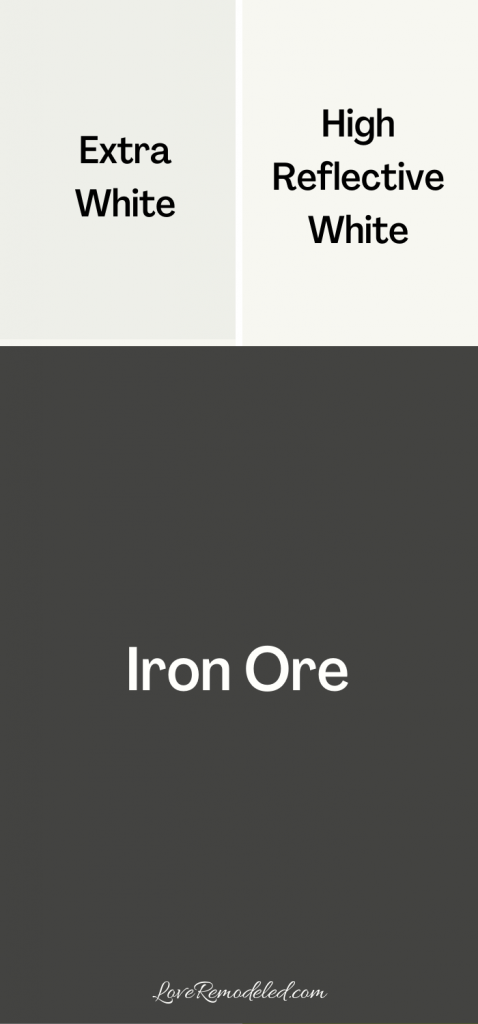 Extra White is a very popular trim color, but it is a pretty cool shade. Click here to learn more about Extra White.
If this doesn't appeal to you, check out High Reflective White.
High Reflective White is perfectly crisp and clean, and virtually undertone free. Because of this, it is a very neutral white that tends to work with almost any paint color.
If you're considering changing all your trim to one paint color that goes with Iron Ore, but will work nicely with other paint colors in the home as well, I would recommend going with High Reflective White.
Sherwin Williams Iron Ore Compared
When I do a full paint color review, I always like to compare the paint color I am discussing with other popular paint colors that are either in the same color family, or that have the same uses.
I find that when people are looking at a paint color, they are typically deciding between several, and doing this sort of analysis can be helpful in determining with paint color is right for your home.
When people are considering Iron Ore, they are frequently also looking at Tricorn Black, Urbane Bronze and Peppercorn.
I have a full color review on Tricorn Black where I discuss all the ins and outs of this classic black paint color. In it, I also compare it to Iron Ore. If you want more information, click the link to check out Iron Ore vs. Tricorn Black.
Here, I'll just say that Tricorn Black is a very classic black paint color. While Iron Ore is soft and almost charcoal-ish, Tricorn Black is more of a jet-black. They have similar uses though – both are great on trim, cabinets, doors, and exteriors.
Sherwin Williams Iron Ore vs. Peppercorn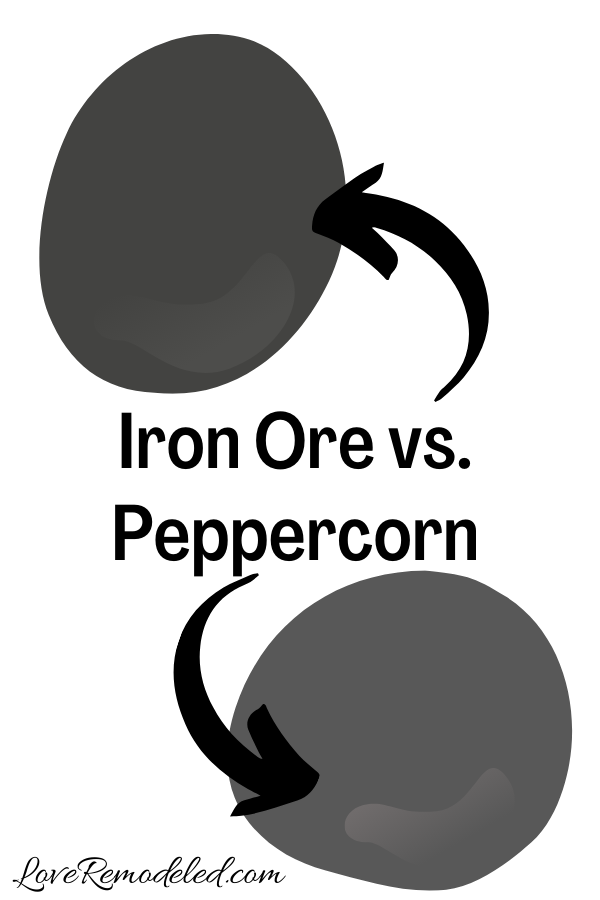 Peppercorn is a dark gray paint color by Sherwin Williams. It has slight purple undertones (and maybe a hint of blue sometimes), making it a cool gray.
Peppercorn, while still being very dark, has an LRV of 10. This mean it is a hint lighter than Iron Ore.
Like Iron Ore, Peppercorn is great as an accent shade. It works on cabinets, trim, doors, furniture, walls, and exteriors.
But, because it is lighter, it gives an even softer appearance than Iron Ore does. Peppercorn is also included as one of Sherwin Williams top 50 paint colors.
Click here for more details on Peppercorn.
Iron Ore vs. Urbane Bronze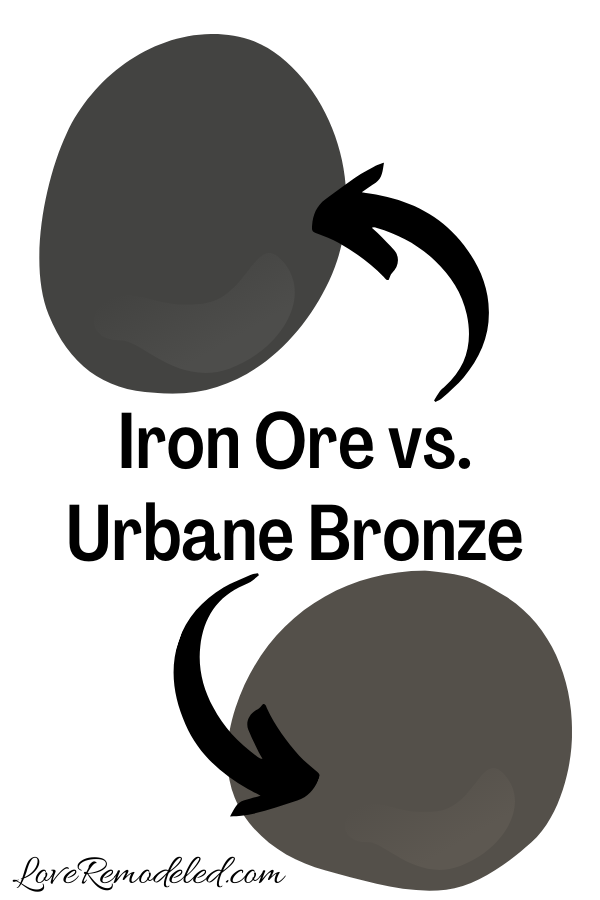 Urbane Bronze was Sherwin Williams 2021 Color of the Year.
It is rising in popularity, though it isn't quite as popular as Iron Ore.
Urbane Bronze is a dark brown paint color with a lot of gray in it. Unlike Iron Ore, Urbane Bronze is a warmer paint color, though it has a good balance of warmth and coolness in it.
Overall, Urbane Bronze and Iron Ore have similar uses.
Urbane Bronze may work better in rooms with a lot of warm shades, while Iron Ore will work better in a room with more cool tones.
Click here for more details on Urbane Bronze.
Wondering how to pick the perfect paint color?
I have the best solution for you!
Samplize sells 9×14.75 stick-on paint sheets in almost every paint color.
These no-mess, peel and stick sheets are made from real paint, so they will show you exactly what the paint color will look like.
Simply place them on your walls next to your trim, furnishings or fixed elements, and easily see whether the paint colors work in your space and with your lighting. Then, peel the sheet right off your wall and reapply it somewhere else if you like!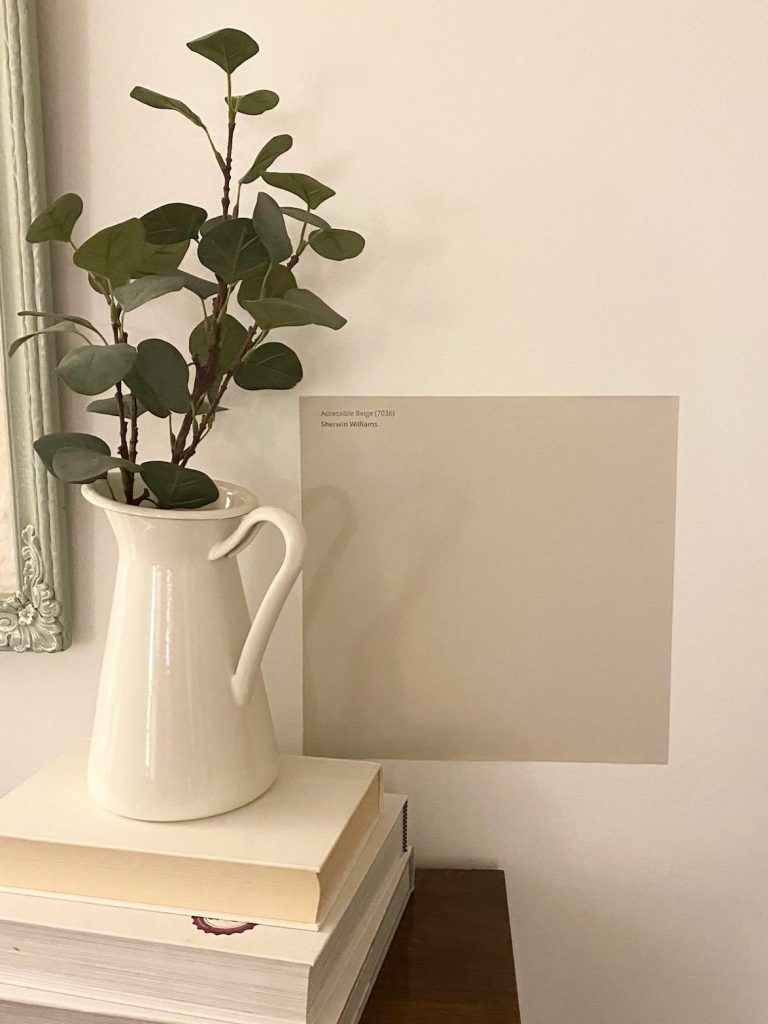 Oh, and you can have them in your home by tomorrow with overnight shipping!
As a little tip, if you enter your email, you'll get $5 off your first order! Plus, if you buy 8 samples, you get 2 more for free!
Samplize sheets are truly the easiest (and fastest!) way to try a paint color in your home, with no mess.
Final Thoughts on Sherwin Williams Iron Ore
Sherwin Williams Iron Ore is a luxe and sophisticated soft black paint color that looks amazing with other neutral paint colors.
It is a perfect accenting shade, serving to highlight the other colors in a room, but can also be used on walls or exteriors.
If you are looking for a dark paint color, but don't want a crisp, dark black, Iron Ore should be on your shortlist!
Want to see all your paint options in one convenient place? Click here to get everything you need to start painting, including Sherwin Williams and Benjamin Moore paint color decks!
Have a question or want to show off your project? Join the discussion in Love Remodeled's Facebook group here!