Tricorn Black, SW6258, is a dark black paint color by Sherwin Williams. It is their most popular black paint color, and for good reason. It is a black paint that is classic and timeless.
Despite Tricorn Black being very popular, it hasn't been featured in as many color collections as some other dark paint colors. This is likely because, while it is perfectly classic, it is not as approachable as some other dark paint colors.
Tricorn Black has been featured as part of the following Sherwin Williams color collections: Reasoned, Trendsetter, West Elm, and 2021 Tapestry.
This post may contain affiliate links. If you have any questions, please see my disclaimer page.
Sherwin Williams Tricorn Black Paint Color Details
Tricorn Black is a very dark paint color with a Light Reflectance Value (LRV) of 3. The LRV scale goes from 0-100, with 0 being black and 100 being white. So you can see that Tricorn Black is just about as dark as a paint color can be.
Tricorn Black is one of the few true black paint colors. Tricorn Black does not have any obvious undertones in it, such as a blue or brown tone that can be seen in some other popular black paint colors. This makes it a great option for someone who wants a black paint color that isn't going to look blue/brown/gray in some lights.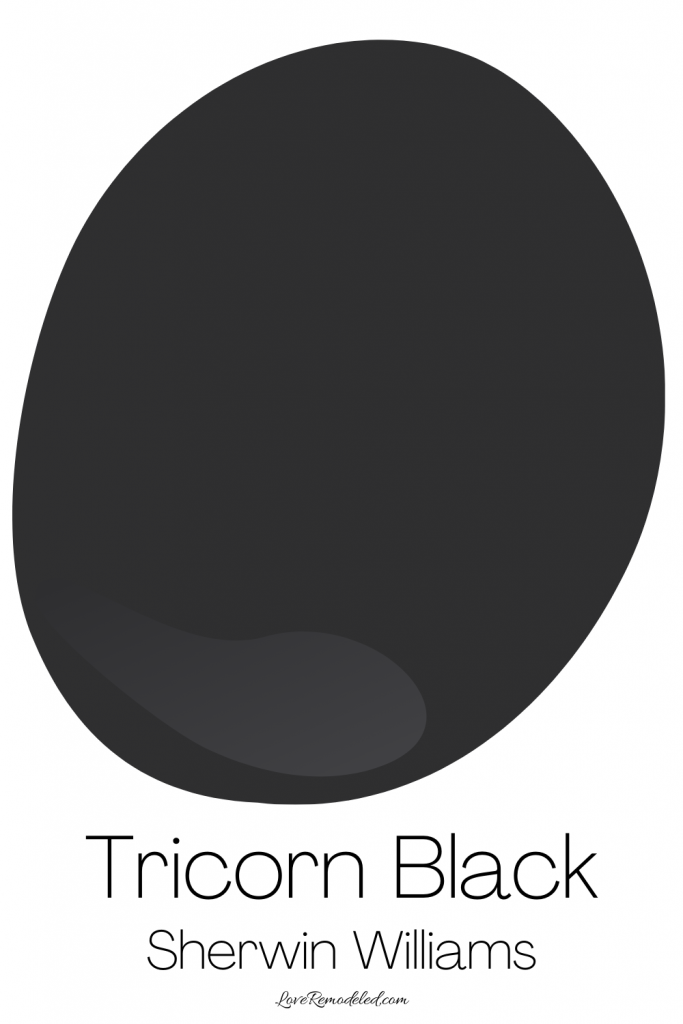 As I mentioned above, Tricorn Black is a very classic black paint color. If you pick up a can of black spray paint or a generic can of black paint, you're likely to get a black similar to Tricorn Black. It is just the standard black – reminiscent of the black crayon in every Crayola box.
Don't take this the wrong way though. Tricorn Black is absolutely lovely! In addition to being classic, it is also classy, sophisticated, rich and bold.
Tricorn Black is actually Sherwin Williams' blackest black. Some of the other contenders for the blackest black paint color are Black of Night, Black Magic or Caviar.
But when compared together, it is easy to see that Tricorn Black has that classic, heavy look of a true black. It reminds me of the black of a shiny grand piano – so rich and dark.
Tricorn Black Compared to Other Popular Dark Paint Colors
When I look at a paint color, I always like to compare it to other popular paint colors in the same family, or ones that have similar uses. Here are some of the colors that people frequently consider when they are also considering Tricorn Black:
Tricorn Black vs. Black Magic
Black Magic is a Sherwin Williams paint color that will look very black when compared to any other color. When compared to Tricorn Black though, it is evident that Black Magic is not quite as dark. Where Tricorn Black doesn't have any lightness in it, Black Magic has the ever-so-littlest-bit of a gray tone in it.
Black Magic and Tricorn Black can be used in all the same places. Because they are so similar, it is a good idea to get a Samplize sheet of both to see how they look in your lighting in your home. More on Samplize sheets later.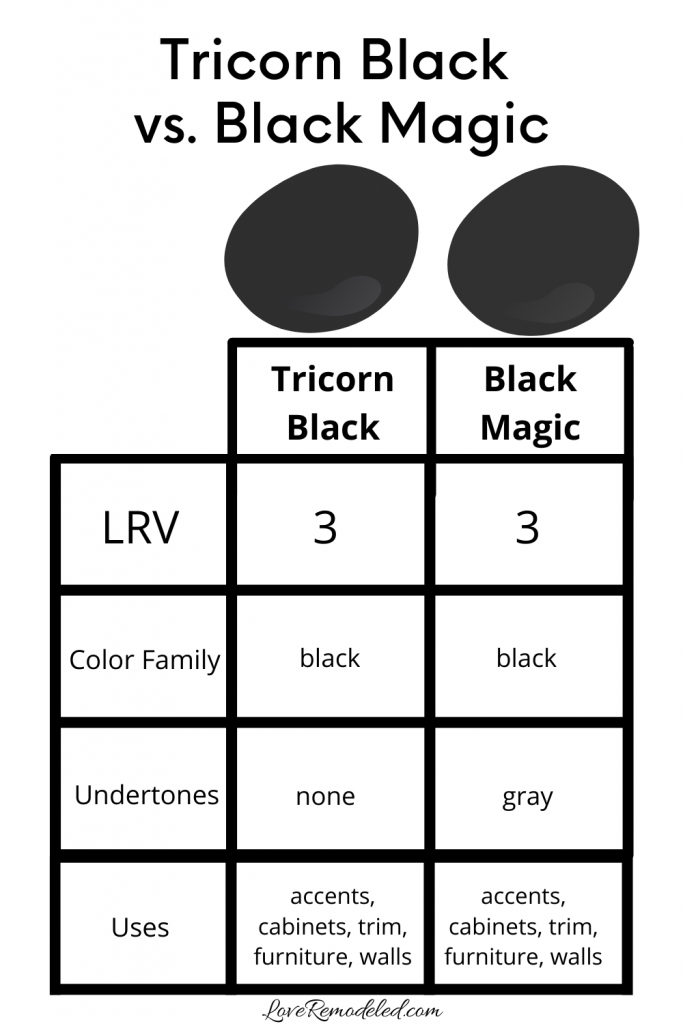 Tricorn Black vs. Caviar
Like Black Magic, Caviar is a paint color that is going to look black when compared to any other color. But when compared to a true black, Caviar looks just a little bit muddier. It almost has a brown undertone to it to my eye.
And, truth be told, I have heard people complain that Caviar can look brown in their homes. So if you want a true black paint color, stick to Tricorn Black and skip Caviar.
But, if you want a black that leans a little bit warmer, you may want to consider Caviar.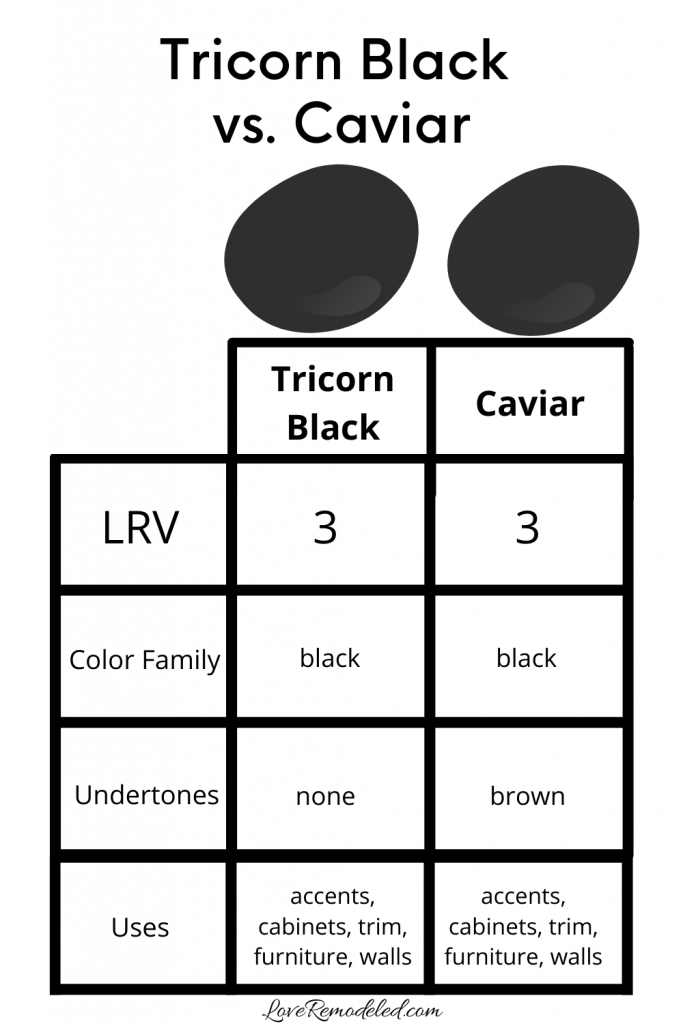 Tricorn Black vs. Peppercorn
Peppercorn is another popular paint color by Sherwin Williams. It is a gray paint color, but people frequently ask how it stacks up to Tricorn Black, so we'll discuss it here.
Peppercorn is significantly lighter than Tricorn Black, but is still very dark. It is a good color for cabinets, front doors, accent walls or furniture. It can also be used on trim and as a wall color for whole rooms.
Where as Tricorn Black lends a very classic feeling, Peppercorn is really good for a home with a farmhouse style.
Peppercorn is a good bit a little softer than Tricorn Black. This makes it feel more approachable, and more usable for many people.
Tricorn Black and Black Magic are better for providing a dramatic high contrast look in rooms, but Peppercorn gives contrast in a more muted fashion.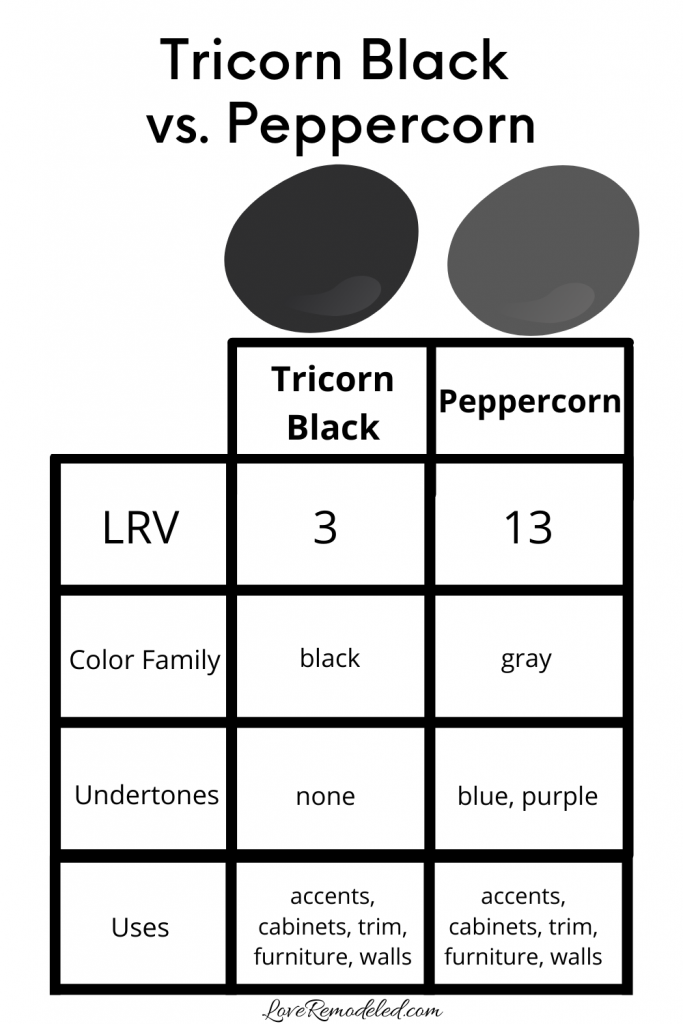 Click here for more details on Peppercorn.
Tricorn Black vs. Iron Ore
Iron Ore is another highly popular dark paint color by Sherwin Williams. It has been included in a number of Sherwin Williams' collections due to its wide appeal.
Iron Ore is a very dark gray, or a very light black, paint color. Whereas a true black paint color like Tricorn Black gives a sense of formality or elegance, Iron Ore has a little more of a friendly feeling.
I love Iron Ore on cabinets, and it is also a great options for painting your kitchen island to give the space a tuxedo kitchen look. Tricorn Black can do the same, but it feels a bit more traditional than Peppercorn.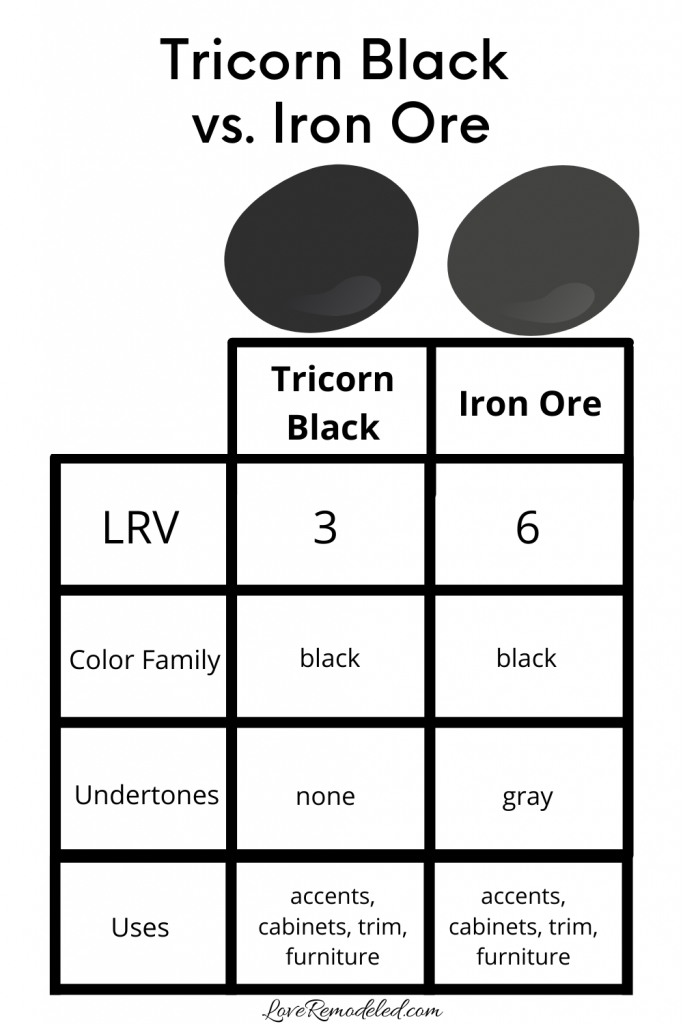 Click here for more details on Iron Ore.
Now that we've discussed so many paint colors, your head may be swimming trying to figure out which one you should choose.
Wondering how to pick the perfect paint color?
I have the best solution for you!
Samplize sells 9×14.75 stick-on paint sheets in almost every paint color.
These no-mess, peel and stick sheets are made from real paint, so they will show you exactly what the paint color will look like.
Simply place them on your walls next to your trim, furnishings or fixed elements, and easily see whether the paint colors work in your space and with your lighting. Then, peel the sheet right off your wall and reapply it somewhere else if you like!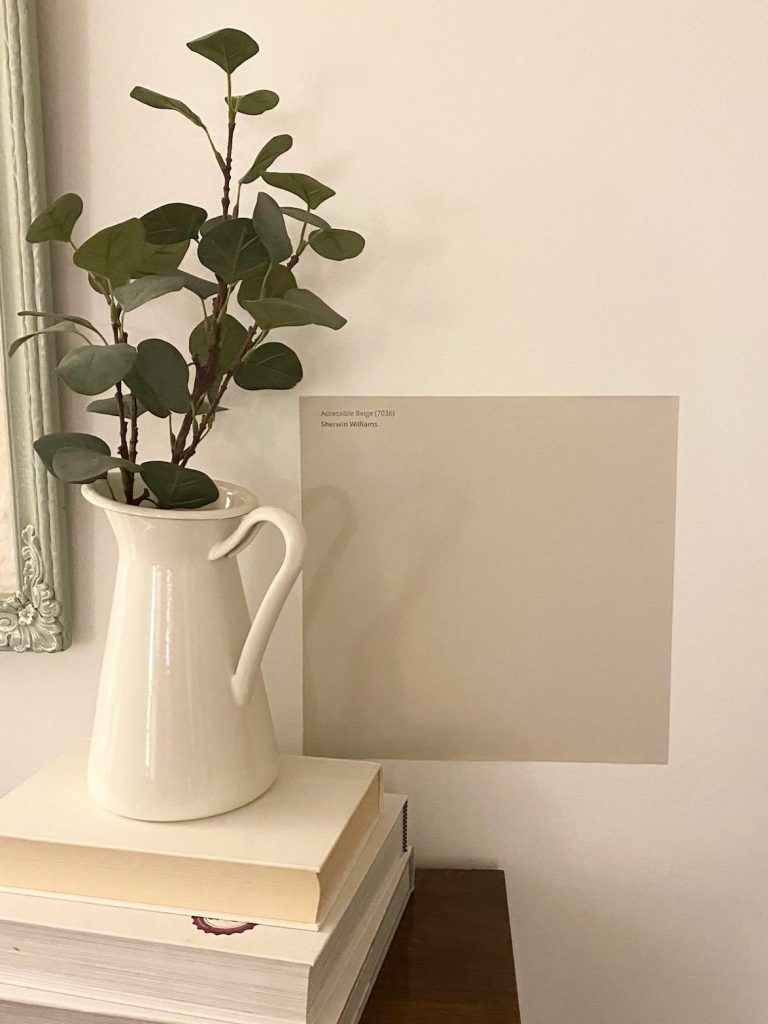 Oh, and you can have them in your home by tomorrow with OVERNIGHT shipping!
As a little tip, if you enter your email, you'll get $5 off your first order! Samplize sheets cheaper than a sample can of paint, and way less work!
Samplize sheets are truly the easiest (and fastest!) way to try a paint color in your home, with no mess.
Where Can I Use Tricorn Black?
Tricorn Black is a great paint color for a space that you want to give a classic or dramatic look. Black paint can be used to ground one's eyes, provide needed contrast to a space, or to create focal points in a room. Because of this, black paint is typically used sparingly.
Tricorn Black is frequently used on shutters and exterior trim, front doors, cabinets, interior trim, fireplaces, or furniture.
In a glossy sheen, Tricorn Black tends to take on its most dramatic look. This would be good for furniture, trim or exterior elements (such as window trim, soffits, shutters, etc.).
In a more flat finish, Tricorn Black also looks absolutely stunning on walls.
You can paint a whole room Tricorn Black, or use it for an accent wall. If you decide to paint your entire room in Tricorn Black, be sure to have a lot of natural and/or artificial light in the space. In a dimly lit area, Tricorn Black will be much too heavy on the walls. But, with the right furnishings and lighting, Tricorn Black can give a room a daring, traditional or modern look.
Final Thoughts on Tricorn Black Paint Color, by Sherwin Williams
Tricorn Black is Sherwin Williams truest black. It is very popular, due to being a pretty consistent black – it won't look blue, gray or brown.
Tricorn Black is great on trim, furniture, exteriors, accents and doors, and can even be used in a whole room.
If you want a timeless, classic black paint color, Tricorn Black should be on your shortlist!
Want to see all your paint options in one convenient place? Click here to get everything you need to start painting, including Sherwin Williams and Benjamin Moore paint color decks!
Have a question or want to show off your project? Join the discussion in Love Remodeled's Facebook group!