Snowbound (SW 7004), by Sherwin Williams, is an extremely popular white paint color. It is crisp and cool, and will brighten up any space nicely.
Snowbound is most commonly used on trim, but can also be used on walls, ceilings, furniture and exteriors.
Sherwin Williams has featured Snowbound in the following color collections: Minimalist, Pottery Barn – Fall/Winter 2020, Living Well – Reflect, Timeless White, and West Elm – Fall/Winter 2020.
This post may contain affiliate links. If you have any questions, please see my disclaimer page.
Snowbound Color Details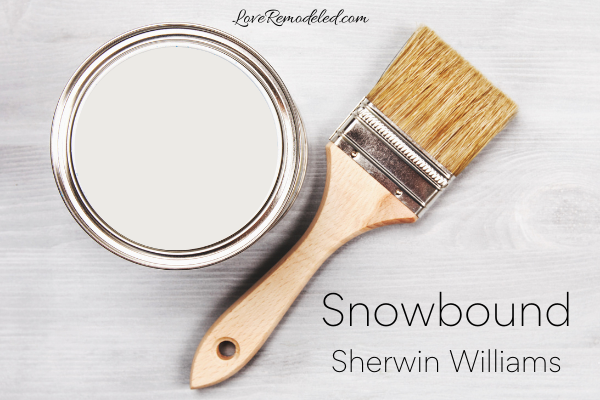 Snowbound is a very light white paint color. If you look at a swatch of Snowbound, you will see that it is a crisp white. When compared to other whites however, it can look a bit grayed out.
On walls, you won't find that it looks gray though. If will be crisp and bright, as it will probably be the lightest white in the room.
Snowbound, SW 7004, has a LRV (Light Reflectance Value) of 83. This means that it will reflect a lot of light back into the room.
Snowbound is most easily classified as a cool white paint color. While many cool whites have blue undertones, Snowbound doesn't carry any blue or green.
Instead, it has gray undertones and maybe the faintest hint of beige. Other than that, is a pretty neutral white.
And, while it does have a touch of beige, Snowbound is not a warm white paint color. To compare, Alabaster is a very popular warm white paint color by Sherwin Williams which carries much more of a beige undertone.
Snowbound vs. Alabaster
Here, you can see how Snowbound and Alabaster compare to each other.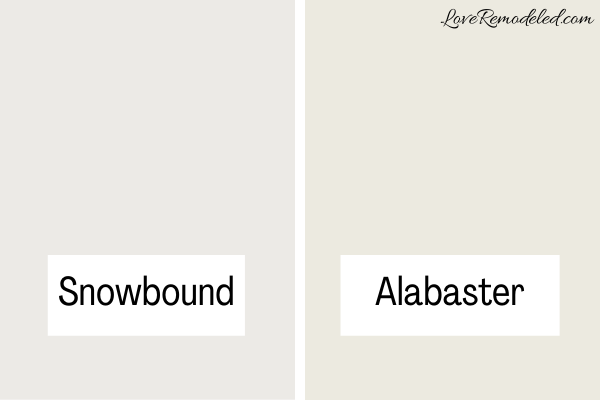 Snowbound looks gray against the white of the screen, while Alabaster looks beige.
While Snowbound is very popular for trim, Alabaster is equally or even more popular for walls.
For a full review on Alabaster paint color, click here. As an FYI, at the bottom of the Alabaster post, there are a TON of questions and answers that you can read through to get even more information about white paint colors!
Neither Snowbound or Alabaster will look either gray or white on your walls, but comparing white paint colors to other white paint colors helps us see what undertones the shades carry.
So with that in mind, let's compare Snowbound to a few more popular white paint colors.
Snowbound vs. Extra White
Extra White is another very popular Sherwin Williams white paint color that is frequently used on trim.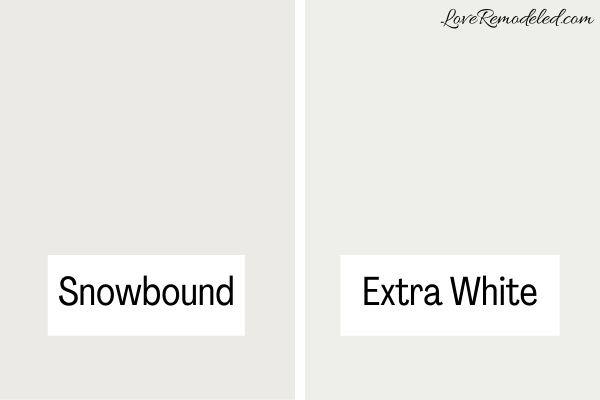 Extra White is the epitome of a cool white, as is carries a soft blue undertone and has no warmth to it. It is bright and very, very white.
When you compare Snowbound to Extra White, Extra White ends up look blue, and Snowbound looks more like a true white.
Between the two, Snowbound is probably more versatile, as it works well on walls also. In addition, because it has a bit more warmth to it (though is still very cool) it is slightly more usable for pairing with a variety of colors.
Snowbound vs. Pure White
Here you can see Snowbound next to Pure White.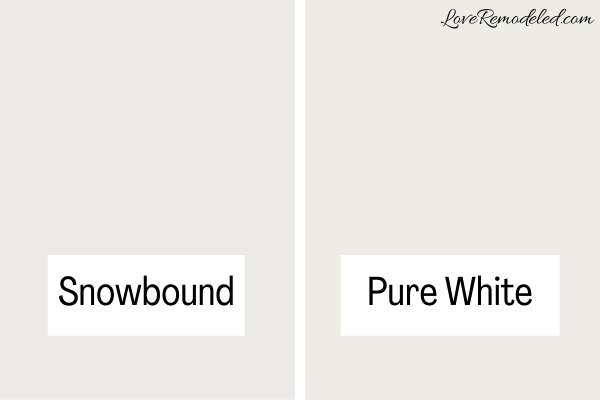 As you can see, these colors are actually very similar. Snowbound has just the teeniest tiniest bit of beige in it though, where as Pure White carries a similar gray undertone without the beige.
Pure White is my go-to paint color for trim because it goes with both warm and cool paint colors, but Snowbound should be considered as well, for all the same reasons.
For a full review on Pure White, check out this post.
If comparing these white paint colors has your head spinning, let's pause for a minute to talk about how to know which white paint color will work in your home.
Wondering how to pick the perfect paint color?
I have a great solution for you!
Samplize sells 12×12 stick on paint squares in almost every paint color. These eco-friendly, peel and stick squares are made from real paint, so they will show you exactly what the paint color will look like.
I love Samplize squares because they are able to be placed on your wall and peel right off when you're done. You can move these paint squares around your room to easily tell whether a color will go in your home, with your furnishings and accents, and with your lighting.
Plus, you can pick the perfect paint color without having to run to the store or open a can of paint, and you won't be pressured into picking a color because you have a bunch of different sample colors painted on your walls!
Oh, and you get free shipping and $5 off your first order – that is basically like getting one square for free!
Snowbound Color Strip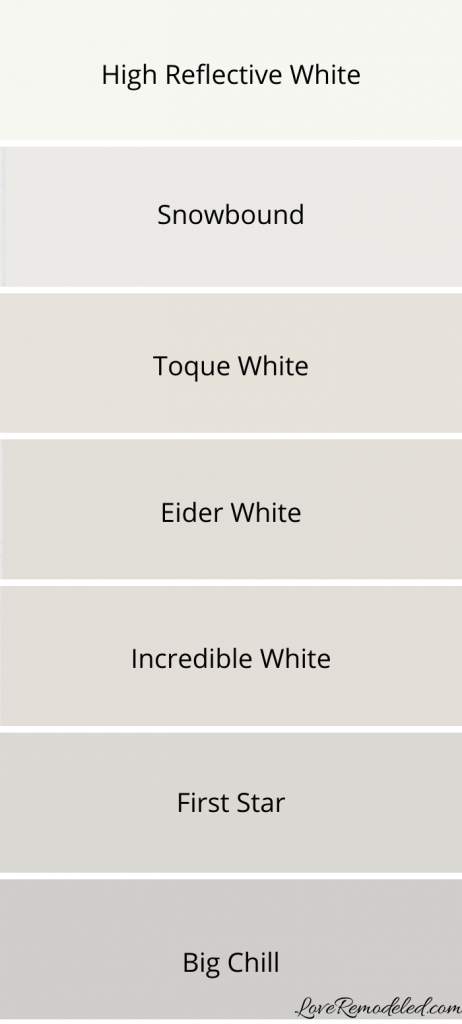 If you've been searching for paint colors long, you can see that Snowbound shares a color strip with some pretty big name paint shades.
High Reflective White is a SUPER bright white with very little color in it. I've heard the complaint that it does not cover well because there is so little pigment in it.
Toque White is a nice, very pale taupe colored off-white paint shade.
Eider White is a gray paint color with subtle (and sometimes not so subtle) purple undertones.
Incredible White is a great, neutral off-white that leans greige.
First Star is a gorgeous pale gray. And Big Chill is a slightly deeper gray.
These paint colors aren't necessarily just lighter or darker shades of each other, as is commonly thought. In fact, they're all very different shades of white or off-white with diverse undertones. So, if you want Snowbound, but wish it was a little bit darker, don't just jump down the color strip in hopes of finding the same shade!
Coordinating Colors for SW Snowbound
Snowbound will coordinate with almost any cool toned paint color, because it has very little undertones to compete with other hues. This is one of the reasons that I love Snowbound – it is highly usable!
Sherwin Williams specifically pairs Snowbound with Colonnade Gray, a medium depth greige paint color, and Autumn Orchid, a deep, dusty purple.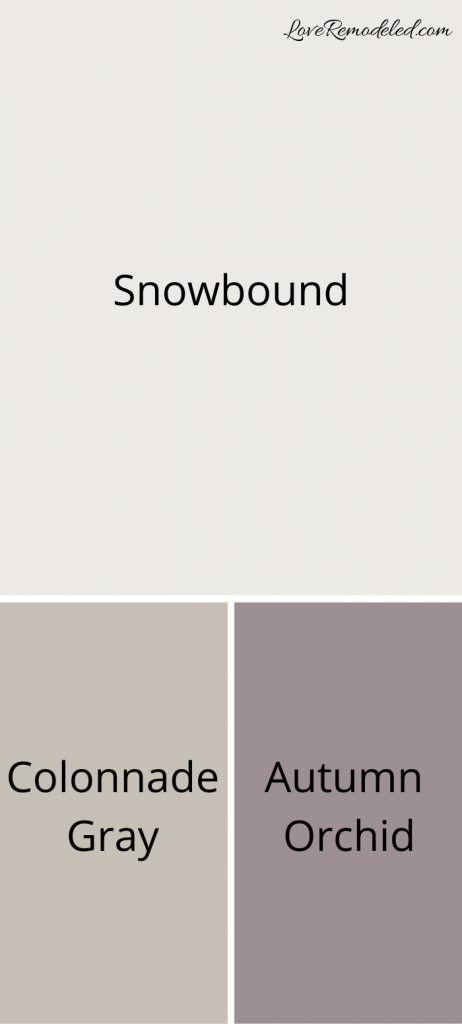 For a full review on Colonnade Gray, click here.
In addition to these paint colors, Snowbound will pair well with blues and greens, and with warmer paint colors that carry gray undertones, like Autumn Orchid demonstrates.
Final Thoughts on Snowbound Paint Color
Snowbound is a great color for your walls, trim, ceilings, furniture or home exterior. It is a cool white paint shade that will coordinate well with other cool shades, or will juxtapose with warm color pairings.
If you want a white paint color with just a hint of a neutral undertone, Snowbound should be on your short-list!
Looking to hire a professional to do the job? You can be connected with a painting professional in your area by clicking here!