Marshmallow is a soft, off-white paint color by Sherwin Williams. It is rising in popularity due to its gentle warmth.
Sherwin Williams Marshmallow has a code of 7001, and is part of the Living Well (Create) Collection and the Finest Whites & Neutrals (Finest Whites) Collection.
If you are looking for a warm white paint color, keep reading for all the details on Sherwin Williams Marshmallow.
This post may contain affiliate links. If you have any questions, please see my disclaimer page.
What Color Paint is Marshmallow?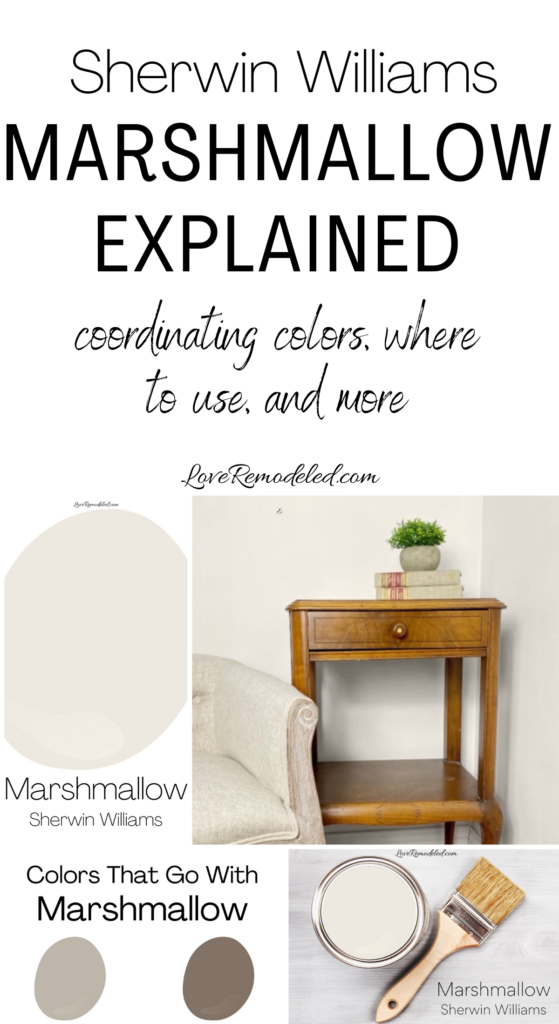 Marshmallow is a very light, off-white paint color that is pleasant and cozy. It gives a soft radiance to your walls.
Overall, the general impression that Marshmallow imparts is one of sophisticated elegance. It is a gentle and graceful paint color. Additionally, Marshmallow is a more feminine white than some other options.
Sherwin Williams Marshmallow has an LRV of 82. The LRV scale goes from 0-100, and gives information about how much light a color will reflect back into a room.
An easier way to think about it is that the LRV scale refers to how light or dark a paint color is.
Marshmallow is light enough to be considered a white paint color, but it is definitely not a true white. Instead, Marshmallow has some other colors in it that give it its own look.
What Undertones Does Marshmallow Have?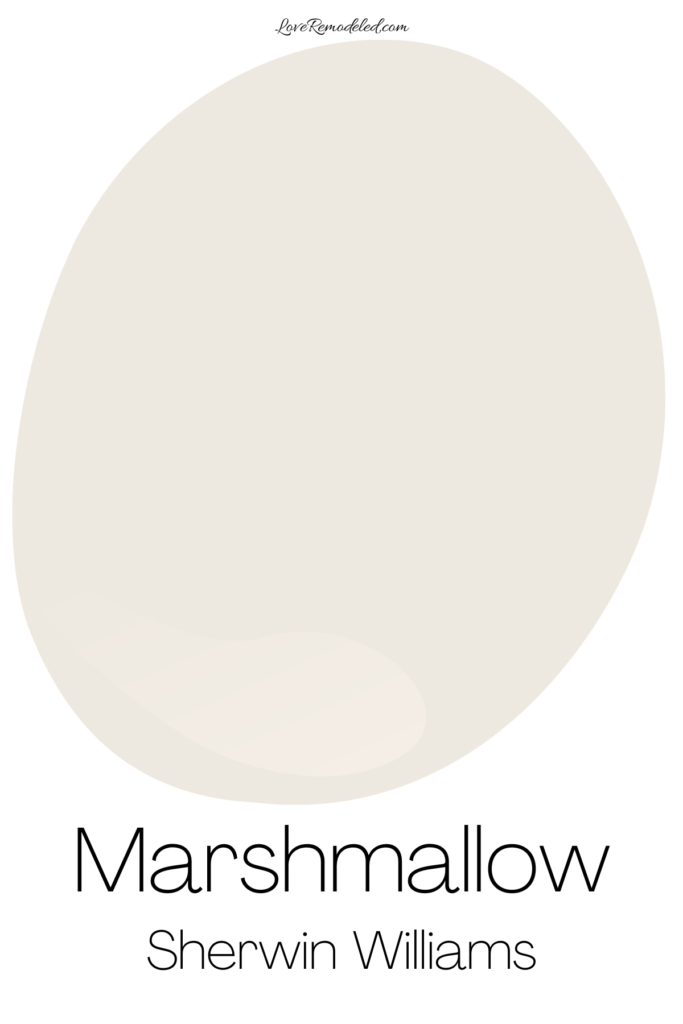 These colors are called undertones. All white paint colors have undertones. They are what give each paint shade its unique hue.
Marshmallow has a light pink undertone. Additionally, there is just a hint of gray in it. The gray in Marshmallow keeps it from just looking like a very light pink.
Marshmallow will take on a pink look in some lighting. You are more likely to see the pink in Marshmallow in especially warm lighting, such as southern facing rooms.
If you are wary of a pink undertone, Marshmallow might not be the best paint color for you. There are other paint colors that we will discuss later that may give you the look you want without coming off as pink.
But Marshmallow won't absolutely look pink in your space, so it is one that is worth sampling. More on that later.
Is Sherwin Williams Marshmallow Warm or Cool?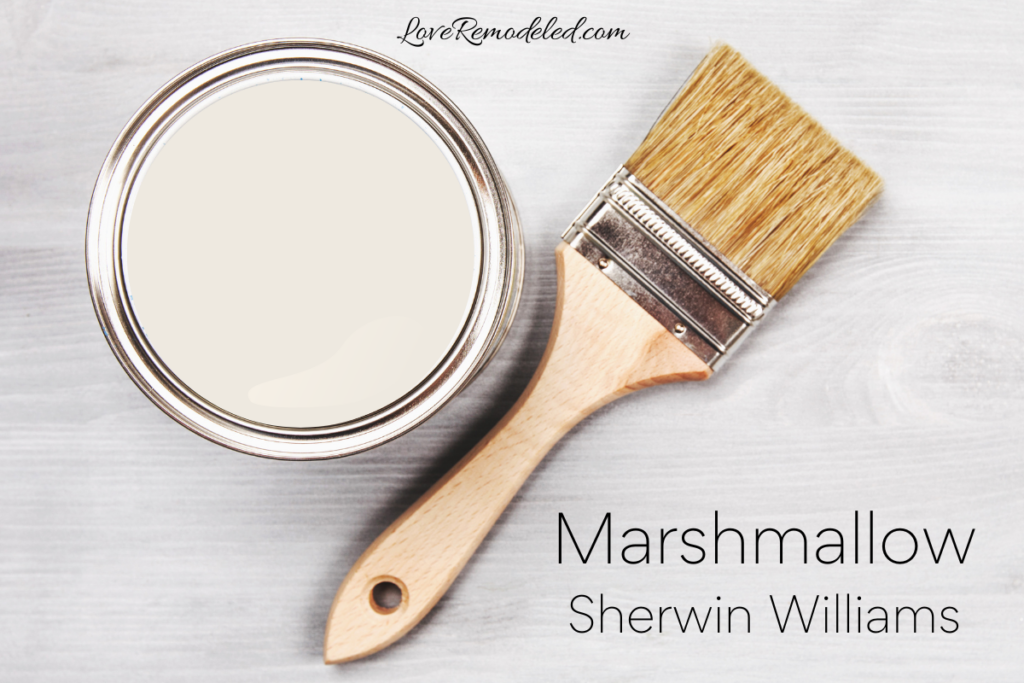 With its pink undertone, Marshmallow is a warm paint color.
Warm paint colors are red, orange, pink, yellow and some purples. So, white paint colors with any of these undertones tend to be warm whites.
While many warm white paint colors get their warmth from yellow undertones, Marshmallow has a pink undertone that gives it a slightly different feel than a yellow based warm white.
Pink undertones give off cozy vibes. They feel more like a hug than a ray of sunshine.
What Color Goes With Marshmallow White?
Sherwin Williams Marshmallow pairs well with earthy tones such as greens, greiges, tans with pink undertones, browns and warm grays.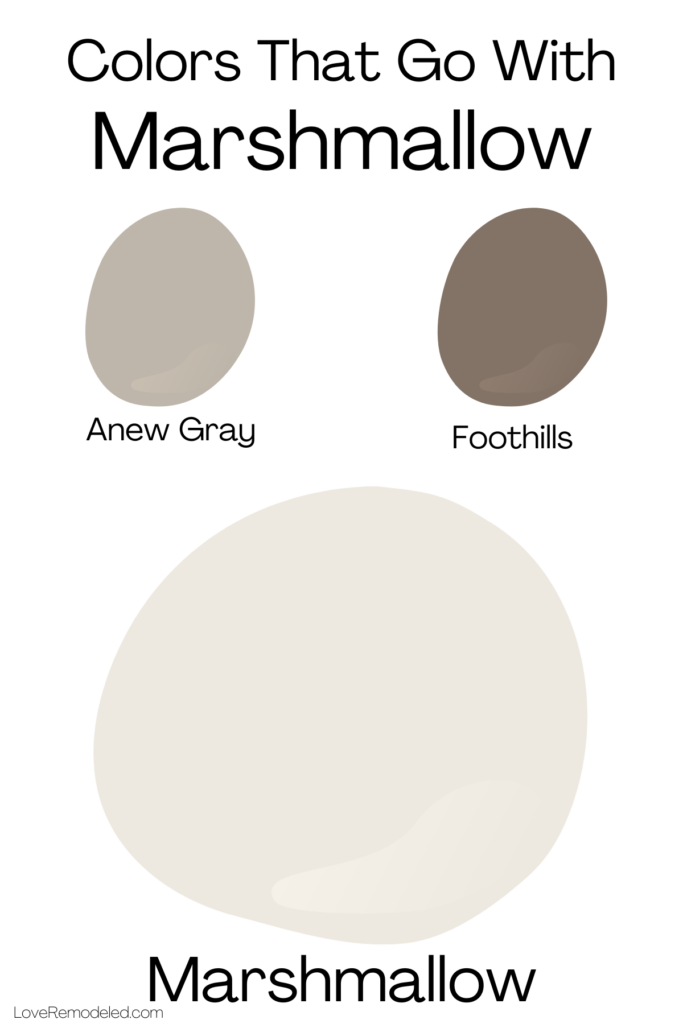 Specifically, Sherwin Williams pairs Marshmallow with Anew Gray, a warm greige paint color, and Foothills, a dark brown.
To use this color palette in a home, you could use Marshmallow on your walls and have an accent wall of either Anew Gray or Foothills.
Alternatively, Anew Gray could be used as a wall color and paired with Marshmallow cabinets.
Trim Colors for Sherwin Williams Marshmallow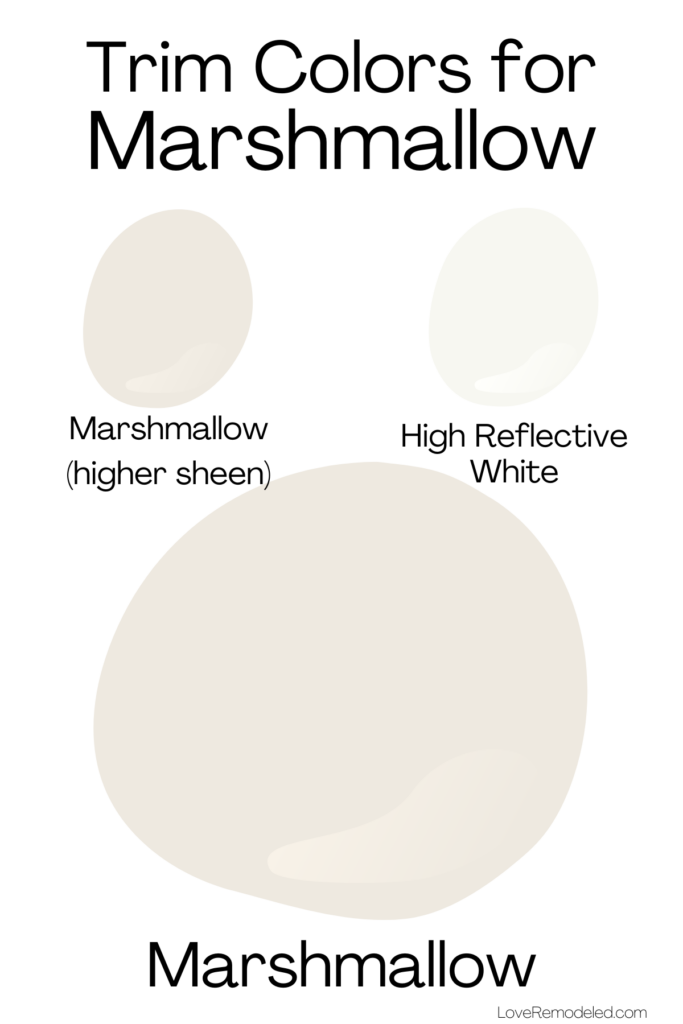 If you are planning on painting your walls in Marshmallow, you may be wondering what white paint colors will go with it.
Because Marshmallow is so light, and has such distinctive undertones, there are not a ton of white paint colors that I would use alongside it.
There are a couple of good options though.
First, if you like a really light and bright trim color, you can pair Marshmallow with High Reflective White.
High Reflective White is Sherwin Williams cleanest white paint color. It is almost undertone free, and brighter than any other their other white paint colors.
This makes it a perfect trim color for just about any wall paint color.
If High Reflective White is just too bright for your taste, you can also pair Marshmallow with itself.
To do this, you can paint your walls Marshmallow in a flat or eggshell sheen, and use a semi-gloss sheen on your trim and woodwork.
Using different sheens is the best way to ensure that your white walls coordinate perfectly with your white trim. Because more light reflects off of a higher sheen paint color, the trim will look lighter than the walls.
Where Can I Use Sherwin Williams Marshmallow?
Marshmallow is a great paint color for a space that has a glam or luxe look.
When I think of a room where I would use Marshmallow, I think of gold or brushed nickel fixtures, crystal accents, fur rugs and the like.
I'm not saying that it doesn't work in other decor styles as well though. You can also use Marshmallow as a part of a layered white room with other white furnishings or accessories with similar undertones.
Furthermore, Marshmallow looks great with greiges and browns, so it can work in traditional and transitional styles as well.
Marshmallow is a great warm white to pair with reddish wood tones such as cherry furniture or floors.
You can use Marshmallow in living rooms, dining rooms, bedrooms, nurseries, playrooms, and more.
Sherwin Williams Marshmallow Compared to Other Paint Colors
I have found that when people are looking at a specific paint color, they tend to be considering it alongside other similar paint colors.
In the case of Marshmallow, people typically are looking at warm white paint shades.
To help you decide if Marshmallow is the right paint color for you, let's look at Marshmallow next to Alabaster and Snowbound.
Marshmallow vs. Alabaster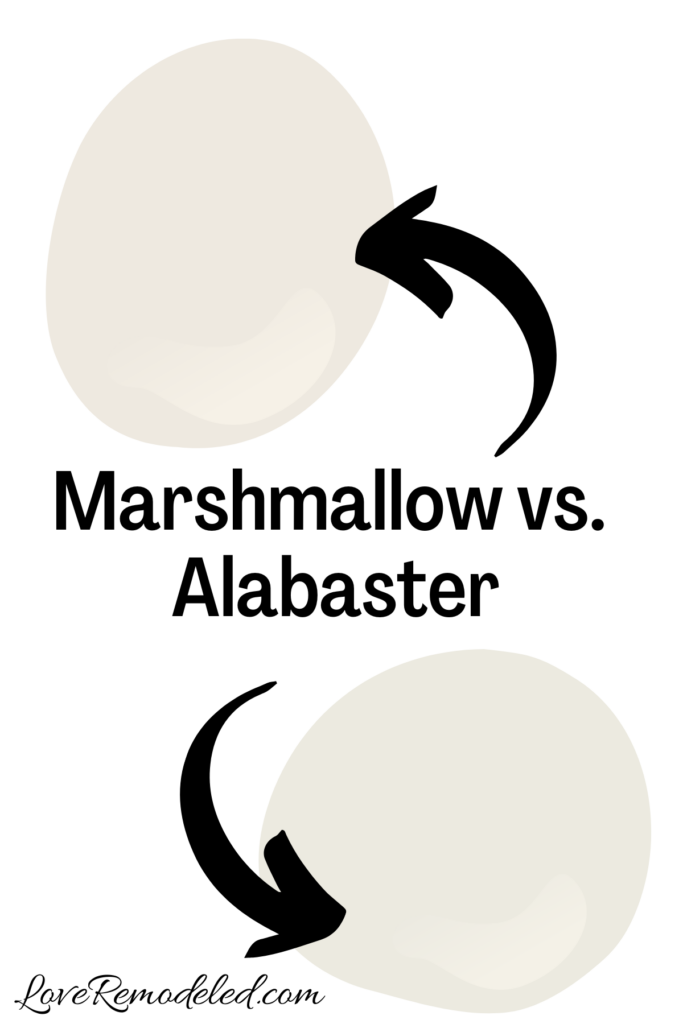 Alabaster is probably Sherwin Williams most popular warm white paint color. Alabaster gets its warmth from a yellow undertone instead of a pink one like Marshmallow.
Like Marshmallow, Alabaster also has just a hint of gray in it.
Marshmallow and Alabaster have the same LRV number, 82. Accordingly, they will look similarly light on your walls.
If you're trying to decide between the two, a major consideration is whether you like or can stand a pink undertone rather than a yellow one.
People have very strong opinions about their walls looking a little pink in some lights, so if you think you might be sensitive to this, Alabaster generally tends to be more agreeable for most people.
Marshmallow vs. Snowbound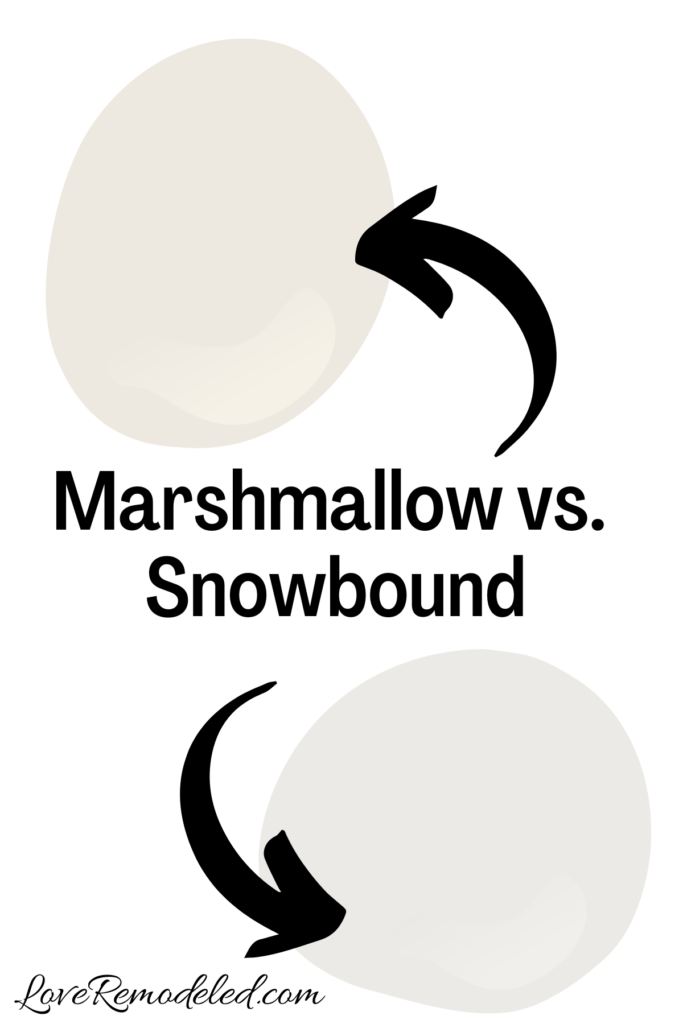 Snowbound is another warm white paint color by Sherwin Williams.
Like Marshmallow, Snowbound gets its warm undertone from a pink/purple undertone with a hint of gray.
When you compare Snowbound with Marshmallow though, Marshmallow looks much pinker than Snowbound. Snowbound looks much more gray.
While they are somewhat similar, Marshmallow is a bit more feminine than Snowbound. Both can take on a pink look depending on the lighting, but Marshmallow given the same lighting conditions, Marshmallow is going to look much more pink.
If you are on the fence about a warm white with a pink undertone, Snowbound may be the better option for you. But if you know that you want a very feminine sort of white paint color, Marshmallow is a great choice.
Wondering how to pick the perfect paint color?
I have the best solution for you!
Samplize sells 9×14.75 stick-on paint sheets in almost every paint color.
These no-mess, peel and stick sheets are made from real paint, so they will show you exactly what the paint color will look like.
Simply place them on your walls next to your trim, furnishings or fixed elements, and easily see whether the paint colors work in your space and with your lighting. Then, peel the sheet right off your wall and reapply it somewhere else if you like!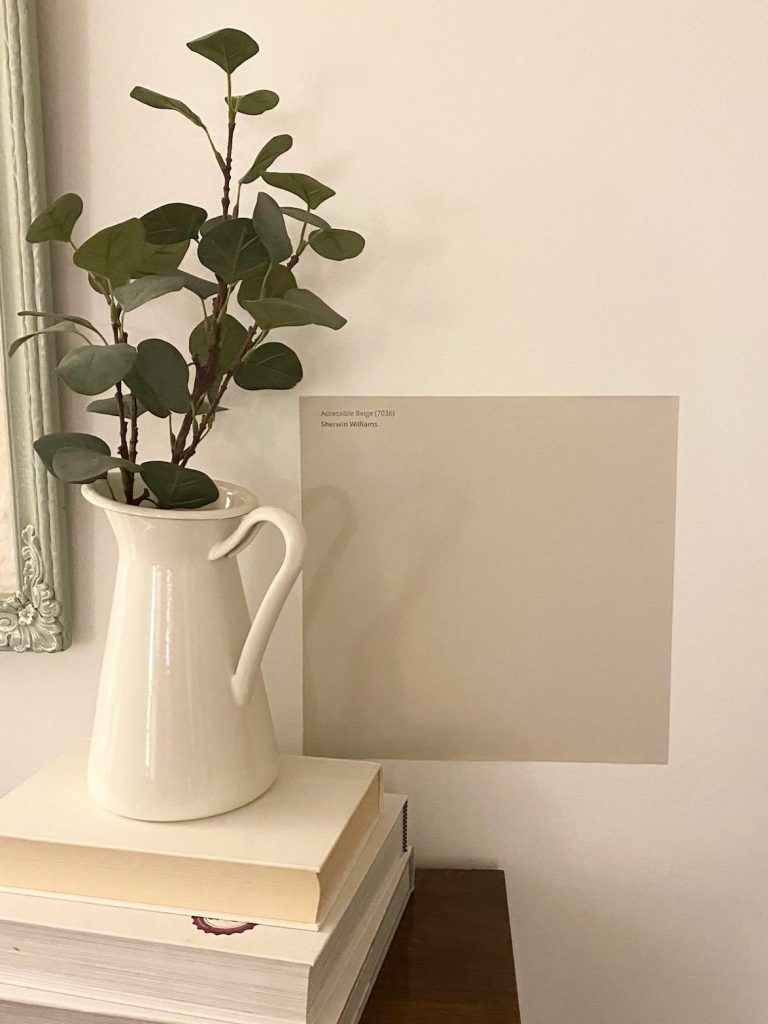 Oh, and you can have them in your home by tomorrow with OVERNIGHT shipping!
As a little tip, if you enter your email, you'll get $5 off your first order! Samplize sheets cheaper than a sample can of paint, and way less work!
Samplize sheets are truly the easiest (and fastest!) way to try a paint color in your home, with no mess.
Final Thoughts on Sherwin Williams Marshmallow
Marshmallow paint color is a feminine, soft white paint color that looks great on walls.
It wouldn't be my first choice for home exteriors, trim or cabinets, but it is a perfect option for a bedroom, nursery or glamorous living or dining room.
Marshmallow is a trending color due to the increased popularity of warm neutrals in home decor.
If you are considering painting your walls a cozy warm white, pick up a sample of Marshmallow to see how it works in your space!
Want to see all your paint options in one convenient place? Click here to get everything you need to start painting, including Sherwin Williams and Benjamin Moore paint color decks!
Have a question or want to show off your project? Join the discussion in Love Remodeled's Facebook group!