Sherwin Williams Anew Gray
Anew Gray, SW 7030, is a beautiful greige paint color by Sherwin Williams. "Greige" is a shade that is a mix of gray and beige. Some greige paints can look more beige, and some can look more gray. Anew Gray leans more heavily towards gray, but the beige undertones are definitely apparent.
Is Anew Gray Warm or Cool?
Because Anew Gray has beige undertones, it is not a true gray. Instead, the beige hues make Anew Gray a warm paint shade.
This post may contain affiliate links. If you have any questions, please see my disclaimer page.
Anew Gray Undertones
In addition to beige and gray undertones, Anew Gray has a hint of purple in it. This makes it not quite as versatile as some other greiges, such as Agreeable Gray and Edgecomb Gray.
Anew Gray LRV
Anew Gray has an LRV (Light Reflectance Value) of 47. While Sherwin William's categorizes it as a "light" color, I would call it more of a light medium shade. It is light enough that you can use it as a whole room paint color for a home, but dark enough that you shouldn't make it the only paint color in a home.
For example, Anew Gray's close cousin, Agreeable Gray, is a great choice for a color that can go in any and all rooms of a home. It can also be the only shade you use, because it is light and very versatile. In contrast, Anew Gray has enough depth to it that it can make a dimly lit room feel too dark and maybe even smaller.
Anew Gray is best suited for rooms south facing rooms with a lot of sunlight and rooms with high ceilings.
Anew Gray Complementary Colors
Anew Gray is a beautiful shade of greige that can go with many other colors.
Sherwin Williams recommends pairing Anew Gray with Pure White, Little Blue Box, and Incredible White.
Here is an example of how you could use those shades together in a home.
With Anew Gray as the main paint color in a room, Pure White would be a perfect trim color. Little Blue Box could serve as an accent wall color. Finally, Incredible White would be a great choice for a shade in a nearby room, as it is lighter than Anew Gray, but has similar undertones.
Anew Gray Color Comparisons
There are hundreds of greige paint colors on the paint market these days. Some are more popular than others due to their particular mix of gray and beige, the undertones they possess, or how dark they are.
Comparing paint shades is a great way to see what a color really looks like. When a greige color is put next to white, it typically looks just like a mix of beige and gray. But, when you compare greige shades to each other, it is much easier to pick our the subtle undertones they possess.
Here is how Anew Gray compares to other popular greige shades.
Anew Gray vs Revere Pewter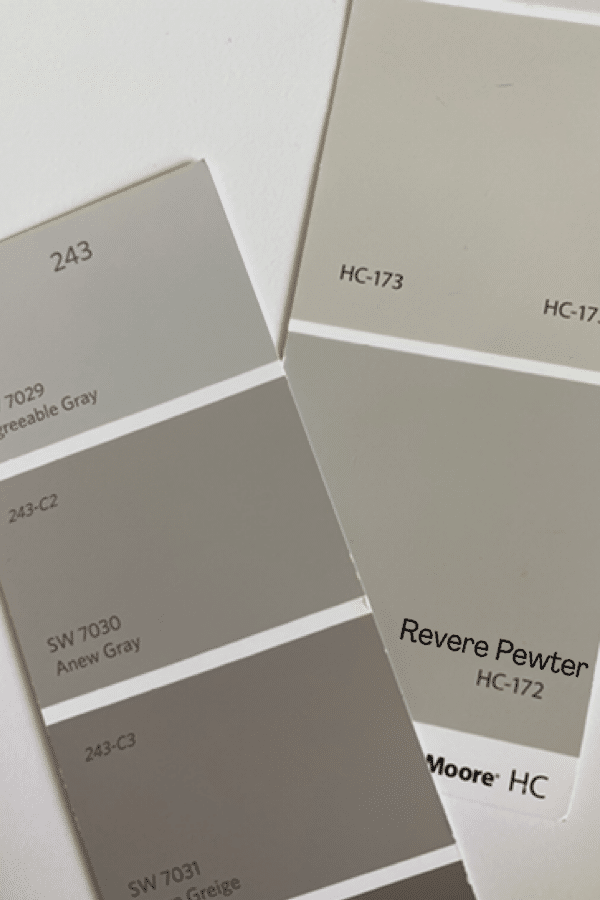 Revere Pewter is a very popular greige shade by Sherwin Williams. It has an LRV of 55, which means that it will reflect more light than Anew Gray (LRV 47), and will appear lighter on the walls.
While Anew Gray has purple undertones, Revere Pewter has a hint of green undertones in it. Because of this, these shades should not be used together in the same room.
Check out a full color review of Revere Pewter here!
Anew Gray vs. Mindful Gray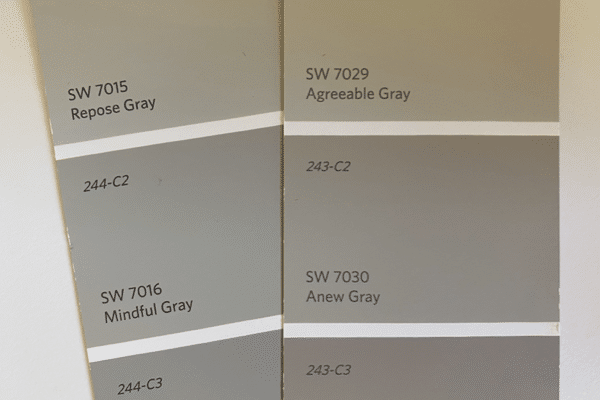 Mindful Gray is a popular greige shade by Sherwin Williams. It has an LRV of 48, which means it is very similar in depth to Anew Gray (LRV 47).
While Anew Gray is a very warm greige, Mindful Gray leans slightly more towards a cool greige. With more gray than beige, Mindful Gray has green undertones, compared to Anew Gray's purple undertones.
While both are great for rooms with tall ceilings or lots of natural light, Mindful Gray excels over Anew Gray in terms of its versatility and ability to coordinate with many different accent colors.
Anew Gray vs Agreeable Gray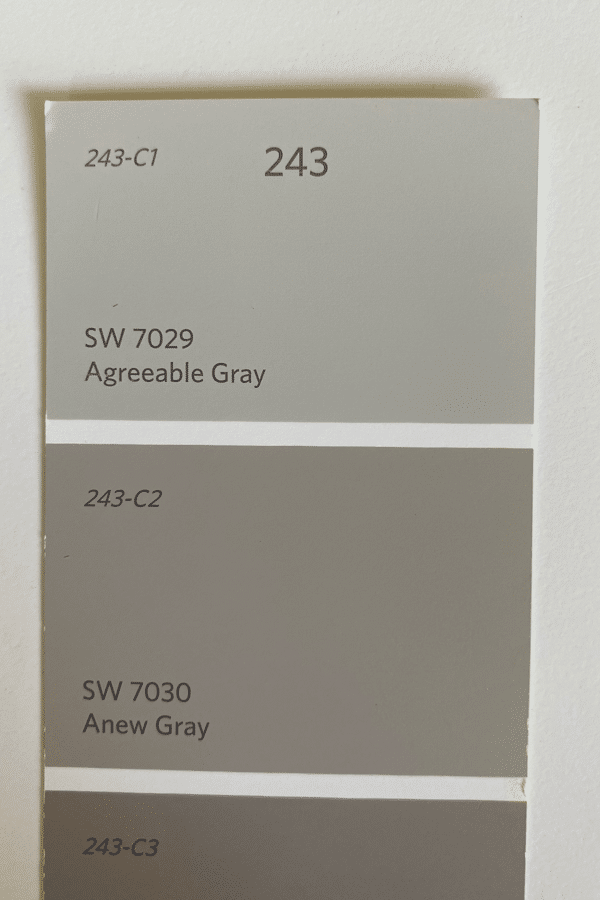 Agreeable Gray is one of Sherwin William's most popular colors. It has an LRV of 60, which makes is much lighter on the walls than Anew Gray. Where Agreeable Gray can go on any room due to its high LRV, Anew Gray should be reserved for more brightly lit rooms.
While Agreeable Gray and Anew Gray are right next to each other on the Sherwin William's color strip, one is not just a lighter version of the other. Agreeable Gray has slight green undertones, while Anew Gray has slight purple undertones.
These differences makes Agreeable Gray more versatile than Anew Gray.
Sherwin Williams Anew Gray Color Strip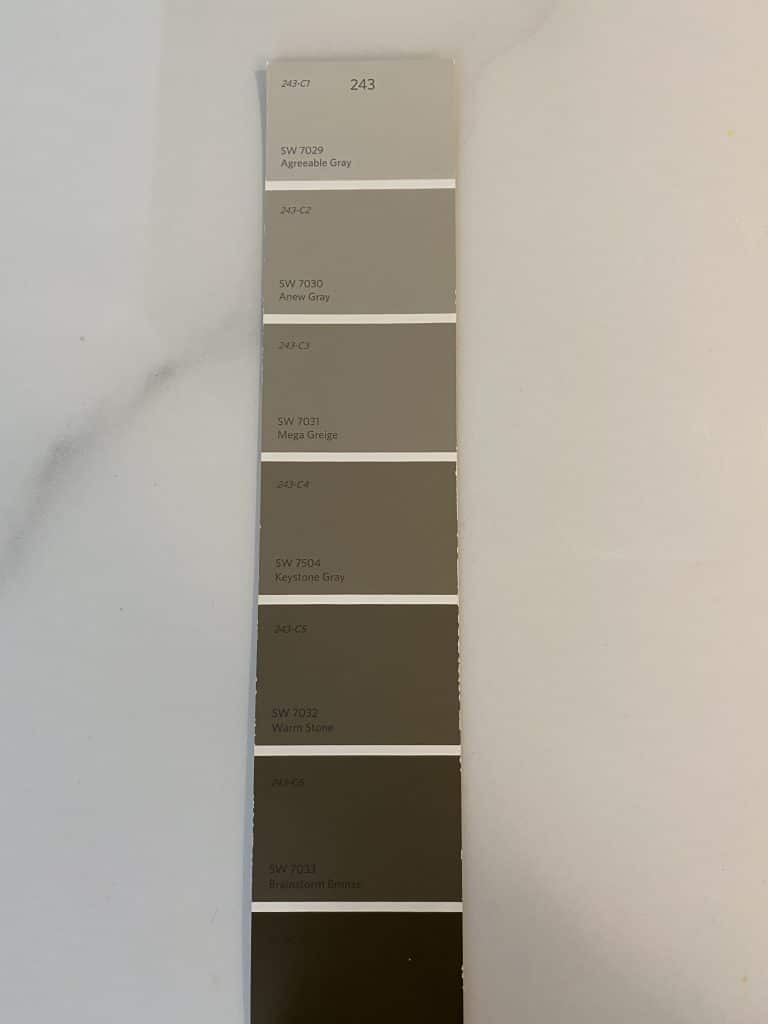 As an aside, did you realize that that the countertop in the picture above isn't real marble!? I painted my green countertops to look like marble!
Now back to Anew Gray. As you can see, the color strip that Anew Gray is on contains many of Sherwin William's top greiges. From top to bottom, the colors are Agreeable Gray, Anew Gray, Mega Greige, Keystone Gray, Warm Stone, Brainstorm Bronze and Status Bronze.
Again, it is important to remember that these shades don't all necessarily coordinate with each other. While Keystone Gray is a good coordinating color for Anew Gray, Warm Stone has green undertones, making it not a good match.
Anew Gray with Oak Trim or Oak Cabinets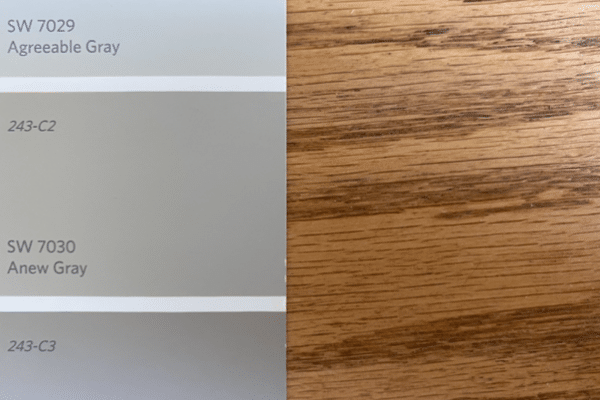 One of the challenges that homeowners can face is pairing wall paint colors with oak trim or cabinets. Oak tends to carry orange undertones, and that orange can make it tricky to pair with other shades.
Here, you can see how Anew Gray looks next to oak wood. While some greiges go well with oak, others don't play as nicely.
Truth be told, Anew Gray isn't my favorite shade of greige with oak. I find that Mindful Gray or Amazing Gray tend to look nicer. This, of course, is all dependent on the actual shade of wood you have.
Wondering How To Pick the Perfect Paint Color?
I have the best solution for you!
Samplize sells 9×14.75 stick-on paint sheets in almost every paint color.
These no-mess, peel and stick sheets are made from real paint, so they will show you exactly what the paint color will look like.
Simply place them on your walls next to your trim, furnishings or fixed elements, and easily see which paint color works best in your space and with your lighting.
Then, peel the sheet off your wall and reapply it somewhere else if you like. You can try several different paint colors with no mess, no fuss and no cleaning paint brushes.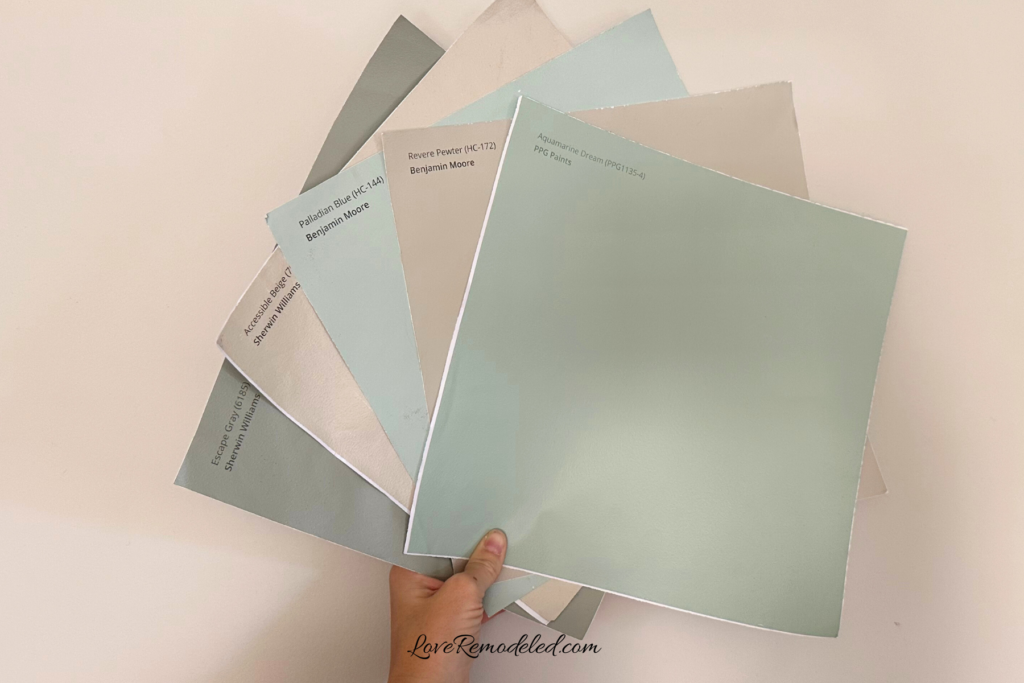 Oh, and you can have them in your home by tomorrow with OVERNIGHT shipping!
As a bonus, be sure to use the code LoveRemodeled10 at check out to get an extra 10% off! Samplize sheets are cheaper than a sample can of paint, and way less work.
They are the easiest (and fastest!) way to try a paint color in your home, with no hassle.
Pick up your Samplize square of Anew Gray here!
Other Places Use Anew Gray
In addition to on your walls, Anew Gray is a great shade for exteriors or on cabinets.
On the exterior of home, Anew Gray pairs well with white trim, black or brown accents, and a bright blue or dark red door.
Anew Gray on cabinets pairs well with bronze or black hardware, and can warm up an otherwise cool space.
Final Thoughts on Anew Gray
Anew Gray is a warm, greige paint color that is suitable in a room of your home, for your exterior, or as a coordinating color on an accent wall or on cabinets.
If you aren't sold on Anew Gray yet, check out these other amazing greige paint colors.
Anew Gray
Have a question or want to show off your project? Join the discussion in Love Remodeled's Facebook group!